HitPaw is one of the most popular solutions among content creators. This product allows you to grab videos from almost any website and save them on your computer. Furthermore, it allows you to modify and adapt the files for other platforms and devices.
Regardless of its upsides, some people criticize HitPaw for being too complex. Although it has lots of nifty features, it isn't the best choice for people looking to grab videos from YouTube and Instagram.
This article will look at some of the best alternatives to HitPaw.
View table of contents [+]
What is HitPaw?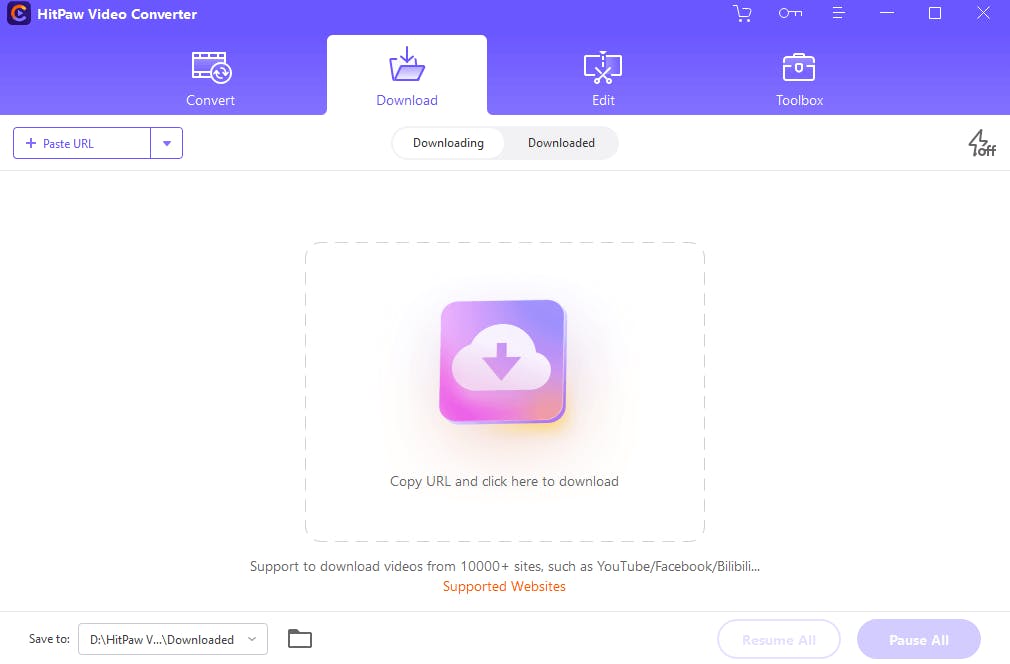 HitPaw is a multifaceted tool that can help you with various video downloading and conversion forms. It's a desktop software that lets you grab online content from numerous sites, convert it to just about any format, and edit it.
So, if you need an all-in-one platform to help you out during content creation, you should consider purchasing this product. Although it isn't the best solution as a downloader, nor has the best editing features, it provides a little bit of everything.
Most importantly, the software is constantly updated, and its features can support the newest technology.
Key Features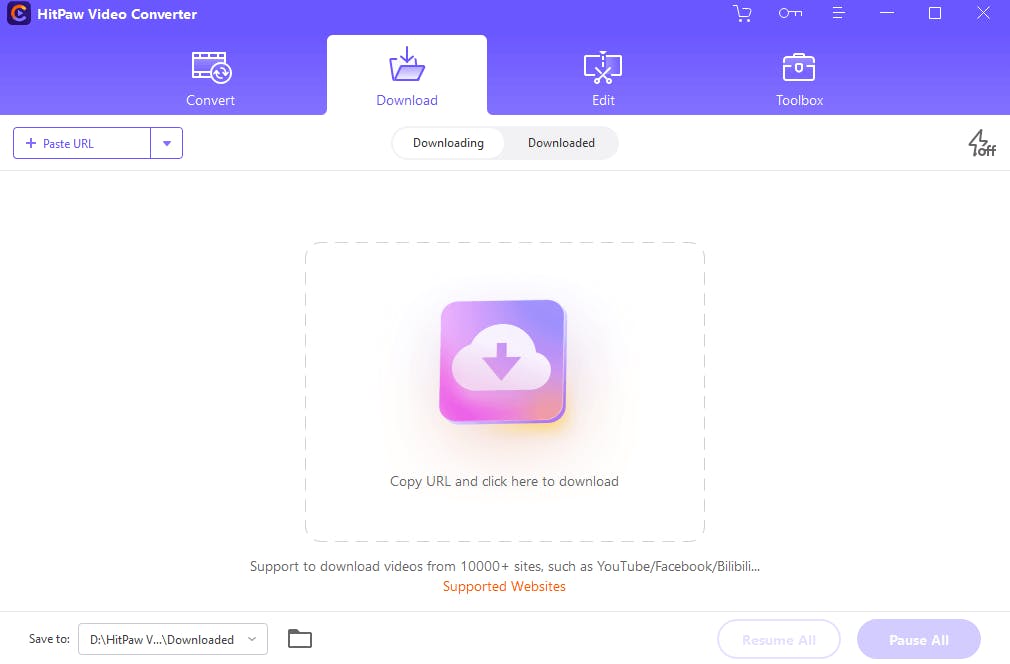 HitPaw isn't a product for casual users. It's somewhat expensive for a video grabber/editor, so the purchase only makes sense if you're a content creator. Furthermore, if you've already decided to buy this tool, make sure you'll need all of its features:
Video conversion (supports various file formats, devices, and platforms)
Video downloading
Video editing (merging, cropping, trimming, etc.)
Miscellaneous tools (Instagram downloader, voice remover, image converter, etc.)
Whether or not you'll benefit from the software depends on your particular needs. SnapDownloader is a solid HitPaw alternative if you're looking for an advanced and reliable video downloader and converter.
Lastly, while HitPaw video converter has some nice editing features, we suggest you go with something more powerful if you're a content creator.
Main Issues With HitPaw
There are several reasons why HitPaw video downloader isn't the best choice for you.
First off, the platform might seem a bit overwhelming at times. For example, video conversion allows you to change existing files into numerous formats so you can easily get lost in all the options. Copy-pasting URLs into the downloader is also a bit unusual for these tools.
Not to be too petty, but these are some things you can adjust to. However, the two things you can't change are the pricing and quality of execution.
HitPaw probably tried to upsell its software by adding all this extra functionality. Unfortunately, you don't have the option of removing some of them to pay less. Instead, you will be charged for the entire suite, which is expensive compared to alternatives.
As for quality, there are better downloaders on the market. It takes a while for the software to process a video before it grabs it. This can be a major problem if you're a content creator who works with videos for a living.
What Is the Best Alternative to HitPaw?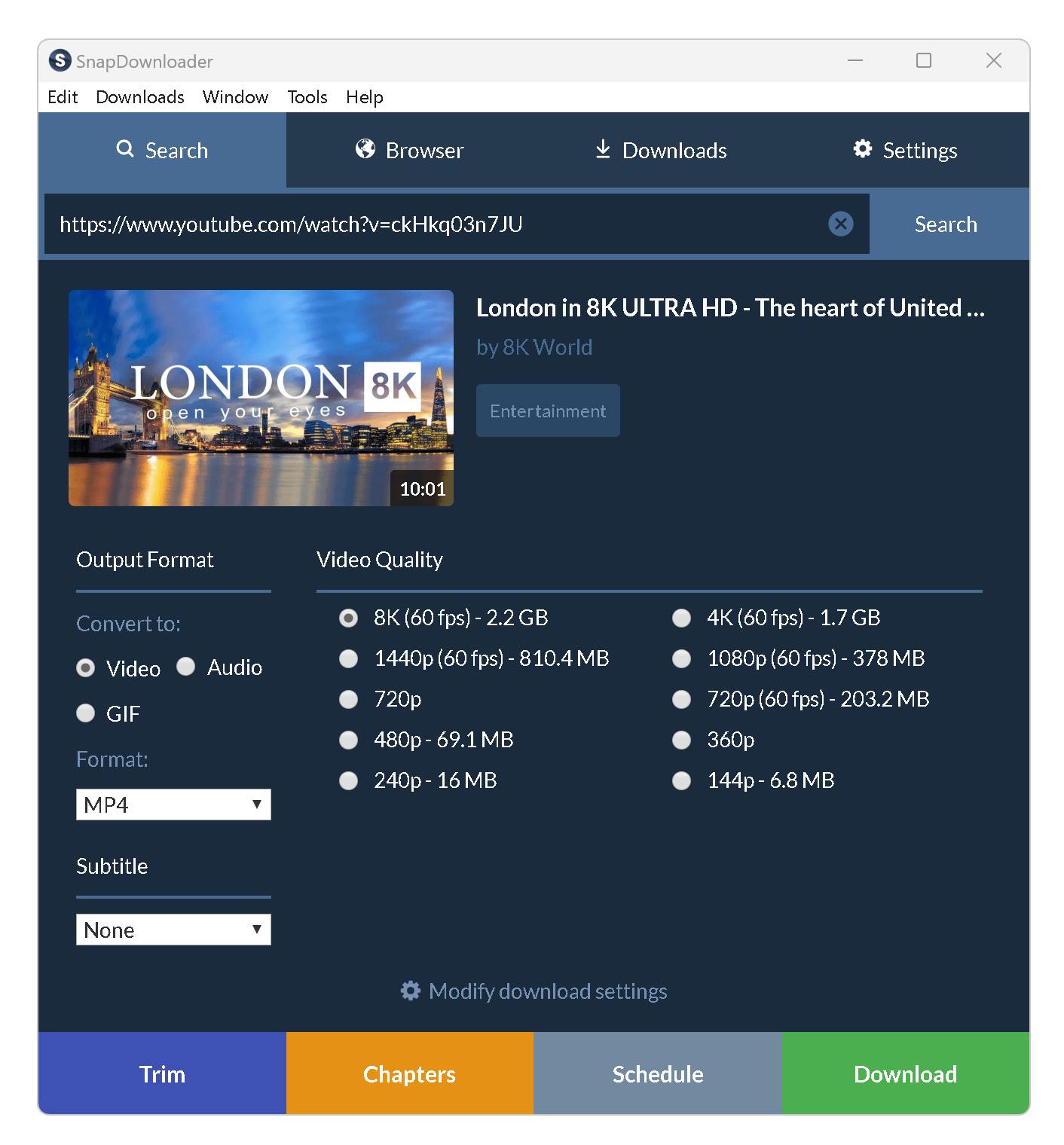 If you're looking for the best tool to replace HitPaw, you should consider trying SnapDownloader, which is available on both Windows and macOS.
While this product doesn't have numerous editing features like HitPaw, it's much more reliable and fast for downloading online video and audio and converting them. There's even a built-in browser that can help you search for videos from within the tool.
It can download videos from 1,100+ websites such as YouTube, Rumble, Facebook, BiliBili, Twitter, Twitch, Instagram, and many more.
How to Download Online Videos With SnapDownloader?
Here is a short, step-by-step guide that will teach you how to save online videos with SnapDownloader.
1. Go to SnapDownloader's website to download and install the software.
2. Open the video you want to download and copy its link.
3. Open the SnapDownloader software and paste the URL into the textbox in the Search tab.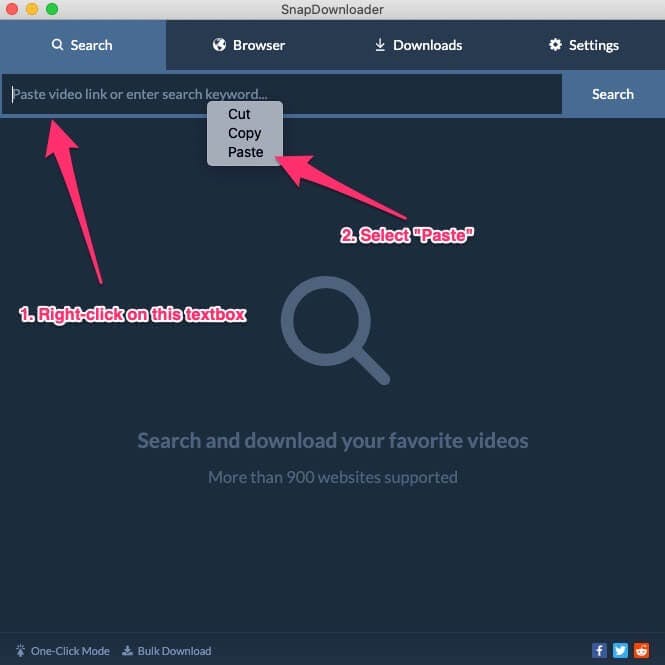 4. Set the output quality and format you want, such as 1080p MP4. Then click the Download button.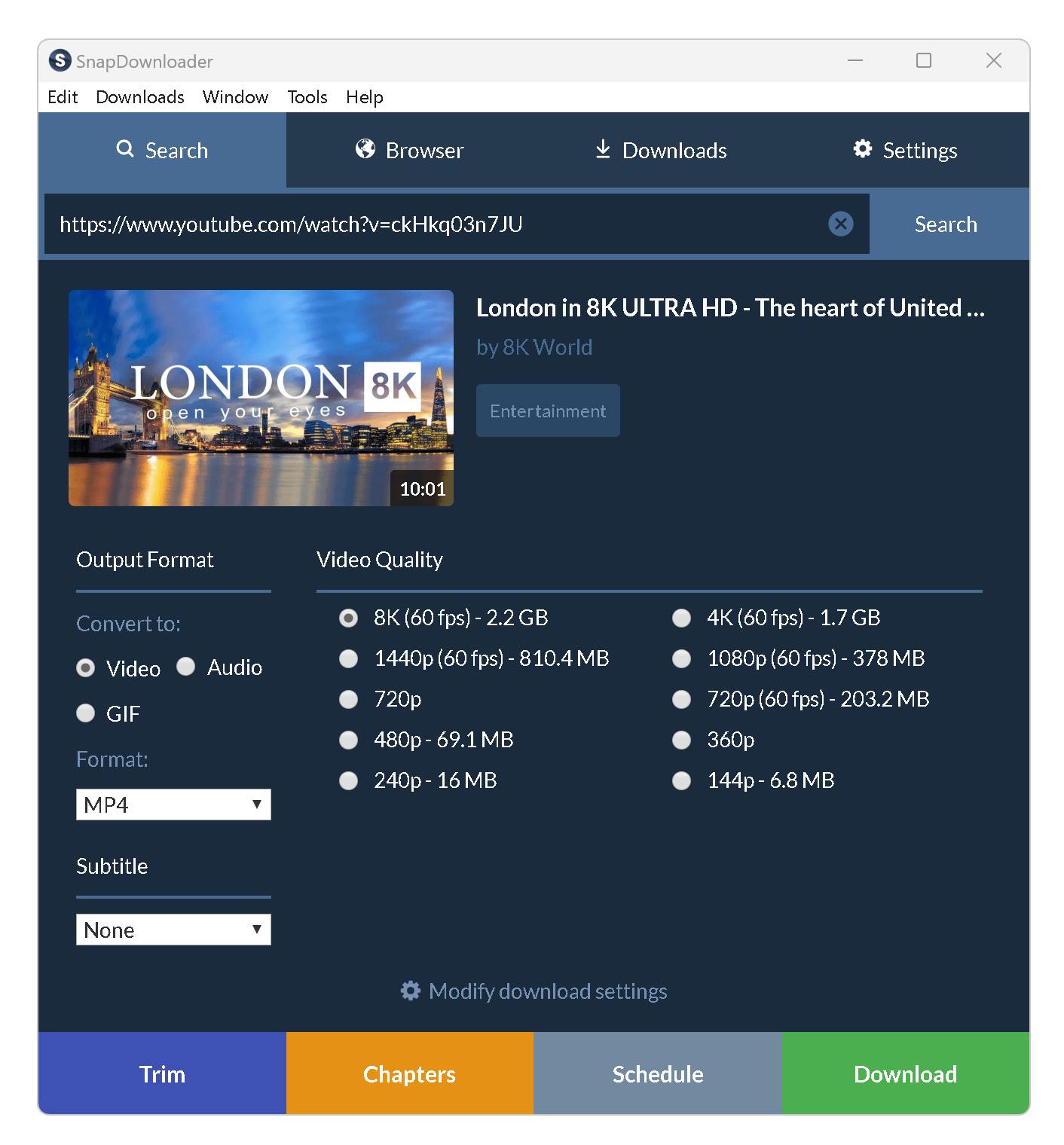 5. SnapDownloader will begin downloading the video or audio to your computer. By default, it will be saved to the Movies folder in macOS and the Videos folder in Windows. You can change the folder in the app's settings.
Once the video is downloaded, double-click it to play it.
5 Best Alternatives to HitPaw
1. SnapDownloader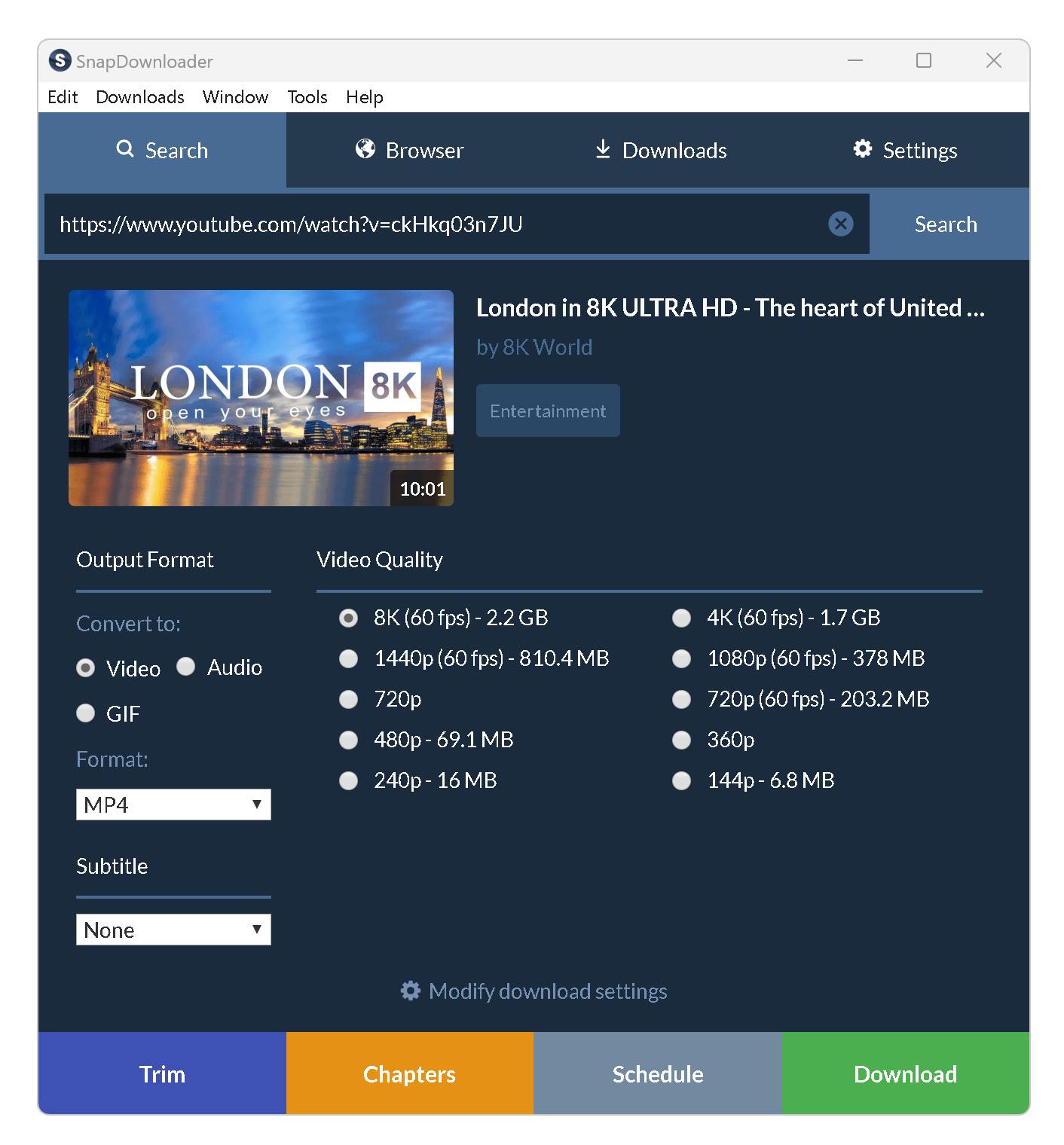 As mentioned, SnapDownloader is probably the best replacement for HitPaw. It's a perfect tool for experienced content creators and casual users. The product has a slick interface and is quite intuitive.
Nevertheless, the most important thing is that it's extremely fast and responsive. Actions that would take you half a minute with other tools can be executed almost instantly with SnapDownloader.
Even more, it works with many websites, including popular platforms like Vimeo, YouTube, TikTok, Facebook, Instagram, and Twitch.
Pros
One of the best UI out of all downloaders
Supports more than 1,000 websites
Supports up to 8K video quality and 320kbps audio bitrate
Video trimming
Bulk downloads and video scheduling
Download geo-restricted content with built-in proxy settings
Download private videos
Cons
Limited editing features
Not free
Pricing
1 Month plan ($7.99)
3 Months plan ($16.99)
Annual plan ($29.99)
Lifetime plan ($39.99)
3 PC Lifetime plan ($69.99)
Features
Simple and easy to use
Allows you to convert videos into audio and GIFs
It can extract subtitle files from YouTube videos
Built-in video scheduling and queueing
Allows bulk downloads
Prevents blocking due to geo-location
2. By Click Downloader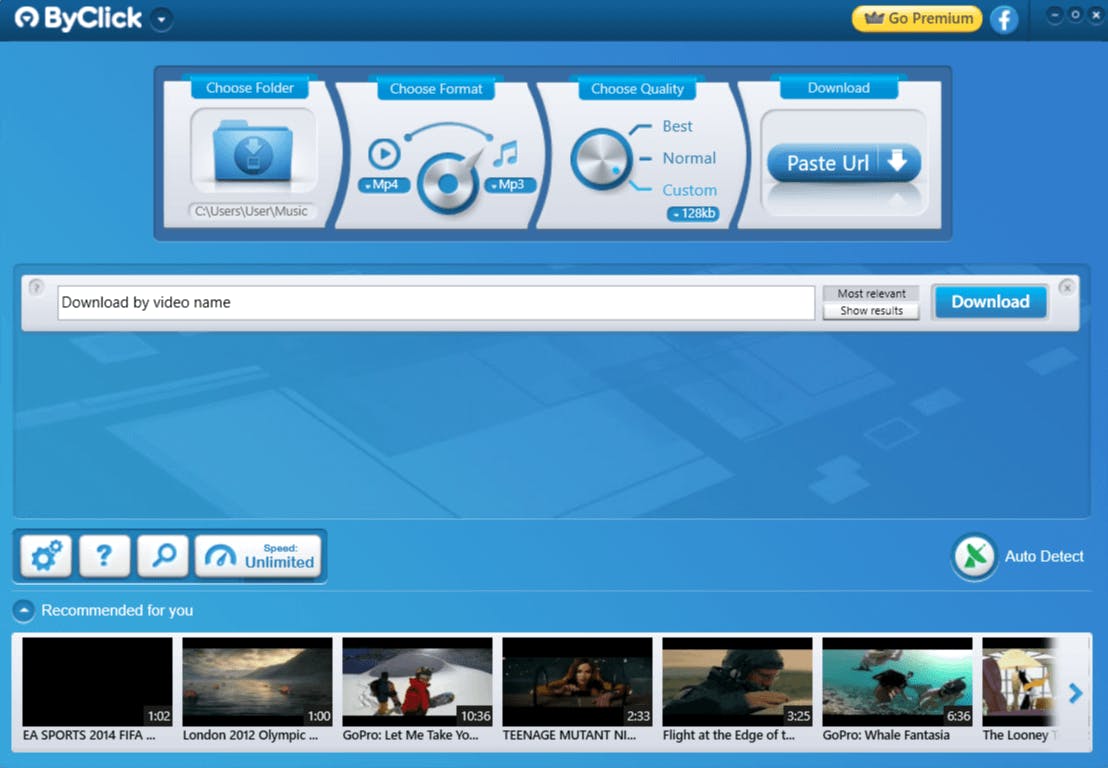 Like other tools on the list, By Click Downloader allows you to get content from Facebook, YouTube, Instagram, and all other major platforms. You can use it for bulk downloads, making it a perfect choice for busy content creators.
The software is available on Windows and Mac and allows you to grab private videos. Similar to SnapDownloader, it has proxy options that allow you to avoid location blocks. Unfortunately, By Click Downloader is often plagued by numerous issues that significantly reduce its usefulness.
Pros
Allows you to convert files into different formats
You can use it while browsing the web without starting the program
Supports 25 major platforms
The software has a video recommendation tab that helps you grab content quicker
Generally fast downloads
Cons
Too many ads and pop-ups with the free plan
The bulk feature works arbitrarily
The free plan has numerous limitations
It supports a handful of sites
Often plagued by errors and bugs
Pricing
Annual plan ($7.99)
Lifetime plan ($9.99)
Features
Simple and easy to use
Allows you to convert videos into audio and GIFs
It can extra subtitle files from YouTube videos
The tool has video scheduling
Allows bulk downloads
Prevents blocking due to geo-location
3. 10Downloader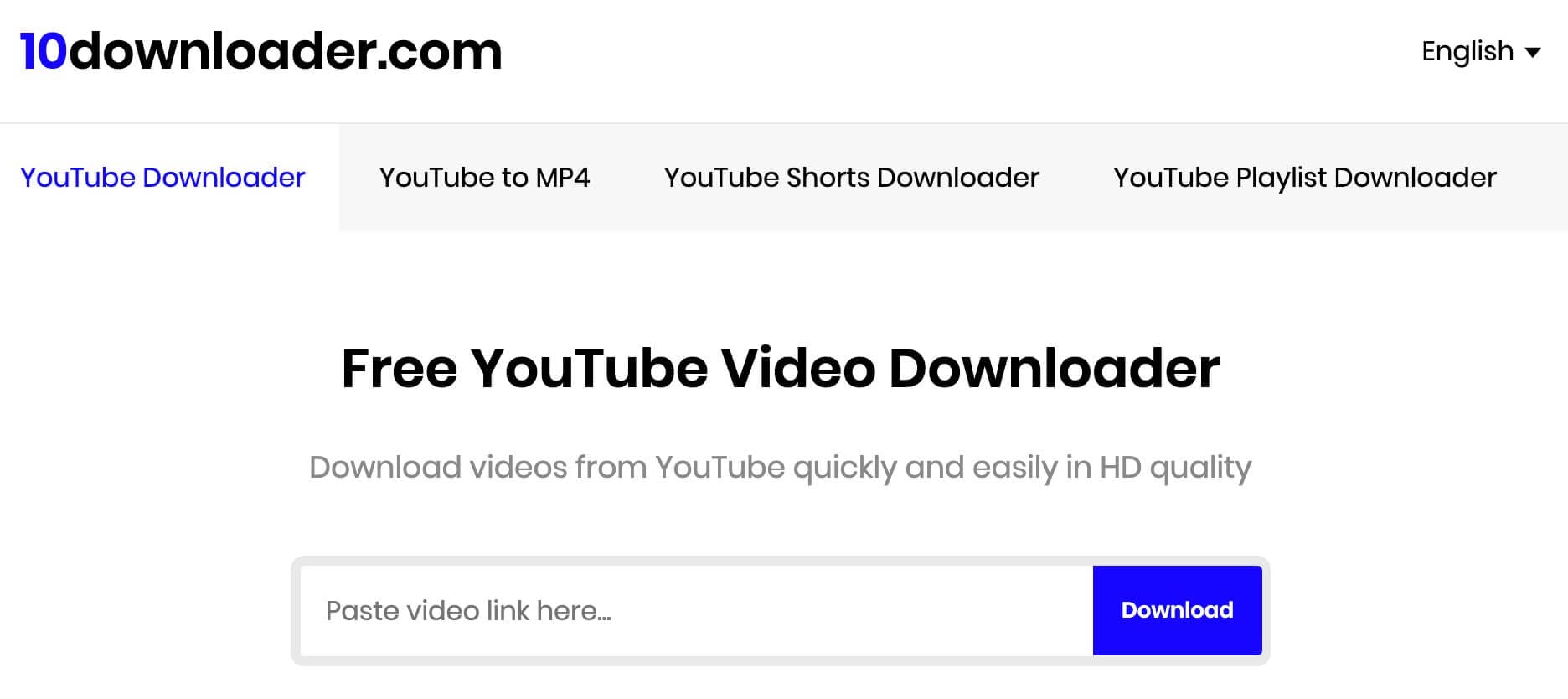 If you don't want to pay for a video grabber, you can always use online tools like 10Downloader. Truth be told, there are lots of similar online tools such as this, most of which are interchangeable. Still, they can do a great job for casual users.
Given that 10Downloader is a simple online program, you won't have to download it. Even better, it works on just about any device.
Pros
Supports all devices
A perfect solution for people with limited technical knowledge
Supports all the major platforms
It's completely free
Cons
It only allows 720p resolution and lower
The lack of features makes it a bad choice for content creators
You can't use it for any advanced conversion
Only allows a single download at a time
Like similar tools, it has a few ads, both nothing excessive
Pricing
Features
The simplest downloader on the list
Supports quality up to 720
It allows you to grab videos in MP3 and MP4 formats
Works with YouTube
4. DVD Video Soft
This tool works exclusively for YouTube. It's slightly better than 10Downloader, allowing you to download higher-quality videos. The software also provides more options when it comes to output formats.
On top of that, the platform also helps you find trending music on YouTube and videos that you previously liked. Generally, it's nice software if you're looking for a YouTube downloader. Unfortunately, those looking for extra functionality probably won't like this tool.
Pros
It allows you to download 4K and 8K videos
Supports several main formats, including AVI, MOV, MP4
Users can download several files simultaneously
DVD Video Soft has auto-grabbing
The tool works on Windows and Mac
It allows file merging
Cons
It only works for YouTube
The free version is extremely slow to the point where it isn't worth installing it
The free version has lots of spam
One of the worst tools for multi-platform content creators
Forcefully installs other tools on your device
Expensive for a tool that only works for YouTube
Pricing
Annual plan ($19)
Annual plan with extra features ($39)
Lifetime plan ($39)
Features
Lists trending music on YouTube
It provides proxy settings
The tool can automatically shut down the device after the download
Built-in YouTube browser
You can use software to track down liked YouTube videos
Available in 22 languages
5. iTubeGo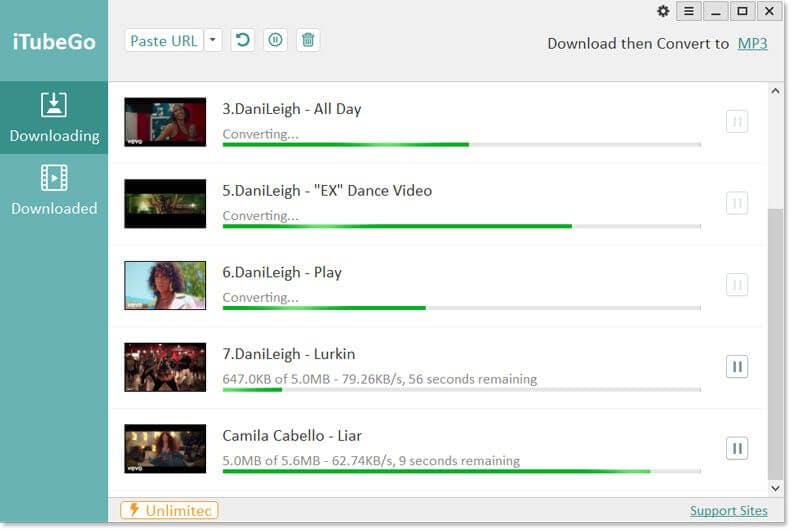 iTubeGo is a software that has a few incredible features. Aside from video downloads, it also allows you to convert files, transfer them, and record videos. Sometimes, the software can be a bit buggy, but it's much more advanced than the previous two entries on the list.
Pros
One of the quickest tools on the list
Built-in search bar
The tool works on mobile and desktop devices
Lots of fantastic features
You can use it for private videos
Cons
You can only use it for MP3 and MP4 conversion
The free trial has lots of limitations
Several issues with UI
It doesn't work as advertised
Pricing
1 Month plan ($9.95)
Annual plan ($19.95)
Lifetime plan ($29.95)
Family plan ($39.95)
Features
Solid video download speed
File conversions and transfers
Bulk video grabbing
Video recording
Users get notified when the download is finished
Allows you to download private videos
Wrapping Up
This software has so many features and is one of the better all-in-one video products on the market. We especially liked HitPaw YouTube to MP3 converter and video cropping.
Unfortunately, despite all its upsides, this is a relatively expensive platform. Some features are unnecessary, but you still need to pay for them. On top of that, its video downloader isn't particularly fast.
For these reasons, we suggest you try SnapDownloader or other alternatives from this list.