Sometimes, you may need to download private videos from Facebook in order to watch them offline or share them with others. Downloading private videos can be a tricky process and there are certain steps you need to take in order to do so successfully.
Private videos on Facebook are only visible to those who have been given access by the video's owner. Most commonly, these are videos that are accessible only by members of a private Facebook group.
There are many websites and apps available that allow you to save public Facebook videos, but when it comes to private videos, the options are quite limited.
One of the best ways to save private Facebook videos is by using SnapDownloader. It is a video downloader that works with more than 1,100 websites and comes with built-in support to save private videos, such as the ones from Facebook.
In this article, we'll discuss how to save private Facebook videos using SnapDownloader including the ones from private Facebook groups.
Before you can download private videos from Facebook, you need to make sure that you have a Facebook account and that the account has access to the private video that you want to save.
How to Download Private Facebook Videos
1. Download and install SnapDownloader
The first thing that you have to do is to download and install SnapDownloader on your computer. The app works with both Windows and macOS. You can download the latest version from here.

Try SnapDownloader for Free
2. Go to the Browser tab in SnapDownloader
Once you've installed SnapDownloader, double-click on its icon to open it.
If you are using SnapDownloader for the first time, you will be prompted to enter your license key or activate the trial version. Choose either of those options that are most suitable to continue.
When the app opens, click on the Browser tab at the top.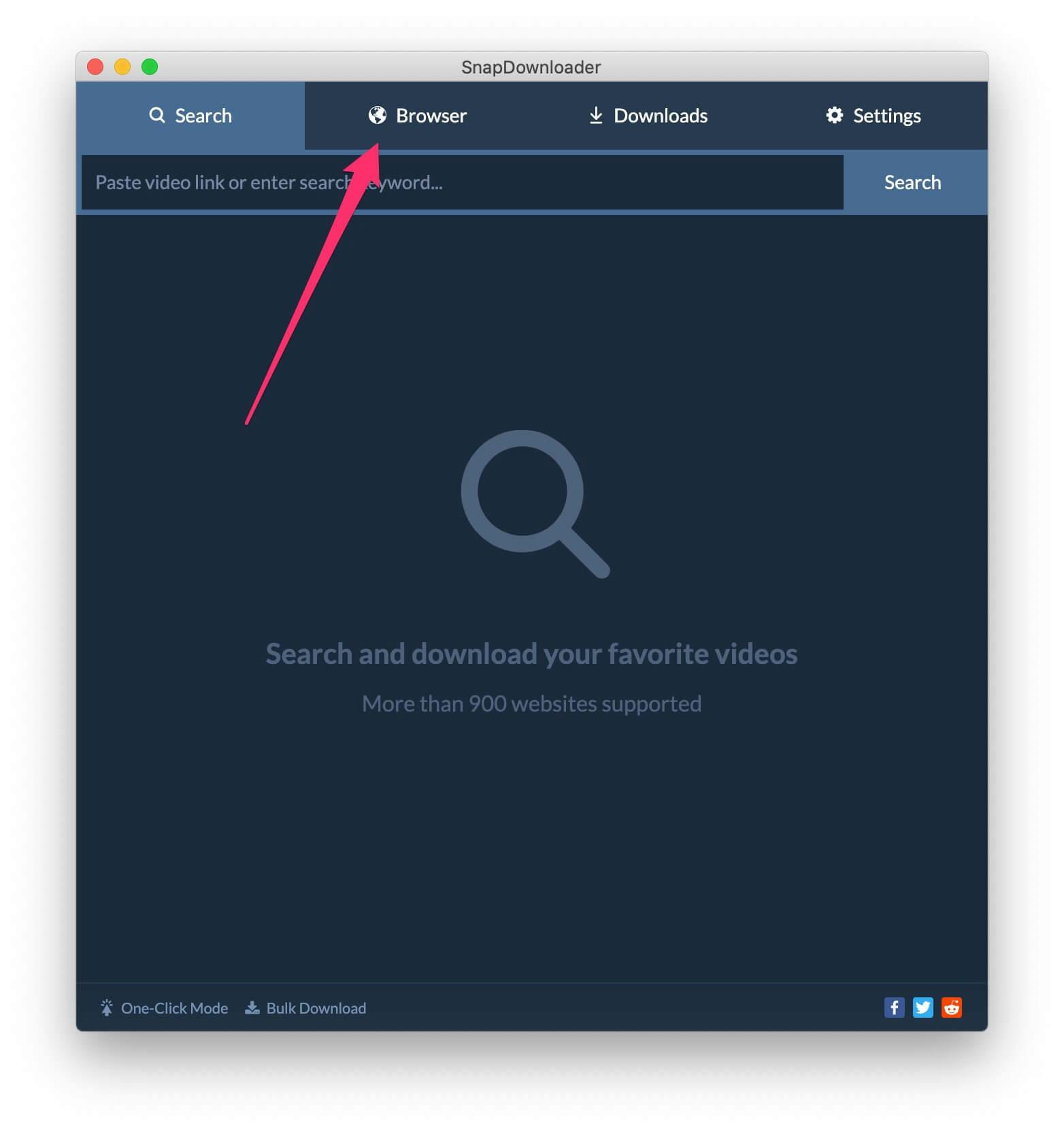 3. Click on the Facebook icon
The SnapDownloader browser can be used to navigate websites and download videos. It has been built mainly for downloading private videos.
On the browser page, you can either enter the URL of Facebook in the textbox or click on the Facebook icon as shown below. This will open the Facebook website.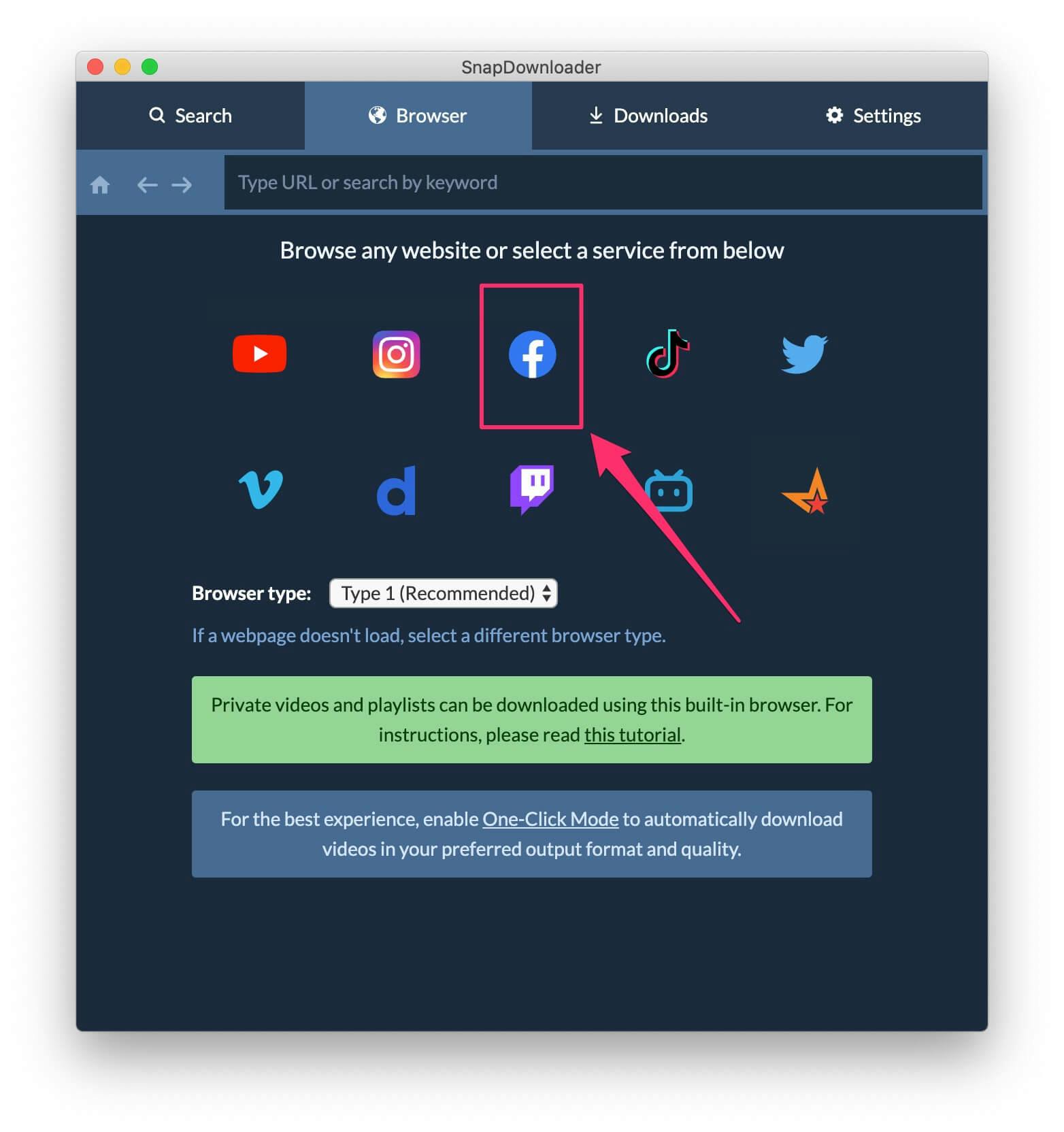 4. Sign in to your Facebook account
Once the Facebook website opens, log into your account so that SnapDownloader can access and download the private videos.
SnapDownloader does not view or save your login credentials. Instead, it uses the browser's session to access the private videos.
It's important to note that this account must have access to the private video otherwise it cannot be downloaded.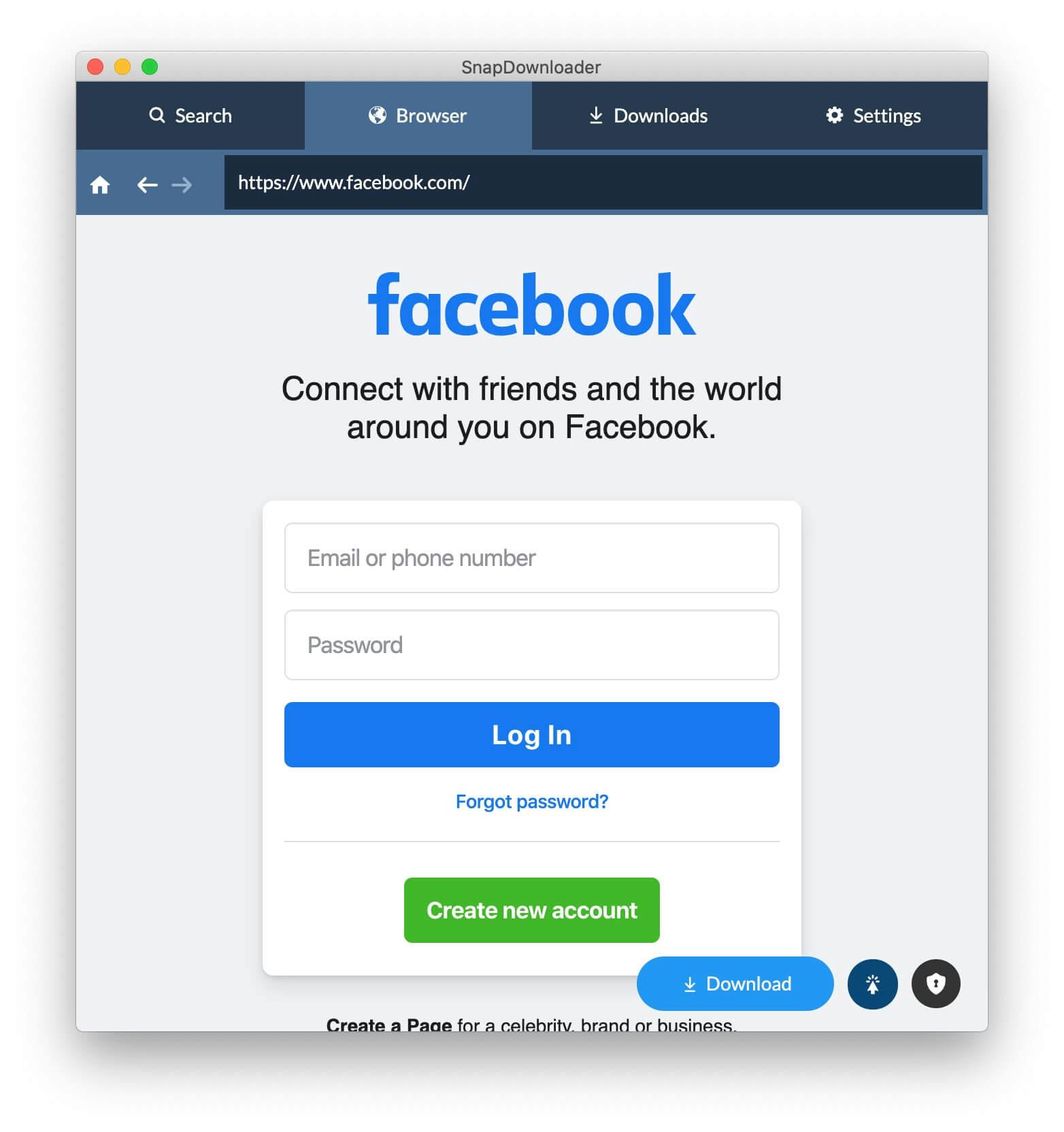 5. Click on the lock icon in the bottom right and enable the "Private video downloader" feature
The next step is to enable the "Private video downloader" feature of SnapDownloader.
In the browser, you will see a number of floating buttons in the bottom right. Click on the lock icon as shown below.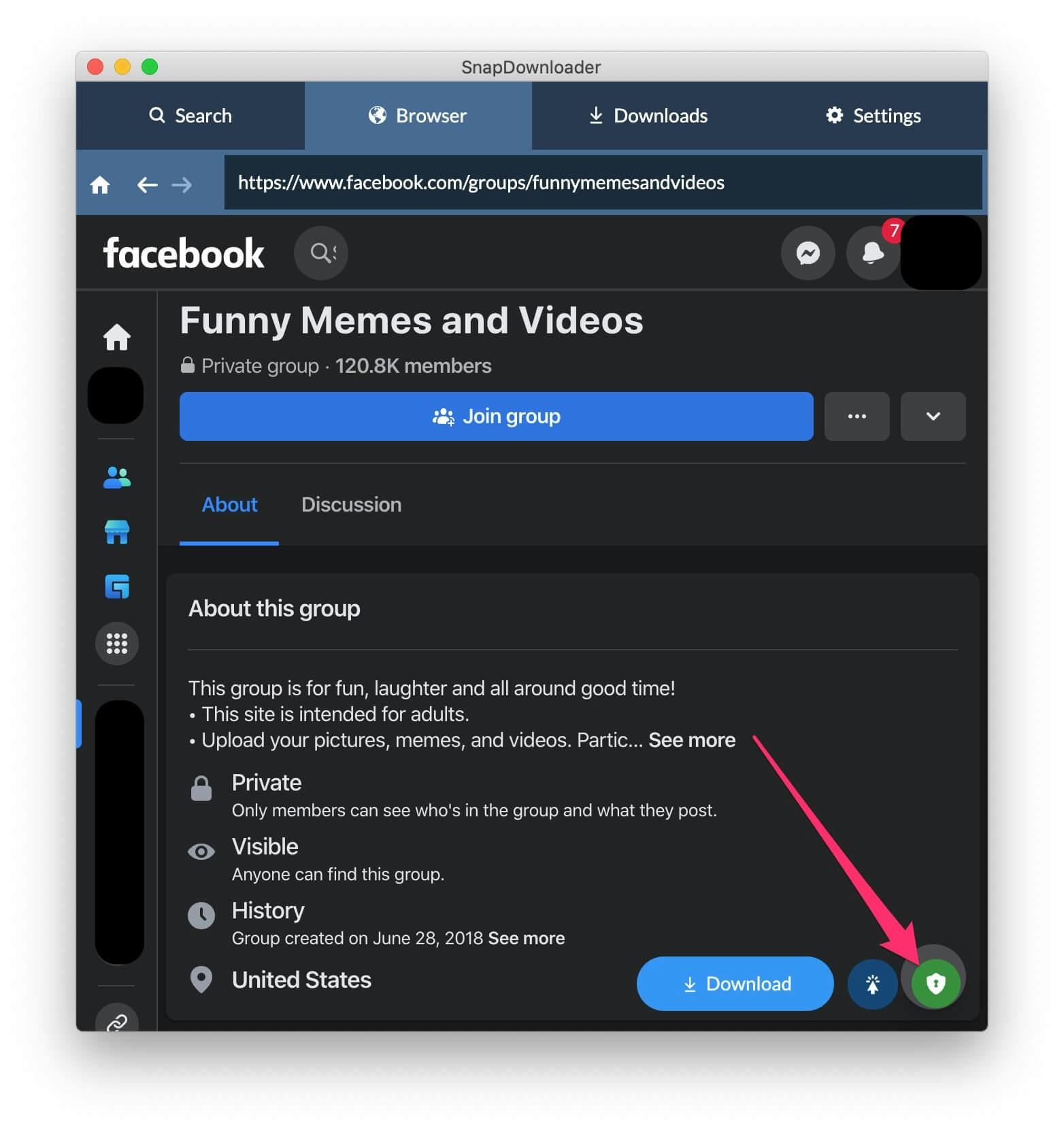 Click the Enable private video downloader checkbox to select it, then press the OK button.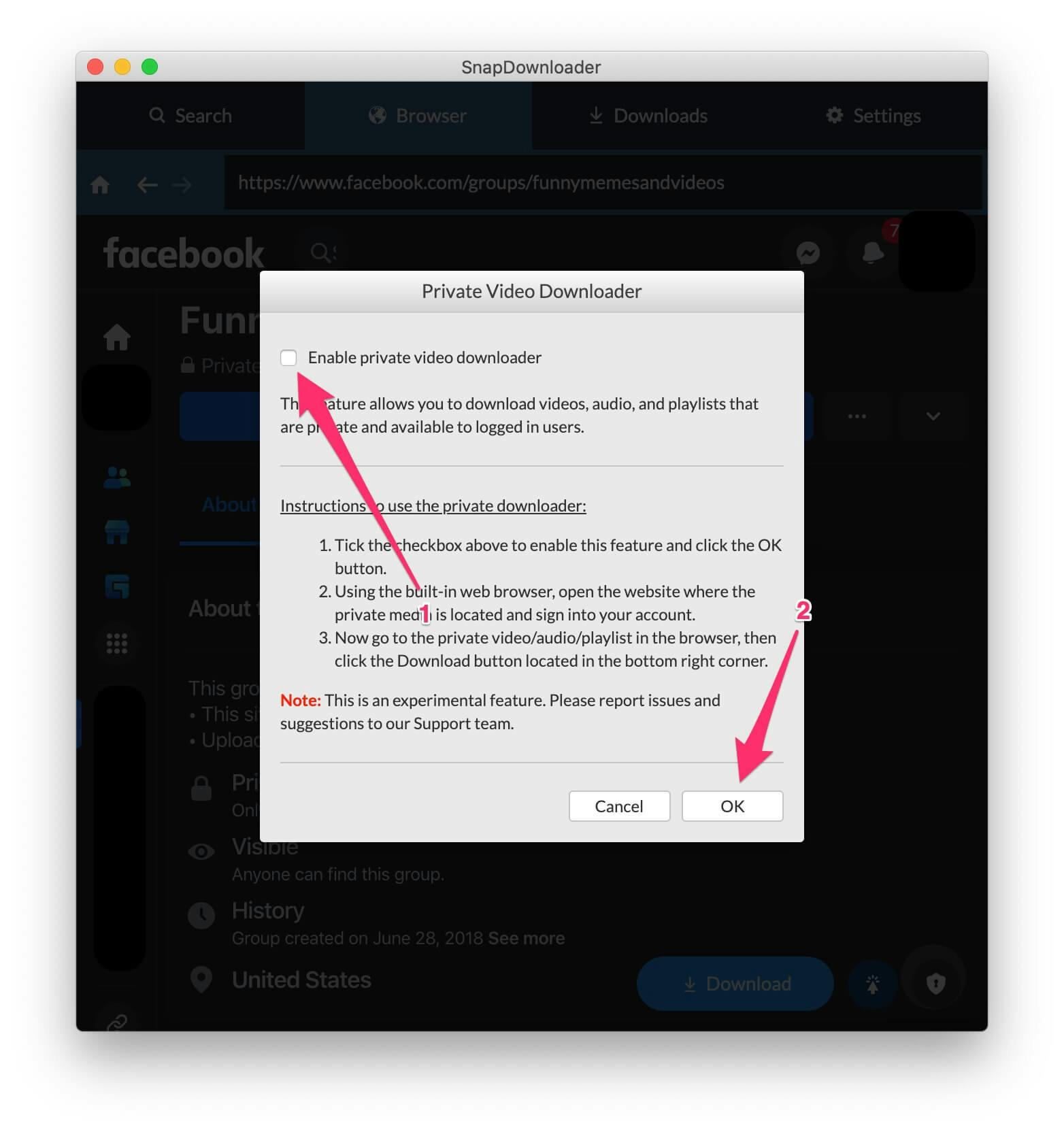 The lock icon will now turn green to indicate that the feature has been enabled.
6. Open the video that you want to download
Now navigate and open the private video that you want to download.
Note that the video must be opened, similar to the one shown below so that it can be downloaded.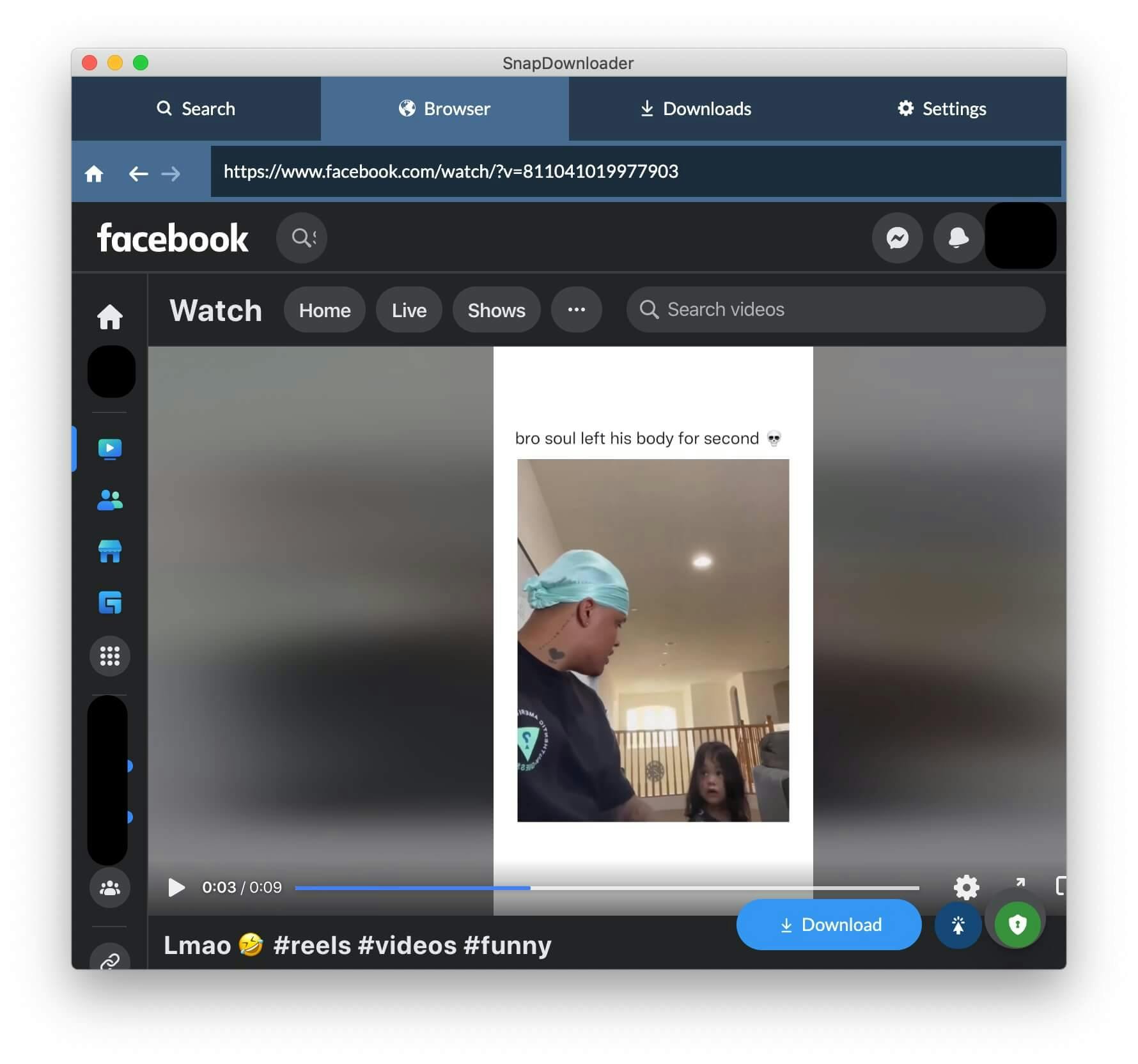 7. Click on the Download button
Press the Download button in the bottom right corner of the browser.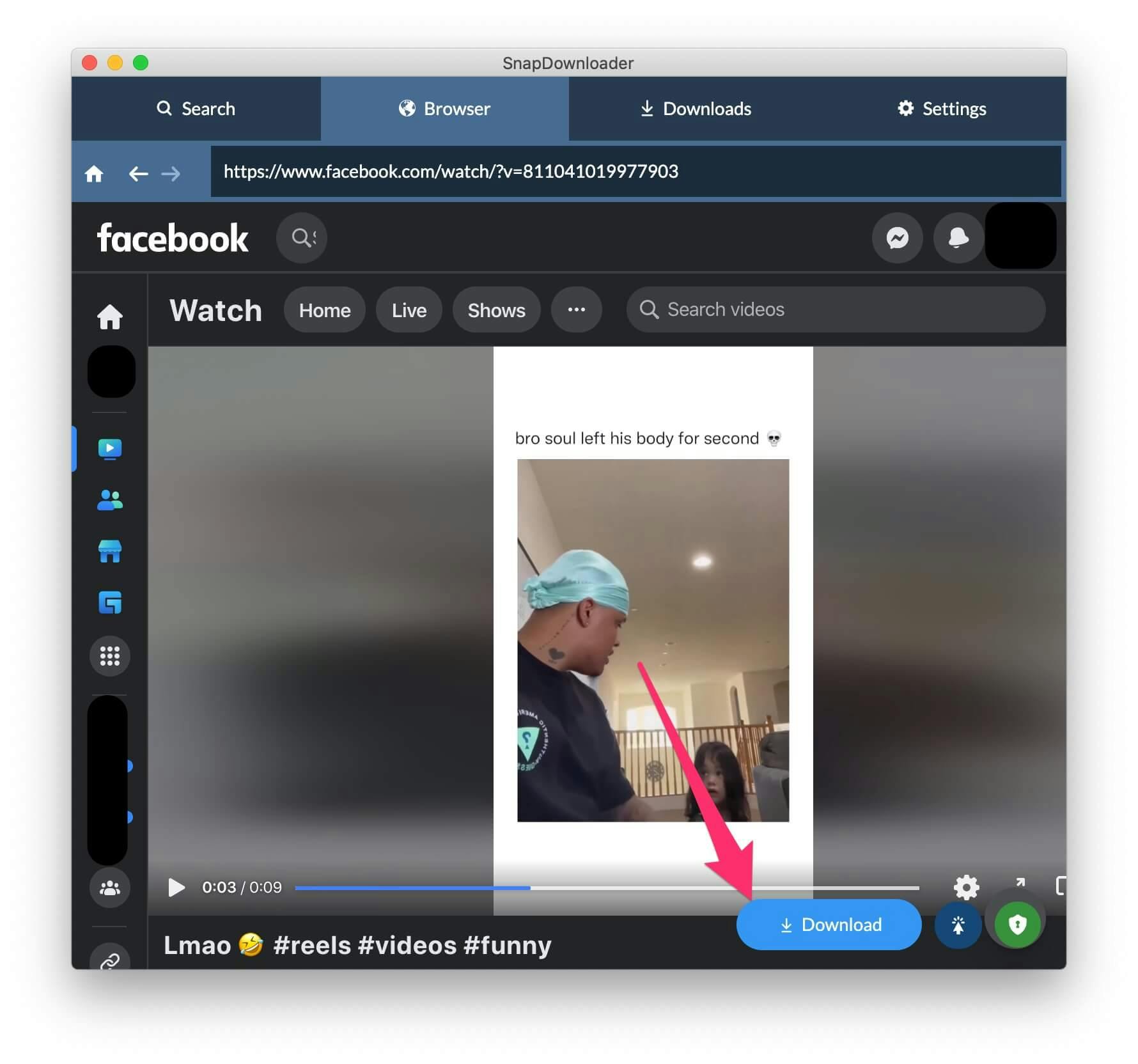 8. Select output format and quality and press Download
SnapDownloader will begin searching for the video. Go to the Search tab to view the results.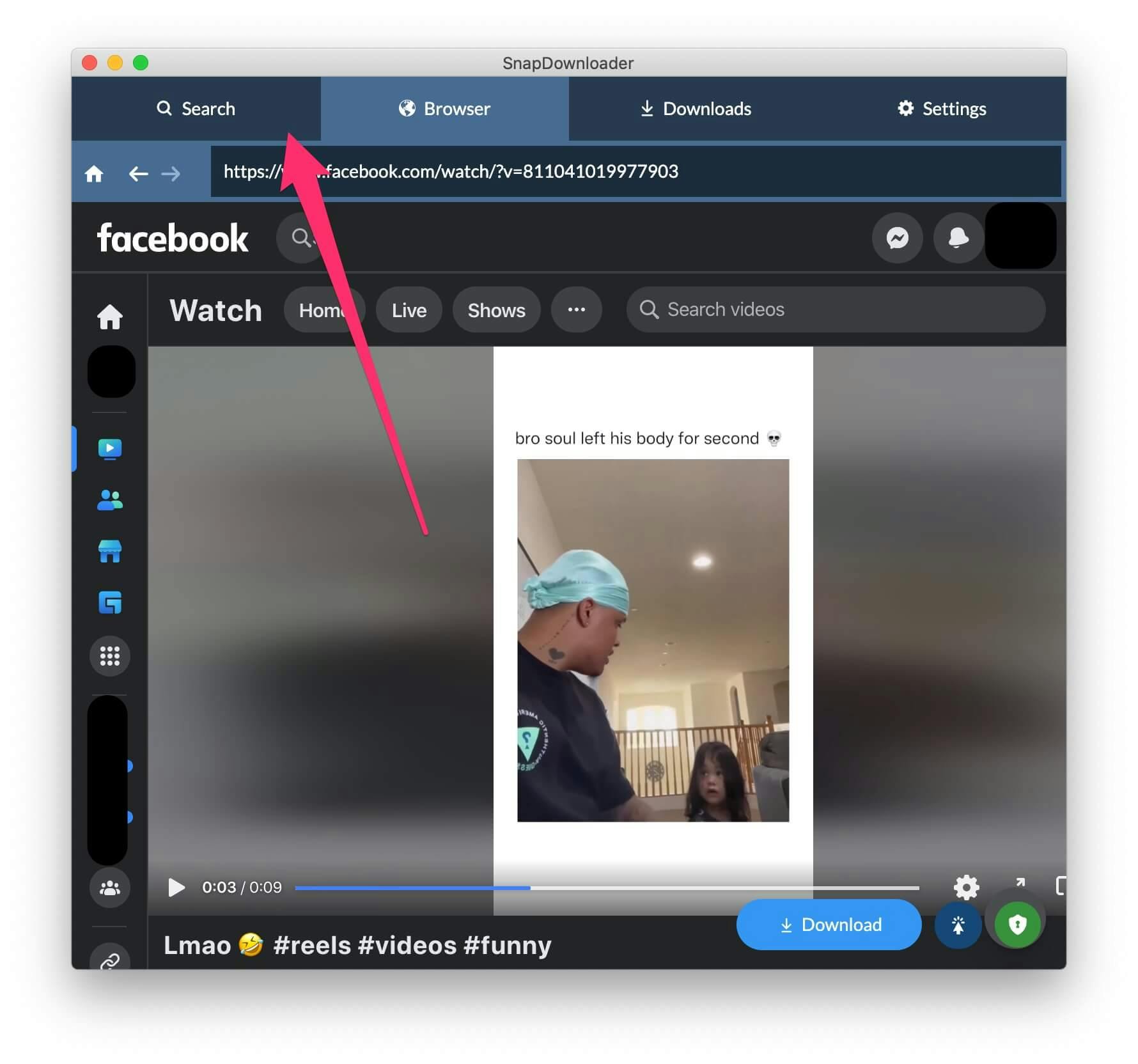 SnapDownloader will now display the details of the video along with the available video qualities and formats.
Select your output format from the options on the left. For example, if you want to convert to MP3, then select the "Audio" toggle and then choose MP3 from the dropdown.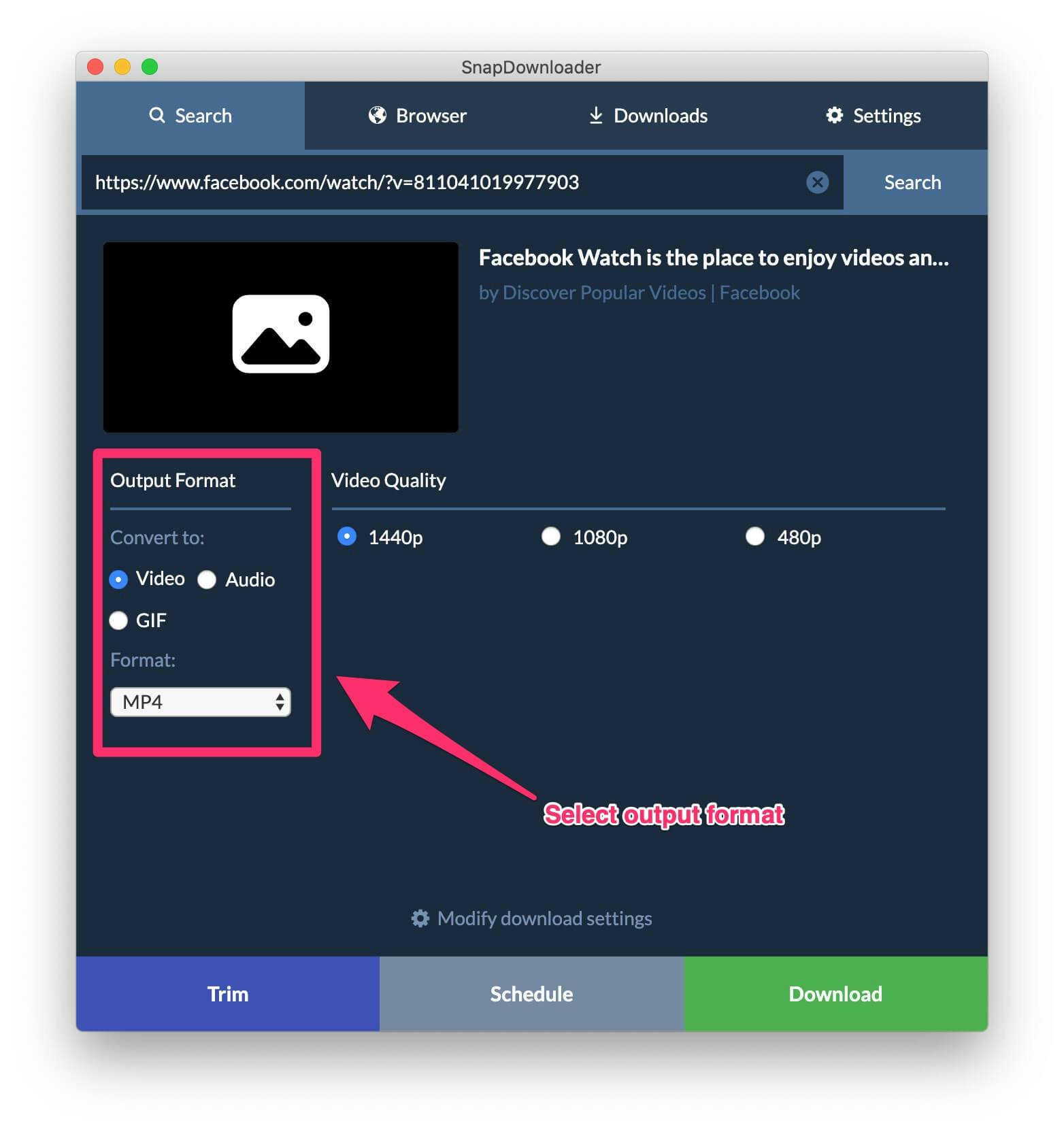 Next, select the output quality, such as 1080p.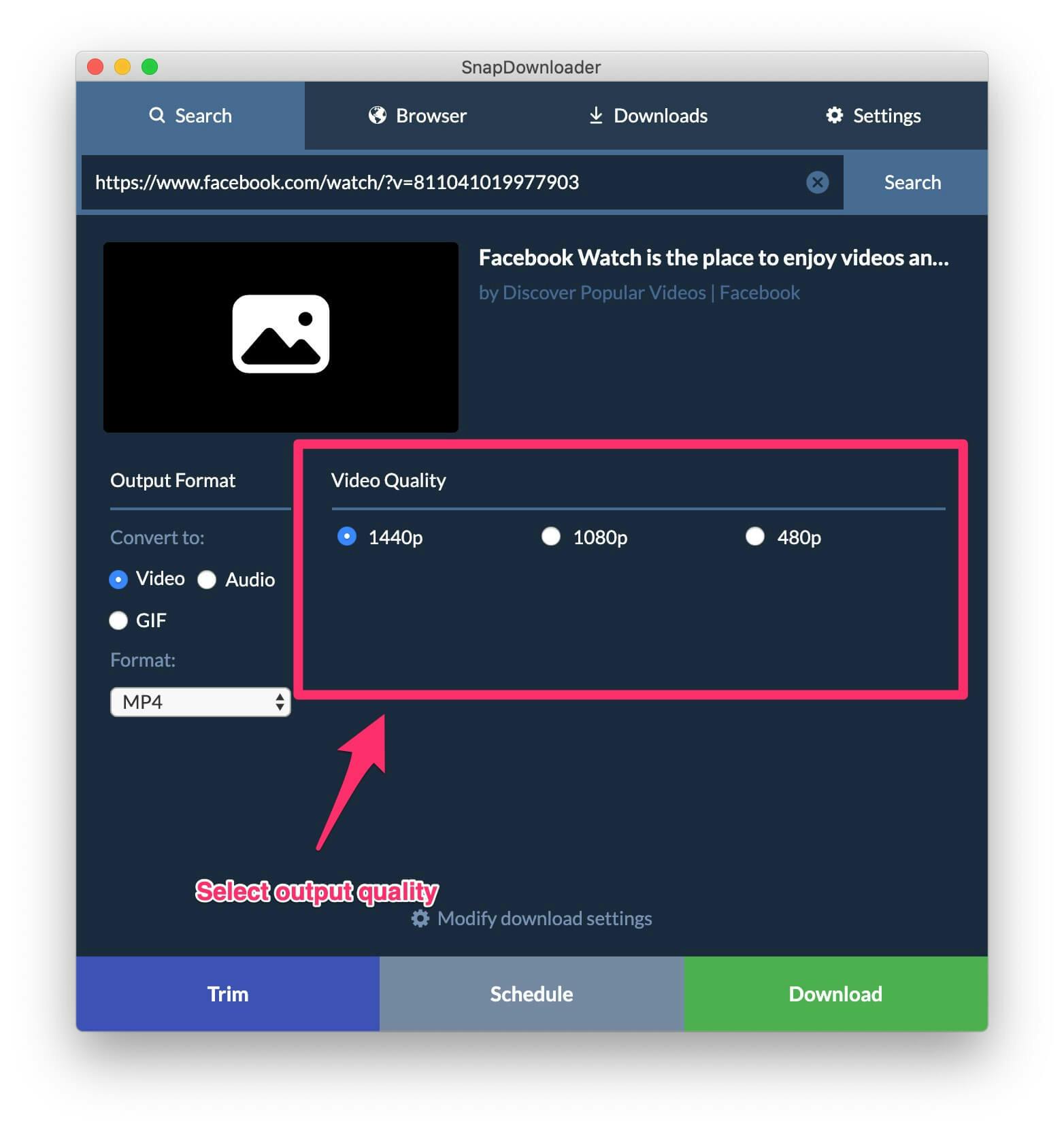 Click the Download button to begin saving the video.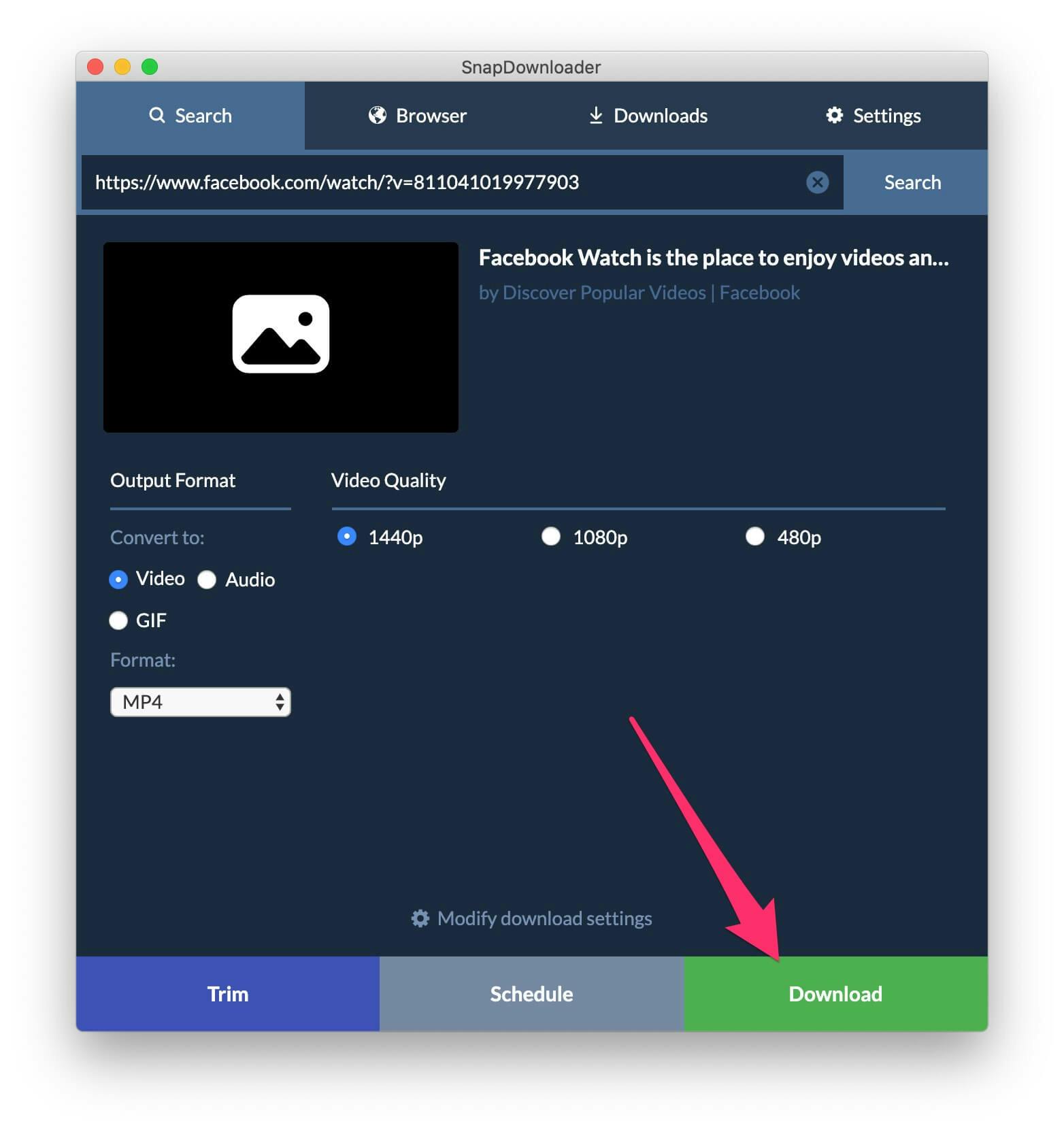 9. Wait for the Download to complete
SnapDownloader will now begin downloading the private Facebook video to your computer.
You can view the download progress by going to Downloads > Downloading.

10. Double-click to watch the video
Once the video is saved successfully, it will go to the "Completed" tab. Double-click on the tab to watch it.
To find out where the video has been saved, move your mouse over it, click the three-dot icon as shown below, and select Show in folder.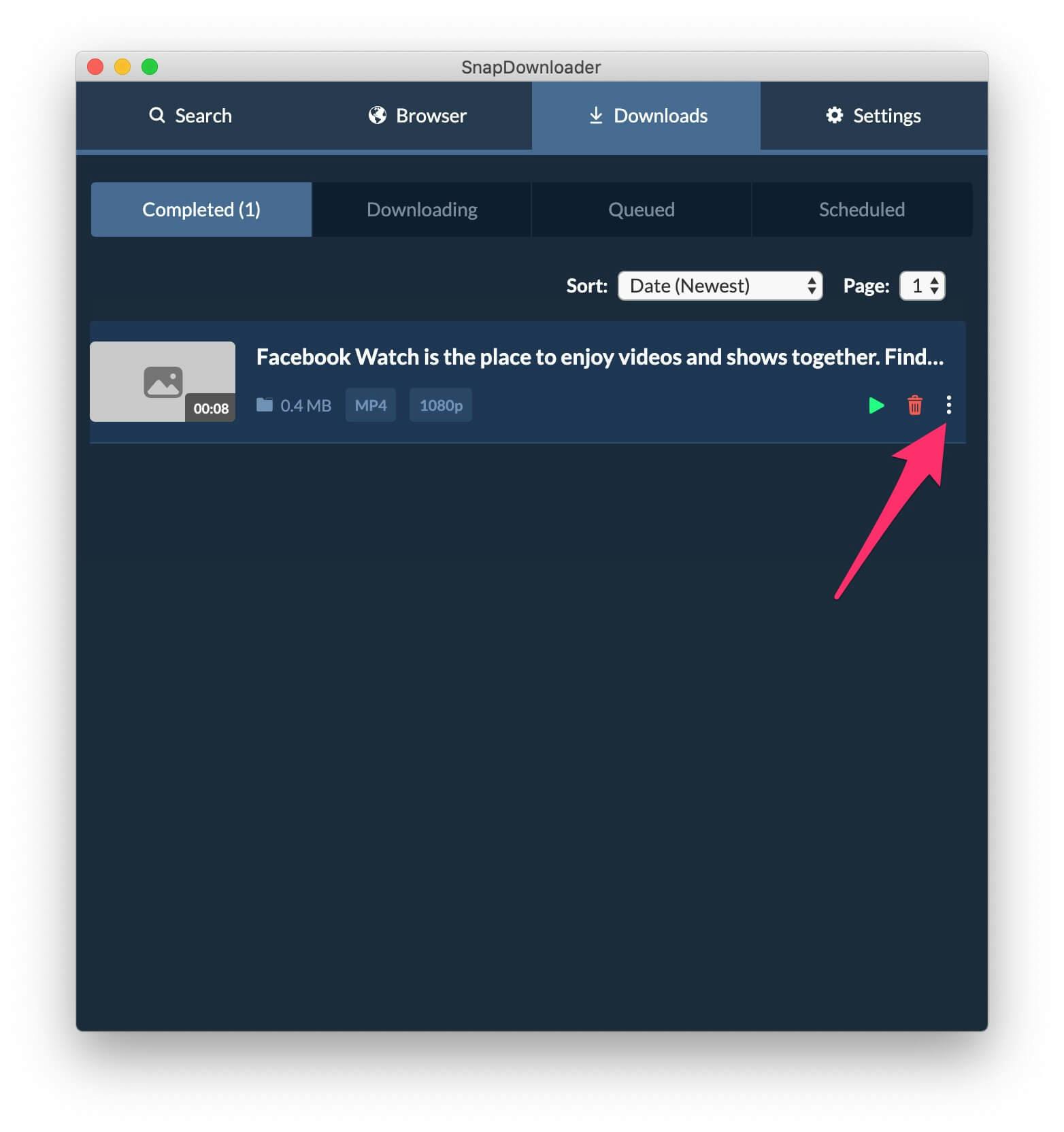 That's all you need to do to download videos from private Facebook groups or clips that have been shared with you only.
Key Features of SnapDownloader
SnapDownloader is one of the best software in the market for Windows and macOS that comes built-in with many capabilities to make video downloading a breeze.
Here are some of the main features of SnapDownloader:
Download videos and audio from 1,100+ websites, including YouTube, TikTok, Instagram, Vimeo, Facebook, and Dailymotion.
Super fast download speeds with no caps.
Convert videos and audio to 10+ output formats such as MP4, MP3, AVI, MOV, WAV, M4A, and more.
Save private videos from online websites.
Download videos in bulk. Simply paste up to 500 links and download them all at once.
Save videos from 144p up to 8k quality.
Convert videos to GIFs instantly and easily.
Trim videos and audio to save only the portion that you want.
Save YouTube subtitles, channels, and playlists.
Automatically embed video and audio metadata.
And many more features. You can read all the SnapDownloader features here.
Download Private Videos from Facebook Today
Downloading private Facebook videos can be a big hassle. Not many online websites and video downloading tools support this which makes it nearly impossible to save videos that are hidden behind private Facebook groups or available only to certain users.
With SnapDownlader, you can quickly save any private video from Facebook in just a few clicks. If you're looking to download private Facebook videos, then install SnapDownloader today and use it for free for 48 hours.

Try SnapDownloader for Free