Dailymotion To MP4 Downloader
We designed our Dailymotion downloader app to make it as convenient as possible for you to save Dailymotion videos to your PC or Mac and watch them offline.
With SnapDownloader, you won't have to worry about video format or quality. We have all the options you want, including MP4. You can convert videos quicker than anyone else because of our user-friendly interface and our optimized download speeds.
Saving several videos at once is much more efficient than doing them one by one. Our bulk downloader makes this possible as you can load several links to our app and click "Download" to get them all on your computer instantly.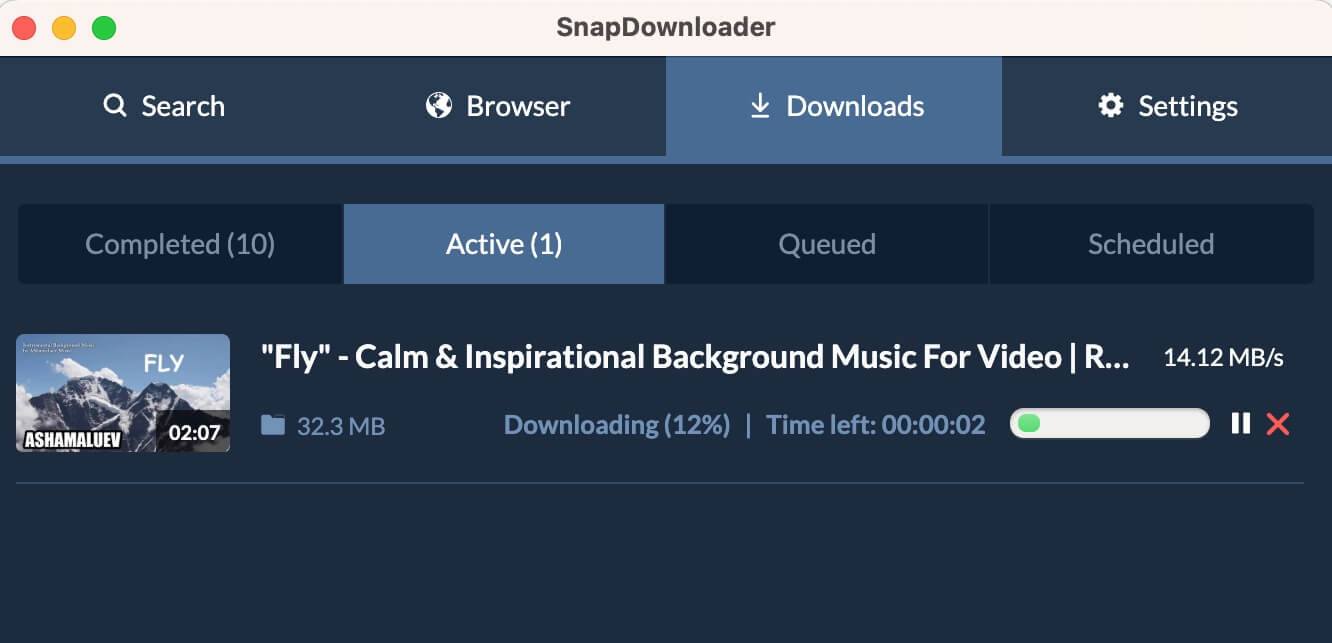 Features
Easy to use
Just copy-paste the link of the Dailymotion video into Snapdownloader, and you can save the video as an MP4 with a couple of clicks.
Bulk downloader
Want to convert several videos at once? We allow you to paste up to 100 Dailymotion links on our app for you to download with only a single press of the button.
Simultaneous Website Downloads
Why limit yourself just to Dailymotion? You can paste in links from multiple sources and download all the videos at the same time. No need to separate downloads by their respective websites.
Queue
If you prefer to process videos one at a time to get the first one as soon as possible, you can set the Dailymotion video downloads in a queue and save them one by one.
Schedule for later
To effectively counter low bandwidth on your end, you can use SnapDownloader to schedule the conversion for a later time and date.
Save subtitles and metadata
Dailymotion videos have plenty of useful features that other video downloaders end up deleting. Don't worry about SnapDownloader, though. We enable you to download subtitles and other metadata alongside your video.
High-speed downloads
You can download Dailymotion videos at exceptionally fast speeds with SnapDownloader. Our developers have put extensive effort into optimizing the app.
Dailymotion is just the start
SnapDownloader allows you to convert videos from nearly 1000 websites including YouTube, Instagram, Facebook, Vimeo, and Twitter.
One-click mode
To make your download process as efficient as possible, you can save your preferred output format and quality and automatically download videos in this way the moment you paste a link.
Video editing tools
Editing videos just got a whole lot easier. Use our professional video trimming tool to quickly edit clips within SnapDownloader as you upload them.
Convert to GIF
After you're done editing a clip from Dailymotion, why not turn it into a GIF? Short videos can be much easier to send in this compact format.
Convert Dailymotion to audio
Beyond MP4, we also offer several video and audio conversion options. Do it all in one place with SnapDownloader, and avoid constantly shifting between conversion tools.
Multiple video quality options
Whether you want to download a compact, low-resolution video to save space or an HD one for maximum quality, you can choose your ideal format with SnapDownloader.
How to Convert Dailymotion to MP4?
SnapDownloader empowers you to convert Dailymotion videos to MP4 with ease so long as you follow these 3 steps:
1. Search for the Dailymotion video
Download and install SnapDownloader on your system. Find the Dailymotion video link online and enter it into our custom browser.
2. Convert to MP4
You'll see a bunch of download options including output format and quality. Select MP4 as the format and choose whichever quality works best for you.
3. Download
Click "Download" to begin the process. Within moments, the MP4 will arrive in your files.
Why use our Dailymotion to MP4 converter?
Fast and Secure
You don't need to put your computer at risk every time you download a video. SnapDownloader is free from intrusive ads and malicious malware. Nobody is buying your information behind the scenes. We offer all this security alongside the top download speeds available.
Endless Options
We allow you to pick from over 10 output formats and several different video quality options for each one. Choose between MP4 and .MOV or 144p and 1080p for your videos. Plus, download videos from almost 1000 platforms like YouTube and Vimeo. Your choices are practically unlimited.
A 5-Star Experience
We have an average rating of 5 stars – 400 reviews can't be wrong. Each of them says that SnapDownloader exceeded their expectations.
We're Always Improving
Our dedicated team works around the clock to provide bug fixes and updates for our loyal customers. If you have a suggestion for a new feature, we'll always consider it. And there's a good chance we'll implement it too.
24/7 Customer Support
You shouldn't have to settle for piecemeal customer support. We have a 24/7 customer help desk to help you navigate any problems you might have with our app.
Frequently Asked Questions
Can you convert Dailymotion Videos to MP4?
Absolutely. In fact, there are several ways to convert Dailymotion videos into MP4 videos. SnapDownloader is one of the quickest and most efficient ways to do so. After installing SnapDownloader on your computer, you only need to follow these 3 simple steps.
Search for the Dailymotion video you want to convert. Then, copy-paste the link into SnapDownloader's browser.
Select the format you wish to download (MP4) and the video quality, for instance, 144p or 1080p.
Click the "Download" button and wait for the MP4 to appear on your computer.
It's that easy.
How do I convert Dailymotion videos to YouTube?
Unfortunately, there's no way to directly convert Dailymotion videos to YouTube. Instead, you must download videos from Dailymotion onto your computer and then re-upload them to YouTube.
The most efficient way to do this is by using a video conversion tool like SnapDownloader. Since MP4 is the video format that YouTube itself recommends, we'll be using it in this example.
To convert Dailymotion videos to YouTube, you can start by copying the link of the Dailymotion video you want to download.
Then, you can paste it into SnapDownloader's custom browser. Adjust the options to get the MP4 video format.
Click "Download", and you'll receive the MP4 file on your computer.
Now that you have the Dailymotion file saved to your computer, you can head to YouTube and upload it there.
How do I download a video from Dailymotion to Chrome?
If you want to save Dailymotion videos for offline use, grab the video URL from Chrome and paste it into the SnapDownloader browser. Choose the output format and quality you desire, and click download to save the video.
How do I install the software to my operating system?
Go to the download page. SnapDownloader is available for Microsoft Windows 7, 8, 10, and 11. It is also available for Mac OS X 10.10 and higher. Click on the download button for your operating system, and you're all set.
Can I download Dailymotion videos on my PC?
Yes, get a Dailymotion video link and paste it into the SnapDownloader browser. Then, choose the format and the quality you want. Click download!
How do I download Dailymotion videos on Mac?
SnapDownloader functions identically on Mac and PC.
Can I only download Dailymotion videos?
SnapDownloader works on nearly 1,000 sites. You can use it to download MP4 videos from YouTube, Twitter, Facebook, Vimeo, and many other sites. So whether you want education, entertainment, or straight-up viral insanity, SnapDownloader works on hundreds of websites to accommodate you.
Is there a limit to the number of downloads?
No. You can download an unlimited number of Dailymotion videos. As a Dailymotion bulk downloader, SnapDownloader allows you to paste up to 100 links simultaneously to save time.
Do I need a Dailymotion account to download a video?
All you need is a URL to download Dailymotion videos. If someone wants to create a "private" video on Dailymotion, they can simply share a link with you, which you can access using our private browser. However, you don't need an account to watch that video, just the link.
How do I know SnapDownloader does what it claims?
Check out our reviews. SnapDownloader has more than 250 5-star ratings. Users rave about the clean interface, the number of available formats, the quality of conversions, the speed of downloads, the customer service, and many other features. Also, check out the fully-functional 48-hour free trial.
Is SnapDownloader anonymous?
SnapDownloader is anonymous. The app does not record any user data, and there are no hidden installers. There's also no way for the Dailymotion video creator to know who has downloaded their videos with SnapDownloader. Your privacy is safe!
Are there annoying ads?
No! There are no ads in SnapDownloader, ever.
Can I try it out before buying it?
Yes. We offer a 48-hour free trial when you download and install SnapDownloader. We're confident you'll be blown away by the features and ease of use that SnapDownloader provides.
How do I report problems?
If there is ever trouble with an Instagram Reels download, PC and Mac users can get in touch with us 24/7. We have a customer support team ready to ensure every problem gets solved ASAP. To contact us, send an email to support@snapdownloader.com.
How do I report problems?
If there is trouble with a Dailymotion video download, PC and Mac users can get in touch with us 24/7. We have a customer support team ready to ensure every problem gets solved ASAP. To contact us, send an email to support@snapdownloader.com.