Twitch Stream To MP4 Downloader
Looking for a way to download Twitch streams? SnapDownloader makes it simple to convert Twitch to MP4 on your PC or Mac. From now on, you won't ever need to access past streams on Twitch. You can just keep them on your computer forever.
Using SnapDownloader, you can download videos directly to your computer rather than relying on Twitch's platform. After downloading our app, you can easily save Twitch videos in MP4 format along with several others. Just pick the video you want, copy-paste the link, click download, and choose MP4 as the output format.
Of course, some Twitch streams are pretty long. You don't always want the full video, only a clip. Therefore, we made a built-in video trimmer that allows you to rapidly transform videos into clips. It makes video editing work a lot easier.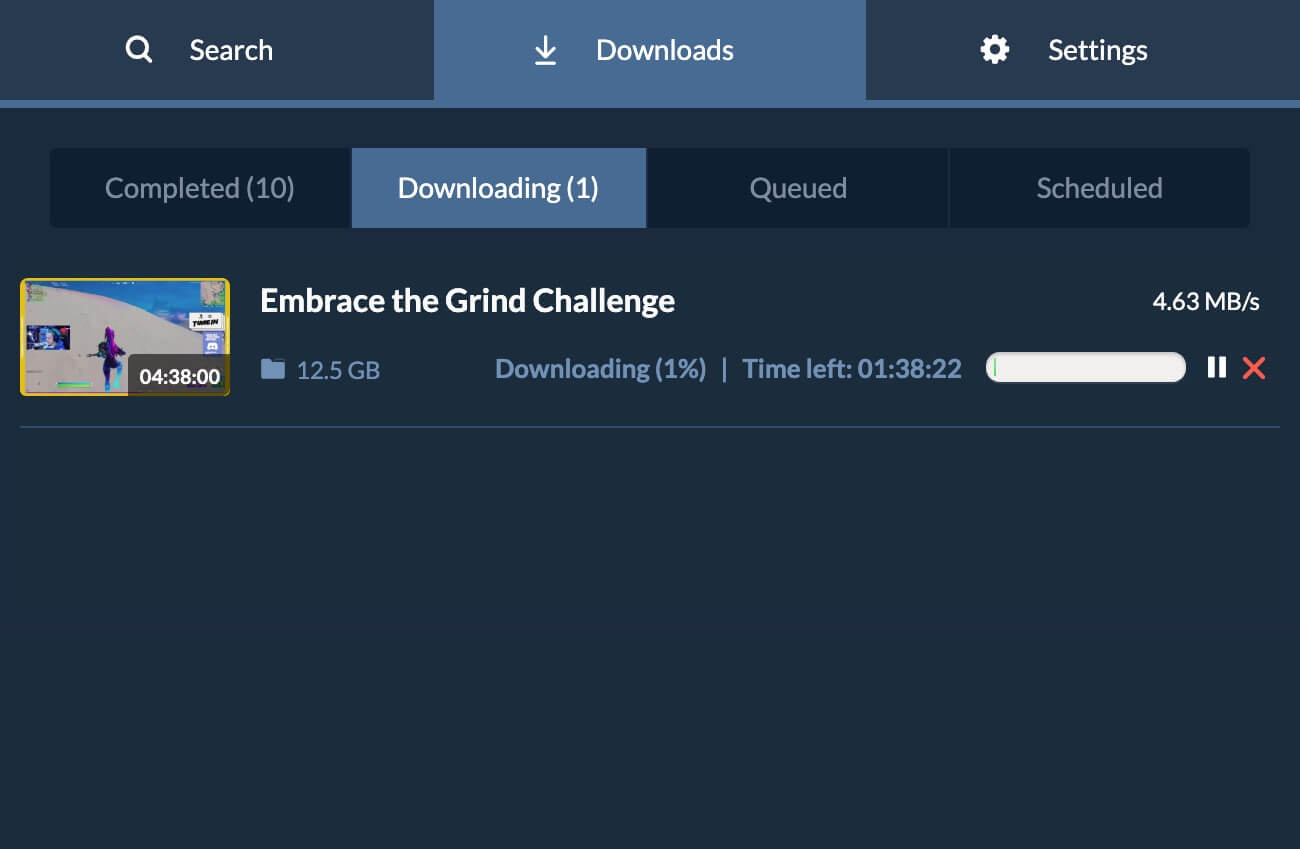 Features
Easy to use
Find the shareable link to the Twitch video and then paste it into SnapDownloader. Click "Download", and your video will be ready in moments.
Trim Twitch videos
Twitch streams are usually hours long. If you just want to highlight the funniest, most controversial, or exciting moments, our video editing tools allow you to cut clips swiftly.
Cross-platform support
Save Twitch videos to any of the common platforms, including Windows and macOS.
Bulk downloads
Saving each video individually is repetitive. The bulk downloader makes it possible to download up to 100 Twitch links at once. Just click Download and watch them go.
Simultaneous downloads
If you have links from several different sites, not just Twitch, we allow you to download them simultaneously by pasting links rather than forcing you to wait for each website.
Queue downloads
To make some videos download before the others, you can save them one by one with our download queue.
Schedule downloads
Accommodate limited bandwidth with scheduled downloads. You can set the download to begin at a time and date in the future.
Quick downloads
We have the fastest download speeds for Twitch to MP4. This is thanks to the fact that we optimized our download infrastructure for speed.
More than Twitch
Converting Twitch videos is nice. Yet SnapDownloader goes much further than that, allowing you to download video and audio from over 1000 websites, like YouTube, Instagram, Facebook, Vimeo, and TikTok.
Download playlists
Save a bunch of videos from a single streamer at once. SnapDownloader's built-in browser automatically detects whether your video is part of a playlist, and gives you the option to download every item.
Download video metadata
Hold onto important streaming information like subtitles by enabling the "embed metadata" option. That way, your viewing experience will be almost identical to the one on Twitch.
Desktop notifications
Since Twitch streams are quite long, the download might take you a while. With our notifications, you'll never lose track of a video when a download finishes.
How to Convert Twitch to MP4?
Converting Twitch to MP4 is dead simple with SnapDownloader. Just follow these three easy steps.
1. Paste the Twitch video link
Download and install SnapDownloader on your PC or Mac. Then, grab the link to your desired Twitch video, and paste it into our app.
2. Convert Twitch videos to MP4
Select "MP4" as the output format and pick the video quality you desire. You can get anything from 144p to 8k.
3. Download
Hit Download and wait for your Twitch video to save to your computer.
Why use our Twitch Video Downloader?
Safe and secure
Downloading videos on SnapDownloader is a lot safer than using some sketchy app. We don't attach any malicious content to your downloads. Moreover, we refuse to log your personal information with intrusive ads. What you see is what you get.
Versatile features
We help you convert videos from Twitch to MP4, but there are about 1000 other websites we can help you with too. Plus, you can choose from 10 different output formats and several video and audio qualities.
Great experience
Our customers love us. With over 500 reviews, we have a 4.9-star average rating. That's because we always strive to improve, even when it looks like we can't do much better.
Consistent updates
We put a lot of effort into maintaining SnapDownloader's high-end user experience. Not to mention, we prize customer feedback and work quickly to implement the best features you suggest to us.
24/7 customer support
Our customer help desk operates 24/7 to respond to our customers' queries. Nobody else comes close to matching the level of customer service we provide.
Frequently Asked Questions
How do I download Twitch videos to MP4?
To easily convert Twitch videos to MP4, use SnapDownloader. Start by installing SnapDownloader on your Mac or PC. Next, find the downloadable Twitch video link by clicking on the video you want to save and clicking the Settings icon in the lower right corner of the video player. Next, click the "Copy video URL" option.
Now, you can paste this URL into SnapDownloader, and you'll be able to save the video as MP4, or any other format or video quality. Click Download, and the video will be saved to your computer in moments.
Is it possible to download Twitch clips?
Yes, but keep in mind that you can only download Twitch streams after they are finished. At that point, you can search through the streamer's videos or VODs (Video On Demand) to access the shareable link and download it through a third-party service like SnapDownloader.
Unfortunately, you can't download videos directly from Twitch either, as they don't present you with a download button on their website. You can only save videos to your Twitch account to view them within the app when you're offline.
Can I convert stream video to MP4?
No, typically, you can only download streams after they have finished. Whether this is on YouTube or Twitch, you need to wait until the video is in a static format.
What is the best Twitch clips downloader?
SnapDownloader is the best video downloader for Twitch. You only need to copy-paste the Twitch link and click Download to get your video instantly. Moreover, we included a built-in video trimmer to allow you to consolidate Twitch videos that usually last for hours on end.
Our Twitch downloader is versatile too, considering you can download both video and audio clips in 10 different formats, while also picking from various sound and video qualities, including high-definition.
How do I turn my Twitch stream into a video?
You can turn your Twitch stream into a video once the stream finishes. You can look back to your past videos, find the video link, and paste it into SnapDownloader to keep the video on your computer.
How do I download a link from Twitch VODs?
Download SnapDownloader to your computer. Then, take the Twitch VOD link and paste it into SnapDownloader. Click on the video format and quality you desire. Then voilà, the Twitch VOD will be saved to your downloads folder.
Can you use Twitch clips without permission?
You can create clips of your favorite Twitch streamers. However, if you want to distribute these clips commercially, you must obtain the permission of the original streamer. Twitch's content policy protects each streamer's right to the content they produce. Reach out to the streamer if you want to use their clips publicly.
How do I install the software to my operating system?
SnapDownloader is available for Microsoft Windows 7, 8, 10, and 11. It is also available for Mac OS X 10.10 and higher. Go to the installation page and click on the download button for your operating system, and your installation will finish shortly.
How do I download Twitch videos on PC?
Download SnapDownloader on your PC. Then, copy a Twitch video link and paste it into SnapDownloader's browser. Select your desired output format and video quality. Click download, and you're all set!
How do I download Twitch videos on Mac?
SnapDownloader works the same on Mac and PC.
Can I only download Twitch videos?
SnapDownloader is compatible with nearly 1,000 websites. You can use it to download Twitch videos as well as files from YouTube, Instagram, Facebook, TikTok, and many other platforms. So whether you want education, entertainment, or straight-up viral insanity, SnapDownloader works on hundreds of websites to help you save the videos you love.
Is there a limit to the number of downloads?
No. You can download whatever number of Twitch videos you like. Our bulk downloader allows you to paste up to 500 links from Twitch and other platforms at once to save you time.
Do I need a Twitch account to download a video?
All you need is a URL to download public Twitch videos. However, private videos or videos that you can only access via subscription will require you to enter your login details. SnapDownloader has a built-in browser, so you can sign in to your account and retrieve URLs for those videos.
How do I know SnapDownloader does what it claims?
Check out our reviews. SnapDownloader has more than 250 5-star ratings. Users rave about the clean interface, the number of available formats, the quality of conversions, the speed of downloads, the customer service, and many other features. Test these features out in our fully functional 48-hour free trial.
Is SnapDownloader anonymous?
SnapDownloader is anonymous. The app does not record any user data, and there are no hidden installers. Your privacy is safe!
Are there ads?
No! There are no ads in SnapDownloader, ever.
Can I try before buying?
Yes. We offer a 48-hour free trial when you download and install SnapDownloader. We're confident you'll be blown away by the features and ease of use that SnapDownloader provides.