Twitter Video To MP4 Downloader
Downloading MP4 videos from Twitter is so simple when you use SnapDownloader. You can save videos of any quality to your PC or Mac, and never worry about losing access to the best videos ever again.
Normally, you can't just download videos from Twitter at a click of a button. That is, unless, you use SnapDownloader. Once you download the app, saving Twitter videos in MP4 and other formats is a breeze. It only takes a couple of clicks. Just paste the link to the Twitter video, hit download, and choose the MP4 format. Your video will be ready shortly after.
To save time, you can also download several videos at once. Just paste your desired video links into the bulk downloader, and our tool will save them all on your computer.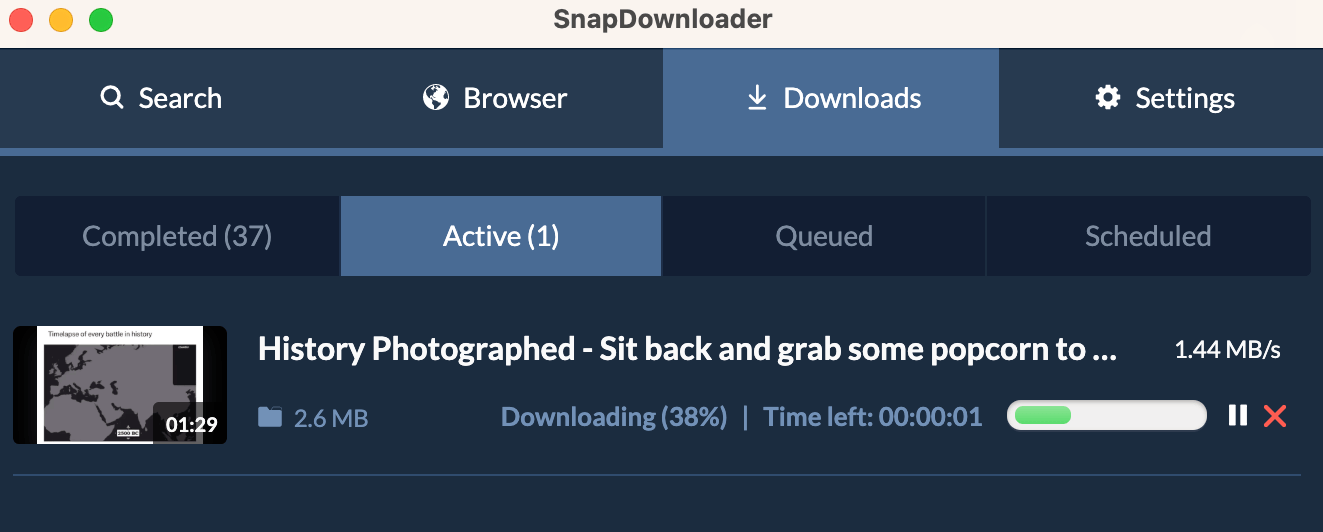 Features
Easy to use
Find the Twitter link you want and copy-paste it into SnapDownloader. Next, click download and wait a few seconds for the process to complete.
Cross-platform support
SnapDownloader works on all the most popular operating systems, including Windows and macOS.
Bulk downloads
Save massive amounts of time with the bulk downloader. Paste up to 100 Twitter video links at once, and hit download to instantly save them to your computer.
Queue
If you prefer to process videos one at a time to get the first one as soon as possible, you can set the Dailymotion video downloads in a queue and save them one by one.
Simultaneous downloads
If you have video links from a variety of platforms, you'll be happy to know you can download those at the same time as your Twitter videos.
Queue downloads
If you want each video as fast as possible, you can line them up and save them one by one. You can handle each download as it arrives in your folder.
Schedule downloads
Sometimes, you can't accommodate a download right away. Use SnapDownloader to schedule an automatic download for a future date and time.
Ultra-fast downloads
Nobody converts Twitter videos to MP4 faster than us. We've optimized every aspect of our platform for speed so you can save your videos quickly.
More than Twitter
You can do more than just convert videos from Twitter. SnapDownloader covers a multitude of platforms including YouTube, Instagram, Facebook, Vimeo, and TikTok.
Download private videos
Many Twitter videos come from private accounts. Thankfully, you can log into your Twitter account using our built-in browser and download private videos from there.
Video editing tools
Using our video trimming tools, video editors can chop up videos any way they like. If you only want 20 seconds of a one-minute video, Snapdownloader allows you to do just that!
Convert Videos to GIF
Rather than convert to MP4, you might want to save a short Twitter video as a GIF. SnapDownloader makes this as easy as a click of a button.
Download video metadata
Perhaps you want to include the text from a Tweet or other video metadata. SnapDownloader can help you retain all this info easily.
Desktop notifications
With Snapdownloader, you won't have to keep checking your download progress. You'll get a desktop notification as soon as a download is finished.
How to Convert Twitter to MP4?
Downloading videos from Twitter and saving them as MP4 takes only a few seconds with SnapDownloader. Follow these three simple steps:
1. Paste the Twitter video link
First, download and install SnapDownloader on your computer. Afterward, copy the link to a Twitter video of your choice and paste it inside SnapDownloader.
2. Convert Twitter Videos to MP4
You'll see the option to select your output format, click MP4 and choose from the video quality options, ranging from 144p to 8k.
3. Download
Click Download, and within moments, your Twitter MP4 will be saved to your computer.
Why use our Twitter to MP4 downloader?
Easy and safe
We make downloading videos simple, and there isn't any catch. SnapDownloader never logs your personal information. Moreover, we haven't hidden any malware in the downloads, so you can use it with confidence.
Incredible versatility
SnapDownloader is about more than just Twitter and MP4. We offer the opportunity to download videos from nearly 1000 websites and convert videos into ten different formats. You can download several videos all at once, or just one at a time. There are no limits.
A 5-Star Experience
SnapDownloader averages 5 stars out of 5 across 250 reviews. Without a doubt, our high customer satisfaction ratings are a result of our customer-focused development.
Regular Updates
Part of our dedication to customers shows up in our tireless effort to improve the platform. We're always open to new feature suggestions from our users, and we add the important ones as quickly as possible.
24/7 Customer Support
We employ a customer help desk that operates at all hours of the day and night to help address any roadblocks you might encounter. This level of support is unmatched in the industry.
Frequently Asked Questions
How do I convert a Twitter video to MP4?
You can convert a Twitter video to MP4 using SnapDownloader. Simply install the software on your computer. Then, find the link to the Twitter video you want and paste it into the app. You'll see the option to choose your output format and video quality. Select MP4 and your desired video quality, like 1080p, then click download. Your video will be saved to your computer within seconds.
What is the best app to download videos from Twitter?
SnapDownloader is the best app to download videos from Twitter. It only takes you a couple of clicks to complete a download. Plus, you can download several Twitter videos at a time if you wish. Using our app, you may choose from several different output qualities and formats, including MP4 and .WAV.
The best part is, SnapDownloader isn't just limited to Twitter. You can download videos from nearly 1000 different platforms: YouTube, Instagram, and TikTok included. It's one of the most versatile apps available.
Can you download a video from Twitter?
Yes, all you need is a Twitter video downloader like SnapDownloader. Unfortunately, Twitter doesn\'t allow you to download videos directly from its platform, which is why you need a third-party option.
Is Twitter MOV or MP4?
Twitter allows you to upload videos in both .MOV and MP4 formats. That said, Twitter recommends you upload videos in MP4 format to their platform. They are usually of a more compact file size compared to MOV devices, making it faster for you to upload and stream on Twitter.
How do I download MP4 from Twitter DM?
Twitter won't allow you to download videos directly from their app. Therefore, you need SnapDownloader or some other third-party app to download MP4 videos from Twitter DMs.
Using SnapDownloader, you can log into Twitter via our built-in browser. Then, you can navigate to your DMs, and click on the video that you want to download. You'll see a bunch of recommended output options, select MP4 and click download. You will receive your video in a few moments.
Is it legal to download a video from Twitter?
Twitter is a public forum, it's certainly not illegal to download videos from Twitter. However, you should be aware that you are not permitted to distribute content generated by other accounts without their permission, particularly for commercial purposes.
How do I install the software to my operating system?
Simply go to the download page. SnapDownloader is available for Microsoft Windows 7, 8, 10, and 11. It is also available for Mac OS X 10.10 and higher. Click on the download button for your operating system, and you're all set.
How do I download Twitter videos on PC?
Download SnapDownloader on your PC. Then, grab a Twitter video link and paste it into the SnapDownloader search bar. Choose the format and the video quality you want. Click download!
How do I download Twitter videos on Mac?
SnapDownloader operates the same on Mac and PC.
Can I only download Twitter videos?
SnapDownloader works on nearly 1,000 sites. You can use it to download MP4 Twitter videos and files from YouTube, Twitter, Facebook, Vimeo, and many other platforms. So whether you want education, entertainment, or straight-up viral insanity, SnapDownloader works on hundreds of websites to help you save the videos you love.
Is there a limit to the number of downloads?
No. You can download as many Twitter videos as you wish. In fact, our bulk downloader allows you to paste up to 100 links from Twitter and other platforms simultaneously to save time.
Do I need a Twitter account to download a video?
All you need is a URL to download Twitter videos. You don't need a Twitter account to access public videos, but you'll need to log into your account to download private ones. SnapDownloader has a built-in browser so you can sign in to retrieve URLs for private videos.
How do I know SnapDownloader does what it claims?
Check out our reviews. SnapDownloader has more than 250 5-star ratings. Users rave about the clean interface, the number of available formats, the quality of conversions, the speed of downloads, the customer service, and many other features. Also, check out the fully functional 48-hour free trial.
Is SnapDownloader anonymous?
SnapDownloader is anonymous. The app does not record any user data, and there are no hidden installers. Plus, there is no way for the Twitter account that posted the video to know who has downloaded their videos with SnapDownloader. Your privacy is safe!
Can I try it out before buying it?
Yes. We offer a 48-hour free trial when you download and install SnapDownloader. We're confident you'll be blown away by the features and ease of use that SnapDownloader provides.