LinkedIn Video Downloader Software
LinkedIn has many great videos for any business to use as a repertoire. Our tool is designed to help you easily download those videos on any PC or Mac. It even lets you convert to MP3 and MP4 in high quality.
SnapDownloader is designed to help you easily download videos from LinkedIn and any other website in three simple steps.
Simply copy the URL to any LinkedIn video and paste it into our app.
Choose your preferred video quality and format.
Click download.
Our tool also has a bulk downloader built-in. This will help you download and convert many LinkedIn videos in one click, saving you time.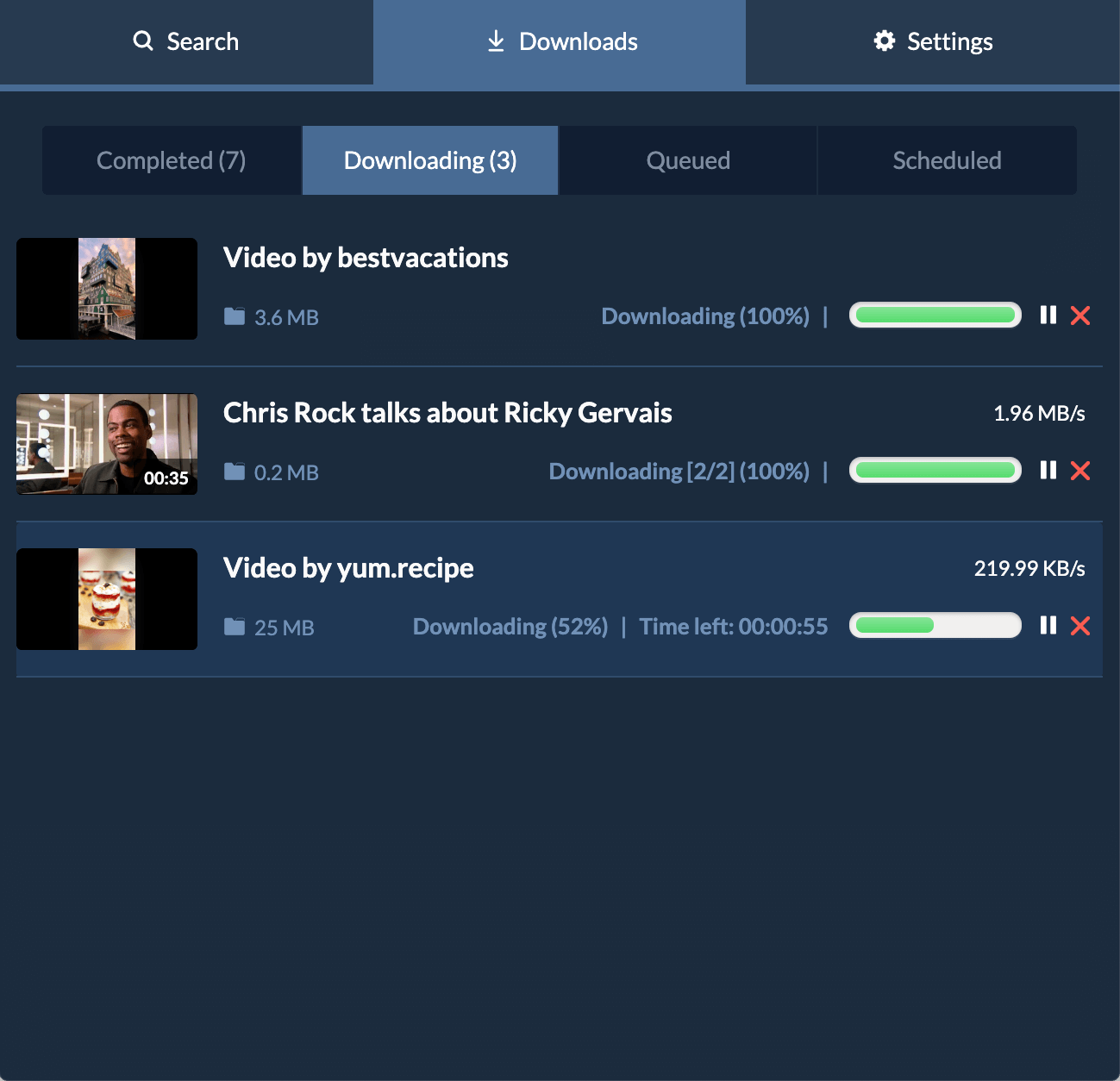 Features
Simple to Use
All it takes to use our LinkedIn video downloader is a few simple clicks. Just paste in the video link, click download, and let our tool do the rest!
Video to Audio
If you don't need the visuals from your LinkedIn videos, you can easily download the file in many audio formats, such as MP3, AIFF, M4A, WMA, and more.
Bulk Downloads
Instead of downloading multiple LinkedIn videos one by one, SnapDownloader allows you to download them in one go. You can enter up to 100 LinkedIn links, saving you time and effort.
Bulk Downloads
You can save time with our bulk downloading feature - add up to 100 BitChute links to your downloading queue, rather than working through them one at a time.
Simultaneously Download
Downloading multiple videos at once from LinkedIn is simple with SnapDownloader, even if you're downloading videos from other sites.
Queue Downloads
You can queue your LinkedIn videos to download in the order that you want to watch them.
Schedule Downloads
If you want to set your LinkedIn videos to download at a specific time to save bandwidth, you can schedule your downloads at the most convenient time.
How to Download LinkedIn Videos?
Downloading LinkedIn videos is simple with SnapDownloader, and can be done in a few steps:
1. Copy and paste the LinkedIn video link
With SnapDownloader installed, simply just paste the link of the LinkedIn video you want to download into the tool.
2. Select your Quality and Format settings
Choose the format and quality you'd like to save the LinkedIn video. For example, you could save a video in 1080p MP4 or 256k MP3.
3. Download your LinkedIn Video
Click the 'Download' button to download the LinkedIn video to your computer.
Why use SnapDownloader to download LinkedIn videos?
Great security
Our tool is safe and secure to use for business and personal purposes alike. We don't log your user information nor do we install malicious software onto your computer.
Comprehensive features
SnapDownloader isn't limited to just LinkedIn videos. It can download videos from all the most popular video-sharing sites like YouTube, Instagram, TikTok, and Vimeo. Plus, our tool allows you to easily cut videos and batch-download content. You won't find a downloader with this many features anywhere else.
Updates
We regularly update the tool to ensure that you don't miss out on the latest features and innovations from our team. We regularly add features based on feedback from our customers and community and aim to implement this feedback as soon as possible.
Stellar 5-Star Reviews
We're incredibly proud that our tool has a high satisfaction rate with a 5-star rating. We constantly strive to make our product the best it can be, which is reflected in our customer ratings.
24/7 live support
We provide round-the-clock support for our video downloader. You can provide us feedback or get support if you're having problems with our app at any time of the day or night.
LinkedIn Video Downloader FAQ
How do I Install SnapDownloader?
Installing SnapDownloader is as easy as downloading any other software. Just go to the download page and download the installer. Then, the installer will guide you through every step of the process.
Is SnapDownloader compatible with my computer?
SnapDownloader runs on any Microsoft Windows system with Windows 7 or higher. You can also use it on Mac OS X, 10.10 and higher. To download the specific installer for your operating system, click the corresponding download button on our download page.
Do I need any technical knowledge to use SnapDownloader to download Linkedin videos?
Using SnapDownloader to download LinkedIn videos is very simple. Just paste the video link into the tool, select your output and format settings, and click download. No hassle, no confusing technical stuff.
Is there any difference between the PC and Mac versions?
No, both versions are exactly the same.
Am I limited to downloading LinkedIn videos?
No, SnapDownloader works on over 900 sites online, including YouTube, Twitter, Facebook, and TikTok. No matter what you need to use it for, SnapDownloader has you covered!
How can I make sure your tool is the best available?
We have a free trial period of 48hrs. Simply install the tool to start the trial period, and try it for yourself. SnapDownloader is the most powerful tool available for downloading LinkedIn videos, and using it for yourself is the best way to see its sheer power and utility.