YouTube to GIF Maker App
YouTube is a treasure trove of endless video content, from entertaining vlogs to educational tutorials and everything in between.
However, YouTube has its constraints, and one of those limitations is the inability to transform YouTube videos into GIFs.
While sharing videos is great, there's something uniquely captivating about a well-timed, endlessly looping GIF that captures the essence of a moment in just a few seconds.
This is why we've built SnapDownloader. With it, you can select the precise snippet you want to convert, adjust the duration and FPS, and instantly convert videos from YouTube to GIF format.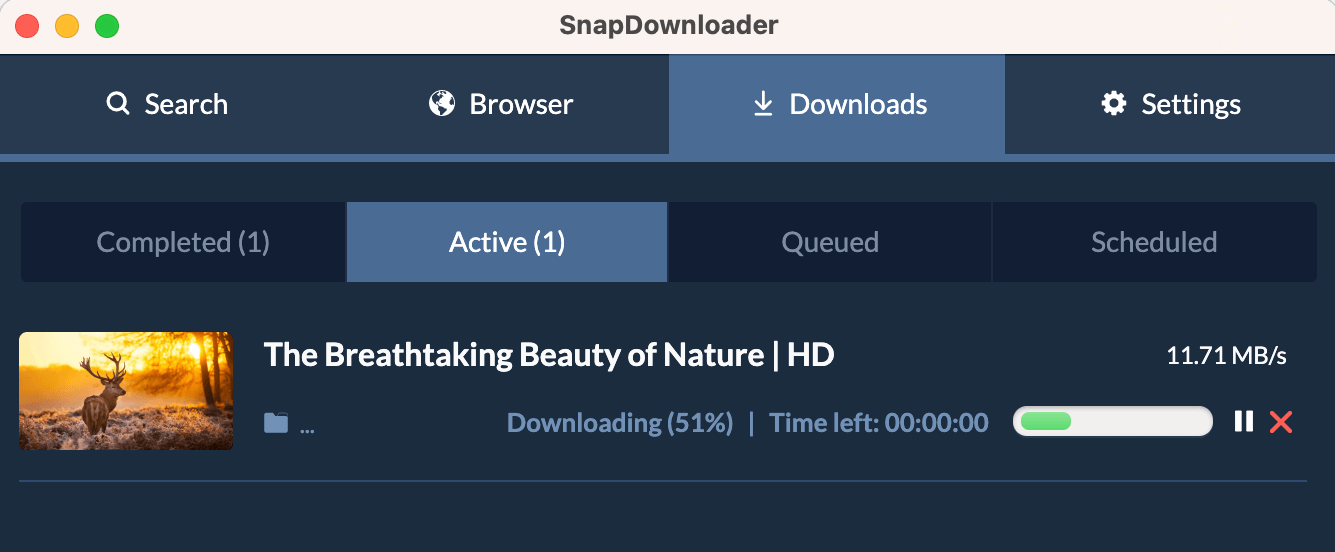 Features
Download Playlists & Channels
Download entire videos from playlists and channels with the simple click of a button. Instead of downloading them one by one, SnapDownloader can save all the videos or the selected ones in one go.
Simple & Easy
All you need to do to download YouTube videos in GIF format is to paste its link in SnapDownloader, set the output format to GIF, select the portion of the video you want to convert, and click Download. SnapDownloader will handle the rest of the process.
Up to 8K Resolution Supported
You don't have to sacrifice on YouTube quality when downloading with SnapDownloader. It supports videos from 144p up to 8K and can download videos in any quality you require.
8k Resolution Support
Video quality is never a concern when you're using SnapDownloader. Download and convert YouTube videos in up to 8k resolution.
Bulk Downloads
Want to download multiple videos while you do other tasks? SnapDownloader can do that, too.
Cut Videos
SnapDownloader comes with a built-in video trimmer that lets you cut YouTube videos and save the portion you want.
Cross-Platform Support
Whether you're using Windows or macOS, SnapDownloader is compatible with both platforms and regularly updated.
Schedule Downloads
Set the date and time for your downloads and they will get downloaded automatically at the scheduled time.
Convert to 10+ Formats
Download videos from YouTube and other sites in various formats, such as MP4, MP3, AVI, M4A, and more.
1,100+ Websites Supported
Our app is not restricted to YouTube only. You can download videos from many other sites including Facebook, Twitter, TikTok, Instagram, and more.
How to Convert YouTube Videos to GIF?
With SnapDownloader, you can convert videos from YouTube to AVI in three easy steps.
1. Copy YouTube Link and Paste in SnapDownloader
From YouTube, copy the link of the video you want to convert. Open SnapDownloader and paste the link.
2. Set Ouput Format to GIF
Choose GIF as the output format, then set the duration, FPS, and resolution of the output.
3. Download
Click the Download button to begin saving the selected portion of the YouTube video as a GIF.
Why Use Our YouTube to GIF Converter?
High-Speed Downloads
Download and convert videos to GIF at a fast speed while not compromising on the output quality
Regular Updates
Due to the ever changing nature of YouTube, our team constantly updates the software to ensure that it works properly and the bugs are squashed.
No Ads
Unlike online tools that spam you with endless ads, SnapDownloader is 100% ad-free and lets you download videos seamlessly.
Top Rated Downloader
Our software has received a 4.9-star rating and is a testament to our dedication to providing users with the best possible experience.
Frequently Asked Questions
How to convert YouTube video to GIF?
First, download and install SnapDownloader on your computer. Copy the link of a YouTube video and paste in SnapDownloader. Select GIF as the output format, set the portion you want to convert, and click the Download button. That's all you have to do!
What is GIF Format?
A GIF, short for Graphics Interchange Format, is a popular and versatile file format used to display short, looping animations and images. Unlike traditional video formats, GIFs are a series of individual frames played in rapid succession, creating the illusion of continuous motion.
How can I play GIF files?
Playing GIF files is a straightforward task, as most modern media players and web browsers come equipped with built-in support for this widely used format. Some common options are VLC Media Player, Windows Media Player, and even macOS's default QuickTime Player.
Which operating systems are supported by SnapDownloader?
SnapDownloader works with Windows and macOS.
Why would I download videos in GIF format?
There are many reasons. One reason is to highlight specific moments or content by transforming lengthy videos in short clips. GIFs are also lightweight and easy to share, making them an ideal choice for embedding in emails, messages, or social media posts without significant data usage or slow loading times.
What can I download from YouTube using SnapDownloader?
You can download videos, playlists, channels, chapters, shorts, and other forms of content from YouTube.
Can I download private videos from YouTube?
Yes! SnapDownloader lets you download private videos from YouTube. All you need to do is log in to your YouTube account in SnapDownloader using the built-in browser and you'll be able to download private videos.
Which other formats are supported?
Apart from GIF, you can convert videos to MP4, MP3, AVI, M4A, AAC, MOV, and more.
Is there a free trial available?
Yes, when you download SnapDownloader, you can use it for free for 48 hours. The trial provides you with full access to all the features of the app so you check if it's suitable for your needs. We also offer a 30-day money-back guarantee when you purchase a license. Check out the refund policy here.