Download Vimeo Videos Quickly and Easily
Downloading videos from Vimeo is super easy with SnapDownloader. All you need to do is to plug in the link of the Vimeo video that you wish to download, select your preferred output format and quality, and SnapDownloader will have it downloaded for you. It can't get any easier!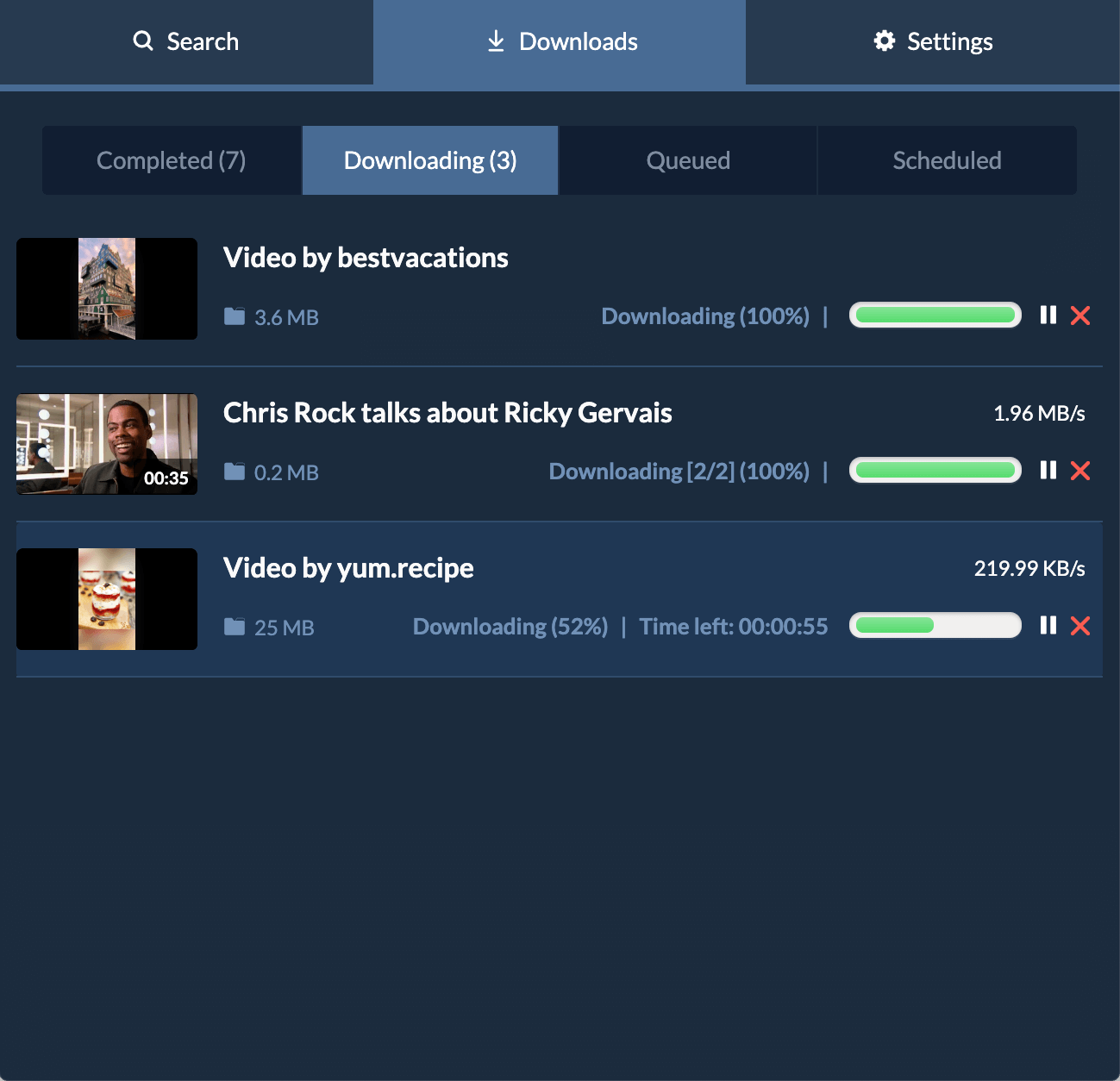 Features
Download channels
Apart from videos and audio, you can also download entire Vimeo channels or select videos from a channel.
Up to 8K quality supported
Download videos in high resolution and enjoy watching them in crisp and clear quality. SnapDownloader supports 8K, 4K, UHD, 1080p, 720p, and other video resolutions.
Bulk downloads
Save your time by downloading multiple videos from Vimeo at once without any hassle.
Trim videos
Just want to download a specific portion of a video or audio? Use the built-in video cutter to get the job done!
Extract audio
If you only want to download the audio portion of a video, SnapDownloader can do that for you. Convert videos to MP3, AAC, M4A, and various other audio formats with ease.
Download from 900 websites
Apart from Vimeo, you can download videos from more than 900 websites, including YouTube, Facebook, Instagram, Twitter, TikTok, and more.
How to Download Vimeo Videos?
With SnapDownloader, you can download Vimeo videos in three easy steps.
1. Copy and paste a Vimeo video link
Once you download and install SnapDownloader, open your browser and go to Vimeo, copy the link of the video that you want to download, then paste it in SnapDownloader.
2. Select the output format and quality
Select your preferred output format, such as 4K MP4 or MP3.
3. Download
Click the Download button to begin downloading the Vimeo video or audio to your computer.
Why use our Vimeo Video Downloader?
Abundant of features
Download videos is no longer a hassle, thanks to all the amazing features that come packed in SnapDownloader. With this video downloader, you can cut videos, convert them to various output formats, download in up to 8K quality, and save multiple videos simultaneously.
100% Safe & Secure
User safety has always been the first priority of our team. With that in mind, we have built the most secure video downloader that is free of any malicious content, has no ads and does not track its users.
5-star rating
Our video downloader software has the highest customer satisfaction in the market. With over 100+ customer reviews, our software has an average rating of 5/5.
24/7 customer support
We have a dedicated customer support team that is available to help you 24/7 to solve any issues that you might face.