Zoom Video Downloader Software
Zoom is a platform used for many important virtual meetings for business, personal, and educational use. Our app allows you to download these videos on PC or Mac straightforwardly and save important information for future use - you can download the full video in MP4 format or opt for audio-only with MP3.
SnapDownloader lets you download videos from Zoom and many other websites in three simple steps.
Copy the Zoom meeting URL and paste it into our app.
Select the video quality and format you want.
Click download.
SnapDownloader also features a bulk downloading tool. This allows you to save time by downloading multiple videos at once. All you have to do is paste the URLs in the app, and SnapDownloader will complete the downloads in the background.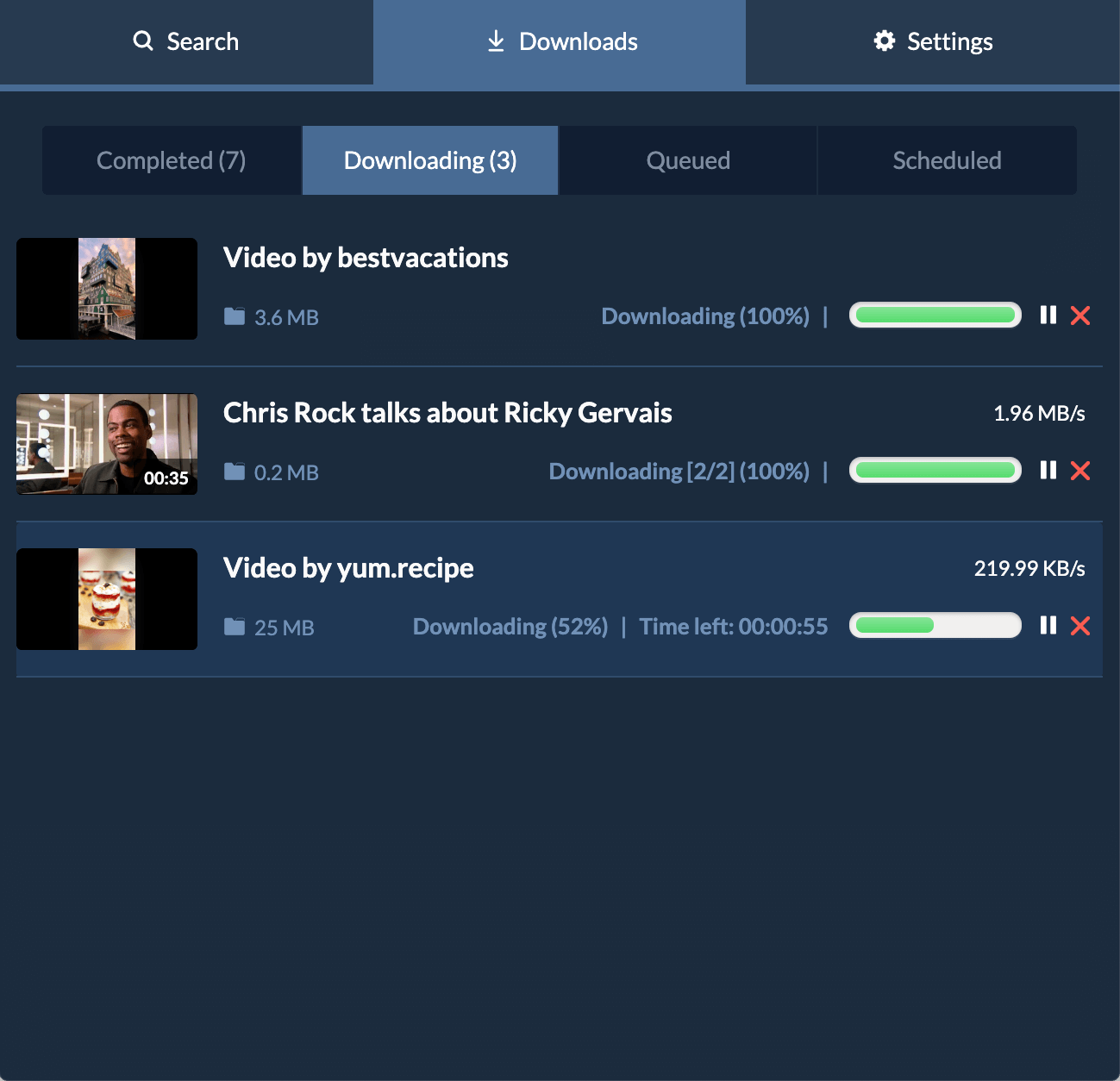 Features
Easy-to-use
To download Zoom videos, all you need to do is copy and paste the video link into the app. Once you set it away, SnapDownloader will handle the rest.
Choose the file format
You can choose the video quality and file type for your download, and you can also opt for an audio-only format such as MP3, AIFF, M4A, WMA, and more.
Enhanced OS compatibility
SnapDownloader is compatible with various versions of Windows and macOS - see our <a href="https://snapdownloader.com/downloads">download page</a> to find the right version for you.
Bulk downloads
Our bulk downloading feature is incredibly convenient by allowing you to add up to 100 links to your downloading queue, helping you save time instead of downloading them one by one.
Simultaneous downloads
Your queued videos will download simultaneously. You aren't restricted to downloading Zoom videos only - you can queue downloads from over 900 video-sharing platforms.
Queue downloads
You can choose whether SnapDownloader downloads your queued videos in bulk, or you can prioritize videos to download them faster. If you choose to download your queued videos one at a time, you can start watching them sooner while the rest of your queued videos download in the background.
Schedule your downloads
You can schedule your Zoom videos to automatically download at a set time - this is great for when you have limited bandwidth.
High-speed downloads
SnapDownloader is an enhanced software that is optimized for downloading your Zoom videos at the highest speed possible.
Download videos from 900 websites
Besides downloading videos from Zoom, you can also download content from over 900 video-sharing websites, including YouTube, Instagram, Facebook, Vimeo, and TikTok.
Built-in video trimmer
You can trim your videos when you've downloaded them, allowing you to easily edit your videos down to the clips you want.
Download private videos
SnapDownloader has a built-in web browser that allows you to log into your Zoom account to access private videos. This allows you to download whatever you have access to, so you're not limited to publicly available content.
Desktop notifications
SnapDownloader has optional desktop notifications that allow you to go about your day while your videos download in the background. You'll then be notified whenever a download is complete.
How to Download Zoom Videos?
You can use SnapDownloader to download your Zoom videos with ease by following these steps:
1. Copy and paste the Zoom video link
Once SnapDownloader is installed, paste your Zoom video link into the tool.
2. Choose the download quality and format
Select the format you'd like your Zoom video to be downloaded in. For example, you could save a video as a 4K MP4, or an audio-only MP3.
3. Download your Zoom Video
Click the 'Download' button to begin downloading your Zoom video.
Why use SnapDownloader for Zoom videos?
Safe and Secure
SnapDownloader has been downloaded with user privacy and security as a priority. We do not log any user information, and our software is free from any malicious content.
Comprehensive Features
SnapDownloader is incredibly versatile, meaning you can use it for far more than just Zoom videos. You can download content from over 900 different platforms with our batch download feature, and trim the files to get the content you want. This makes SnapDownloader especially convenient and user-friendly.
Proven User Satisfaction
SnapDownloader has a consistently high user rating, with an average rating of 4.9/5 across over 400 reviews. We're always working to satisfy our users, and quickly work to address any reported issues.
Regular Updates
We're constantly working to improve our software and elevate our user's experience in every way possible. We value user feedback and regularly implement your comments into our updates so we can perfect SnapDownloader.
24/7 Customer Support
We have a dedicated team that offers round-the-clock support when using our software. We're here to provide any assistance you may need so you can have the best possible experience with SnapDownloader. We're always open to hearing any feedback you might have, too.
Zoom Downloader - Frequently Asked Questions
How do I Install SnapDownloader?
Installing SnapDownloader is a straightforward process - simply visit the download page to begin downloading the installer, which will then guide you through the remaining installation steps.
Is SnapDownloader compatible with my computer?
SnapDownloader runs on Microsoft Windows 7 or higher, and Mac OS X 10.10 and higher. Both versions work in the same way, you just need to select the correct installer for your operating system on the download page.
What videos can I download?
SnapDownloader can download videos in the format of your choice from over 900 video-sharing platforms, including YouTube, Twitter, Facebook, and TikTok. The extensive number of platforms we are compatible with means that you can download content for a variety of purposes, from entertainment to education - we've built SnapDownloader to accommodate your needs.
Do I need an account to download videos from websites?
If you are trying to download a video that has some privacy restrictions, you can use our built-in browser to log in to your account and download the private videos you want. If the content you want to download is public, you do not need to have or log in to an account for that webpage.
Is There a download limit?
No. You can download an unlimited number of videos, Zoom and more. With the bulk downloader, SnapDownloader allows you to paste up to 100 links from different websites simultaneously to save time.
How do I know SnapDownloader does what it claims?
SnapDownloader has more than 400 5-star ratings, so check out our reviews if you'd like some peace of mind. Common praise for our software includes the clean interface, the number of available formats, the conversion quality, the download speed, customer service, and many other features. You can also try out our 48-hour free trial with full access to all the functions.
Is SnapDownloader anonymous?
SnapDownloader is anonymous, with no hidden installers or recorded user data. We also don't store your video searches and downloads on our servers. Your privacy is intact with our app, and the video creator has no way of knowing if their video has been downloaded with SnapDownloader.
Are there Ads?
No! SnapDownloader is completely ad-free.
Can I try before I buy?
We offer a 48-hour free trial so you can test out our software before making any commitments. We also offer a money-back guarantee on purchases - with a 30-day money-back guarantee for the lifetime purchase or annual subscription service, and a 24-hour guarantee for the monthly subscription.
How do I report problems?
If you run into any issues with our software or when trying to download your videos, our users can get in touch with our support services 24/7. Our customer support team works to get every issue solved as soon as possible. To contact us, send an email to support@snapdownloader.com.