Convert BitChute Videos to MP4 with SnapDownloader
BitChute has a variety of videos that you can't find anywhere else, so you might want to download your favorites to watch whenever you want. Our tool is designed to help you easily download these videos on a PC or Mac - you can download the full video in MP4 format or even download audio only with MP3.
SnapDownloader allows you to easily download videos from BitChute and many other websites by following these three simple steps.
Copy the BitChute video URL and paste it into our app.
Choose the desired video quality and format.
Click download!
SnapDownloader also has a built-in bulk downloading tool. This allows you to queue multiple videos for conversion, so you don't have to wait for each one to download before moving on to the next one. Simply paste the URLs and leave SnapDownloader to do its thing in the background.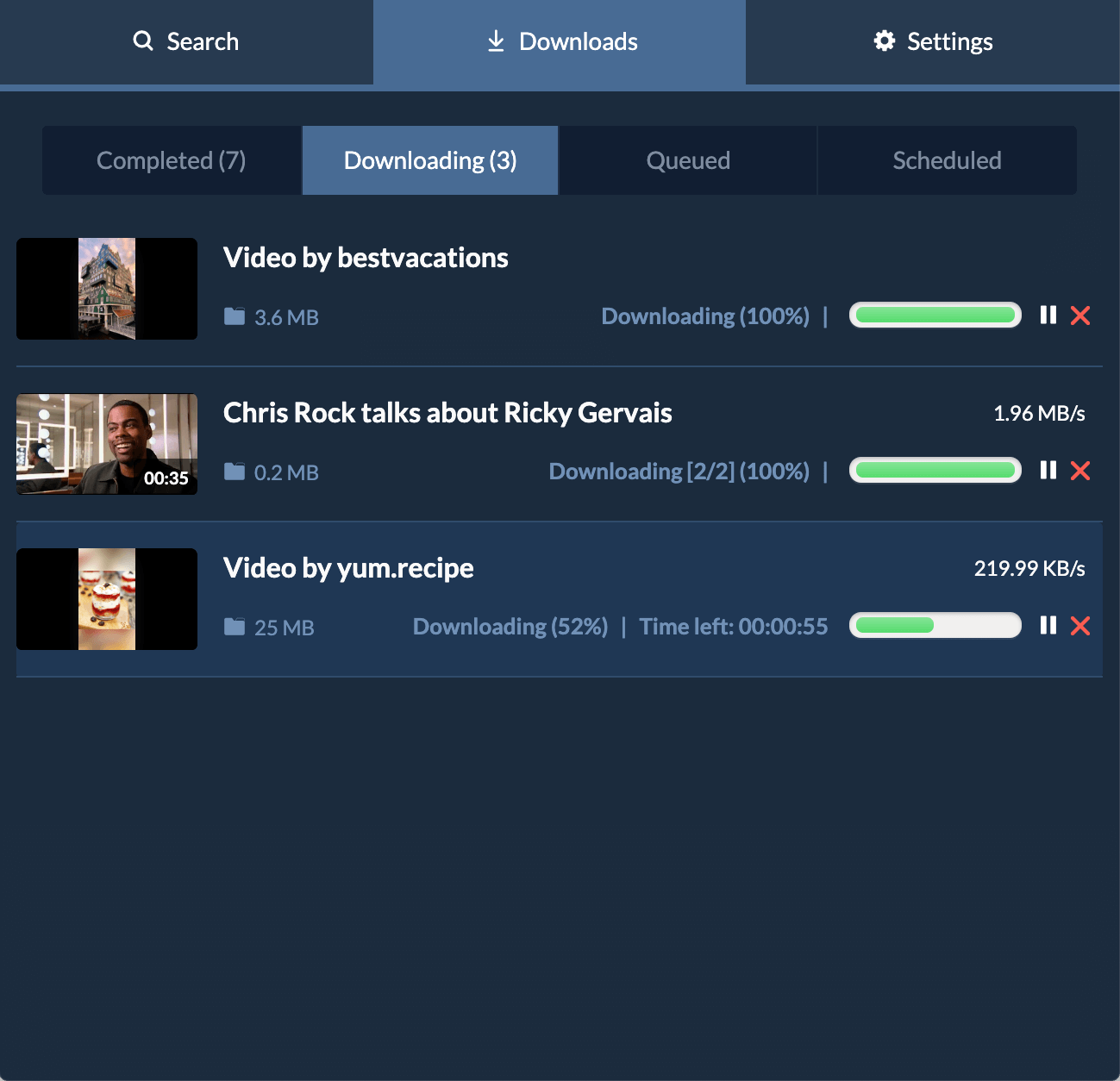 Features
Easy to Use
All you need to do when downloading BitChute videos to MP4 is to copy and paste the video link into our app, and the tool will handle the rest - it's that simple.
Choose your Format
If you want to download audio only instead of the entire video, you can download the file in formats such as MP3, AIFF, M4A, WMA, and more.
Cross-platform Support
SnapDownloader is developed to work with the most commonly-used operating systems, including most versions of Windows and macOS.
Bulk Downloads
You can save time with our bulk downloading feature - add up to 100 BitChute links to your downloading queue, rather than working through them one at a time.
Simultaneous Downloads
Snapdownloader allows you to download your BitChute videos simultaneously, rather than one-by-one, saving you bundles of time!
Queue Downloads
You can queue your downloads so each video is completed one by one at a faster rate. Watch your favorite videos first, while SnapDownloader works through the rest of your queue.
Schedule for later
You can schedule your BitChute videos to download automatically at a set time - this is great for when you have limited bandwidth
High-speed download
Our downloader app is optimized to allow us to convert BitChute videos to MP4 at the fastest speeds possible.
900+ websites supported
Besides converting BitChute to MP4, you can also download videos from many different platforms, including YouTube, Instagram, Facebook, Vimeo, and TikTok.
Built-in Video Trimmer
Create your own edits with our built-in video trimmer - you can create clips of your favorite BitChute video moments with ease.
Proxy Setup
Proxies are fully integrated into SnapDownloader, allowing you to bypass geo-restrictions found in some countries. Just enter your proxy credentials, and you can download BitChute videos no matter your location.
Desktop Notifications
With desktop notifications enabled, you can go about your day while SnapDownloader is working in the background. Once your download is complete, you'll get a notification.
How to Download BitChute Videos?
Downloading BitChute videos is easy with SnapDownloader, all it takes is a few steps:
1. Copy and paste the BitChute video link
With SnapDownloader installed, simply paste the link of the BitChute video you want to download into the tool.
2. Select the Download Quality and Format
Select the format you'd like your BitChute video to be downloaded in. For example, you could save a video as a 4K MP4.
3. Download your BitChute Video
Click the 'Download' button, and the BitChute video will start downloading to your device.
Why use SnapDownloader for BitChute videos?
Safe and Secure
Our team has developed SnapDownloader with our user's security and privacy in mind. Our app does not contain any malicious content or log any user information.
Extensive Features
SnapDownloader isn't limited to downloading BitChute videos, you can download content from 900 platforms across the web. Along with our batch downloading features, this makes SnapDownloader incredibly convenient and user-friendly.
Proven User Satisfaction
SnapDownloader constantly delivers user satisfaction, which is why we have an average rating of 5/5 stars over 400 reviews.
Regular Updates
We're always improving our software to give our users the best experience possible. We listen to user feedback and regularly implement your suggestions into our updates to perfect our platform.
24/7 User Support
We have a dedicated team that provides you with round-the-clock support when using our software. We're here to guide you through any steps you need assistance with - we want you to have the best possible experience with SnapDownloader.
BitChute Video Downloader FAQ
How do I Install SnapDownloader?
Installing SnapDownloader is straightforward - simply visit the download page to download the installer, which will then guide you through the installation steps.
Is SnapDownloader Compatible with my Computer?
SnapDownloader runs on Microsoft Windows 7 or higher, and macOS 10.10 and higher. You can select the installer for your operating system on the download page.
What Videos Can I Download?
SnapDownloader can download videos from over 900 online platforms, including YouTube, Twitter, Facebook, and TikTok. You can choose the format too, which gives you an extra level of control when downloading your videos.
Can I Try Before I Buy?
We offer a 48-hour free trial so you can test out our software before making any commitments. We also offer a money-back guarantee on purchases - with a 30-day money-back guarantee for the lifetime purchase or annual subscription service, and a 24-hour guarantee for the monthly subscription.