Instagram Video to MP3 Converter App
On average, most people watch 16 hours of online videos weekly. While that seems like a lot of video content, it's understandable why we can consume so much of it. Videos rule almost all platforms in today's age, from TikTok and Youtube to Instagram and Snapchat.
However, most of these platforms don't allow you to download videos, let alone the MP3 versions of those videos. That's where SnapDownloader comes in.
Our Instagram Downloader lets you download Instagram videos in the format of your choice. Besides feed videos, you can also download IGTV videos and stories. Your options are limitless.
The good news about the SnapDownloader app is that you don't get any annoying ads that ruin your experience or take up too much of your time.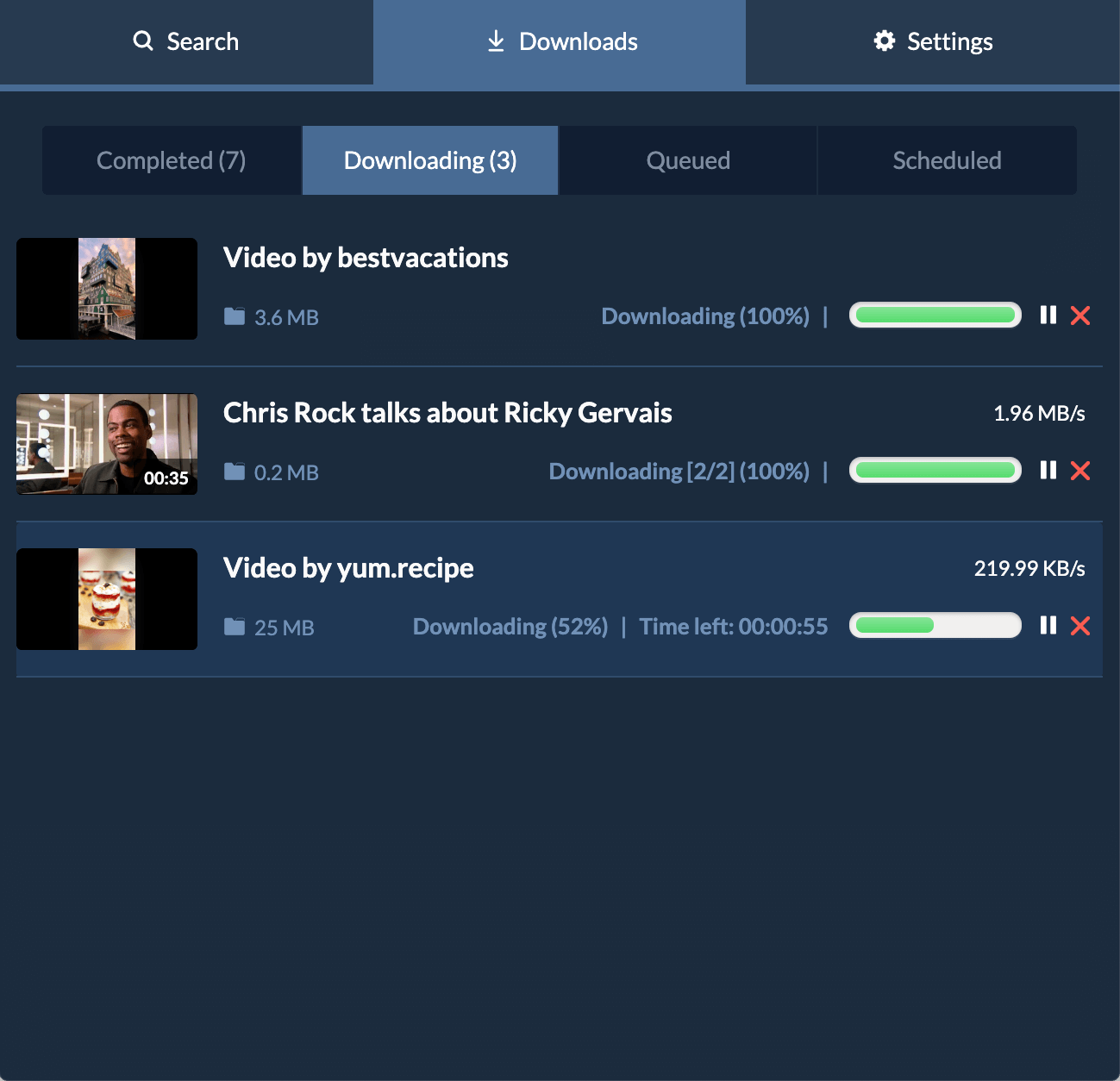 Features
High-Speed Downloads
You won't have to wait for minutes or hours to download a single file. Our optimized downloader app downloads your favorite videos at the fastest speeds.
User-Friendly Interface
The software is designed with an easy-to-use interface. You don't need any technical skills or advanced know-how for it.
Schedule Downloads
If you want, you can schedule your downloads so that they start at a later time.
Cross-Platform Support
With SnapDownloader, you can download Instagram videos through macOS and Windows platforms. Keep an eye on this space for our Ubuntu support, which is rolling out soon.
Support for 900+ Websites
Whether it is Instagram, Facebook, Twitter, TikTok, or any other site, you can download videos from almost any site with SnapDownloader.
Batch Downloads
Queue multiple videos for download all at once and save yourself the hassle of downloading them one by one.
24/7 Customer Support
Enjoy our world-class customer support that is always there to help you with any issues you may have.
How to Convert Instagram to MP3?
Want to convert Instagram videos to MP3 without dealing with ads or a clunky user interface? We've got you covered.
1. Copy and Paste an Instagram Video Link
Go to the profile you want to download the video from. Find the video and copy the video link. You can do this on Instagram by tapping on the three dots in the top right corner of the video. Once you've copied the link, go back to SnapDownloader. Paste the link in the search bar.
2. Select the Output Format
Since you want to download the video in MP3 format, set the output format to MP3.
3. Download
Click on the Download button to begin downloading the Instagram video to your computer in MP3 format.
Why Use Our Instagram to MP3 Converter?
Multiple Output Formats
SnapDownloader allows you to download videos in multiple formats, from HD to lower quality files that take up less space. It ensures that you can always find the correct file type and quality for your needs.
Regular Updates
Keeping our mission to remain as user-friendly as possible, we regularly release updates for our software. These updates aim to fix any issues brought to our attention and add new or improved features.
No Ads
Bid farewell to any ads that invade your video downloading experience. Our software lets you download videos without sitting through those pesky commercial breaks.
User-Friendly Interface
Our software is designed with the user in mind. We want to ensure that our software is as easy and enjoyable as possible. Whether you want to schedule downloads or find the format of your choice, all it takes is a single click.
Frequently Asked Questions
How Do I Download SnapDownloader to My Computer?
Go to the SnapDownloader Download page and choose your computer's operating system. The download will take a few moments, and then you can open the app. After that, you'll have 48 hours to use the software for free.
Why Would I Want to Download Instagram Video to MP3 Instead of MP4?
Since Instagram is typically used for visual content, every once in a while, you might come across a video you want to download. For example, you may have found an informative tutorial you wish to use later.
But what if you found a sound clip you liked and wanted to use for a video of your own or liked the background music used in one of the videos? In such cases, you wouldn't want to download the video. Instead, you need the MP3 or audio file of the sound.
Can I Convert Instagram to WAV?
SnapDownloader supports a wide range of output formats. If you want to download Instagram to WAV, choose the relevant format after pasting the video link in the SnapDownloader search bar.
How Long Does It Take to Convert Instagram Video to MP3?
Since SnapDownloader has fast download speeds, it doesn't take long to download and convert an Instagram video to MP3. The actual time will depend on the length of the video and your internet connection.
How to Download Instagram Stories or IGTV as MP3?
The process is similar to downloading regular videos from Instagram.
First, find the story you want to download. Tap on the three dots in the top right corner and copy the link. Paste the link into SnapDownloader and click on the Output Format button. From the drop-down menu, select MP3 and click the Download button.
How to Schedule Instagram Video Downloads?
If you want to download the video later, click on the Schedule for Later button. Here, you can choose when you want the video to download. Schedule the time, and the video will begin downloading automatically later.