TikTok Video To MP3 Converter
Our TikTok to MP3 converter is perfect for anyone who wants to download TikTok videos only for the sounds. We designed it to help you take high-quality audio from TikTok and save it to your Mac or PC.
SnapDownloader is a hassle-free way to download cool new music or crazy sound effects from TikTok. To do this, just copy a video's link from TikTok and then paste it into our converter app. Then, you must select the MP3 option to get the audio-only version and then save it to your computer.
If you're trying to download several TikTok videos at once, we offer a built-in bulk downloader. That way, you can download audio from several different TikToks and listen to them all later.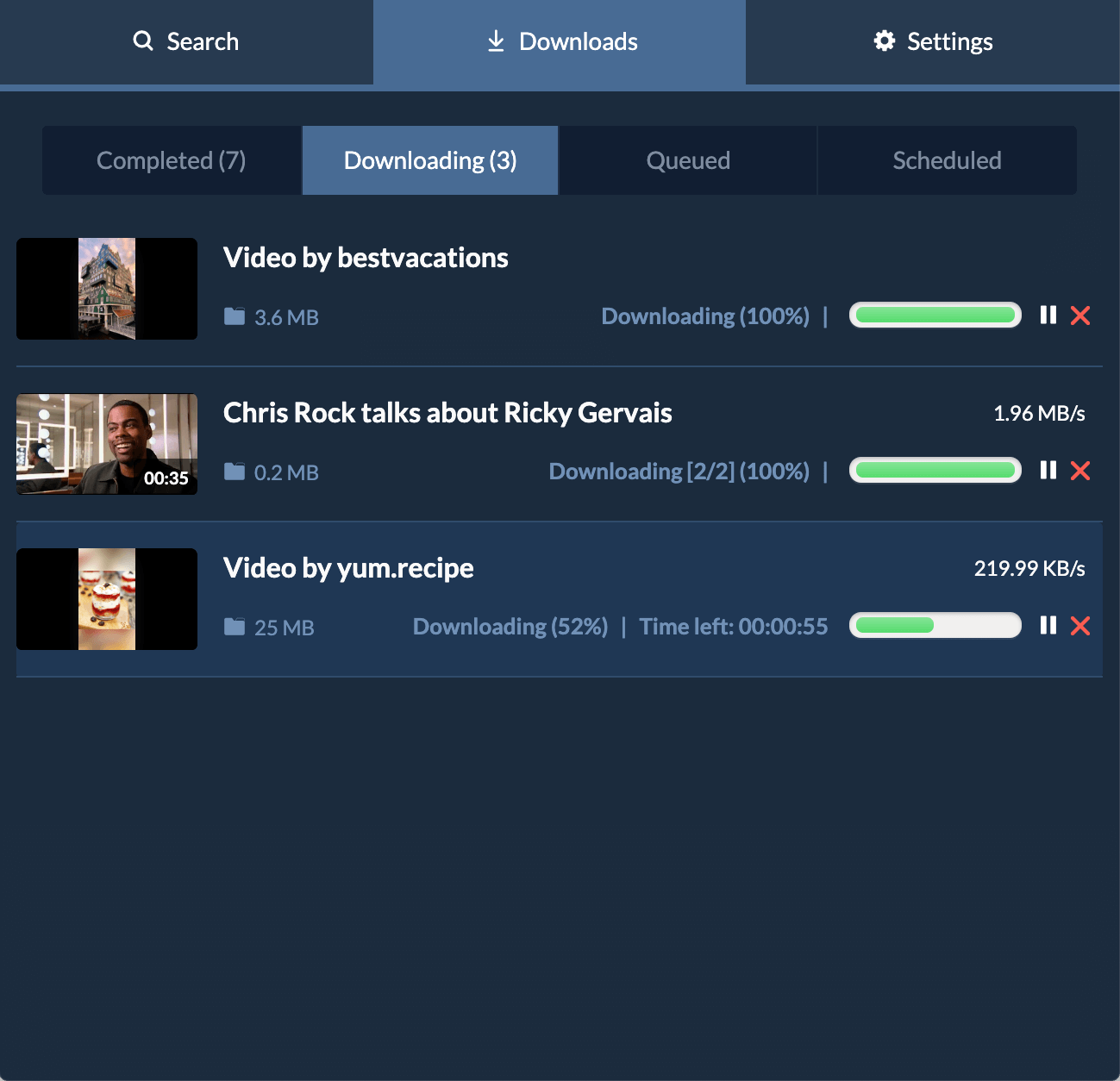 Features
Simple to use
Just copy-paste your TikTok link and SnapDownloader converts your video to MP3 without any trouble, saving the audio file to your computer.
Extract audio
Beyond the MP3 format, SnapDownloader allows you to extract audio in MP3, AIFF, M4A, WMA, and more formats.
Bulk downloads
Use the bulk downloader to convert the audio from multiple TikTok videos at once. You can enter up to 100 TikTok links and save them at the same time.
Simultaneous Downloads
Our downloads are literally "all at once" – you can make them simultaneous if you want. That way, you can convert up to 100 TikTok videos to MP3 and have them all ready to listen to immediately.
Queue Downloads
Alternatively, you can prioritize select videos, and have each audio file download one by one, so you can start listening to them as soon as possible.
Schedule downloads
Sometimes, you can't get to a video right away. That's no problem for SnapDownloader since you can easily schedule the TikTok audio conversion for a future time and date.
High-speed download
We convert TikTok videos to MP3 as quickly as possible with optimized downloading speeds within our app.
Download from 900 websites
Along with TikTok, you can save videos from several popular platforms like YouTube, Instagram, Facebook, Vimeo, and Twitter.
Download private videos
Getting access to audio from private videos might seem tricky. But, SnapDownloader provides an easy solution. Use our built-in web browser to log into TikTok to convert your favorite private videos.
100% safe with no ads
You can't forget about security. Fortunately, we offer the safest video download experience on the market. No intrusive ads or malicious installers are included in our platform.
Proxy setup
Since TikTok is banned in some countries, you need to use a proxy to bypass those geo-restrictions. SnapDownloader lets you enter proxy credentials and convert TikTok videos as you would normally.
Download video metadata
SnapDownloader lets you keep all metadata, like the title and the creator's name, when you download a TikTok video.
Desktop notifications
Stay on top of the videos you're converting with our desktop notifications. Once your downloads are ready, our app will let you know promptly, so you can start listening right away.
How to Convert TikTok to MP3?
Converting TikTok to audio is easy with SnapDownloader. Our TikTok video to MP3 converter only requires 3 easy steps:
1. Copy and paste a TikTok video link
Download SnapDownloader and install it on your computer. Afterward, copy the TikTok video link and paste it into SnapDownloader.
2. Select MP3 format and audio quality
Select the MP3 format as the output and add whichever audio quality you wish, for example, 128k.
3. Convert
Click "Download" to begin your TikTok video download and save it to your computer.
Why use our TikTok to MP3 converter?
Safe to use
We want to ensure a safe and secure downloading experience for TikTok and many other platforms. We refuse to log your information or bundle suspicious-looking files to our downloads.
Incredible features
Besides being a TikTok sound-to-MP3 converter, SnapDownloader handles loads of other platforms and output formats, including YouTube playlists, Facebook, and over 900 more websites.
4.9-star rating
People love our TikTok to MP3 converter. After well over 100 customer reviews, we're proud to say that our software is rated 4.9/5 on average.
Updated regularly
We never let up for a second. Our team works night and day to ensure that the downloader delivers the quality our users expect. We're open to suggestions too! We try to implement the most popular user-requests wherever we can.
24/7 Customer Support
Since we want to offer the best possible experience for our customers, we've hired a dedicated support team to work with you through any issues you may have. Nobody can touch our level of customer service.
Frequently Asked Questions
How do I convert TikToks to MP3?
Using a third-party conversion tool, you can convert a TikTok video to an MP3 audio file. There are several tools for this purpose, but none are as easy to use as SnapDownloader.
Here is how you can use SnapDownloader to convert a TikTok to an MP3 file:
Download, install, and open SnapDownloader
Then open TikTok in your browser and copy-paste the link into our app.
Select MP3 as the format and choose an output quality like 128k.
Click the "Download" button and wait until the download is finished.
Enjoy your audio!
How do I convert TikTok to sound?
To convert TikTok to sound, you'll need a TikTok sound-to-MP3 converter. This will enable you to download a TikTok video and turn it into an audio file, like MP3.
How do I install the software to my operating system?
Simply go to the download page. SnapDownloader is available for Microsoft Windows 7, 8, 10, and 11. It is also available for Mac OS X 10.10 and higher. Click on the download button for your operating system, and you're all set.
How do I download Tiktok videos on PC?
Get a TikTok video link and paste it into the SnapDownloader search bar. Then, choose the format and the quality you want. Click download!
Can I only download TikTok videos?
SnapDownloader works on nearly 1,000+ sites. You can use it to download mp4 TikTok videos and files from YouTube, Twitter, Facebook, Vimeo, and many other sites. So whether you want education, entertainment, or straight-up viral insanity, SnapDownloader works on hundreds of websites to accommodate you.
Is there a money-back guarantee?
Yes. For a lifetime purchase or annual subscription service, we offer a 30-day money-back guarantee. The monthly subscription comes with a 24-hour guarantee.