Telegram Video Downloader App
Through SnapDownloader, you can quickly & easily download videos from Telegram channels directly to your PC or Mac. It's a brilliant way to store videos to watch offline or even edit these clips into new content.
It can be difficult to save videos sent or shared on Telegram. With our tool, you can copy and paste a Telegram link and save the video to your device in seconds!
Our tool also has a bulk downloader built-in. This will help you download and convert large batches of Telegram videos simultaneously.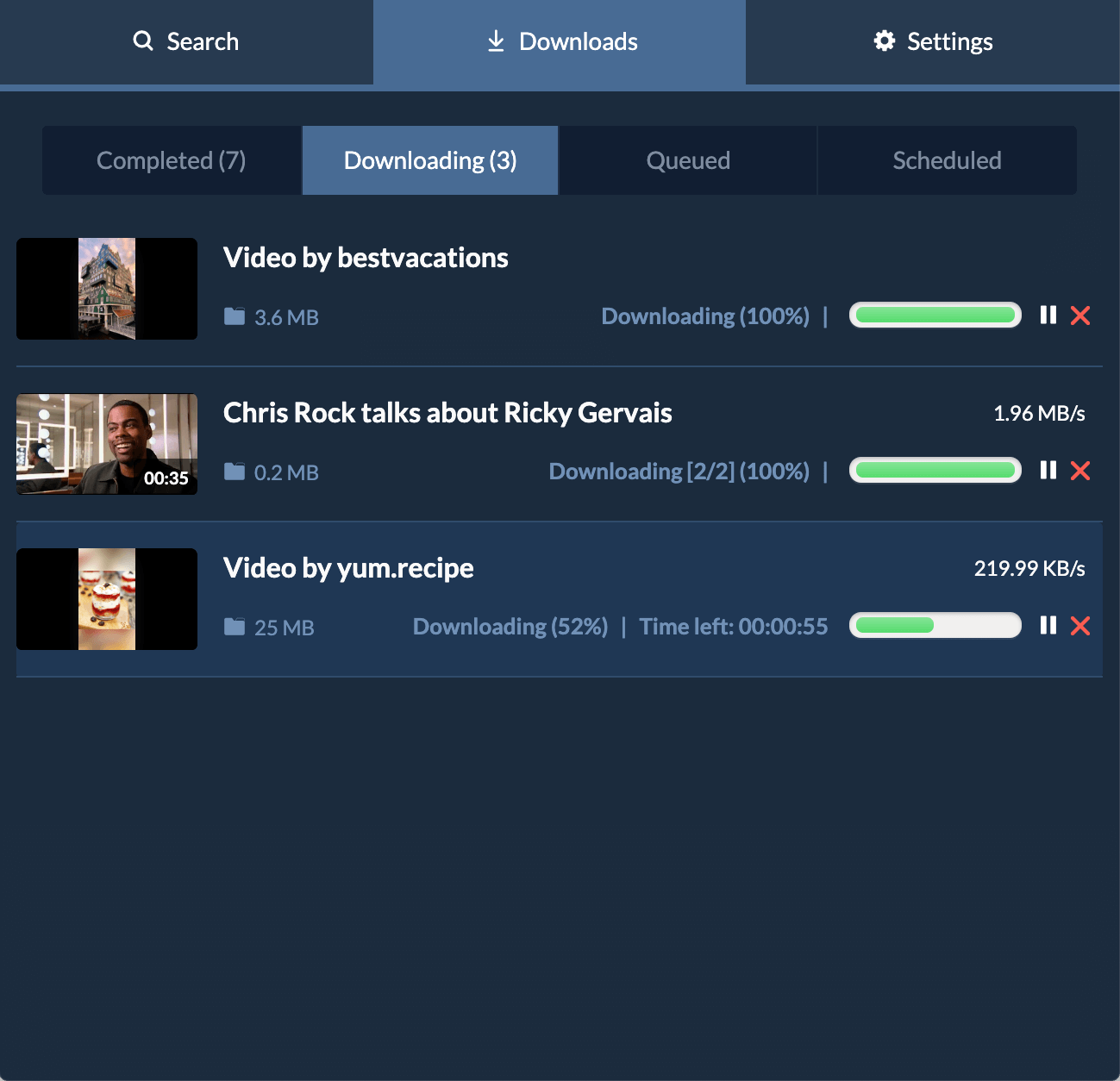 Features
Easy-to-use
Our tool is the easiest method for downloading any Telegram video. All you'll need to do is copy & paste the link into SnapDownloader, select your desired format and hit Download!
Up to 8K resolution supported
Download videos in 8K, 4K, UHD, 1080p, 720p, and in practically any format you desire. Need to reduce the file size of a clip from Telegram? Try downloading it in a lower resolution.
High-speed downloads
We don't cap your download speed - allowing you to save Telegram videos lightning fast. No more waiting for a slow download to finish!
Simultaneous downloads
Need to save a load of videos all at once? You can download multiple clips at the same time - and even from different websites like YouTube, Instagram and TikTok!
Extract audio
Want to extract the audio from Telegram video clips? With Snapdownloader, you can easily convert your clips to MP3, WAV or M4A and rip the sound from any type of video file.
In-built video trimmer
With our tool, you can trim your video without needing to open up editing software. Want to remove the first few seconds of the video, or get rid of some blank space? You can easily do this within SnapDownloader.
How to Download Telegram Videos?
SnapDownloader makes downloading Telegram videos simple. Just follow these three easy steps:
1. Copy and paste the Telegram video link
First, download and install SnapDownloader on PC. Then, copy and paste the link of the Telegram video into Snapdownloader, and click download.
2. Select your Quality and Format settings
Choose whichever format and quality you'd like to save the video as. For example, you could save a video in 1080p MP4 or if you need an audio file, try 256kbps MP3.
3. Download your Telegram Video
Click the 'Download' button to download the Telegram video to your computer.
Why use SnapDownloader to download Telegram videos?
Security
We take your data security incredibly seriously. We never install any malicious software onto your device or sell your data.
Comprehensive features
SnapDownloader is a fully-fledged video downloading tool. You can use our tool to download videos from over 600 different websites, trim them within the software, complete bulk downloads and much more!
Updates
With regular updates, we make sure you don't miss out on the latest features and innovations from our team. We add features based on feedback from our customers and community as often as we can.
5-Star Reviews
Our tool has an incredible customer satisfaction rate with a 5 star average rating from 100+ customer reviews. Customers love SnapDownloader, and we're constantly working on improving it.
24/7 customer support
With our dedicated support team, you can be sure that our Telegram video downloader will provide you with the best possible experience. We are here to answer your questions, address your concerns, and provide you with assistance if anything does go wrong.
Telegram Video Downloader FAQ
How do I Install SnapDownloader?
The installation and setup process is simple! Just head to the download page and save the installer to your device. Run the installer and follow the instructions to complete the installation.
Is SnapDownloader compatible with my computer?
SnapDownloader is compatible for both Windows and MacOS computers. If you're on Windows, SnapDownloader will run on any system with Windows 7 or higher. For MacOS, you'll need MacOS 10.10 or newer. To download the specific installer for your operating system, click the corresponding download button on our download page.
Is there any difference between the Windows and Mac versions?
No, both versions are exactly the same and work in the same way.
Why do I need to use a Telegram Video Downloader? Can't I just save the video from Telegram?
While it is possible to save videos from Telegram straight to your device, using a downloading tool like SnapDownloader ensures you're downloading the video in the correct resolution and format. With the ability to extract audio, trim videos within the app and download bulk clips, SnapDownloader is the best way to save any Telegram video clip!
Do I need any technical knowledge to use SnapDownloader to download Telegram videos?
Just paste the video link into SnapDownloader, choose your output and format settings, and click download. No hassle, no confusion. It just works.
Am I limited to downloading Telegram videos?
You can use SnapDownloader to download clips from over 900 websites, including YouTube, Twitter, Facebook, and TikTok. SnapDownloader has you covered no matter what you need it for!
How can I make sure your tool is the best available?
We have a free trial period of 48hrs. Simply install the tool to start the trial period, and try it for yourself. SnapDownloader is the most powerful tool available for downloading Telegram videos, and using it for yourself is the best way to see its sheer power and utility.