What is a YouTube to MP4 Converter?
A YouTube to MP4 converter uses the URL of a YouTube video to make an MP4 media file of the user's computer hard drive or storage device.
High-quality YouTube to MP4 software allows users to choose what file format they prefer, set the resolution or bitrate, and can convert entire playlists.
In addition, the best converters, like SnapDownloader, provide unlimited bulk conversions and simultaneous downloads, saving users time.
Why Use a YouTube to MP4 Converter?
YouTube is the second largest search engine on the internet behind Google. So whether you are looking for educational content like DIY videos, or entertainment and music, YouTube has everything.
However, sometimes you might want to take videos offline. For example, maybe you need to work on a building project outdoors, and you need access to a helpful instructional video. Or perhaps you know you will be without internet access for a while and still want to watch your favorite comedy sketches. Either way, a YouTube to MP4 converter will allow you to take your videos offline in the most popular video format available.
There are 3 main advantages to high-quality YouTube to MP4 conversions. First, the MP4 container is compatible with all major platforms and the most popular media player software. In addition, the files are highly compressed, resulting in smaller file sizes for the quality. Finally, MP4 files support metadata, making file storage and categorization easier.
Convert YouTube Videos to MP4 Without Any Hassle
SnapDownloader has been built to make it easier for you to download and convert any video from YouTube to MP4 or MP3 format in a few simple steps.
Our video downloader software is capable of downloading videos up to 8K resolution and supports YouTube playlists, channels, and VR videos. Moreover, you can download from 900 other websites including Facebook, Twitter, Instagram, and Vimeo.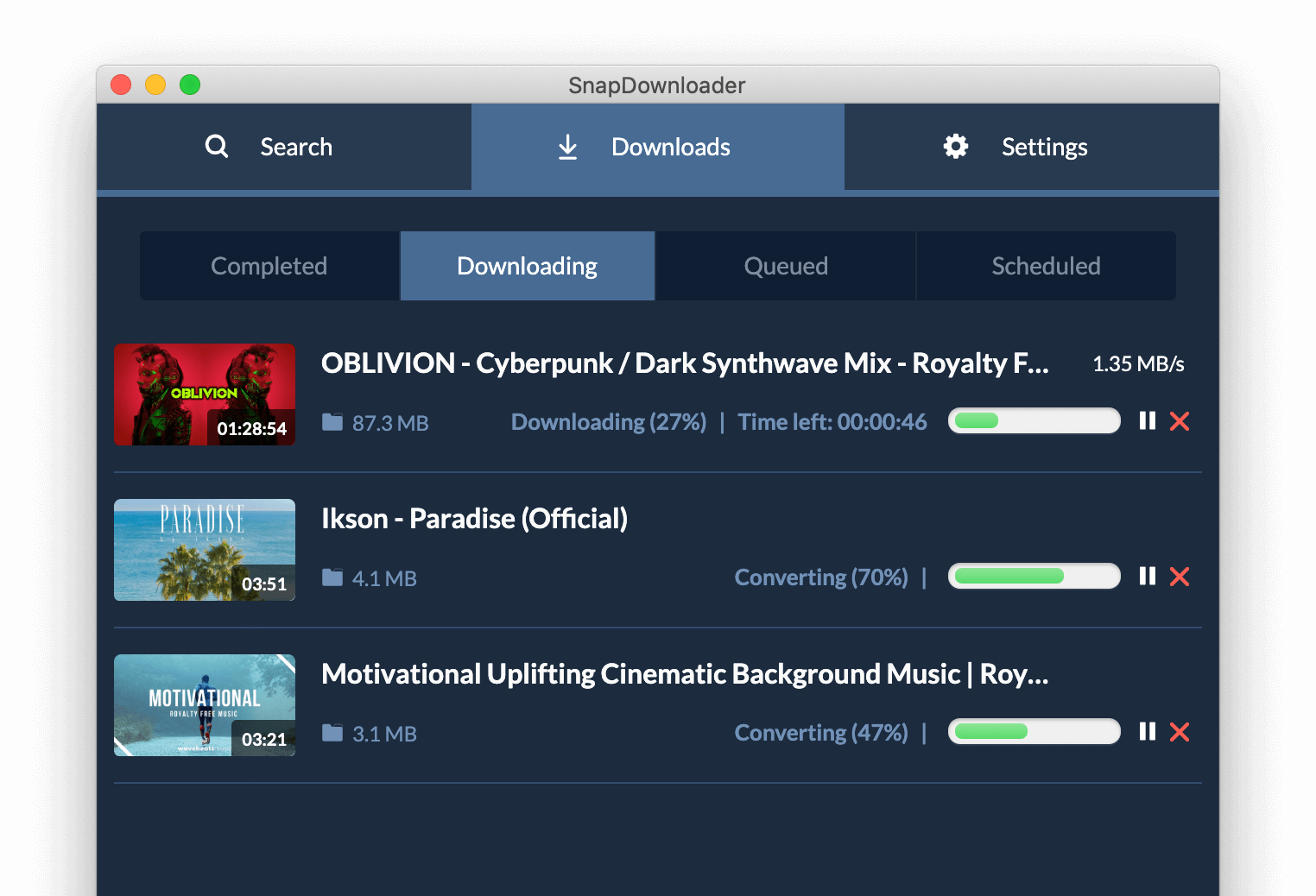 How to Convert YouTube to MP4?
1. Download SnapDownloader for your operating system
Download and install SnapDownloader on your computer. The installation process is simple. SnapDownloader supports cross-platform functionality, including Mac OS X 10.10 and higher and Microsoft Windows 7/8/10/11.
2. Copy a YouTube video or playlist link
If you have a YouTube URL already saved, skip this step. Otherwise, go to YouTube.com or open the YouTube app on your device. Then, find the video or playlist you want to convert to MP4. Copy the URL from the address bar or click on the share arrow to get it.
3. Paste it into the search bar in the SnapDownloader software
Once SnapDownloader is open, paste the YouTube link into the search bar. SnapDownloader will immediately start searching for the video or playlist automatically.
4. Pick the file format and quality
For single videos, SnapDownloader will display dropdown menus for you to choose whether you want video output or audio-only, what file format you prefer (MP4, MP3, etc.), which subtitle language you want, and buttons to choose what resolution or bitrate (1080p, 4k, 8k, etc.).
If your URL links to a playlist, you can choose which videos from the list to convert and download, each video's output format, and the resolution or bitrate.
5. Convert and download
Whether you want to convert a single YouTube video or an entire playlist, click the download button once you have chosen your output options. SnapDownloader will quickly convert and download everything according to your specifications so you can enjoy your favorite YouTube videos offline.
Why Use OUR YouTube to MP4 Converter?
There are plenty of YouTube to MP4 converters out there. Unfortunately, some of them are not safe, others have been abandoned by their developers, and most have limited features. However, SnapDownloader is a cut above the rest because it provides a better user experience and a full range of features.
Safe to use
SnapDownloader is 100% safe and secure to use. It does not log or track user information or come bundled with any hidden installers. The safety and security of users are important to us, and we only provide software free of malicious content.
5-star rating
If you think we make unlikely claims in our list of features, check out our reviews. Customers rave about SnapDownloader. We have over 300 5-star reviews from customers who all have different things they look for in a video downloader and converter. SnapDownloader caters to everyone's needs, and the feedback shows it.
Regular updates
Our changelog shows many bug fixes, improvements, and new features. Moreover, we post it for everyone to see how dedicated we are to maintaining and improving the functionality of SnapDownloader. Most of the new features are user-requested, and we intend to keep giving the customers what they want.
24/7 Customer support
We have a dedicated support team to ensure we stay on top of user feedback. If there is ever any problem with YouTube to MP4 conversion, or any other software feature, we are ready to address it 24/7. We want your feedback to help us improve the range of features and the smooth user experience SnapDownloader provides.
Full range of features
This software is not just a YouTube to MP4 converter. Windows and Mac OS users both get cross-platform support. Moreover, SnapDownloader can convert to many file formats, support 8k and VR, download entire channels, schedule downloads, and pull videos from over 900 websites apart from YouTube.
With SnapDownloader, YouTube to MP3 conversion is fast and easy, getting your music playlist up and running with a few clicks. The functionality of SnapDownloader is far beyond all the competition.
SnapDownloader Features
Download From 900 Websites
Apart from YouTube, you can download videos from Facebook, Twitter, Instagram, and more than 900 other websites
Up to 8K Resolution Supported
Download videos in the best quality, including 8K, 4K, 2K, 1080p HD, 720p, and other resolutions
Download YouTube Playlists & Channels
Easily download videos from your favorite YouTube playlists and channels without any hassle
Download VR 360° Videos
Fond of VR videos? SnapDownloader also has the capability of download VR videos from YouTube
Bulk Downloads
Download multiple videos simultaneously from various platforms and save your time with our bulk download feature
Schedule Downloads
Schedule videos to be downloaded later at a specific date and time with our in-built Scheduling feature
Proxy Setup
Bypass geo restrictions and watch blocked videos by adding your proxy credentials in the app
High Download Speed
Download videos at the highest possible speed without any throttles or restrictions
Download your favorite videos today!
Try SnapDownloader for free for 48 hours - no payment required
Download now
Frequently Asked Questions
SnapDownloader is a feature-rich program that makes it easy and time-efficient to download videos from over 900 websites in various formats. Here are some of the most frequently asked questions we get about it.
How can I install SnapDownloader?
Head over to the Downloads page to download SnapDownloader for your operating system (Windows/macOS). Once downloaded, open the installer to begin installing the software on your computer.
How to Convert YouTube Videos to MP4?
Converting YouTube videos to MP4 is very easy with SnapDownloader. Simply paste the video's link in SnapDownloader, choose the output format and quality, and press Download to begin converting the video to MP4.
Which websites are supported by this video converter?
SnapDownloader works with over 900 websites including popular platforms like YouTube, Vimeo, Instagram, Twitter, and Facebook. You have access to hundreds of websites, whether you're looking for sports, news, entertainment, music, or a host of other content types.
Is there a free trial available?
Yes, you can use SnapDownloader for free for 48 hours with unrestricted access. We believe that you will become a loyal customer once you see how much value SnapDownloader has for users who want to save time with an easy-to-use, smooth, and versatile user experience.
Which operating systems are supported?
SnapDownloader works with both Windows and macOS operating systems.
Can I download high quality YouTube videos?
You can download videos up to 8K resolution which is the highest quality available on YouTube. SnapDownloader also supports 360-degree VR downloads.
Can SnapDownloader download YouTube playlists and channels?
Yes, you can either download entire YouTube playlists or channels by selectively choosing the videos to download.
When you enter the URL of a video into the search bar, SnapDownloader will alert you that the video is part of a playlist and ask if you want to download the video or the list. When you select "download list," every video in the list will appear. Select which ones you want to download and set the file format and quality of each.
For entire YouTube channels, enter the channel URL into the search bar. Every video on the channel will appear. You can select individual videos and specify the file format and quality, or select all.
Absolutely. SnapDownloader does not record any user data. Furthermore, there are no hidden installers for adware, malware, or unwanted addons. We offer a premium product, and user satisfaction is our highest priority.
How can I trust that SnapDownloader has all these features?
Look at our user ratings. Our customers are happy with the software and our service. If you are still not convinced, we encourage you to try SnapDownloader for 48 hours; free and fully functional. Verify every claim and feature firsthand and see how easy SnapDownloader makes it to watch videos in the format and quality you want.