Downloading videos from YouTube allows you to watch them later when you're in offline mode, such as during a flight where you have no internet access. There are various different methods to download and save YouTube videos in MP4, MP3, and other formats. In this article, we'll outline how you can download your favorite videos from YouTube.
YouTube is one of the largest video sharing platforms where you'll find all sorts of videos ranging from funny clips and music videos to information and educational content. More than 5 billion videos are watched on YouTube every single day and the platform is used by more than 1.3 billion users.
If you're a regular user of YouTube, then you must have definitely come across various videos that you wished you could save for offline use. Luckily, there are a lot of different ways that you can save YouTube videos. The most simple and hassle-free method is with the use of video downloader software such as SnapDownloader.
SnapDownloader is a desktop app built for Windows and macOS that allows you to download videos from more than 900 different websites. Some of these websites are YouTube, Facebook, Twitter, TikTok, and LiveLeak. The app has user-friendly, is easy to use, and gets updated on a regular basis with new features. Here's a list of some of the features of SnapDownloader:
Download videos from 900 websites
Download YouTube playlists and VR 360° videos
Batch downloads
Bulk download: paste up to 15 video links and download them all at once
One-click mode (automatically download videos in your preferred output format and quality)
High-speed download and conversion
Download videos in 8K, 4K, UHD, 1080p, 720p, and more
In this tutorial, we'll show you how you can download videos from YouTube and save them in MP4 or MP3 format using SnapDownloader or an online video downloader.
How to Download YouTube Videos
1. Download and install SnapDownloader on your computer.

Try SnapDownloader for Free
2. Go to YouTube, open the video that you want to download, and copy its link.

3. Open SnapDownloader, paste the video's link in the search bar, and click the Search button.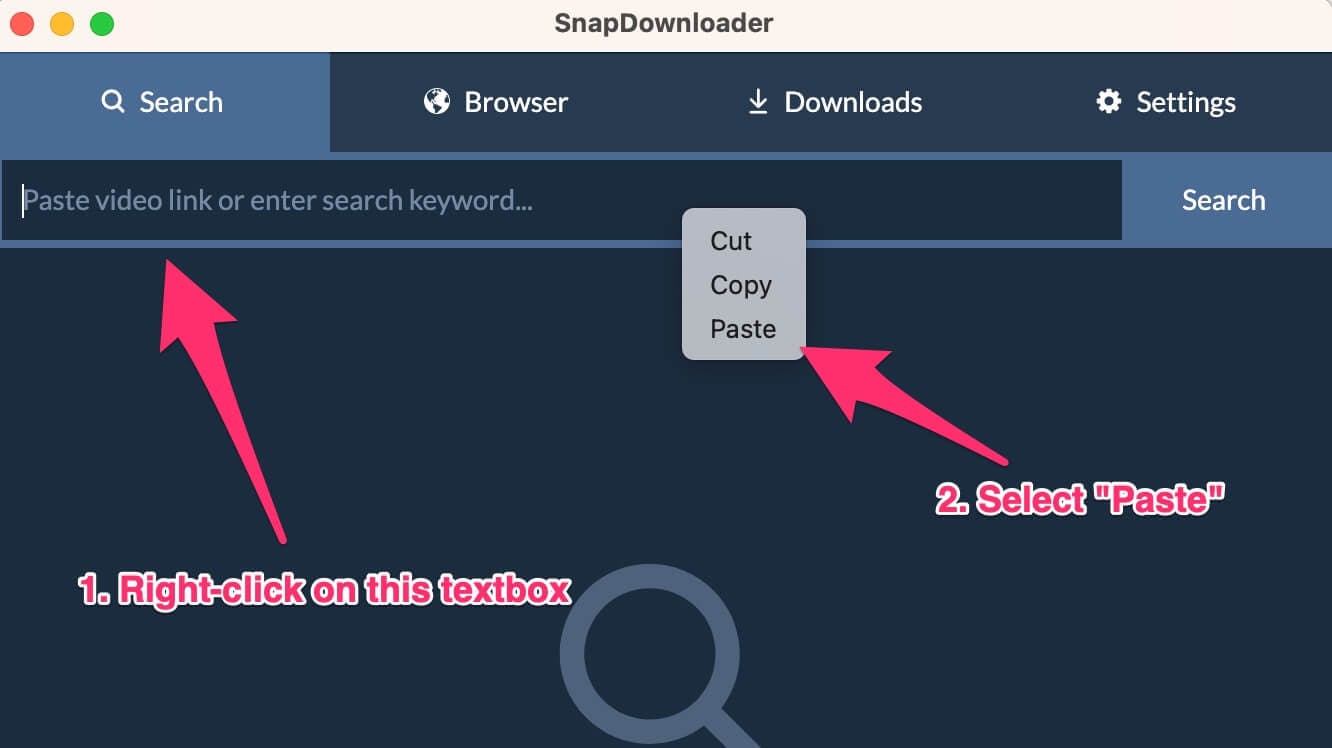 4. Within a few seconds, the app displays a list of all the available video qualities.
On the left side under "Output Format", select the format that the video should be saved as. If you want to convert to a video format such as MP4, MOV, or AVI, select "Video" and then click the Format dropdown menu to choose a format. Likewise, if you want to convert to an audio format, set the output to "Audio".
Select the output quality and then click the Download button.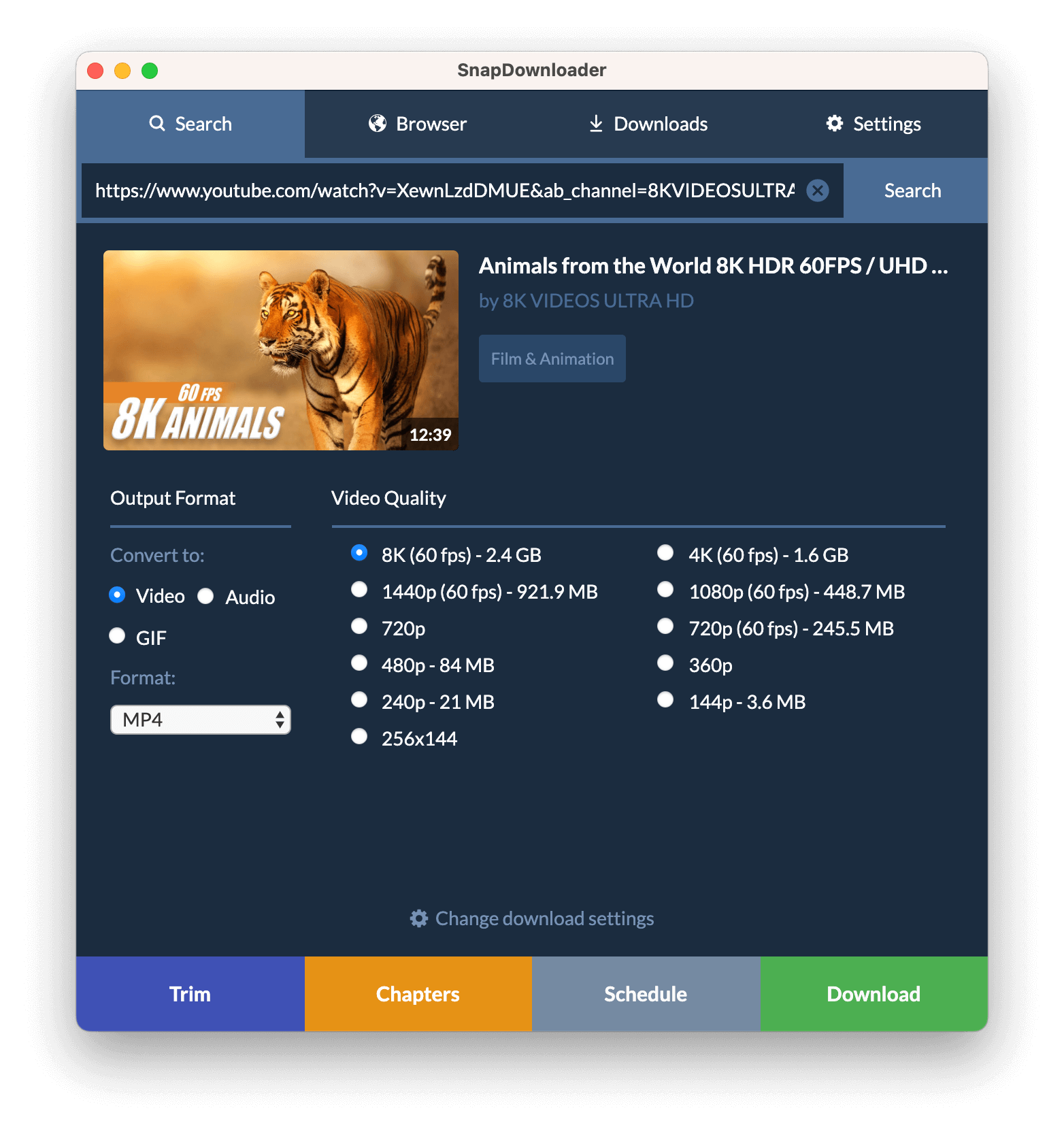 5. SnapDownloader begins to download and convert the video. You can view the download progress by going to Downloads > Active.

Now, sit back and relax while the app does its magic and saves the video or audio to your PC.
Remember that the download speed depends on your internet connection, and the conversion duration depends on how big the file is.
This is how you can download YouTube videos using SnapDownloader. The process is fairly straightforward.
How is the Quality?
Through SnapDownloader, you can download YouTube videos in 8K, 4K, QHD, 1080p HD, and other resolutions. You can then transfer the videos to any device without experiencing a loss in quality, provided that the device or app supports that resolution.
How to Download YouTube Playlists
Step 1: On YouTube, open a playlist and copy its link from the browser's URL bar. You can also open a video that is part of a playlist and copy its link.

Step 2: Open SnapDownloader and paste the link. When asked whether you want to download the video only or the entire playlist, choose Download Playlist.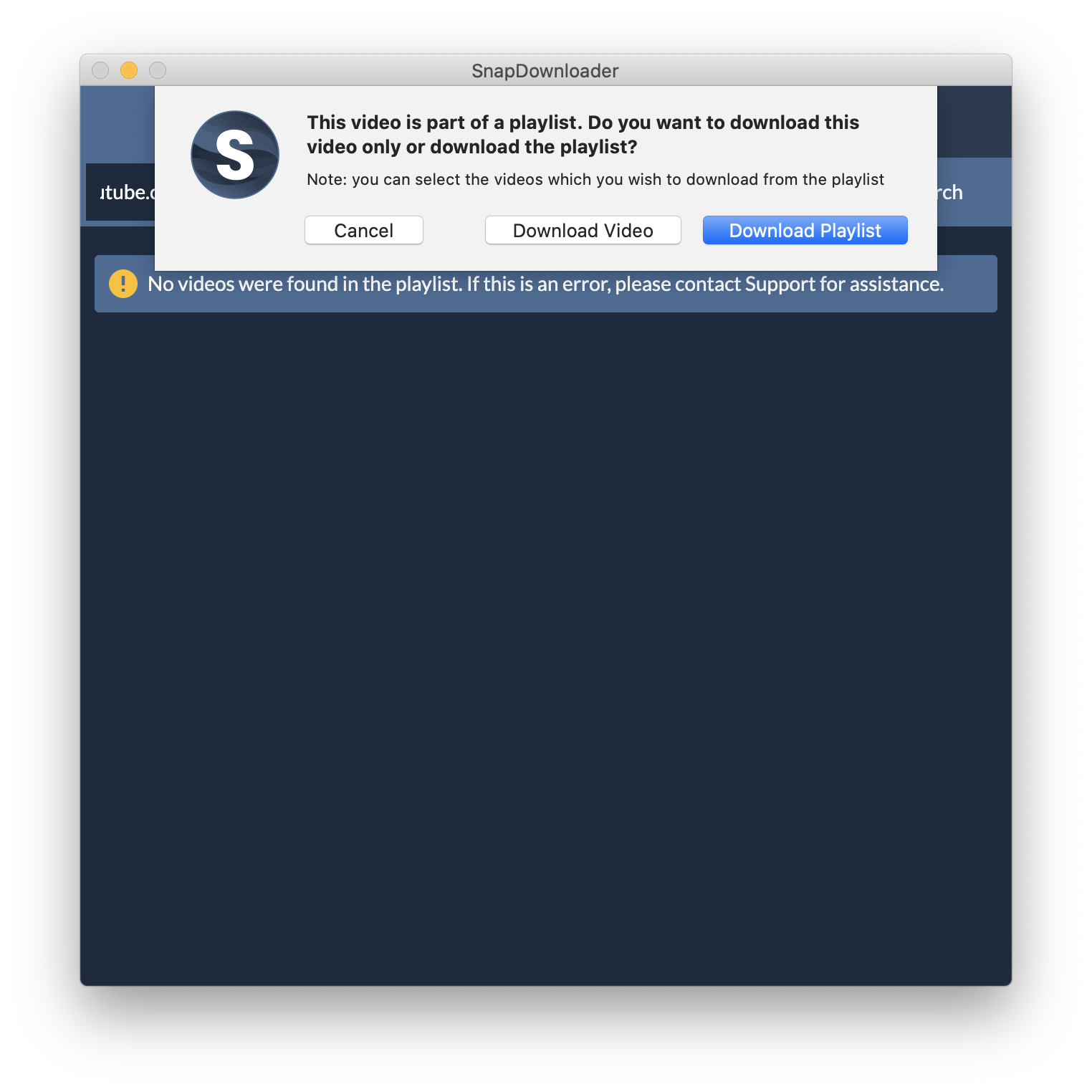 Step 3: Now select the videos which you wish to download from the playlist by either clicking the Select All checkbox to select all the videos or individually clicking on each checkbox next to a video to select it.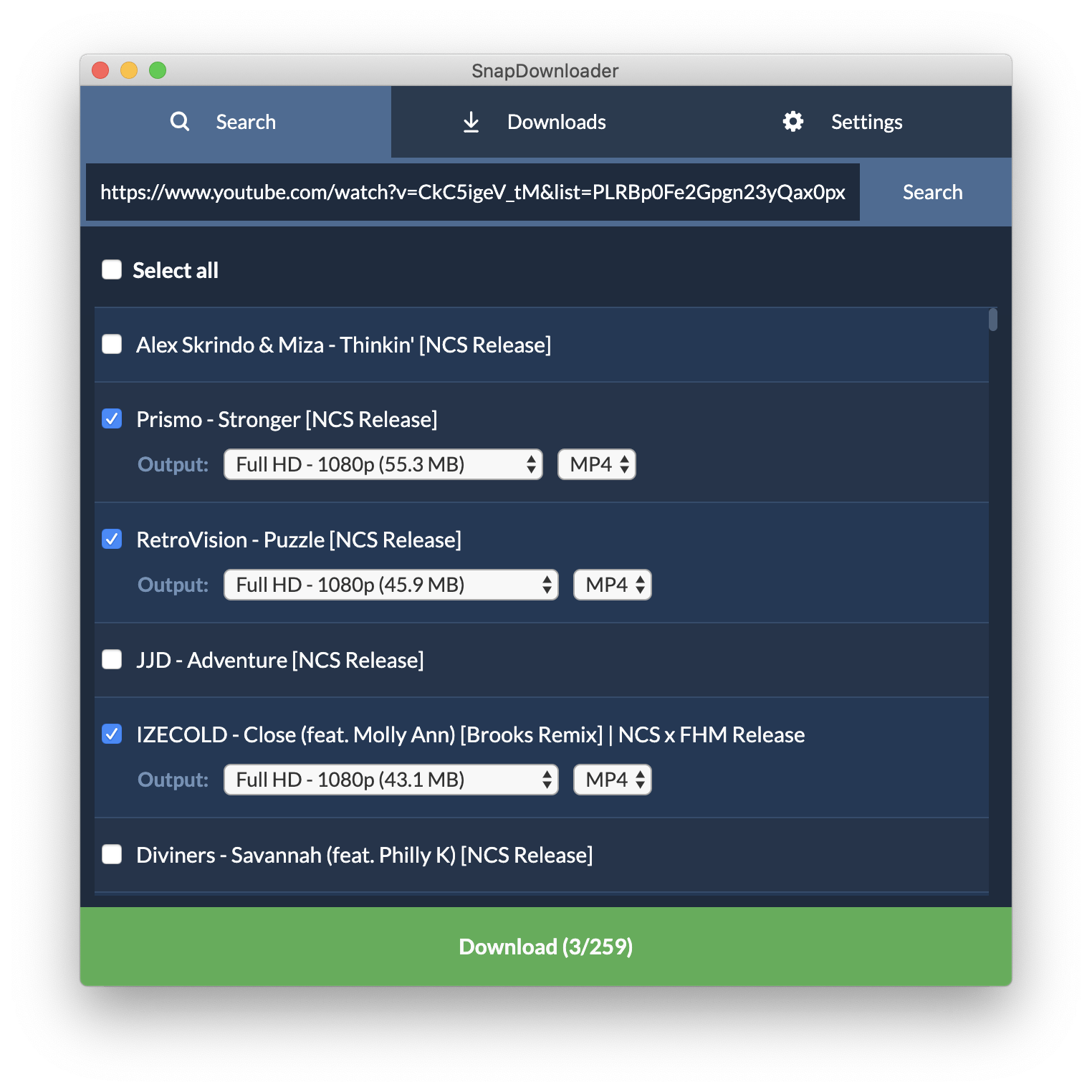 Step 4: Click the Download button. SnapDownloader will now begin to download the selected videos from the playlist.
Ways to Download YouTube Videos via a Hand-Held Device
YouTube Premium
YouTube Premium is a paid version of the service that costs $11.69 per month that allows you to download videos and watch them on the app (and nowhere else).
Downloading videos using YouTube Premium is pretty self-explanatory. Using your iPhone or Android device, simply tap the Download button below the video and select the quality you want to watch the video in.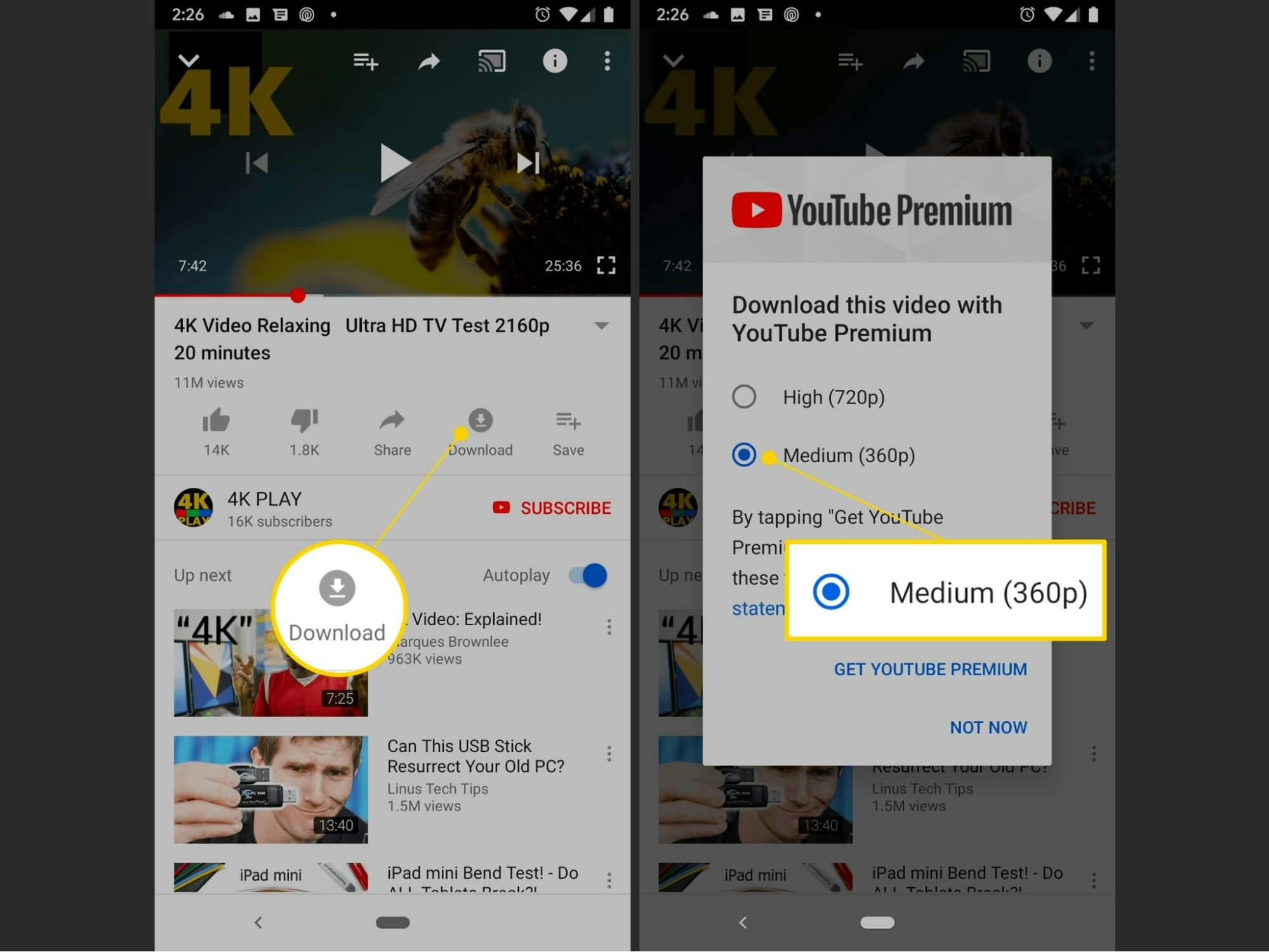 You can then go to Library to access your downloaded videos:
Pros
With this paid subscription, you can download videos from any device, provided that you have the app.
YouTube Premium also allows you to watch videos on their platform without the ads.
Cons
Lesser quality. Want to download 4K YouTube videos? Look elsewhere. Or, better yet, use SnapDownloader, instead. Download options are limited to 1080p or lower.
You can only watch the video through the YouTube Premium app. Similar to Netflix and Hulu, all videos downloaded can be watched on the YouTube app, meaning that the functionalities can be quite limited.
You won't be able to edit the videos. If you want to edit or trim the videos for various purposes, you won't be able to do that, as you are only able to watch the videos through the YouTube app.
Download YouTube Videos via Android
If you're using an Android device, TubeMate is a free third-party app that you can use to download YouTube videos. There is one caveat, though: it isn't available from the Google Play Store, so you will have to download it as an APK file.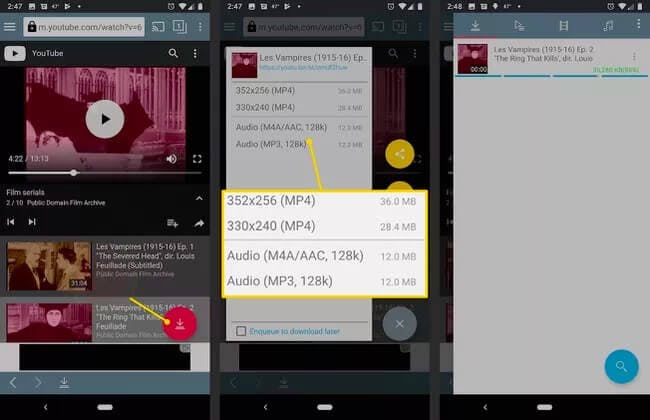 How to use TubeMate to download YouTube videos:
Open the app and search for the video you want to download.
Tap the Download button
Select the quality of the video you want to download
Again, tap the red Download button
Once you've downloaded the video, you can then move it to a new location, watch it using another app, rename it, or delete it.
Pros
It's free
You can download 1920p YouTube videos, provided that you have a high-end device
Fast download options
You can move the video files around to watch them on other devices or apps, and edit them.
Cons
It's a third-party app, meaning that downloading it can be a hassle
Is Downloading Youtube Videos Allowed?
When it comes to copyright, as long as you're only downloading videos for your own personal use, then you're all good to go. There's nothing wrong with wanting to watch your favorite YouTube vlogs on a plane or train where the signal might be a bit iffy. And this is easiest to do when you download them for later.
However, you're not allowed to go and download a video to then try and pass it off as one of your own. The rights to the video belong to the content creator and although it might not always be a legal issue, there's a moral obligation at play.
So, feel free to enjoy all your favorite content at a time that suits you! And without further ado, let's get down to how to download YouTube videos using SnapDownloader.
How To Trim Your Videos
Video content is great but there are times when you only want a section of the content. Maybe you've watched half of an interview or vlog and want to enjoy the rest while you're on the move. This is where it would be super helpful to be able to cut down your downloaded videos.
With SnapDownloader, it couldn't be simpler! If you only want a section of the YouTube video you've downloaded, it's easy to edit the video down.
Simply use our built-in video trimmer to select the section of the video that you want to keep.
To do this, search for the clip you want to trim and click the Trim button.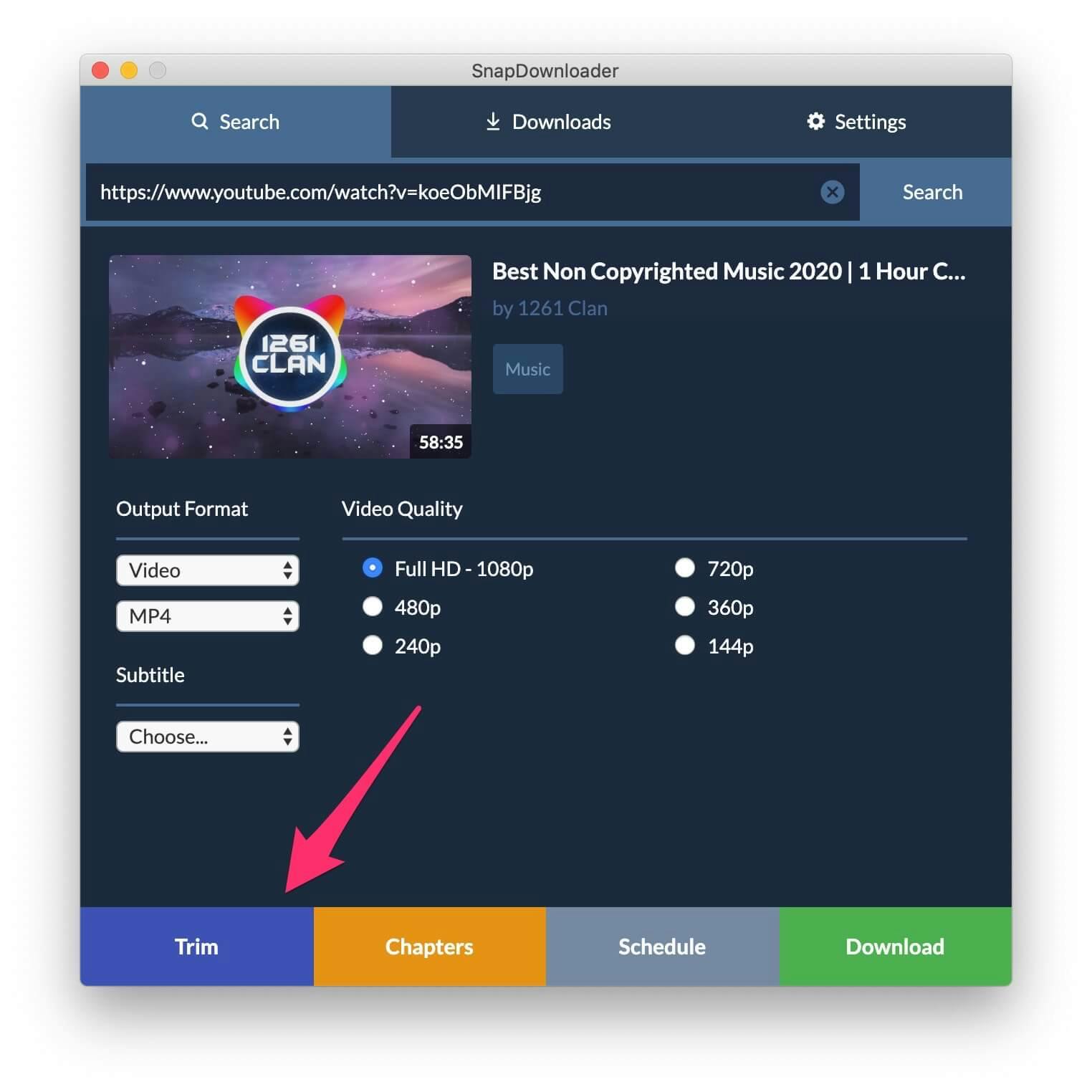 You can then drag the buttons to either side to condense the clip down to the section you want.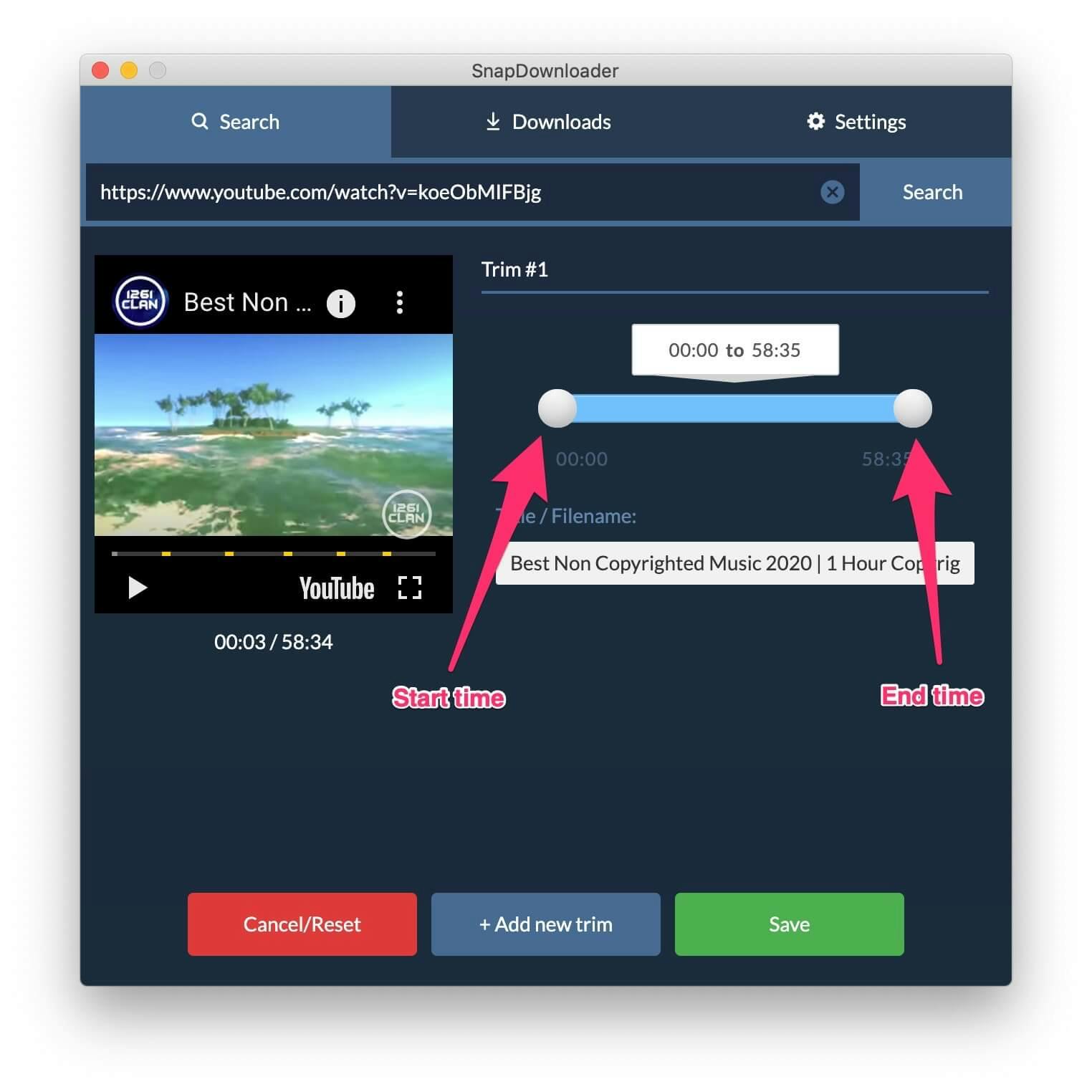 Click Save. Press the Download button and SnapDownloader will begin cutting the YouTube videos as you specified.
It's also possible to change the title of your clip so you can make it easier to find when you need it.
Your new clip can then be found in the 'Downloads' section.
How to Download Videos using an Online Downloader
There are many different online services that allow you to download videos from YouTube with ease. However, they don't have all the features that SnapDownloader has such as support for high-quality videos, playlist downloads, channel downloads, fast download speed, MP3 conversion, and so on.
Despite the drawbacks, you can use a range of different online video downloaders to save YouTube videos if you're not looking for features that SnapDownlader offers. One of the noteworthy online video downloaders is 8Downloader which allows you to download YouTube videos up to 720p quality.
Using 8Downloader is quite easy. Simply go to the website's homepage and paste a YouTube video link. It displays all the available video qualities for that video and allows you to download a video resolution of your choice in MP4.
These are the two different methods that you can use to download videos from YouTube. None of these methods require any technical knowledge and they're straightforward and easy to use without any hassle.
To Recap…
SnapDownloader allows you to download YouTube videos of any quality that you want, from 8K to 360p. It also allows you to move the video files around so that you can watch or edit them from any device or app that you want.
YouTube Premium allows you to download YouTube videos from any device. You'd need to pay a monthly subscription that costs around $11.99 per month, and you can only watch the videos from their native app. In other words, you can't use the videos for various purposes other than watching them from the YouTube app.
If you're an Android user, TubeMate allows you to download YouTube videos for free, but it's a third-party app, so you'll have to download it as an APK file.
If you need a converter to download your YouTube videos quickly and securely, look no further than SnapDownloader! There's no easier way to download your favorite YouTube videos in the best quality.
Quick and simple to use, it's no wonder all of our clients are so happy with our services. And if you don't believe us, why not check out our reviews for yourself. Having no less than 4-star reviews is one of our proudest achievements so forgive us if it seems like we're showing off – we definitely are!