Downloading videos from YouTube allows you to watch them later when you're in offline mode, such as during a flight where you have no internet access. There are various different methods to download and save YouTube videos in MP4, MP3, and other formats. In this article, we'll outline how you can download your favorite videos from YouTube.
YouTube is one of the largest video sharing platforms where you'll find all sorts of videos ranging from funny clips and music videos to information and educational content. More than 5 billion videos are watched on YouTube every single day and the platform is used by more than 1.3 billion users.
If you're a regular user of YouTube, then you must have definitely come across various videos that you wished you could save for offline use. Luckily, there are a lot of different ways that you can save YouTube videos. The most simple and hassle-free method is with the use of video downloader software such as SnapDownloader.
SnapDownloader is a desktop app built for Windows and macOS that allows you to download videos from more than 900 different websites. Some of these websites are YouTube, Facebook, Twitter, TikTok, and LiveLeak. The app has user-friendly, is easy to use, and gets updated on a regular basis with new features. Here's a list of some of the features of SnapDownloader:
Download videos from 900 websites
Download YouTube playlists and VR 360° videos
Batch downloads
Bulk download: paste up to 15 video links and download them all at once
One-click mode (automatically download videos in your preferred output format and quality)
High-speed download and conversion
Download videos in 8K, 4K, UHD, 1080p, 720p, and more
In this tutorial, we'll show you how you can download videos from YouTube and save them in MP4 or MP3 format using SnapDownloader or an online video downloader.
How to Download YouTube Videos
1. Download and install SnapDownloader.
2. Go to YouTube, open the video which you want to download, and copy its link.

3. Open SnapDownloader and paste the video's link in the search bar, then click the Search button.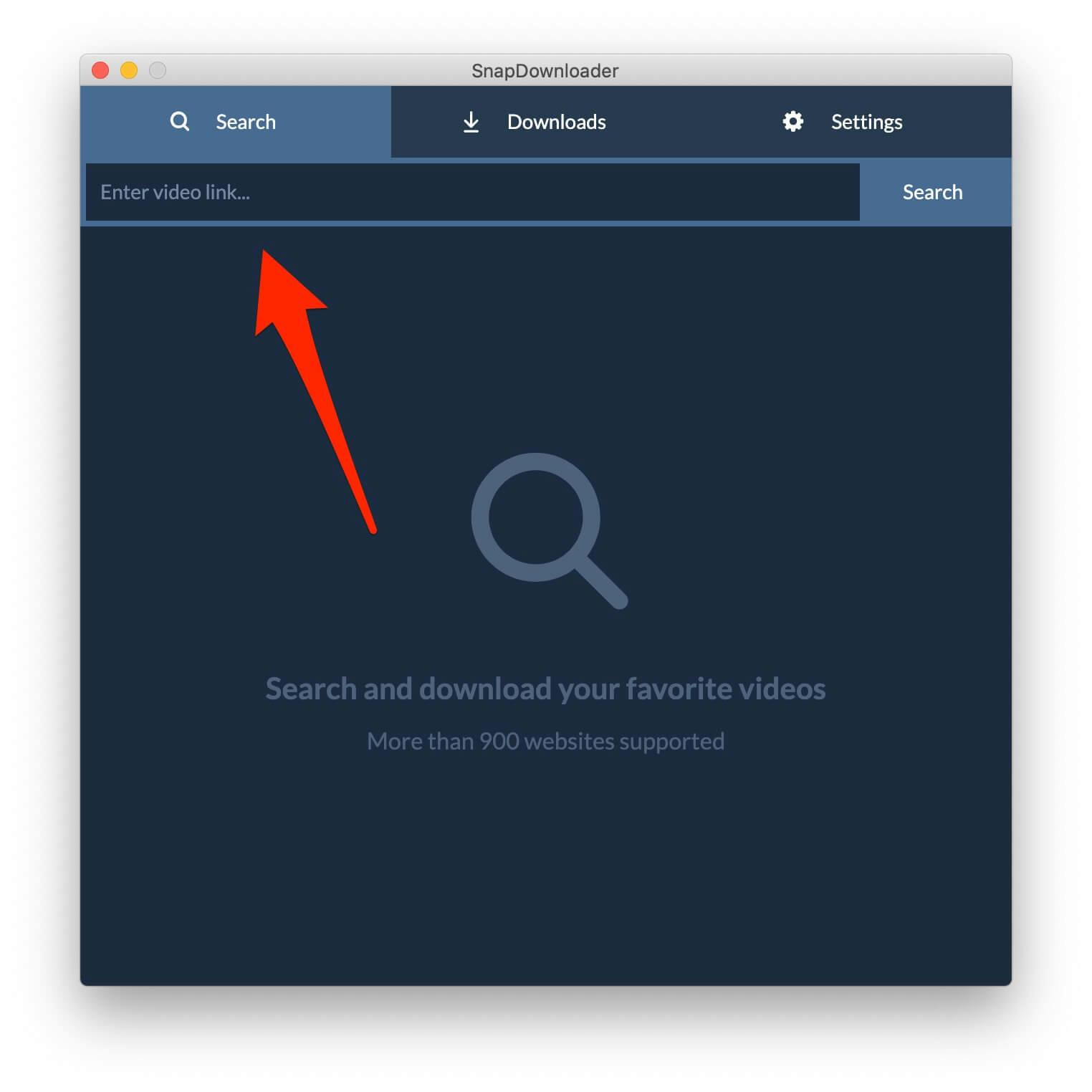 4. Within a few seconds, the app displays a list of all the available video qualities. Simply select the output format (MP4, MP3, etc.) and the video quality that you want and then press the Download.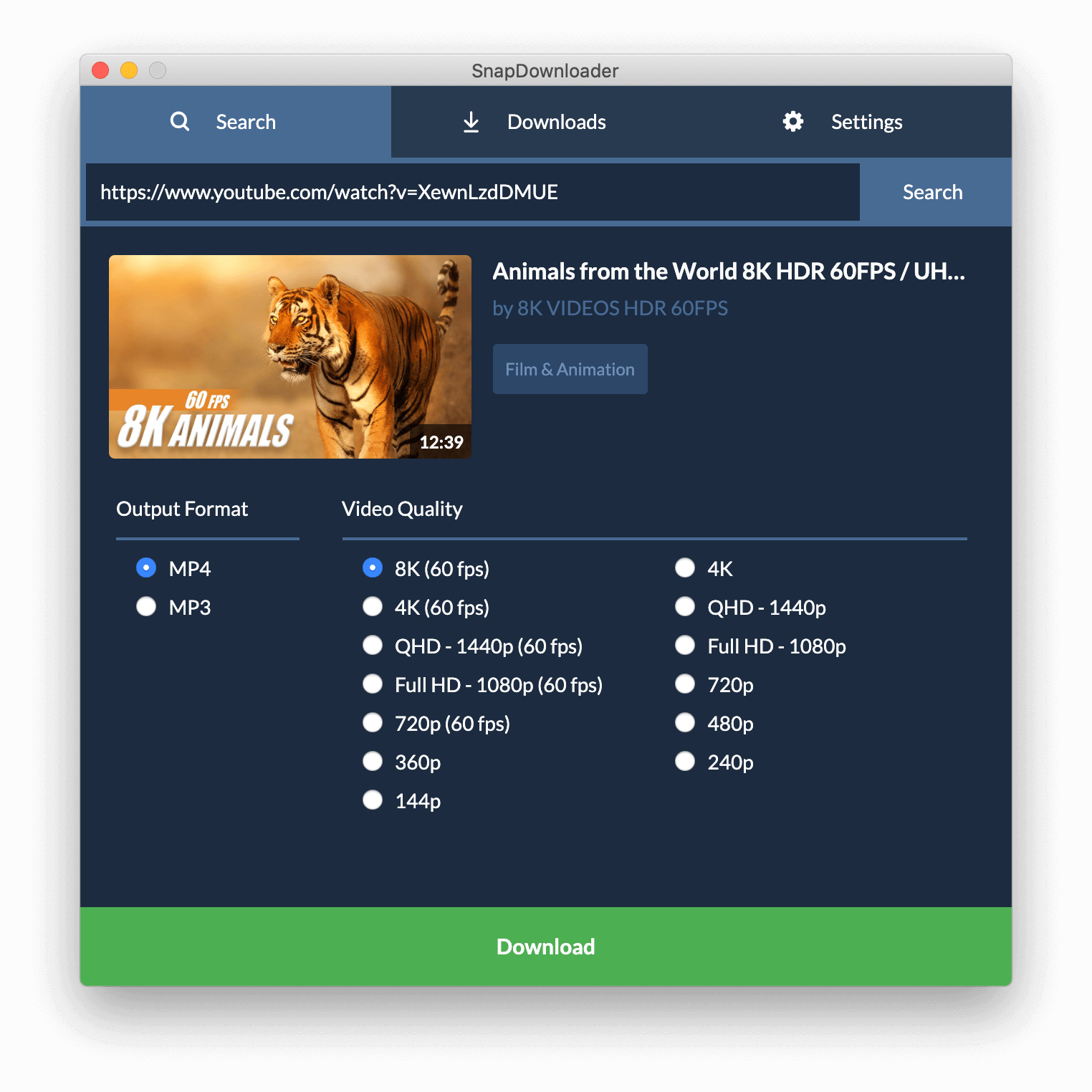 5. SnapDownloader begins to download and convert the video. You can view the download progress from the "Downloads" tab.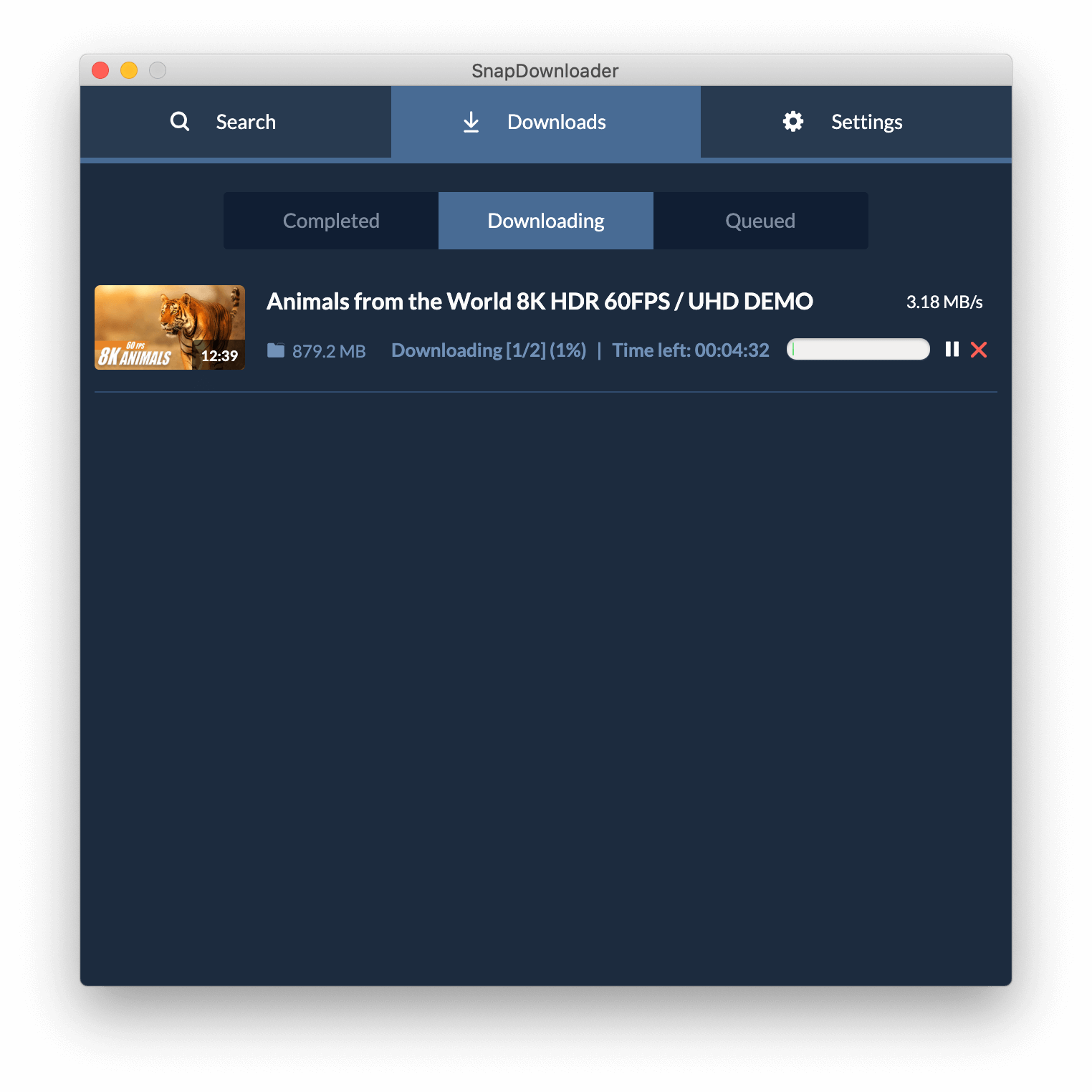 Now sit back and relax while the app does its magic and prepares the video file for you. Keep in mind that the download speed depends on your internet connection and the conversion duration depends on how big the file is.
This is how you can download YouTube videos using SnapDownloader. As you can see, the process is very straightforward and easy.
How to Download YouTube Playlists
Step 1: On YouTube, open a playlist and copy its link from the browser's URL bar. You can also open a video that is part of a playlist and copy its link.

Step 2: Open SnapDownloader and paste the link. When asked whether you want to download the video only or the entire playlist, choose Download Playlist.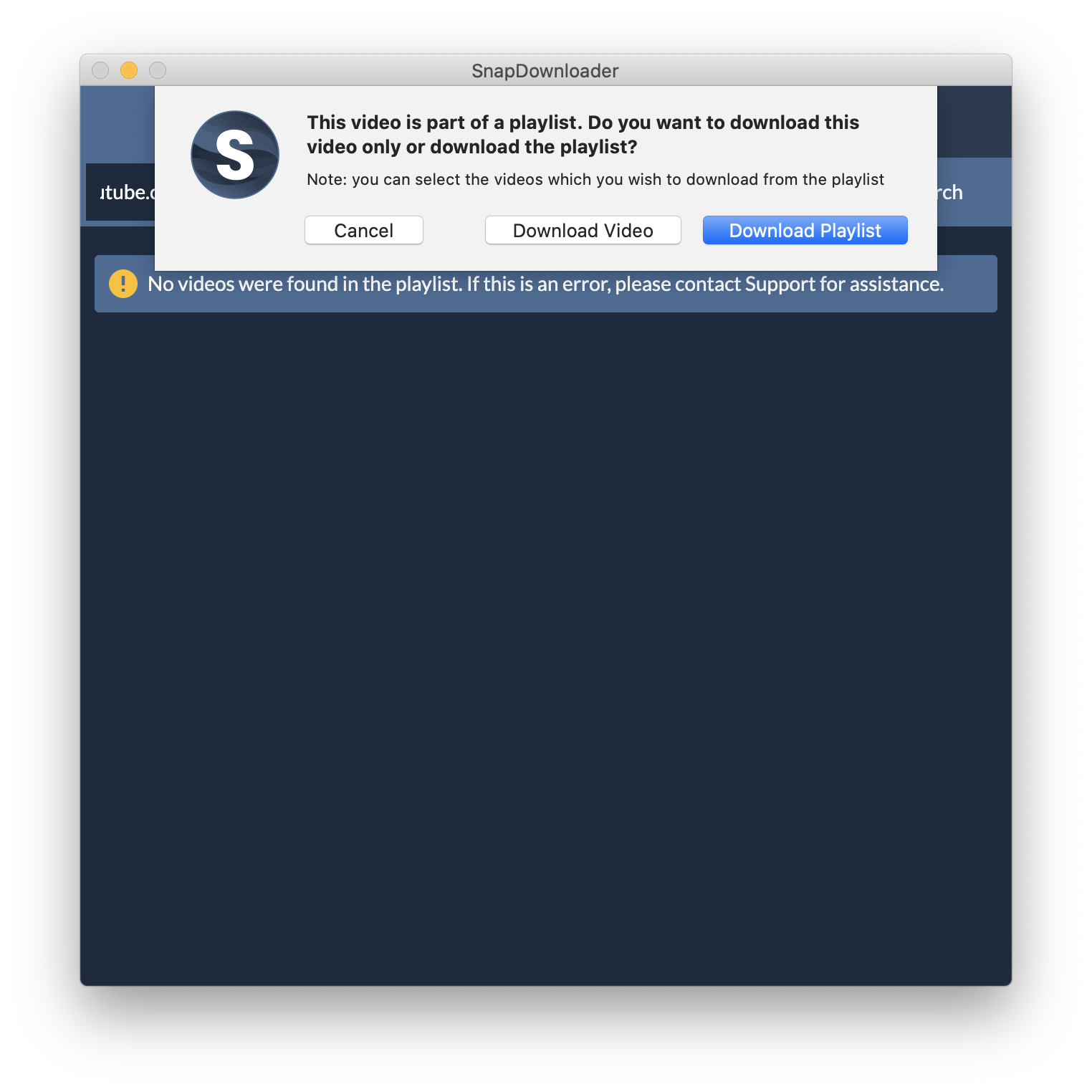 Step 3: Now select the videos which you wish to download from the playlist by either clicking the Select All checkbox to select all the videos or individually clicking on each checkbox next to a video to select it.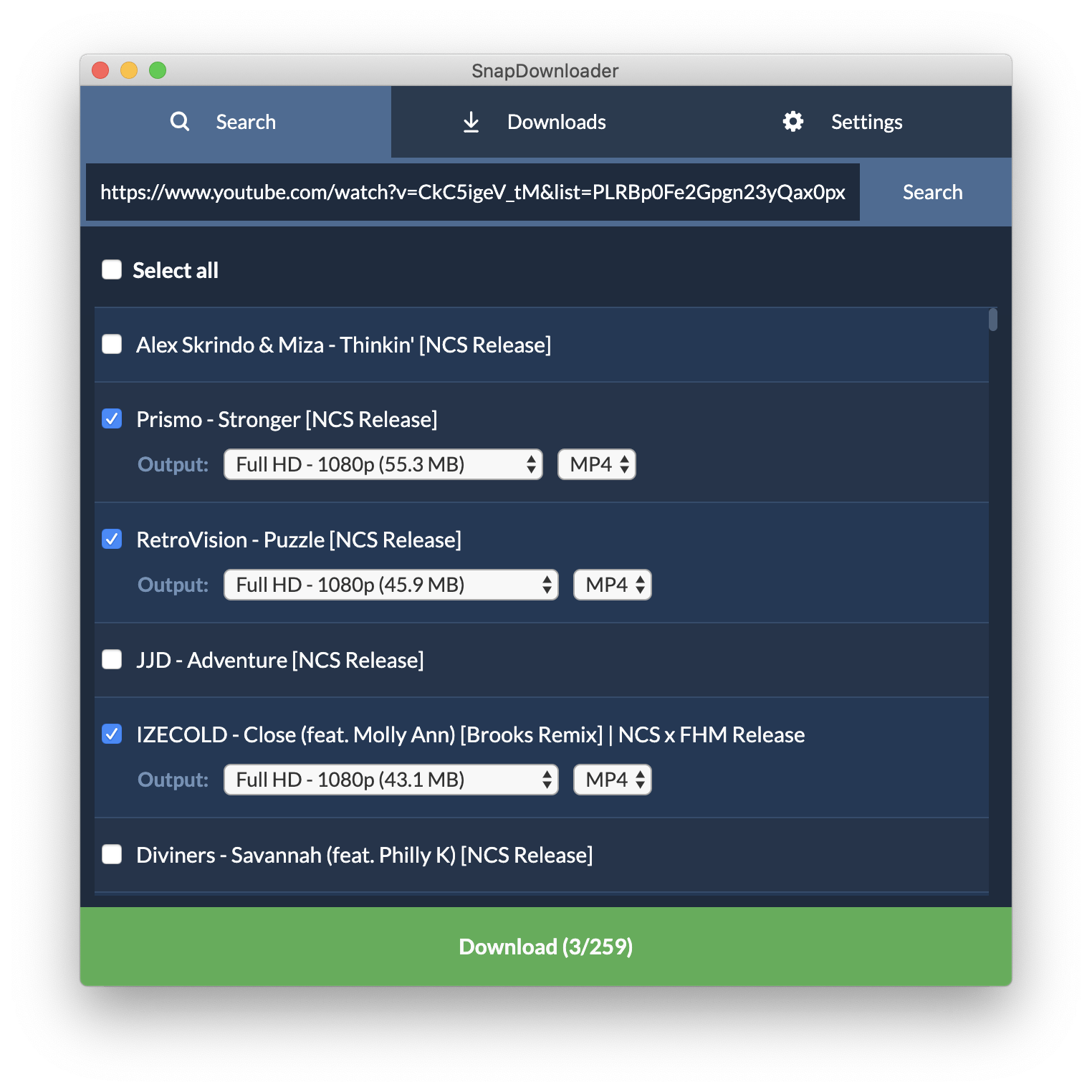 Step 4: Click the Download button. SnapDownloader will now begin to download the selected videos from the playlist.
How to Download Videos using an Online Downloader
There are many different online services that allow you to download videos from YouTube with ease. However, they don't have all the features that SnapDownloader has such as support for high-quality videos, playlist downloads, channel downloads, fast download speed, MP3 conversion, and so on.
Despite the drawbacks, you can use a range of different online video downloaders to save YouTube videos if you're not looking for features that SnapDownlader offers. One of the noteworthy online video downloaders is QDownloader which allows you to download YouTube videos up to 720p quality.
Using BitDownloader is quite easy. Simply go to the website's homepage and paste a YouTube video link. BitDownloader displays all the available video qualities for that video and allows you to download a video resolution of your choice in MP4.
These are the two different methods that you can use to download videos from YouTube. None of these methods require any technical knowledge and they're straightforward and easy to use without any hassle.