Let's say you went on a vacation. After returning, one of your friends decides to post your adventures on YouTube as a private video. Unfortunately, even though you can access the content, you cannot download it on your device.
This can be a real nuisance for everyone who loves saving precious images and videos. Although you can watch content as long as you have access, downloading video allows you to edit it, make compilations, and much more.
Is It Possible to Download Private YouTube Videos?
Yes, you can download private YouTube videos, playlists, and channels using third-party software like SnapDownloader.
As long as you can access the private content, SnapDownloader lets you download them in various output formats and qualities without any hassle.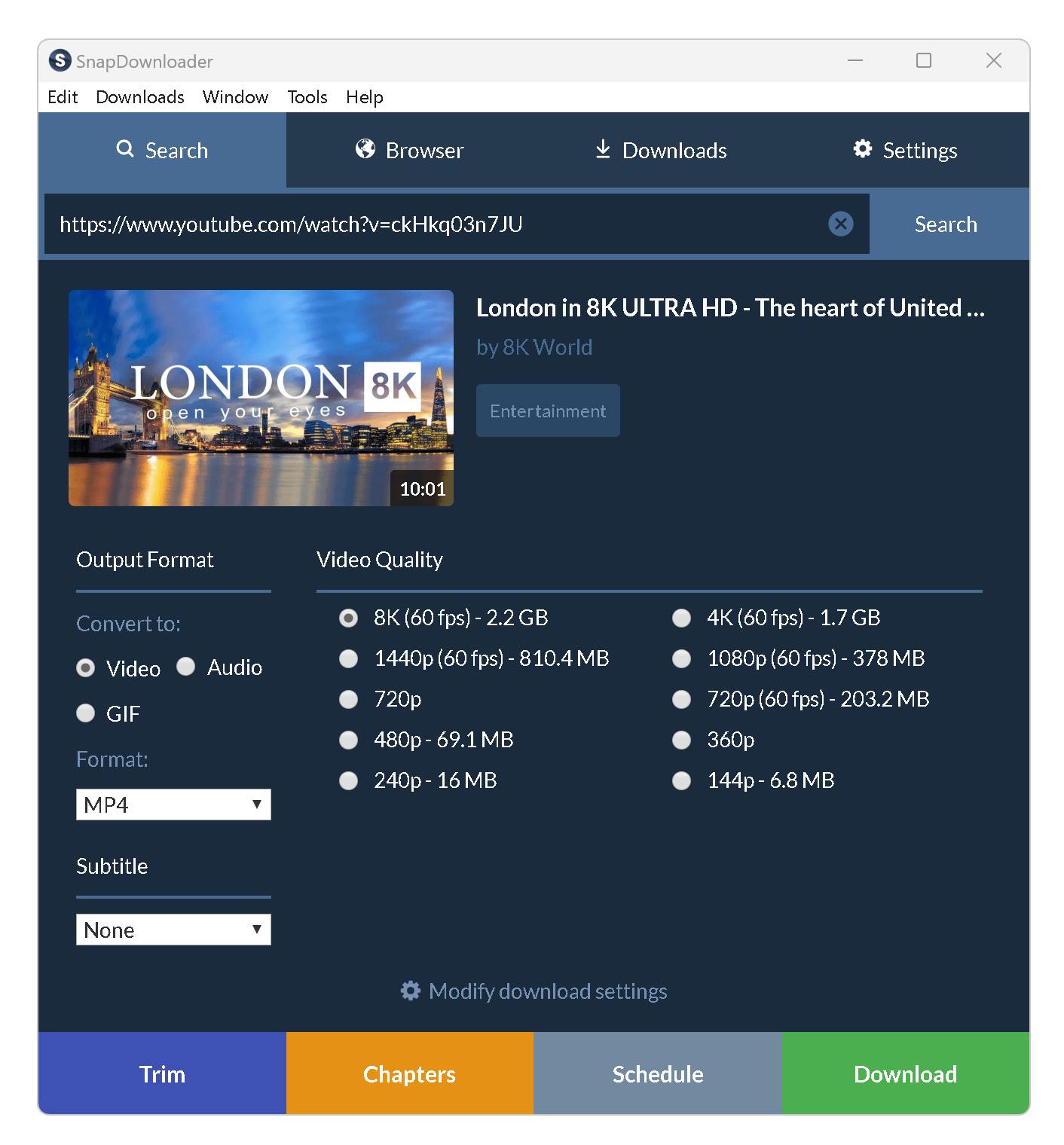 SnapDownloader has the capability to download YouTube videos from 144p up to 8K quality and can convert them to various output formats like MP4, MP3, M4A, MOV, etc. It also lets you trim videos and download YouTube chapters as separate files.

Try SnapDownloader for Free
This video downloader works with over 1,000 websites including popular platforms like YouTube, Facebook, Instagram, TikTok, and Twitter.
It's very simple, easy, and quick to download private YouTube videos with SnapDownloader. Read the next section to learn how it works.
How to Download Private Videos from YouTube?
1. Download and install SnapDownloader
SnapDownloader works with both Windows and macOS. To get started, download and install the latest version on your computer.

Try SnapDownloader for Free
2. Open SnapDownloader and go to the Browser tab
SnapDownloader has a built-in web browser that lets you browse and download videos. With this feature, you can download private videos easily.
Once you open SnapDownloader, click on the Browser tab from the top.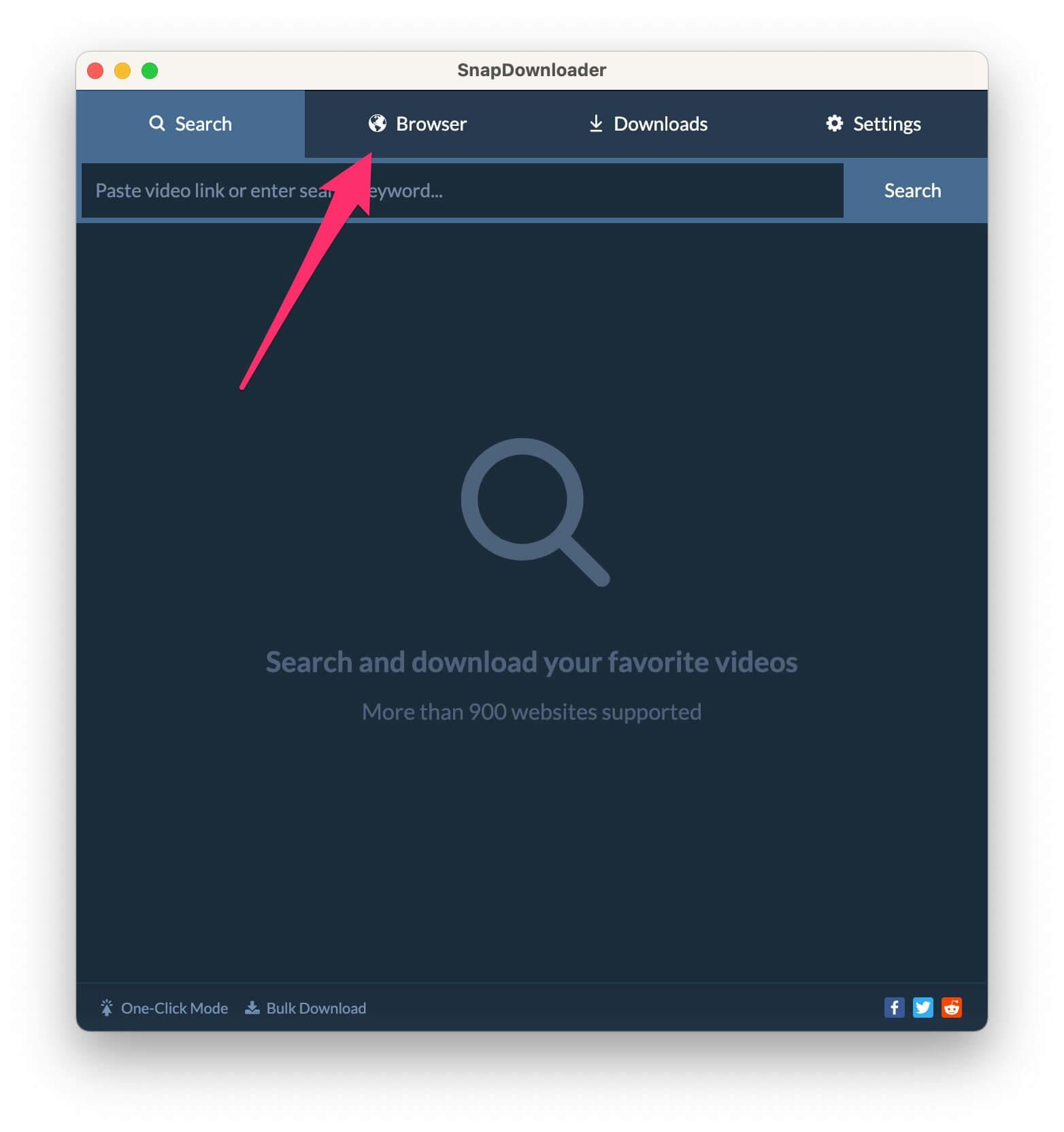 3. Go to YouTube's website and sign in to your account
In the browser, click the YouTube icon or enter www.youtube.com to open YouTube.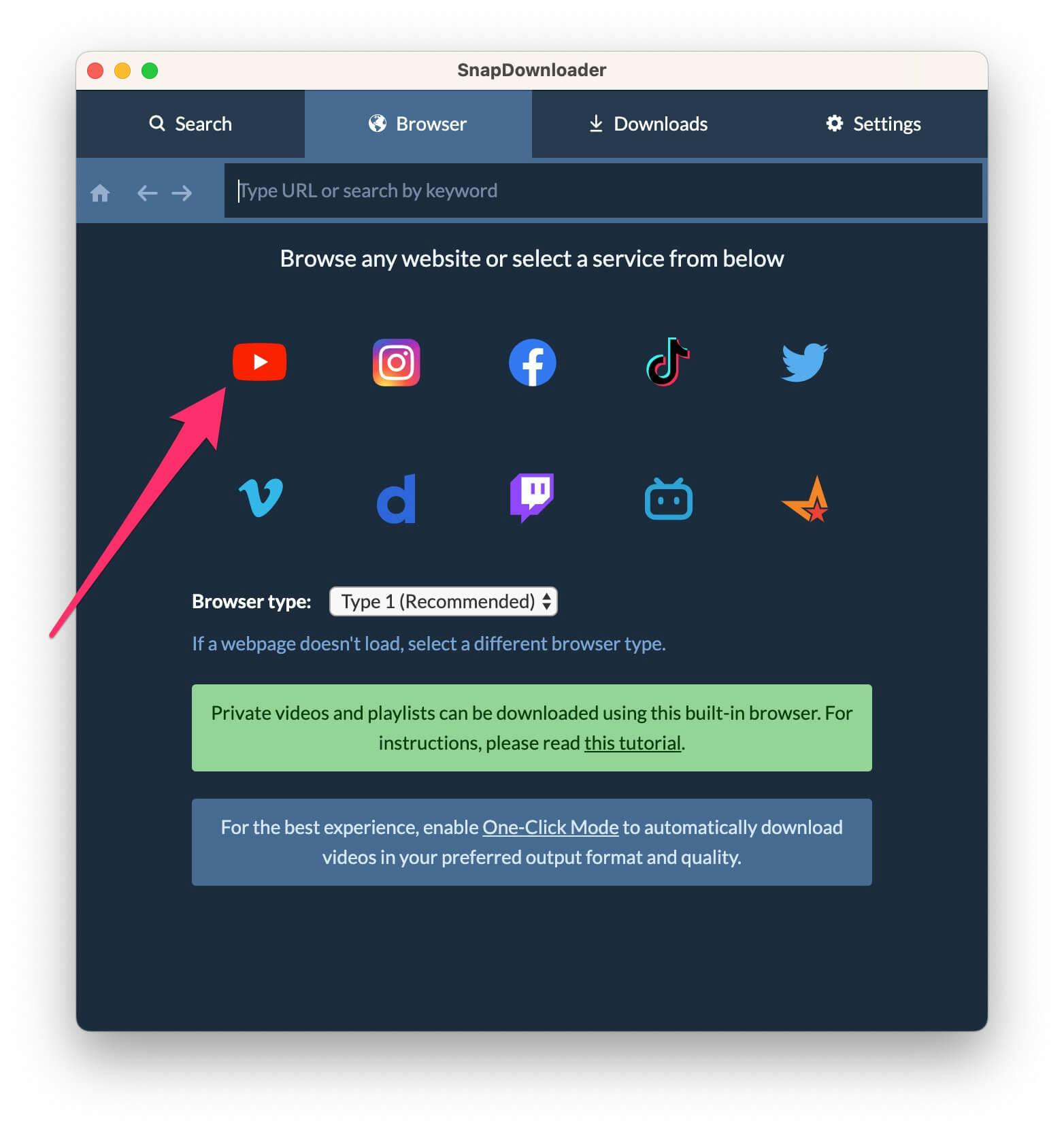 Next, sign in to your YouTube account. This is necessary so that SnapDownloader can access the private content you want to download.
Note that SnapDownloader uses your login session from the browser to access and download private videos. It will never access or store your email and password.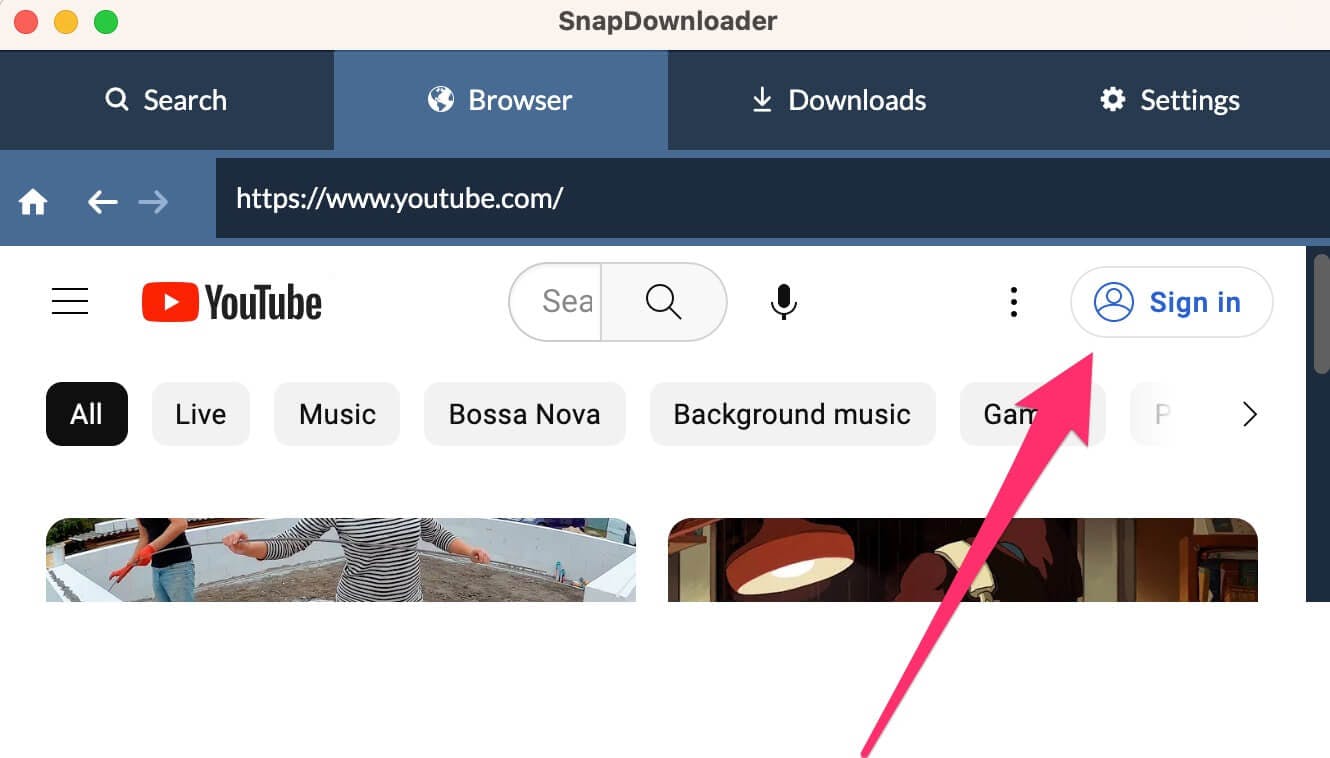 4. Enable the Private Video Downloader feature
Click on the lock icon in the bottom right of the browser.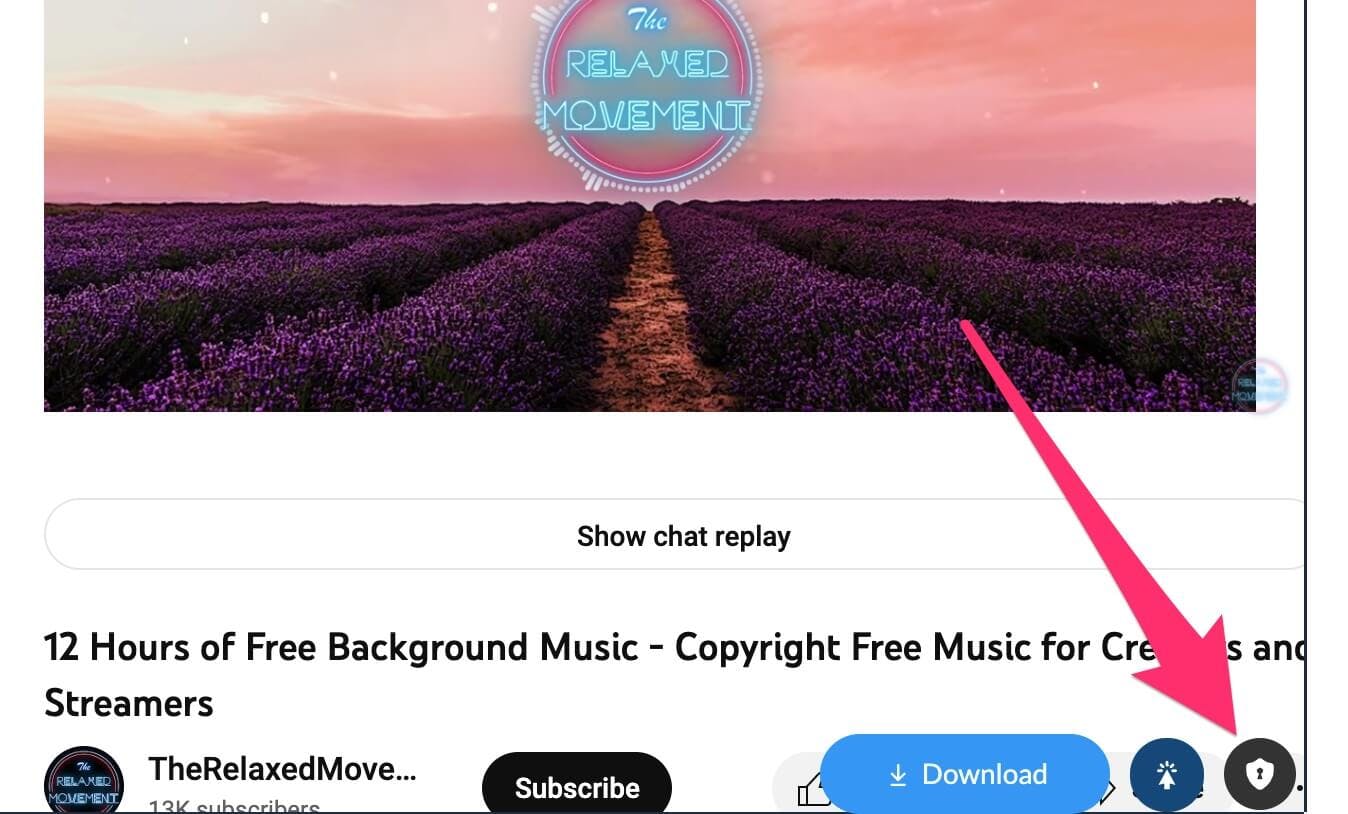 From the new window that opens, tick the Enable private video downloader checkbox and click OK. The lock icon will turn green to indicate it's been enabled.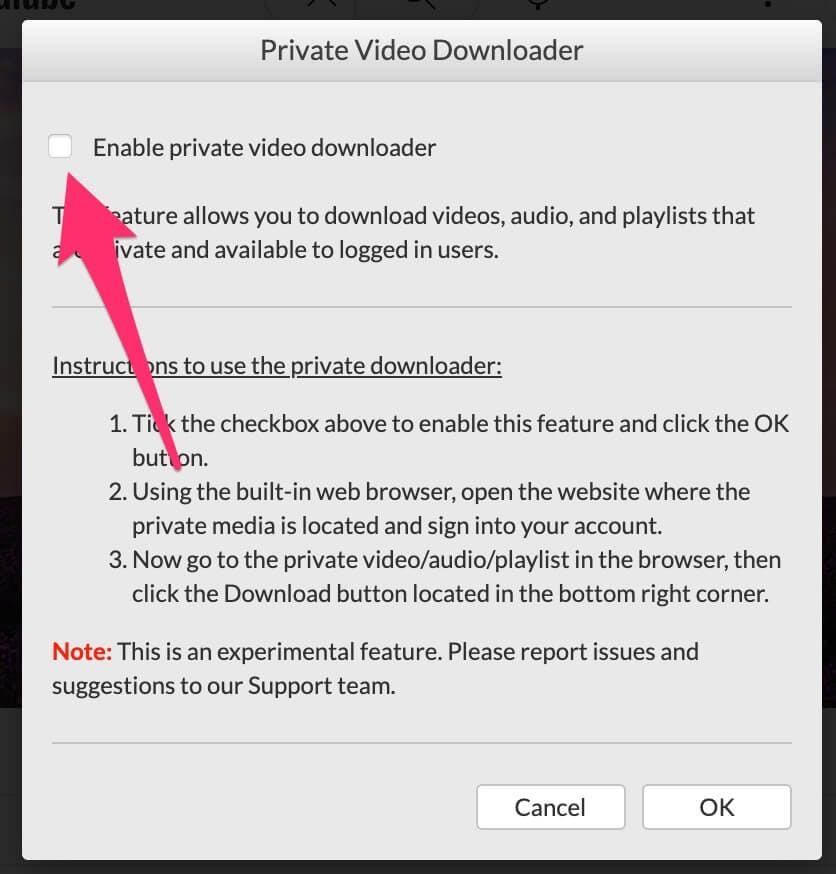 5. Open the private video, playlist, or channel and click Download
Now go to the video, playlist, or channel you want to download. Click the Download button in the bottom right of the browser.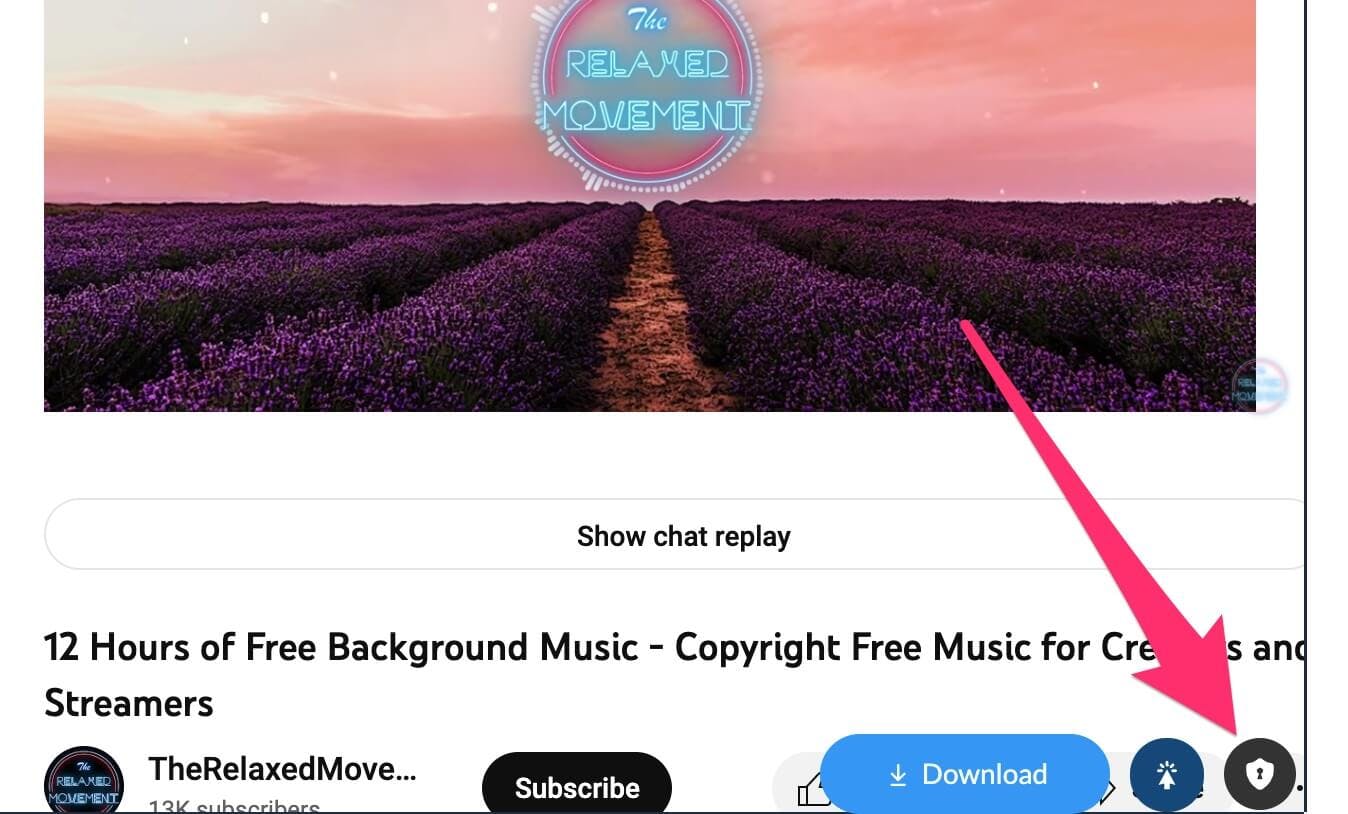 The app will begin searching for the content. You can view the results by going to the Search tab.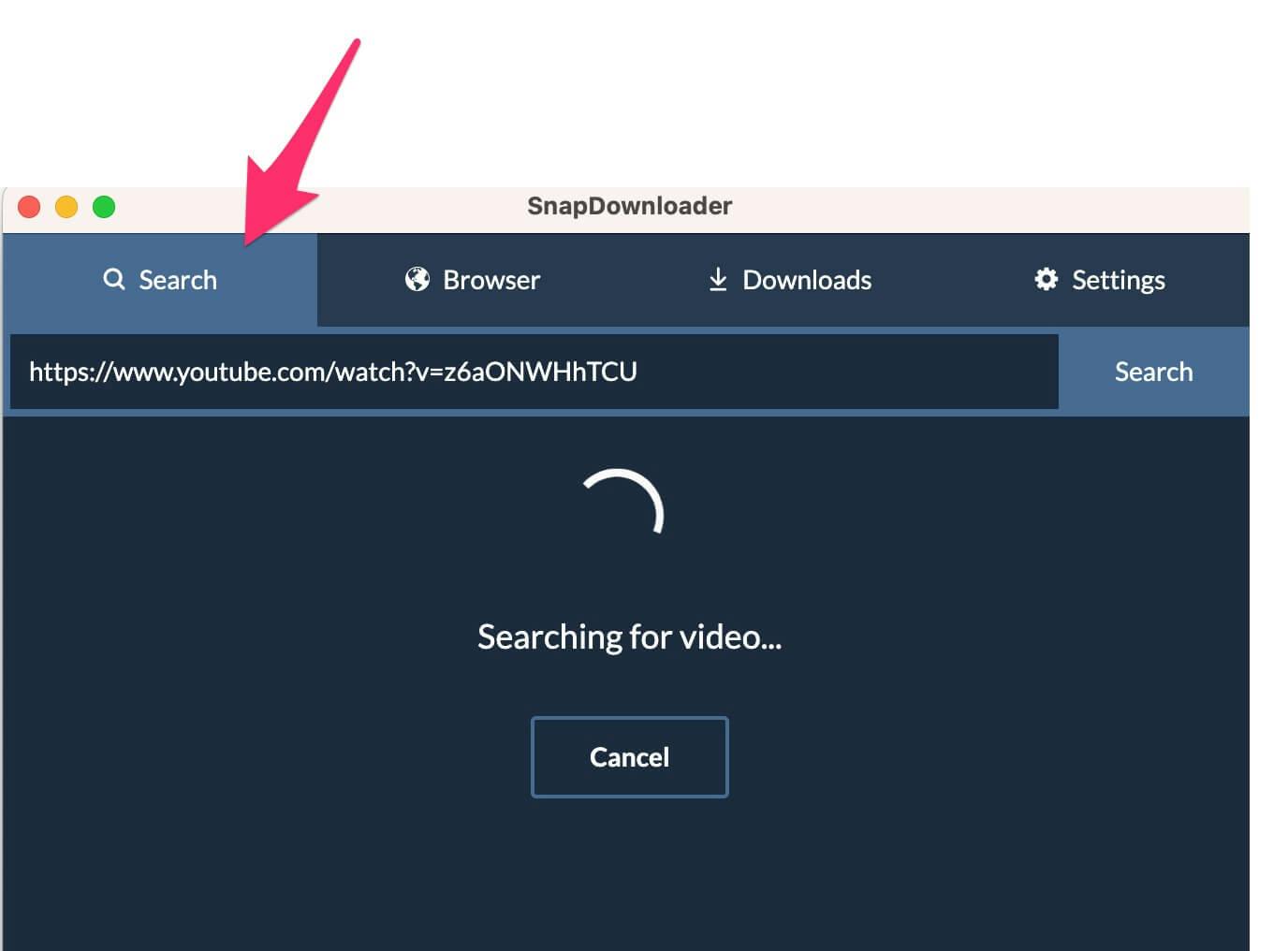 6. Select the output format/quality and click Download
Once the video is searched, SnapDownloader will display all the available video qualities (8K, 4K, 1080p, etc.).
Select your preferred output format and quality, then click the Download button.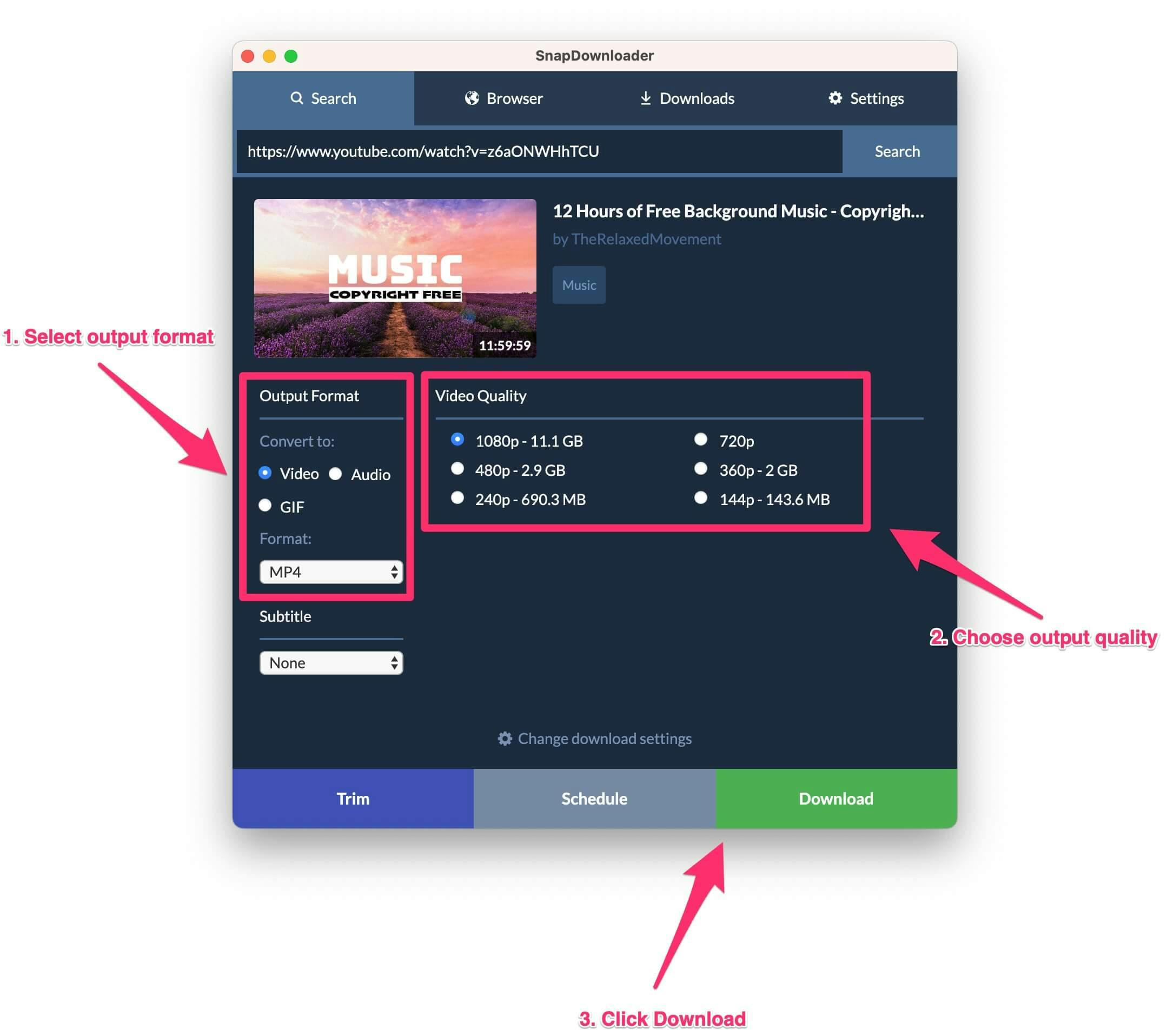 If the content is a playlist or channel, a list of all the available videos will be displayed. You must tick the checkboxes next to the videos you want to download, select the output format/quality, and click Download.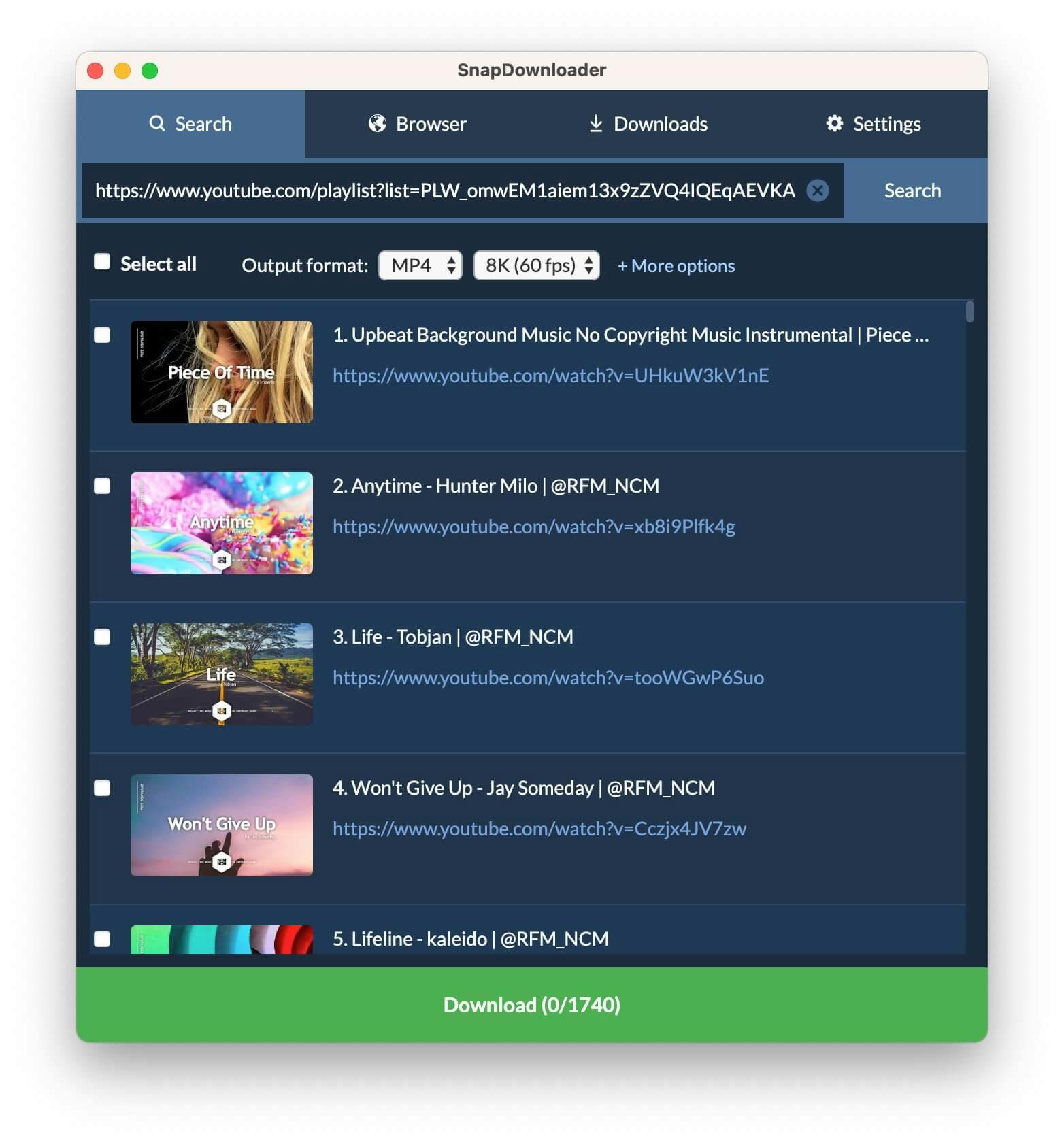 SnapDownloader will begin to download the video(s) to your computer. It will be saved to the folder you specified in Settings > General. By default, it is the Movies folder in macOS and the Videos folder in Windows.
You can view the download progress by going to the Downloads tab > Active.
Is SnapDownloader the Best Tool for Downloading Private Videos?
If you want to download private videos from YouTube, you can't go wrong with SnapDownloader. Aside from this specific social media, the tool allows you to grab private videos from other platforms as well, like Facebook, Instagram, Twitter, TikTok, and more.
Here's why SnapDownloader is the best tool for this particular purpose.
The program works for all major platforms
It is extremely fast, reliable, and error-free
It can download videos up to 8K quality and convert them to other formats like MP4, MP3, M4A, and WAV
Users can easily access all their downloaded content via the app
Trim videos
Allows you to enter your proxy credentials to bypass geo-blocking
It can download YouTube videos, playlists, channels, chapters, and age-restricted content
If you're unsure whether SnapDownloader supports a particular platform, we suggest you try downloading a video and see if it goes through. However, given that the program works for more than 1,000 sites, you'll most likely be able to execute the download.
SnapDownloader Key Features
1. Private Video Downloads
First and foremost, SnapDownloader is an excellent option if you're looking to download private videos from Facebook, Instagram, YouTube, or any of the supported platforms. You have to enable the option that would allow you to grab such content, and you're ready.
Not only can you grab this type of content, but you can get it in various outputs and qualities. In that sense, a private video downloader doesn't differ much from a public grabber.
2. Video Trimming
There are just two reasons why people download private videos to their desktop or mobile.
The first, the more common one, is so they could save valuable memories on their devices. However, it isn't uncommon for people to repurpose content. They might use the video to create slideshows, merge it with other videos, and do all sorts of shenanigans.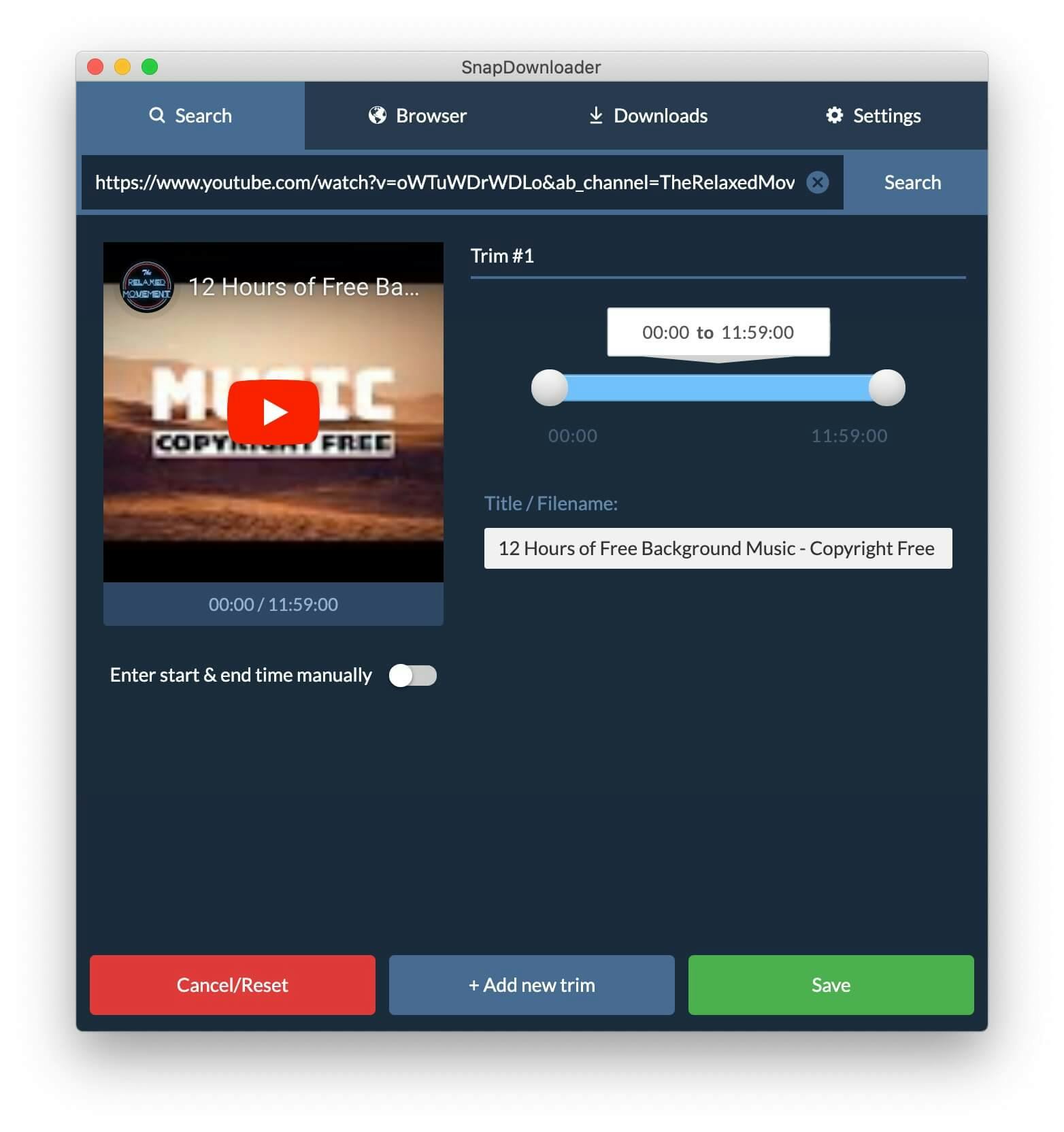 In that sense, video trimming perfectly adds to the private video-grabbing feature. Besides editing, it also allows you to chop down unnecessary content, reducing download time.
3. Supports Numerous Platforms
If you browse the web, you'll notice that SnapDownloader isn't the only tool with a private download feature. However, the enormous number of platforms it supports and the regular updates separates this software from the rest.
> View the list of supported sites
You can use the grabber to get content from more than 1,000 sites. This makes it one of the most versatile software within the niche. Whether you're grabbing private posts on Facebook, YouTube, Instagram, or some other platform, this tool can help you.
4. Bypass Geo-Restrictions
One of the problems people might have has to do with geo-restrictions. Some sites prevent users from accessing content based on their location. Although this isn't a common practice for major social platforms, it's still something you should be wary about, especially on YouTube.
SnapDownloader allows you to download geo-restricted YouTube videos without using a VPN to spoof your location.