Whether you're a casual user or content creator, you probably utilize MP4 YouTube Downloaders from time to time. These amazing tools allow you to grab interesting videos from YouTube and save them for later use.
In this article, we'll analyze the best YouTube downloaders for Mac, and their pros and cons, helping you make a better purchasing decision.
View table of contents [+]
6 Best YouTube Downloader Apps for Mac
For the most part, Mac users have access to the same tools as Windows owners, as software creators generally optimize their products for both platforms. So, regardless of your system, you can more or less utilize the same YouTube downloaders on Mac as you would on PC.
Still, if you're not sure if a certain MP4 YouTube Downloader will work on your device, we've created a short breakdown to help you out!
1. SnapDownloader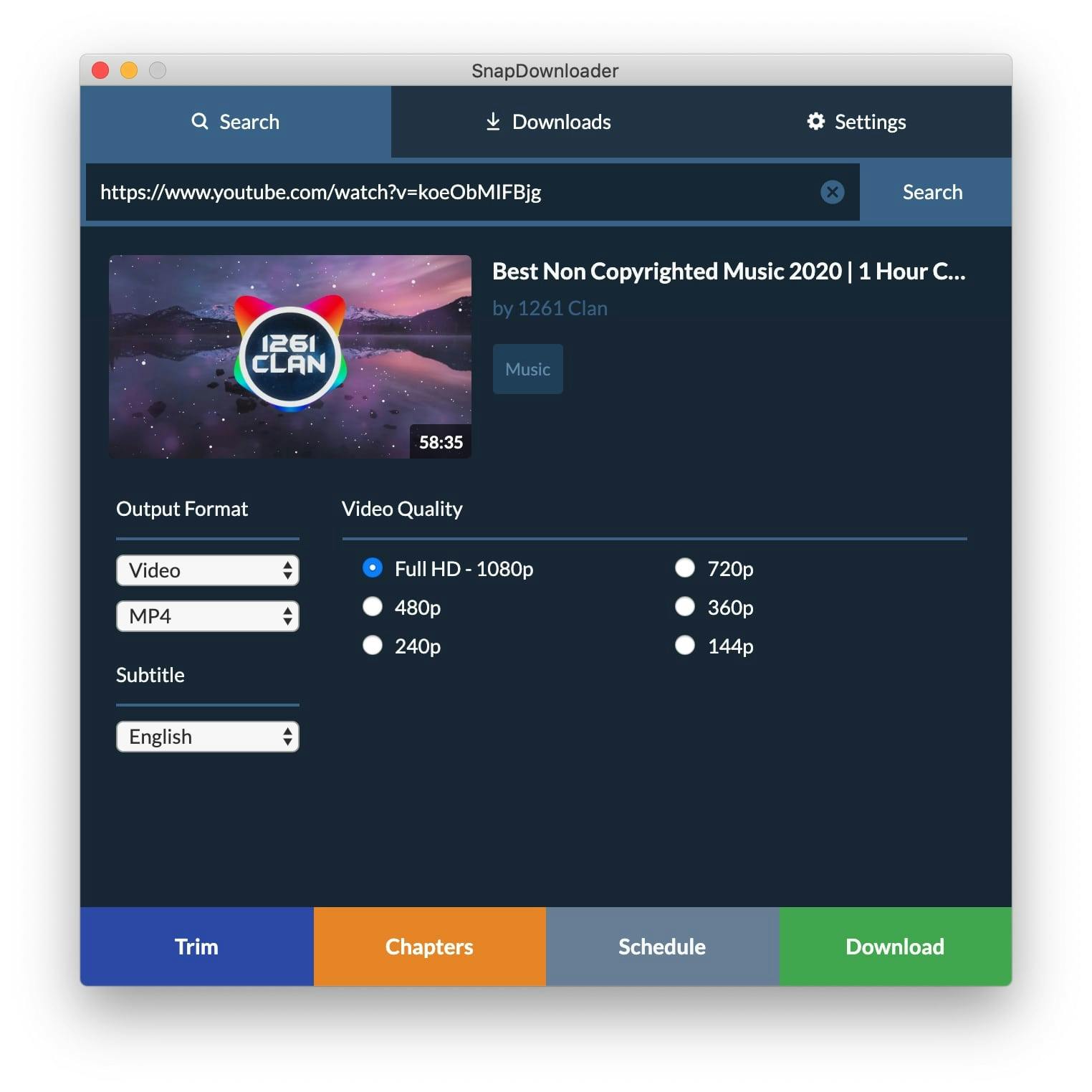 SnapDownloader is one of the best YouTube video downloaders for Mac. The software has been around for quite a while but still receives regular updates. A smooth interface and a plethora of incredible features are good enough reasons to give this software a chance.
Features
Supports more than 900 sites
Supports more than 10 output formats
8K resolution
Editing features
Built-in editor
Pros
One-Click Mode automatically grabs content when you open a URL
Proxy setting removes location barriers
The trimming feature reduces the size of files and allows faster downloads
Automatic subtitles for YouTube videos
Bulk and playlist downloads
Concurrent downloads
Cons
Not available for Android or iOS
It isn't an online tool, so you'll need to install it on a device
Reviews
SnapDownloader has stellar customer scores. It has received 4.9 stars based on 403 users, putting it among the top YouTube to MP4 downloaders for Mac.
4K Video Downloader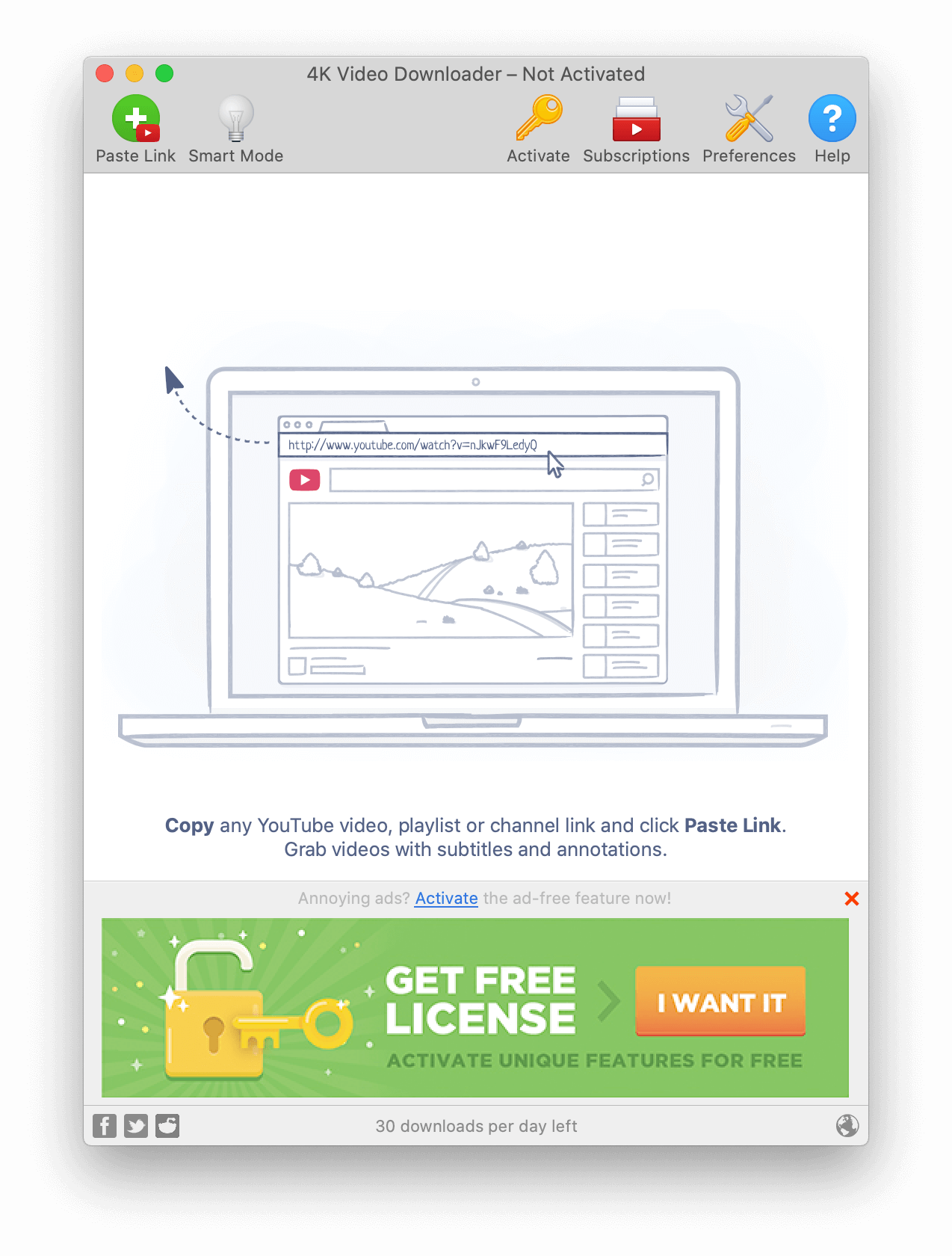 The thing that makes 4K Video Downloader great is that it's part of a larger suite. If you wish, you can upgrade the tool for cheap to get numerous downloading and editing features. Besides YouTube, it also supports all other major streaming platforms.
Features
Supports 11 sites
Supports MKV and MP4 output formats (for videos)
Supports OGG, M4A, and MP3 output formats (for audio)
8K resolution
18 languages
Pros
Smart Mode automatically grabs content when you open a URL
Supports downloads in 60 FPS
Playlist downloads
Private downloads are great for age-restricted content
There is a free version, which is great for testing
Cons
A small number of outputs and sites supported
Limited options for downloading playlists
The free version is filled with ads, making it very annoying
Reviews
Based on the limited number of reviews on G2.com (only ten), the software has received a solid 4.3 score.
By Click Downloader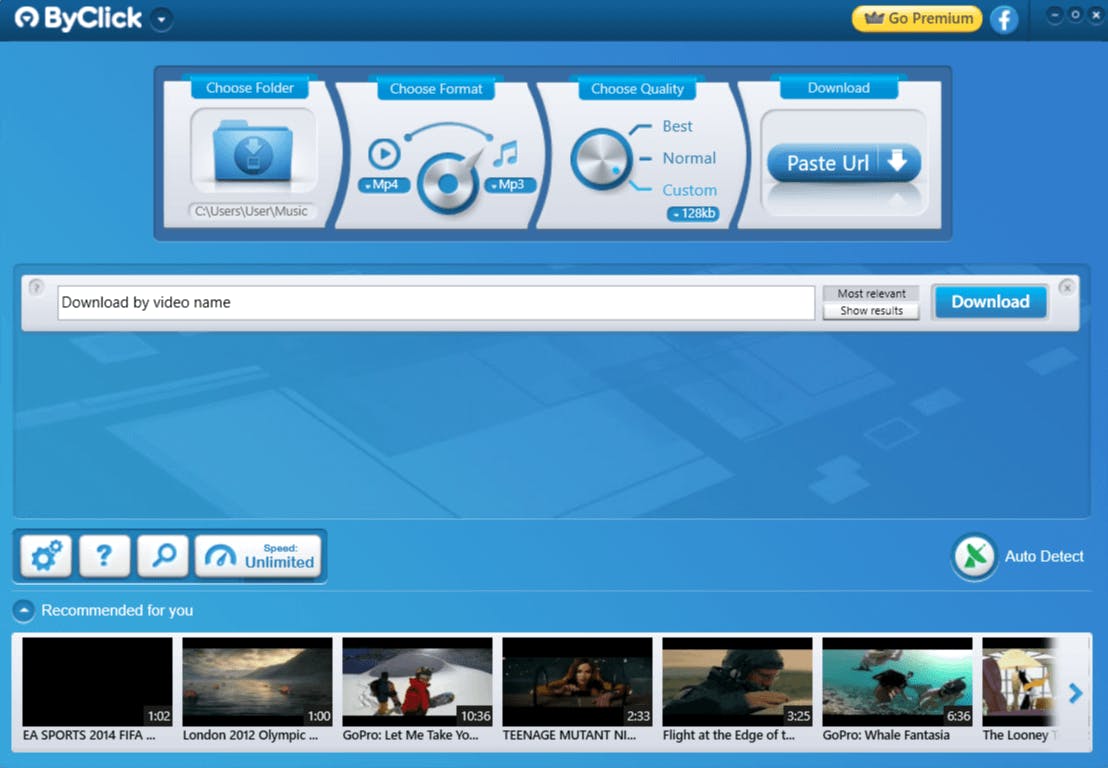 By Click Downloader is one of the cheaper, professional solutions for downloading YouTube videos on Mac. The software might not have that many features, but it's pretty well-rounded and is relatively fast.
Features
Supports 25 sites
Supports MP3 and MP4 formats
4K resolution
Comes in several languages
Pros
Option for automatic video downloads when you open URL
Proxy settings allow you to change locations
Playlist and channel downloads
Converts files (although in limited formats)
Private downloads are great for restricted videos
Cons
Only two output formats
Users have reported occasional errors
No editing features
The free version has too many ads
Reviews
Similar to many other YouTube to MP4 downloaders for Mac, this tool doesn't have that many reviews. It received the most votes on the AlternativeTo site (16), getting an average score of 3.8.
iTubeGo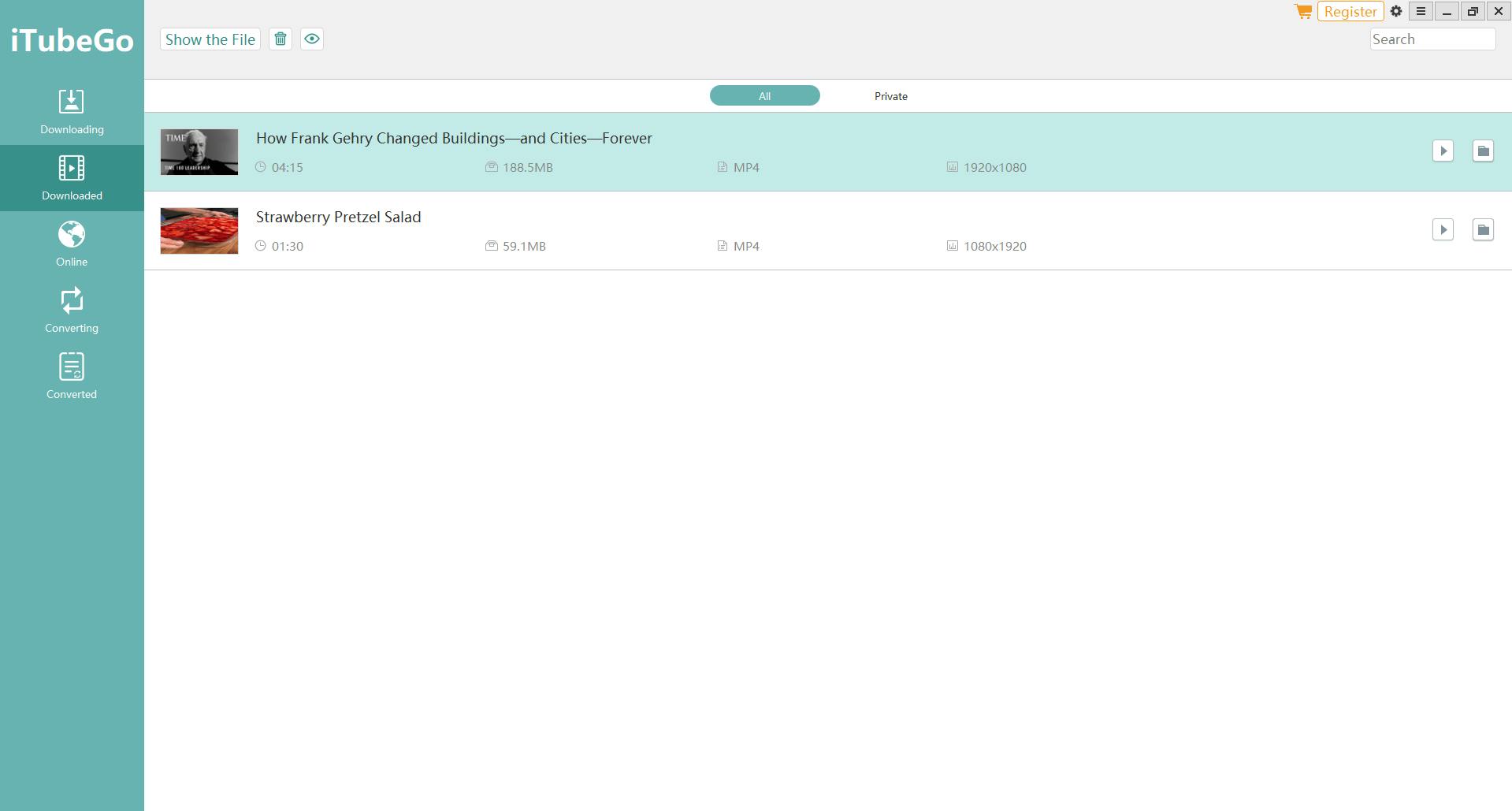 iTubeGo is a grabber that works for Windows, Android, and Mac. It's worth mentioning that a different version is sold for each system, so if you have different systems on your phone and home computer, you'll have to buy two products.
Features
Supports more than 1,000 sites
Supports formats like MP3, MP4, AAC, WAV, MOV, and more
8K resolution
Editing features
Built-in browser
Pros
YouTube subtitle downloads in more than 50 languages
Batch and concurrent downloads
Allows content sharing online
Downloads livestream content
Converts Deezer and Apple Music to MP3
Feature for blocking adult sites
Cons
A limited number of supported formats
User interface and, specifically, name tags can be confusing
The free version doesn't have all the features
Reviews
iTubeGo has received a 4.5 score on the UpToDown website. The software also has generally positive scores on other sites.
HitPaw Video Converter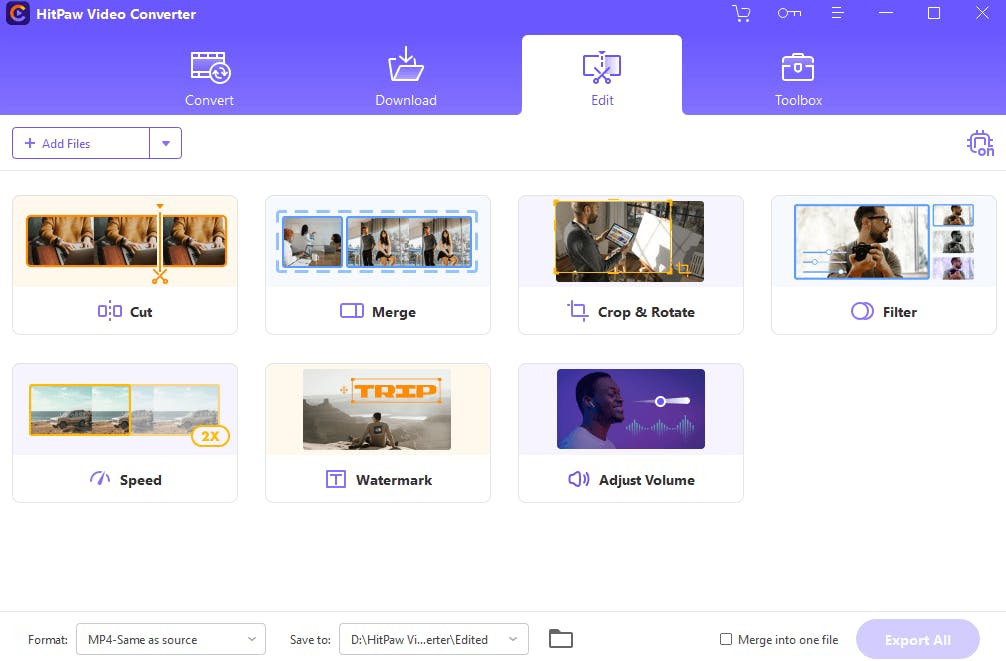 HitPaw Video Converter is a part of a larger video creation and editing suite. Besides grabbing videos from various sites, this platform also allows you to convert media files and edit them. Despite the fact that the software is really effective, the thing we loved the most was its smooth interface. As such, it's a perfect choice for both newbies and advanced users.
Features
Supports the biggest video and audio streaming sites
Supports more than 1,000 output formats
8K resolution
Built-in browser
Fast conversion and downloads
Pros
Perhaps the most output formats out of all video grabbers
Incredibly fast conversion and downloads
Channel and playlist downloads
Creates metadata when downloading music
Converts 2D videos to 3D
DVD ripper and DVD burner features
Cons
It can only be used on one device
A bit awkward copy-pasting
Too many unnecessary options can be overwhelming for new users
Reviews
The tool has received a 3.5 score on G2 (only one review) and a 4.3 score on CrozDesk (only two reviews).
VideoProc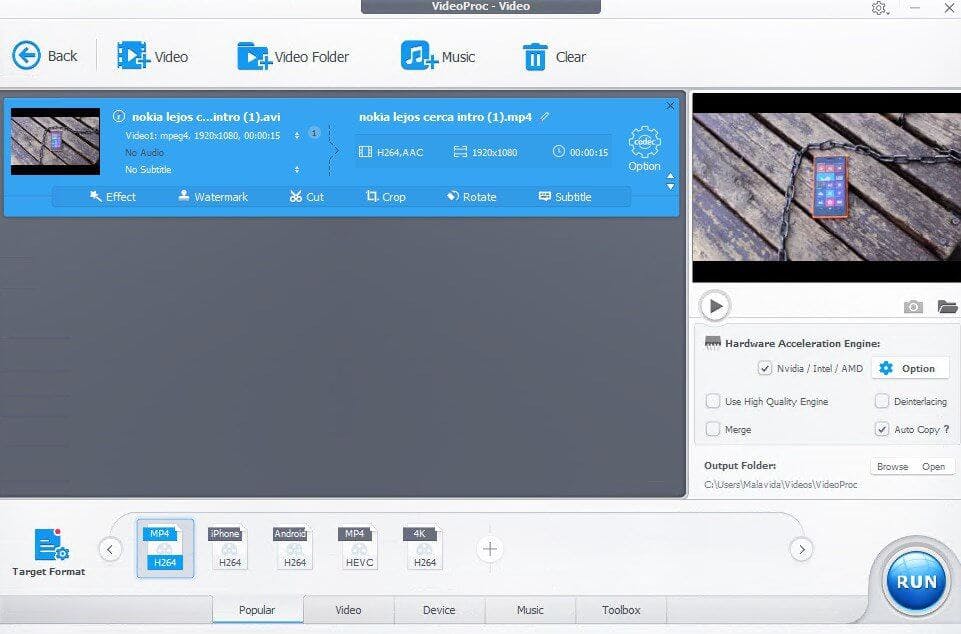 VideoProc is one of the more advanced tools on the list, making it more suitable for professional content creators than casual users. It has numerous features for downloading, conversion, screen recording, and editing, which makes it a perfect solution for people who post on YouTube. Recently, the software creator has also added AI features, significantly increasing its usefulness.
Features
Supports more than 1,000 websites
Supports more than 420 output formats
8K resolution
Screen capturing
AI features
Editing suite
Pros
Some of the best editing features out of all Mac YouTube grabbers
Instant video merging feature
Three modes for capturing screen
GPU acceleration for faster performance
Separate tabs for audio and video downloads
Functions for enhancing images
Works well for all devices, including photo cameras and drones
Cons
The most expensive tool on the list
It can be a bit convoluted for basic users
The text doesn't read that well
Like with other grabbers, the free plan is rather restricted
Reviews
VideoProc has received a high 4.5 score on GetApp.com, based on 18 reviews.
How to Download YouTube Videos on macOS?
1. Download and install SnapDownloader on your Mac.
2. Open YouTube and go to the video you want. Copy its link from the browser address bar or by clicking the Share button below the video.
3. Open SnapDownloader and paste the video's link in the search bar.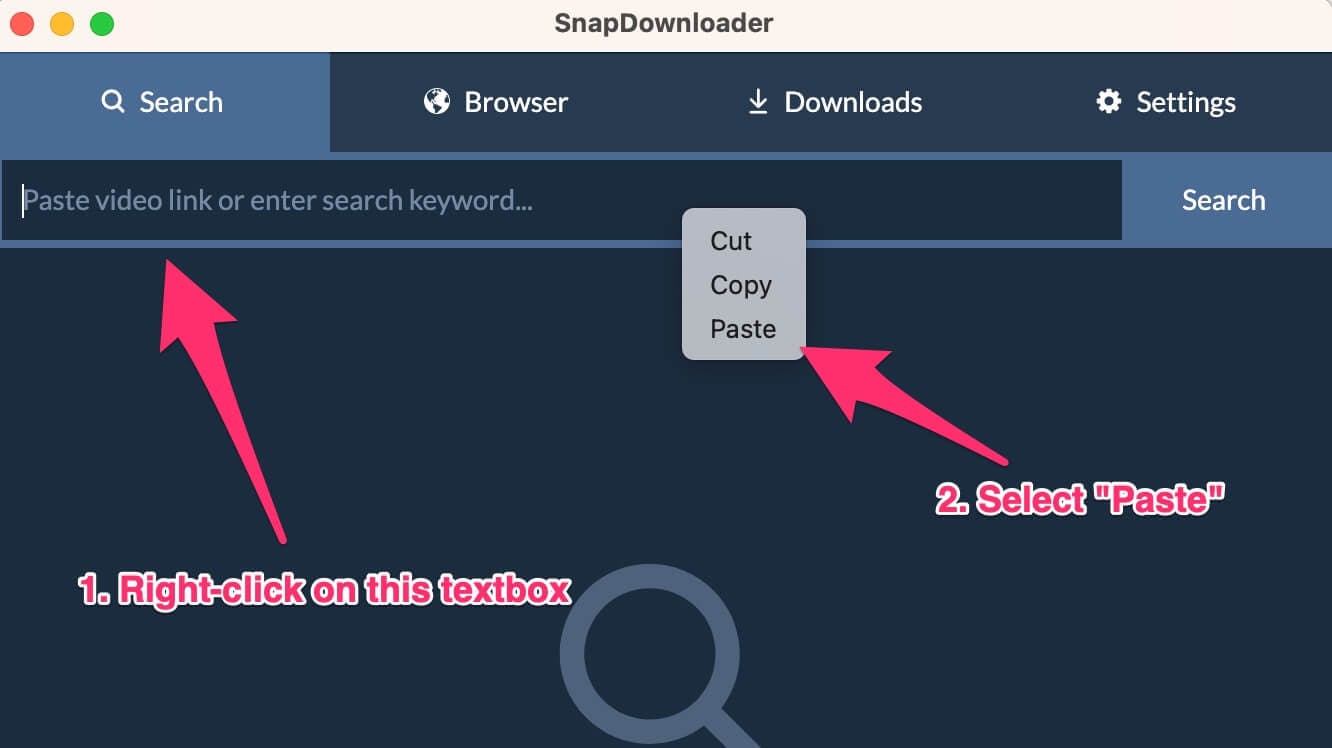 4. Select the output format and quality of your choice, then click the Download button.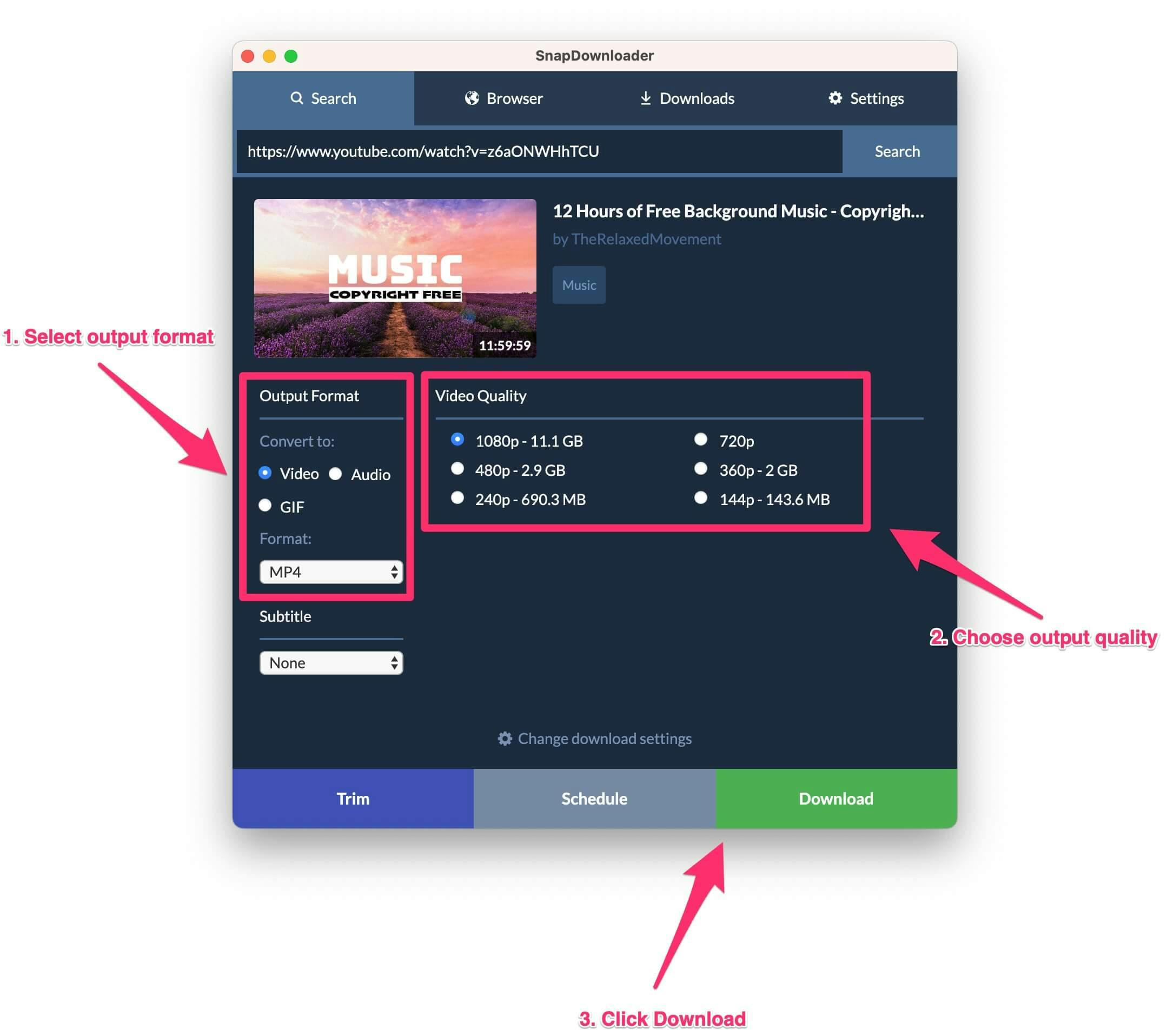 5. SnapDownloader will begin downloading the video to your macOS. By default, the videos are saved to the Movies folder, but you can change the destination in the app's settings.
Benefits of Using a YouTube Downloader App
There are lots of benefits to using a YouTube video downloader app on a Mac.
Create a private collection of your favorite videos
You can save favorite music and movies for later use
Downloaded videos can be used in offline mode, such as when you're traveling and don't have access to the internet
Content creators regularly use these tools to repurpose content
YouTube downloaders allow you to share files with your friends
There are numerous other business situations where you can benefit from this software
For the most part, paid Mac downloaders are used by content creators. Entrepreneurs use them to create reaction videos, repurpose other people's content, and create compilations. However, many casual users also benefit from this software.
Furthermore, if you have a downloader, you can delete the files from your Mac. As long as you have this content on Google Drive or posted on YouTube, you can always access it later on. In other words, you can transfer all your files to the cloud but can still get them with a grabber (if you ever need them on your device).
Criteria to Consider When Choosing a Mac YouTube Downloader
There are so many things you need to take into account when choosing a YouTube downloader app:
Number of websites available (besides YouTube)
Number of output formats
Interface quality
Speed and responsiveness
Regular updates
Editing features
Built-in browsers
Other features
Price
Your needs will vary depending on whether you're a casual or professional user. If you're a professional, it wouldn't be a bad idea to get software like SnapDownloader or HitPaw. Ideally, you should look for a program that works for numerous sites and formats and that's easy to use.
Generally speaking, platforms with extra features are always better. While you might never use some of them, it's good to know they're available. Editing features, in particular, are crucial for content creators but can also help out if you want to mess around with videos and music. Lastly, some people will also consider the price, although this shouldn't be your main focus.
Wrapping Up
Keep in mind there are many other great Mac downloaders you should consider checking out. This niche is saturated with various solutions, many of which have unique features that would be ideal for your specific purposes. So, we suggest you try out several products before committing to one of them.
Besides these paid tools, there is also a plethora of free YouTube video downloaders for Mac that can help out if you want to grab just a few posts. While most of these free alternatives come with numerous ads, they are solid for casual users.