Instagram Reels Downloader App
We designed our Instagram Reel Downloader app to make it easy for users to download Reels on both PC and Mac, for easy offline viewing.
To download an Instagram Reel with Snapdownloader, just enter the Reel's link in our app and set your preferred output and quality. Once you click Download, the Reels are instantly saved to your computer.
The best part about our download software is our bulk downloader. With it, you can download up to 100 Instagram Reels at once. This is far more efficient than using the Instagram app and painstakingly downloading each Reel one by one.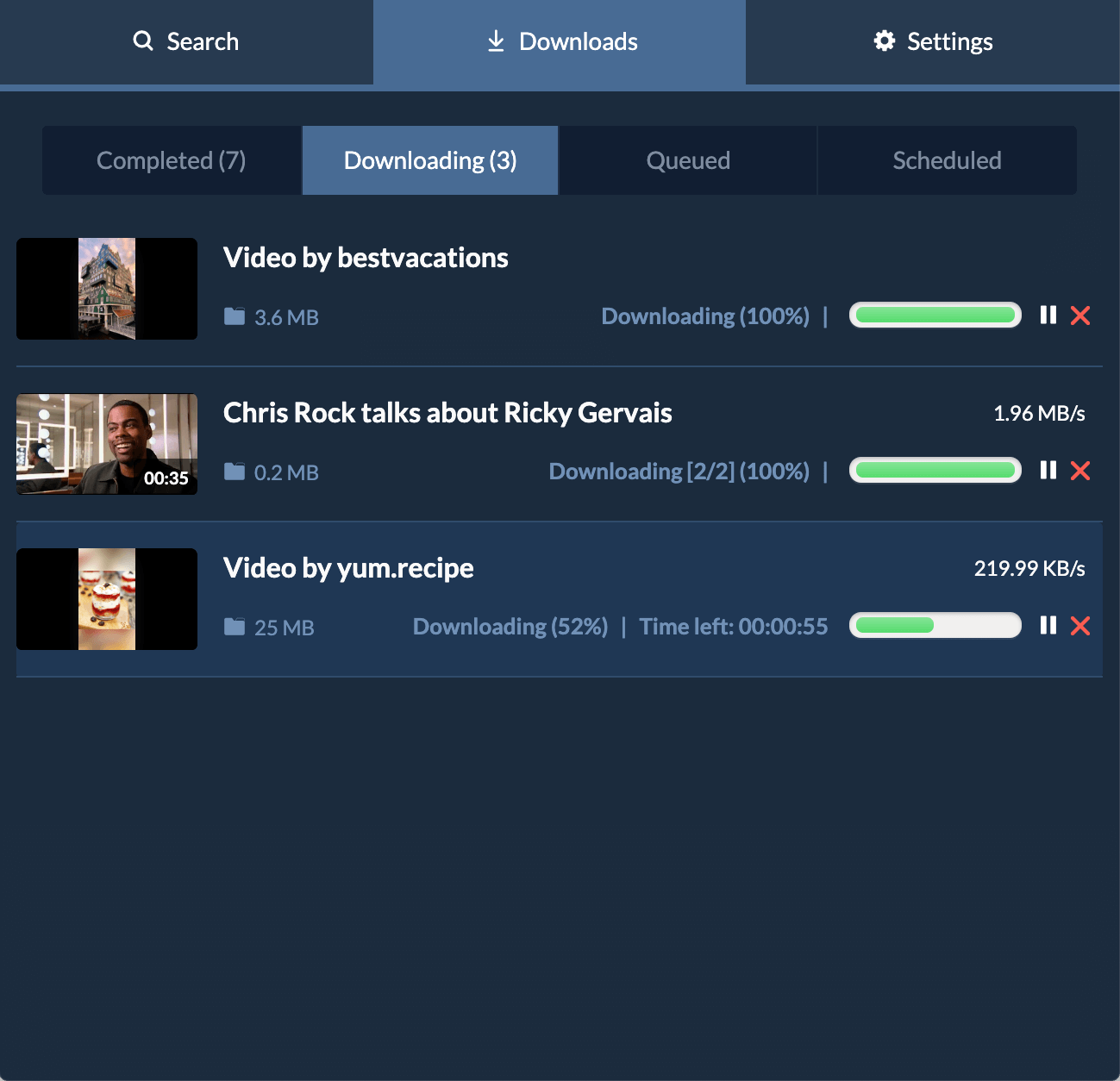 Features
Easy to use
Just copy-paste the link of the Instagram Reel you want to download and let SnapDownloader handle the rest.
Extract audio
Do you just need the audio from the Instagram Reel? Luckily, you can set the output format to MP3, AIFF, M4A, WMA, and other audio formats when you download your Reel.
Bulk downloads
Downloading several Instagram Reels at once is cumbersome unless you use SnapDownloader's bulk downloading tool. We let you download up to 100 Instagram Reels at once, so you won't have to switch between tabs constantly.
Simultaneous Downloads
If downloading 100 Reels isn't enough, you can download a mix of Reels and videos from many other platforms simultaneously to have them all ready at once.
Queue Downloads
Have the first video ready as quickly as possible by queuing them up and downloading several Reels one after the other.
Schedule downloads
If you want to wait and download a video when you have more bandwidth, then you can save the download for later with our scheduled downloads. Your Reel will download automatically at the date and time you pick.
High-speed downloads
We've optimized our Instagram Reel downloader to make sure that you get your videos as quickly as possible.
Download from 900 websites
Far from being limited to Instagram, you can use SnapDownloader to save videos from several other platforms like YouTube, Instagram, Facebook, Vimeo, and TikTok.
Download private videos
Since many of your favorite Reels are made by your friends, who often have private accounts, you need to log in to access them. For this purpose, we have a built-in web browser so you can log into Instagram to download private Reels.
10 output formats
SnapDownloader offers plenty of options for output formats; both audio and video are available. You can download Reels and convert them to MP4, MP3, MOV, AVI, AAC, M4A, WAV, AIFF, FLAC, and WMA.
Convert Reels to GIF
You can easily convert portions of a Reel or an entire Reel to share as a GIF on Discord, Twitter, Reddit, and other platforms.
Download video metadata
To preserve critical metadata from a Reel, SnapDownloader allows you to embed all the information you need with the click of a button.
Desktop notifications
Keep up with whatever you need to do while SnapDownloader works in the background. Then, we'll hit you with a notification so you can watch the Reel once the download completes.
How to Download Instagram Reels?
SnapDownloader makes downloading Reels a breeze. Follow these 3 easy steps:
1. Copy and paste an Instagram Reels link
Download and install SnapDownloader on your PC. Next, copy the Instagram Reels link and paste it into SnapDownloader.
2. Choose the output quality and format
Select the output format and quality that you want to save the Instagram Reel in. For instance, you can save a Reel as a 1080p MP4 or a 128k MP3, among many other options.
3. Download
Click "Download" and start watching your Instagram Reel when the download is complete!
Why Use Our Instagram Reels Downloader?
Safe and Secure
Above all, our goal is to create a safe and secure platform for users to download Reels and other videos. We don't log your information, nor do we attach any harmful content to the downloads.
Amazing Features
We don't just let you download Reels, you can also schedule downloads, trim videos, and download from hundreds of other websites. Our features are endless. On YouTube for instance, we allow you to download entire playlists, channels, and chapters.
5-Star Rating
We have consistently delivered an enjoyable download experience to our customers. After 100+ customer reviews, we have received an average of 5 stars out of 5.
Regular Updates
SnapDownloader is always improving. Our team works round the clock to keep the app running flawlessly. We respond to your requests for new features quickly and add them to the app without delay.
24/7 Customer Support
To ensure the best possible customer experience, we've enlisted a 24/7 support team to ensure your downloader works effectively. No other Reels downloader can touch our quality customer service.
Frequently Asked Questions
Can You Download Instagram Reels?
Yes, you can download Instagram Reels. However, you should be aware that downloading Instagram Reels is not possible if you're using a web browser. In this case, you'll need to open the Instagram app on your mobile device and follow the download process there.
If you absolutely must download Reels on your desktop, then you'll need to use an Instagram Reel downloader like SnapDownloader.
How to download a Reel from Instagram?
This depends on whether you want to download the Reel on your mobile device or on your desktop. Let's start with the desktop method.
Install SnapDownloader on your PC or Mac.
Copy the link of the Instagram Reel you want to download and paste it into SnapDownlaoder.
Select the output format and the quality from the options provided. You can download high-quality audio and video.
Click Download and wait a few moments for it to finish.
Enjoy your video.
If you want to download an Instagram Reel on mobile, the process is a little different:
Open the Instagram app and find the Reel you want to download.
Press on the Reel to open it.
Tap on the three dots in the top right corner of the Reel.
Press on "Save Video" to download the Reel to your device.
The Reel will be saved to your camera roll or gallery, depending on your device of choice.
Can I Download Reels videos from any user?
Yes, you can download Reels from any user, and more specifically, any user that you follow on a private account. On the other hand, if you want to download a private Reel on desktop, you will need to log into your account using Snapdownloader's browser.
How do I install the software to my operating system?
Simply go to the download page. SnapDownloader is available for Microsoft Windows 7 and higher. It's also available for Mac OS X 10.10 and higher. Click on the download button for your operating system, and you're all set.
How do I download Instagram Reels on PC?
Get an Instagram Reels link and paste it into the SnapDownloader search bar. Then, choose the format and the quality you want. Click download!
How do I download Instagram Reels on Mac?
SnapDownloader operates the same on Mac and PC.
Can I only download Instagram Reels?
SnapDownloader works on nearly 1,000 sites. You can use it to download MP4 Instagram Reels and files from YouTube, Twitter, Facebook, Vimeo, and many other sites. So whether you want education, entertainment, or straight-up viral insanity, SnapDownloader works on hundreds of websites to accommodate you.
Is there a limit to the number of downloads?
No. You can download an unlimited number of Instagram Reels. As a Reels bulk downloader, SnapDownloader allows you to paste up to 100 links simultaneously to save time.
Do I need an Instagram account to download a video?
All you need is a URL to download Instagram Reels. You don't need an Instagram account to access public videos, but you do for private ones. If you have an account, SnapDownloader has a built-in browser so you can sign in to retrieve URLs for private videos.
How do I know SnapDownloader does what it claims?
Check out our reviews. SnapDownloader has more than 250 5-star ratings. Users rave about the clean interface, the number of available formats, the quality of conversions, the speed of downloads, the customer service, and many other features. Also, check out the fully-functional 48-hour free trial.
Is SnapDownloader anonymous?
SnapDownloader is anonymous. The app does not store your searches or downloads, and there are no hidden bundled installers. There's also no way for the creator of the Reel to know who has downloaded their videos with SnapDownloader. Your privacy is safe!
Are there annoying ads?
No! There are no ads in SnapDownloader, ever.
Can I try it out before buying it?
Yes. We offer a 48-hour free trial when you download and install SnapDownloader. We're confident you'll be blown away by the features and ease of use that SnapDownloader provides.
How do I report problems?
If there is ever trouble with an Instagram Reels download, PC and Mac users can get in touch with us 24/7. We have a customer support team ready to ensure every problem gets solved ASAP. To contact us, send an email to support@snapdownloader.com.
Is there a money-back guarantee?
Yes. For a lifetime purchase or annual subscription service, we offer a 30-day money-back guarantee. The monthly subscription comes with a 24-hour guarantee.