Vimeo Video To MP4 Converter
Videos from Vimeo and other platforms get deleted all the time. It's simply the nature of the internet. That's why you need SnapDownloader to save high-quality videos to your PC or Mac. You'll never lose track of a good video again.
Vimeo doesn't give you an easy way to download videos from their platform. Thankfully, SnapDownloader saves the day with an easy-to-use conversion tool. Simply copy and paste the link to your desired Vimeo video and set the output format to MP4. Your video will be saved to your computer in no time.
We also make it easy for you to download several Vimeo videos at once. Our bulk downloader takes care of everything while you load the links or the playlist. You can just sit back and watch while the conversion happens.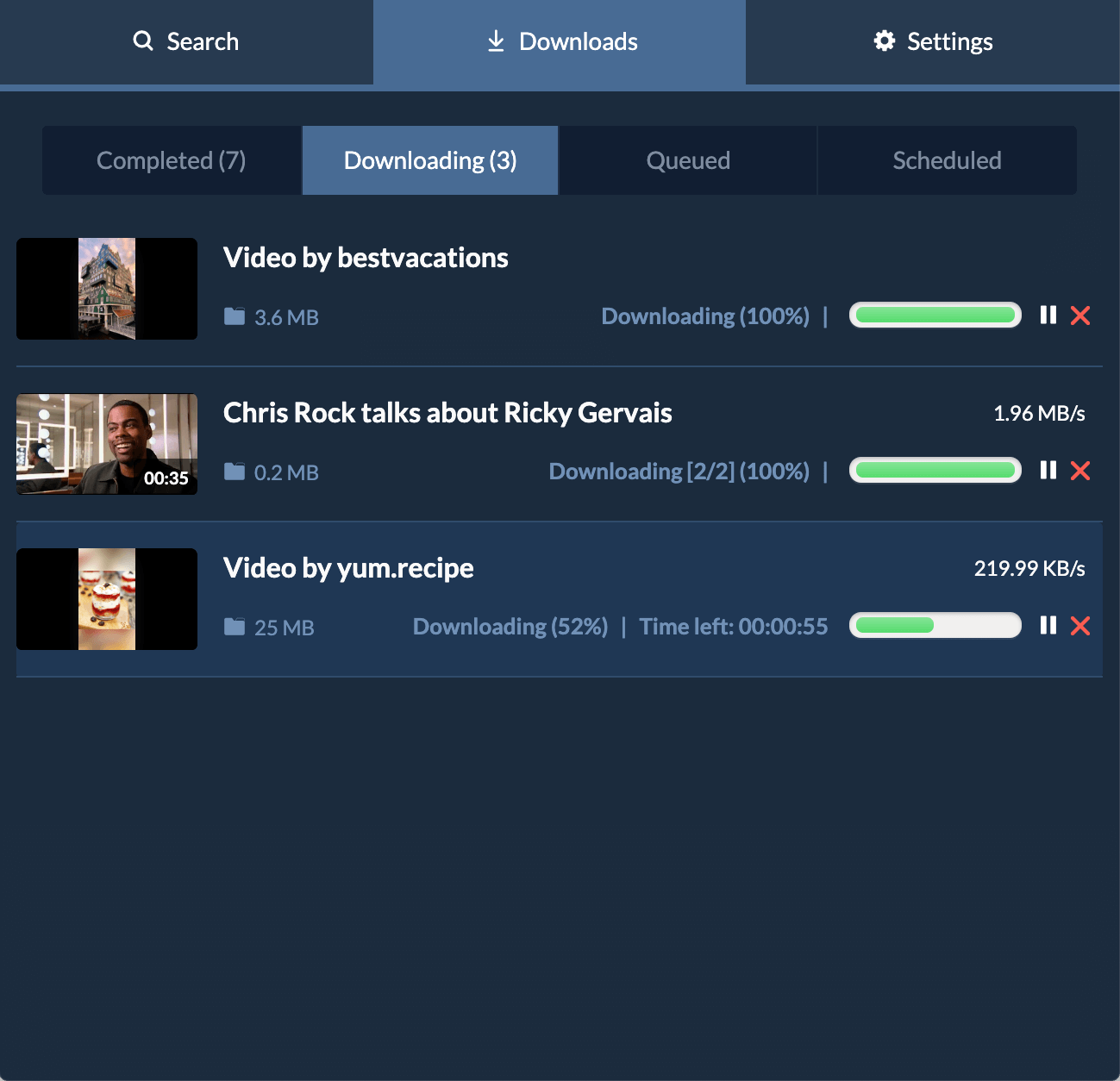 Features
Easy to use
Find the link of the Vimeo video you want to convert to MP4, and SnapDownloader will do the rest.
Cross-platform support
You can use SnapDownloader on all major operating systems, including Windows and macOS.
Bulk conversion
Efficiency is our top priority. You can paste up to 100 Vimeo links at once and download them concurrently. Much better than wasting your time manually downloading videos one by one.
Simultaneous downloads
Download a bunch of videos from Vimeo all at once and avoid having to bounce between different platforms.
Queue conversions
Sometimes, you need to get videos right away to accommodate your workflow. Set the queue downloads option to quickly get a large number of videos one by one and process them sequentially.
Schedule downloads
Having scheduled downloads makes it a lot easier for you to manage your time. Plus, it helps you account for limited bandwidth. Use SnapDownloader to schedule the date and time you want.
High-speed downloads
Fast downloads are our specialty, with an app that's optimized to make your experience as quick as possible.
Way more than just Vimeo and MP4
With SnapDownloader, you get access to over 900 websites and platforms to download from, in over 10 different output formats. Pick from YouTube, Instagram, Facebook, Vimeo, and Twitter.
Download private videos
Many Vimeo videos are hidden behind a paywall. Fortunately, SnapDownloader allows you to log into your account via our custom browser and convert videos to MP4 that way, saving you bundles of time.
Video trimming tools
Vimeo is known for its artsy videos, and some clips from those videos would make for excellent GIFs. GIFs are among the many output formats we offer.
Convert videos to GIFs
Having video metadata alongside your video can be very helpful. You can easily embed Vimeo video metadata using SnapDownloader.
Download video metadata
Having scheduled downloads makes it a lot easier for you to manage your time. Plus, it helps you account for limited bandwidth. Use SnapDownloader to schedule the date and time you want.
Multiple video quality options
Save videos in just about any quality you want, from low-resolution to save space all the way up to 8K for the ultimate viewing experience.
How to Convert Vimeo to MP4?
Vimeo videos are easy to convert with SnapDownloader. Follow these 3 simple steps:
1. Find the Vimeo video link
Download and install SnapDownloader on your computer. Take the Vimeo video link and copy-paste it into our built-in browser.
2. Convert the Vimeo video to MP4
Now, you'll have the option to choose MP4 as your output format. You can also pick video quality, like 1080p.
3. Complete the process
Click "Download" and within moments, the MP4 video will show up on your computer.
Why use our Vimeo to MP4 converter?
Simple and secure
Unlike many video converters, SnapDownloader allows you to escape the most prevalent problems with video downloads. All your information is safe with us, and you'll have little trouble figuring out how to get the output you want.
Incredible versatility
SnapDownloader gives you a wide range of output formats, from MP4 to WMV, video qualities from 144p to 1080p, and multiple platforms to download from, including YouTube and Instagram.
A 5-star experience
More than 100 customer reviews have proven that we've gotten video and audio downloads right. We average a 5-star rating for all our products.
Constant updates
We don't rest on our laurels either. Our developers are always making bug fixes and listening to customer feedback. We implement badly-needed features with haste.
24/7 Customer support
Make the most of our Vimeo to MP4 tool with our help desk. No matter what your problem is or when you have it, there will always be someone available to help you fix it.
Frequently asked questions
How do I convert Vimeo to MP4?
Converting Vimeo to MP4 is simple. Just install SnapDownloader and copy your desired Vimeo link into the app's browser. Then, choose MP4 as the output format to get the output quality you desire.
What format are Vimeo videos?
Vimeo videos are compatible with all kinds of output formats. For instance, MP4, MOV, AVI, WMV, Flash, MPEG, and others are all accepted. That said, Vimeo usually recommends you upload videos in MP4 format to obtain the optimal video quality and compatibility with other platforms.
How do I get an MP4 URL from Vimeo?
The easy way to get an MP4 URL is to download SnapDownloader, copy-paste the regular URL into the browser, and click download to receive an MP4 video that you can then upload to your website or whichever platform you choose.
Does SnapDownloader work for sites other than Vimeo?
Why is there no download button on Vimeo?
Vimeo has designed its platform to facilitate self-ownership and copyright of the content uploaded by its users. They want to prevent you from downloading and distributing videos in a way that removes credit from the creator.
Vimeo permits its creators to enable or disable the video download option. So you might be able to download some videos in their original format. That said, this still does not give you permission to use or distribute the video unless you have permission from the owner.
How do I install the software to my operating system?
Go to the download page. SnapDownloader is available for Microsoft Windows 7, 8, 10, and 11. It is also available for Mac OS X 10.10 and higher. Click on the download button for your operating system, and you're all set.
How do I download Vimeo videos on PC?
Get a Vimeo video link and paste it into the SnapDownloader search bar. Then, choose the format and the quality you want. Click download!
How do I download Vimeo videos on Mac?
SnapDownloader operates the same on Mac and PC.
How do I download Vimeo videos on Mac?
SnapDownloader operates the same on Mac and PC.
Can I only download Vimeo videos?
SnapDownloader works on nearly 1,000 sites. You can use it to download mp4 Vimeo videos and files from YouTube, Twitter, Facebook, Vimeo, and many other sites. So whether you want education, entertainment, or straight-up viral insanity, SnapDownloader works on hundreds of websites to accommodate you.
Is there a limit to the number of downloads?
No. You can download an unlimited number of Vimeo videos. As a Vimeo bulk downloader, SnapDownloader allows you to paste up to 100 links simultaneously to save time.
Do I need a Vimeo account to download a video?
All you need is a URL to download Vimeo videos. You don't need a Vimeo account to access public videos, but you do for private ones. If you have an account, SnapDownloader has a built-in browser so you can sign in to retrieve URLs for private videos on Vimeo.
Are there annoying ads?
No! There are no ads in SnapDownloader, ever.
Can I try it out before buying it?
Yes. We offer a 48-hour free trial when you download and install SnapDownloader. We're confident you'll be blown away by the features and ease of use that SnapDownloader provides.