Reddit Video To MP4 Downloader
We designed our Reddit to MP4 converter specifically for ease of use. You can save MP4 videos from Reddit in every type of quality you could dream of, from 144p to 8k.
With SnapDownloader, downloading MP4 videos from Reddit is hassle-free. Just copy-paste the link to your desired Reddit video, and enter it into our app. Then, select MP4 as the format of your video, plus the video quality, and click Download. Moments later, the video will be saved to your computer.
If you have several videos to download at once. Our bulk downloader saves you a lot of time by allowing you to paste up to 100 video links and download them to your computer simultaneously.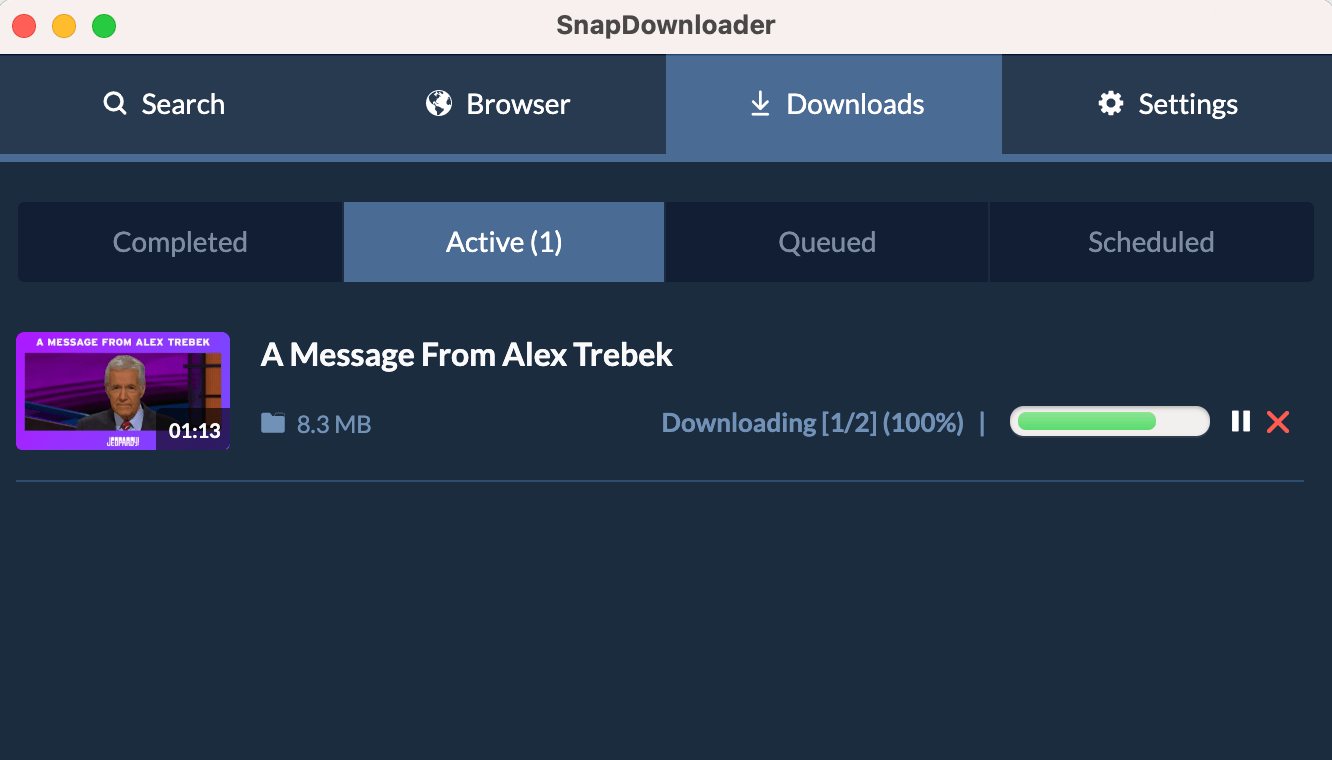 Features
Simple downloads
Grab the link to the Reddit video and paste it into SnapDownloader. We'll do the rest of the work.
Bulk downloads
Don't waste time downloading one video at a time. Use SnapDownloader's bulk downloader to save up to 100 Reddit video links concurrently.
Parallel downloads
Save links from several websites at once by copy-pasting the links into SnapDownloader. No need to wait for each website to finish.
Queue downloads
If you prefer to download videos one by one, you can instruct SnapDownloader to do so automatically. Each download will appear in your folder sequentially.
Schedule
Dealing with limited bandwidth? Fortunately, you can schedule downloads for a future date with our scheduling feature.
High-speed downloads
Reddit to MP4 downloads happen at the drop of a hat with SnapDownloader. Thanks to our developers' tireless efforts, we've optimized the app for maximum download speed.
Cross-platform support
SnapDownloader is compatible with all the commonly used operating systems, including Windows and macOS.
Download from 1000+ sites
Have videos from other platforms you want to download? Not to worry, SnapDownloader allows you to save videos from YouTube, Instagram, Facebook, Vimeo, TikTok and much more.
Download private videos
If you're browsing a private subreddit, it's harder to download video links. SnapDownloader makes downloading <a href="https://snapdownloader.com/blog/how-to-download-private-online-videos">private links</a> possible with our built-in browser.
Trim videos and audio
Cutting a large video down into a small clip is no problem for SnapDownloader. Use our built-in video trimmer to quickly extract clips like a pro.
Convert videos to GIF
Apart from MP4, we offer several formats. Shorter Reddit videos might be better off saved as a GIF, for instance.
Download video metadata
To include things like the post title as part of your Reddit video download, you can save all this information by simply checking a box on our app.
Desktop notifications
Longer videos might force you to wait a while for the download to finish. To avoid forgetting about the video, you can set a notification for when the download completes.
How to Convert Reddit to MP4?
SnapDownlaoder makes downloading Reddit videos easier than you could ever imagine.
1. Paste the Reddit video link
Start by downloading and installing SnapDownloader on your computer. Then, copy the link to the Reddit video and paste it inside SnapDownloader.
2. Convert Reddit videos to MP4
Now, choose the output format. MP4 is available in the dropdown, pick from video quality options too. For instance, you could download MP4 in 1080p.
3. Download
Click Download, and begin saving the Reddit video to your computer.
Why use our Reddit to MP4 downloader?
Secure
Our team wanted to build a safe and secure video downloader to help you avoid all the dangerous installers on the market. For our part, we never track your personal activity, nor do we sneak malicious content into your downloads.
A complete tool
Reddit to MP4 downloads barely scratch the surface of what's possible with SnapDownloader. Using our software, you can download and save videos from almost 1000 websites. Plus, we offer several audio and video formats, including MP3 and MOV.
Top-rated downloader
We've received over 250 reviews of our platform. What's our average rating? 4.9 stars. This symbolizes our commitment to our customers in delivering a high-quality experience.
Constant updates
We express our gratitude to you by constantly working on improving our user experience. Suggestions for new features are always welcome, and we implement the best features in a timely fashion.
24/7 customer support
Our customer help desk operates around the clock to help you get to the bottom of any problems you face when using our app. None of our competitors offer this much support.
Frequently asked questions
How do I save a Reddit video as an MP4?
Saving a Reddit video as an MP4 is easy using SnapDownloader. Just install our software on your computer. Next, open SnapDownloader and paste the link to the Reddit video you want to download. Choose the MP4 output format and pick a video quality like 1080p.
Now, you just need to click Download. The video will be ready on your computer shortly.
How do I save a Reddit video as audio?
While Reddit often mutes the audio when a video starts playing, the audio will always be included when you download a Reddit video with SnapDownloader. Simply install the app to your computer, copy-paste the Reddit video link of your choice into the app, and then save it in whichever video format you prefer. We offer MP4, MOV, and more. Click Download, and it won't be long before the video is ready on your computer.
How do I extract a video URL from Reddit?
There are two ways to extract a video URL from Reddit. Firstly, you can do so by clicking on the video in question. Alternatively, you can download the video directly as it appears in the subreddit's posts.
To download from the video player, click on the video to open it. Then right-click on the video player and select "Copy video address" from the options presented. Then, you can paste that URL into our video downloader or share it with anyone else who is interested.
As for the second method, every post, whether you're viewing it individually or within the subreddit's feed, has a "Share" button. Click that button and select "Copy Link" to get the URL of the post.
How do I install the software to my operating system?
Simply go to the download page. SnapDownloader is available for Microsoft Windows and is also available for Mac OS X 10.10 and higher. Click on the download button for your operating system, and you're all set.
How do I download Reddit videos on PC?
Download SnapDownloader on your PC. Then, copy a video link from Reddit and paste it into SnapDownloader. Select the output format and the video quality you want. Click download!
How do I install the software to my operating system?
Go to the download page. SnapDownloader is available for Microsoft Windows 7, 8, 10, and 11. It is also available for Mac OS X 10.10 and higher. Click on the download button for your operating system, and you're all set.
How do I download Vimeo videos on PC?
Get a Vimeo video link and paste it into the SnapDownloader search bar. Then, choose the format and the quality you want. Click download!
How do I download Reddit videos on Mac?
SnapDownloader operates the same on Mac and PC.
Can I only download Reddit videos?
SnapDownloader functions on nearly 1,000 sites. You can use it to download MP4 Reddit videos or files from YouTube, Twitter, Facebook, Vimeo, TikTok and hundreds of other platforms. So whether you want education, entertainment, or straight-up viral insanity, SnapDownloader helps you save videos from almost any popular website and watch them again and again.
Is there a limit to the number of downloads?
No. You can download as many Reddit videos as you wish. To help you save time, our bulk downloader lets you paste links up to 100 at a time from Reddit and other platforms.
Do I need a Reddit account to download a video?
All you need is a URL to download Reddit videos. You don't need a Reddit account to access public videos, but you'll need to log into your account to download private ones. SnapDownloader has a built-in browser so you can sign in to retrieve URLs for private videos.
How do I know SnapDownloader does what it claims?
Check out our reviews. SnapDownloader has more than 250 5-star ratings. Our users rave about the clean interface, the number of available formats, the quality of conversions, the speed of downloads, the customer service, and many other features. Also, check out the fully-functional 48-hour free trial.
Is SnapDownloader anonymous?
SnapDownloader is anonymous. The app does not record any user data, and there are no hidden installers. Plus, there is no way for Reddit to know you're downloading videos from their website. Your privacy is safe!
Are there ads in the app?
No! There are no ads in SnapDownloader, ever.
Can I try it out before buying it?
Yes. We offer a 48-hour free trial when you download and install SnapDownloader. We're confident you'll be blown away by the features and ease of use that SnapDownloader provides.