iiTubeGo is one of the more popular names within the video downloader niche. The platform comes with a free trial and has a few exciting features. We liked that you can use it to block adult sites, making it perfect for online entrepreneurs with small kids.
Unfortunately, the benefits were overshadowed by a few issues.
The software isn't suitable for working with different file types. iTubeGo only supports 7 video formats, which is really low in comparison to other video tools. Aside from that, we also encountered a few other problems worth mentioning.
What is iTubeGo Video Downloader?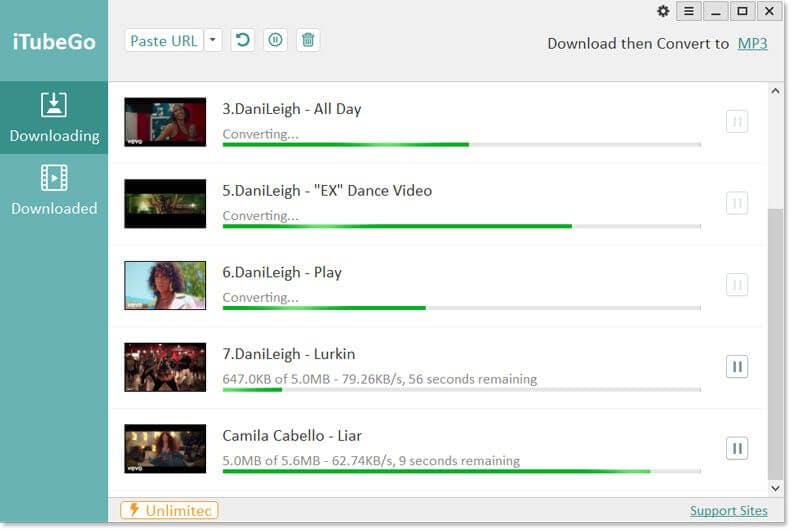 iTubeGo is a video downloading software allowing users to grab content from sites like YouTube, Facebook, and Instagram. According to the developers, the program supports more than 10,000 platforms although it seems a bit far-fetched. While companies tend to exaggerate these numbers, we thought the tool is highly versatile.
Aside from grabbing videos from the web, iTubeGo also allows you to convert video files. You can use it for various audio and video files, although the platform doesn't support that many formats. In fact, this is one of the major downsides of this video downloader.
iTubeGo Features
1. Video and Audio Downloader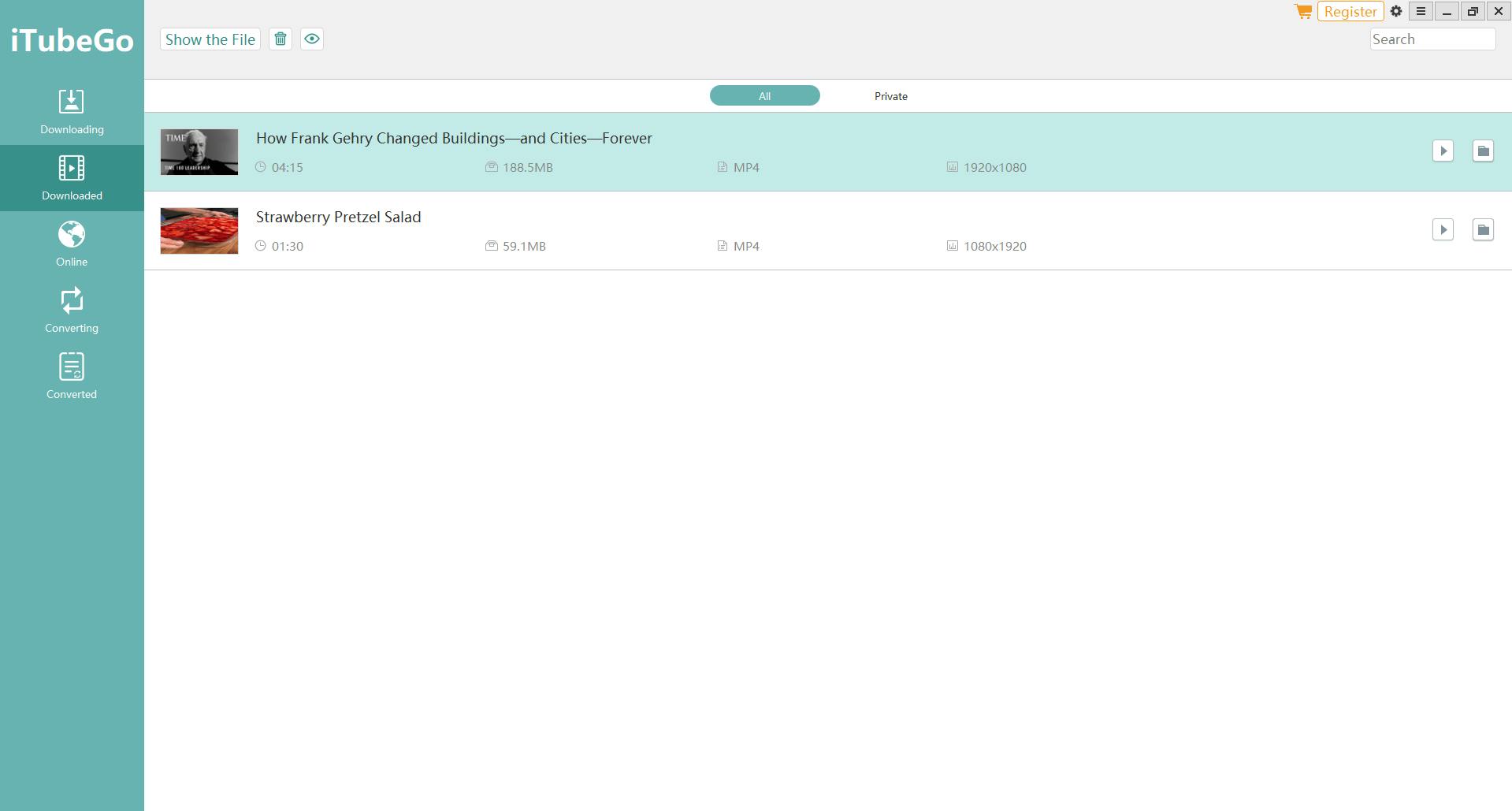 The main reason you'd consider this tool in the first place is its powerful download function.
As previously mentioned, iTubeGo lets you grab files from numerous online sources. We tried it for YouTube, Facebook, and DailyMotion, and it worked fine. Aside from these sites, iTubeGo also supports Instagram, TikTok, Spotify, Twitch, Vimeo, Onlyfans, Fansly, Bilibili, Niconico, Twitter, and Sound Cloud.
The thing we found very interesting is that the software works with numerous adult sites. By comparison, most other platforms focus on traditional social media. iTubeGo also provides adult website password protection and allows you to hide adult thumbnails and adult videos you previously downloaded.
2. Built-In Browser
The thing that's really cool about the grabber is its "Online" feature. You can use it to sift through social media and instantly download videos you like. If you're a content creator, you know how much time this feature can save you.
The "Online" tab lets you directly access 14 websites from the tool's dashboard. Even better, you can add other sites to the list. The customization option is excellent, although not many people will benefit. In other words, most users will stick with the 14 popular sites featured within the tab.
iTubeGo allows you to watch videos and interact with social platforms from the "Online" tab. And while users generally prefer Google Chrome for accessing the web, in-tool browsing is another neat benefit worth mentioning.
3. File Converter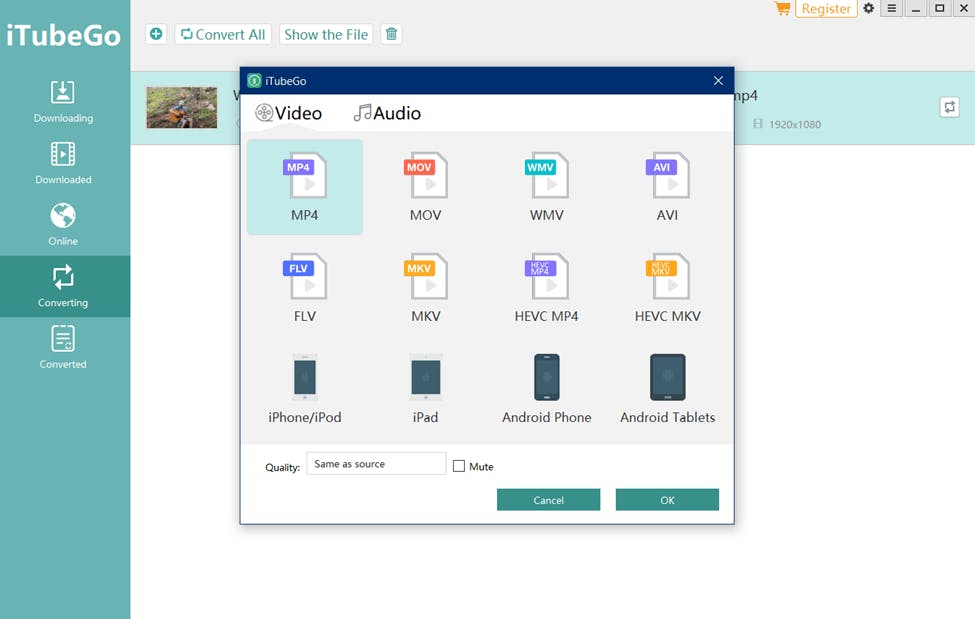 iTubeGo doesn't offer anything special in terms of conversion. The software doesn't support that many file types, and it's also limited in terms of what it can convert. Nevertheless, users will appreciate any additional functionality, even if it's subpar to other tools.
We did, however, like that the platforms give you a few extra options while converting files. In particular, you can mute audio in newly created files or change the quality. Generally speaking, the conversion is pretty fast, and you can access the new content in mere seconds.
iTubeGo Downloader Pricing
The good thing about iTubeGo is that you have numerous pricing options. Then again, some might say that the company's pricing policies are unnecessarily complex.
Windows:
1 Month plan ($9.95)
1 Year plan ($24.95)
Lifetime plan ($29.95)
Family plan ($39.95) – For 2 to 5 devices
macOS:
1 Month plan ($12.95)
1 Year plan ($25.95)
Lifetime plan ($35.95)
Family plan ($45.95) – For 2 to 5 devices
Android:
3 Months plan ($9.95)
1 Year plan ($19.95)
Lifetime plan ($29.95)
Family plan ($39.95) – For 2 to 5 devices
You can also buy bundles for extra savings. According to the company, these are limited offers.
Windows + Android Bundle:
Monthly plan ($12.95)
Lifetime plan ($35.95)
Windows + macOS Bundle:
Monthly plan ($16.95)
Lifetime plan ($39.95)
Windows + macOS + Android Bundle:
iTubeGo Pros & Cons
Pros
Supports 8K video quality
8 MBps download speed and above
Allows you to cut YouTube videos
Allows you to add YouTube subtitles
Option to block adult sites
Cons
Some format names are confusing
The free trial doesn't provide much
There's no browser extension
It doesn't support many formats
We were especially disappointed with the free trial. Although iTubeGo is a solid platform, you can't fully assess it before committing. This is really bad, especially if we consider there are so many video downloaders that are completely free.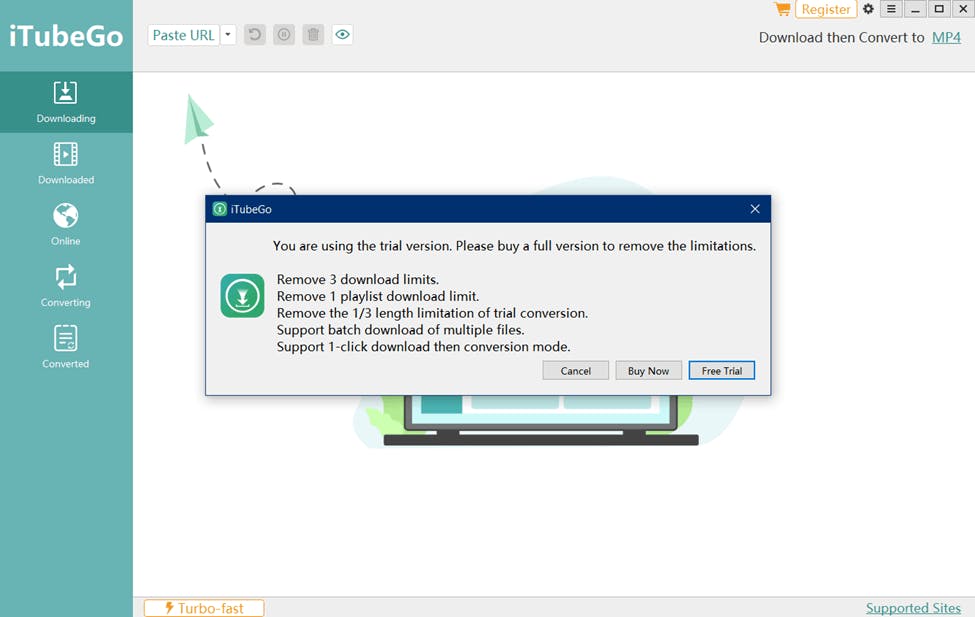 Is iTubeGo Safe?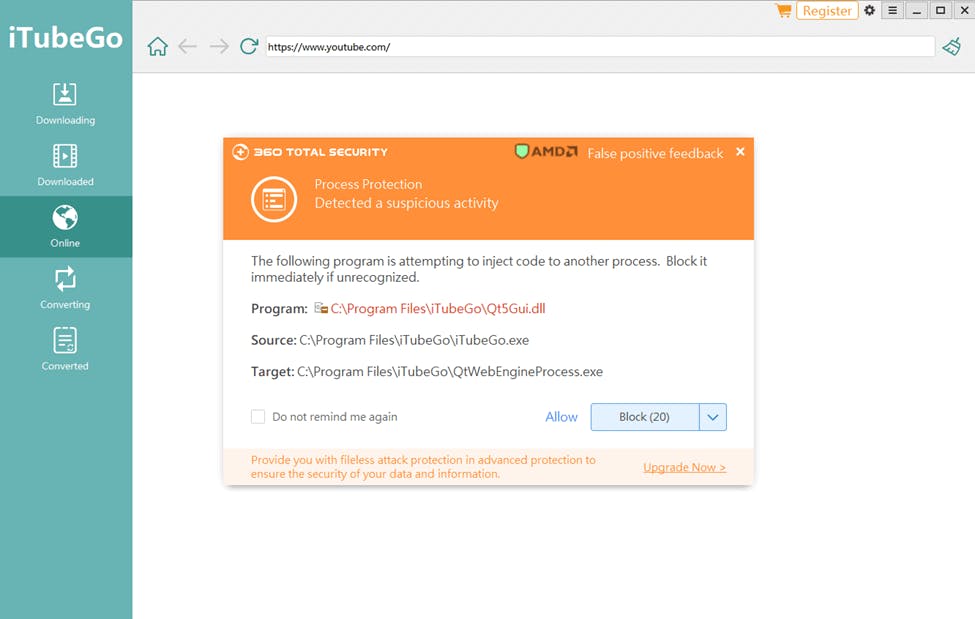 One of the issues we had was to do with access. We were continuously blocked while trying to connect to YouTube, which never happens with other video or SaaS platforms. Eventually, we had to turn off the protection to use the tool.
And while it seems that the software is generally safe, it feels terrible turning off your protection. This is especially true when you work with a tool for the first time.
The Best Alternative to iTubeGo: SnapDownloader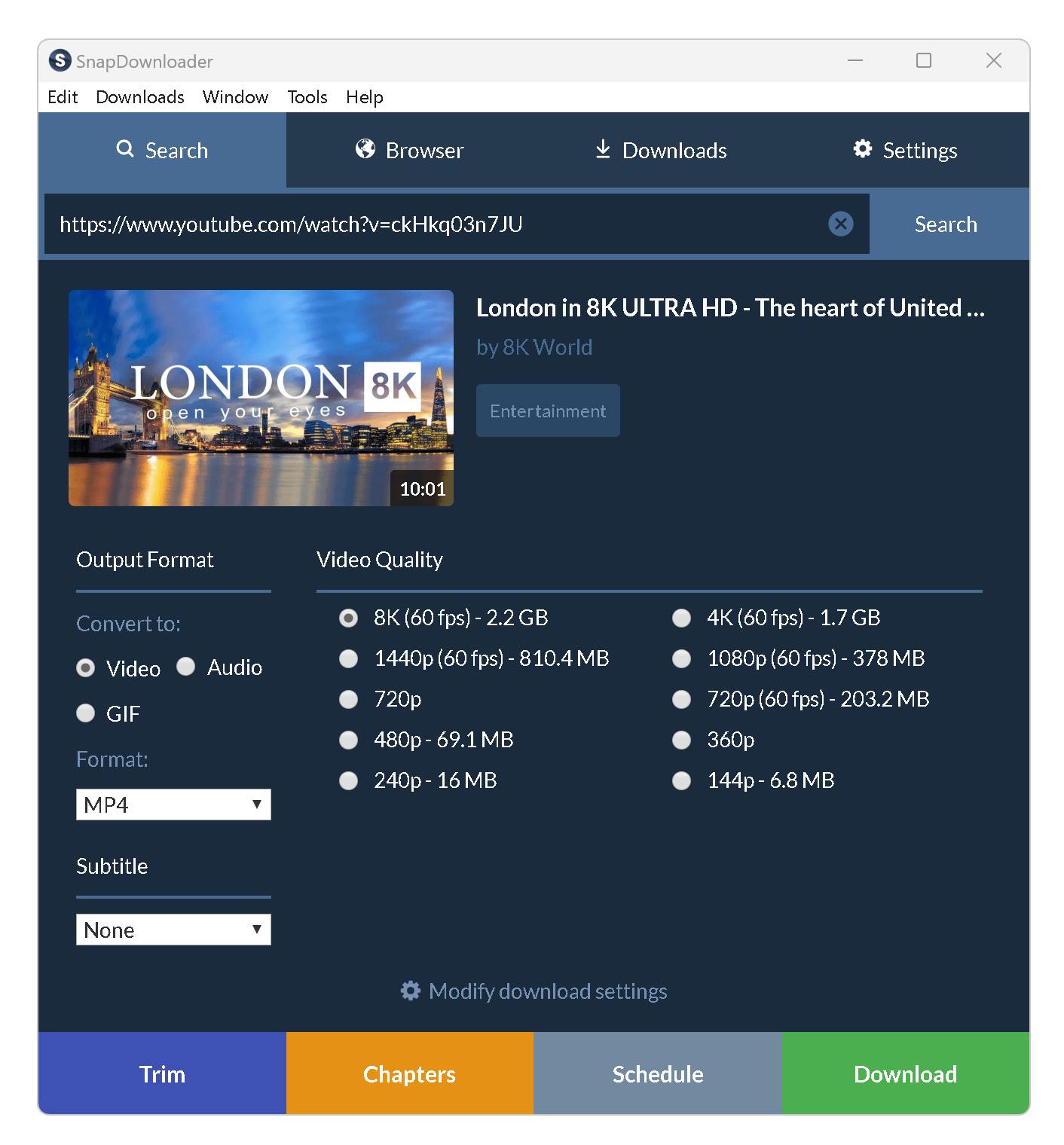 SnapDownloader is one of the best platforms for grabbing content from YouTube, Facebook, TikTok, Instagram, and other platforms. It's software with a beautiful design and polished UX. You can access social media and other sites directly from the tool allowing you to download files without relying on the browser.
Among others, you can use the tool to perform bulk downloads. This is vital for creators who work with lots of large files and don't have time to control processes within the dashboard. SnapDownloader also allows the cutting of YouTube clips, which helps you reduce the file size before starting the process.
Pricing
Monthly ($7.99)
Tri-Monthly ($16.99)
Annual ($29.99)
Lifetime license for a single user ($39.99)
Lifetime license for three users ($69.99)
Features
Allows trimming of YouTube videos
Scheduled and bulk downloads
Adding subtitles in various languages to YouTube videos
SnapDownloader supports more than 1,000 platforms
One-click mode allows automatic downloads after copying a link
Downloads videos in 8K, 4K, 1080p, 720p, and various other resolutions
Up to 15 parallel downloads
The proxy feature will enable you to bypass geo-location blocks
Allows you to export downloads in text and CSV files
Download YouTube subtitles
Pros
An incredibly fast platform that supports all the major websites
Regular updates that provide quality-of-life improvements
The free version is great for testing the tool
Supports numerous formats
Allows different video qualities
Supports videos, playlists, and channels that are private
Cons
It isn't free
SnapDownloader doesn't have that many editing features
It doesn't provide that many features for adult sites
How to Download Online Videos With SnapDownloader?
First and foremost, you have to download and install the latest version of SnapDownloader from their website.
SnapDownloader gives users two options for downloading videos.
The simpler way is copy-pasting a URL into the Search tab. Once the tool processes the video, you can do lots of different things with it. For example, you can change the output and quality, add subtitles, trim files, and so on.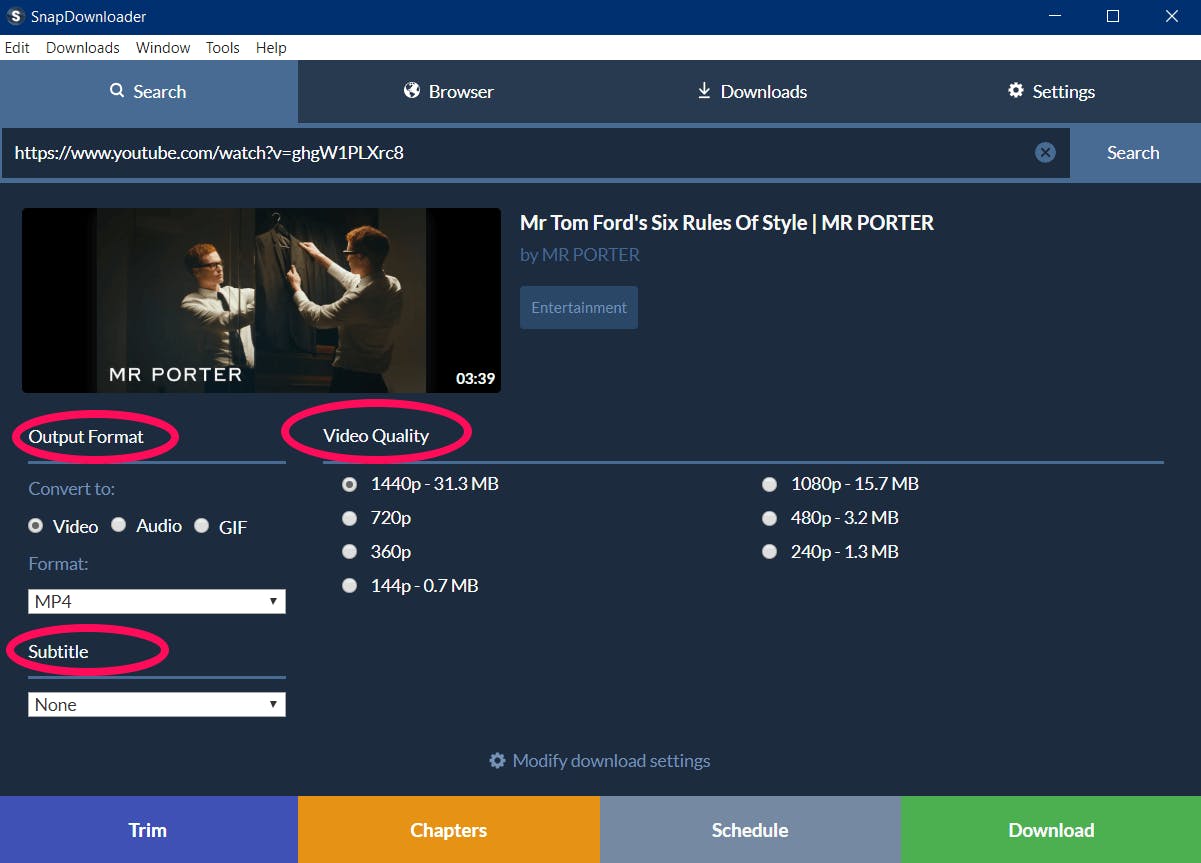 Alternatively, you can find the video by accessing the Browser tab. Start by choosing a social media from which to download content or enter the URL of the website to open.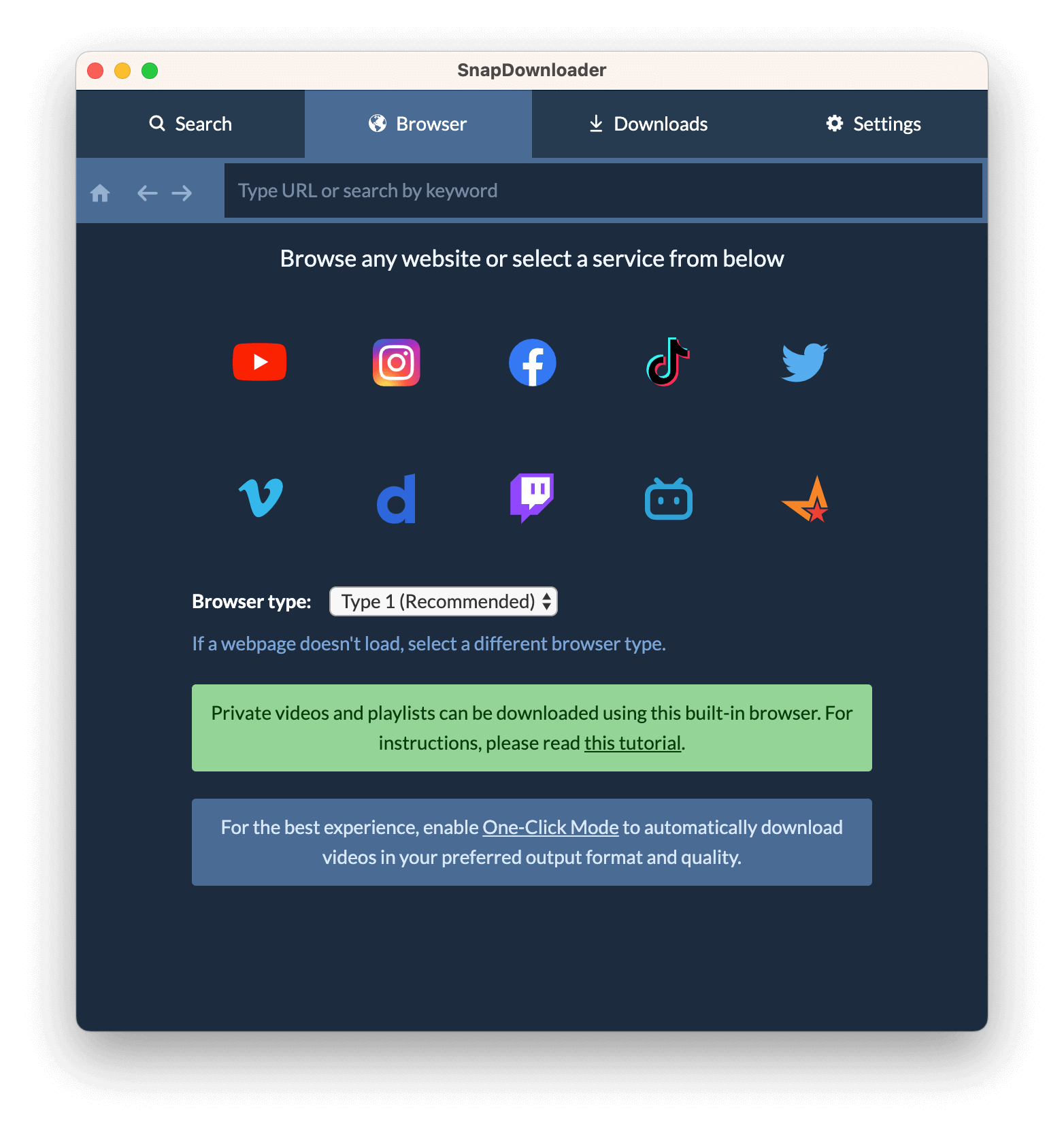 Once you log into your preferred platform (we will use LinkedIn for this example), you can see your timeline. This makes things a bit easier, as it would allow you to find content that's relevant to you.
When you find something that interests you, just start the video and click on the Download button in the lower right corner. The video will open in the Search tab, where you can change the format and quality on top of adding subtitles.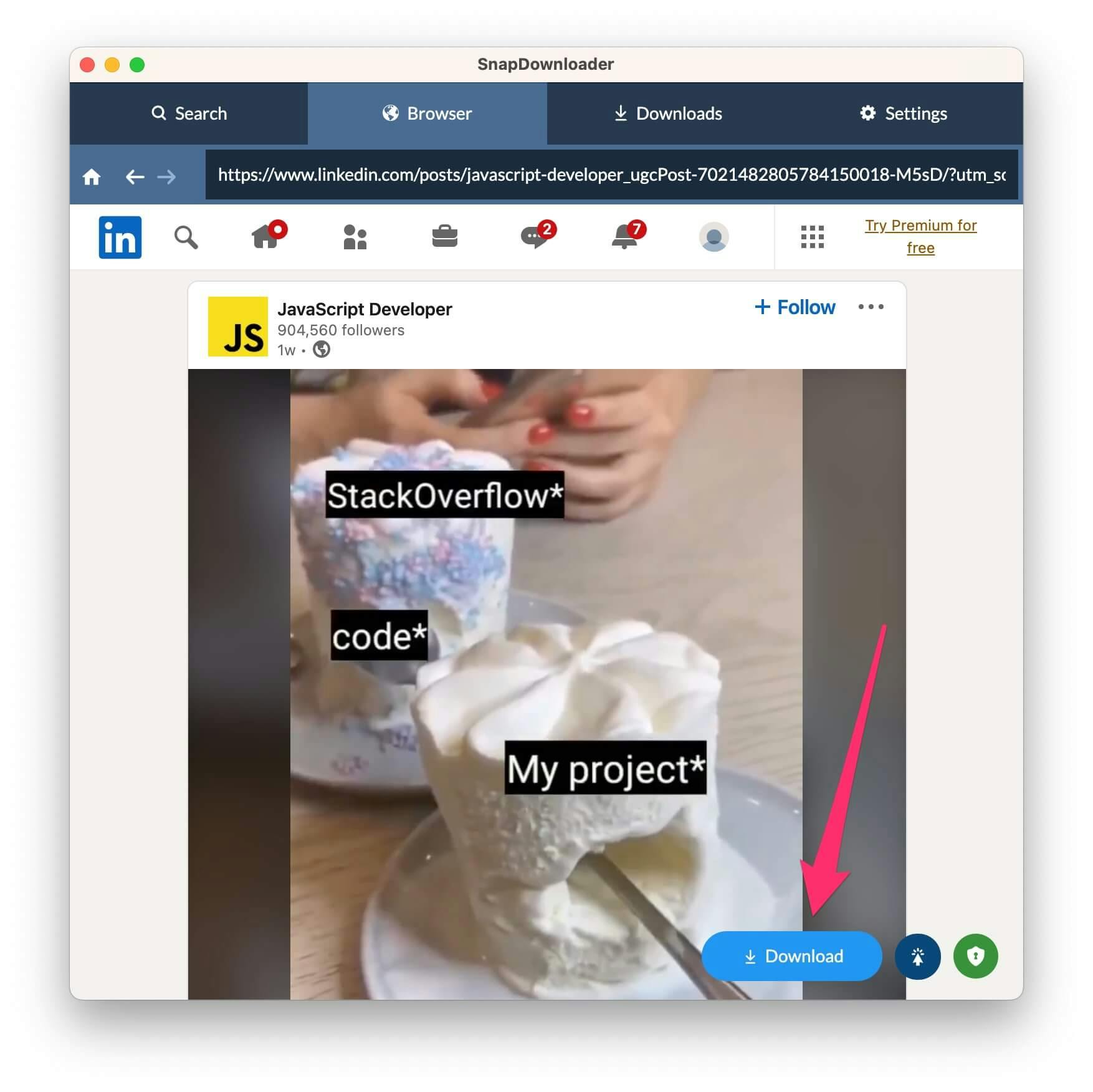 iTubeGo vs. SnapDownloader
| | | |
| --- | --- | --- |
| | iTubeGo | SnapDownloader |
| Video Downloads | ✅ | ✅ |
| Audio Downloads | ✅ | ✅ |
| Private Video Downloads | ✅ | ✅ |
| Video Converter | ✅ | ✅ |
| Adult-Video Settings | ✅ | ❌ |
| Auto-Grabbing | ❌ | ✅ |
| In-App Browser | ✅ | ✅ |
| Proxy Settings | ❌ | ✅ |
| Bulk Downloads | ✅ | ✅ |
| Formats | 10+ | 10+ |
| Resolutions | 360p to 8k | 144p to 8K |
Top 5 Alternatives to iTubeGo
Despite the fact iTubeGo is solid software, it wouldn't be surprising if you like to try some other solution. Here are the 5 best alternatives you should consider:
1. SnapDownloader
Without a doubt, SnapDownlaoder is one of the best options on the market. This is an ideal platform for content creators and everyone else working with lots of video and audio files. The SaaS is geared toward YouTube, TikTok, Twitch, and Instagram influencers.
The thing that separates this tool from the rest is its excellent interface, easy use, and several unique features. You can execute all downloads from within the software by accessing the Browser tab. We also have to mention bulk downloads, geo-location protection, and instant queues.
Although SnapDownloader works for all major platforms, it provides the greatest benefits for YouTube creators. In particular, it allows users to add subtitles in different languages. You can also use the software for messing around, for example, creating GIFs.
2. HitPaw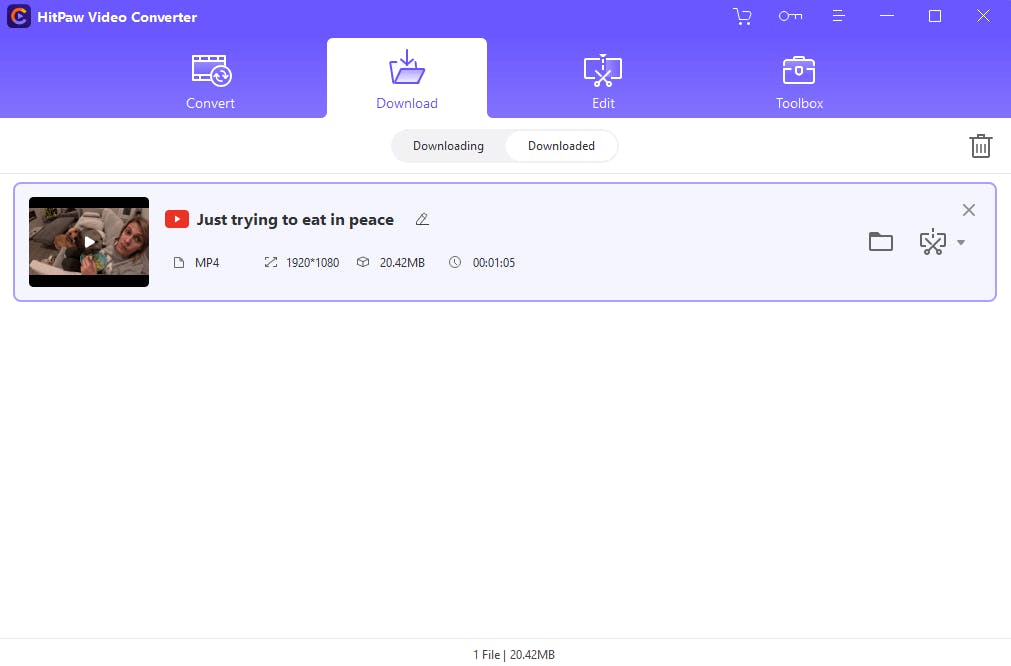 HitPaw is a multilayered platform you can use for editing, downloading, and conversion. The thing that separates this SaaS from the rest is the various miscellanies tools you can access from the dashboard. Clients can utilize voice remover, image converter, Instagram downloader, iTunes converter, and so on.
The platform is great for content creators who work on different platforms and with different types of video files. It's very versatile, although most of these features are unnecessary for casual users. The sheer number of options could feel a bit overwhelming.
Nevertheless, this platform is excellent for grabbing YouTube content and editing it. HitPaw helps you with every part of video creation, including posting, video downloading, thumbnail creation, and altering audio.
3. By Click Downloader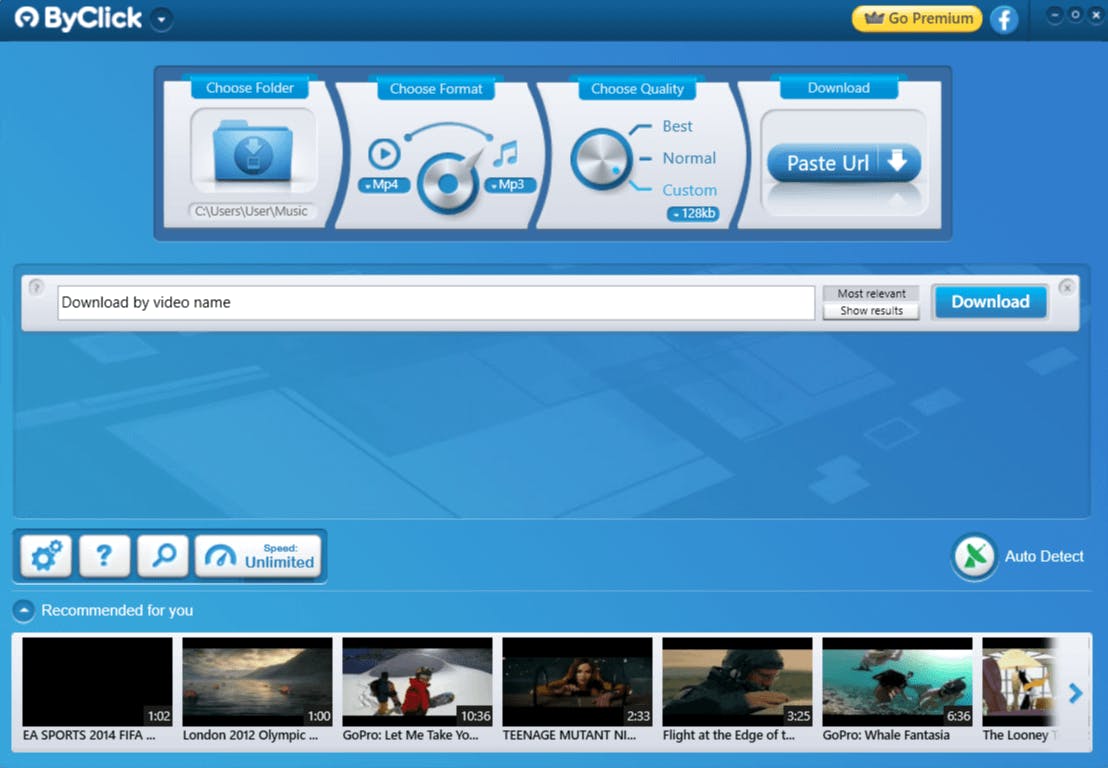 By Click Downloader is a relatively straightforward tool. The thing we especially like about it is that you can use the software while browsing the web. You can turn it on while browsing YouTube, which would allow you to grab interesting videos on the go. This is a reverse version of our Browsing feature.
The program support 25 major platforms, and it downloads files relatively quickly (although not as quickly as iTubeGo). Unfortunately, despite all the benefits, By Click Downloader also has a few glaring flaws.
In particular, its free version is extremely annoying. You are constantly bombarded by various pop-ups, which effectively prevent you from testing the tool. As if that wasn't enough, you have to deal with a number of issues and bugs. The bulk feature is also inferior to some other tools.
4. DVD Video Soft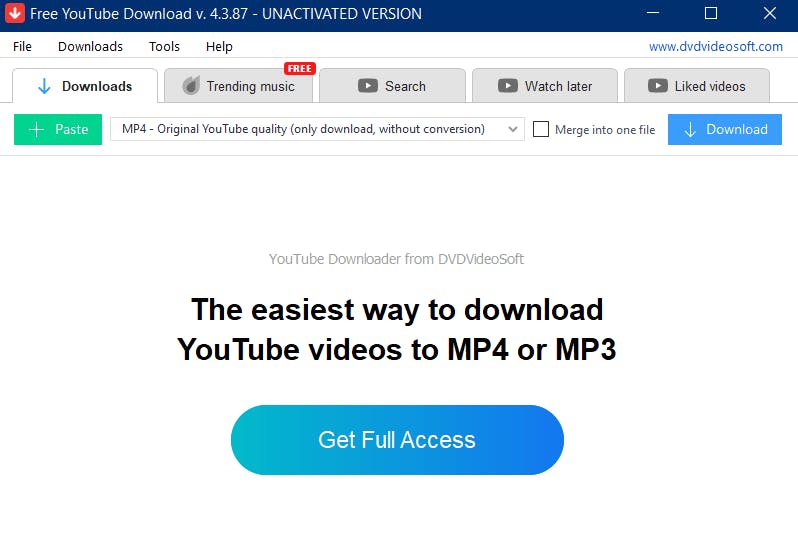 DVD Video Soft is a fantastic option if you're looking for a YouTube-only tool. It's a nice option for simultaneous downloads, and it supports the main file formats. Users can access a few nifty features, such as file merging and auto-grabbing. It's also worth mentioning that the program works on Windows and Mac.
However, most people won't get full value from DVD Video Soft. First and foremost, it's a highly specialized platform that you can only use for YouTube. And while most creators only focus on YouTube anyway, there are cases where you might need something else.
We also have to mention some issues with the free plan. In particular, the tool is constantly trying to install some software on your device.
5. Videoproc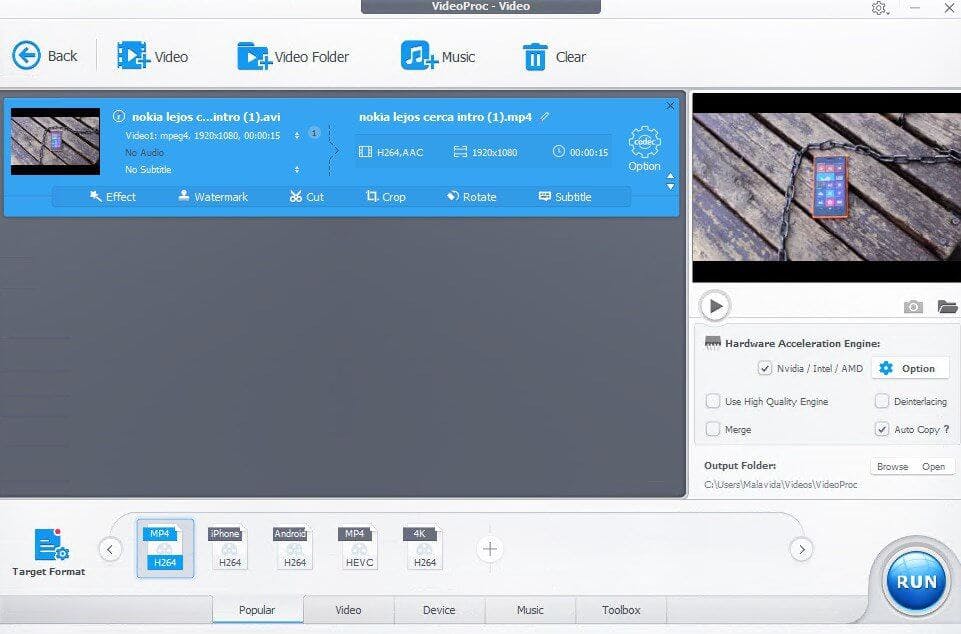 Videoproc is one of the better options on this list. The thing we liked was the versatility. You can use the software to grab videos and DVDs, perform various types of edits, and perform a screen capture. It's a one-size-fits-all program, which makes it suitable for most content creators.
If we were to complain about something, that would have to be a lack of specialization. In other words, Videoproc doesn't excel at anything. So, if you wish for something for bulk download, you will get better results with SnapDownloader. On the other hand, iTubeGo might be better for fast file downloads.