By Click Downloader is one of the more popular software that allows you to get online clips. It has many fantastic features and is slightly better than your "average Joe's" downloader.
Unfortunately, it also has a few debilitating flaws that might persuade you to use another tool.
In this article, we take a deep dive into the program, its pros and cons, and pricing. Ultimately, we'll compare it to the alternatives to see if By Click Downloader is as good as some claim.
What is By Click Downloader?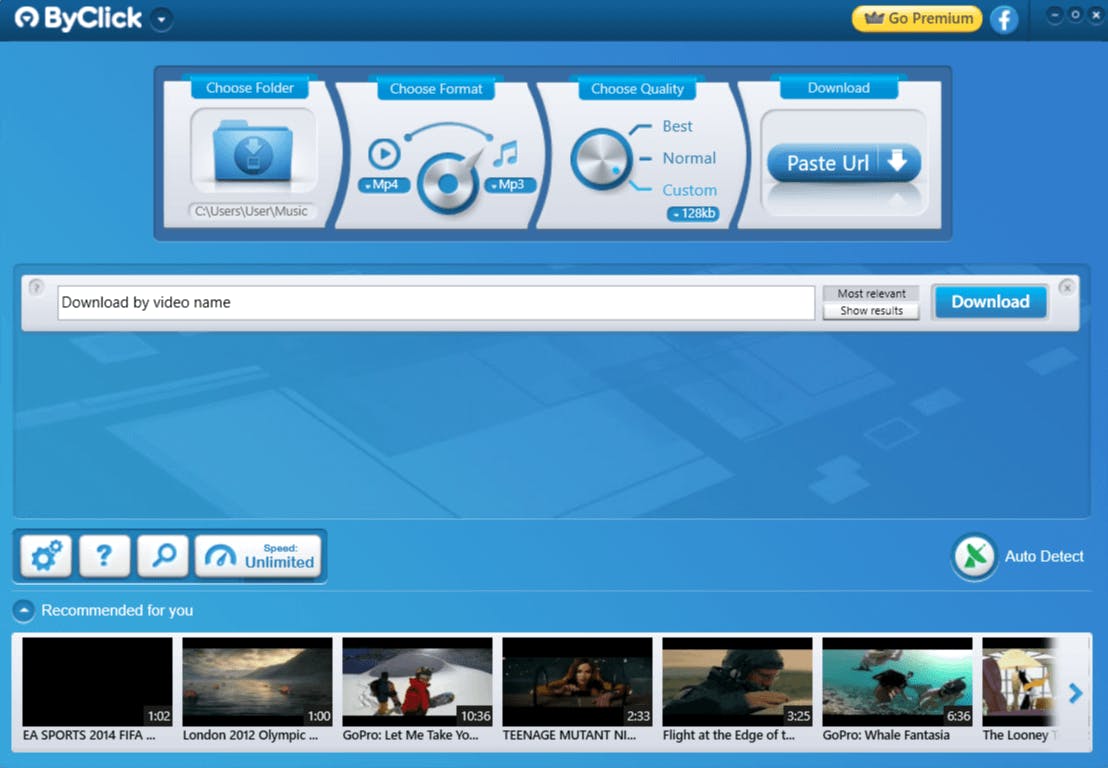 By Click Downloader is a video downloader tool you can use on your computer. It has a nice interface, although it looks a bit outdated. We'll even say it reminds us of the old WinAmp player.
This software allows you to download videos from Facebook, Instagram, YouTube, and many other platforms. As per the developers, the tool is continuously updated, which helps it adapt to all the changes in the market and the emergence of new social media.
Although there is a paid version of the software, it doesn't provide much more than the free plan. You'll get a few extra features, such as more output formats and downloading HD videos. Perhaps the most important thing is that the paid plan doesn't have ads.
By Click Downloader Key Features
1. 25+ Supported Sites
By Click Downloader is awesome if you're looking to grab content from various platforms. At this moment, it works for 26 different sites.
Some of them are your usual suspects, such as YouTube and Instagram. However, it also works for less-known sites such as Rutube and Break.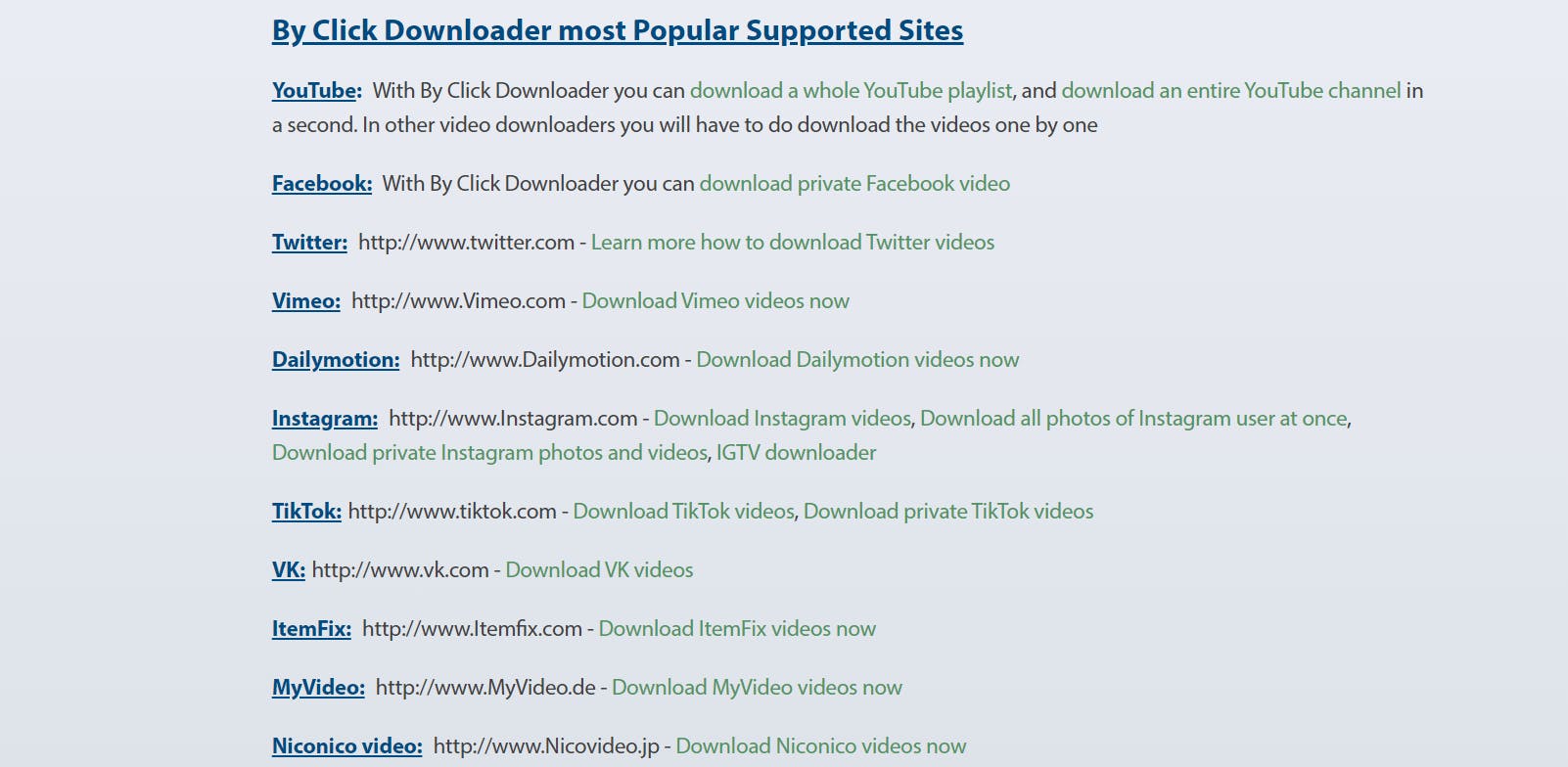 2. Auto-Download
Auto-downloads are one of the platform's nifty features. As you browse the web, you'll get a pop-up on your screen each time you copy a video URL. By Click allows you to automatically grab the content while on the source platform without opening the software.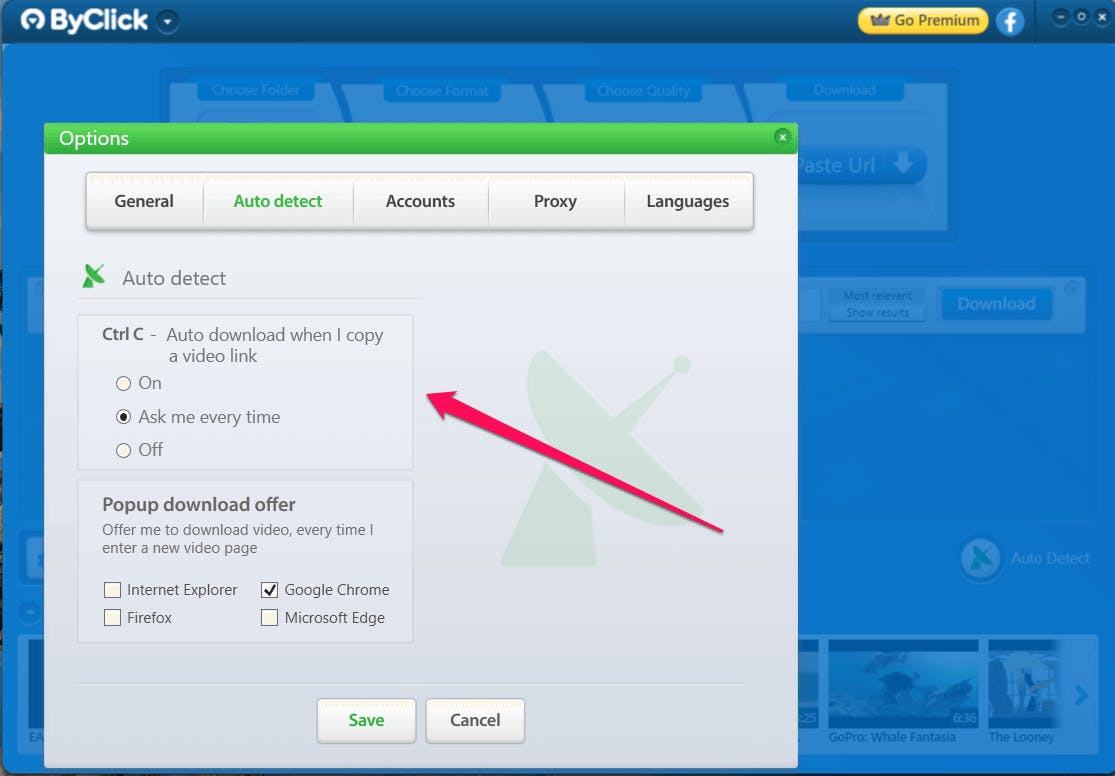 3. File Conversion
By Click Downloader allows you to convert videos to various output formats, including MP4 and MP3.
Nowadays, the same formats work almost everywhere on the web. Still, there are some situations where you have to convert files. When such a thing happens, you can switch your videos and audio into a format suitable for the player/platform. It's a small quality-of-life improvement that can occasionally save you time.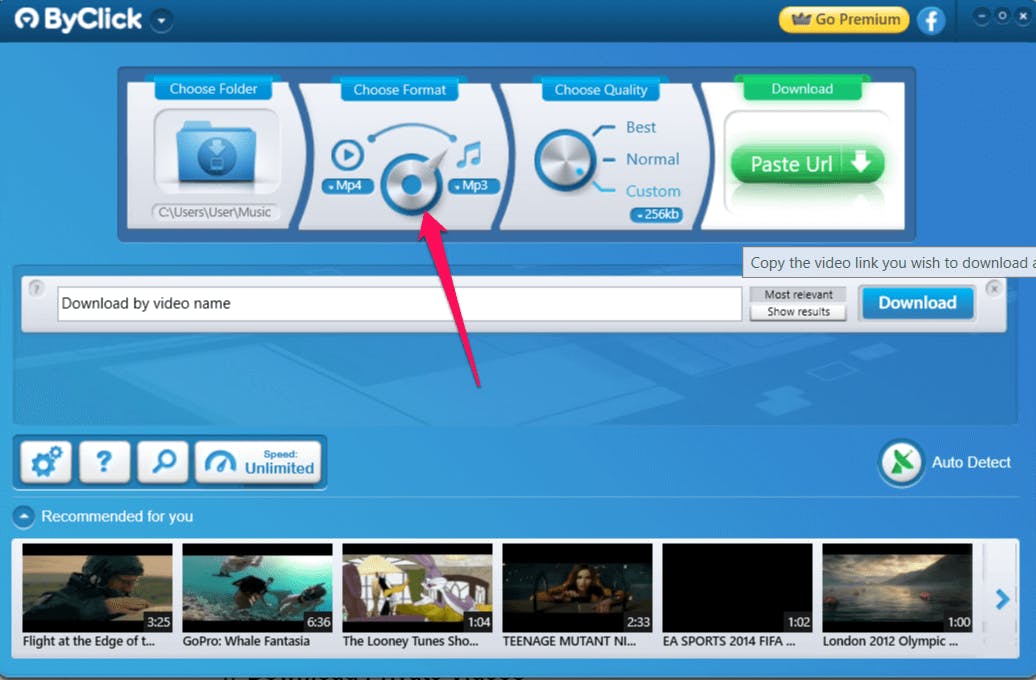 4. Download Private Videos
Lastly, we need to mention that this software allows you to download private videos. This feature can be important for certain platforms such as YouTube and Instagram.
You have to enable the feature in the software's settings so that it can access your login session from Chrome or other web browsers.
By Click Downloader Pricing
By Click Downloader has two pricing plans:
Annual ($7.99)
Lifetime ($9.99)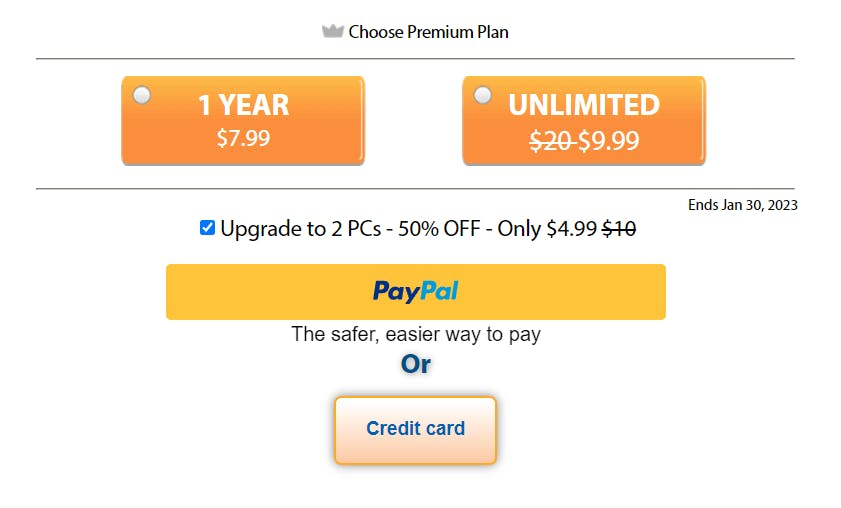 Considering that the difference in pricing is just a few dollars, it would make more sense to purchase the lifetime version.
By Click Downloader Pros & Cons
Pros
Great for downloading whole channels and playlists
File converting is a nice perk
Lets you download videos that are private, such as Instagram posts from private accounts
Cons
The free version doesn't offer much, and you have to deal with ads
It supports a limited number of websites
Doesn't offer many output formats
Downloads sometimes end up with errors
Is By Click Downloader Safe?
Most people consider By Click Downloader a safe option. We didn't get any virus or malware notifications during our tests after downloading and installing the software. We also didn't find any suspicious behaviors, and it didn't contain any bundled software that is installed without the user's consent.
The tool doesn't have dedicated support, which leads us to believe its developers aren't actively engaged with the project. Even if you don't encounter problems, you might get some negative surprises down the road.
How Does By Click Downloader Perform Against the Field?
People often criticize By Click Downloader for its lack of features. Its free version is a simple grabber that only allows you to adjust quality and format. Given you can get that from just about any free online tool, it doesn't make much sense to use the free version.
The paid version is a bit better. You get a few nifty functions such as file converter and bulk download. You can also use it for private videos, which can come in handy if you're a content creator. We also need to mention that you can slightly customize specific files.
Unfortunately, that's about that.
You don't get any advanced video editing options that you'd get with some other tools. By Click isn't particularly fast or reliable, and you might encounter issues even if you spend money. Its search features are somewhat weak, forcing you to jump into a browser occasionally.
If you're a social media professional or have a well-visited blog, you'll get much more value from other tools, such as SnapDownloader.
The Best Alternative to By Click Downloader: SnapDownloader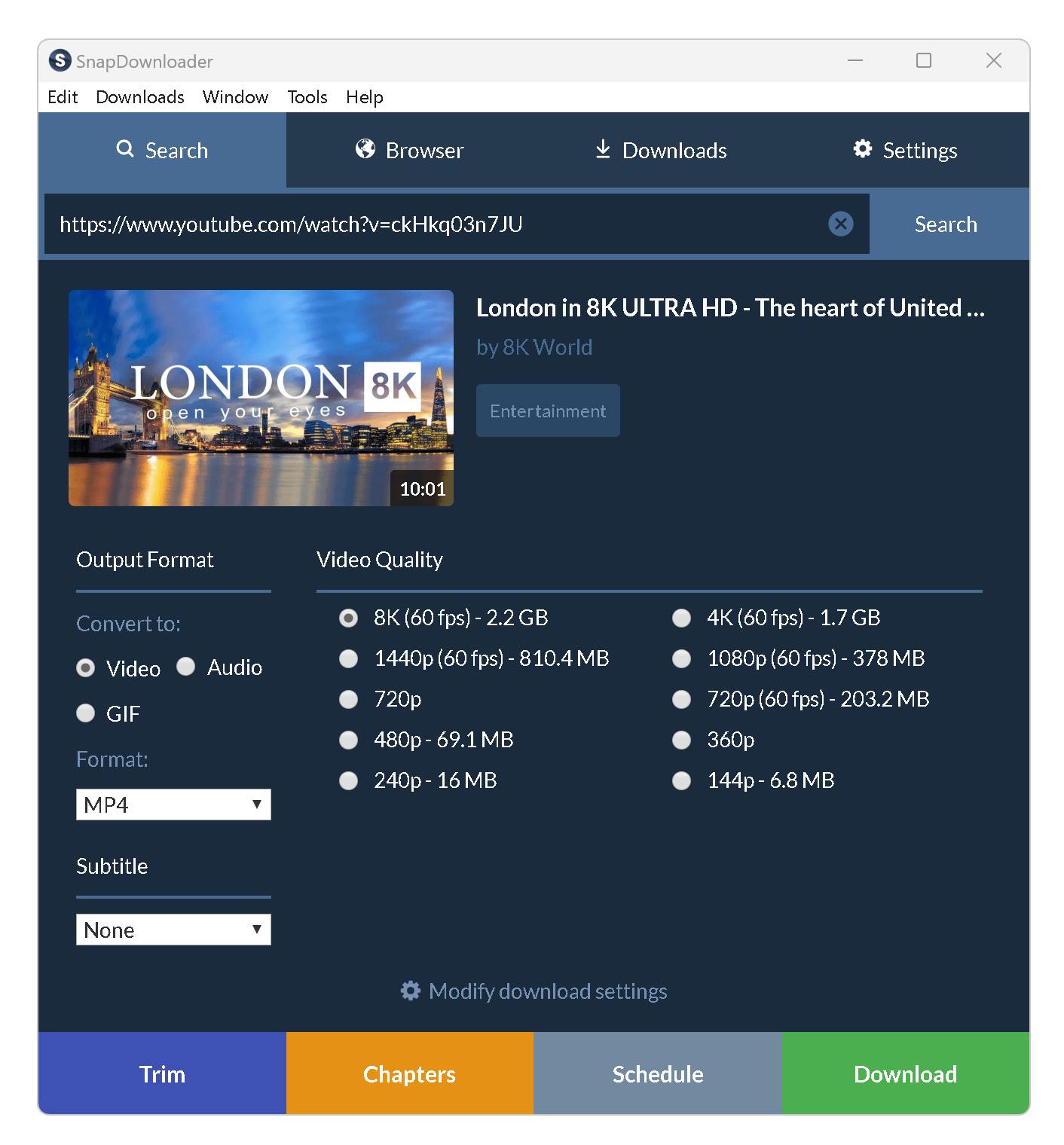 If you're a professional content creator or website owner who cares about your business or looking for a reliable video downloader, SnapDownloader is the best alternative.
SnapDownloader is a video downloading software built for Windows and macOS that can download videos from over 1,000 websites. It supports YouTube, Facebook, Vimeo, TikTok, Instagram, Rumble, LinkedIn, Twitter, and many more websites. You can check the list of support sites to get a glimpse of which platforms are supported.
SnapDownloader also comes with a built-in web browser to browse the web and download videos within the software without having to jump into your social media account every few minutes to copy-paste a link. The browser also has the capability of downloading private videos.
Trimming is another fantastic feature you'll rarely find in any other downloader. It allows you to cut sections of the video before saving it to your computer. This makes downloading large videos much more efficient.
Although SnapDownloader is a paid software, you can download and install the free trial to fully access all the features for 48 hours.

Try SnapDownloader for Free
Pricing
SnapDownloader has two categories of prices: subscriptions and lifetime licenses.
Here's how things look for subscriptions:
Monthly ($7.99)
3-Month ($16.99)
Annual ($29.99)
Here are lifetime plans:
Personal license ($39.99)
Family license ($69.99)
Although these plans are more expensive than By Click Downloader, the software comes packed with many essential features, and more importantly, 24/7 customer support.
Features
Supports 1,000+ websites
Download private videos
Download videos up to 8K quality or audio up to 320kbps
Supports 10+ output formats
Download subtitles from YouTube
Bulk download of over 500 videos at once
Create a queue and schedule downloads for later
Trim videos
Fast download speed
Not only is SnapDownloader good at its job, but it also helps you manage your videos. You'll never have to waste time jumping through different tabs, as you can access everything from a single hub.
Furthermore, the software is continuously updated, ensuring the users' highest quality and uninterrupted experience.
Pros
One of the fastest, if not the fastest, downloaders on the market
Allows bulk download and download scheduling
Ability to trim large videos before download
Fine-tuning your quality and output settings
It can help remove watermarks on specific videos, such as TikTok videos
Cros
It's a paid tool
You need to download it to your PC
By Click Downloader vs. SnapDownloader
| | | |
| --- | --- | --- |
| | By Click Downloader | SnapDownloader |
| Video Downloads | ✅ | ✅ |
| Bulk Downloads | ✅ | ✅ |
| Audio Downloads | ✅ | ✅ |
| Private Video Downloads | ✅ | ✅ |
| Simultaneous Downloads | ❌ | ✅ |
| Chapter Downloads | ❌ | ✅ |
| In-App Browser | ❌ | ✅ |
| Auto Downloads | ✅ | ✅ |
| Video Trimming | ❌ | ✅ |
| Audio Trimming | ❌ | ✅ |
| Formats | 11+ | 10+ |
| Resolutions | 720p to 8k | 144p to 8K |
When it boils down to these two video downloaders, it's up to the user to decide which software is best for their needs.
SnapDownloader has much more to offer than By Click Downloader. However, the latter is slightly cheaper.
SnapDownloader is a more advanced software ideal for professional content creators and anyone who constantly downloads videos. We'll go as far as to say that this tool can significantly save you money in the long run.
Lastly, we have to mention all the cool features. While By Click has certain nifty functionalities, such as a file converter, SnapDownloader blows the competition out of the water with all the options. We're especially excited about the trimming feature, which provides stellar results for large files.

Try SnapDownloader for Free