ByClick Downloader is a video downloader software for Windows that promises to download videos from more than a dozen of websites including popular platforms like YouTube, Vimeo, and Facebook.
With ByClick, you can download videos in various output formats such as MP4, MP3, and AAC, as well as a range of resolutions up to 8K quality.
While ByClick Downloader is a popular video downloader in the market, many users have reported issues with the software, including slow download speeds, a clunky interface, and an inability to download various videos. This has left many users searching for alternatives that offer more reliable and efficient solutions for video and music downloads.
In this article, we'll provide some of the best alternatives to ByClick Downloader, including a detailed look at the best choice, SnapDownloader.
View table of contents [+]
What Are the Issues of ByClick Downloader?
Does not support macOS.
It's very unreliable when it comes to downloading videos. Users have reported that the software fails to download entire channels or playlists and occasionally throws errors when saving videos and audio files.
Clunky and confusing user interface.
Lacks the ability to schedule downloads.
Slow download speeds.
Poor customer service that doesn't respond to user emails.
Supports only 40 websites.
No bulk downloads.
These are just a few of the issues that are present in the ByClick Downloader software and if you are reading this article, chances are that you must have faced some of the above issues and are looking for a high-quality alternative to ByClick Downloader.
One of the most important factors of a high-quality video downloader is that it can reliably download videos and songs and efficiently. Here are some of the top alternatives to ByClick Downloader that come with a lot of features:
SnapDownloader
ClipGrab
4K Video Downloader
Softorino
If you are looking for an online video downloader, then here are a few that you should check out:
10Downloader: for downloading YouTube videos.
Birdy Downloader: for saving from Twitter.
SnapTik: for downloading videos from TikTok.
Insload: for downloading Instagram videos.
In this article, we'll take a close look at each of these tools and explore the features that they offer and their drawbacks.
Top 4 ByClick Downloader Alternatives
1. SnapDownloader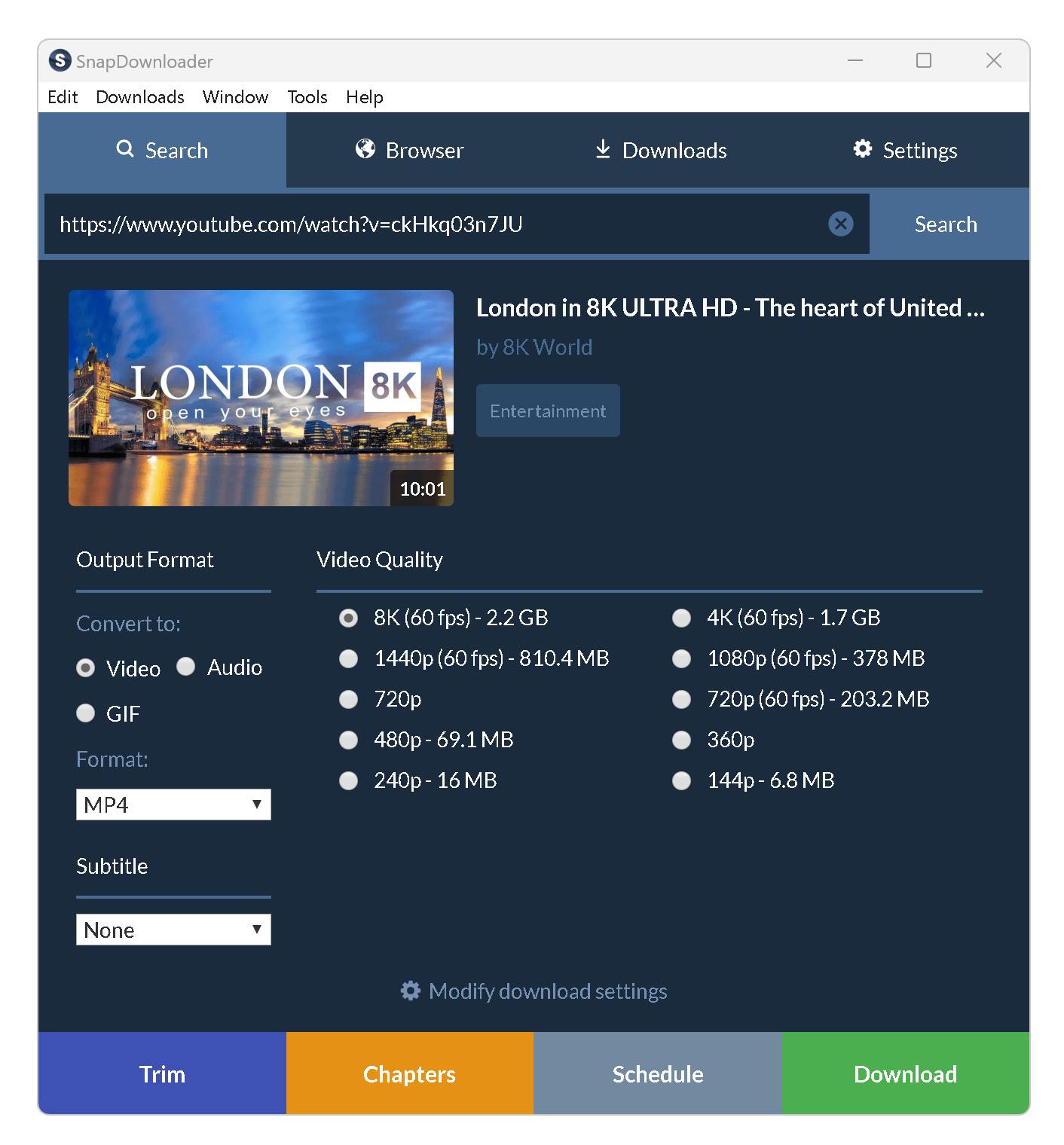 The best alternative to By Click Downloader is SnapDownloader. It is a desktop video downloader software for Windows and macOS that can easily download videos and audio from 1,000+ websites, including well-known platforms like YouTube, Instagram, Facebook, TikTok, and Twitter.
The tool comes packed with many built-in features including the ability to convert videos to various output formats and supports video resolutions up to 8K quality.
Let's take a look at some of the top features of SnapDownloader.
Pros
Supports both Windows and macOS
Can download videos from 1,000+ websites
Download videos at a fast speed and reliably
Download YouTube channels, playlists, and chapters
In-built video trimmer
Convert videos to GIF, MP4, MP3, AAC, M4A, MOV, AVI, and more
Download videos in 720p, 1080p, 1440p, 4K, and 8K
Schedule videos to be downloaded later
Bulk download up to 500 videos at once
Batch download - save several videos from multiple sites at once
Save private videos using the built-in browser
Simple and intuitive interface
Access blocked or geo-restricted videos with proxy setup
Search for YouTube videos directly within the app.
Cons
It does not offer a mobile app for Android or iOS
How to download videos and audio with SnapDownloader
1. Download and install the latest version of SnapDownloader.
2. Open the video that you want to download, for instance on YouTube. Copy its link from your browser's address bar.

3. Open SnapDownloader and paste the link in the search bar.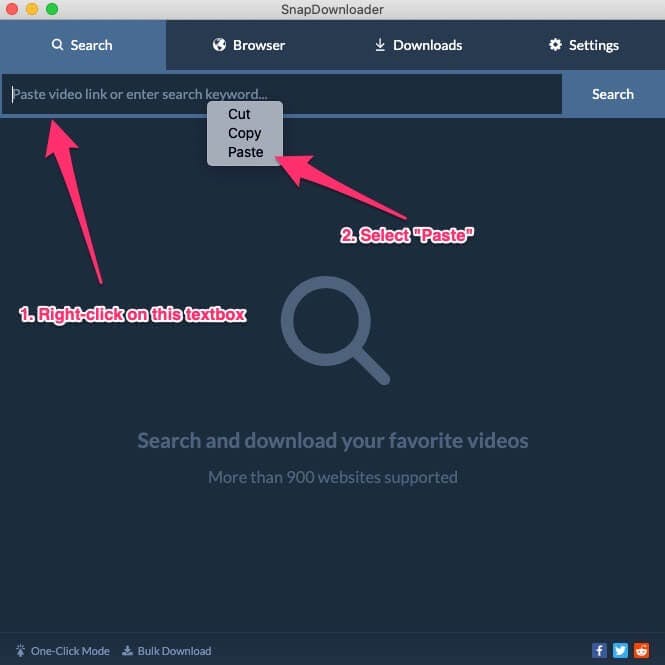 4. Select the output format and quality that you want to save the video as, then press the Download button.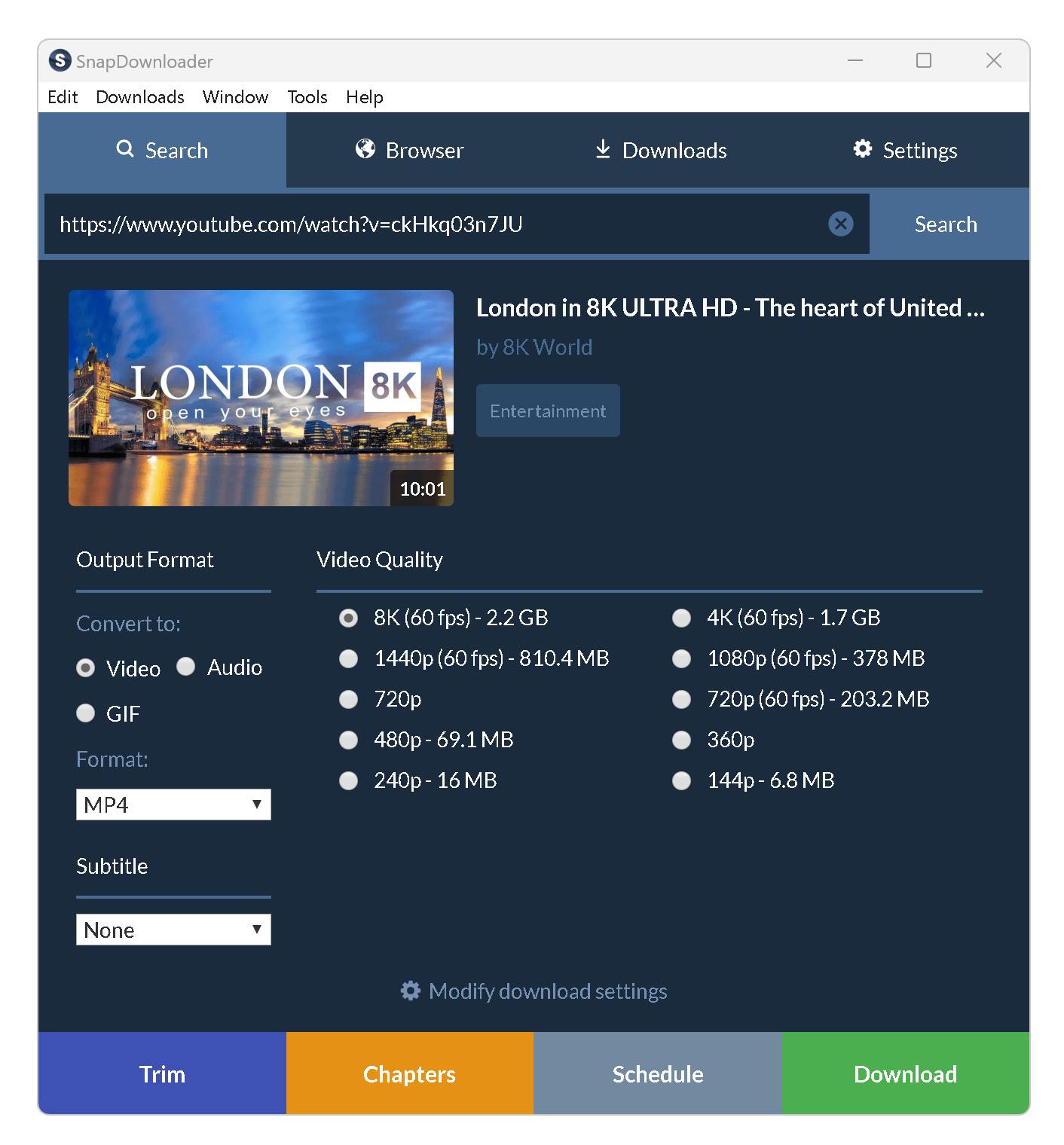 5. SnapDownloader will now begin to download the video to your PC. Depending on the file size and quality, it should take a few minutes for the download to be completed.
You can keep track of the download progress by going to the Downloads tab.
6. Once the video is downloaded, double-click on it to watch it. The video's file is saved to your computer. By default, it is saved to the "Movies" folder in macOS and the "Videos" folder in Windows.
2. ClipGrab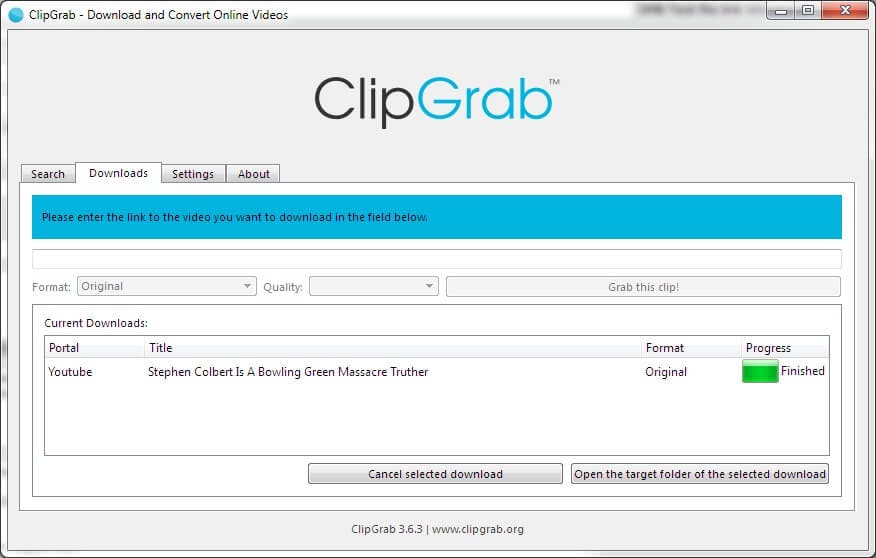 ClipGrab is another ByClick Downloader alternative that can download videos and audio from the internet. While it has fewer features compared to SnapDownloader, it can download videos from a large number of websites including YouTube. It supports saving videos in various output formats and has a decent download speed.
Pros
In-app search to find YouTube videos
Supports a large range of websites such as YouTube, Facebook, Instagram, and Vimeo
Convert videos to various output formats including MP4 and MP3
Simple and user-friendly UI
Cons
Slow download speed
Classified as "PUP" by many anti-virus programs
Doesn't support higher video qualities like 4K and 8K
Limited set of features
3. 4K Video Downloader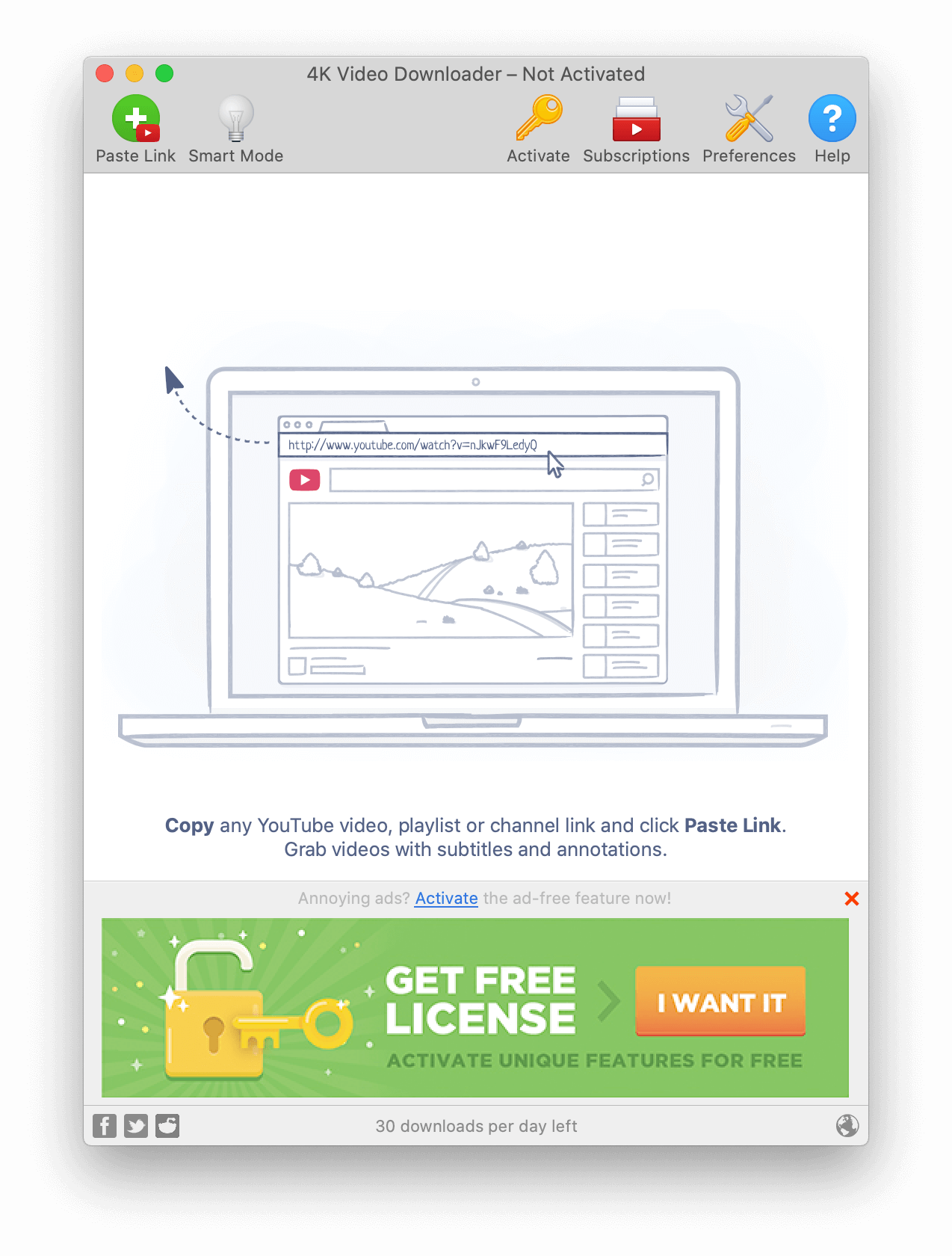 The next software to top the list of the best alternatives to YouTube ByClick Downloader is 4K Video Downloader.
4K Downloader is one of the most popular video downloaders that can save videos from a number of websites such as YouTube and Instagram. It's well-known for its ability to download new videos from YouTube channels automatically and to queue downloads.
Pros
Supports Windows, macOS, and Linux
Bulk downloads
Simply and clean user interface
Supports 720p, 1080p, 4k, and 8K
Cons
Users have reported that the download speeds are slow
The free version contains ads
Supports a small number of websites
4. Softorino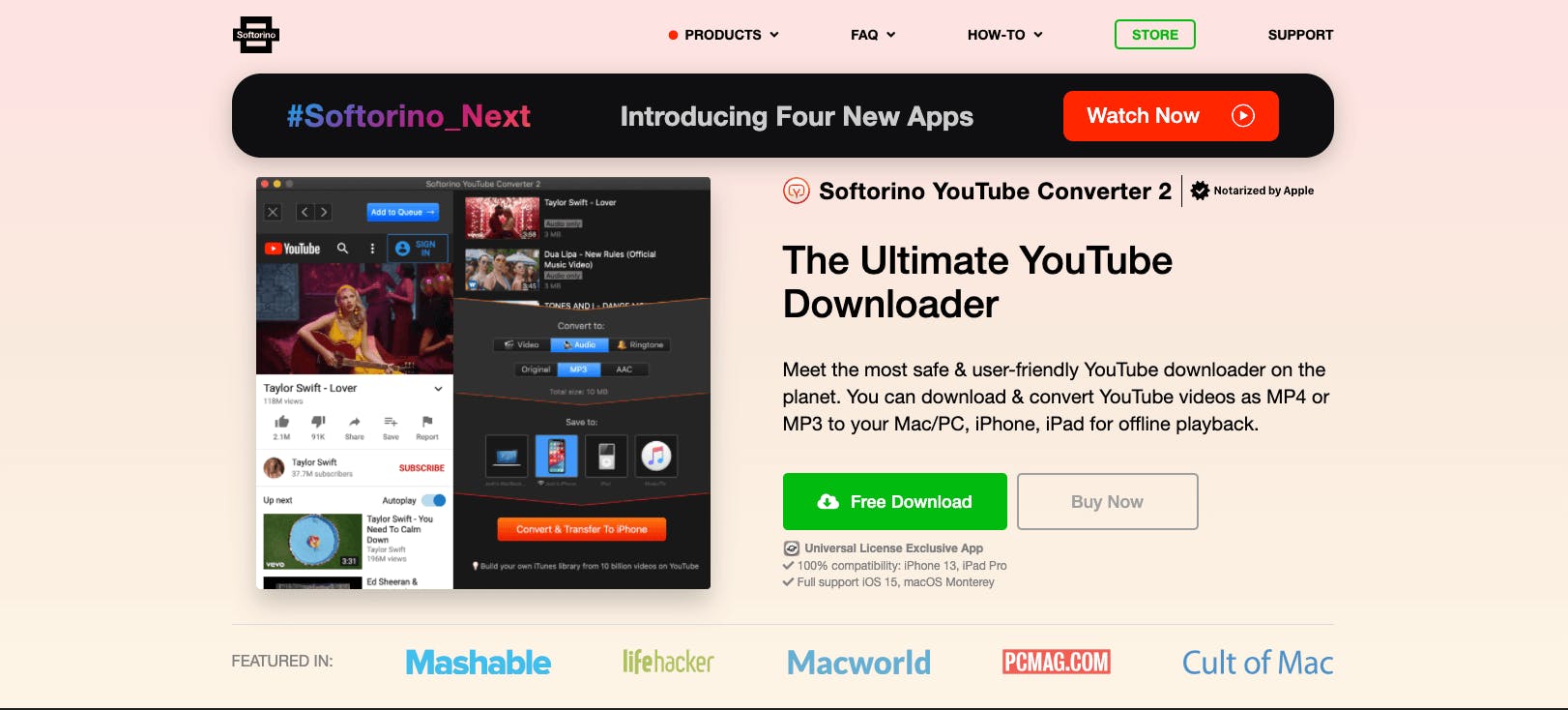 The last on the list is Softorino, a modern-looking software that can download videos from YouTube and convert them to MP4, MP3, AAC, and various other formats. A cool feature that it has is the ability to automatically convert videos to ringtones for iPhone and Android devices.
Pros
Download videos in various output formats
Save subtitles from YouTube
User-friendly interface
Works with a different variety of websites
Cons
Supports macOS only
No free versions available except for a 24-hour trial
4 Best Online Alternatives to ByClick Downloader
1. 10Downloader
If you are looking for the best online YouTube downloader, you should definitely check out 10Downloader. It is a free online video downloader that can download videos from YouTube in MP4 and other formats. It also has features for downloading YouTube playlists and shorts.
All you have to do is to go to 10Downloader's website and paste the YouTube video URL. Within a few seconds, it will display the available video resolutions along with a download link for each.
Pros
Free to use
Fast download speed
Download any video from YouTube
Cons
Annoying popups and ads
Doesn't support audio formats like MP3
It doesn't support high-quality resolutions like 1080p, 4K, or 8K
Cannot download private YouTube videos, channels, or playlists
2. Birdy Downloader
As the name hints, Birdy Downloader is a free tool that has been built to download videos from Twitter. Simply put in the link of a Twitter video or GIF that you wish to save and Birdy will prepare the download link within seconds. It currently supports MP4 formats only and cannot convert to audio formats like MP3.
Pros
Download Twitter videos for free
Save videos as MP4
No need to install software or browser extension
No ads or popups
Cons
Only supports MP4 format
Download speeds may not be the best
Cannot download private Twitter videos
3. SnapTik
SnapTik is one of the most popular online downloaders for TikTok. It has been built specifically for this social media platform and does a great job at it. With SnapTik, you can download and save any videos from TikTok in MP4 format.
Pros
Fast download speed
Download videos in MP4 format
Cons
Cannot convert videos to audio like MP4
Contains many ads
Doesn't support private TikTok videos
4. Insload
The last on the list is Insload, a free online Instagram downloader that can save videos, photos, as well as private media from Instagram. As opposed to many online Instagram downloaders, Insload contains the ability to download videos that are private.
Pros
Download videos, photos, and profile pictures
Support videos that are private
No ads
Cons
Cannot convert videos to audio such as MP3 or M4A
Doesn't work with some videos
What Is the Best Alternative to ByClick Downloader?
The best alternative to ByClick Downloader is SnapDownloader, a modern video downloader for Windows and macOS that is packed with all the essential features that a user would normally require. SnapDownloader is a reliable video downloader that can download videos from 1,000+ websites and convert them to various output formats including MP4, MP3, WAV, M4A, AAC, and MOV.
Our team believes that SnapDownloader is the best ByClick Downloader that works efficiently, and reliably, and offers 24/7 customer support to assist you with your inquiries. Try it now for free and check out all the amazing features that you can enjoy.