Video downloading tools have been around… well, since around the time people first started posting videos online.
And while there are a lot of them to choose from, not all are created equal.
In this review, SnapDownloader will be taking a look at one of the most popular video downloading tools on the market—ClipGrab. We'll be looking into features and pricing to see how it stacks up against SnapDownloader.
So, if you're on the hunt for a video downloading tool—read on!
ClipGrab vs. SnapDownloader: Key Differences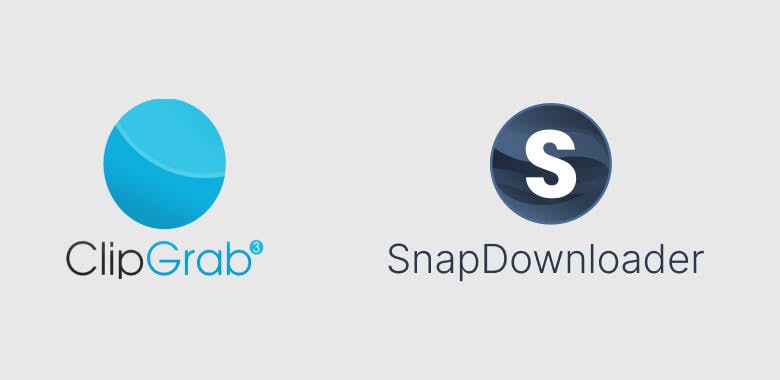 1. Price & Functionality
ClipGrab is a free video downloader with a focus on basic features.
SnapDownloader is a paid tool with a focus on advanced features and functionality (that we'll get into in a bit). There is a free trial version that gives you full access to the tool for 48 hours. After that, you can choose to purchase a subscription.
2. Download Quality
ClipGrab offers six video quality options—ranging from 144p to 1080p. While this will be enough for many users, 4K and 8K video download options are notably absent.
SnapDownloader, on the other hand, lets you choose the default video quality from a range of options that include QHD, 4K UHD, and 8K. You get the freedom to pick the highest video download quality your tech can support.
3. Bulk Downloads
ClipGrab can only download one video at a time. So, if you want to download multiple videos, you have to do it one by one. This can be quite tedious and time-consuming, especially if you're trying to download a bunch of videos.
SnapDownloader supports bulk downloads. You can add up to 500 video URLs to the download queue and let the tool do its job while you focus on other important tasks.
What Is ClipGrab?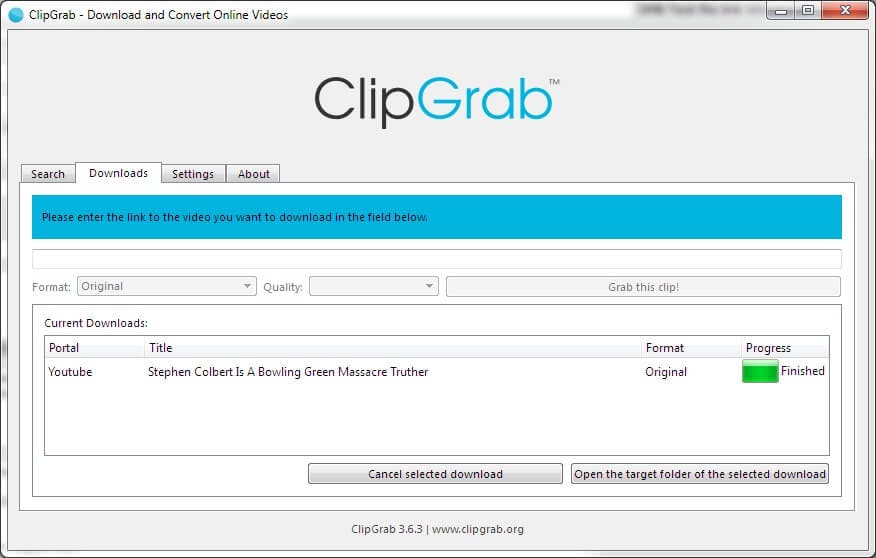 ClipGrab is a free-to-use video downloading tool for Windows, Mac, and Linux. The application has a clean, straightforward UI that allows you to download videos from a range of streaming websites with just a few clicks.
ClipGrab was released in 2007 by developer Philipp Schmieder and has since then been downloaded over 1 million times from Softonic alone.
ClipGrab Key Features
1. In-App Video Search
One of ClipGrab's standout features is the in-app video search function. This allows you to search for videos from YouTube directly from the ClipGrab interface—no need to swap between tabs!
In-app search is a pretty uncommon feature in video downloaders, so it's a definite plus for ClipGrab.
2. Range of Supported Streaming Websites
ClipGrab supports downloading videos from a wide range of popular video streaming websites, including:
YouTube
Facebook
Vimeo
Dailymotion
Plus, if you want to download a video from an "unsupported" site, ClipGrab may still be able to do it if you provide the direct URL of the video.
The app's video recognition system is pretty robust—it allows users to download videos from thousands of sites that aren't technically supported.
3. Download Videos in Different Formats & Qualities
ClipGrab lets you choose between downloading videos in a range of common (and uncommon) formats, including:
WMV
MPEG4
OGG Theora
OGG Vorbis
You can also select the quality of the downloaded video—from 360p all the way up to 1080p HD.
ClipGrab Pricing
ClipGrab is donationware—that means that the app is completely free to use, but the developer relies on donations from users to continue developing and updating the software.
You can donate via the ClipGrab website using PayPal or bank transfer.
ClipGrab Pros & Cons
Pros
User-Friendly UI: People love ClipGrab for its simple (but highly effective) UI. It makes downloading videos a breeze—even for first-time users.
In-App Video Search: This is a unique and extremely handy feature that allows you to search for and download videos without ever having to leave the ClipGrab interface.
Cons
Slow Downloads: One of the main complaints about ClipGrab is that it can be quite slow when downloading videos—particularly HD videos.
Video Quality Limits: Another downside of ClipGrab is that it limits the quality of downloaded videos to 1080p HD. This isn't a huge issue for most users, but if you do have the tech needed to appreciate 4K and 8K video, you may want to find another tool.
Basic Feature-Set: While ClipGrab does have some unique features (like in-app search), its overall feature set is quite basic compared to some of the other video downloaders on this list.
Classified as a PUP: ClipGrab is classified as a "potentially unwanted program" (or, PUP) by most antivirus software. While some users report no issues, others report finding bloatware in ClipGrab's files after installing.
ClipGrab Alternative: SnapDownloader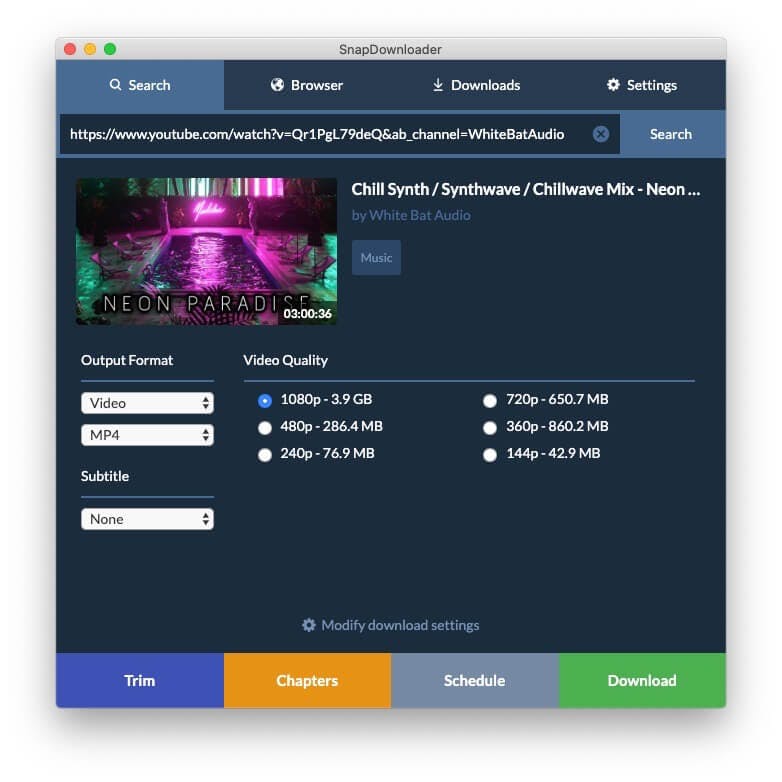 SnapDownloader is a video downloading tool that offers users a range of features and capabilities that have been missing from this software category for years. With SnapDownloader, you can download videos from a wide range of streaming websites—including YouTube, Facebook, Vimeo, Instagram, and TikTok—in a matter of seconds.
Plus, SnapDownloader provides users with a range of quality and format options to choose from, allowing you to tailor your downloading experience to your specific needs. And, if you're interested in downloading entire playlists or channels, SnapDownloader has you covered there too.
SnapDownloader Key Features
1. Bulk Video Downloads
While most video downloading tools limit you to downloading one video at a time, SnapDownloader allows you to download videos in bulk. For simple bulk downloads, you can post up to 500 individual video links and have them download simultaneously.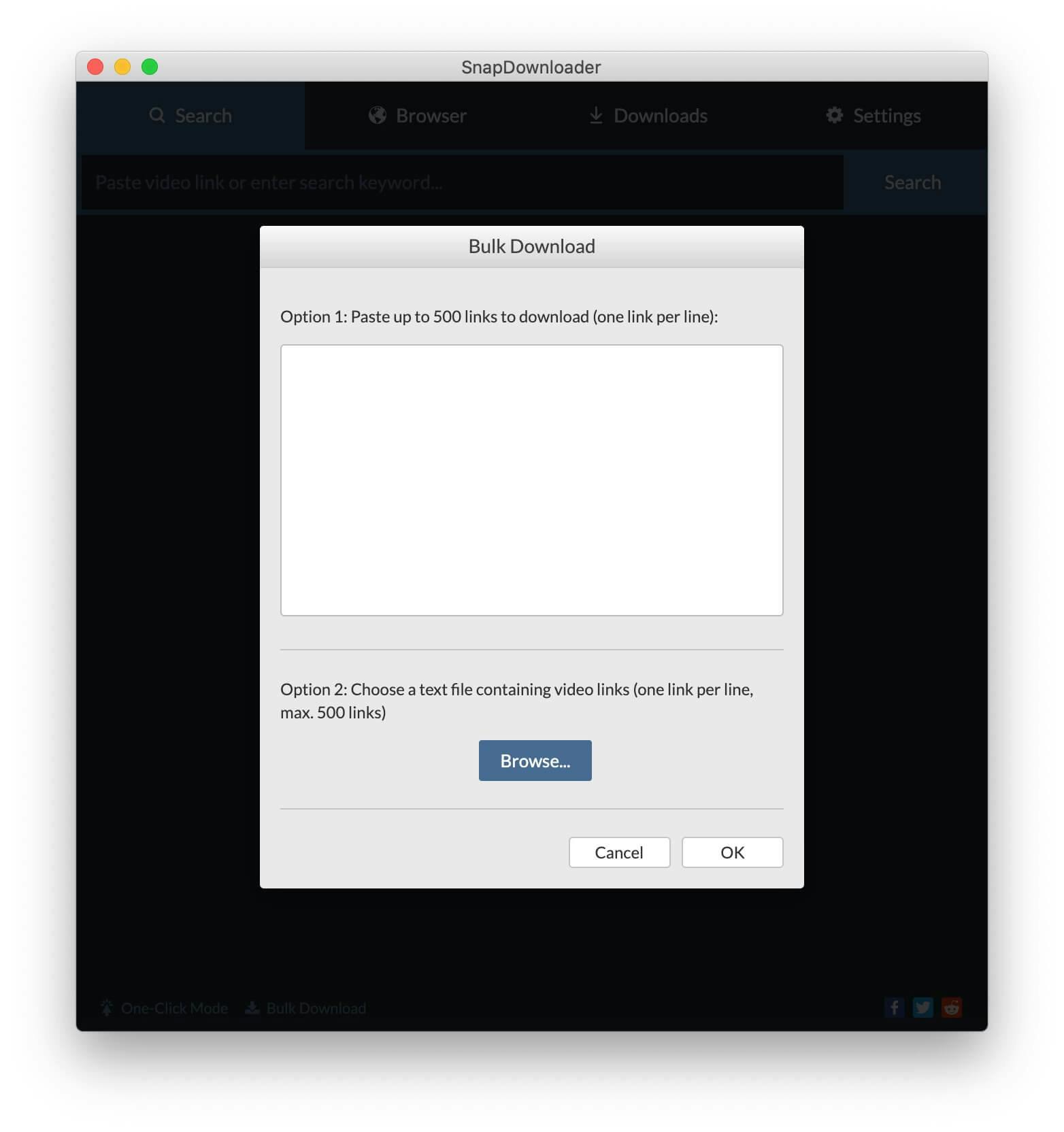 Or, if you want to download an entire playlist or channel, SnapDownloader makes that process super simple—just add a link and hit download. All the videos will be downloaded in their original quality and format, so you can watch them offline whenever you want.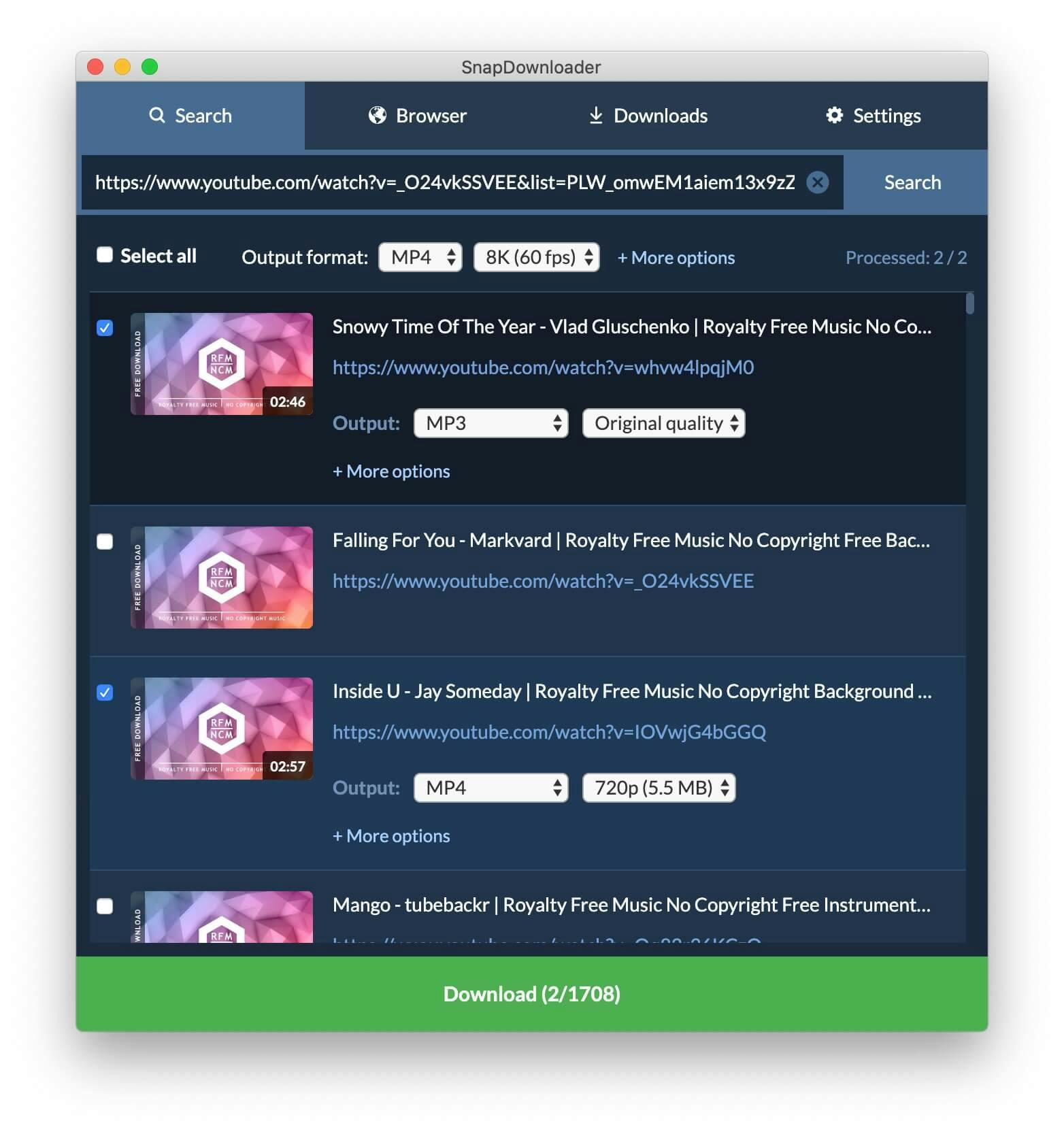 This is an extremely handy feature if you want to download a lot of videos at once—or if you just don't want to have to go through the process of downloading each video individually.
2. High-Quality Video Downloads
With SnapDownloader, you can download videos in resolutions up to 8K—the highest resolution currently supported by commercial monitors.
Obviously, the vast majority of people don't have the tech needed to take full advantage of 4K and 8K video. But, if you do have a monitor that supports massive resolutions, SnapDownloader has the download speeds and quality options needed to make the most of it.
3. Video Trimming
Sometimes, you just want to download a specific section of a video—not the entire thing. While ClipGrab requires you to download videos in their entirety, SnapDownloader solves this problem with its built-in video trimming tool.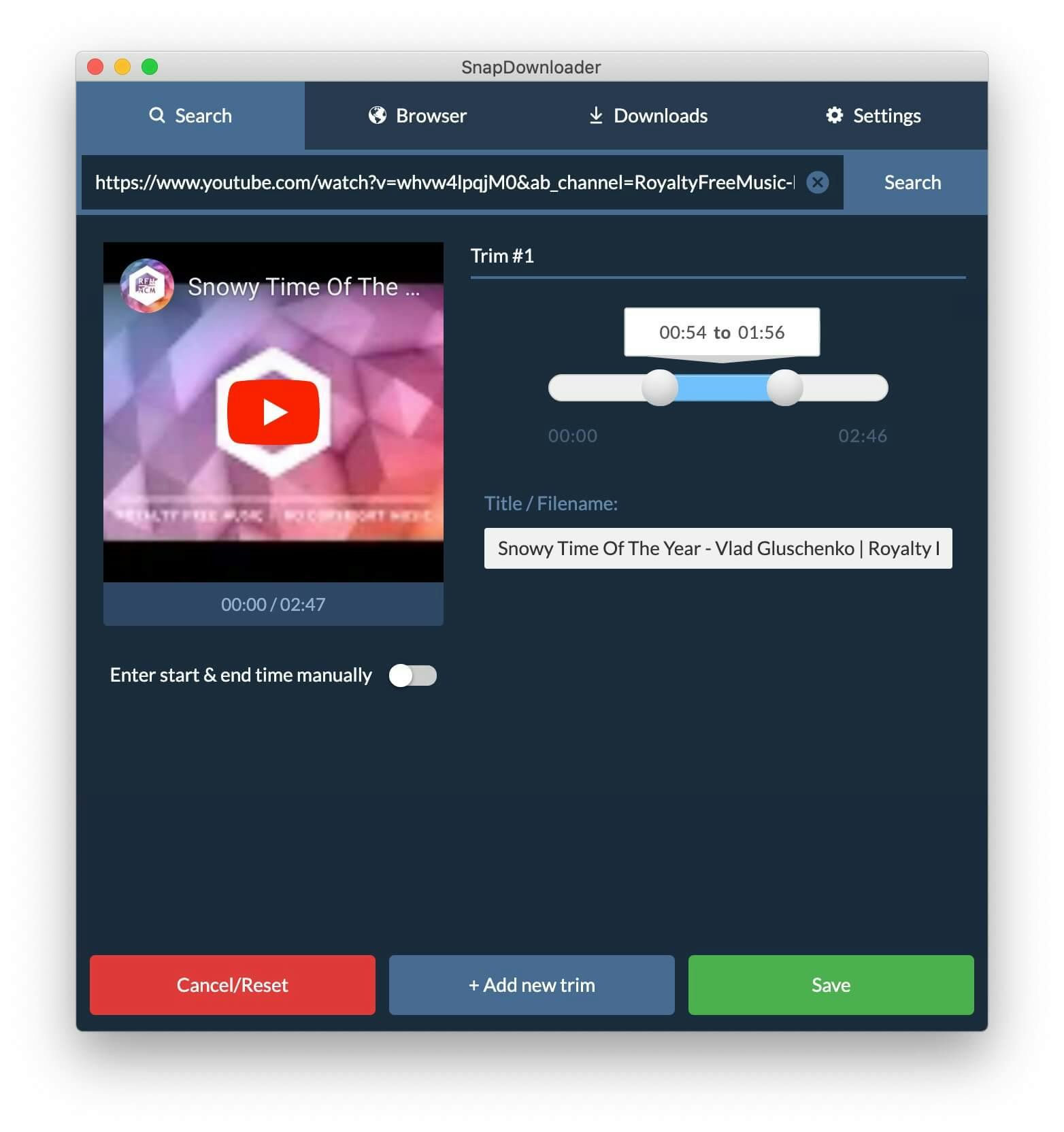 This is an extremely handy feature if you're only interested in downloading a certain part of a longer video (a specific song in a mix, for example).
4. Download Private and Age-Restricted Videos
Private and age-restricted videos can't be downloaded with ClipGrab because the tool can't access the files without being logged in to your account.
With SnapDownloader, you can easily download both types of videos by logging into the hosting platform using SnapDownloader's in-app browser.
SnapDownloader Pricing
SnapDownloader is a SaaS product—meaning you pay a monthly, trimonthly, or annual subscription fee to use the software:
Monthly Subscription: $7.99
3-Month Subscription: $16.99 ($5.66/mo)
Annual Subscription: $29.99 ($2.50/mo)
You can also get yourself a lifetime license for a one-time payment of $39.99—which is a great option for long-time users.
ClipGrab vs. SnapDownloader: Feature Comparison
| | | |
| --- | --- | --- |
| | ClipGrab | SnapDownloader |
| Video Downloads | ✅ | ✅ |
| Audio Downloads | ✅ | ✅ |
| Video Search | ✅ | ✅ |
| Bulk Downloads | ❌ | ✅ |
| Restricted Video Downloads | ❌ | ✅ |
| Playlist & Channel Downloads | ❌ | ✅ |
| Simultaneous Downloads | ❌ | ✅ |
| Chapter Downloads | ❌ | ✅ |
| In-App Browser | ❌ | ✅ |
| Formats | 6+ | 10+ |
| Resolutions | 144p to 1080p | 144p to 8K |
3 Reasons to Choose SnapDownloader Over ClipGrab
1. It isn't counted as a virus.
While calling ClipGrab a virus is a bit unfair, it is fair to say that the program comes bundled with bloatware. That means many antivirus tools will try to prevent you from installing the program entirely.
Of course, it's your choice to bypass these warnings—but do so at your own risk!
2. It supports high-resolution downloads.
With SnapDownloader, you can download videos in resolutions up to 8K—that's 16 times more pixels than ClipGrab's resolution limit of 1080p. So, if you have the tech to take advantage of it, SnapDownloader can give you a much higher-quality video experience.
3. It offers a wider range of features.
In addition to the features we've already mentioned, SnapDownloader also offers:
video trimming
downloading private and age-restricted videos
scheduling downloads
audio extraction
proxies
and more!
So, if you're looking for a more comprehensive video downloading solution, SnapDownloader is the way to go.