With more than 1 billion active users and over 3 billion downloads since its launch, TikTok is rapidly becoming the world's most addictive social media app. Although it still has a way to go in knocking Facebook, YouTube, and Whatsapp off the podium for the most popular social media app, it's not far behind with its growth increasing rapidly every year.
With the increase in users and videos comes an increasing demand for apps like SnapDownloader and SaveTok, which users can use to download a video from the app onto their phone or computer.
But with the numerous downloader apps listed on your phone's app store or from a simple Google search, which is the best TikTok downloader, finding a reliable solution can be a headache.
In this post, we will summarise the three most popular TikTok downloaders. Whether you wish to back up your TikTok videos with no watermark or download videos from other creators to repurpose the content, there is a TikTok video downloader that can help you.
Why Do You Need Another App to Download TikTok Videos?
But isn't there a feature to download TikTok videos straight from the app? Technically, yes. But there are a few reasons why you may wish to find an alternative to downloading videos from TikTok:
As mentioned in our previous post on how to download TikTok videos, the TikTok 'save video' feature is somewhat restrictive and it can be hard to predict which videos you are able to download from the app directly. This is because you can only save public TikTok account videos, and the account holder must have checked the box to enable the videos to be saved when publishing their video, and many creators neglect to select this feature.
You have no control over the format of the download and must download the full video.
Additionally, downloading from TikTok may significantly reduce the quality as the TikTok app isn't designed specifically for this purpose.
You can also only do this within the TikTok app on your smartphone device, not on a computer; therefore, adding in additional work as you will need to transfer the files from your mobile to your PC.
Finally, you can only download one video at a time. Therefore, it will be very time-consuming if you want to make a compilation video or download a user's entire page.
How to Download Videos Within the TikTok App
Sometimes you can stay within TikTok to download a video to your iPhone or Android device. However, this option is not available for all videos, so you may still have to use another app to help download TikToks.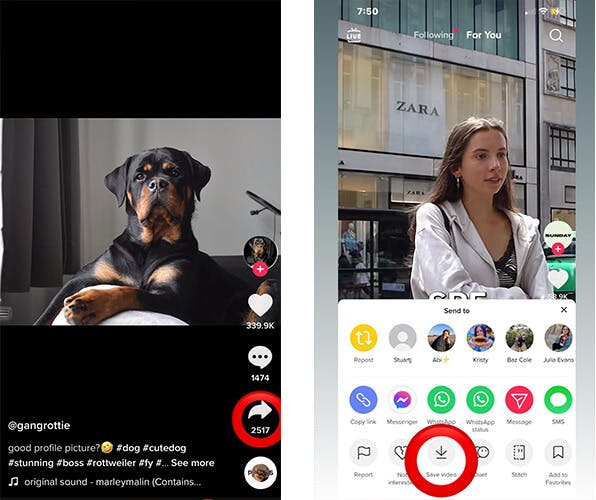 How to download a Video directly from TikTok:
Go to the video you wish to download.
Click on the arrow icon in the bottom right corner.
Select 'Save Video' from the menu in the second row.
What Should You Look For In A TikTok Downloader?
Before we take a look at a selection of the best TikTok downloaders available in 2023, here are some factors you may wish to consider before reading the pros and cons of each downloader in our list:
Maintains video quality.
Video formats such as MP4, NP3, AVI, and MOV.
File type conversion abilities.
Downloads videos fast.
Hassle-free process.
Can be used on other social media platforms, such as YouTube, to save you from having to download multiple apps that can use up your memory space and require you to learn various app systems.
Choose from a no-installation or built-in downloader.
Best Video Downloaders for TikTok
1. SnapDownloader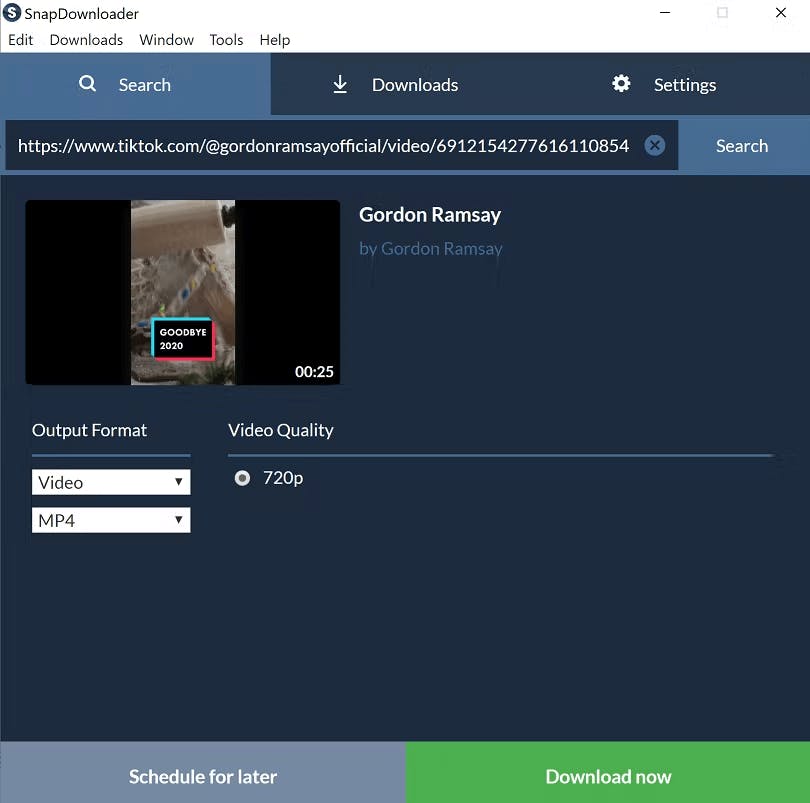 The easy-to-use SnapDownloader system is a fool-proof way to download Tiktok videos for even the most technology-avoidant users. Simply paste the TikTok's URL into SnapDownloader and receive the file in a matter of minutes.
SnapDownloader works on 900+ video platforms, including the infamous TikTok. With this app, users can download some videos at their maximum quality of up to 8K.
How to Use:
Download SnapDownloader for Windows or Mac.
Open the file and activate your free trial.
Copy your video URL. You can find this link by clicking on the arrow icon in the bottom right corner of the TikTok app, then selecting 'copy link'. If you are using TikTok on a computer desktop, you can simply copy the website address from the top search bar.
Paste this link into SnapDownloader and wait for the search to complete.
Select your video quality and format. You also have the option to trim the video before downloading or schedule the download for a later time.
Hit the green 'download' button and receive your file in no time!
Features:
Built-in video trimmer.
24/7 customer support.
Download videos with audio you like and then convert the file to audio-only.
Download in multiple file formats or convert the video file to another format, including MP4, MP3, MOV, AVI, AAC, M4A, WAV, AIFF, FLAC, and WMA.
Speedy downloads.
Schedule the downloads for another time when you have better internet.
User-friendly.
👉 Click to learn more about the SnapDownloader features
Price:
Free for 48 hours trial.
Tiered plans for one computer start at $7.99 for a 1-month subscription.
Purchase a 3-month subscription for $16.99.
Purchase a yearly subscription for $29.99.
Purchase lifetime access for a discounted price of $39.99 (20% off the original price of $49.99!).
Pros:
Unlimited TikTok video downloads.
Bulk downloader with 100 links at once.
No need to sign up for a TikTok account.
2-day free trial so you can check out the app before committing - plus, you don't need to submit your credit information to activate your free usage period.
SnapDownloader does not store or sell user data.
No ads.
Money-back guarantee.
Fast downloads.
Convert videos to other formats.
Cons:
The screen recording feature is not available.
Not free after 2 days.
2. SaveTok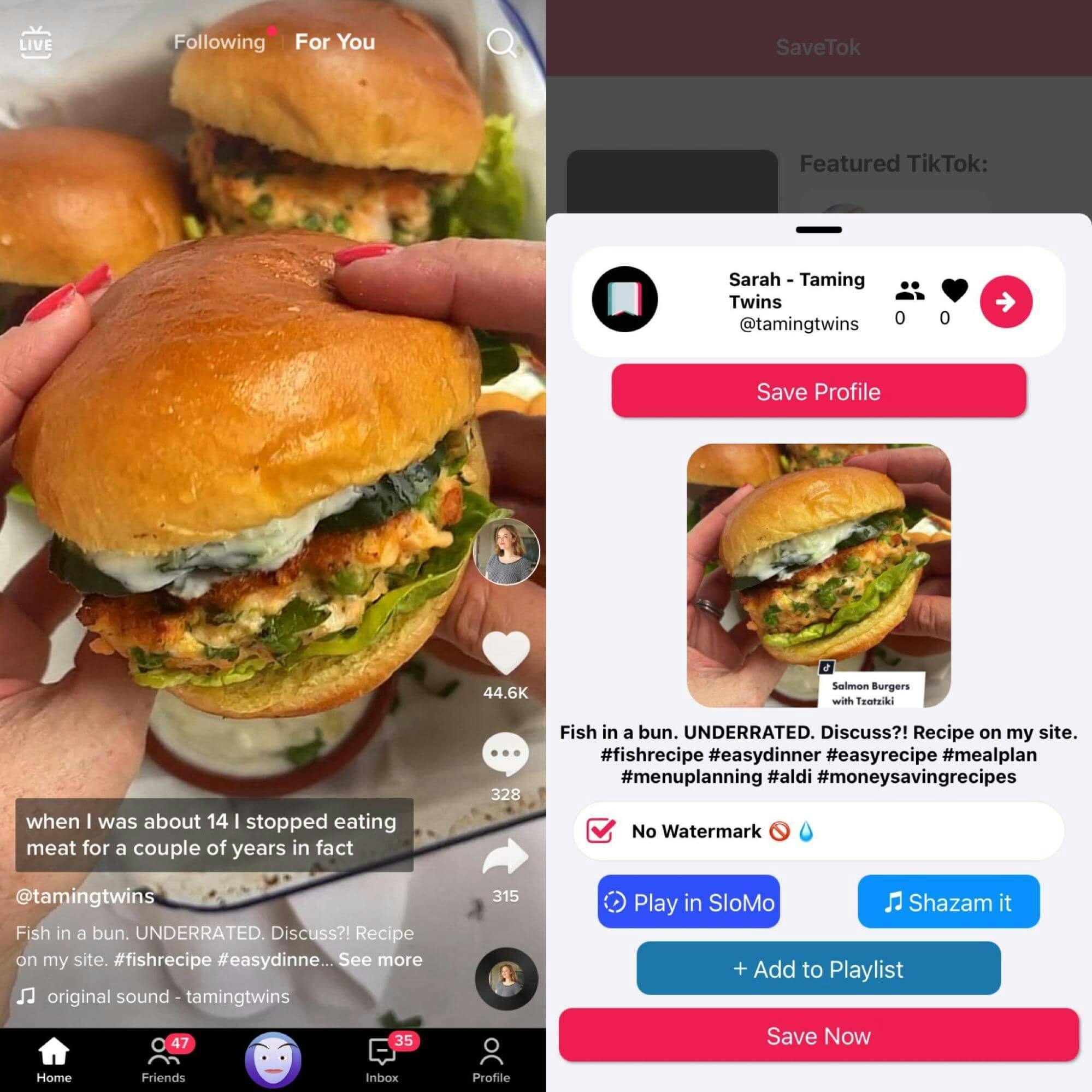 SaveTok is a good Google Play and Apple iOS-compatible app with a 4.5-star average rating on the Apple app store. Open the video you wish to save on the TikTok app, then hop over to SaveTok to download it. You can also use TikTok's 'save' feature to bookmark videos you may wish to download later on your mobile device.
Features:
Save user profiles of pages you download videos from often.
Create and share playlists of videos.
Ability to watch TikToks within the SaveTok app.
View the video statistics for views and likes within the app.
Price:
Pros:
No watermarks.
Slow-motion effects are built into the app.
Small file sizes.
Ready to go on your device for when you need it.
Cons:
Doesn't download in high resolution.
SaveTok must be downloaded to your phone before use.
In addition, some users using SaveTok for Google have reported multiple app crashes and freeze bugs.
SaveTok is useful if you only download TikTok videos. Otherwise, you will need more apps to download videos from other platforms.
4K Tokkit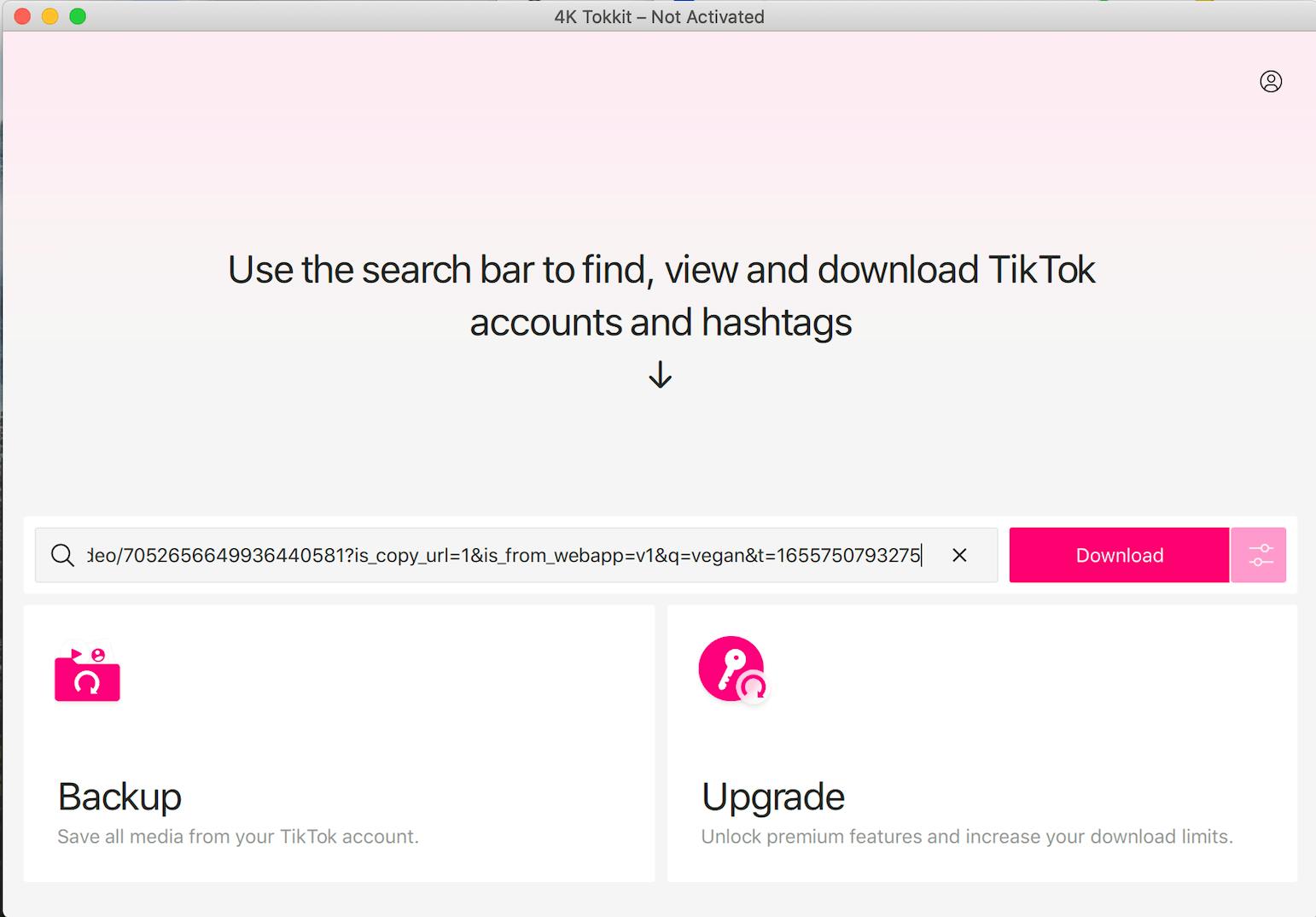 4K Tokkit is another tool for downloading TikToks on your PC or Mac. Although you can't use this app on mobile devices, it can effectively download videos in bulk alongside the video's caption. You can save the videos with the audio files, and download the videos quickly.
The app is affordable to use; however, you can't use all the features without upgrading to the premium version of this app. You will also need to sign up to receive a license key to use the app, even if you only wish to use the free trial.
Features:
Download TikToks within the app (rather than on a web page).
Search for videos from TikTok within the app using hashtags.
Download an account's entire video library.
Download TikToks to your computer.
Price:
Limited free starter usage (only 50 videos per day and minimal following allowance).
Personal use $15 (limited to 500 video downloads per day).
Pro use for businesses $60 (unlimited daily downloads and other features available).
Pros:
Bulk download available.
Copy the TikTok caption (only in the Premium version).
Well-built user interface.
Cons:
Despite the name '4K', you can download TikTok videos using this app in a maximum resolution of 720p. However, the highest resolution a TikTok can be uploaded in is 1080p. Therefore, some files may be compressed when downloading and lose their quality.
Only downloads videos in MP4 format.
Many of their features, such as exclusive access to private content and the ability to change your location, are listed as 'coming soon'. Therefore, there is no way to know when users can expect these features to be released.
Some features, such as video captioning and unlimited daily downloads, are only available for the $60 pro package.
Although 4K Tokkit can help with downloading videos from other platforms such as Instagram and YouTube, you need to download different applications, which can use up unnecessary memory on your device.
No complimentary mobile app.
Choose the Best Video Downloader for TikTok
Hopefully, this list of the best TikTok downloaders can help you decide which app is best for your needs. If you need ideas for great video downloaders for other social media platforms, head to our blog, where we discuss the best apps for downloading videos from Instagram, YouTube, Reddit, Facebook, and more.
Our recommendation for an app to help you save a Tiktok with no watermark is SnapDownloader for its easy-to-use interface and multi-platform compatibility. Learn more about the SnapDownloader features or start using the TikTok video downloader for Mac and PC today.