If you're a content creator, you're probably well-acquainted with all the biggest video grabbers and editors. These tools are tailor-made for influencers and websites, allowing them to download online content and repurpose it for their own.
One of these programs is HitPaw. Aside from its converter, the company also offers photo and video enhancers and watermark removers.
What is HitPaw Video Converter?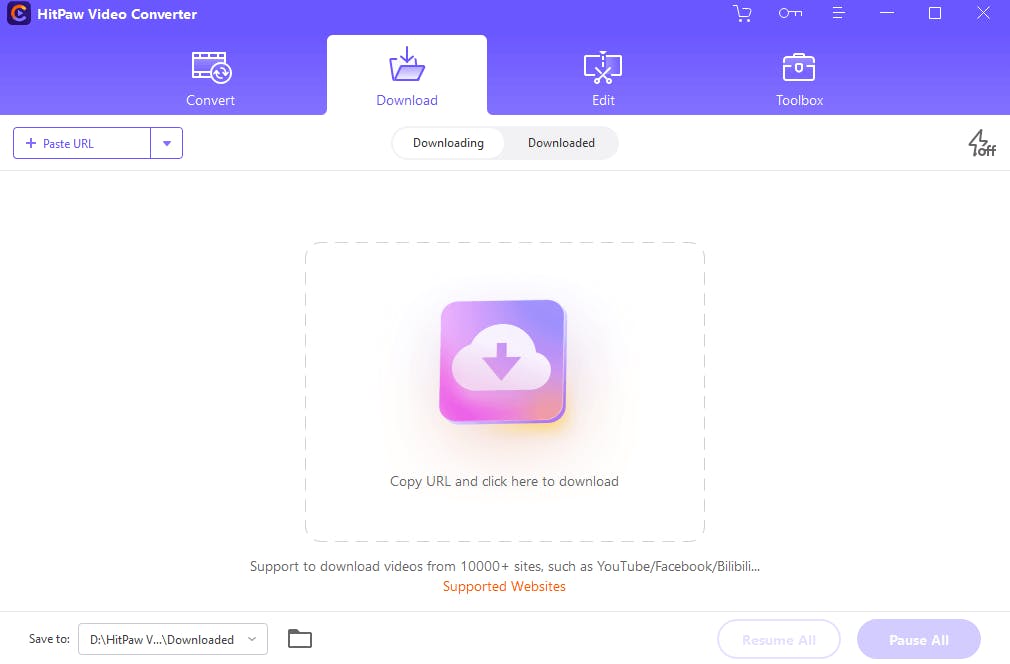 HitPaw Video Converter is a powerful tool that has numerous nifty features. When you start the program, you can scroll between four tabs: Convert, Download, Edit, and Toolbox.
As you can presume, Download is your usual grabber section that allows users to get content from various social media platforms. Convert allows you to change outputs for different files on your computer. With Edit, you can access numerous video modification options, including cropping, filters, watermarking, cutting, etc.
Most people who get HitPaw video downloader are primarily interested in video grabbing, but the editing features are also a nice addition. When you access the Toolbox tab, you also have numerous miscellaneous tools such as noise removal, video compressing, and image editor.
HitPaw Features
1. File Conversion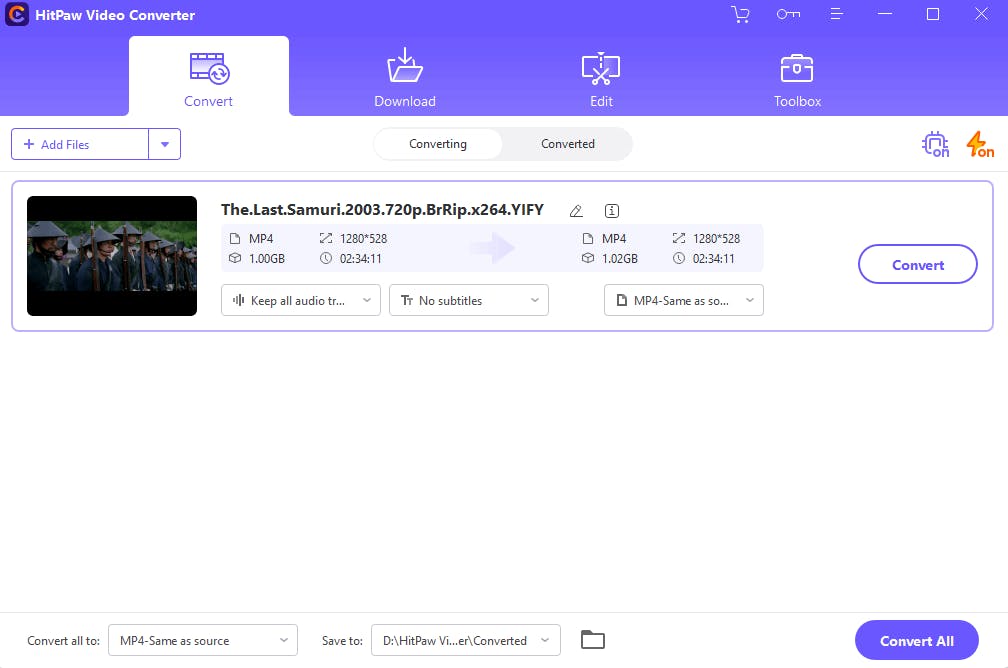 With HitPaw's video conversion feature, users can quickly convert their files from one format to another. You can convert videos and audio to other formats or adapt them for a specific social media platform or device.
You can also add subtitles to the video or remove its audio track. When combined with HitPaw's editing features, the software allows you to make numerous modifications to your content.
2. Video Downloading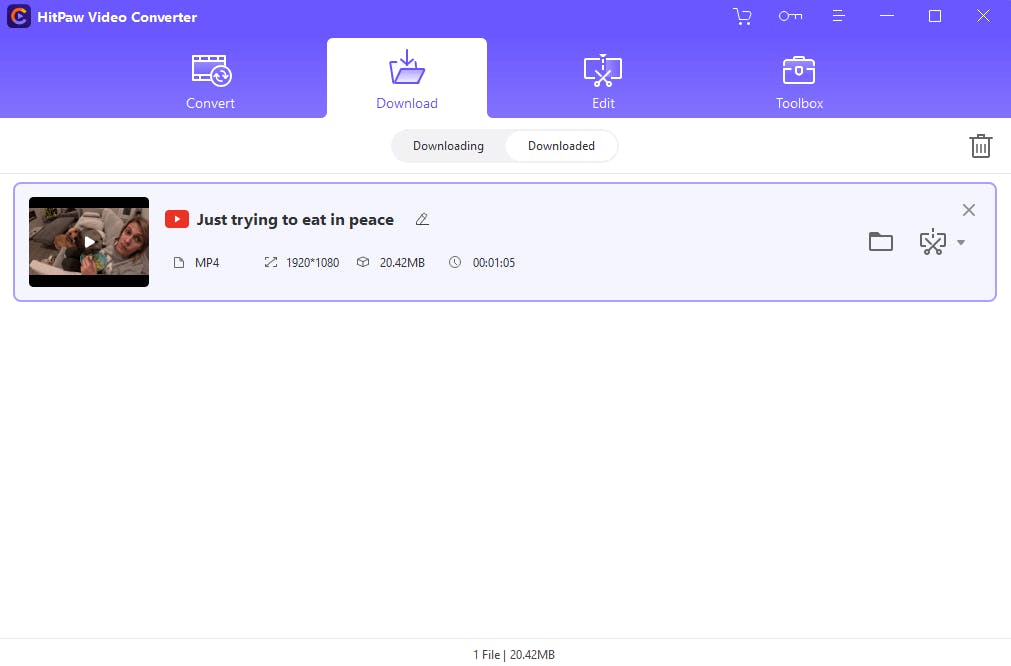 HitPaw allows you to grab just about any content from the web. According to the company, the tool supports more than 10,000 sites. When we visited the software's official site, the page that lists these platforms was non-existent. So, we would take this claim with a grain of salt.
Regardless, we presume that the tool works well for all major platforms. However, it's most likely that the "10,000 sites" claim is a bit overblown.
3. Video Editing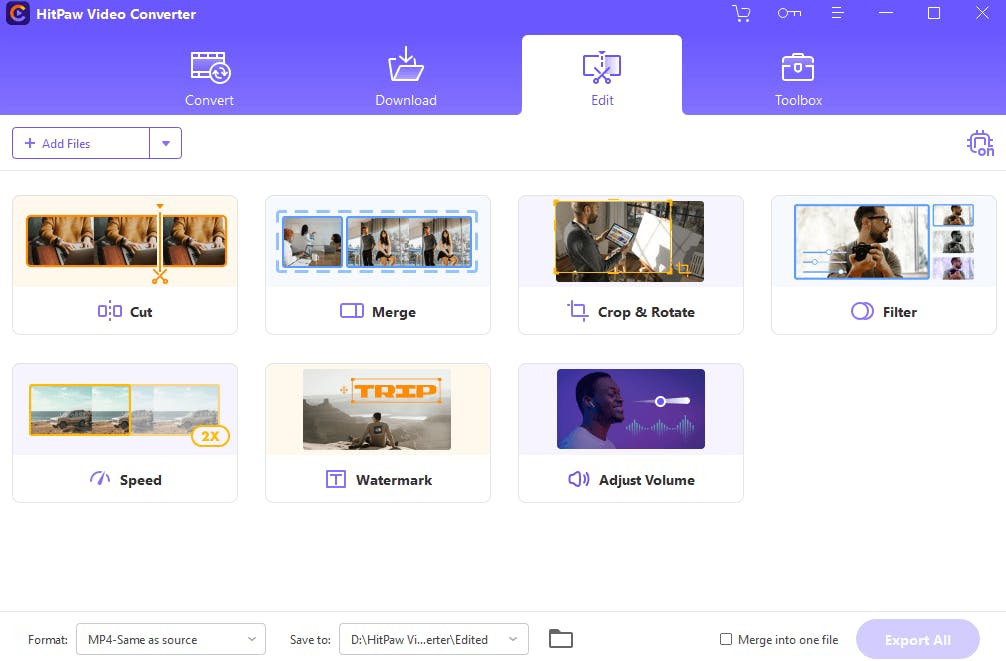 Editing functions are the thing that makes this software so powerful. You have access to trimming, merging, filters, watermarks, cropping, speed, and volume adjustments. These editing features are especially great if you're trying to modify content for other platforms. You can also use them to protect your videos and to make collages.
4. Additional Features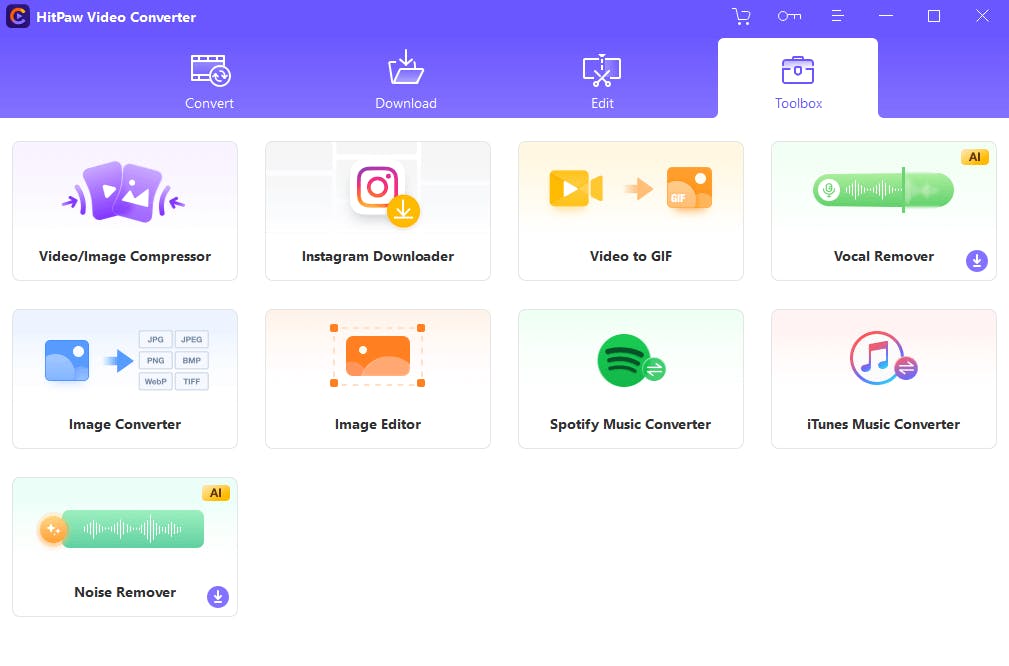 The software also has a section called Toolbox. We think they added all other miscellaneous functions to this tab, as they weren't suitable for the Editing or Downloading tabs. Whatever the case, some of these functionalities are nice, such as the Spotify Music Converter or Instagram Downloader.
Is HitPaw Free?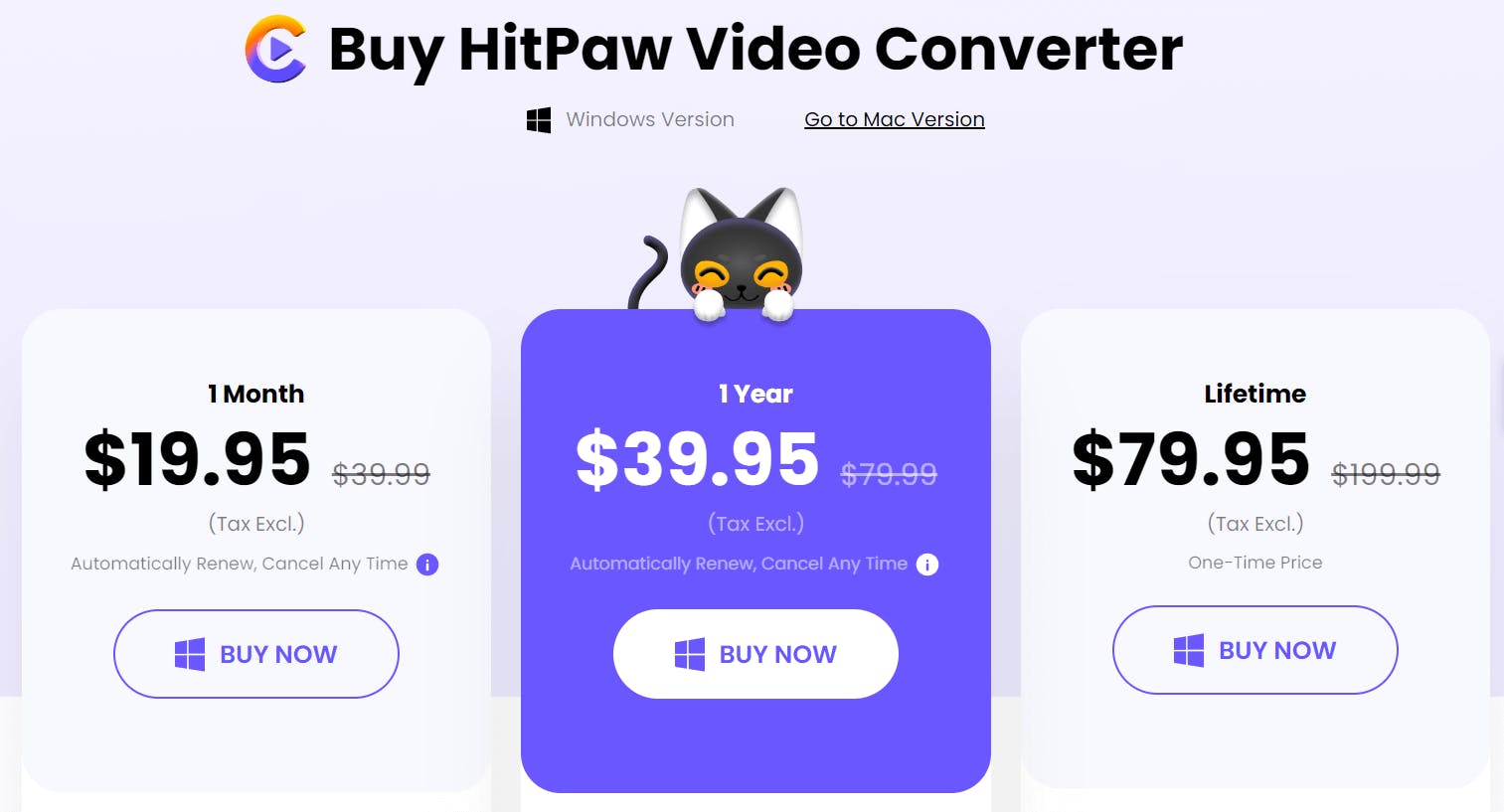 Although you can try this platform free of charge with certain limitations, it isn't a free tool. You can choose between three payment plans:
1 Month – $19.95
1 Year – $39.95
Lifetime – $74.95
Keep in mind that these are just for Windows. For whatever reason, the company decided to have different, more expensive pricing for their Mac users:
1 Month – $24.95
1 Year – $344.95
Lifetime – $749.95
HitPaw Pros & Cons
Pros
Numerous easily-accessible features
Lots of editing functions make the platform perfect for content creators
Converter allows you to modify the file for different devices and platform
Supports all the major websites
Beautiful interface
Cons
You can't adjust the output quality of downloaded videos
Downloading files is much slower than on some other tools
Higher pricing for Mac users
You can't buy separate features
Copy-pasting URL into downloader is a bit wonky
People often get overwhelmed by all the options
Is HitPaw Safe?
Many people ask us, is HitPaw legit? Some software companies are notorious for having numerous ads or installing other software without permission.
Based on what we've seen when testing the software, there wasn't any suspicious behavior in HitPaw. We didn't encounter any virus or malware warnings during installation. Furthermore, you won't be spammed by ads or anything of that kind.
Is HitPaw Too Complex?
For some people, HitPaw is an excessively complex tool. For example, when converting files, you can turn your video into so many different outputs that it will make your head spin.
Similar can be said for editing features. The company probably added them to upsell, and most customers won't even need them. For example, while the Image Converter is a nifty feature, what are the odds you'll use it every month?
The Main Issues With HitPaw
First off, we want to say that HitPaw isn't price-friendly. It's much more expensive than the average video grabber. And while we can't say anything bad about editing features, there are much better tools for this particular purpose. We don't like the fact that Mac users have to pay extra.
In other words, with HitPaw, you're getting stuff you probably don't need. Even worse, its video downloader feature can easily be replaced by numerous other tools. A good HitPaw alternative to this software is SnapDownloader.
The Best Alternative to HitPaw: SnapDownloader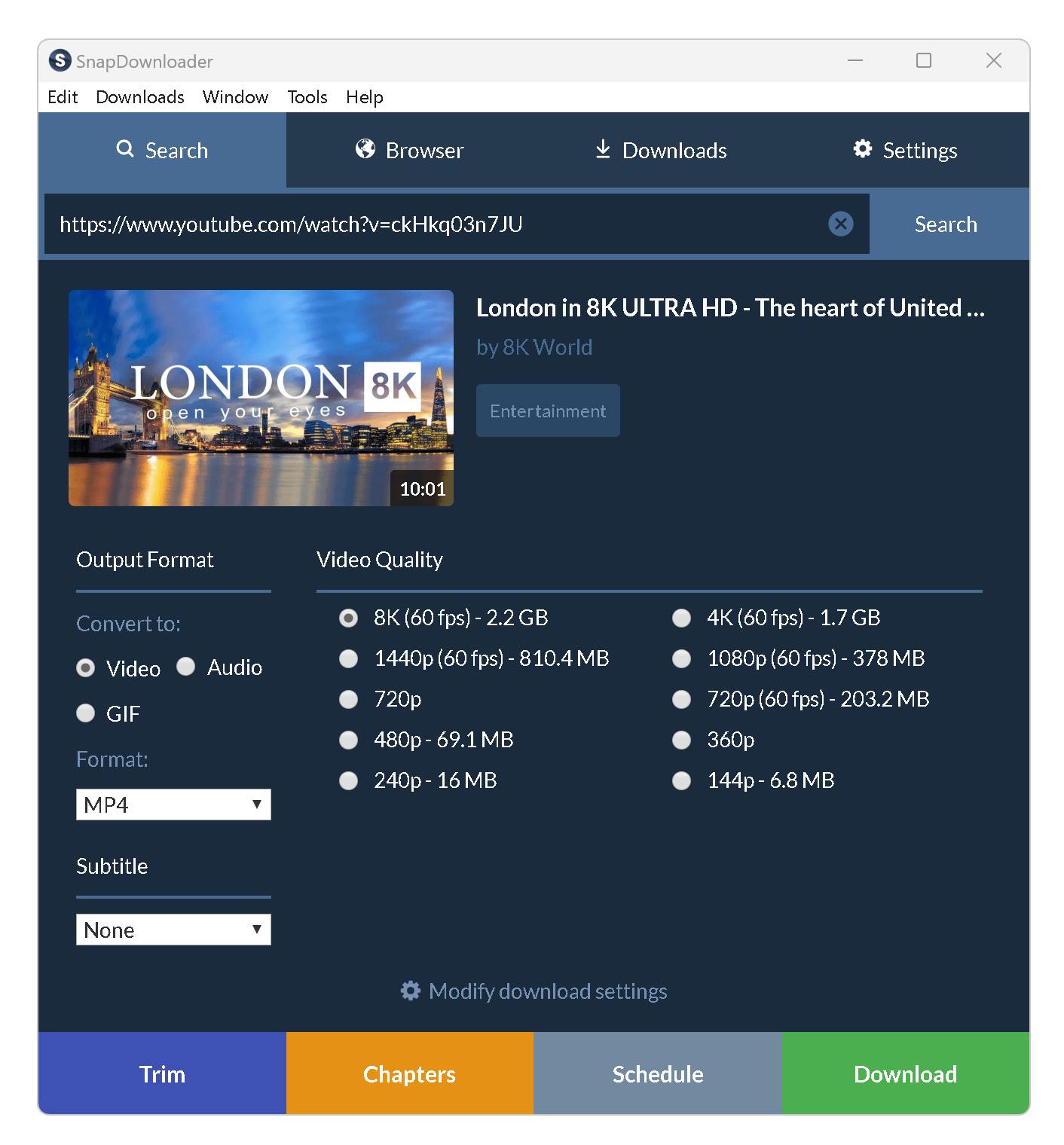 I believe that the best Alternative to HitPaw is SnapDownloader. It's a niche tool that is primarily built for video downloading and it does a great job at it.
As the name implies, this video downloader lets you get content in different file and quality formats. It has an incredible interface and is easy to use. Most importantly, it's much quicker than HitPaw in terms of download speed.
With HitPaw, you must wait several seconds for the tool to analyze the content. This isn't the case with SnapDownloader, which instantly starts doing its magic. You also have a built-in search that allows content browsing from within the software.
SnapDownloader Pricing
SnapDownloader isn't just more affordable, but it also has better plans available. Here are all the options at your disposal:
1 Month – $7.99
3 Months – $16.99
1 Year – $29.99
Lifetime – $39.99
Family (up to 3 users) – $69.99
SnapDownloader Features
1. Fast Video Downloading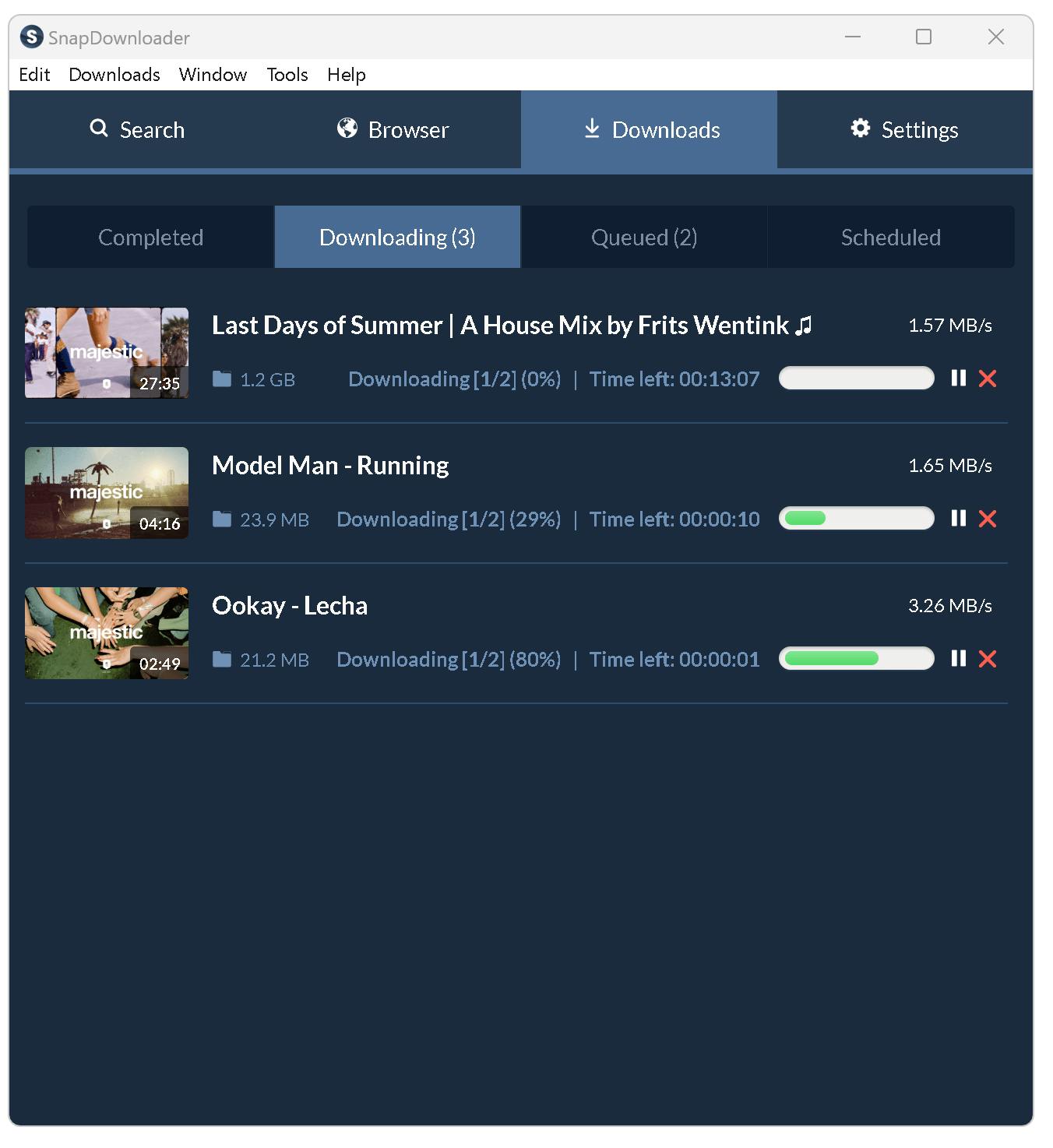 One of the main advantages of SnapDownloader is that it can grab videos at a lightning-fast speed. This makes it a perfect choice for bulk downloads or content creators who do this daily. Most importantly, it's a significantly faster option than HitPaw. You don't have to go through a long analysis process, thus wasting your valuable time.
2. Numerous Quality and Output Formats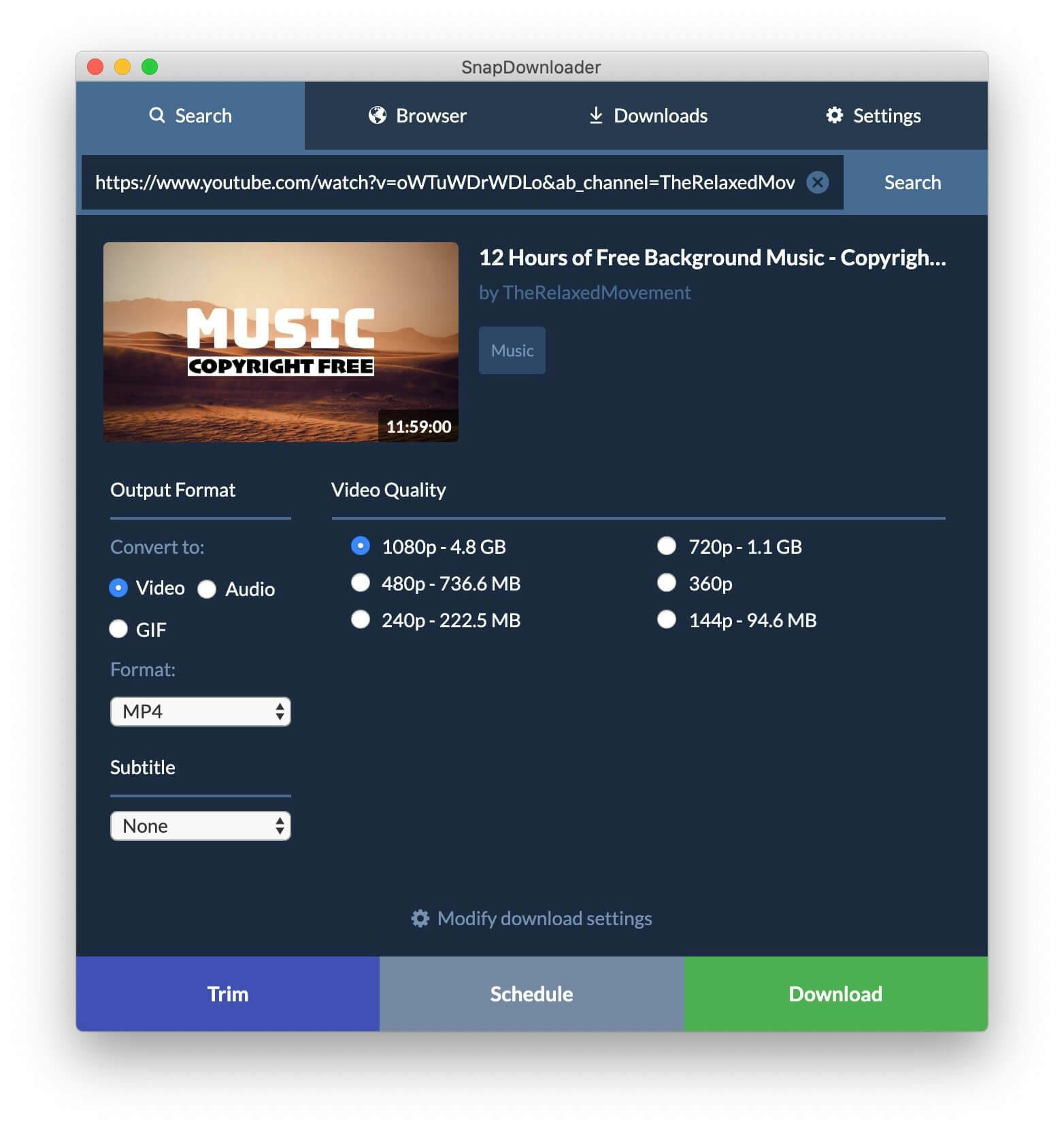 SnapDownloader supports videos of up to 8K resolution. You can use it for high-resolution content without ever losing any quality along the way. Aside from changing the quality, you can also change the output format. The tool can convert media to MP4, MP3, WAV, WMA, AVI, MOV, M4A, and various other formats.
What's more is that it supports GIF conversion, and you can turn any portion of a video into a GIF instantly and easily.
3. Video Trimming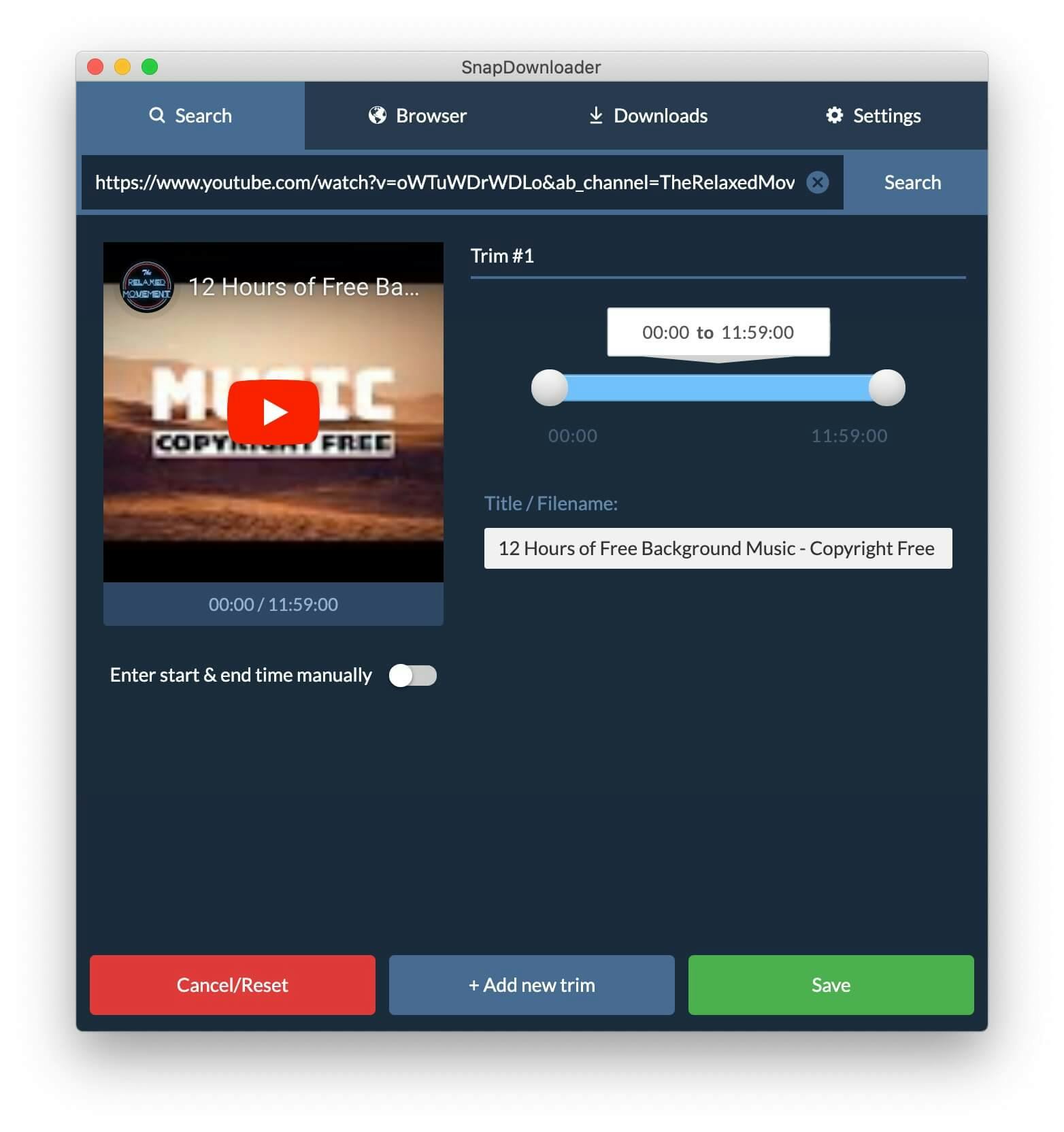 SnapDownloader isn't the best option if you're looking for advanced video editing options. As already mentioned, it's a tool whose primary task is quickly downloading high-quality videos from various sites.
Still, it has a few features that will make your life easier. Video trimming is a fantastic way to remove parts of the video you don't need. By doing so, you can significantly reduce download times. It's also a nice feature if you're thinking of repurposing the content.
4. Bulk and Playlist Downloads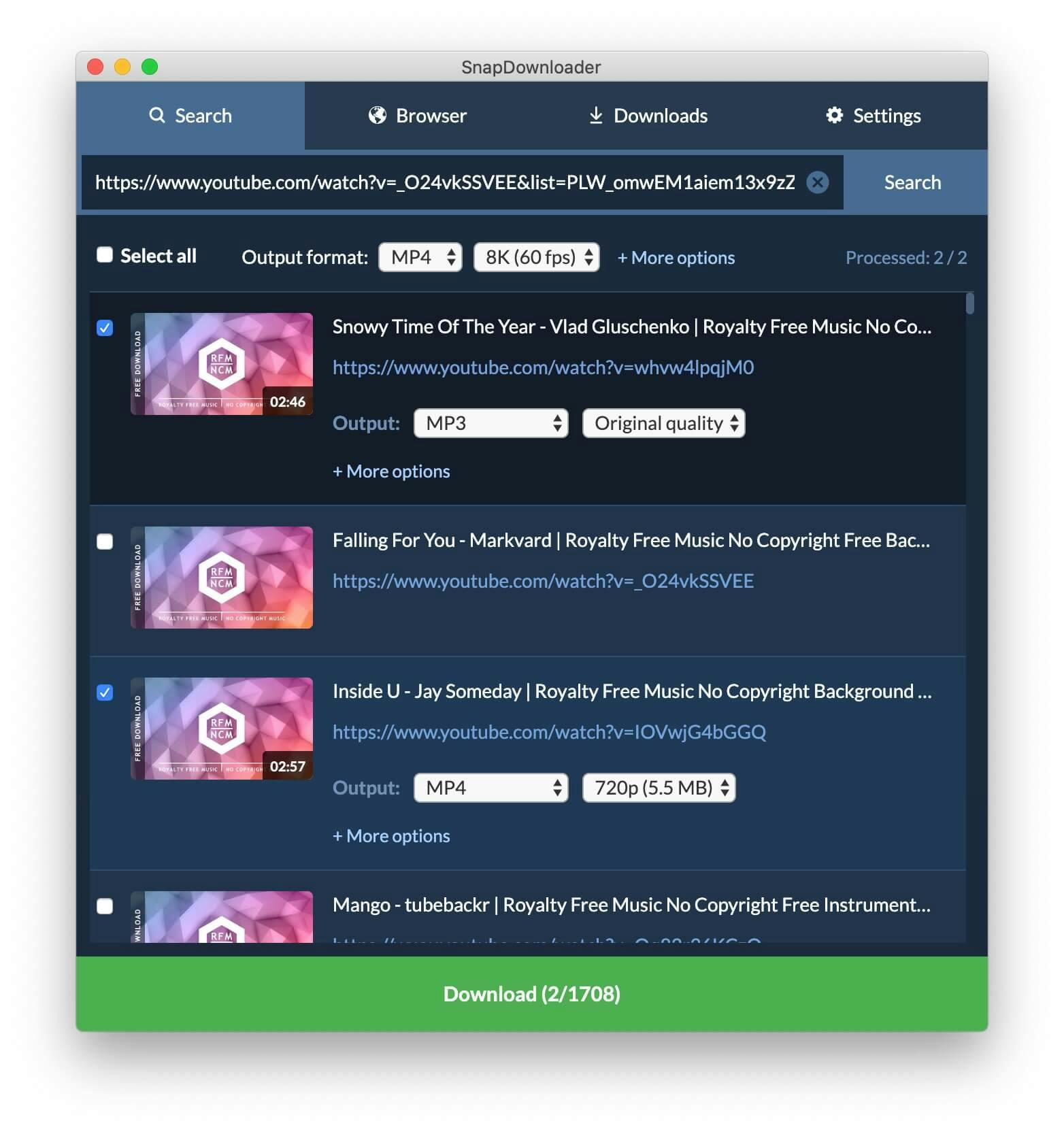 SnapDownloader also has the ability to download entire YouTube playlists and channels. Simply paste a link, select the videos to download, and SnapDownloader will handle the rest.
In addition, it offers a Bulk Download feature which lets you paste up to 500 links and download them at once.
SnapDownloader Pros
Clean UI
Easy to use and fast
Private video download
Scheduled downloads
Video trimming
Supports more than 1,000 sites
Bulk and playlist downloads
SnapDownloader Cons
It doesn't have advanced video editing options
HitPaw vs. SnapDownloader
| | | |
| --- | --- | --- |
| | HitPaw | SnapDownloader |
| Video Downloads | ✅ | ✅ |
| Audio Downloads | ✅ | ✅ |
| Private Video Downloads | ✅ | ✅ |
| Video Converter | ✅ | ✅ |
| Merging | ✅ | ❌ |
| Cropping | ✅ | ✅ |
| Trimming | ✅ | ✅ |
| Download Scheduling | ❌ | ✅ |
| Geo-Location Protection | ❌ | ✅ |
| Subtitle Downloading | ✅ | ✅ |
| Download YouTube Chapters | ❌ | ✅ |
| Formats | 500+ | 10+ |
| Resolutions | 360p to 8k | 144p to 8K |
Conclusion
Despite some criticism, the video converter is still an incredible tool. As previously mentioned, it's a fantastic choice for content creators who have to execute various actions. You get all these features within a single dashboard, so you don't have to switch between numerous programs.
Unfortunately, the tool isn't the best choice if you're looking for a video downloader. It is noticeably slower than some options on the market. On top of that, all these options sometimes make it feel a bit overwhelming.
Another issue is that there are better tools that specialize in video editing and better tools that specialize in video downloading. While HitPaw offers a bit of everything, it doesn't necessarily specialize in a particular functionality. So, if you're looking for a reliable video grabber, it's much better to go with SnapDownloader.