Videos have become an integral part of modern society. On YouTube alone, more than a billion hours of video are consumed daily, and the site has more than 122 million active daily videos. That's a lot of media consumption!
With the massive rise in video popularity, an increasing number of users need to download videos. However, the process can be difficult, messy, and time-consuming, as many sites have restrictions on downloads and limitations on format and quality that videos can be downloaded in.
Fortunately, media downloaders provide a useful and effective way to download video and audio content both quickly and painlessly. In this article, we'll take a look at media downloaders: what they are, how they can benefit you, their top features, and the best media downloader options on the market today.
What is a media downloader?
Media downloaders are software designed to make downloading video and audio files from the internet quick and simple. Media downloaders can come in the form of browser extensions or standalone tools (some applications even offer a version of both),
There are many media downloaders available on the internet, but they don't all offer the same quality, features, or price-point. Finding the best media downloader for you will make the downloading process simple and painless.
How can using a media downloader benefit you?
Trying to download videos or audio files from the internet can be a difficult process. Many sites have restrictions on downloads, and others make it difficult to download in the format or resolution that you're looking for. That's where a media downloader comes in. Here are some of the top benefits of using a media downloader:
Download videos from popular sites: Many popular sites such as TikTok, Instagram, and Facebook have limitations on downloading videos from their sites. A video downloader can help you easily download videos from these websites by pasting a single link into the video downloader window.
Bulk video downloads: Without a video downloader, you'll have to manually download videos one at a time. Using a video downloader is beneficial because it not only allows you to download multiple videos at once, it makes the process quick and easy.
Convert videos to your preferred format: One of the best benefits of using a media downloader is that you can choose what format you want to download it to. Using a media downloader makes it easy to convert videos and audio files to your preferred format without any hassle.
What criteria should you consider when choosing a media downloader?
There are several criteria that you should consider when selecting the best media downloader for you:
Site compatibility: A video downloader is only useful if it can download from the sites that are important to you. Open-source video downloaders, for example, tend not to have the same level of website compatibility that other video downloaders do.
Configuration options: When choosing a media downloader, it's important to think about what you want your final product to look like. For example, how important is resolution or format to you?
Malware free: Some media downloaders have been known to come with viruses or adware during the installation process. It's important to do your research and only download verified, trustworthy software.
Quick Summary: Which media downloader is for you?
#1. SnapDownloader: SnapDownloader is an excellent, all-around media downloader. Access to over 900 popular sites, user-friendly features, and many configurable settings for an easy-to-use experience makes it one of the best all-around options available on the market today.
#2. TubeOffline: For free software that requires no installation process, TubeOffline is a useful option.
#3. Media Downloader: Media Downloader is a Google Chrome extension, that offers unique benefits, and is free of cost.
#1. SnapDownloader
SnapDownloader is a user-friendly, high-quality video-downloading software with a high degree of functionality. With dozens of useful features, SnapDownloader allows you to access over 900 popular sites and includes a built-in video trimmer. If you're willing to pay for it, Snapdownloader is easy to use and great for anyone.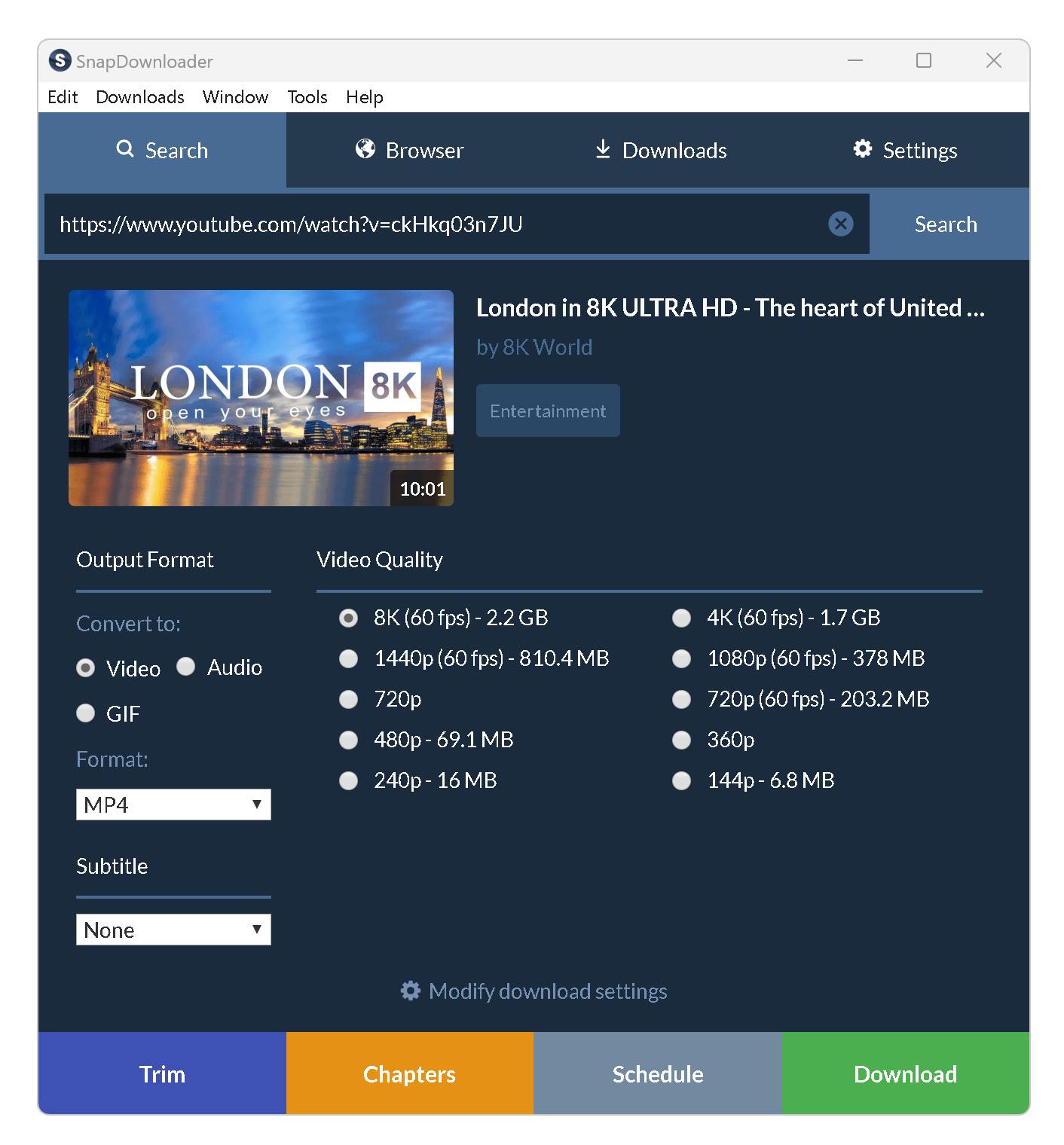 Try SnapDownloader for Free
Top features
One-click download: With SnapDownloader, you can easily configure your preferred settings (such as output format, resolution, etc.) and download videos by pasting a single link in the SnapDownloader window.
Built-in video trimmer: SnapDownloader makes it easy to edit your videos. You can edit and trim your videos easily within SnapDownloader's window.
Bulk downloads: You can download up to 100 videos at once by simply pasting the video links into the SnapDownloader window.
High-speed download: With SnapDownloader, you can download videos as quickly as your Internet connection will allow because there are no capped download speeds.
Compatible with most websites: Snapdownloader is compatible with over 900 websites, and is kept up to date with popular sites such as Instagram, Vimeo, TikTok, and Facebook.
User-friendly: SnapDownloader has an intuitive user interface that is straightforward and easy for anyone to navigate, even beginners.
Built-in browser: With its built-in browser, SnapDownloader makes it easy to navigate to sites like YouTube and Instagram. You can do it from within the Snapdownloader platform, which eliminates the need to use multiple windows on your computer.
High-resolution options: SnapDownloader allows you to download videos in 8K resolution so you can enjoy a high-quality viewing experience.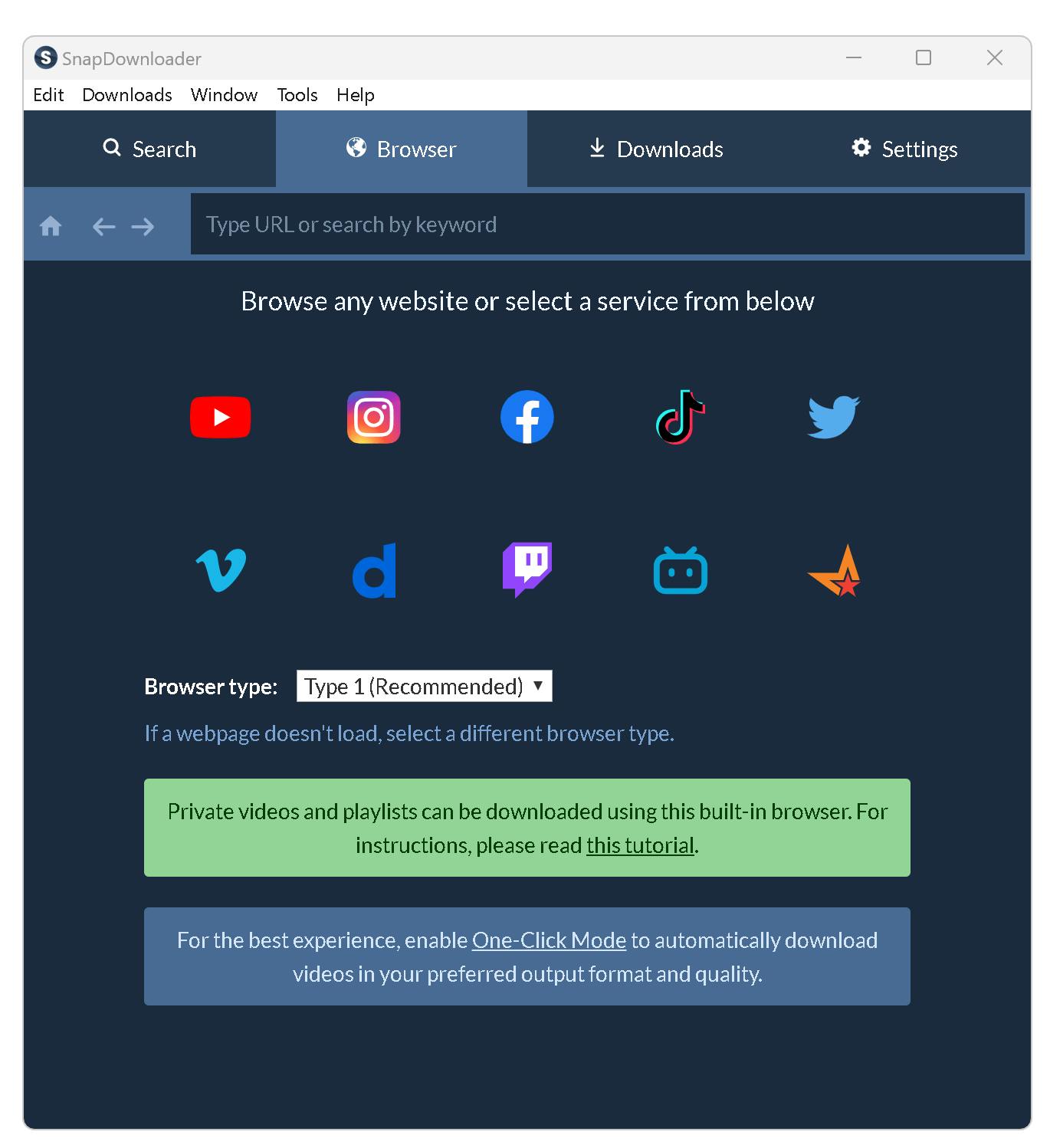 Pros
Easy for anyone to use
Quick, no-capped download speed
Highly versatile. Compatible with most popular websites today.
User-friendly
Cons
Although you can try a free trial of Snapdownloader, there is no long-term free option available to users.

Try SnapDownloader for Free
#2 TubeOffline
TubeOffline is an ideal option for users looking for free software that requires no set-up, installation, or space on your computer. As it is a web browser, to use it, simply navigate to the website and begin downloading videos. It's a convenient option for users who are looking for a quick video downloading option with no strings attached.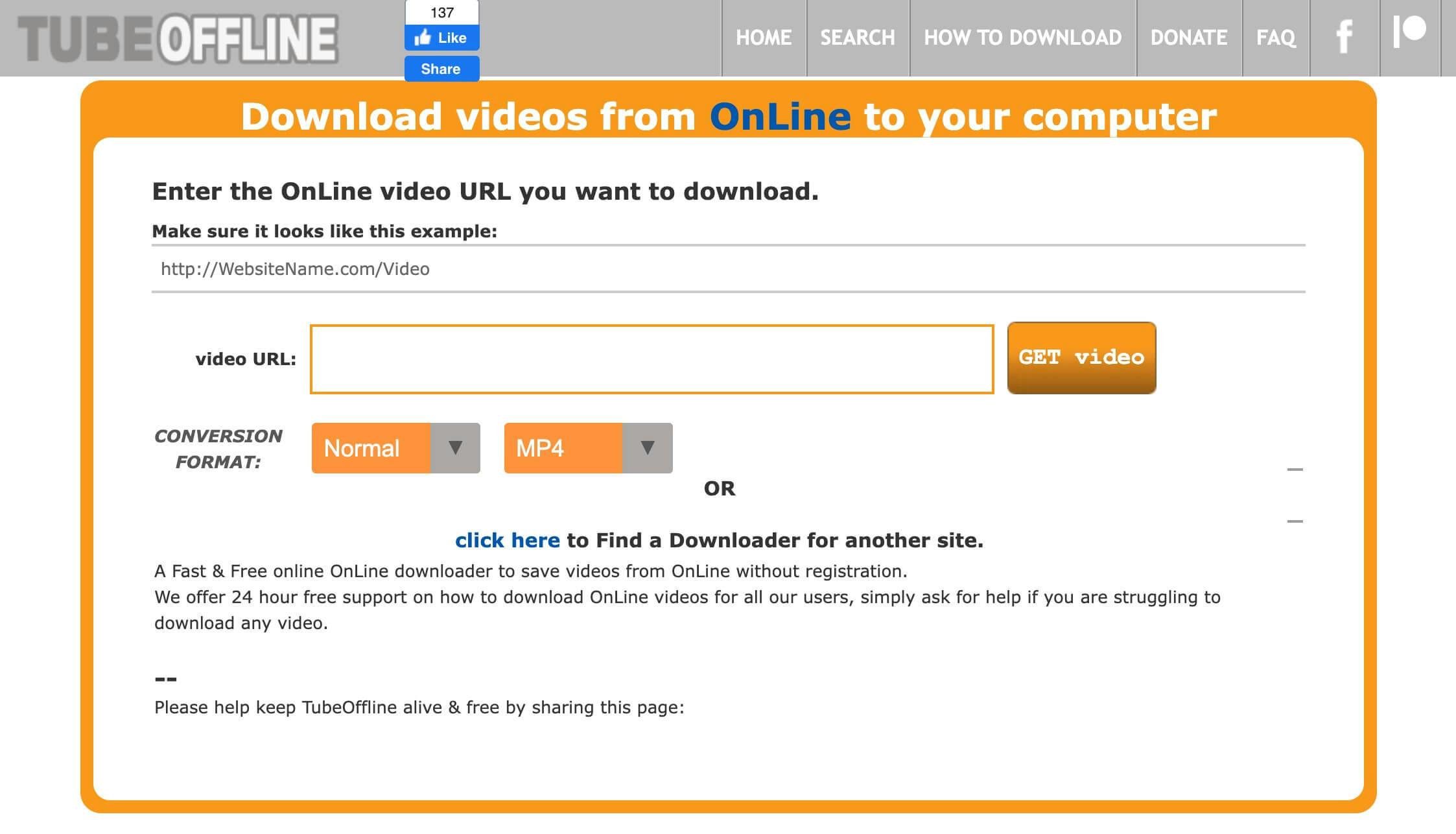 Top features
Web-based application: You can use TubeOffline without installing any extra software.
Simple to use: TubeOffline is a streamlined, simple-to-use software. It offers limited features, which makes it easy to learn how to use.
Supports multiple formats: Like SnapDownloader, TubeOffline supports multiple download formats.
Site compatibility: TubeOffline supports video downloading from over 500 sites.
Pricing
TubeOffline is a free software available for anyone on the internet to download. However, in exchange for the free download, you'll have to put up with a lot of ads.
Pros
It's a web browser, so no need to undergo a lengthy installation process.
Compatible with over 500 popular video-downloading websites.
Cons
TubeOffline is known for having a low video conversion speed, which can be frustrating to users.
TubeOffline is free software, but it makes money through ads on the website, which can be distracting during the download process.
There is no bulk downloading option available on TubeOffline. You'll have to download videos one at a time.
#3. Bulk Media Downloader
Media Downloader is a great fit for Google Chrome users who are looking for a simple extension rather than a standalone application that will take up space on their computer or require a learning curve.

Top features
Simple plug-in: No complicated settings or installation process. Simply navigate to the Chrome Web Store and download the extension.
High-quality resolution: Media Downloader can download in any resolution the video was originally available in.
Simple download process: Drop the link in the application window and it will tell you what output options are available.
Easy to use UI: Media Downloader's user interface is easy to use and intuitive.
Bulk downloading: Download multiple images and videos at once.
Configurable presets: Media Downloader allows you to configure some settings, such as your default download folder, in the settings section of the browser's interface.
Multiple download formats: You can download in a range of formats, including MP4, MP3, and M4V.
Pricing
Media Downloader is a free Google Chrome extension. You can download it free of charge from the Chrome Web Store.
Pros
Free Google Chrome plug-in
Easy to use and no installation required
Supports many current, popular video websites
Cons
Can download from fewer sites than other media downloaders
Cannot extract audio from videos
Does not yet support bulk downloading; can download one video at a time from a website
Conclusion
If you're looking for a user-friendly, versatile media downloader with various features, there are many options available to you.
TubeOffline and Media Downloader both offer no-installation, and simple media downloading options free of cost, but with ads and limited download formats and resolution, they have their drawbacks.