You're going to need one of the best Instagram to MP4 converters to fetch that entertaining video clip from the social media platform. Here's a list of the best Instagram video downloader apps that let you fetch the content the easy way.
The trend of social media picked up in the early 2000s when the social media giant Facebook brought about a way to connect with faraway friends and family in a revolutionary way. We are social animals and there isn't a second opinion to it, but digital technology has helped us express ourselves and share our lives in ways that were deemed impossible before. A picture does speak a thousand words, which was the essence behind the creation of Instagram, as it allows users to share their life in the form of photos and videos with close ones and strangers too.
The Facebook-owned social media giant has become a hub of entertaining content in itself, and the sheer popularity of the IGTV platform goes to show it furthermore. While you could spend hours and even days scrolling through your hilarious Instagram feed, it is useless without an active internet connection. If you found a video on Instagram that you want to share with someone who isn't on the platform, or want to download a long video to watch later offline, you will have to look towards an Instagram downloader to help you out.
SnapDownloader
JDownloader
SaveFrom
QDownloader
DownloadGram
4K Video Downloader
FLVTO
Wondershare UniConverter
iGram
Freemake Video Downloader
Now that you know which Instagram converter apps and services we have highlighted to download Instagram videos in MP4 format, let's take a closer look at each one of them.
Top 10 Instagram to MP4 Converters in 2023
1. SnapDownloader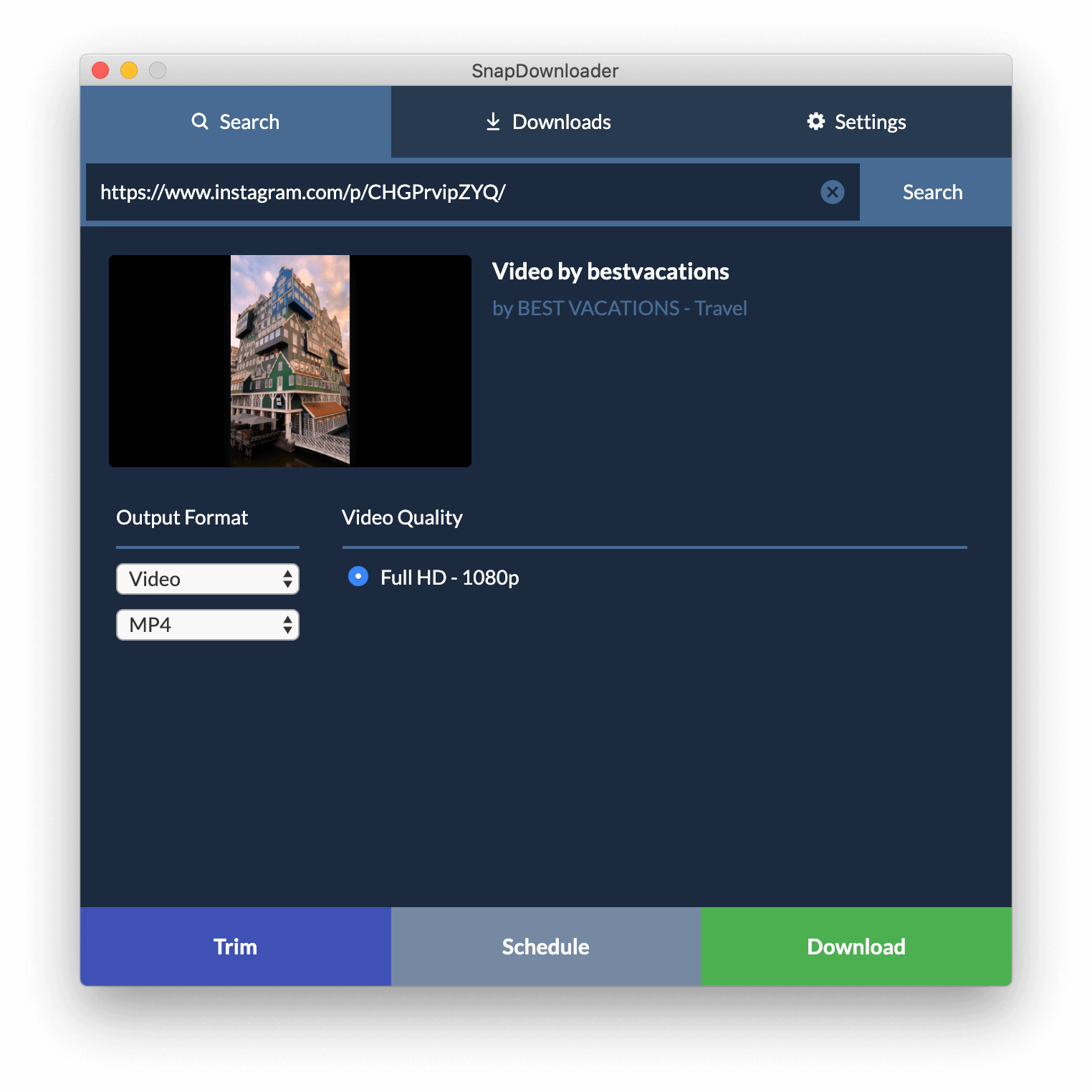 SnapDownloader is a distinct, cross-platform Instagram downloader for video grabbing and fetching audio files from videos. It is capable of downloading videos from several hundreds of online resources and streaming video platforms, including big names such as YouTube, TikTok, Dailymotion, Facebook, and several more. The SnapDownloader app gives you a way into fast-speed video downloading and MP4 conversion, with unique features to download around 15 videos at once and retrieve videos that are otherwise regionally restricted.

Try SnapDownloader for Free
Pros:
Intuitive user experience with a seamless design and quick download features.
Instagram video downloader supports more than 900+ major video streaming platforms.
Built-in video editing features to trim the duration of the video clip right away.
Additional features such as built-in proxy and bulk downloads add to the overall value.
Cons:
Premium video downloader is not available for the mobile Android and iOS platforms.
2. JDownloader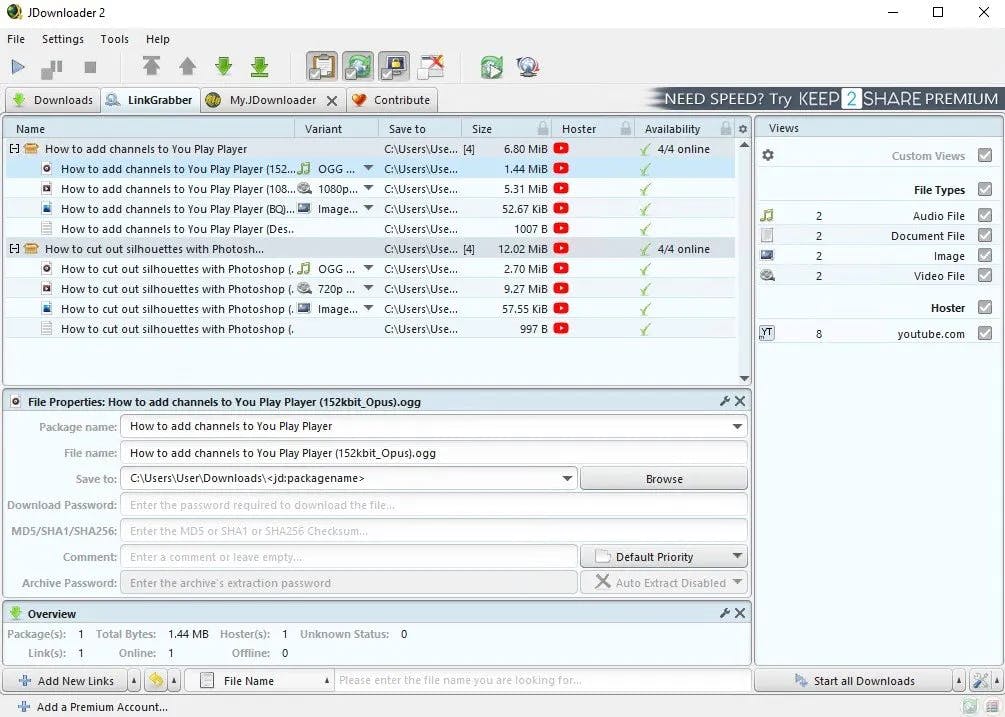 Another Instagram video converter that is compatible with more than 600 different video-sharing websites and platforms, JDownloader packs a powerful punch. Supporting all of the famous names such as Facebook, YouTube, and Twitter, JDownloader comes with several features, such as altering bandwidth limitations, extracting zip files automatically, and downloading automation with accurate controls. Being an open-source tool created by the people, for the people, there are no annoying ads to hinder your user experience.
Also read: The Best Video Downloaders for Facebook
Pros:
Open-source app that converts Instagram videos to MP4 format in a jiffy.
Extended file support allows multi-format conversion aided by a simplified UI.
Several automation features built into the app allow you to download multiple videos effortlessly.
Cons:
Users have complained about intrusive advertisements and memory-hungry processes.
3. SaveFrom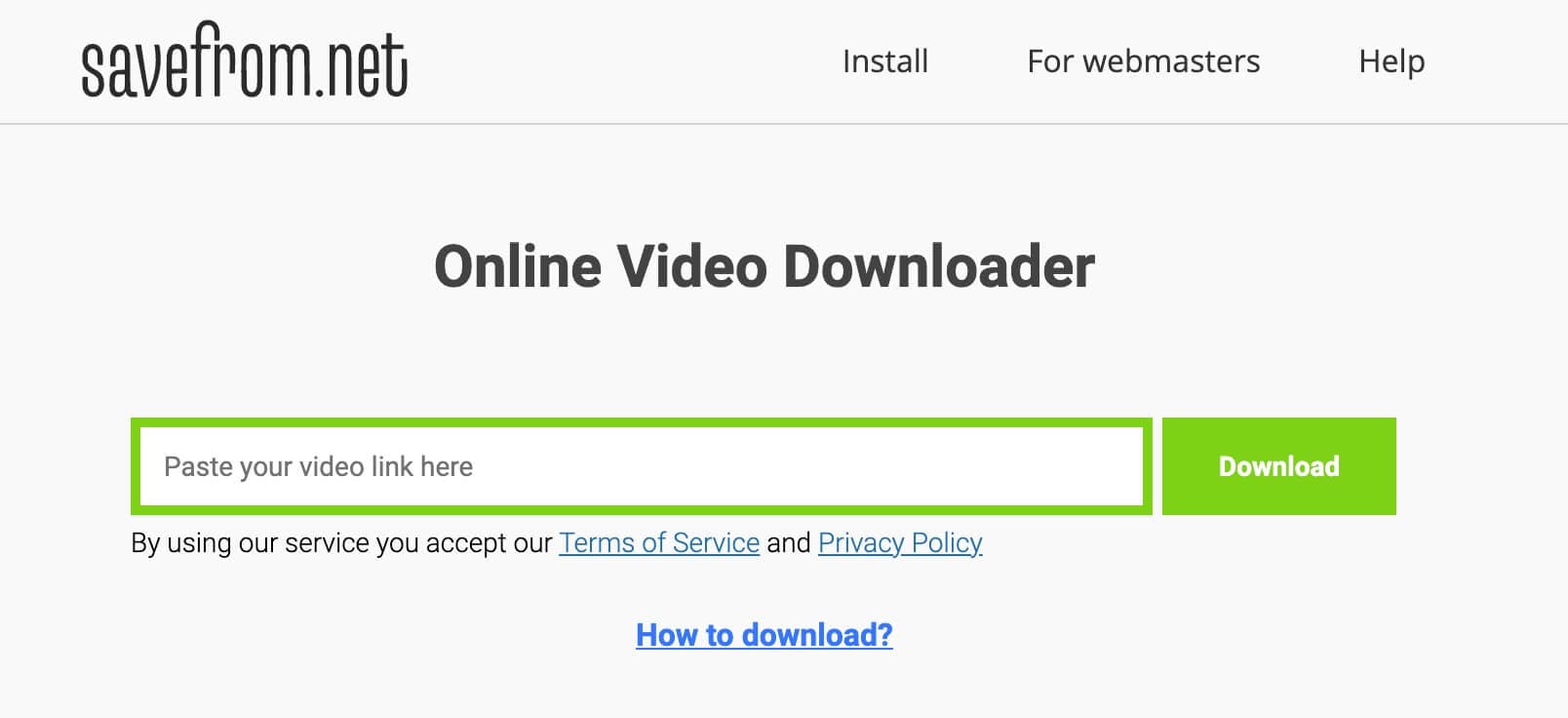 The reason we count SaveFrom among the best Instagram to MP4 converters is due to the fact that the app operates entirely online, but with the accuracy and quality of an installable app. Allowing you to download videos for offline viewing from giants such as YouTube, Instagram, Dailymotion, and several others, SaveFrom will make you fall in love with the one-click design.
All you have to do is copy the URL and paste it into the address bar, and the rest is taken care of by the web app itself, while still allowing you to choose from several different available video resolutions and audio formats.
Pros:
Web-based video downloader, which makes it universally compatible across all desktop and mobile operating systems.
Supports dozens of video-sharing websites and social media platforms.
Simple one-click user interface works even for beginner users.
Cons:
The highest available quality to download is 1080p Full-HD while others like SnapDownloader offer 4K video download support.
4. QDownloader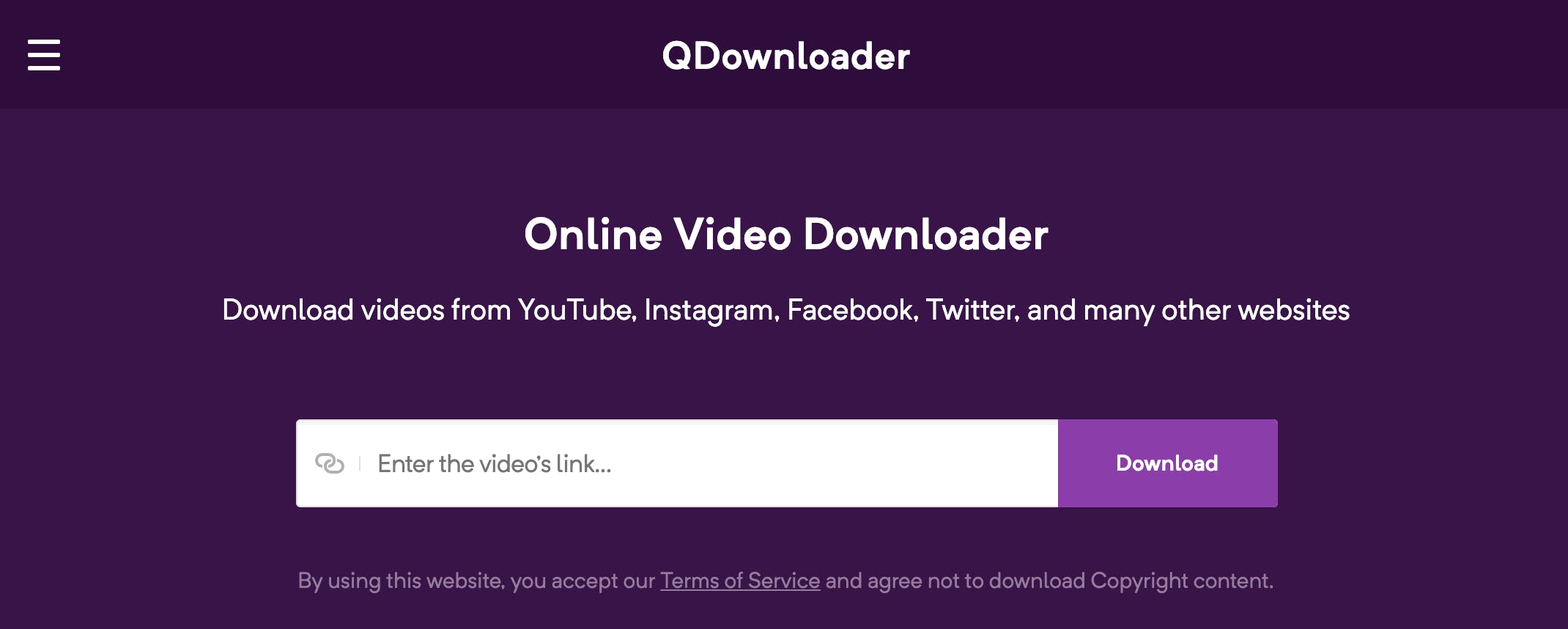 A seemingly fast and user-friendly online video converter to download Instagram videos in MP4, QDownloader is yet another fantastic option to pick from the list. Besides the social media giants, this video downloading tool supports more than 800 different websites, including YouTube, Metacafe, and even Reddit. Offering an intuitive user interface and works like most comparable online downloaders, you don't have to worry about annoying advertisements when it comes to QDownloader.
Pros:
Widespread support for multiple video and audio formats, along with hundreds of websites.
A dedicated Google Chrome extension makes it even easier to download videos from various sources.
Fast operational speeds with barely any wait time involved.
Cons:
No advanced features such as unlocking geo-restrictions and multi-download support.
5. DownloadGram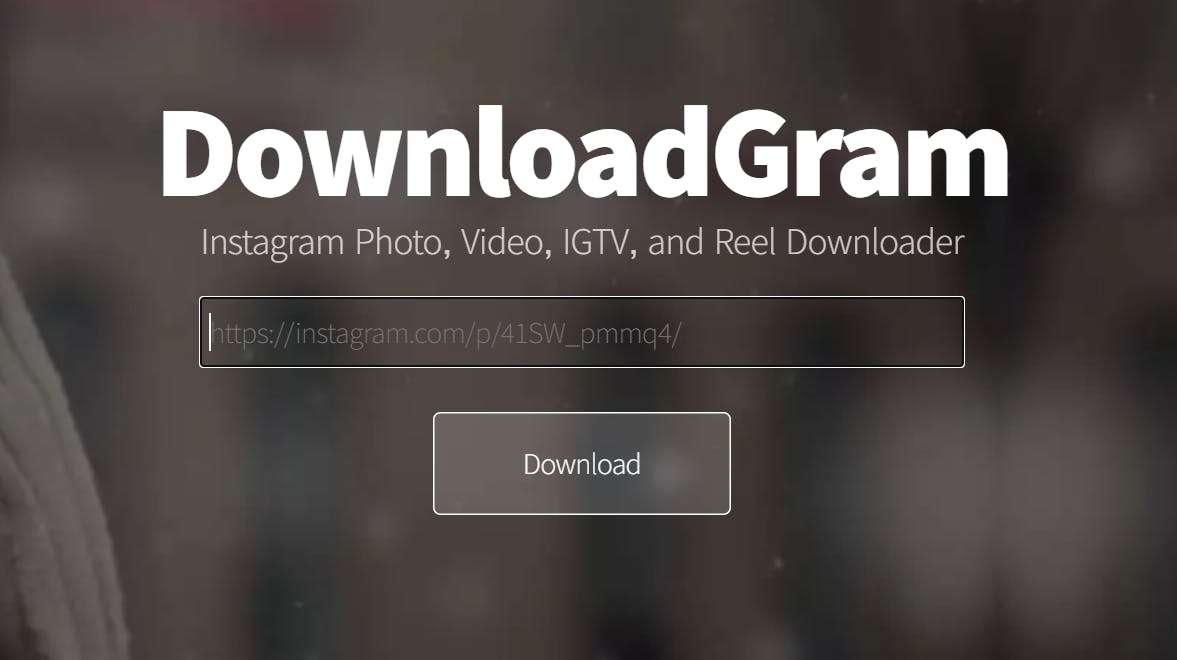 One of the best Instagram Downloader tools that are web-based, DownloadGram is the go-to service for most users when it comes to save Instagram photos and videos. Having a beginner-friendly user interface that feels satisfactory when downloading or searching for videos, all you have to do is copy the Instagram video link and paste it inside the box on the DownloadGram website. While it does skip past most premium features, it does get the job done perfectly.
Pros:
Slick user interface with no advertisement banners to crowd your experience.
High compatibility features that support several video and audio formats.
Downloads Instagram videos quickly and easily.
Cons:
Some users have reported instability with several issues every now and then.
6. 4K Video Downloader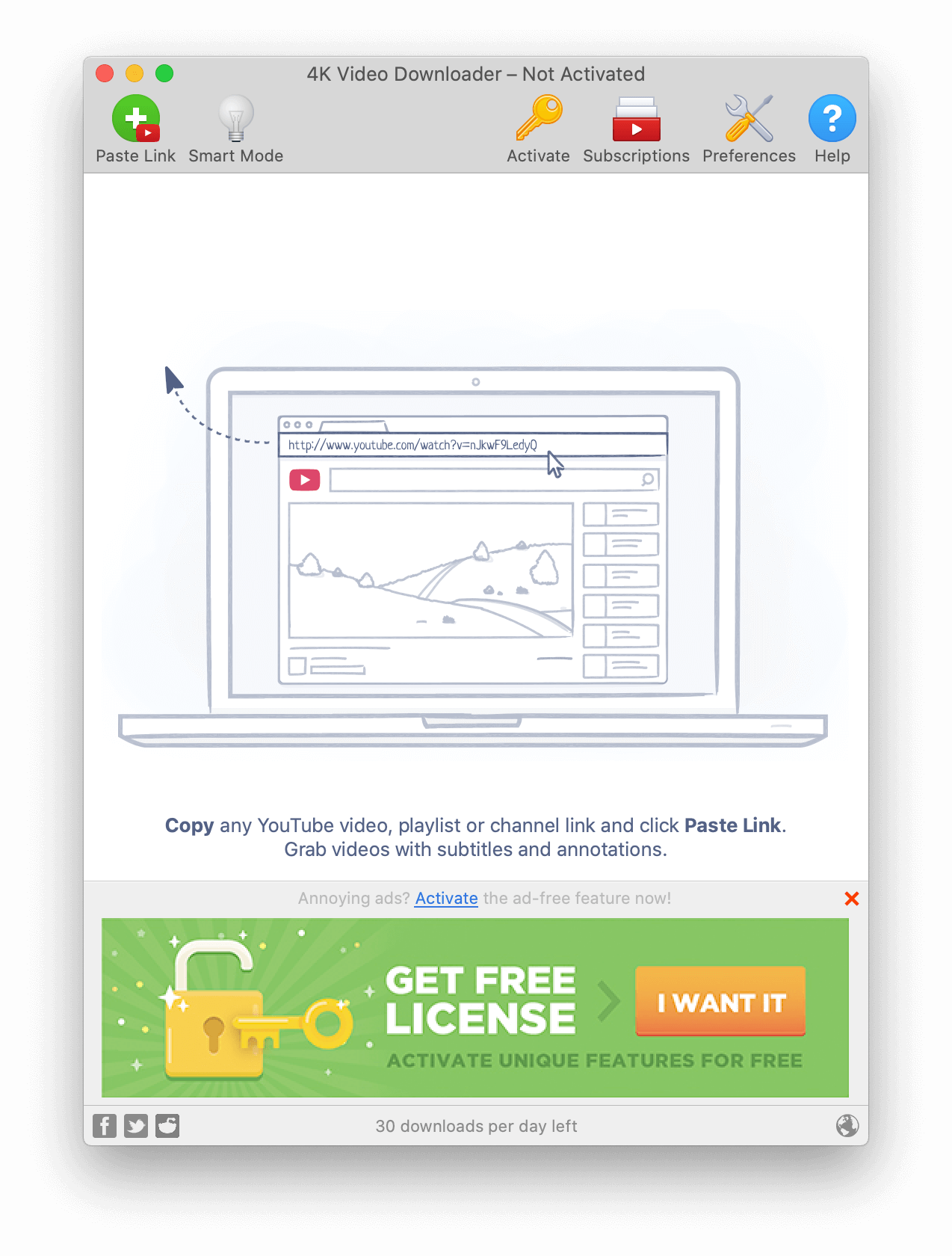 A name among video downloader tools that can never be overlooked, 4K Video Downloader is a helpful Instagram video downloader with a list of extensive features like playlists and channel downloads, all of which are available in 4K resolution. A standout feature of 4K Video Downloader is the ability to extract subtitles and video annotations from all YouTube videos. The app is currently available for Windows and recent versions of macOS and Linux, too, with a free version that can be upgraded.
Pros:
Supports downloading content from hundreds of websites in 4K UHD quality.
Allows you to download multiple videos all at once in batch downloads form.
Extracts subtitles from YouTube videos for transcribing purposes.
Cons:
The free version comes riddled with ads and limited functionality.
7. FLVTO

There is not a short supply of online tools available that allow you to convert Instagram videos to MP4 format, but FLVTO stands above them. The website is designed for a smooth outcome, whether you are trying to download Instagram videos from the web, or convert MP4 videos from the computer into MP3 audio format. We simply loved how simple and direct the user interface is, and with the support of multiple video formats, there isn't much that the FLVTO video converter and downloader cannot do.
Pros:
Web-based video converter for Instagram comes with a quick download process.
Available across all operating systems and also works on mobile devices.
Converts videos saved on the device and online in MP3, MP4, HD, and AVI formats.
Cons:
There are plenty of pop-up ads that take a toll on the user experience.
8. Wondershare UniConverter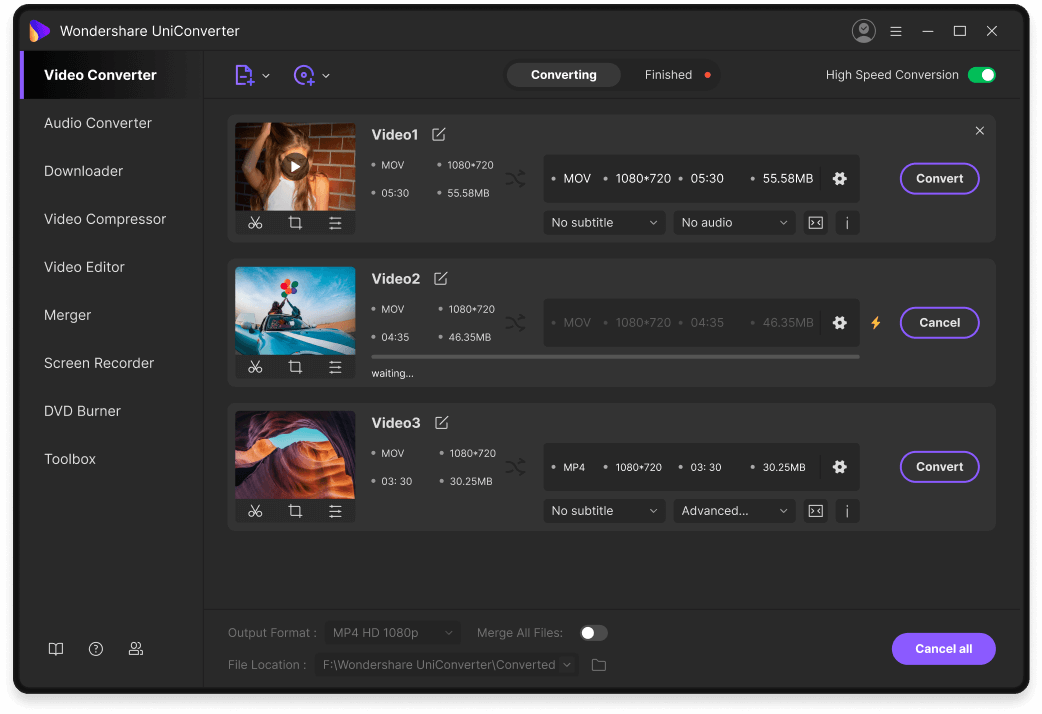 Revered as a unique desktop tool to convert, edit, and download high-definition videos, Wondershare UniConverter is one that you simply can't miss out on. With this Instagram video downloader software, there's no loss in the video or audio quality of the MP4 and MP3 files. Available for free on Windows and Mac OS, the app enables you to watch IGTV videos on your PC or Mac offline with ease and is also helpful in converting videos to other formats such as MOV, AVI, and MKV.
Pros:
A robust desktop app that is built with several video downloader and editing tools.
Manages to retain the original quality of the MP4 video downloaded.
Allows you to convert videos and audios in multiple formats, and lets you download subtitles too.
Cons:
The video downloader software takes up significant processing power.
9. iGram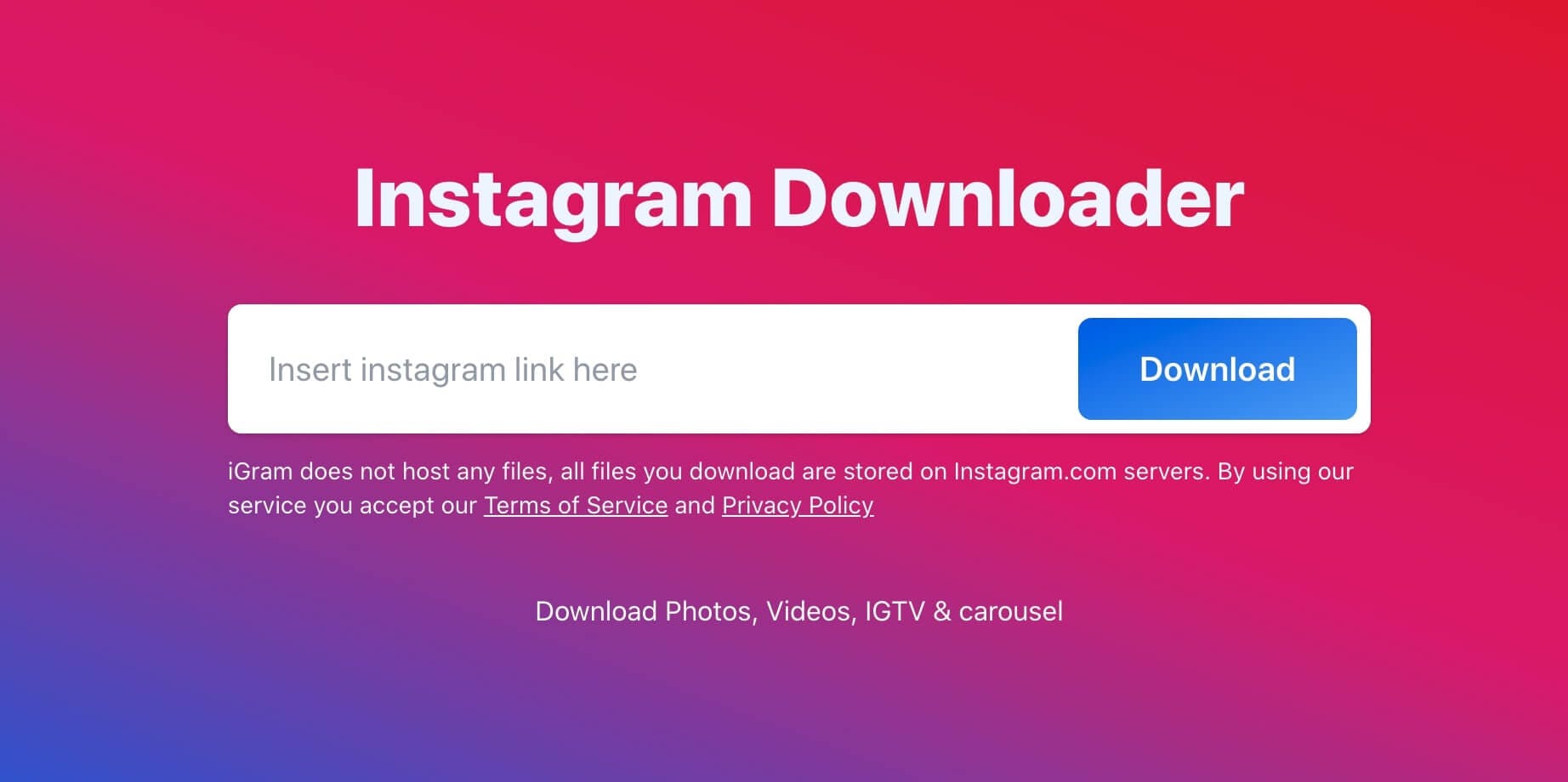 Out of all the online Instagram converter tools that you will find online, only a handful will offer their services ad-free, and iGram is among them. Allowing you to download Instagram videos, photos, IGTV videos, and even Instagram Reels (TikTok alternative), iGram does not cease to impress one bit. While it isn't packed with some add-on features such as bulk video downloading and entire Album downloads, you still get the core ability to download videos instantly.
Pros:
Quick and easy experience in fetching videos from IG without any intrusive ads.
Being a web-based service, you can use iGram to download videos on mobile and computer too.
No limit in place to download Instagram videos one after the other.
Cons:
You don't get the advanced features that some of the other downloaders offer.
10. Freemake Video Downloader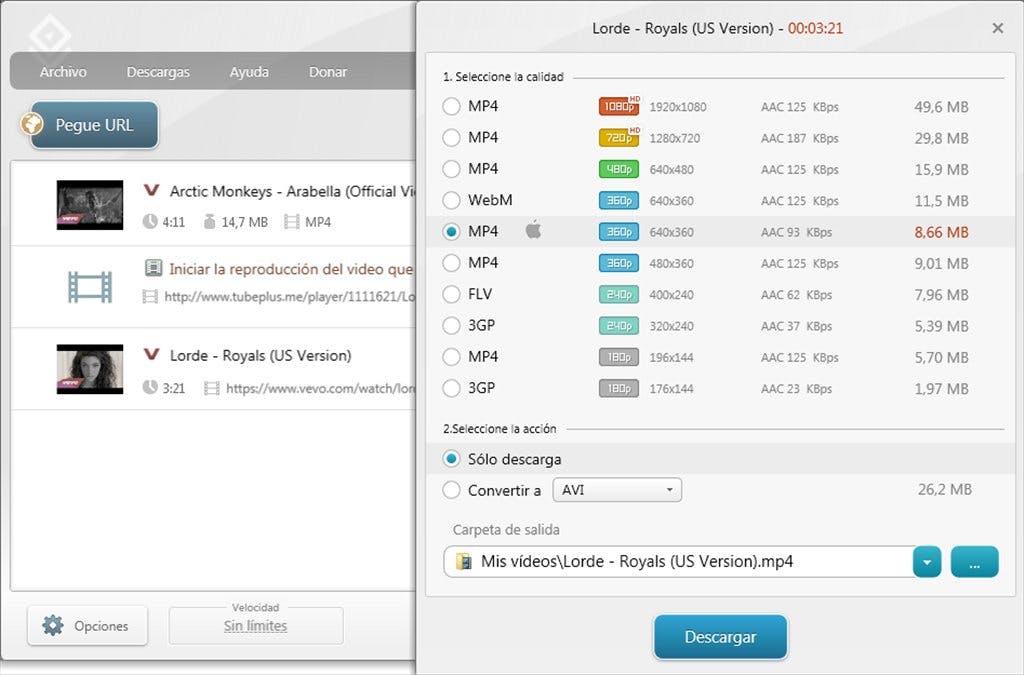 Last on the list is the Freemake Video Downloader, which stands as a great Instagram downloader and has been around for a decade. One of the select few tools available for free to download videos, you can put it to good use for downloading clips from Instagram and more than 1,000 sites. You get a slew of formats in video and audio to choose from, with support for multiple downloads and a straightforward approach to downloading content.
Pros:
One of the oldest and most stable tools online to convert Instagram videos to MP4.
Supports thousands of media streaming and social media websites.
Cons:
A watermark is delivered with every video that you convert using Freemake.
Wrapping Up
The ability to convert Instagram videos to MP4 is a feature that can come in handy at times, since the social media platform does not natively allow you to download and share videos across WhatsApp, email or any other means of communication. Since most of the content on Instagram does not exceed 1080p Full-HD quality, the ability to download 8K video content such as that of SnapDownloader doesn't really come into play.
Either way, we have chosen only the best of the best Instagram video downloader apps available out there for you to check out, so do let us know which one works well for you.