Finding the best Facebook to MP4 converters out there can be quite a hassle, but we're here to make it all easier. Here's a detailed list of the best apps and online services to convert Facebook videos to MP4.
The digital age we live in, demands everything at the fingertips, whether it is your delivery from Amazon or your restaurant order that's out for delivery. The digital revolution has been most beneficial to the media industry, which has gone completely online with premium streaming services such as Netflix and Amazon Prime Video. Apart from the paid streaming service out there, the free media streaming channels such as YouTube and Dailymotion have been at the forefront of ad-based online entertainment.
The popularity of media content has catapulted the overall usage of the World Wide Web for streaming significantly, and social media giants such as Facebook and Instagram have also joined the party. To harness the viewership from online videos, Facebook released the Facebook Watch video sharing platform, designed to compete with the likes of YouTube. While this does help Facebook and content creators generate money, it helps you – the viewer – enjoy free high-quality content anywhere, anytime. However, Facebook Watch requires you to be connected to the internet 24/7 to enjoy the videos shared on the platform.
SnapDownloader
SaveFrom
VideoProc
ClipConverter
Freemake Video Downloader
CatchVideo
ClipGrab
4K Video Downloader
GetFVid
aTube Catcher
We have listed our top 10 picks for the best apps to download Facebook videos in MP4, and here's a detailed guide on what they offer.
10 Best Facebook to MP4 Converters
#1. SnapDownloader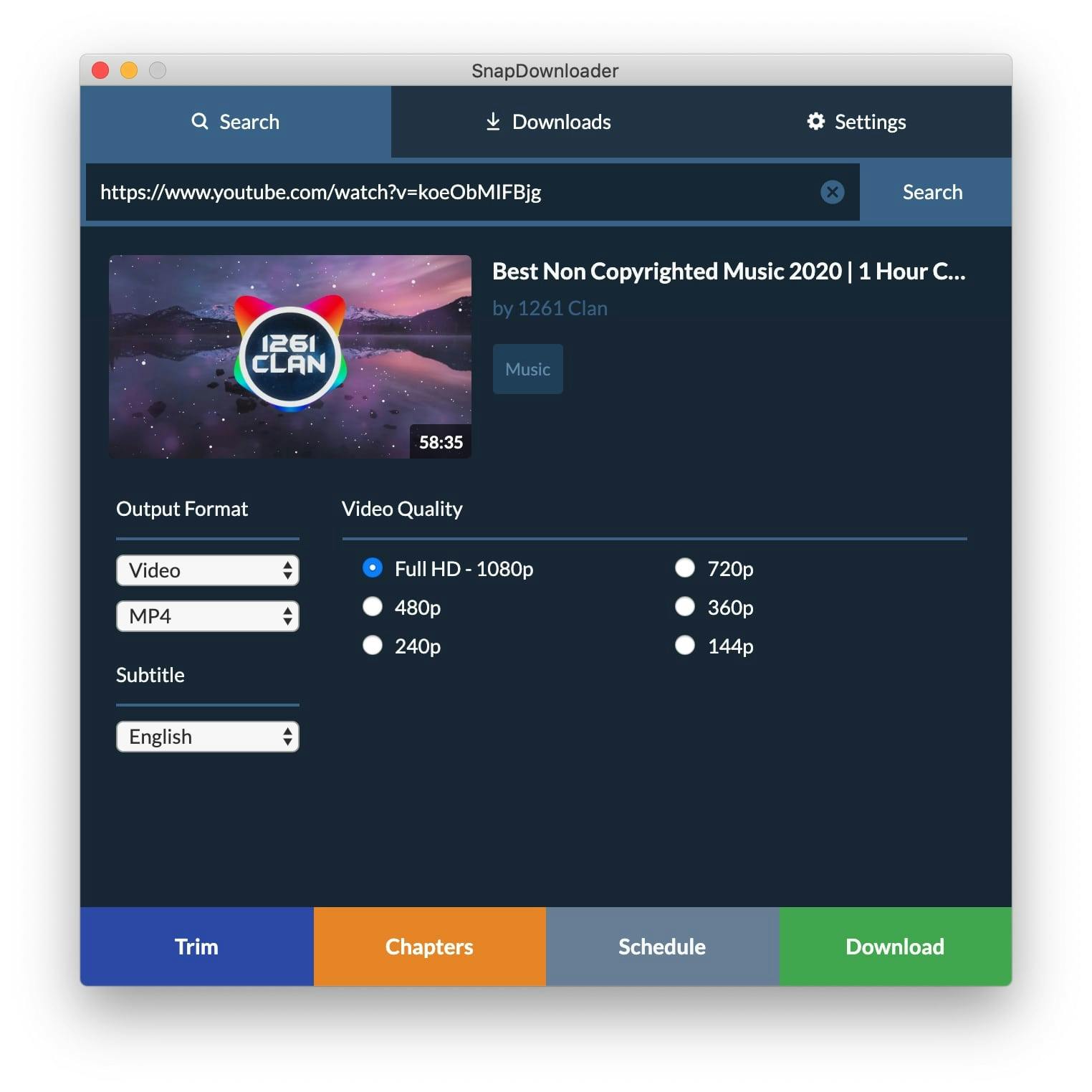 One of the most diverse Facebook video downloader apps you can find out on the internet, SnapDownloader joins the party as a one-stop-shop for all your Facebook videos. Available for multiple platforms, this particular online media downloader tool is designed with proficiency and simplicity at the same time. Supporting hundreds of websites apart from Facebook, SnapDownloader packs a powerful punch with some of the most versatile features you can find. Whether you want to download multiple Facebook videos all at once or convert Facebook videos to MP4 from region-locked content creators, all you need is SnapDownloader by your side.

Get SnapDownloader
Pros:
Designed with beginner users in mind with an easy-to-use UI.
Supports every major video streaming website on the World Wide Web.
Comes with a video editor built right into it.
A bloat-free and ad-free experience for downloading videos.
Convert Facebook videos to MP4 and MP3 on the fly.
In-built video trimmer.
Cons:
No SnapDownloader app support for Android or iOS devices.
Also read: The Best Twitch VOD Downloaders
#2. SaveFrom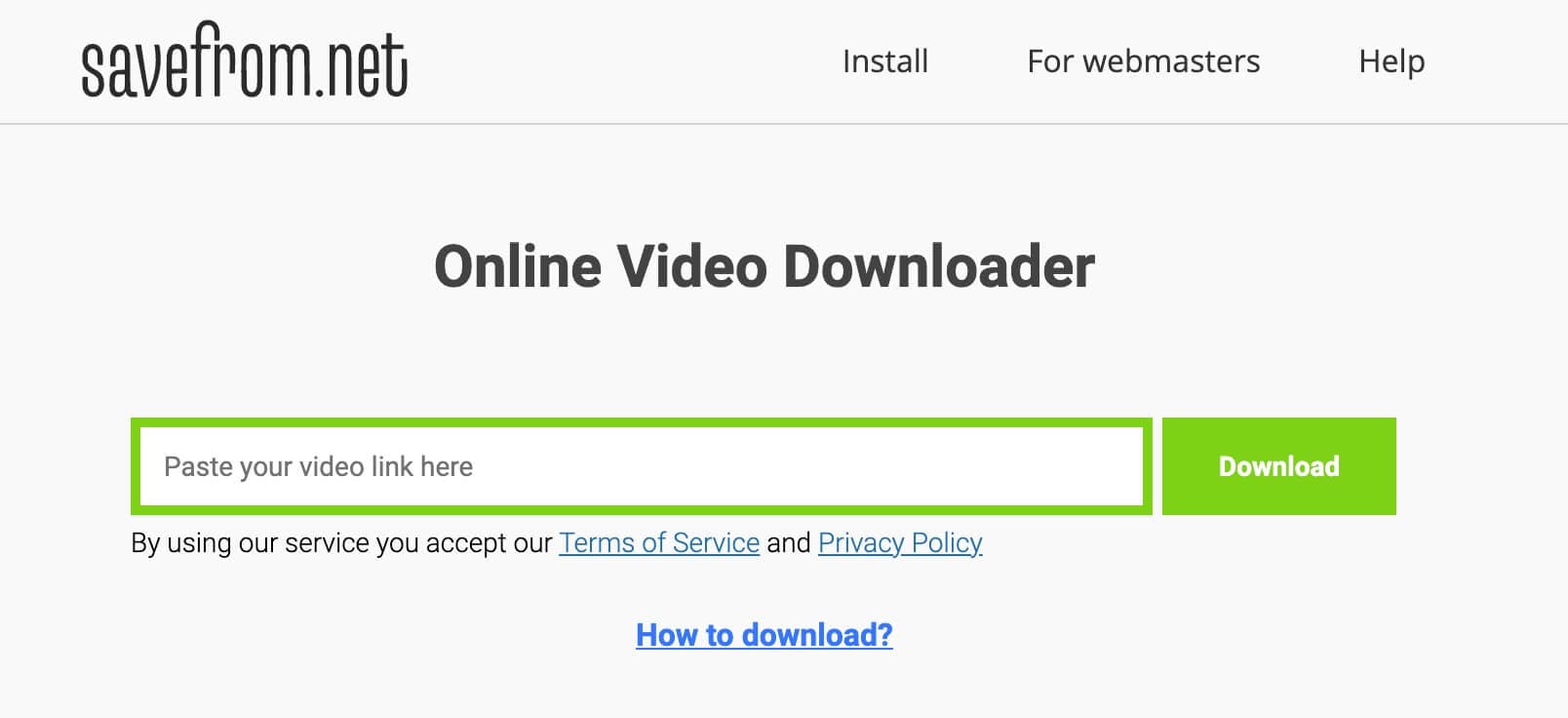 If you ever wanted a way to convert Facebook videos to MP4 or even MP3 for that matter, and want to do all of it online, SaveFrom is the way to go. Among the select few online video downloaders that do not entirely destroy the user experience with advertisement banners, the simple search field allows you to paste the video link and have it ready to download in no time. Downloading the videos in 4K HD quality isn't a feature that SaveFrom offers, and the ability to download multiple videos is missing, but if you are on the lookout for a video downloader that is quick and easy to use right away, look no further than the SaveFrom Facebook video downloader.
Pros:
The extension supports multiple browsers and even mobile web browsers.
Download videos from Facebook in multiple resolutions.
Fast downloads with no advertisements.
Supports every major video sharing and social media platform.
Cons:
The user experience can feel dated in comparison to the newer video downloaders.
No premium features such as built-in proxy or multiple downloads support.
#3. VideoProc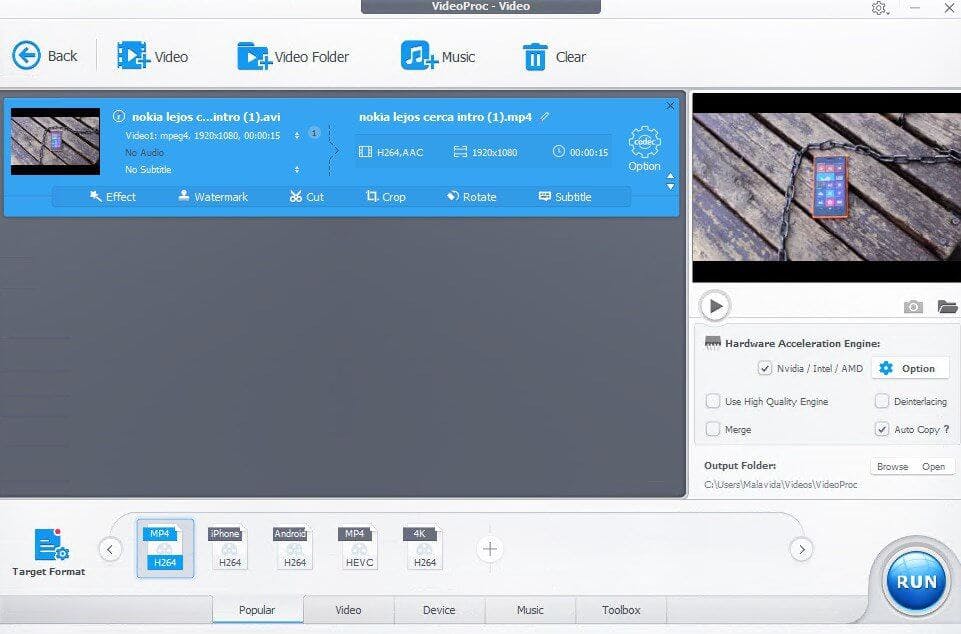 Supporting hundreds of video streaming websites and applications, VideoProc provides a significant number of features built right into it. Aside from being a powerful Facebook downloader and video downloader, it comes with editing features like cropping, transitions, subtitles, and so much more. There are several conversion formats to pick from in this Facebook converter app, and you can also convert videos for compatibility with specific mobile devices. VideoProc even has a screen recorder tool baked into it to produce screen recordings of your PC screen and save videos to the system.
Pros:
Comes with a full-fledged video editor built right into it with screen recording.
Support for multiple file formats across multiple devices.
Support for Facebook, YouTube, Instagram, and hundreds more.
Cons:
The feature-heavy app can be overwhelming for some beginner users.
#4. ClipConverter

Another excellent online Facebook downloader, ClipConverter offers an easy-to-use tool to download online videos in mere seconds. This online tool works with almost every website out there, including popular streaming giants YouTube, Facebook Watch, and Metacafe, and others. By making video downloading an effortless and straightforward process, ClipConverter provides a list of diverse features that support downloading high-resolution Facebook videos instantly.
Pros:
Web-based Facebook to MP4 video converter that works with other platforms too.
Supports downloading multiple videos at once from different sources.
A built-in converter that lets you extract audio from the Facebook videos.
Completely free to use with browser add-ons supported.
Cons:
The video downloader web service is riddled with advertisements.
#5. Freemake Video Downloader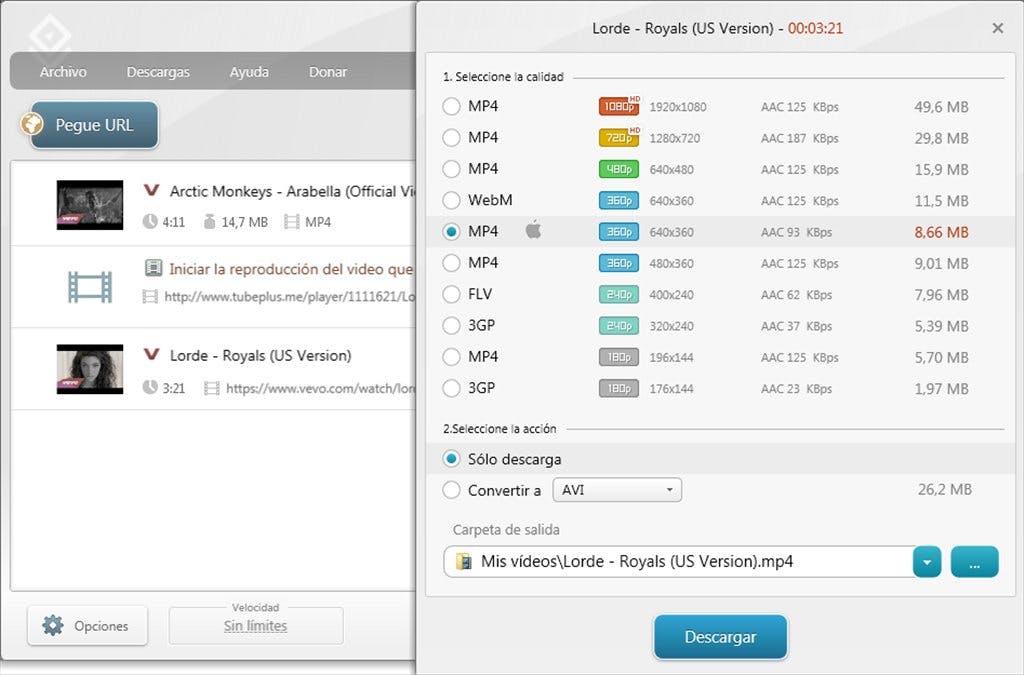 Being around for more than a decade, Freemake Video Downloader is an excellent Facebook video downloader that thousands of users have vouched for. Being a free video downloader that you can use to fetch video clips from Facebook and thousands of other sites in various video formats, Freemake Video Downloader does not make it all too complicated for layman users. By keeping the user experience simple, Freemake allows you to start the download by pasting the video's link, choosing the preferred quality, and pressing the download button to begin.
Pros:
An old-timer in the video downloader space with a stable build.
Simple one-click download process with no intrusive ads.
Support for batch downloads and direct sync with Google Drive and Dropbox.
Cons:
The free version forces a watermark when you download Facebook videos in MP4.
#6. CatchVideo

While not offering the more cutting-edge user interface you will find for video downloaders out there, CatchVideo manages to be one of the most comprehensive tools you can find. Built initially to download just YouTube videos, the web-based Facebook video downloader now extends its support across Facebook, Vimeo, Dailymotion, and several more. The features are rudimentary and there is no support for multiple videos, but it does get the job done.
Pros:
Browser-based video downloader with even an Android app version to download videos.
Support to convert Facebook video to MP4 and MP3 instantly.
Paste and go user interface makes it easy to use even for beginner users.
Cons:
Support for video platforms is limited.
The user interface is dated in comparison to the others on the list.
#7. ClipGrab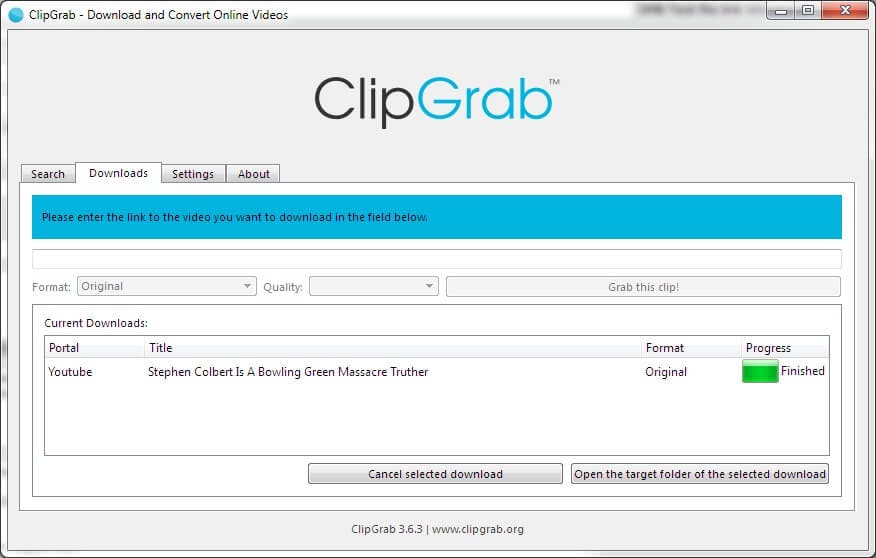 Another veteran in the world of Facebook video downloader apps, ClipGrab has been around for years now and is beloved by users for all the right reasons. Supporting several different videos as well as audio formats for you to convert web videos into, the app allows you to download videos from Facebook, YouTube, Instagram, and several hundreds of other popular platforms with the click of a button. Being one of the only video downloader tools that work across Mac, Windows, and Linux, it offers far more flexibility than any other contender out there.
Pros:
A bare minimal user interface takes no time to get used to.
Built-in audio and video converter let you work with MP4, MP3, FLV, and other formats.
Support for multiple operating systems makes it the most versatile desktop video downloader.
Cons:
Not as hassle-free as some of the web-based video downloaders for Facebook.
#8. 4K Video Downloader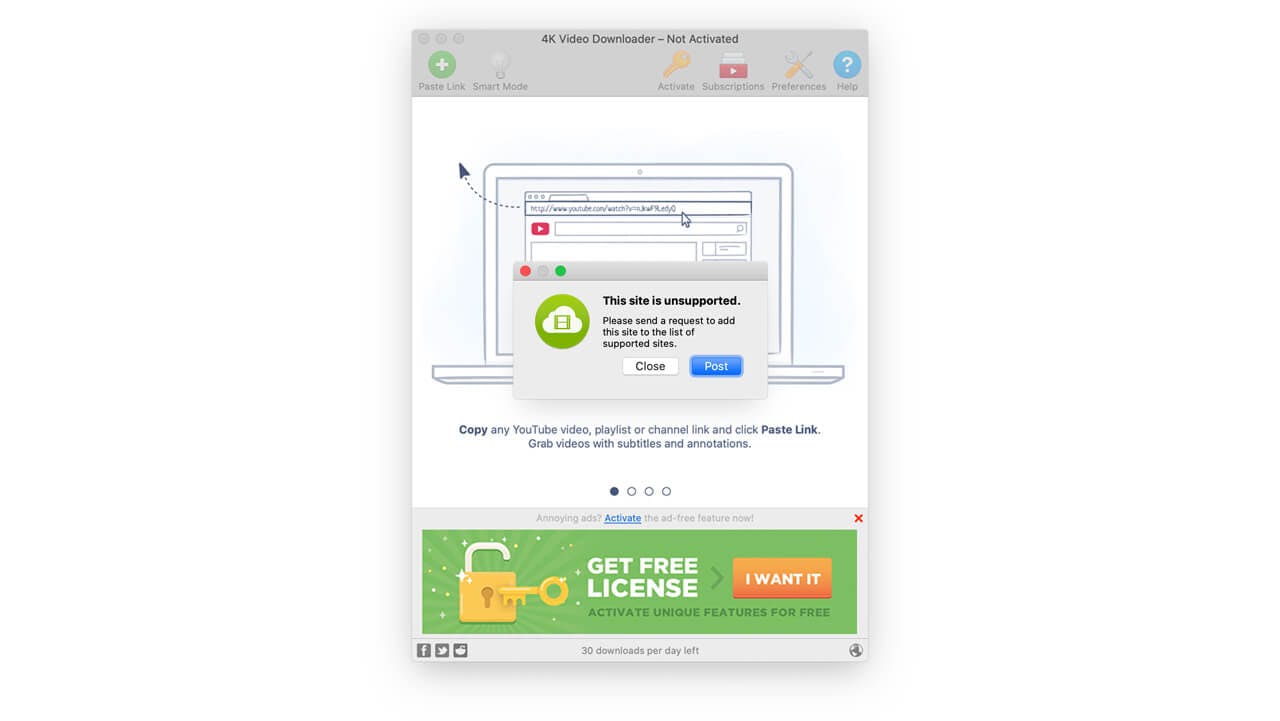 The 4K Video Downloader comes from the developers of high-grade video and audio processing software and deserves a spot on this list. The Facebook downloader is compatible with every major operating system out there, including Windows, Mac, and Linux Ubuntu. The Facebook converter tool allows downloading videos from not just the social media website, but other websites too. From standard definition video clips to newer formats of videos, the 4K Video Downloader tool allows users to fetch 3D and 360 videos as well.
Pros:
Supports converting videos and audio files in every major format.
Download videos from several hundred video sharing and social media formats.
Easy to use UI which makes it quick to learn for beginner users too.
Cons:
The best features of the app are locked behind a paywall.
#9. Getfvid

If you are looking for a quick and easy online Facebook video downloader tool, GetfVid is among the best Facebook to MP4 converters you can pick up. The slick user interface almost matches the social media network website in terms of the color scheme and design, and with the click of a button, you can start downloading videos from Facebook directly to your computer. Being a web-based tool, it is cross-compatible with other platforms and is also available as a Chrome extension.
Pros:
Web-based video downloader is effectively one of the easiest downloaders to use.
Supports every major video format with fast downloads.
Drag and drop functionality elevates the user experience.
Cons:
There are some stability issues that need to be addressed by the developers.
#10. aTube Catcher
At the end of the list, you will find aTube Catcher, which may have been marketed as a YouTube videos downloader, but works just as well for Facebook and others. Built with a rudimentary design that may not be up to date, but still gets the job done, aTube Catcher comes packed with features such as video downloader, converter, screen capture, music downloader, video resizer, and more.
Pros:
Simple one-click download process with fast download speeds.
Editing and video resizing features built into the Facebook downloader tool.
Cons:
Other third-party software comes bundled in with the installation files.
Wrapping Up
So, what do you do when there isn't a reliable internet connection around but you still want your daily dose of entertainment from the platform? That's when the Facebook downloader apps come into play to get things done. Do let us know which one you consider the right pick to get the job done.