As we all know, Twitch is an online streaming platform where people show their talent, skills, and passion for games related to different genres.
Most often, we like a video or a stream on the platform which we want to download and share with our friends on different social media sites like Youtube, Facebook, and more. But, the problem is how to download VOD videos from Twitch and save them on your device without following a complicated process.
Well, you have come to the right place as this guide will show you one of the best methods to download Twitch videos instantly and easily using the best video downloader software in the market known as SnapDownloader.
Before diving into the download process, let's take a glance at what SnapDownloader is and the features it provides to the users.
Downloading Videos with SnapDownloader
SnapDownloader is a video downloader software compatible with both macOS and Windows; it allows you to download videos from more than 900 websites such as Youtube, Twitch, Reddit, Facebook, Vimeo, and many more. Not only that, it can even download and convert your desired video files into formats like MP3, MP4, WMA, AVI, AAC, and many others that are compatible with your device,
Also read: How to download YouTube videos in 60 fps HD
One of the unique things about SnapDownloader is that it allows users to trim any online video and download that specific part of the video that they like; no other software provides their users with a feature like this. To give you an example, let's say you are watching a stream on Twitch, and you liked a specific part of it. Instead of downloading the whole video, you can just download that part of the video which you liked.
When it comes to the quality of a video, you do not have to worry about a thing because it can download videos in 8k, 4k, HD, QHD, 1080p HD, and many other resolutions as well.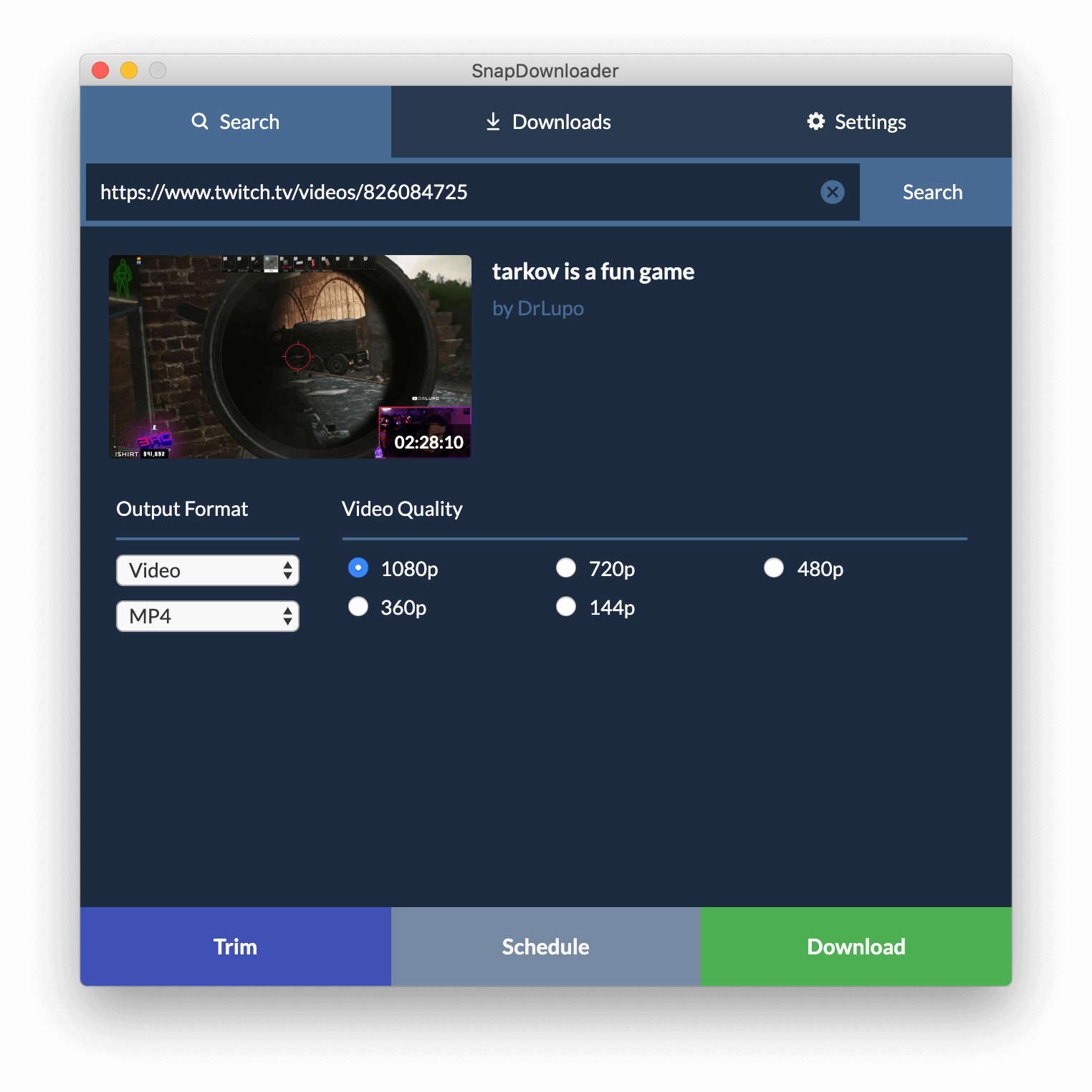 How to Download Twitch Videos using SnapDownloader?
Step 1: The first thing you need to do is to download the SnapDownloader app and install it on your PC or Mac by following the installation wizard.

Try SnapDownloader for Free
Step 2: Now, go to the Twitch website and copy the link to the video that you want to download on your device. To give you a more clear perspective, you need to copy the link which is given in the address bar of your browser.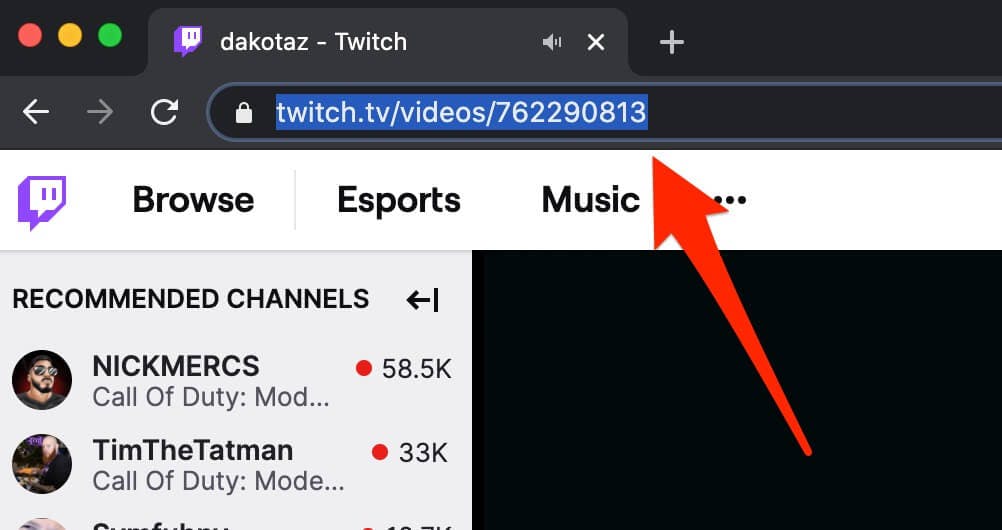 Step 3: After copying the link, open SnapDownloader and paste the link in the search box present at the top of your screen. Within a few seconds, you will see a list of the available video resolutions and output formats.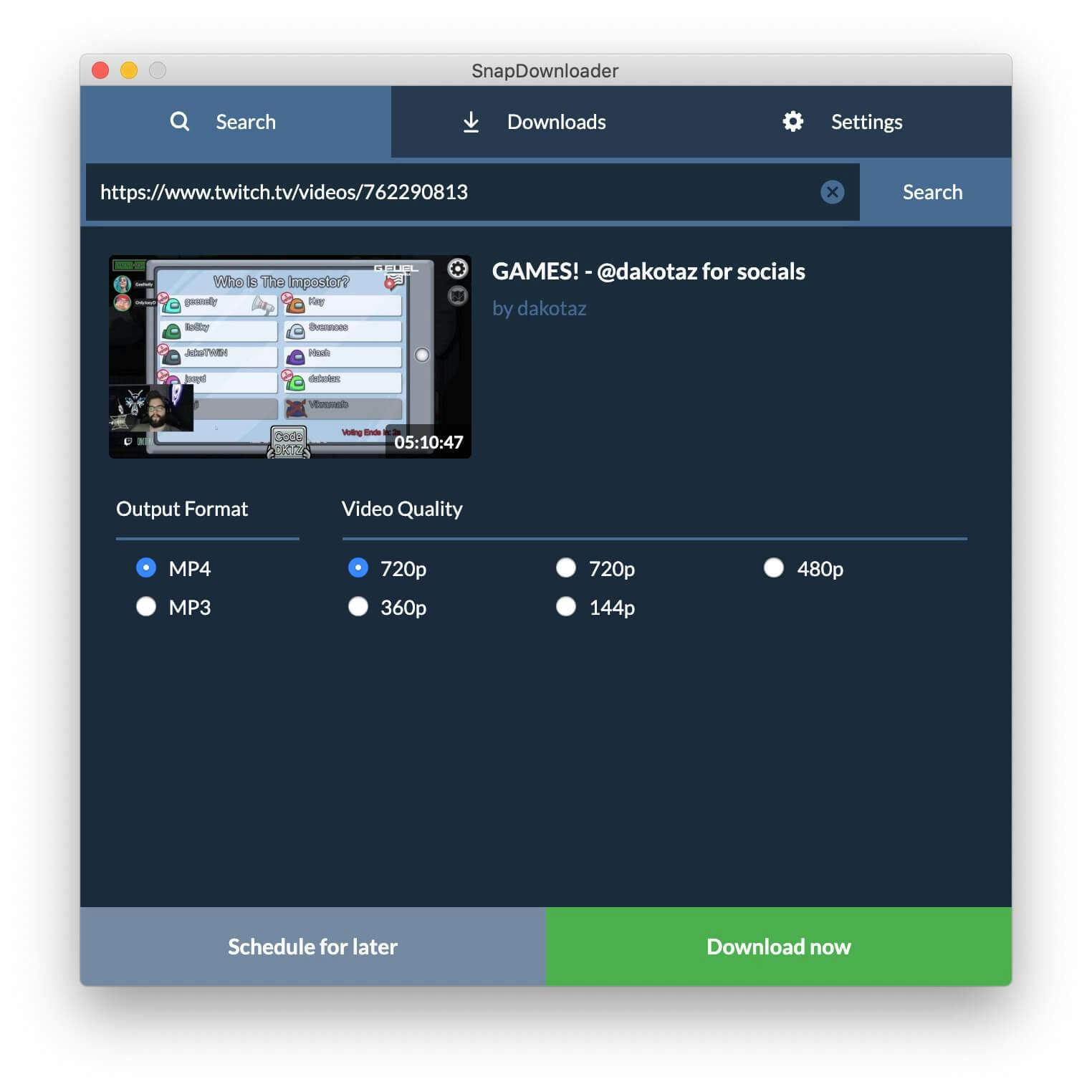 Step 4: Select the output format and quality that you want. For instance, you can choose the output format as MP4 and select 1080p as the video resolution.
Step 5: After you are done selecting the quality and output format, click on the Download button, and wait for the process to be completed. If you want to see the progress of the files you are downloading, you can go to the Downloads tab and see how much time it will take to download the desired video. Once the download is complete, you can watch the video by double-clicking on it.
This is it; you have just learned the process to download twitch videos using the Twitch downloader tool offered by SnapDownloader.
Wrapping Up
You will indeed find a lot of software that will help you download VOD videos from Twitch, but all of them fall short or claim things that they can't fulfill in the end. Fortunately, that is not the deal with SnapDownloader because it offers you features that can help you download twitch videos or any videos for that matter in a few seconds.
We are hopeful that this guide will help you download your desired twitch videos or streams from the platform without any trouble. Still, if you are not sure about the process, you can download the SnapDownloader app by clicking on the link given at the end of this guide and enjoy a free one-day free trial with full access.