Hoping to enjoy some action-packed entertainment by downloading YouTube videos in 60 FPS HD quality? Here's everything you need to know about fetching videos from YouTube videos running on the high frame rate and why SnapDownloader is your best shot at doing so.
Over the years, we have come to expect a lot more from YouTube than just funny cat videos and a compilation of blooper videos. Now that Google is finally running the monetization train swiftly on the video streaming platform, the number of content creators has grown steadily into millions, with each and everyone competing to woo the subscribers. Whether you're looking at nomads who travel across the globe and shoot their experiences for the world to see or reputed sports TV channels on YouTube streaming the latest playoff season in Full-HD quality, there is no limit to the kind of video content you can get on YouTube these days.
It wasn't until 2015 that YouTube decided to take things to the next level, bringing 60 frames per second to the desktop version of the video streaming service. Ever since then, YouTubers of the gaming genre, adventure and lifestyle vloggers, and cinematic video producers have used the 60 FPS video feature of YouTube to its maximum potential. Fortunately enough, you can now watch videos on the YouTube Android and iOS app in 60 frames per second too, and all you need to do is switch the video quality to 60FPS for it. But what about the times when you want to enjoy the HD video experience on your computer without being tethered to an active internet connection all the time?
Why Download YouTube Videos in 60 FPS HD Quality?
Although science suggests that the human eye is capable of capturing around 150 frames per second, the modern video standard has been restricted to 30 FPS for most of the millennia. The realistic view of the world is usually around 24 – 30 FPS, which is why most video content is shot in the same format. However, with the advancements in videography and the quality of entertainment, we enjoy today through sports, action, and adventure genres, 60 frames per second is increasingly becoming common. While 30 FPS videos are preferred for slow-motion effects in films and cinematographic effect, 60 FPS is mostly confined to high-paced video content, which is why several YouTube videos are available in 60 FPS HD 4K format to let you make the most out of your entertainment experience.
Also read: How to Cut YouTube Videos?
Why Pick SnapDownloader to Fetch 60 FPS HD YouTube Videos?
YouTube and other video streaming platforms do offer plenty of conveniences when it comes to playing videos on the fly. While the availability of millions of videos at the click of a button is a great advantage, it certainly isn't big enough for you to forget the fact that an active internet connection is needed to play YouTube videos at all times. To counter this limitation of the web version of YouTube, several video downloader services have sprung up, but most of these don't have the extensive features you may be looking for.
For instance, the ability to download videos from YouTube in 60 FPS HD is not available on most service providers, and this is where SnapDownloader sweeps in to save the day. When it comes to fetching 60 frames per second video content, SnapDownloader goes all out with support to download even 4K UHD videos in 60 FPS, while leaving room to downgrade the video quality while still maintaining the steady frame rate of 60.
How to Download YouTube Videos in 60 FPS HD
Now that you've understood that SnapDownloader is among the select few video downloaders out there, here's how you can use it.
Step 1: Download and install the latest version of SnapDownloader on your Windows PC or macOS.

Try SnapDownloader for Free
Step 2: Launch your web browser and head to YouTube website. Find and open a 60fps video.
Step 3: Right-click on the video window and select Copy video URL, or simply copy the URL in the browser's address bar.

Step 5: Launch the SnapDownloader app on your computer and paste the YouTube video URL in the Search field.
Step 6: From the list of options below, select the Video Quality with (60 FPS) marking next to it and press the Download button.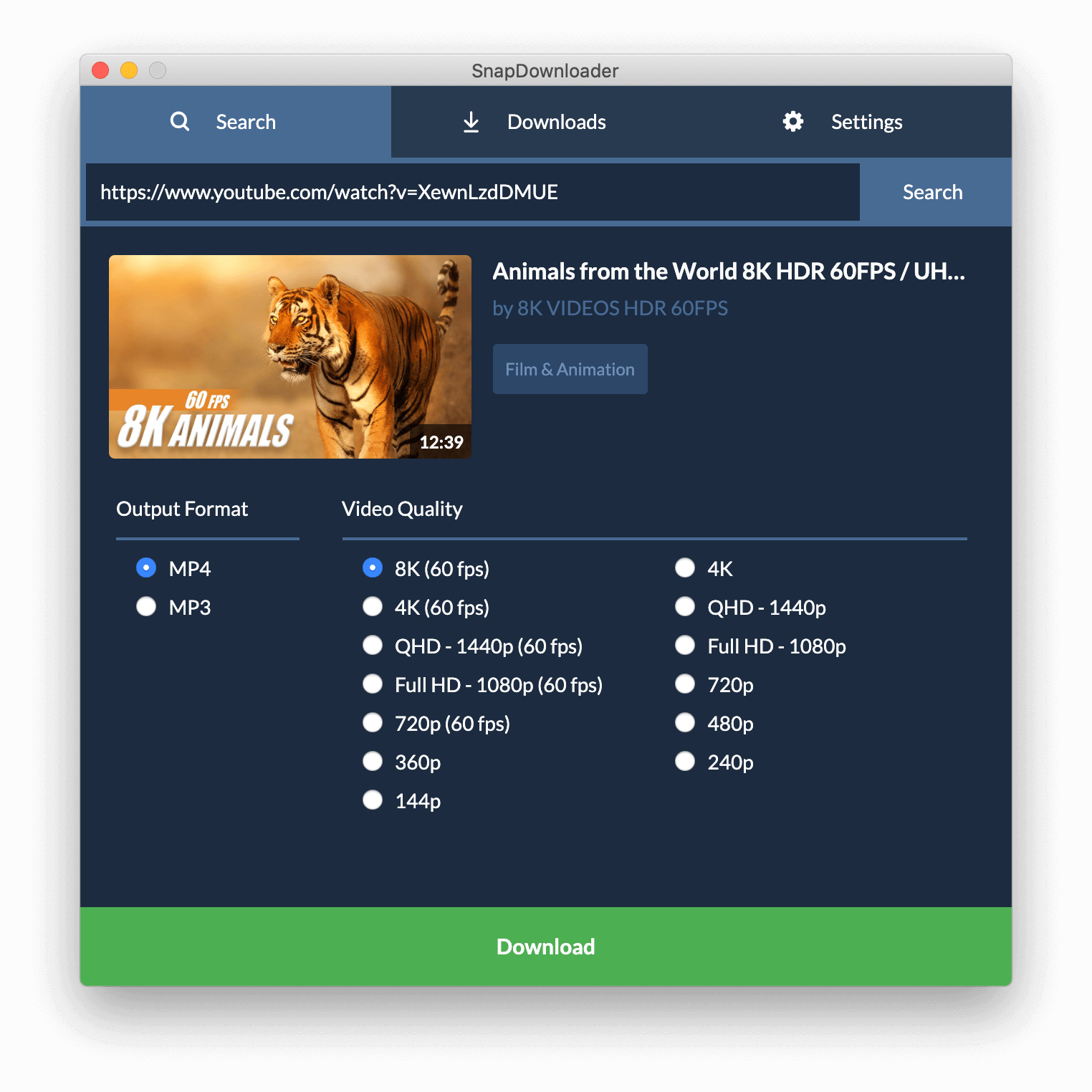 Step 7: Wait for the download to complete, during which you can see the progress bar and launch the video directly once it has been downloaded.
Note: Depending on the video quality you have selected and the speed of your internet connection, it could take a few minutes for the video to be downloaded.
Features of SnapDownloader
SnapDownloader offers the option to convert video into MP3 audio format for creating playlists, audiobooks, and more.
Apart from YouTube, the downloader covers all the famous video sharing platforms that total up to 900+ websites.
The video downloader is built with the features to download 8K content at 60 frames per second, along with smaller formats supported too.
SnapDownloader has multi-platform support for both Windows and macOS systems.
The downloader brings an add-free experience right from the get-go, with a money-back guarantee.
SnapDownloader can download multiple videos up to 15, all at once, saving hours of time at a stretch.
A simple lookup on Google will bring you a hitlist of video downloader options that claim to be the "best" out of all the rest. However, this is hardly the case when you consider the bombardment of advertisements, poor user interface, and limited video quality they let you download videos in. Almost none of the online YouTube video downloader services we came across were able to download YouTube videos at 60 frames per second, which is why SnapDownloader is an obvious pick for anyone who wants more.
Did you, among thousands of other satisfied customers, find SnapDownloader video downloader as the most reliable option to download YouTube videos in 60 FPS Full-HD? We'd love to hear from you in the comments section.