Wondershare UniConverter is an all-in-one software geared toward content creators. Although not the best solution for downloading videos, the software provides so much in terms of extra features.
In this article, we'll deeply dive into what UniConverter is, its features, pricing, pros and cons, and whether it's worth buying.
What is Wondershare UniConverter?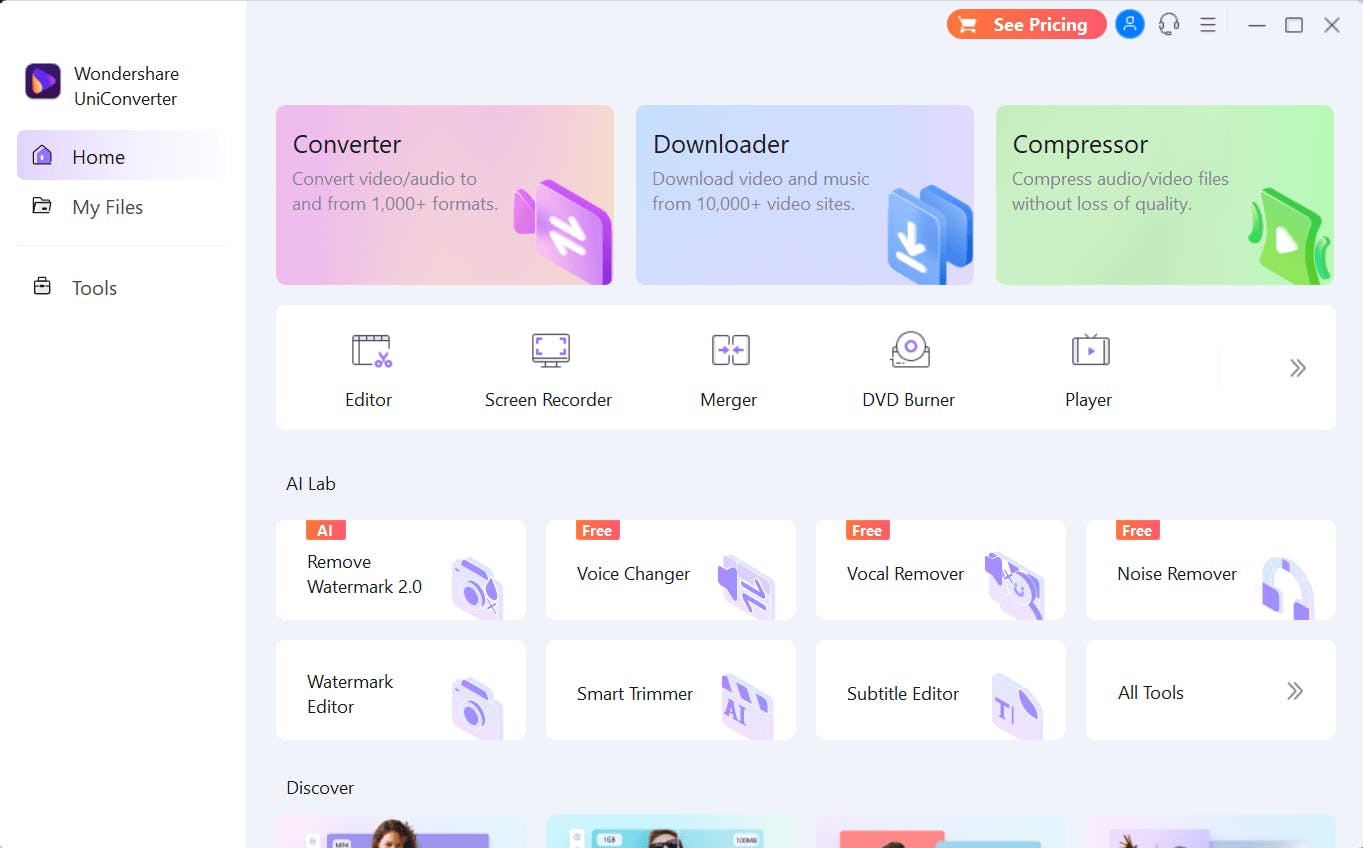 Wondershare UniConverter is a comprehensive software suite that provides the most value for content creators. It's packed with many tools in a single product that helps you with various tasks, including downloading videos, converting files, removing watermarks, editing videos, compressing files, and more.
Here's the complete list of tools available in the software:
Video compressor
Video downloader
Video editor
Video recorder
File converter
CD & DVD burner
Merge multiple video files
Video player
Speech to text
Noise, Vocal, & Watermark Remover
Subtitle editor
Background removal
GIF Maker
File transfer
One of the most used features of this software is the video downloader. Since UniConverter is a jack of all trades, it lacks superiority when downloading online videos. For example, the quality of the videos may be limited to 1080p, while many other software, such as SnapDownloader, support up to 8K video quality.
Wondershare UniConverter Features
1. File Conversion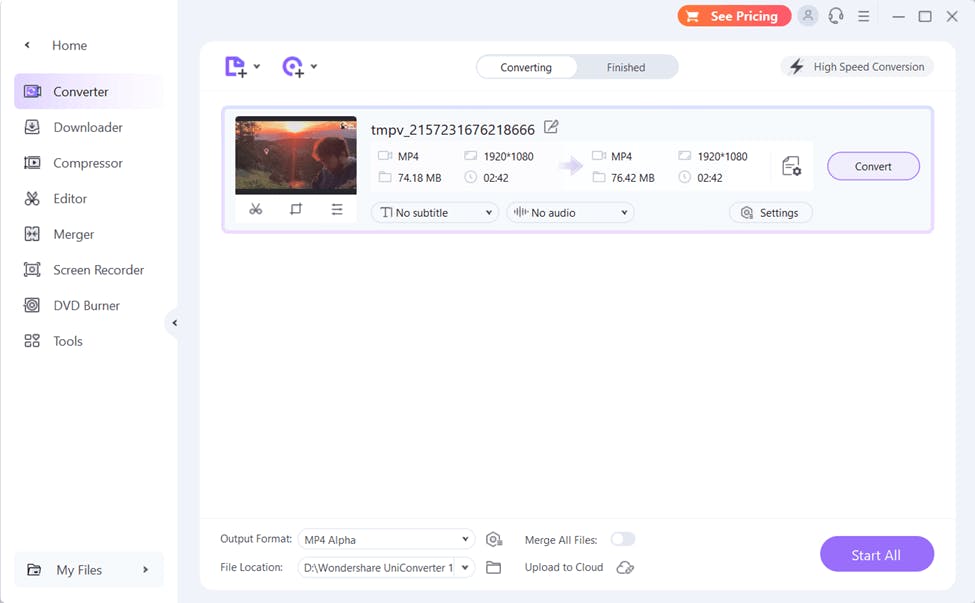 File conversion is one of the platform's best features. A user can choose between 25 video formats and 16 audio formats. You can also select between 12 different devices.
Although the basic process is straightforward, you have lots of options at your disposal. For example, you can add audio and subtitles and change the encoder, resolution, bitrate, and frame rate. There are also options for trimming, cropping, and adding effects to the file.
Given that there are so many modifications, bulk conversion can be a nuisance. Luckily, you can create presets that would allow you to use the same default settings over and over again.
2. Video Downloading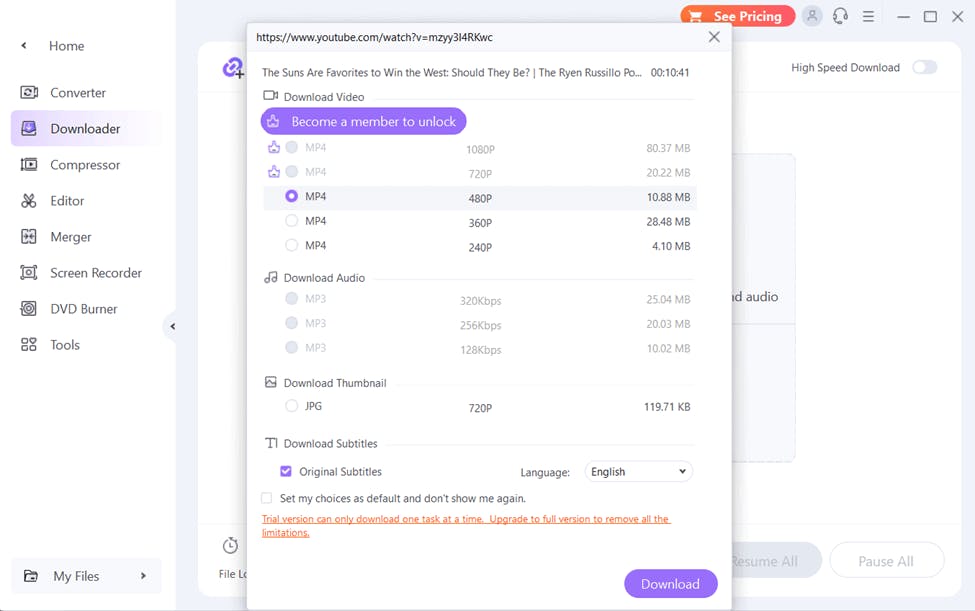 As mentioned, we weren't particularly impressed with this feature. Grabber is relatively fast and works as intended, but the copy-pasting process is a bit convoluted. You have to click several buttons to queue the file, which can pose a problem for content creators and producers who work with numerous files.
The free version is incredibly annoying. We managed to grab one file before being logged out from Wondershare UniConverter. Worse, the free trial only allows you to download videos of up to 480p. Even the full version is a bit lackluster in that regard, as you can't download files in 4K and 8K.
It seems the developers didn't put much effort into this specific functionality.
3. Video Editing
The reason why we say that Wondershare UniConverter is a complete suite is because of its editing features. You can use this program to trim and crop videos, add watermarks and subtitles, and alter audio and playback speed. What's even better is that each one of these options has fine adjustments, allowing you to get specific results.
Additionally, you can also use software to compress and merge your files. The editing works for the same output formats we previously mentioned (25 video formats and 16 audio formats). Unlike the other editing features, merging and compressing are rather straightforward.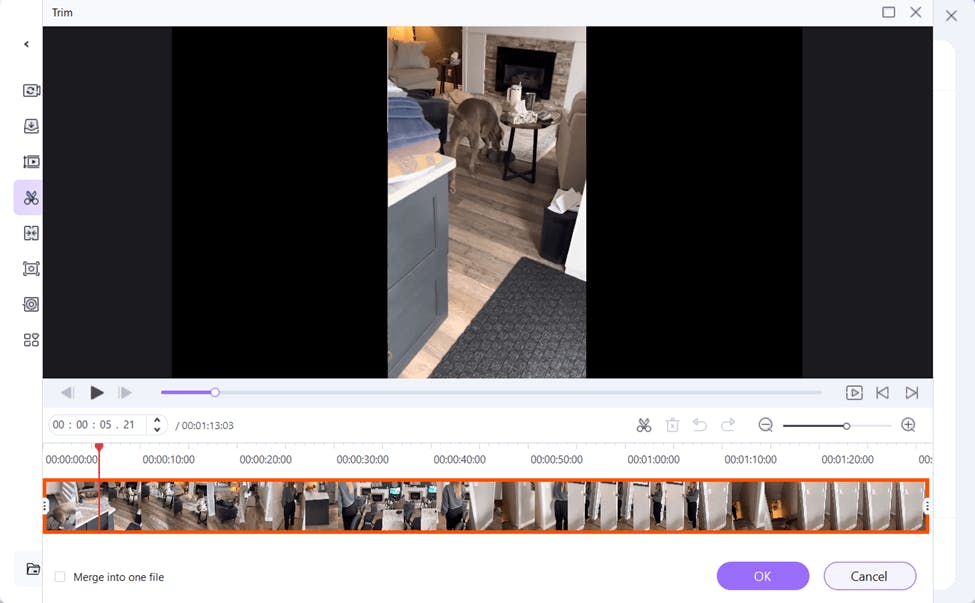 4. Recording Features
Users can also try screen, audio, webcam, and application recording. Each one of these features has its sub-settings allowing you to get just the results you need. In fact, you might even say that recording functions on this platform are comparable to top recording-only tools.
For example, screen recording allows you to zoom in on a specific area of your computer. During webcam recording, you can alter the frame rate, resolution, and format. Application recorder is the most intriguing one, and you can use it with lots of popular software.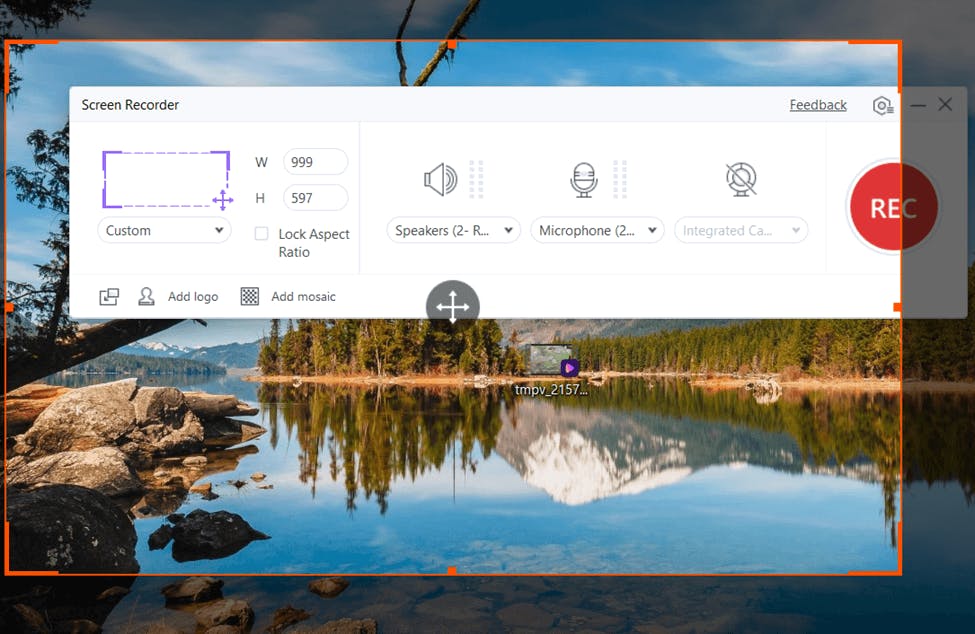 5. Miscellaneous Tools
Lastly, we need to mention the miscellaneous tab. Here, you can find all sorts of small tools that allow you to transfer files, convert VR formats, burn CDs, fix media metadata, remove noise and background, and so on.
While most of these functions aren't that important, it's still nice to have them within the same dashboard. They make the Wondershare a full editing suite that allows you to tackle different tasks and file types. The company is continuously making improvements to this tab, adding new options.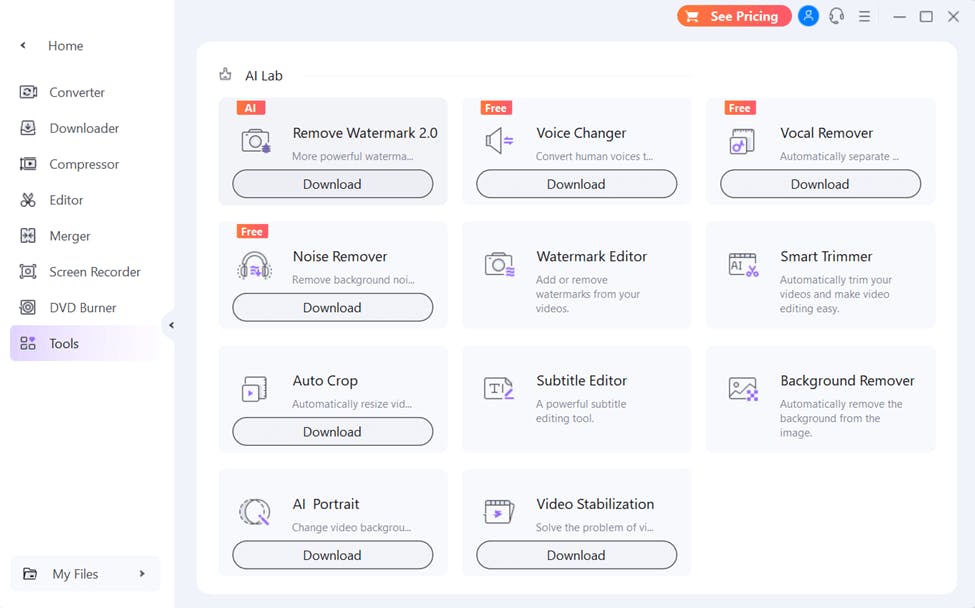 Wondershare UniConverter Pricing
Perpetual plan – lifetime use ($79.99)
Annual plan ($39.99)
Commercial plan – for up to 5 users ($337.46)
Business plan – for up to 5 users, lifetime use (quote)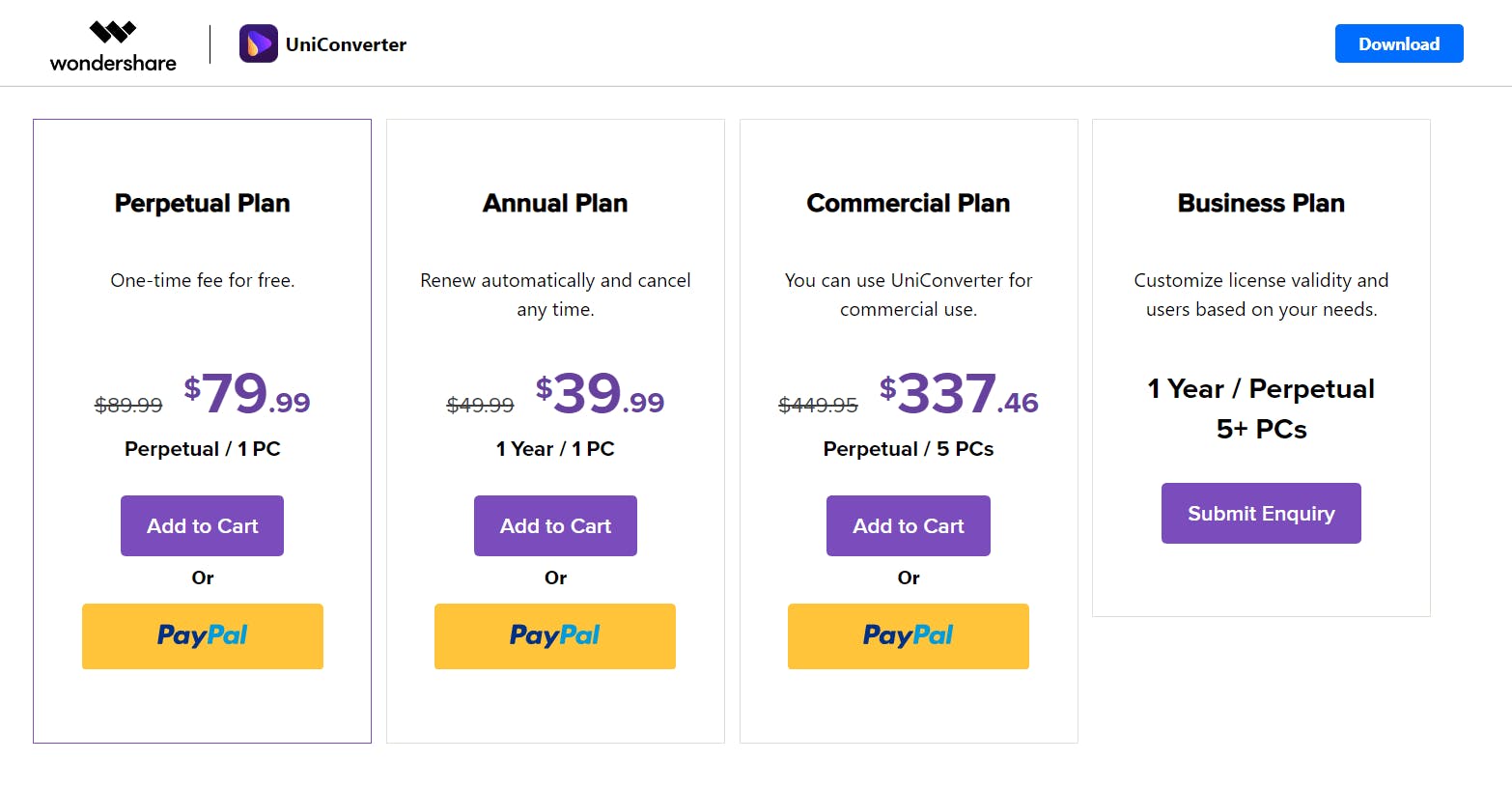 Unlike most other downloaders, Wondershare has two business plans. This pricing makes sense, given that this is a complete suite for video and file processing. Still, the prices are too high for people looking only for grabber software.
Wondershare UniConverter Pros & Cons
Pros
An enormous number of video processing features
Continuous improvements to the platform
Presets make your life easier
Numerous options for fine-tuning
Well-polished UI
Cons
The free trial doesn't offer much
Expensive plans compared to regular video downloaders
Video grabber isn't as good as some other downloader tools
Many unnecessary features are probably there just to increase the price
Is Wondershare UniConverter Safe?
Based on everything we've seen during our testing, Wondershare UniConverter is a safe tool. Then again, this is to be expected from an enterprise-level SaaS.
We used 360 Total Security and Microsoft Security Essentials when using the platform and received no warnings. We also ran it through Virus Total, and it didn't bring up any suspicious flags.
The platform runs smoothly and performs all tasks as intended. Based on our short trial, it seems that the program doesn't suffer from any noticeable bugs or design issues.
The tool automatically updates itself. When you use the free version, it doesn't try to download suspicious programs.
The Best Alternative to Wondershare UniConverter: SnapDownloader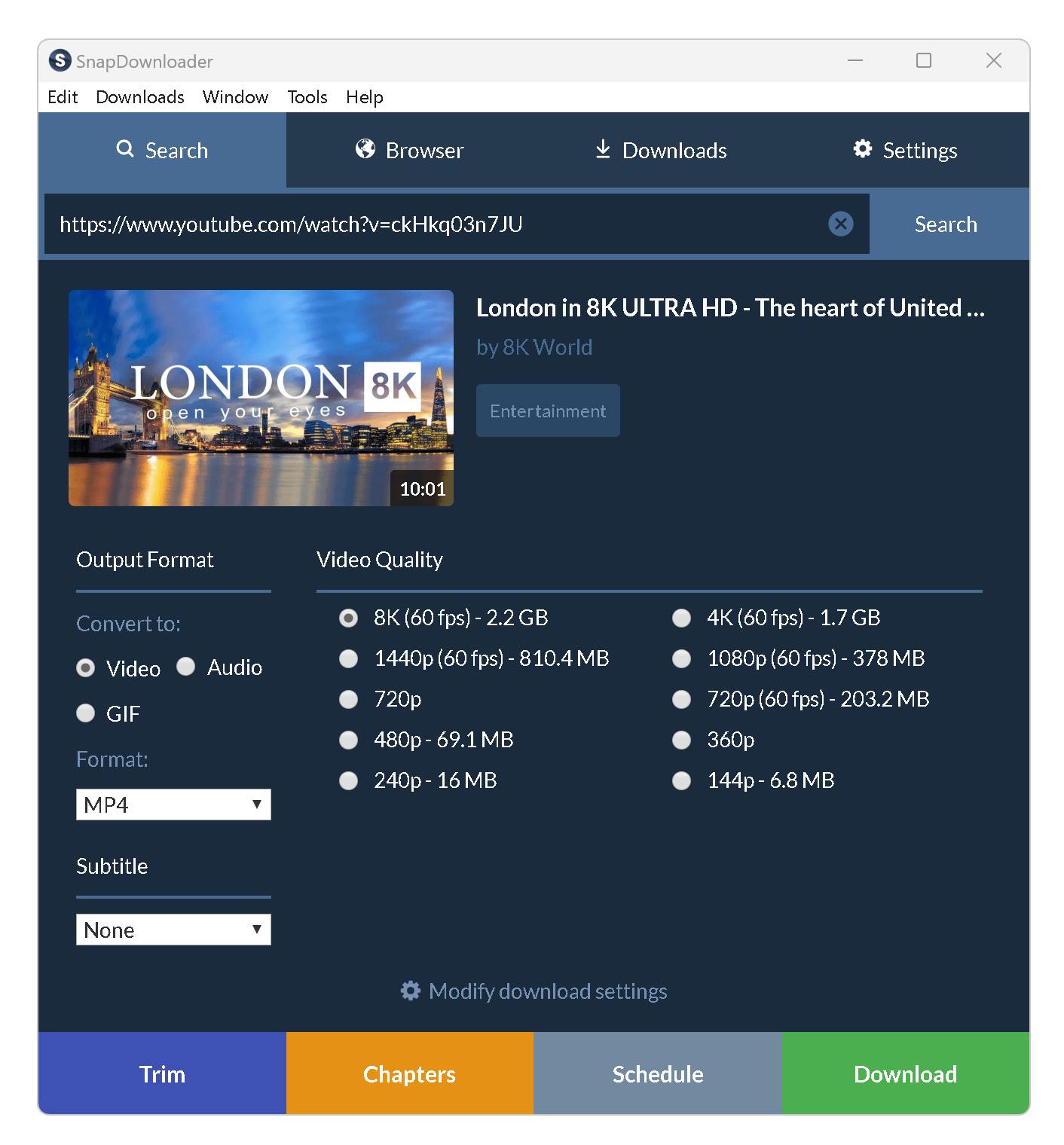 Although we can't say anything against UniConverter's functionality, it isn't ideal for every user. Most notably, it has lots of different features that you don't need. Furthermore, we've used small tools that perform some functions much better. As mentioned, we were especially disappointed with the video downloader.
So, if you're primarily looking for a tool to help you with downloading videos from a large number of sites, we suggest that you go with SnapDownloader. This software is specifically built for downloading videos and has several fine-tuning options, allowing you to grab higher-resolution videos. In our opinion, it's much more functional and better looking compared to Wondershare UniConverter.
Pricing
One of the reasons why you should give SnapDownloader a shot is its pricing. As mentioned, it does a much better job downloading videos than Wondershare at a much lower price.
Monthly subscription ($7.99)
3-Months subscription ($16.99)
Annual subscription ($29.99)
Single-user lifetime subscription ($39.99)
Three users lifetime subscription ($69.99)
Features
Supports 1,100+ websites
Excellent multi-platform downloader (Windows/macoS)
Built-in browser and direct downloads
Proxy settings
Video scheduling and trimming
Automatic downloading by using presets (One-Click Mode)
Bulk downloading
A comprehensive library makes it easier to access previous downloads
Supports up to 8K quality videos
Unlimited downloads
Supports downloading videos and playlists that are private
Pros
More reliable than Wondershare UniConverter in that it has a higher success rate downloading videos
Trimming and bulk downloading save time when downloading large files
Has the ability to download private videos
Can download YouTube subtitles as well as chapters
The free trial is much better than what Wondershare UniConverter provides
Significantly cheaper plans
Fast download speed
Cons
It lacks advanced video editing features
Not free
Available for Windows and macOS only
How to download online videos with SnapDownloader?
Users have the option to download videos by using two methods. The first is the more usual one, where you directly copy-paste a URL into a search bar.
1. Open the video you want to download and copy its URL.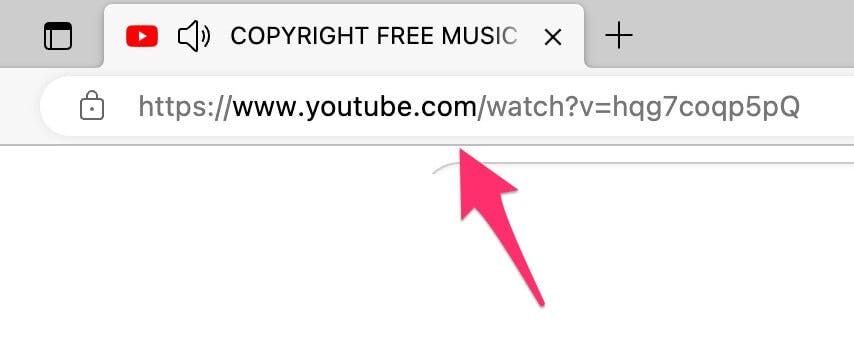 2. Open SnapDownloader and paste the link in the search textbox.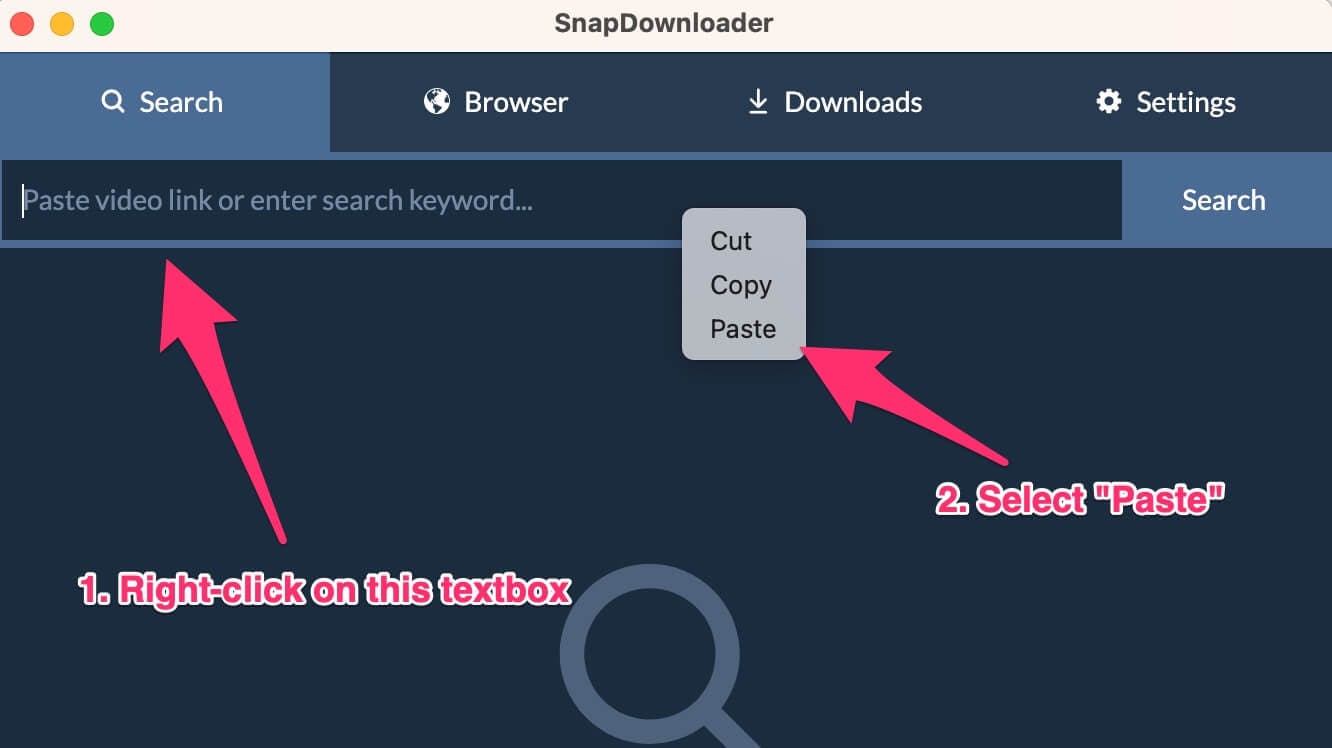 3. Select your preferred output format and quality. Click Download.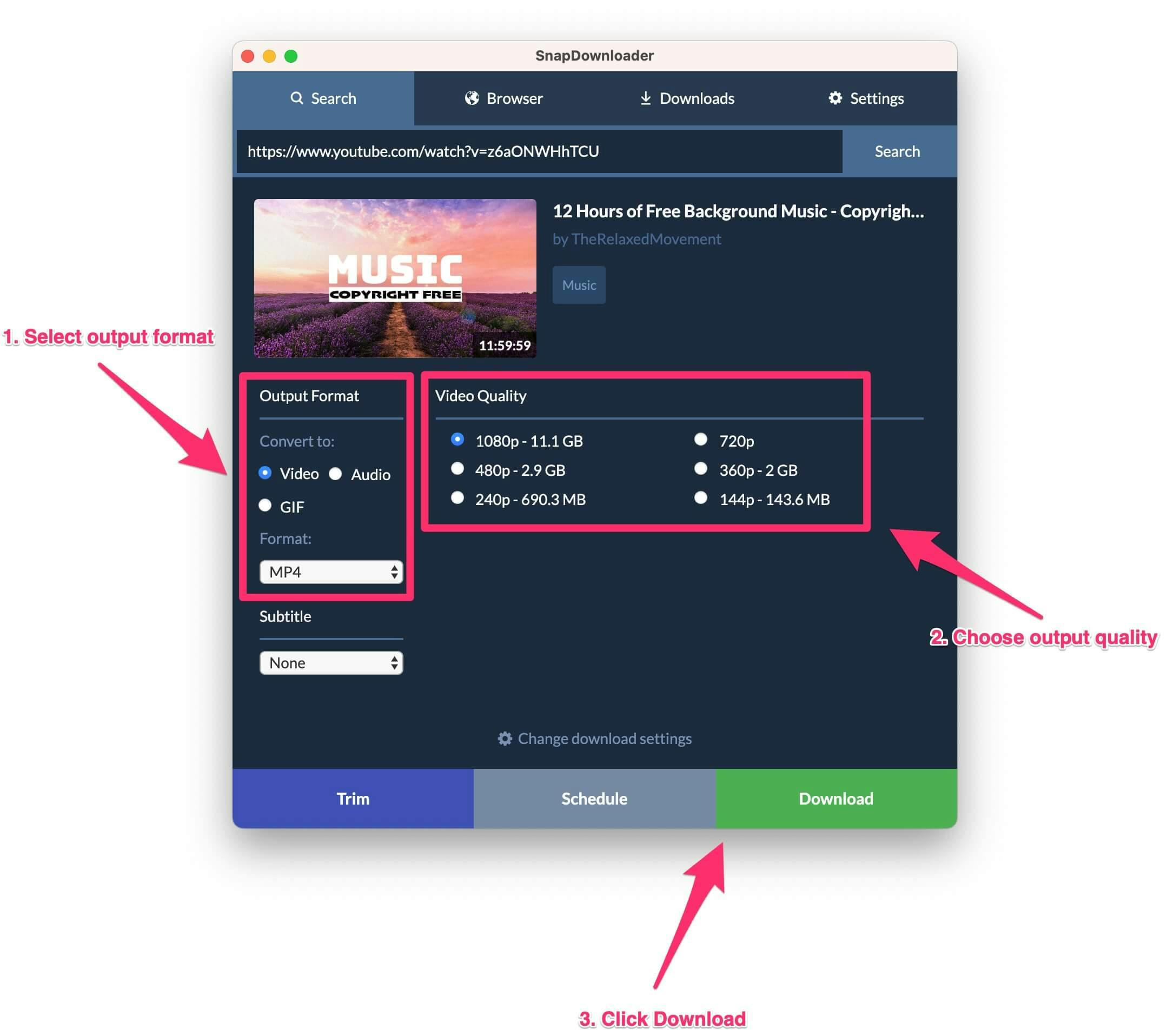 4. The video will be downloaded to your computer, and you can watch it any time or share the saved file with others.
SnapDownloader also lets you download private videos using the tool's built-in browser by enabling the Private Downloader feature.
Wondershare UniConverter vs. SnapDownloader
| | | |
| --- | --- | --- |
| | Wondershare UniConverter | SnapDownloader |
| Video Downloads | ✅ | ✅ |
| Audio Downloads | ✅ | ✅ |
| Video Conversion | ✅ | ✅ |
| Download Subtitles | ✅ | ✅ |
| Download Thumbnails | ✅ | ❌ |
| Auto-Grabbing | ❌ | ✅ |
| In-App Browser | ❌ | ✅ |
| Trimming | ✅ | ✅ |
| Merging | ✅ | ❌ |
| Bulk Downloads | ✅ | ✅ |
| Formats | 25+ | 10+ |
| Resolutions | 240p to 1080p | 144p to 8K |
Top 5 Alternatives to Wondershare UniConverter
1. SnapDownloader
As previously mentioned, SnapDownloader is a fantastic alternative to Wondershare UniCoverter. The tool specializes in grabbing content from various popular sites. Although it doesn't have the same functionality as Wondershare UniConverter, it's more straightforward.
SnapDownloader is the perfect choice for content creators who often repurpose other people's content. Alternatively, you can also use the platform to grab videos you've previously posted but no longer have on your hard drive.
SnapDownloader shines for large files and transfers multiple files at once. In fact, you can perform 15 concurrent downloads with this platform. Users can directly convert videos into different formats during the process, and you can get videos in 8K quality.
2. iTubeGo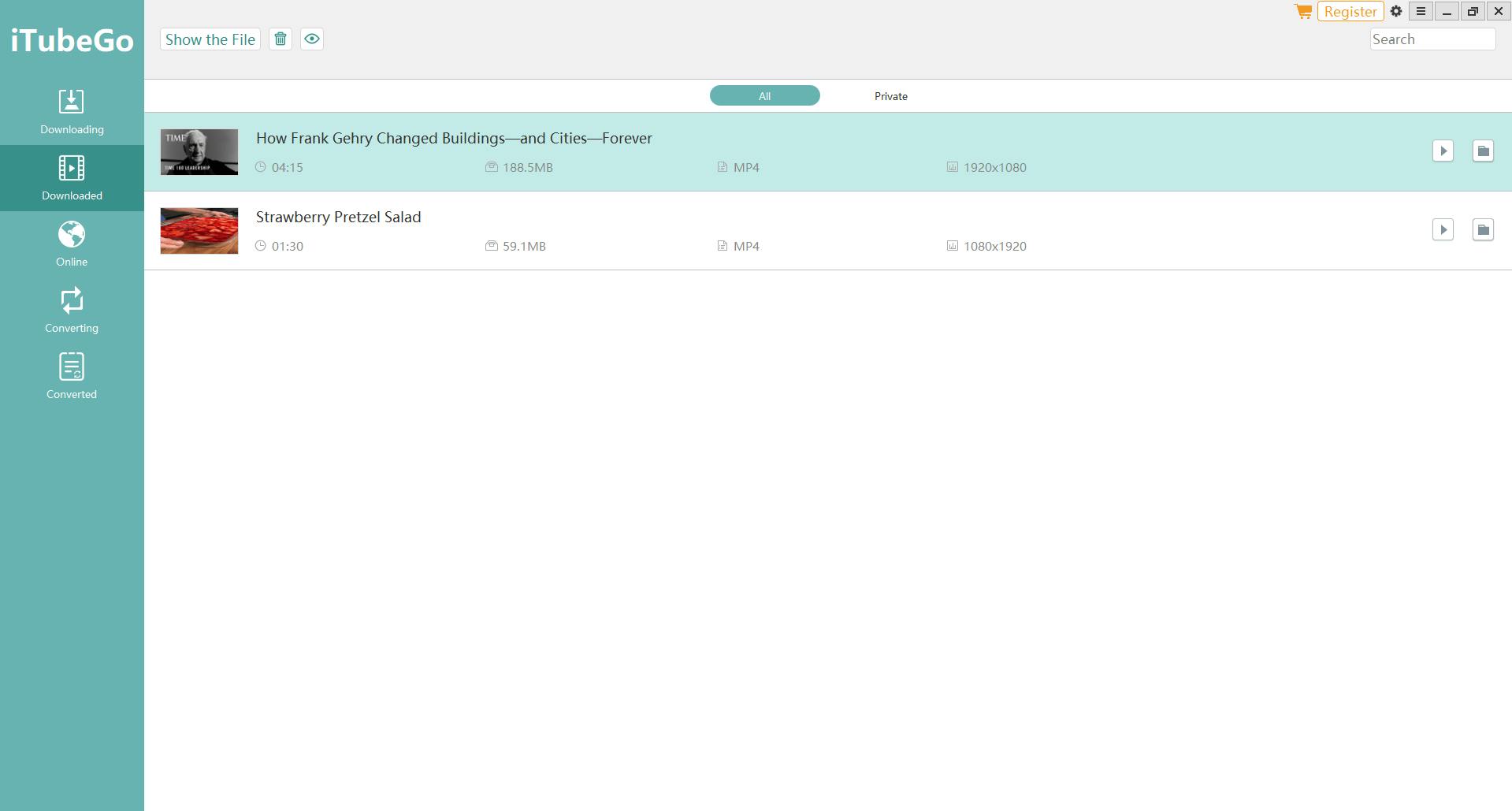 iTubeGo is another solid replacement for Wondershare UniConverter. It's worth mentioning that this program is much more similar to SnapDownloader, though. In other words, it would be a perfect choice for people who want to download videos in high resolution.
Another similarity between iTubeGo and SnapDownloader is that they both have an in-platform browser. This feature allows users to find content without ever leaving the dashboard. Of course, you can also copy-paste URLs by accessing them in Opera, Firefox, or Google Chrome.
3. ClipGrab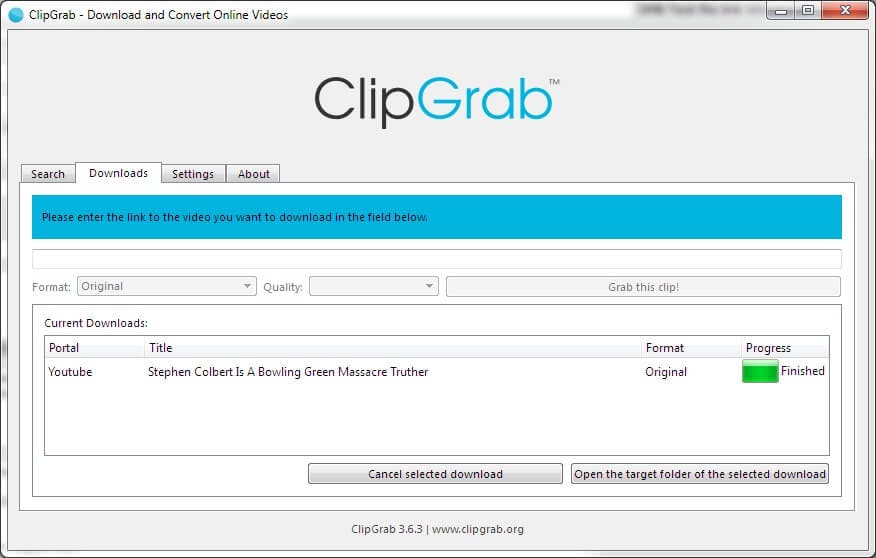 ClipGrab is one of the numerous downloaders that work from your internet browser. With this simple online tool, you can copy-paste URLs into its tab and grab them in just a few seconds. Before starting the process, you can choose quality and file format. The platform also has a few other nifty features, such as transferring files to other devices.
While ClipGrab can't compare to other programs in this article, it's still a great choice for smaller, casual downloads. Its biggest value is that it's free, and you don't have to bother with login and things of that sort. In that sense, it's the polar opposite of Wondershare, which is not only expensive but also feels overly complicated.
4. Any Video Converter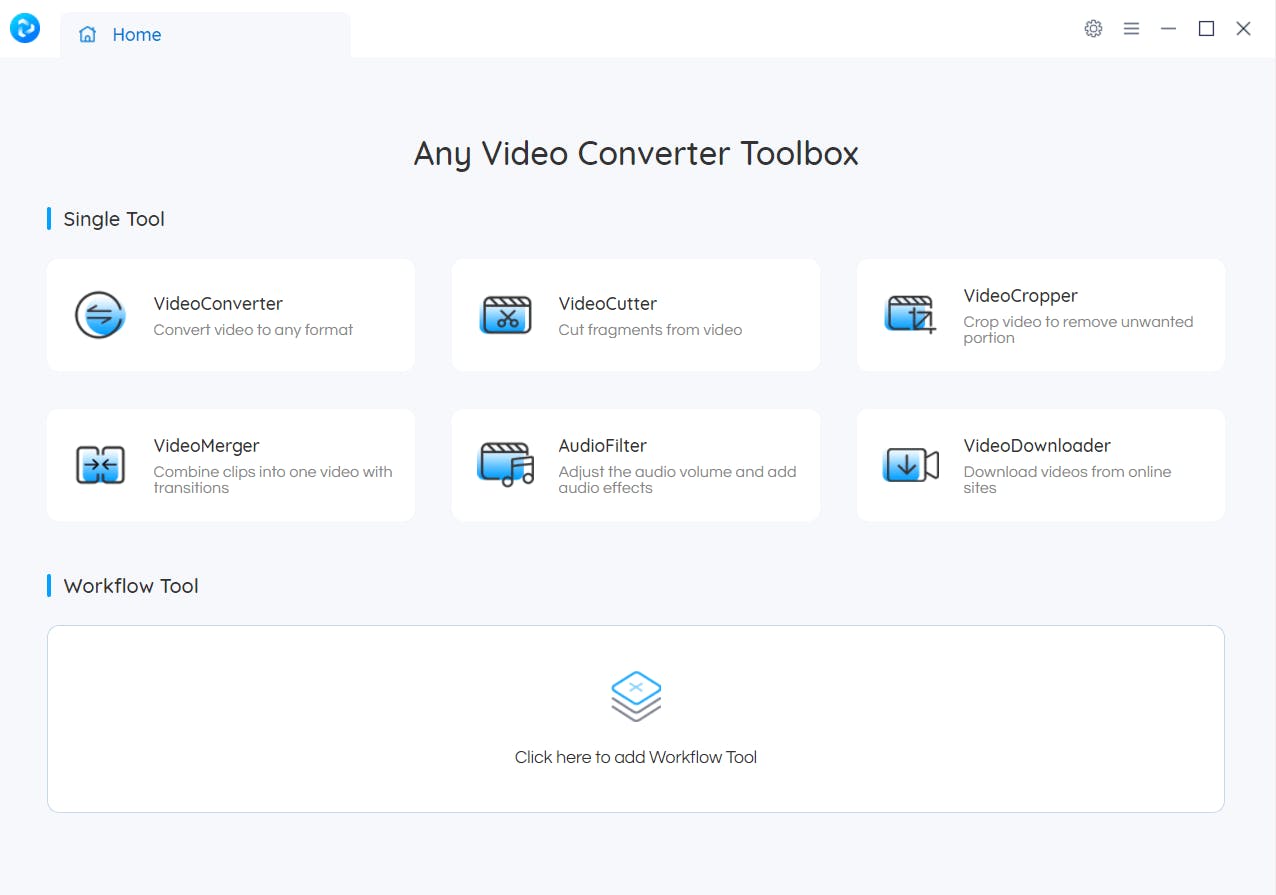 Any Video Converter has several features, including video cropping, cutting, merging, downloading, and converting. It also allows users to alter the volume and sound effects within the files.
Any Video Converter is somewhere between SnapDownloader and Wondershare UniConverter. Although it has more editing features than Snap, it also isn't as complicated as Wondershare. That being said, it's an awesome choice for creators who want to download files but also need basic editing.
5. Leawo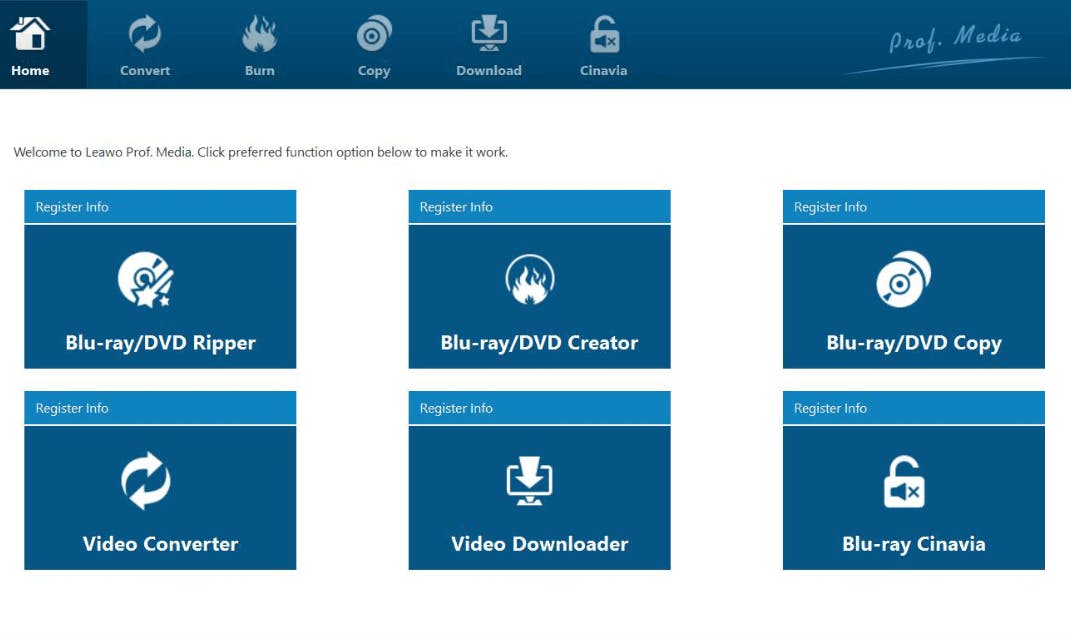 Leawo is a solution we often mention on this site. The thing that makes this platform stand out is the focus on DVD processing. Specifically, the SaaS allows you to create, copy, and rip Blu-rays and DVDs.
Of course, it also has a video downloader and converter. The best thing about the tool is that it supports more than 180 formats. Leawo comes in 11 languages, which makes it a good choice for users who struggle with English. Then again, it's not as if video grabbers are overly complex programs.
Conclusion
Wondershare UniConverter is an expensive suite that combines numerous editing features with a basic video grabber. And while its editing functions are incredible, it lacks in the downloading department.
The product is excellent for content creators who want to unify all these features in one platform. However, we think that you'd get much better results if you bought several specialized tools.