Video downloader for PC lets you watch and enjoy your favorite videos offline. It offers convenience, flexibility, and the freedom to watch videos at your pace without relying on an internet connection.
There are tons of options on the web in terms of PC video downloaders, which can make it difficult to find the video downloader that best suits your needs. Thankfully, SnapDownloader is here to help!
In this article, we'll be going through the best video downloaders for PC (including our tool), going over the very best features of each tool so you can download with confidence.
Ready to get started?
What is a Video Downloader for PC?
A video downloader for PC is a software application that allows you to download online from different websites and save them onto your PC for offline viewing.
Most platforms offer you some control over your downloads, including resolution preference, bulk downloading, and the option to edit and trim videos for more comprehensive platforms.
Additionally, many downloaders can bypass privacy restrictions on specific platforms (especially important if you're downloading from YouTube) and provide options in terms of format, allowing users to convert video to audio easily.
Why are these tools important?
Here are several reasons why video downloaders for PC are important:
No internet connection needed: Slow buffering, poor video quality, and unstable internet connections can seriously dampen your viewing experience if you're streaming. With video downloaders for PC, you can download videos from various sources and watch them offline anytime you want, even on the fly.
Supports different video platforms: Video downloaders allow you to download videos from different streaming platforms. Many downloaders will allow you to download videos from the most popular platforms on the web, like YouTube, Instagram, TikTok, and more.
Improved e-learning experience: A video downloader for PC is necessary for those using e-learning resources for education or personal development purposes. It allows users to save videos quickly and easily by copying and pasting a video URL.
Criteria to Consider When Choosing a Video Downloader for PC
Here are some key factors to keep in mind when choosing a video downloader for PC:
File format: The best video downloaders will allow you to download videos in many formats, like MP4, MOV, AVI, and more. Additionally, be on the lookout for downloaders that allow you to download audio sounds. For instance, if you want to download Tiktok audio, check formats like MP3, FLAC, and WAV.
Quality of downloaded videos: Your chosen video downloaders should allow you to download videos in various formats. For instance, if you're looking for premium viewing quality, look for downloaders that offer 1080p, 4K, or in the case of SnapDownloader, up to 8K capabilities. Additionally, downloaders should offer lower resolutions, too. This can help if you want to reduce file sizes or speed up download times.
Security and safety: When choosing a video downloader for a PC, it's important to prioritize safety and security. It's recommended to verify the safety of the selected app, even if registration isn't needed. Be on the lookout for side-loaded free platforms, as these are the ones most likely to carry privacy and security risks.
Best Video Downloader for PC
We've collected a list of the best video downloader software for PC. Check them out below.
1. SnapDownloader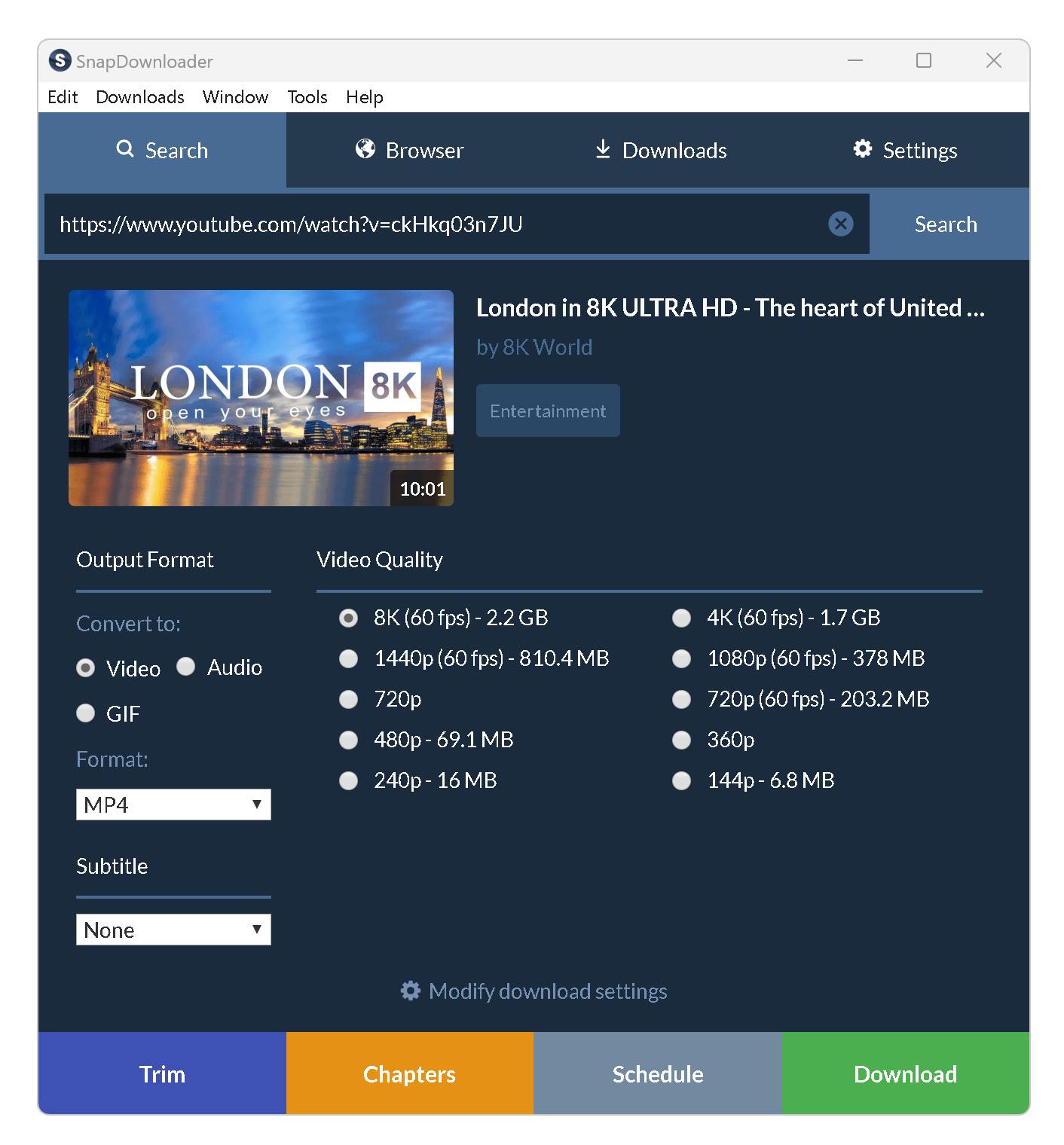 SnapDownloader is a versatile video-downloading tool that's compatible with both Windows and macOS operating systems.
It's perfect for users who want to download their favorite videos across different social media platforms and websites. With its straightforward user interface, both advanced and newbie users can take advantage of its features without any worries.

Try SnapDownloader for Free
Key Features
Supports up to 8K resolution: Enjoy watching your favorite videos in high-quality resolution with SnapDownloader.
Download videos from your favorite platform: Supporting more than 900 websites, SnapDownloader allows you to download videos from your favorite platforms.
Converts up to 10 output formats: Download and convert your favorite videos to MP4. AVI, WMA, AAC, MP3, and many more formats.
Videos to GIF feature: Save portions of your favorite videos as GIFs with SnapDownloader and share them with your social media platforms.
In-built video trimmer: Do you want to download certain scenes only? SnapDownloder has an in-built video trimmer that lets you trim your favorite parts of the video. Learn how to cut Youtube videos here.
Pricing
SnapDownloader offers several plans to cater to different needs and budgets. They offer subscription plans of 1-month, 3-month, and annual. They also have options for lifetime licenses where you only pay once and can use SnapDownloader forever.
Pros and Cons
Pros
Supports over 900+ websites
Offers various download options and formats
User-friendly interface
Batch downloading
No additional software or extensions are needed
Cons
Download speed may vary
Only available for Winds and Mac
Occasional issues with downloading due to website security protocol updates
2. HitPaw Video Converter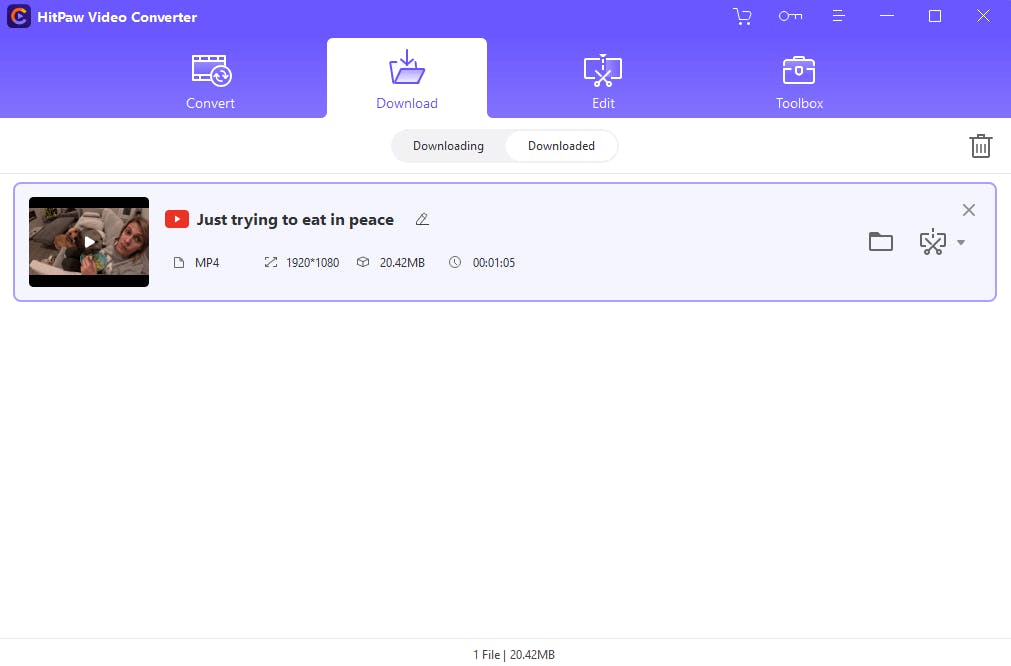 HitPaw Video Converter is a user-friendly tool perfect for beginners who want a simple yet powerful tool for converting, downloading, and editing videos.
Key Features:
Lossless converter for videos, music, DVDs, and images
Built-in smart AI tools such as AI noise remover, AI vocal remover, and AI background remover
Video-editing options
Supports downloads from over 1000+ websites
Pricing: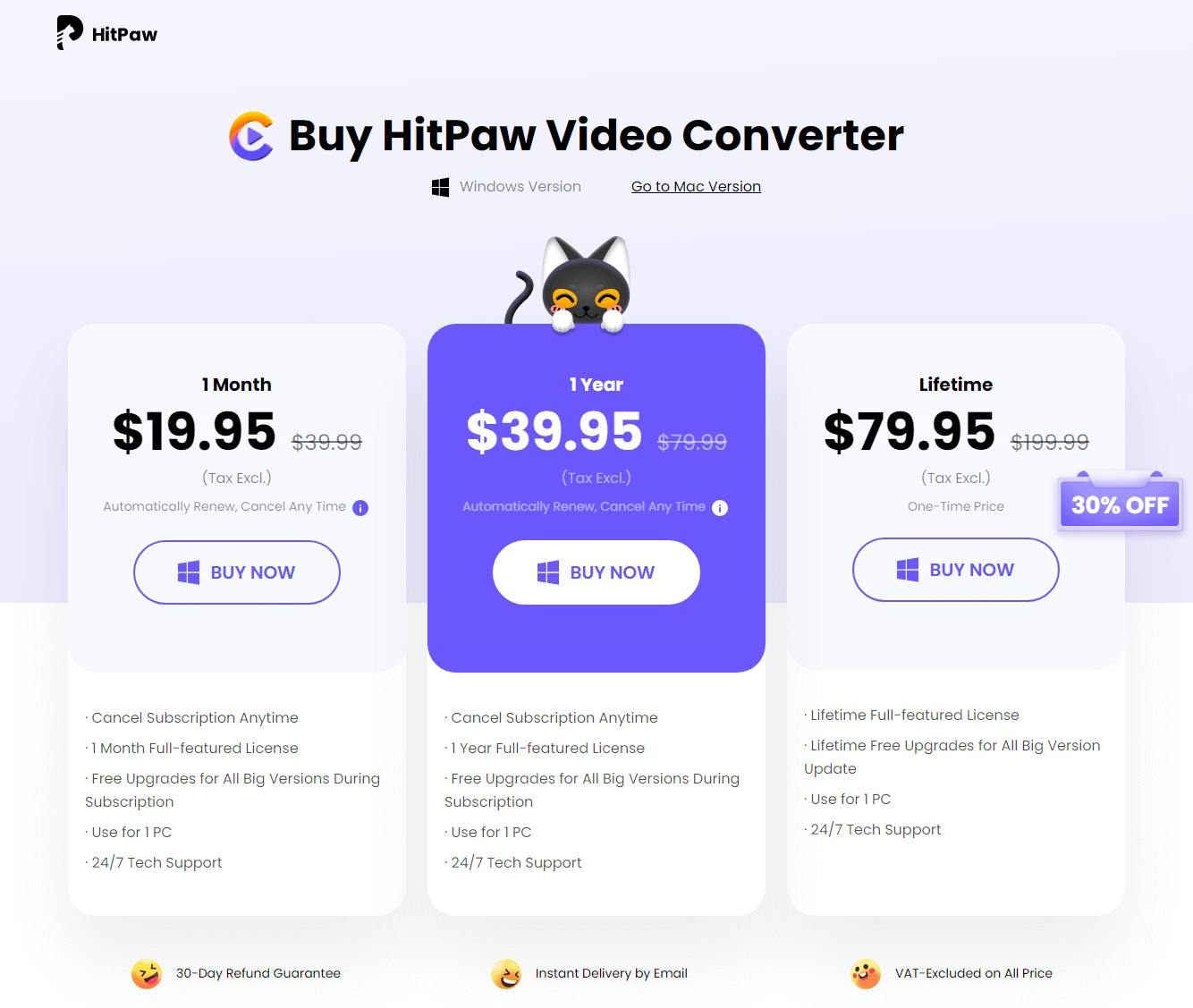 HitPaw Video Converter provides three subscriptions: 1 month, 1 year, and lifetime benefits. Each plan has different features, allowing users to enjoy certain benefits depending on their chosen plan.
Pros and Cons:
Pros
Easy-to-use interface
Supports various video formats
Download videos quickly
Supports video downloading from multiple websites
Cons
Limited free version with watermarked videos
May encounter issues with certain websites or videos
Only available for Windows Operating Systems
3. VideoProc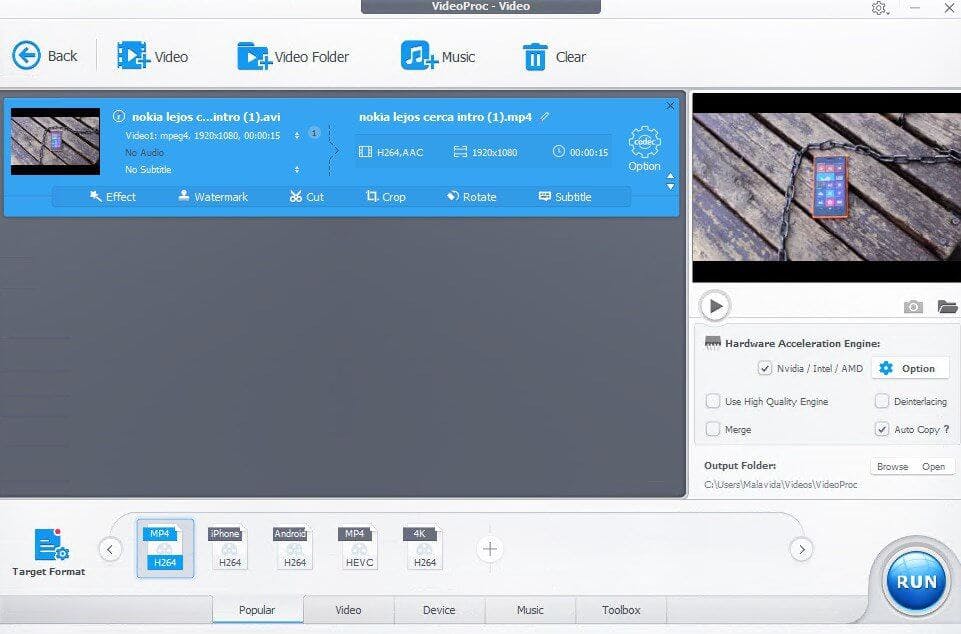 VideoProc Converter is a video processing software that uses Level-3 Hardware Acceleration provided by Intel, AMD, NVIDIA GPUs, and Apple to offer fast video editing and transcoding of high-quality videos. It's perfect for individuals or businesses that require fast video editing.
Key Features
Built-in media downloader engine
4k video editor
Batch downloads
Record live streams
Convert downloaded videos to various formats
Pricing
VideoProc offers three main subscriptions: Premium 365, Lifetime License, and Family License.
Premium 365 is worth $25.95 and includes 1-year access to the software's full features and updates; the lifetime license at $45.95 allows lifetime access to full features and updates; lastly, the family license at $57.95 offers lifetime access to full updates and features and can be installed on up to 5 PCs.
Pros and Cons
Pros
A fast and efficient download
Supports batch downloading
Allows choosing video quality and format
Converts downloaded videos
Includes built-in media player
Cons
Some reported issues with crashing or freezing during use
May not download videos from lesser-known or niche websites
The user interface may not be as user-friendly as other options
4. SameMovie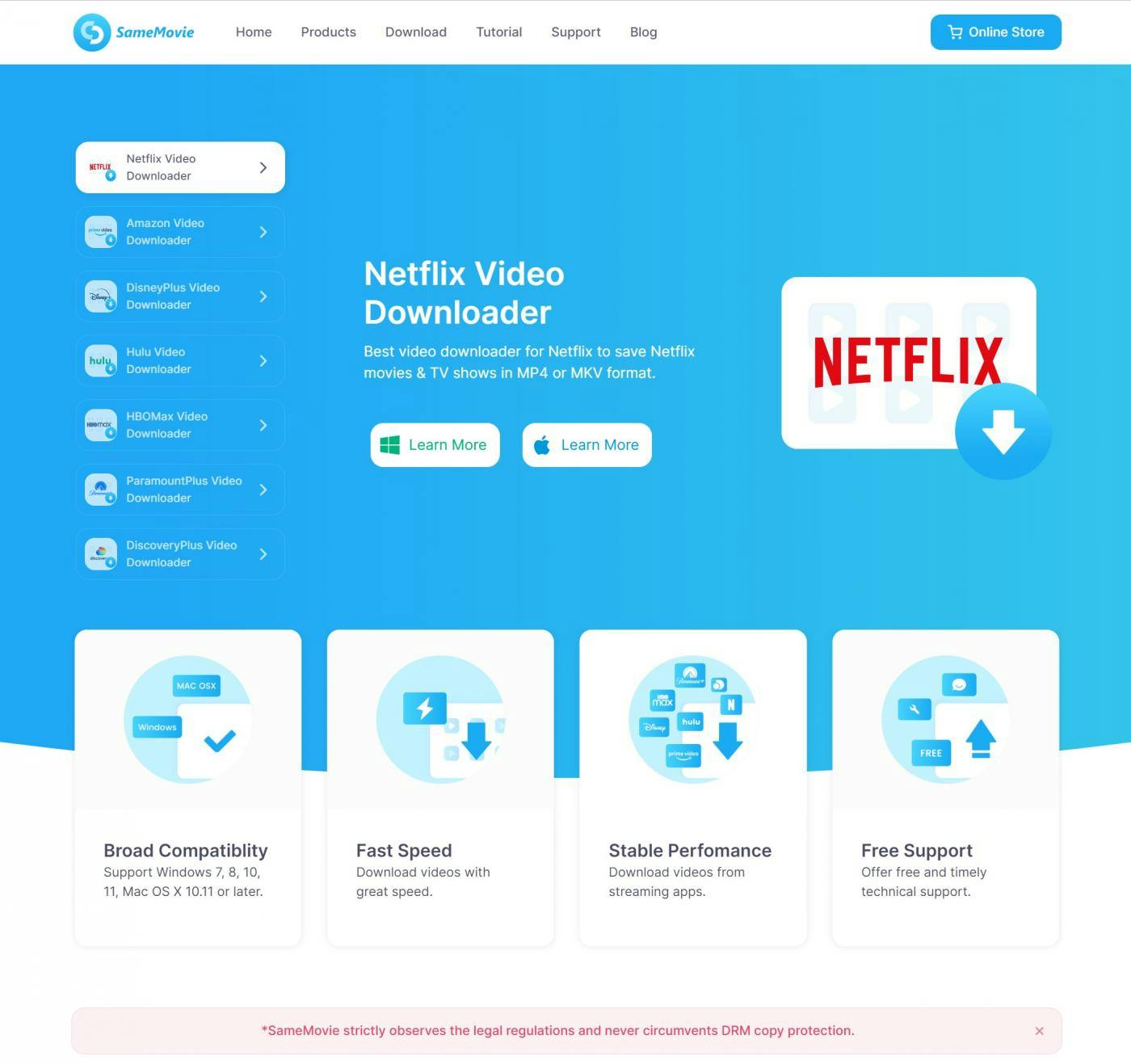 The SameMovie Netflix Video Downloader is a tool that lets you download Netflix movies and TV shows from various streaming platforms for offline playback on any device, without violating Netflix's terms.
With this downloader, users can enjoy their favorite shows and movies offline without any restrictions. Plus, you can keep downloaded content without worrying about Netflix removing it from their platform or losing access.
Key Features
Download TV shows and movies from over 15 platforms
Keep HD quality video in MP4/MKV format
Provides multilingual subtitles
Supports two smart search modes
Batch downloading
Pricing
SameMovie offers a free version that anyone can use and enjoy some of its features and download the first five minutes of each video. However, if you want the full experience, check out their pricing plan above and choose the best choice according to your budget and needs.
Pros and Cons
Pros
Offers a wide selection of movie theaters and locations
Allows users to filter results by movie name, time, theater, and location
Provides user ratings and reviews for movies and theaters
Offers discounts and promotions for movie tickets
Cons
May not include all movie theaters or show times in a certain area
Discounts and promotions may not always be available
Some users have reported technical issues with the app
Lacks detailed information about the movies or theaters
5. ByClick Downloader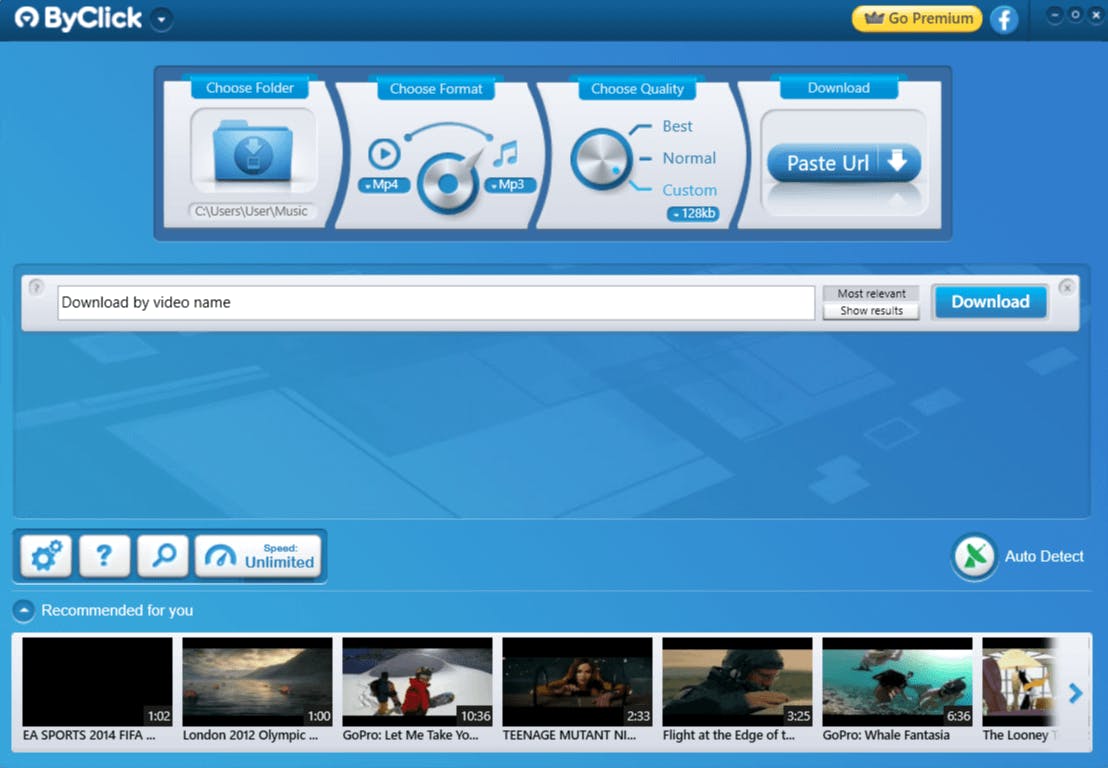 By Click Downloader software offers a fast and comprehensive video downloading experience. The software can download entire playlists and channels, which can help save you a ton of time.
ByClick Downloader also supports HD videos, subtitles, and long videos. It can also convert videos to various formats, including MP3, MP4, AVI, FLV, WMV, 3GP, WEBM, MKV, WAV, AAC, and M4A.
Key Features
Downloads entire YouTube playlists
Always up-to-date
HD & 4K quality
Track your downloads
Pricing
ByClick Downloader offers two versions: the 1-year premium and the unlimited premium version.
With the 1-year premium version, you can access all the features and benefits of the software for one year. Meanwhile, the unlimited version has the added advantage of unlimited access to all its features for a lifetime
Pros and Cons
Pros
Allows downloading whole channels and playlists
File converting feature
Supports downloading videos in private accounts
Cons
The free version doesn't offer much and has too many ads
Supports a limited number of websites
Limited output format
Users sometimes encounter errors when downloading
6. aTube Catcher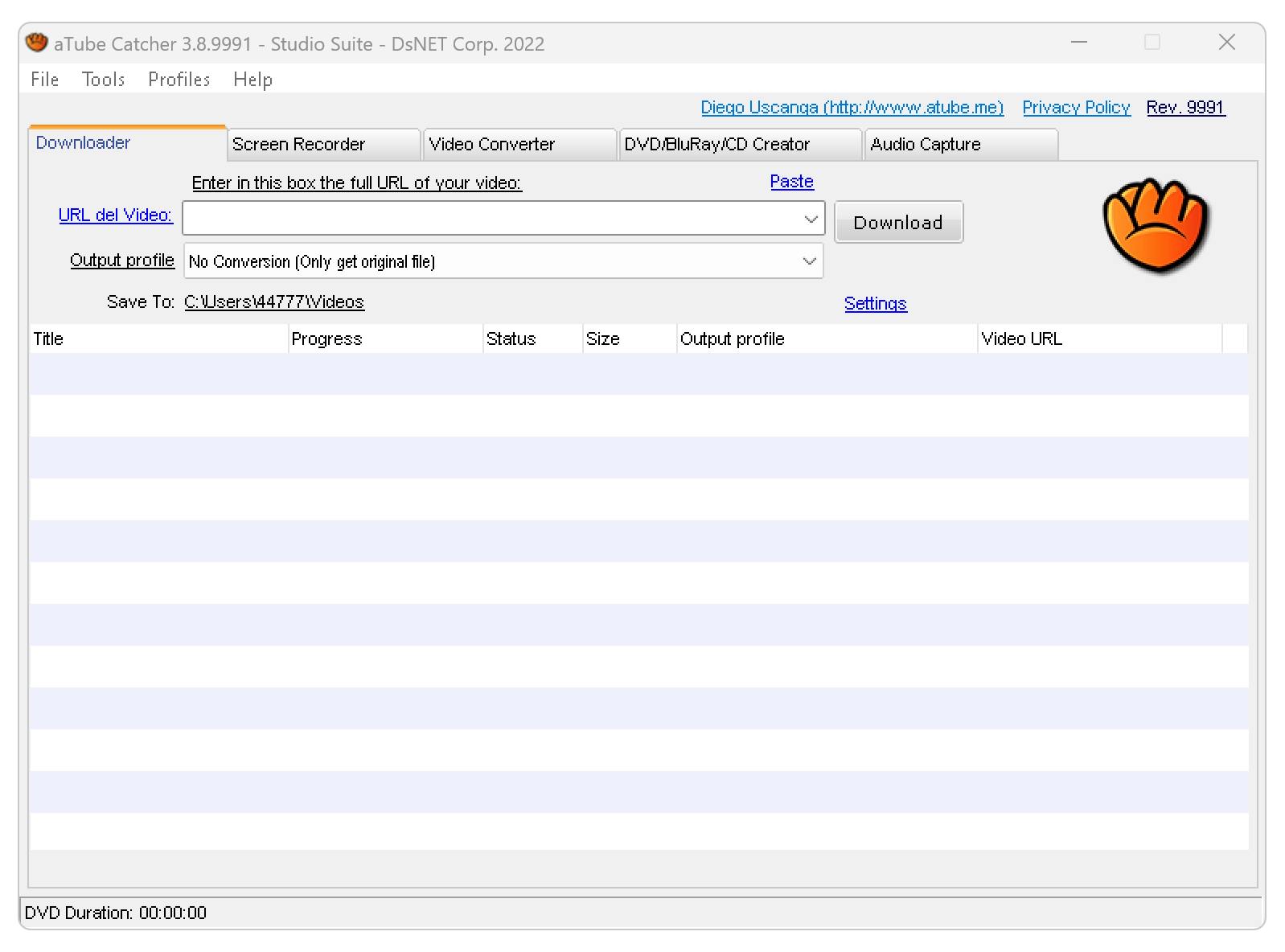 aTube Catcher is a software that can be used as a Video Downloader for PC and Screen Recorders, which can help conserve bandwidth and computing resources. It is media software with essential features and functions.
It offers high-quality and ultra-fast conversion speeds for all media file formats. The software also supports popular formats for playback on various devices. Its output quality never fails to deliver.
Key Features:
Screen recording feature
Download videos from various websites
Fast downloads
Convert videos to different formats
Pricing:
aTube Catcher is a free application. For a free platform, it does offer some pretty comprehensive features, making it one of the best free video downloaders of 2023.
Pros and Cons
Pros:
Free
Supports up to 18+ different output formats
Cons:
Ad-supported installation
Slow downloads
Download The Best Video Downloader For PC Now!
A reliable and efficient video downloader for your PC is considered essential in the digital content world. This article provided information on different video downloader options for PC and their respective features. After evaluating multiple options, Snapdownloader was determined to be the top-performing platform.
With SnapDownloader, you can download your favorite videos from over 900+ websites in up to 8K video resolution quality for the best viewing experience! In addition to bulk downloading up to 100 videos at the same time, you can cut videos and download only the certain scenes that you like or convert any part of the video to a GIF! Download SnapDownloader now to experience the best-in-class video downloading solution.

Try SnapDownloader for Free