Vidmate Alternative - Our Top Picks for 2023
Are you looking for an alternative to Vidmate? Look no further!
With over 500 million downloads reported, Vidmate has been a popular video downloader app for several years now. However, with recent changes in policies and functionality, many users are looking for a better alternative. Fortunately, there are several other video downloader apps available in the market that offer similar or even better features than Vidmate.
In this article, we will discuss some of the best Vidmate alternatives that you can use to download videos from various platforms with ease, such as SnapDownloader.
Read on to learn more about SnapDownloader and some of the best Vidmate alternatives available today.
View table of contents [+]
What is VidMate?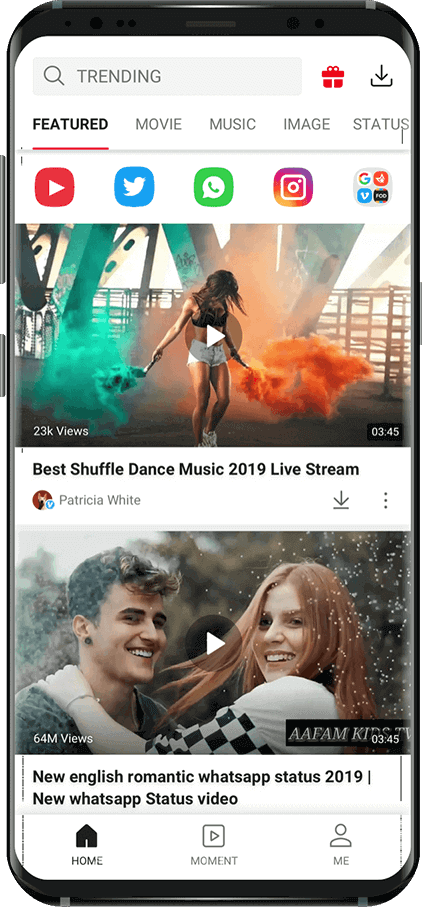 VidMate is a free Android app that lets you watch and download videos, pictures, and songs from different websites. By downloading VidMate on a PC, you can easily find and enjoy multimedia content without switching between multiple apps, making it a perfect tool if you're looking for a convenient all-in-one solution for accessing and downloading your favorite media.
Vidmate has several features, such as:
HD Video Support
Android Support
User-friendly Interface
Streaming TV
Video Editing
Multitasking
Play Video
User Privacy Security
File Sharing
Unlimited Access to Android Games
Inbuilt browser, video player, and music player
But it also has many disadvantages:
Limited Compatibility
Uses Third-Party App
Ads and Pop-ups
Copyright Infringement Concerns
No desktop support for Windows or IOS.
Why Should You Look For VidMate Alternatives?
VidMate also comes with drawbacks, which is why some users prefer other easy video downloader software to use in 2023. Here are some reasons why you should look for other options:
Not available on Google Play Store: Vidmate is not available for direct download from Google Play Store, which means you have to find other alternatives to install the app.
Works only on side loading: Side loading refers to the installation of an application in an APK format on Android devices, which is quite risky and puts your data in jeopardy. It bypasses the protections provided by the play store and tends to be vulnerable to security threats. While Vidmate does state that their platform is completely safe to download, you should take care during the installation process.
Runs in the background: Vidmate constantly runs in the background, which can lead to poor performance on mobile, including slow loading, screen freezes, and more. Additionally, users have complained that their phones can become hot, which can lead to overheating in warmer temperatures. You can manually shut down Vidmate in your phone's settings, but you'll have to do this every time you open Vidmate, which can become tedious.
No editing features: Many people use video downloaders to edit existing videos to create something relatively new. Unfortunately, Vidmate doesn't come with these capabilities, leading some users to look for other alternatives that offer video editing features (like SnapDownloader, for instance).
Not available for iOS users: Vidmate is only available for Android users, meaning Apple users will be left in the dark. Judging by their website, there doesn't seem to be any plan to release the app for iOS anytime soon, meaning Apple users will have to look for an alternative.
Criteria to Consider When Choosing a VidMate Alternative
When looking for a VidMate alternative, several important criteria must be considered:
User-friendliness: Selecting an easy-to-use video downloader is important. Overly complex downloading processes can confuse users, especially if they aren't technically minded. Not only that, but it can lengthen the time it takes you to download files. Instead, your chosen downloader should be easy to use and have a customer support team on hand to deal with any queries.
Quick download speed: The effectiveness of a video downloader software depends on its ability to download videos quickly. When choosing software for downloading videos, you should ensure it is optimized for your internet connection's speed.
Cost: When choosing a video downloader service, it's important to consider both the cost and features offered. While some services may be more expensive than others, price alone should not be the deciding factor. Also, while you find many free-to-use platforms available for download, these will often be very simplistic and won't offer the kind of features that a paid platform would. Additionally, free platforms can come with their own security, privacy, and malware risks, so always do your research before installation.
6 Best VidMate Alternatives
Here are some alternative options to VidMate:
1. SnapDownloader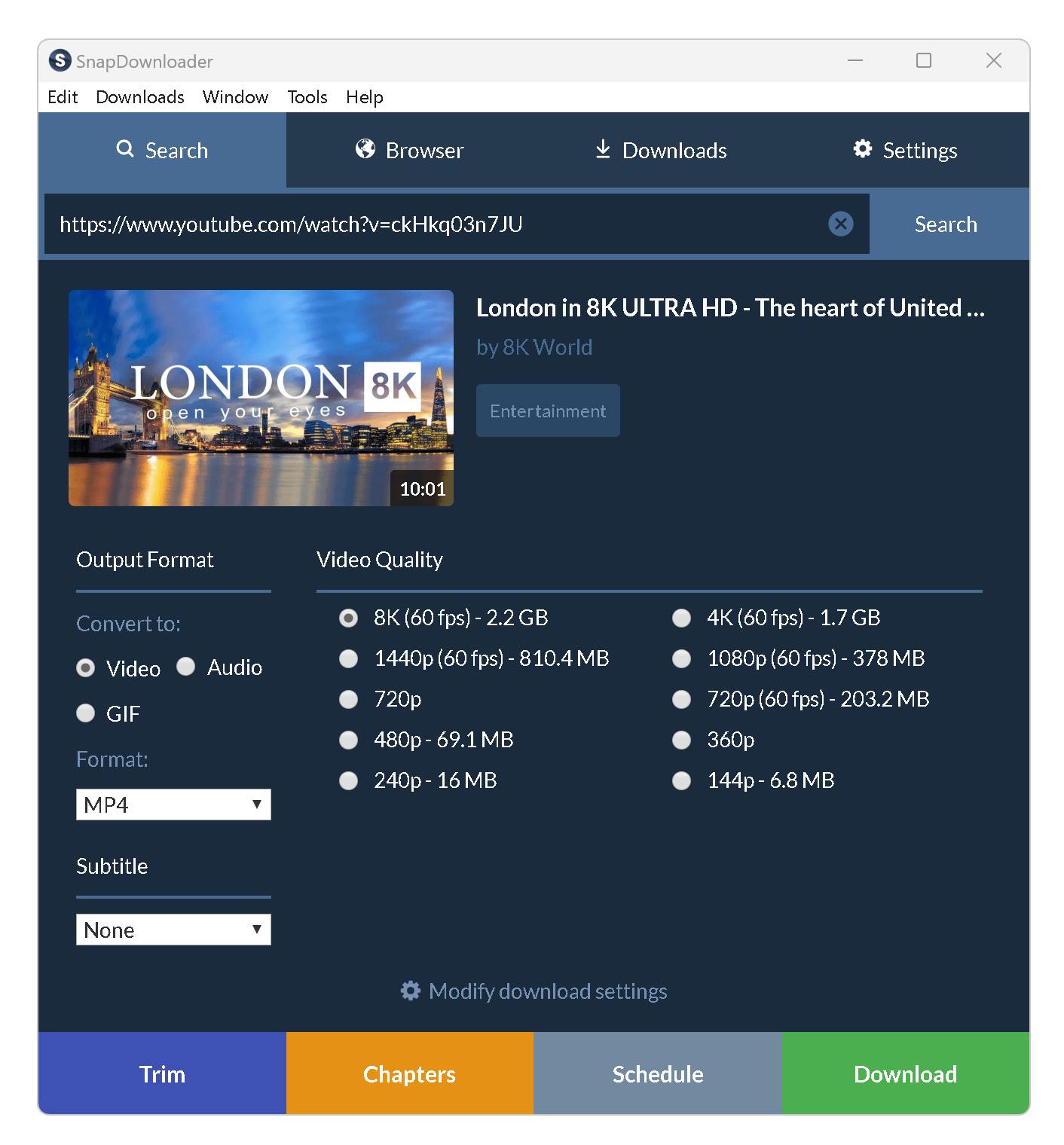 SnapDownloader is an excellent alternative to Vidmate. This video downloader comes with various features and benefits that users will enjoy. Both beginners and experienced users won't have any problems using the platform because of its user-friendly features and interface. For a more efficient experience, learn how to download private online videos using SnapDownloader.
Key Features
Available in various platforms: This video downloader software is available for both Windows and macOS, allowing users to download online videos from popular platforms such as Youtube, Facebook, Instagram, Twitter, and more.
Supports multiple formats: By supporting multiple web formats, users can download videos in MP4, MOV, M4V, FLV, AVI, and many more. Plus, its user-friendly interface and fast download speed makes it a suitable video downloader for various purposes.
Download from 900+ websites: SnapDownloader also allows users to download video and audio content from over 900 websites, including popular social media platforms like Instagram and Facebook, as well as content platforms like Youtube, Dailymotion, and Vimeo.
High-resolution videos: With SnapDownloader, users can enjoy videos in up to 8K resolution, which provides a crisp and immersive experience.
Trim videos: SnapDownloader has an in-built video trimmer that allows users to cut any part of the video and download only certain parts that they want.
Pricing
SnapDownloader offers three flexible pricing options to cater to everyone's budget and needs. Their main subscriptions include Basic, Plus, and Pro.
The basic plan provides access to important features at an affordable price, which is perfect for occasional users. The Plus plan offers additional features like unlimited Youtube playlist downloads, batch downloads, and priority customer support. Last but not least, the Pro plan is perfect for power users who want to enjoy 8K resolution and have early access to future updates.
Pros
Up to 8K resolution of videos
Fast download speed
Batch downloading features
Built-in trimmer
Supports multiple formats
Download videos from 900+ platforms including YouTube, TikTok, Instagram, Facebook, and Twitter
Cons
No free version is available
2. iTubeGo Downloader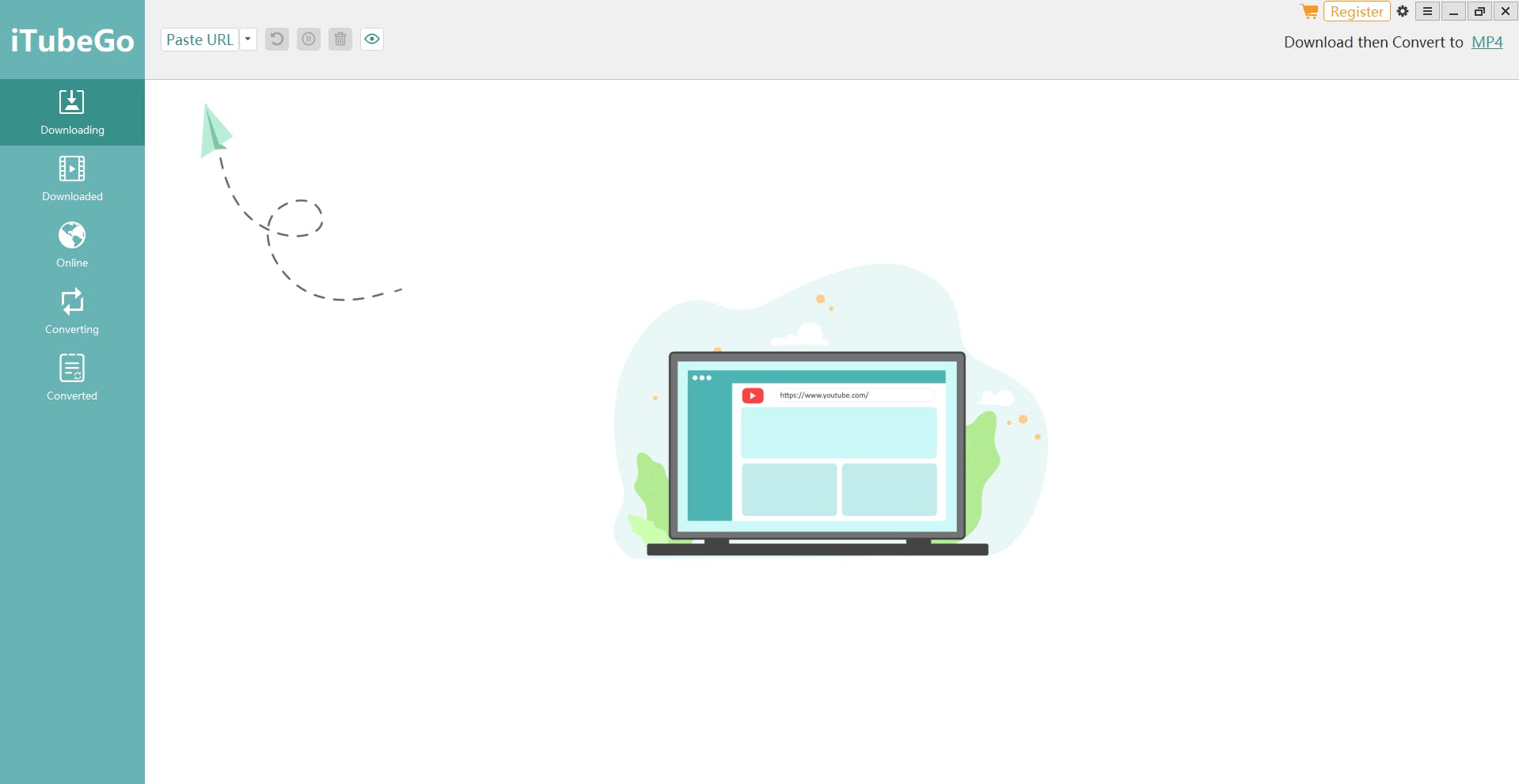 iTubeGo Downloader offers audio and video downloading and conversion solutions. It allows users to obtain entertainment content from the internet and build a large library.
This platform also provides global users unrestricted access to a diverse selection of media, such as Youtube videos, SoundCloud music, and more. This is a huge advantage for those in regions with restricted cellular network accessibility.
Key Features
Fast download speed
HD videos
Supports various format
Free basic plan
Pricing
You can download the basic version of iTubeGo completely free. However, you can upgrade your subscription to access its full features at a certain price for different platforms.
Pros
Fast download speed
Free to try the feature
HD videos
Supports 17 formats
Built-in browser
Cons
No browser extension
Limited free trial
Confusing interface
3. JDownloader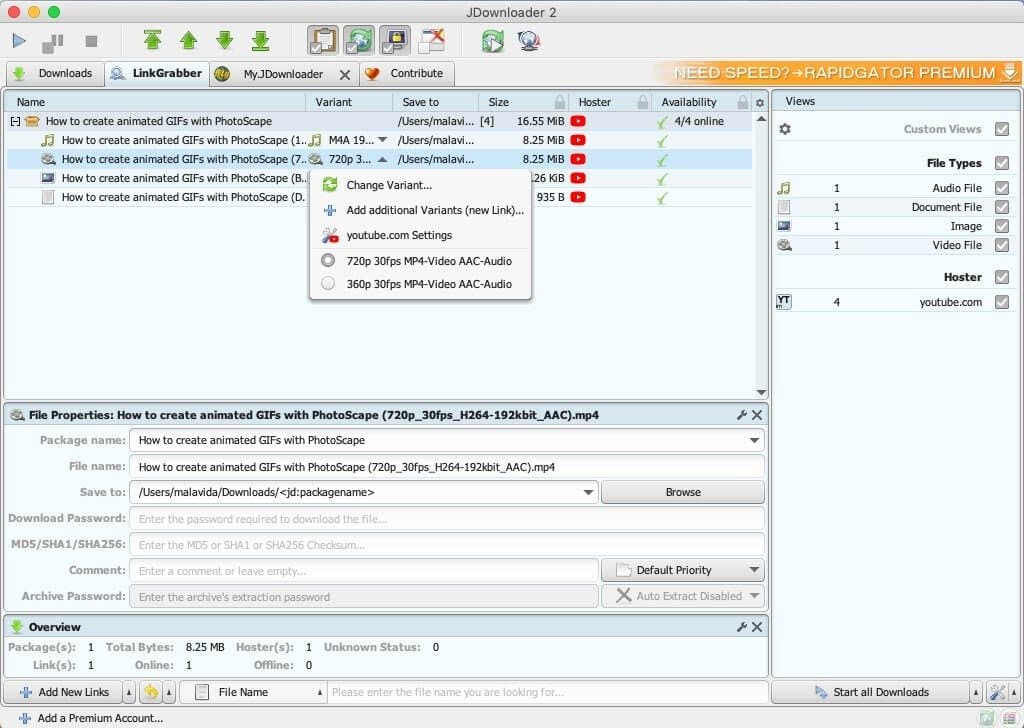 JDownloader is a free and open-source download management tool that allows you to easily manage, organize, and automate your downloads. It supports various file type formats including audio, video, PDFs, ZIP/RAR archives, and more. With its powerful plugin system, users can enjoy more capabilities of the software.
Key Features
No registration required
Free
24-hour customer support
Allows multiple file downloads
Pricing
Unlike other software applications and video downloaders that offer premium versions or subscription plans, JDownloader is completely free to use. With the absence of its pricing tiers or subscription models, users have access to the same features and functionalities without worrying about usage requirements or budget.
Pros
Wide compatibility
Batch downloading
HD video quality
Automatic extraction
Cons
Limited video editing capabilities
Legal considerations
Link availability dependent
4. Coolmuster Video Downloader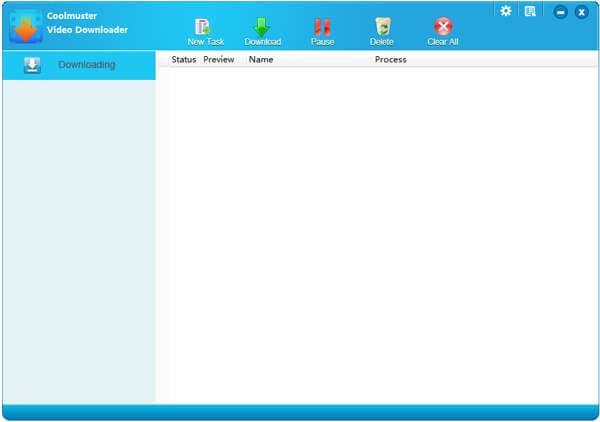 Another alternative to VidMate is Coolmuster Video Downloader. The software provides the option to download online videos from various popular video-sharing sites like Vimeo, Break, Metacafe, and AOL. It supports downloading in different formats like MP4, WebM, FLV, and 3GP and allows you to convert downloaded videos to different formats.
Key Features
No ads
Allows downloading videos from popular video-sharing sites
Converts downloaded videos to different formats
Supports batch downloading
Pricing
You can enjoy some basic features of Coolmuster video downloader for free; however, you can buy its upgraded version to enjoy more features.
Pros
Import and export specific files without hassle
User-friendly interface
Backup and recovery
Cons
Limited free versions
Not compatible with iOS
5. FrostWire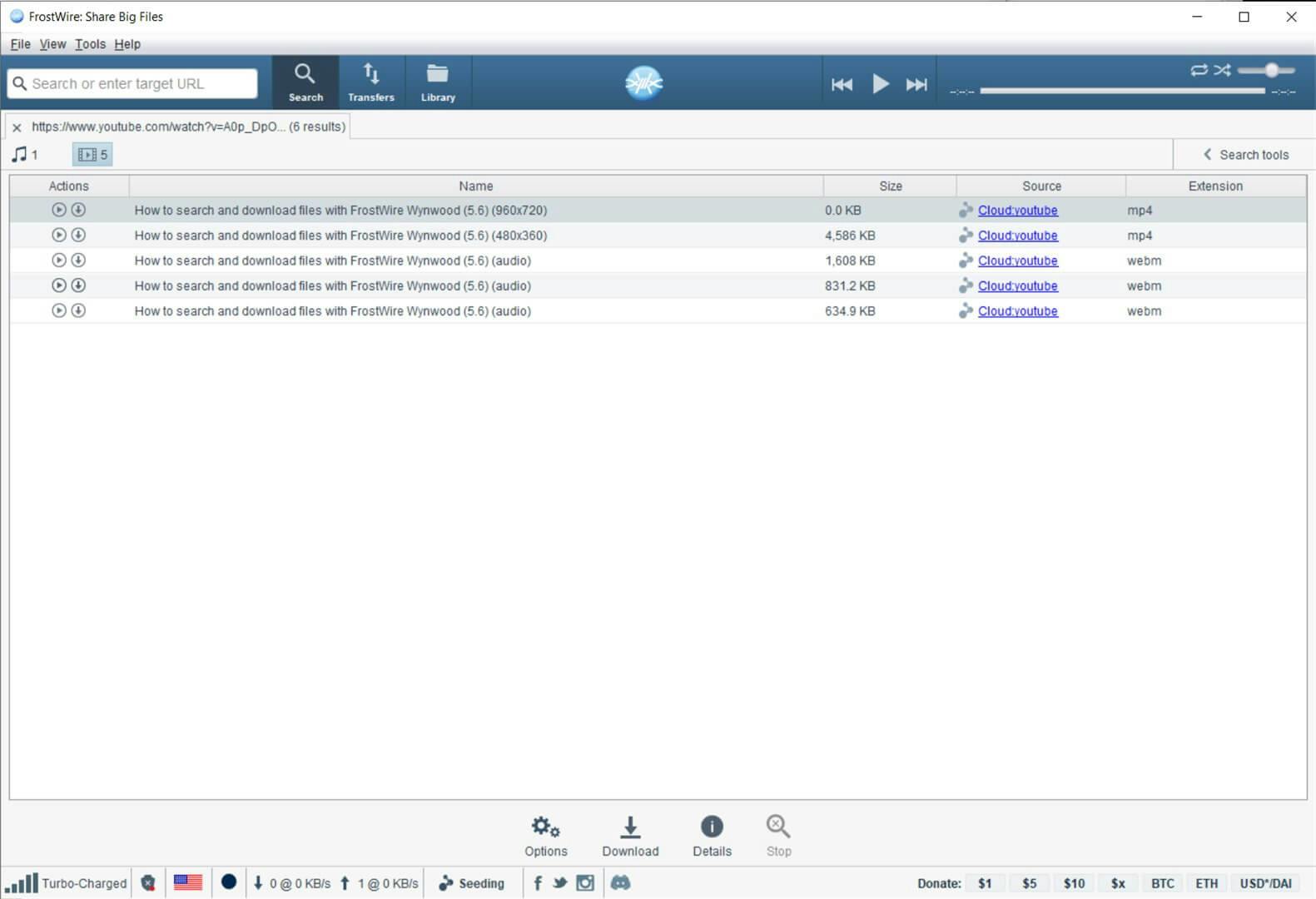 FrostWire is a peer-to-peer application that is free and user-friendly. This video downloader allows users to search, download, and play videos and also functions as a BitTorrent client.
Key Features
In-app search
Preview & play while downloading
Download selected files
Access to media player & library
Pricing
Frostwire is 100% completely free to use for all users to enjoy its features. Unlike other options in the list, this video downloader does not require any subscriptions to enjoy additional features.
Pros
Allows downloading of selected files
Access to media player and library
In-app search
Up-to-date
Cons
Adds unnecessary programs during setup
6. uGet
uGet is a download manager compatible with Linux and Windows operating systems. It comes with various features that users can enjoy:
Key Features
Parallel streams to enhance the download speed
Option to queue and pause/resume downloads
Batch downloads
Accessible in more than 25 languages
Automatically adjusts appearance to match the color scheme of chosen OS
Pricing
uGet is open-source software, which means it is available for free to all users. You don't need to pay upfront costs or subscription fees to enjoy its features.
Pros
Simple and clean interface
Open-source
Allows pause/resume downloads
Cross-platform compatibility
Cons
Pops up potential security risk warning from Firefox
Limited support for certain video streaming platforms
Lacks advanced features
Among the list of VidMate alternatives, SnapDownloader stands out as the best choice for certain reasons:
Offers a wide range of supported platforms: SnapDownloader allows users to download videos from different websites with no problem.
Safety and security: SnapDownloader provides a secure downloading environment, which minimizes the risk of malware and protects your device from potential threats.
User-friendly interface: With SnapDownloader's friendly interface, users can easily navigate the platform and enjoy its advanced features, versatility, and commitment to user satisfaction.

Try SnapDownloader for Free
Download The Best VidMate Alternative Today!
VidMate may be a popular video-downloading platform, but it does not mean that it is the best. You can use other alternatives that can do more than what VidMate can. When it comes to the best alternative, choose SnapDownloader.
Don't miss out on the opportunity to elevate your video downloading experience. Take action now and experience the power of SnapDownloader for yourself. Download Snapdownloader today, and streamline your download processes with our slick, speedy, and easy-to-use platform!