So, why would you need an easy video downloader? Watching videos on video-sharing platforms such as YouTube requires you to have a steady internet connection. Additionally, you may want to save videos that piqued your interest to access on your devices whenever you need them easily.
With a safe and reliable online video downloader, you'll be able to access your favorite videos right when you want them. In this SnapDownloader guide, we're going to share our top easy video downloaders that you can consider for yourself!
View table of contents [+]
The Benefits of Using an Online Video Downloader
There is a great convenience that comes with having access to your favorite videos on your devices without worrying about your internet connection. Before exploring our top video downloaders, here are the major benefits of using an online video downloader.
Continuous video streaming experience: You won't have to be frustrated with buffering videos because your videos will be readily available on your devices.
A simple way to save all your favorite videos: Instead of having your favorite video clips saved and bookmarked across multiple different platforms, you can access them from one place on your device. How convenient is that?
Compatibility with a variety of devices: A great online video downloader will allow you to save and convert your downloads in various formats. This will allow you to access your videos on any device that you choose.
Easy Video Downloader Software
Key Takeaway:
#1: SnapDownloader
Best for downloading videos across multiple social media sites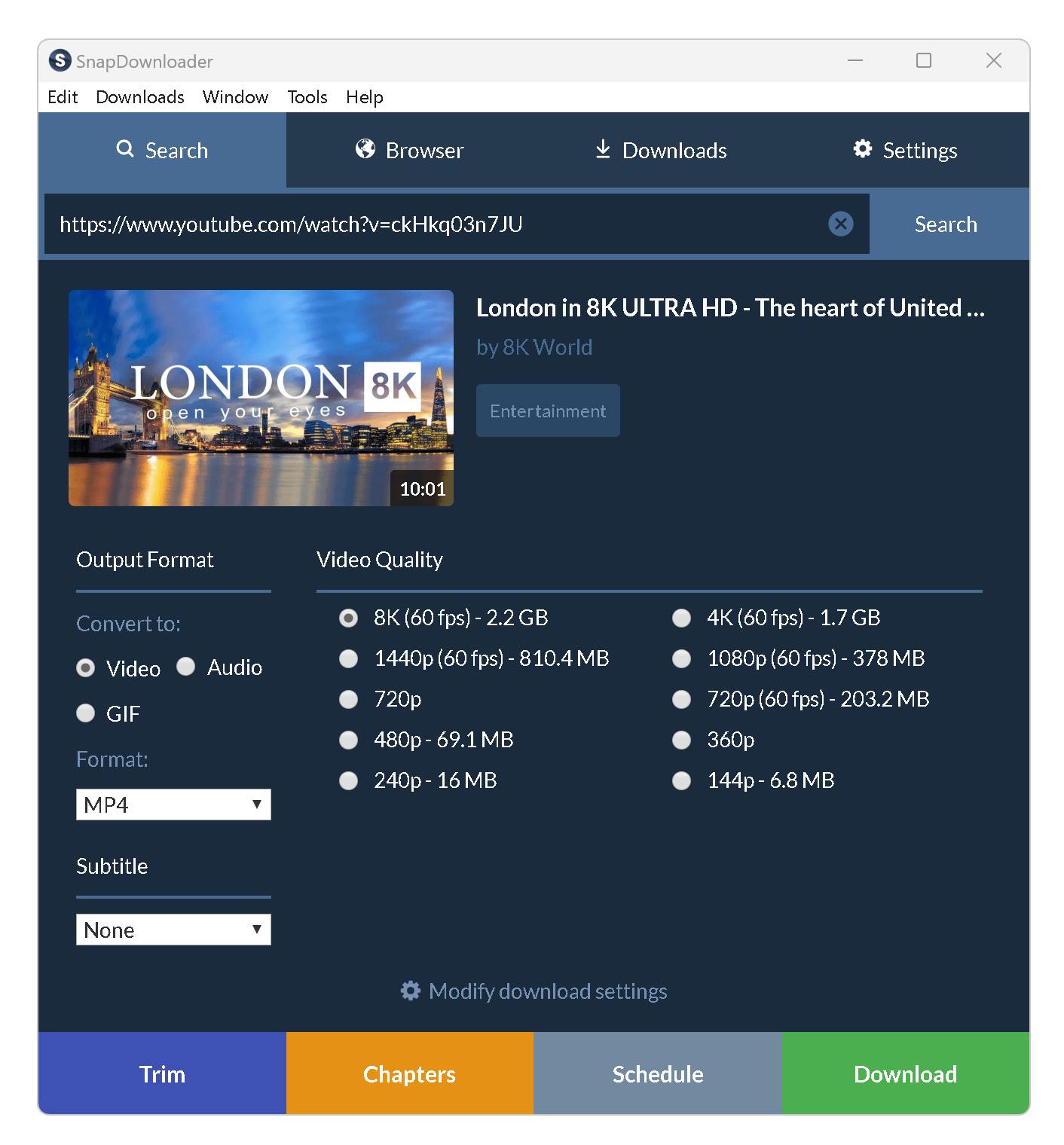 SnapDownloader is an online video downloader that supports over 900 websites, including popular platforms such as YouTube, Facebook, Instagram, TikTok, Twitter, Reddit, Vimeo, Tumblr, and many more.
Features:
Easily convert your videos: SnapDownloader allows you to convert your videos into your preferred formats such as MP3, MP4, WMA, AVI, AAC, and much more. Giving you the capability to watch your downloaded videos from any type of device. You'll also be able to extract audio from videos while getting the best quality.
Proxy set-up: To help you download videos from websites that are blocked in your region, you can set up a proxy through the tool. This will help you safely bypass any geo-restrictions so you have access to the videos you enjoy.
In-built video trimmer: Feel free to customize your downloads with the tool's in-built video trimmer. You'll be able to download portions of videos or audio that you care the most about.
Pricing
SnapDownloader has five pricing plans that you can choose from:
Monthly subscription for 1 PC at $7.99 per month
3-Month subscription for 1 PC at $16.99 per 3 months
Annual subscription for 1 PC at $29.99 per year
Lifetime license for 1 PC at $39.99
Lifetime license for 3 PCs at $69.99
You'll also get access to a 48-hour free-trial.
Pros
You can download videos from over 900 websites in just three simple steps
SnapDownloader's YouTube downloader allows you to download 360° VR videos and entire YouTube playlists
You can schedule videos to download automatically at a set date and time
Offers fast download speed even for high-quality videos
24/7 customer support is provided
Cons
Free trial is only available for 48 hours
#2: Any Video Converter
Best for editing your downloaded videos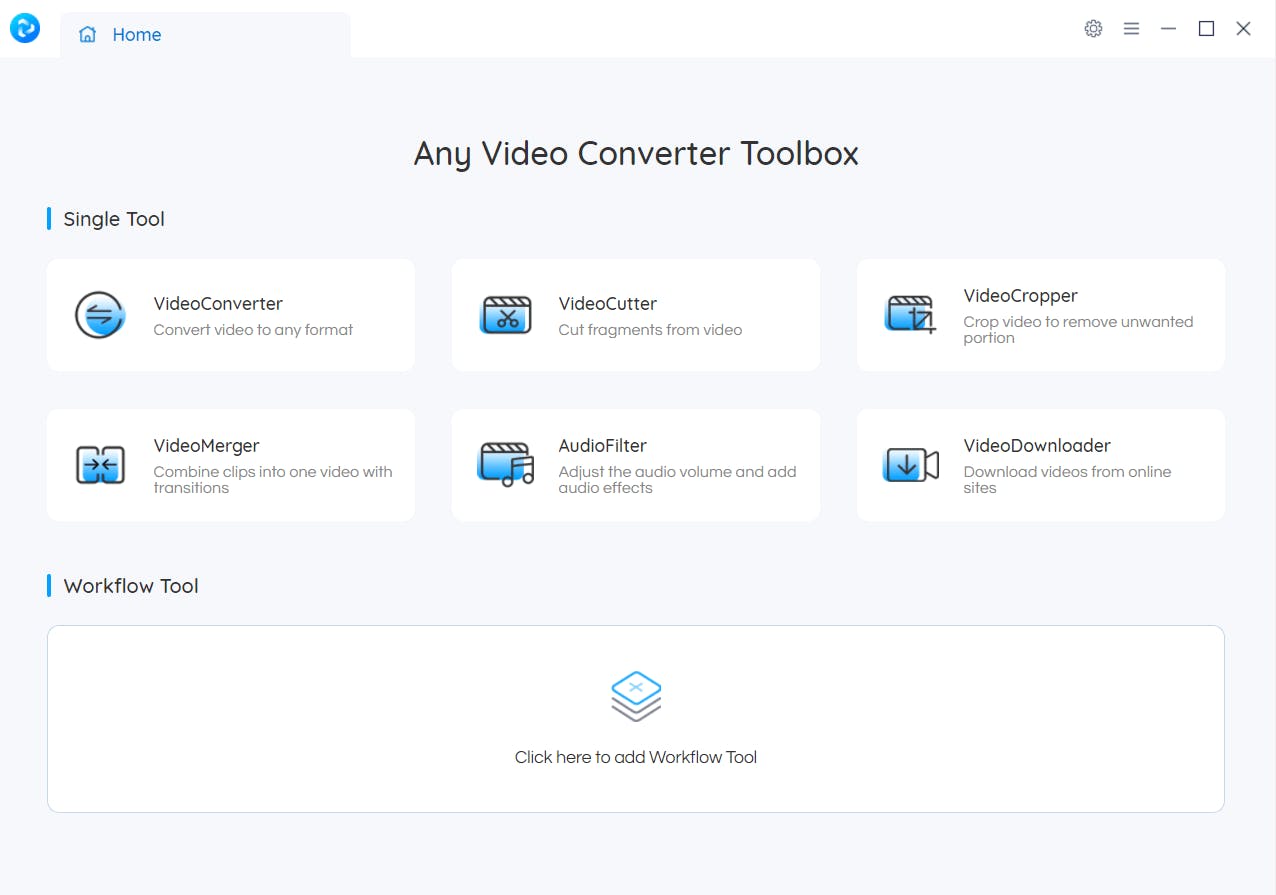 Any Video Converter is a free video downloader with built-in video editing tools.
Features:
Video editing: You'll be able to edit your videos in a variety of ways including, trimming unwanted footage, cropping to resize the video, and flipping and rotating the video. Even more, you'll be able to merge multiple videos into one video and add transitions between the clips.
Many video customization options: The software allows you to convert your videos to different resolutions (e.g. 480p, 720p, 1080p, and 4K) or customized percentages (e.g. 50%, 100%, or 200%). You'll also be able to encode your downloads to compressed formats for easier online sharing (e.g. H.264 MP4 format).
Audio editor: The audio editor allows you to increase or decrease the volume of your audio files and provides you with special audio effects that you can add to your media files.
Pricing
Any Video Converter is free to use.
Pros
You can download and convert your videos into any popular format
Free GIF maker without any watermarks
You get an assortment for video editing tools
No ads
Cons
Includes bundled extra software
Can be overwhelming if you just want a simple video downloader
#3: aTube Catcher
Best for converting video to audio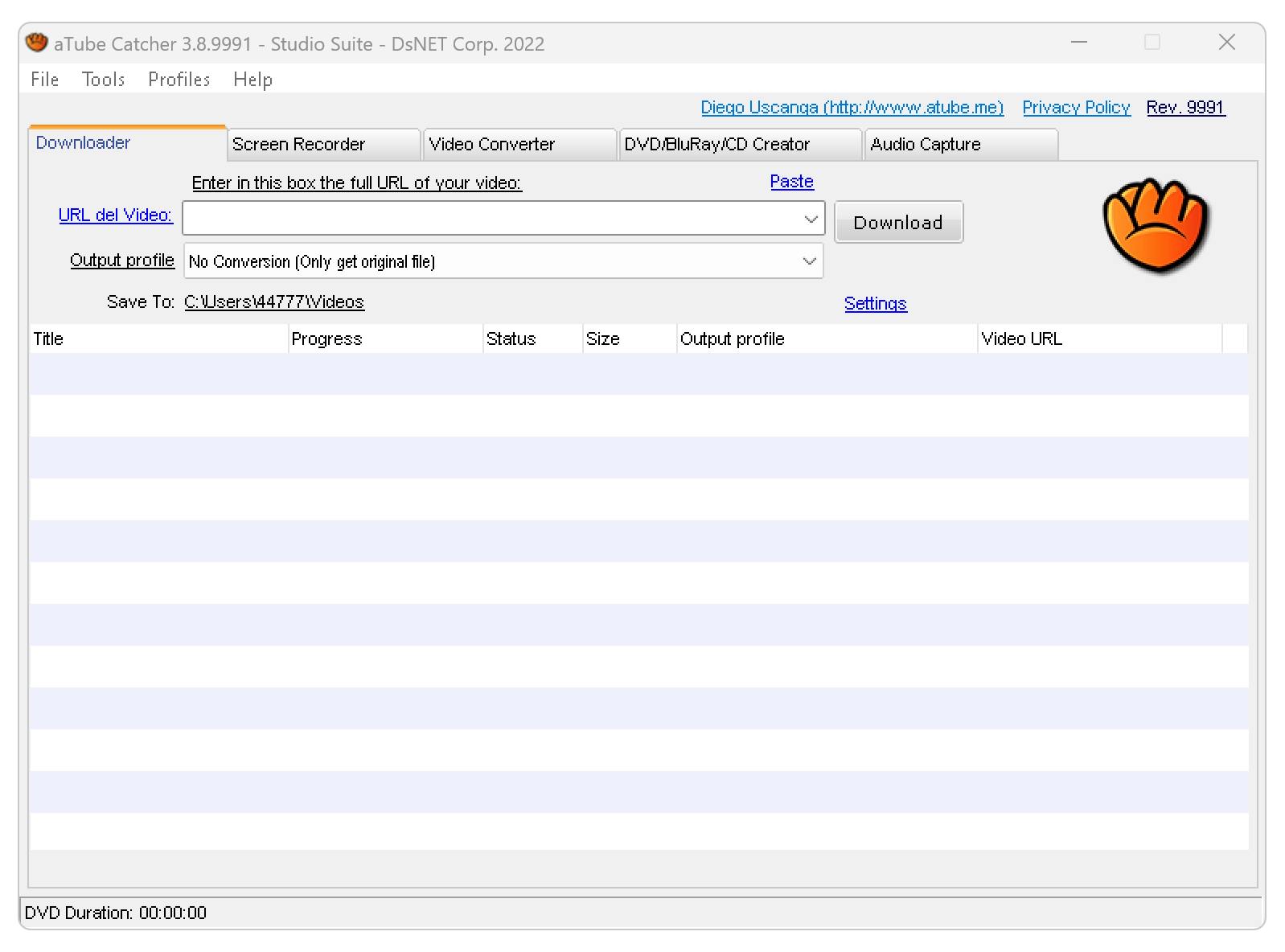 aTube Catcher is a video downloading suite that's been around for over 14 years and helps you download online videos that are playable on the device of your choice. The software supports platforms such as Facebook, Vimeo, Yahoo, Dailymotion, Metacafe, Spike, and more.
Features:
Easily convert videos: aTube Catcher allows you to convert any of the videos on your computer into MP3 audio. Even before downloading your videos of choice, you'll have access to formats such as 3GP, AVI, XVID, MP4, WMA, WMV, GIF, FLAC, VOB, MOB, MOV, and more.
Screen recording: The software has a built-in screen recorder so you can capture whatever you see on your screen, including video chats and webinars, for presentations and tutorials. You can choose to save your screen recordings as video or audio.
Batch download: To help save you time and effort, you have the option to download multiple videos at one time.
Pricing
aTube Catcher is completely free to use.
Pros
Built-in screen recorder
You can convert any video files into DVDs, BluRays and audio CDs without using external programs
Easy-to-use interface
Multiple languages offered
Cons
Since it's free, you have to tolerate a lot of adware
Compared to other video downloaders aTube Catcher's download speed can be slow
#4: AllMyTube
Best for downloading high-quality long-form video content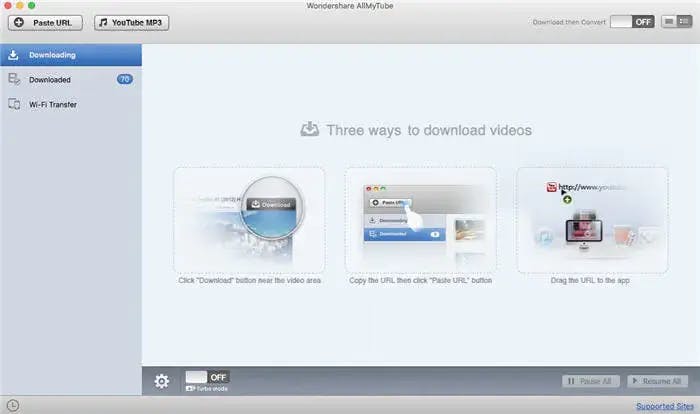 AllMyTube is a video downloader that you can use to download videos from YouTube and over 10,000 other video-sharing sites.
Features:
Download videos in three methods: You can either click the 'Download' button that appears in your browser, copy and paste the URL of your video or record a video while you stream it online.
Task scheduler: To make your life simpler, you can use the software's task scheduler to schedule your downloads and shut off the software whenever your downloads are complete.
Download entire YouTube playlists: In just one click, you can download all the videos from a YouTube playlist all at once.
Pricing
AllMyTube's most popular pricing plan is their Lifetime plan for 1 PC. With this plan, you pay a once-off payment of $29.
Pros
The software is easy to use
No ads
It has a mobile app
Supportive customer service
Cons
It doesn't automatically download videos unless you set it up manually
The help feature can be hard to find
Downloading Videos is Made Easy With SnapDownloader
Video downloaders are becoming more essential as video content on the internet grows. Various popular platforms such as YouTube, Instagram, TikTok, Facebook, LinkedIn, Reddit, Vimeo, and many more are useful for finding entertaining and educational videos that you'll want to be able to access anytime you want. So why not consider SnapDownloader as your top choice?
Our tool has been designed to help you simply download high-quality videos from over 900 of your favorite sites, even if they are private. Try out SnapDownloader's free trial and see just how fast and easy it is to have access to your favorite videos from all the popular platforms!