There are a ton of video downloaders on the market—so many that it can be hard to determine which one is the best for your needs.
Don't worry, though—I'm here to help. In this aTube Catcher review, I'll be taking an in-depth look at what the popular tool has to offer and why you may want to consider SnapDownloader as an alternative.
Ready? Let's get started!
aTube Catcher vs. SnapDownloader: Key Differences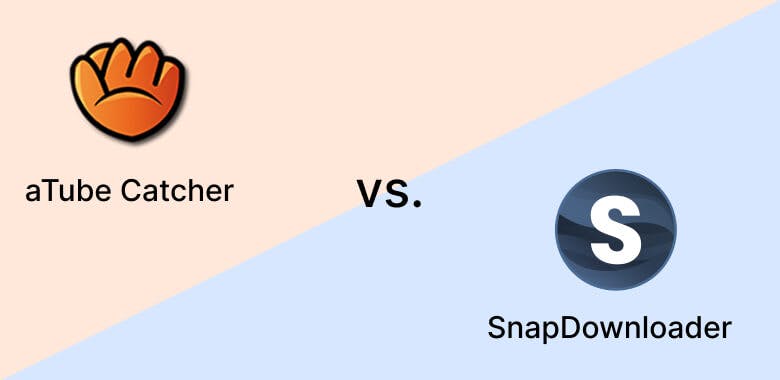 1. Price
aTube Catcher is a free tool, while SnapDownloader will cost you a subscription fee. The trade-off here is that aTube Catcher offers fewer features than SnapDownloader—but more on that in a bit!
2. Download Options
Both aTube Catcher and SnapDownloader allow you to download videos from popular sites like YouTube, Vimeo, and Dailymotion. However, there are big differences between the two in terms of download options.
aTube Catcher only allows you to download videos one at a time and doesn't allow you to download specific video clips, chapters, or sections. On the other hand, SnapDownloader comes with features like bulk URL download, playlist/channel download, and chapter downloads.
3. Download Quality
aTube Catcher supports video resolutions of up to 4K, while SnapDownloader can handle resolutions of up to 8K.
So, if you want to download videos in the highest possible quality—or if you want to future-proof your downloads—SnapDownloader is the better option.
What Is aTube Catcher?
aTube Catcher is a desktop application that allows users to download videos from various websites. It has a built-in video converter, which means that you can convert the downloaded videos into different formats. The application also has a screen recorder, which you can use to record your screen activity.
aTube Catcher Key Features
1. Video Downloader
aTube Cather's core feature is its video downloader. It supports downloading videos from hundreds of popular video streaming, hosting, and sharing websites like YouTube, Facebook, Vimeo, Dailymotion, and Metacafe.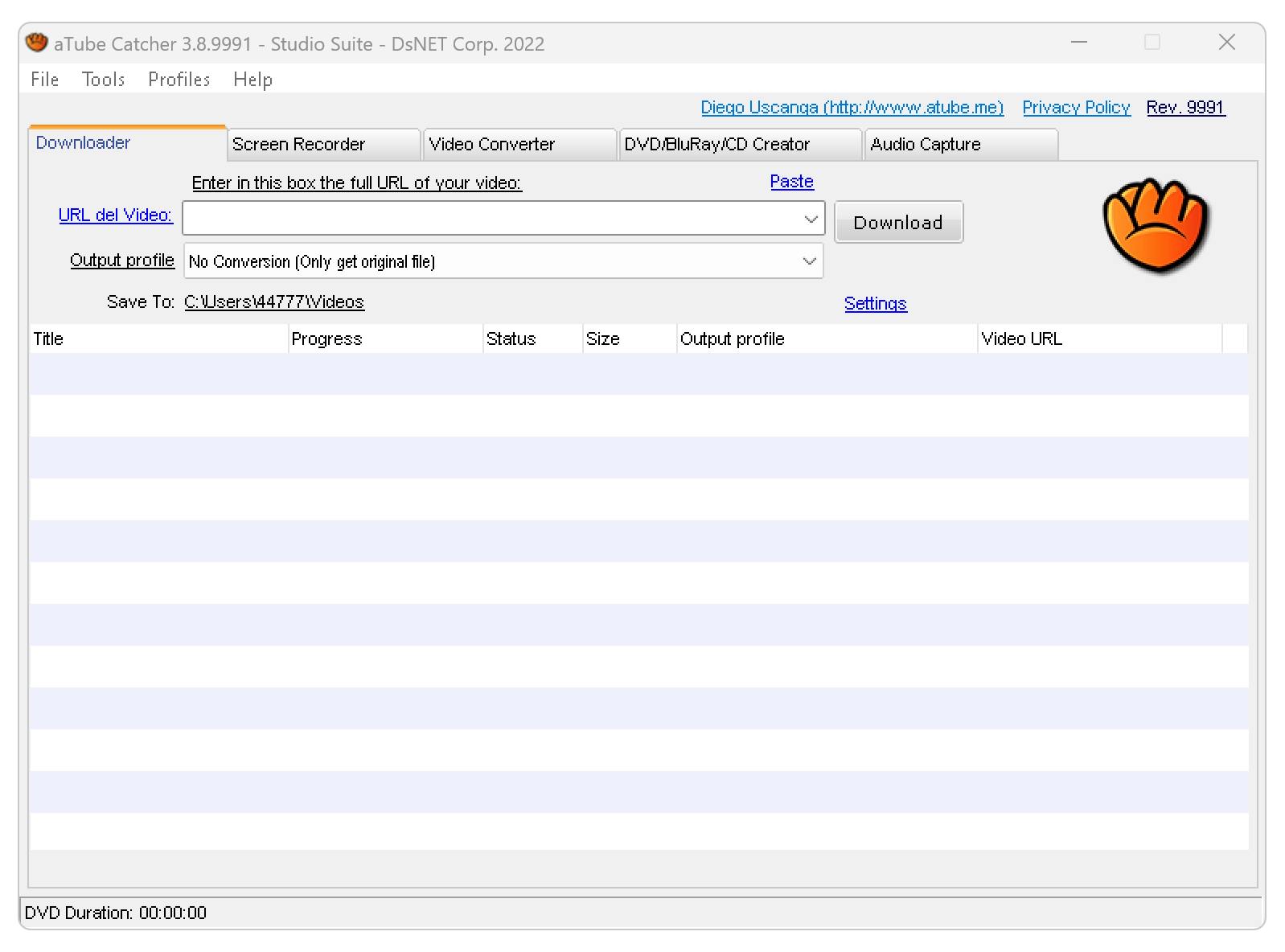 To download videos, all you need is the video's URL. aTube Catcher will then fetch the video and give you downloading options, such as the resolutions (144p to 4K) and output formats. And speaking of output formats, aTube Catcher is extremely robust—the tool supports more than 18 video and audio formats, including:
3G2
AVI
XVID
MP4
MP3
WMA
WMV
GIF
FLAC
WAV
Point is, there are a ton of options—more than enough for the average user. This variety makes aTube Catcher a good choice for users who need to download videos in niche formats for specific purposes.
2. Screen Recorder
aTube Catcher also features a screen recorder, which you can use to record desktop activity, virtual meetings, gameplay footage, and walkthroughs—you name it!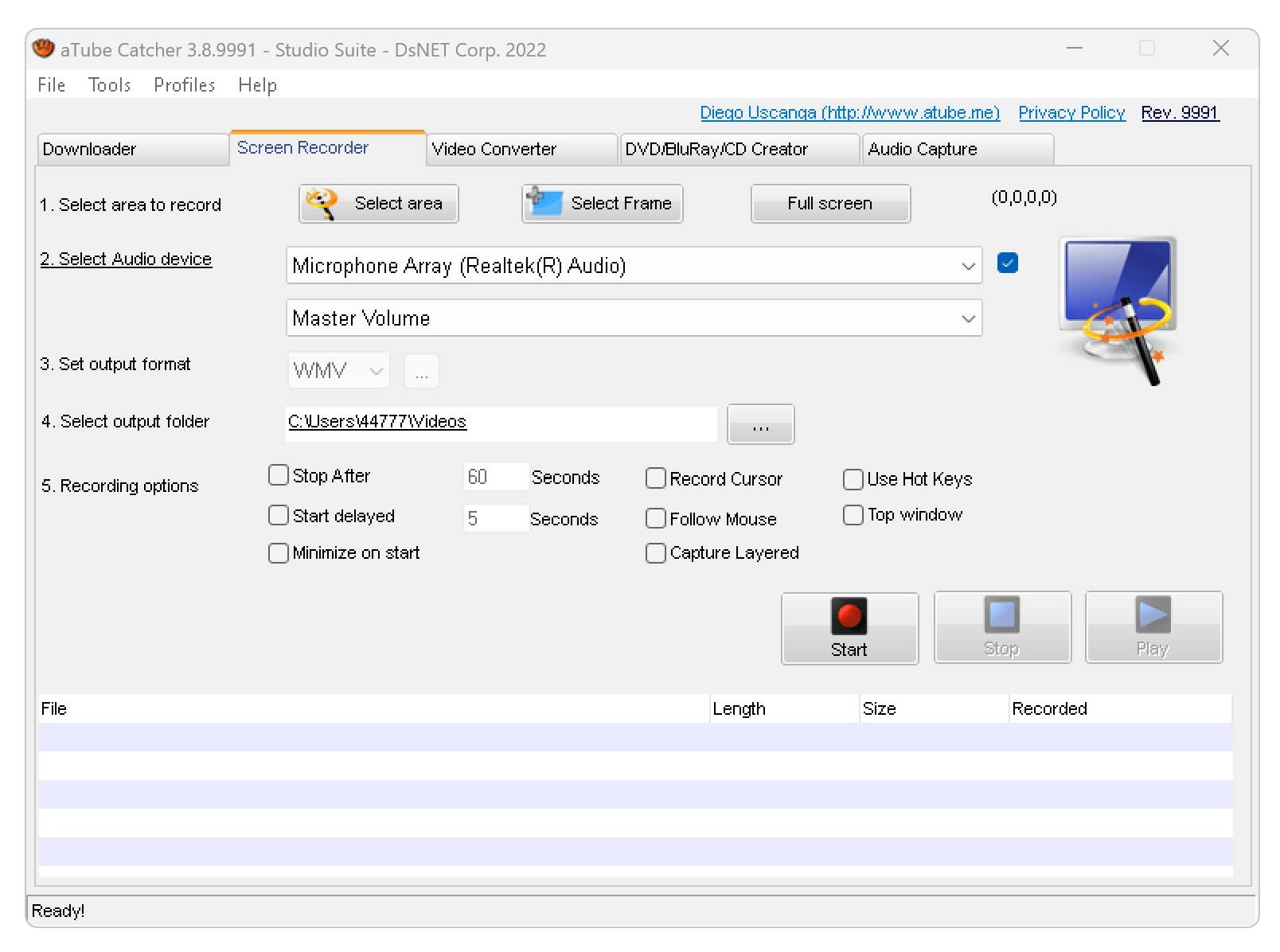 The recording process is pretty straightforward—you just need to launch the screen recorder, define the recording area, and hit the "Record" button. Once you're done recording, you can then save the video to your computer in one of the many supported formats we covered earlier.
3. VCD/DVD/Blu-ray Burning
If you've ever wanted to create physical backups of your favorite video and audio content, aTube Catcher can help. The application can burn videos and audio files to CDs, DVDs, and Blu-ray without requiring any third-party apps.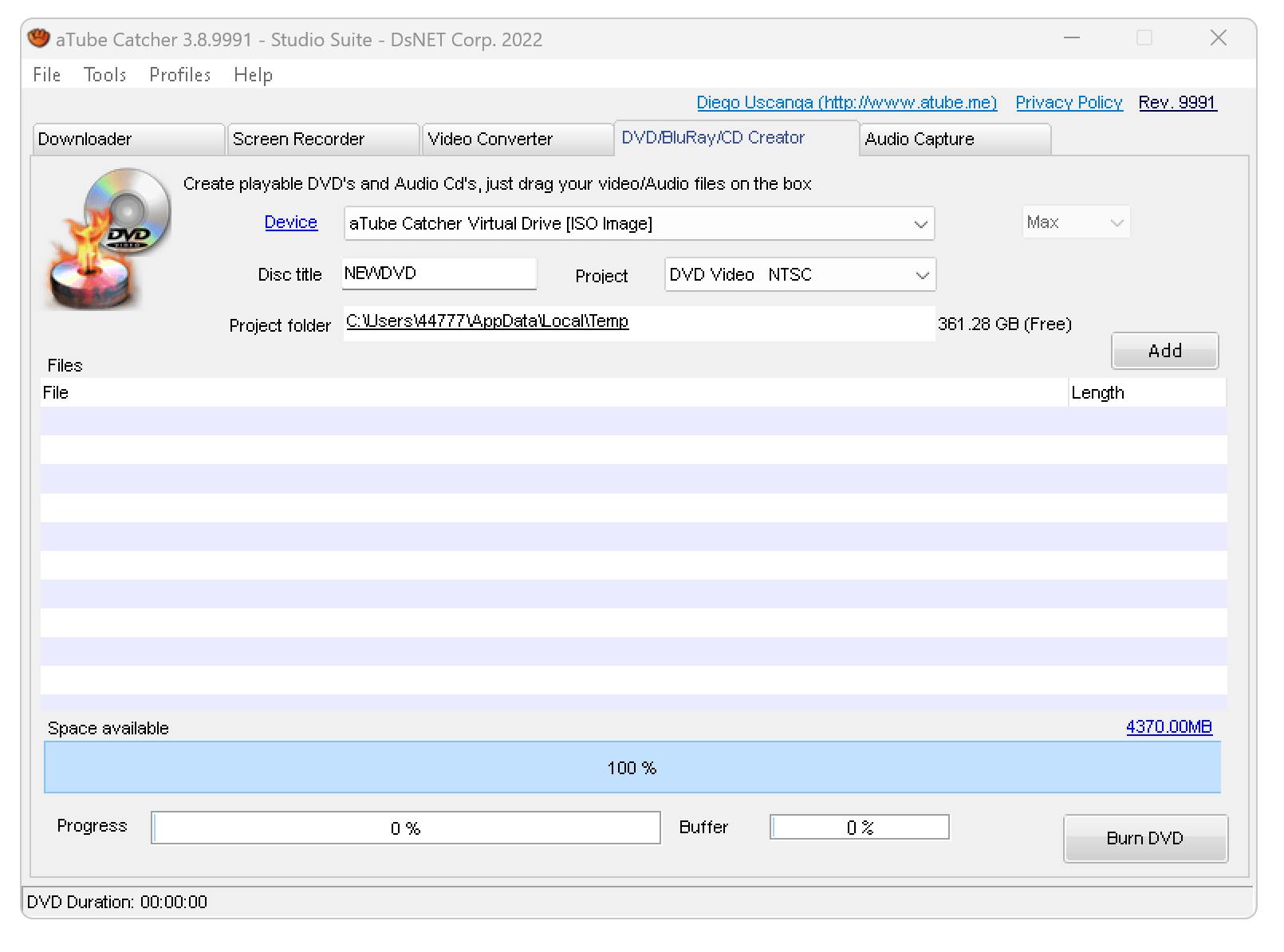 This is a fairly unique feature when it comes to modern video downloaders. Not many support CD/DVD/Blu-ray burning, and even fewer support it as well as aTube Catcher does.
4. Video Editing
aTube Catcher also has a very basic video editing tab where users can trim and crop the videos they download.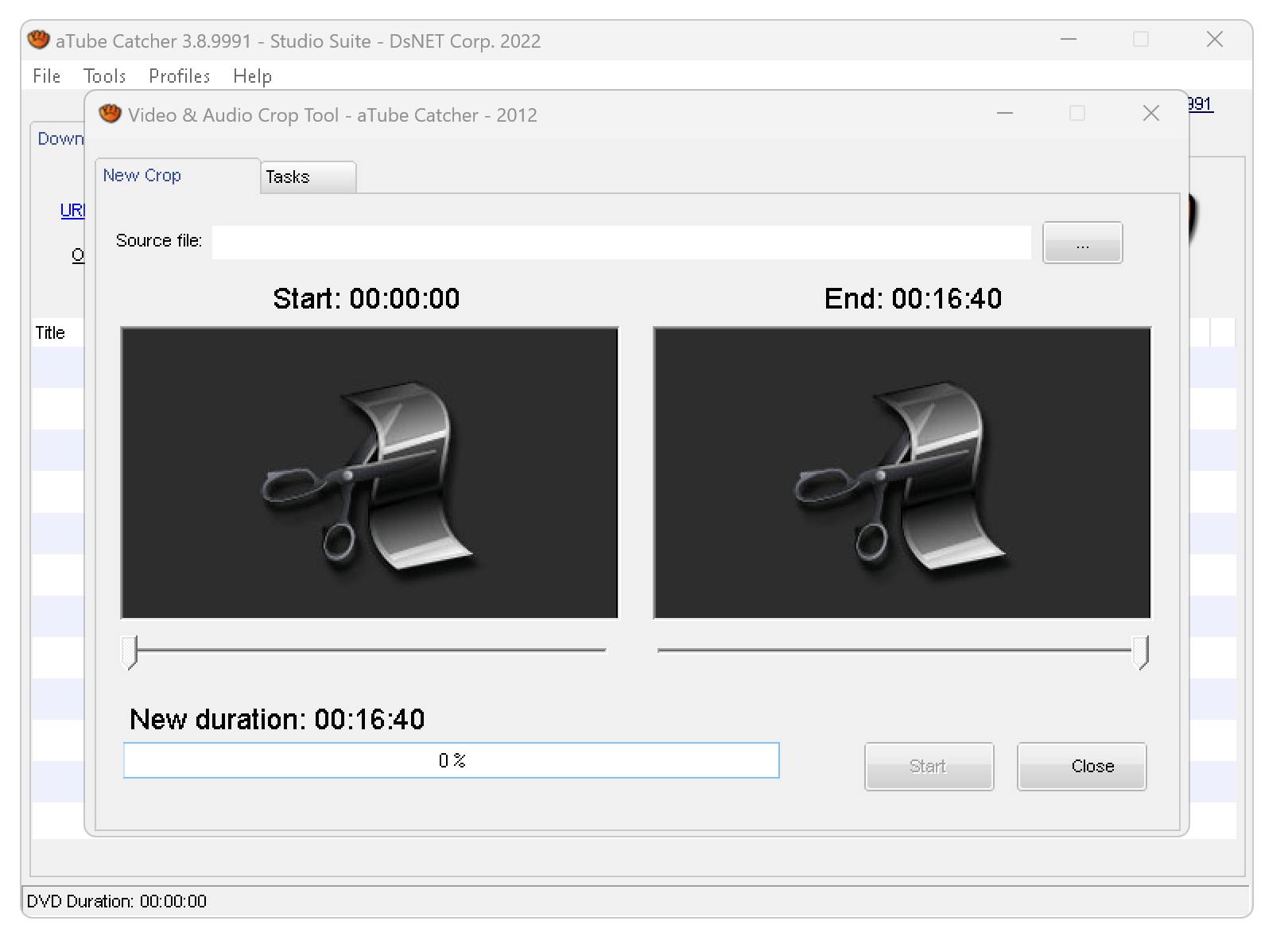 While the editing features are pretty basic, they're still a welcome addition. After all, not everyone needs full-fledged video editing capabilities—sometimes, all you need is to quickly crop out a section of the video or trim off the beginning or end.
aTube Catcher Pricing
aTube Catcher is a totally free application. There is no paid version.
Like many free tools, aTube Catcher makes money back by getting users to install extra pieces of software as they try to install aTube Catcher. You do have the option to opt out of these additional programs, but the program doesn't make that overly clear. When I downloaded aTube Catcher for this review, I had to opt-out of three separate programs.
So, consider yourself warned—if you're on autopilot when you're installing aTube Catcher, you may end up with some unwanted programs on your computer.
aTube Catcher Pros & Cons
Pros
Affordable: aTube Catcher is a free application with no paid version.
Wide Range of Output Formats: aTube Catcher can download videos in 18 different output formats.
Cons
Ad-Supported Installation: The program is supported by ads, which means that you'll be prompted to install ad- and toolbar-laden software during installation.
Slow Downloads: One of the biggest complaints about aTube Catcher is that it's quite slow—especially when compared to its alternatives.
aTube Catcher Alternative: SnapDownloader
SnapDownloader is a desktop application that's purpose-built for downloading videos and audio files from popular streaming and sharing websites.
Like aTube Catcher, SnapDownloader supports a huge number of video hosting websites, including YouTube, Facebook, Vimeo, and Dailymotion. But unlike aTube Catcher, SnapDownloader also supports video sharing and social media sites like Instagram and TikTok.
SnapDownloader also supports a wide range of output formats and resolutions, giving you the flexibility to customize your downloads to your specific needs.
SnapDownloader Key Features
1. Video Downloader
SnapDownloader's video downloader goes beyond aTube Catcher's basic capabilities by supporting features like keyword search. Plus, if you want to download a bunch of videos at once, SnapDownloader is up to the task.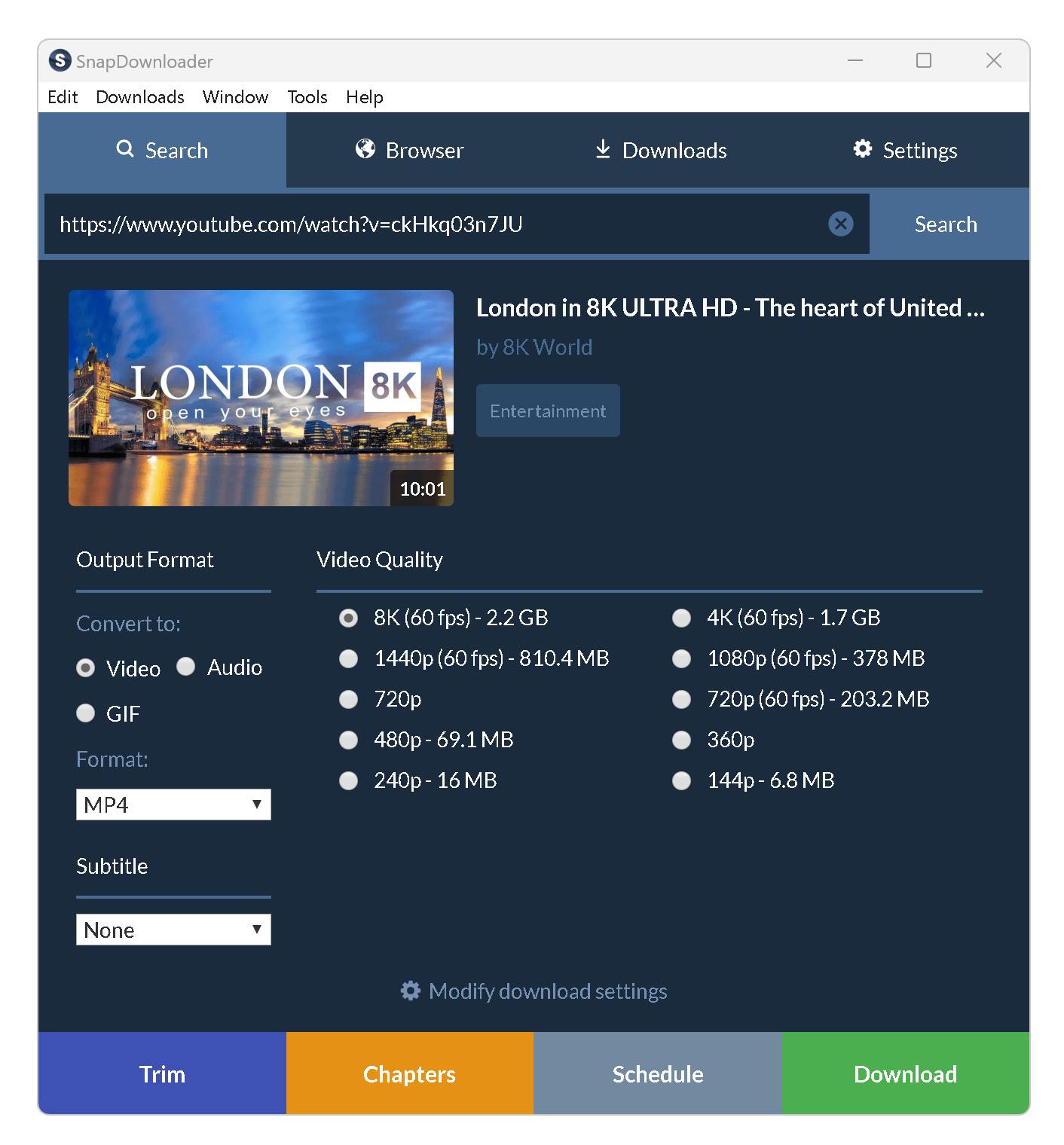 You have two options for bulk video downloading:
Bulk URL Downloads: SnapDownloader allows you to post up to 500 video URLs at once. All videos are added to the download queue automatically.
Playlist & Channel Downloads: You can also use SnapDownloader to download entire YouTube playlists and channels. This is a great way to download an entire series of videos in one go.
Just like with aTube Catcher, you get a ton of download options as well, including 10 output formats and 8 output resolutions. You can also choose to schedule your downloads for sometime in the future—a neat feature that can help you optimize your bandwidth usage.
2. UHD (8K) Video Downloads
aTube Catcher can support video download resolutions of up to 4K. While this is great, it may not be quite enough for some power users.
If you want to download videos in resolutions of up to 8K, SnapDownloader is able to do that. This is a great way to future-proof your video downloads, ensuring that you'll be able to enjoy them for years to come—even if/when 8K becomes the new standard.
Or, maybe you're one of the lucky few who already has a 8K monitor or TV. If that's the case, then you'll definitely want to take advantage of SnapDownloader's UHD video downloading capabilities.
3. In-App Browser
aTube Catcher doesn't have an in-app browser feature. That means videos that are locked behind sign-in pages (e.g., private and age restricted videos) are inaccessible.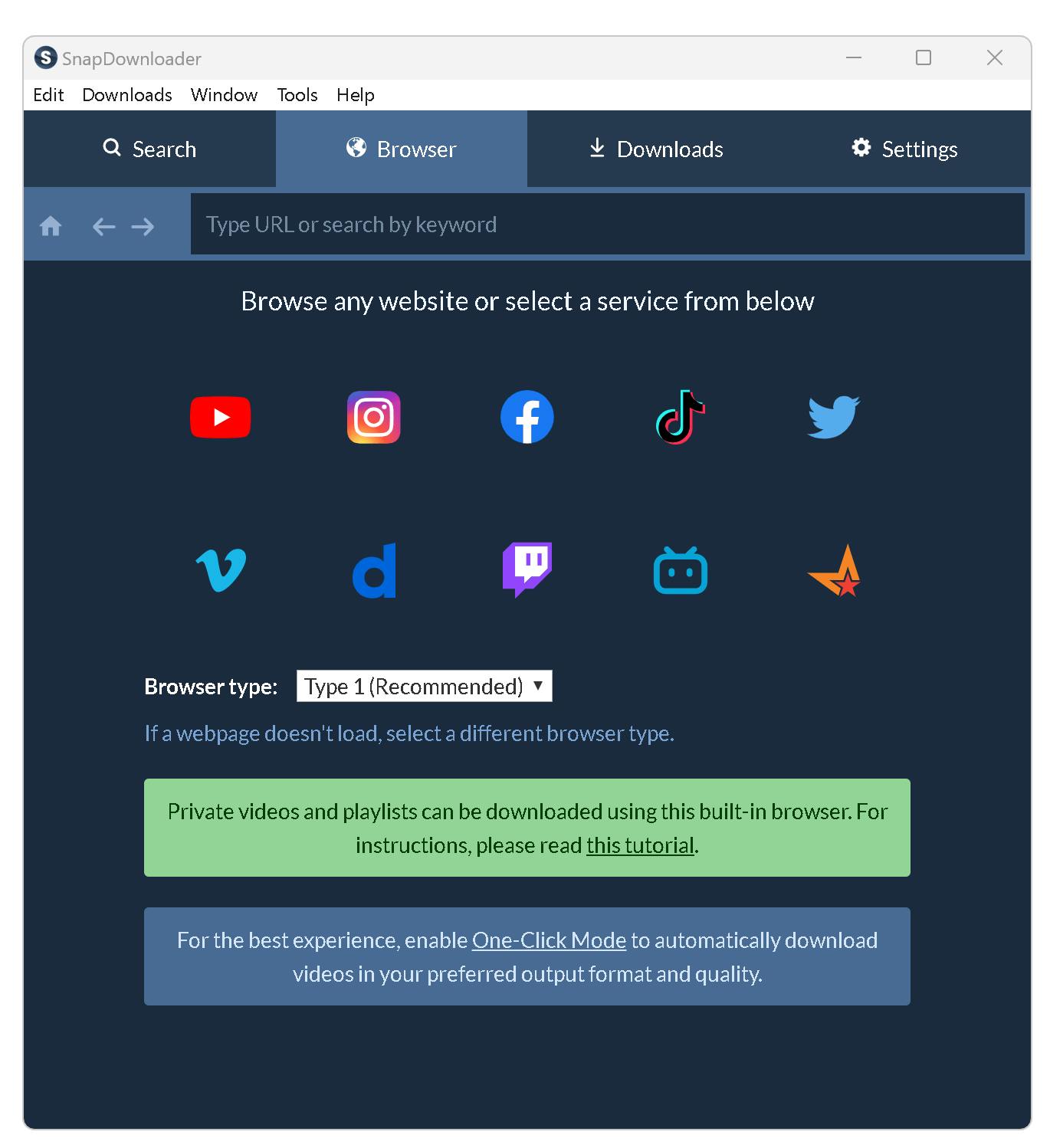 SnapDownloader, on the other hand, comes with an in-built browser that lets you access any video—no matter where it's hosted.
For example, let's say you purchase a movie on YouTube and want to download it. With SnapDownloader, you can simply log in to your YouTube account directly within the app and then download the video. No need for any workaround solutions!
4. Separate YouTube Chapter Downloads
aTube Catcher doesn't have a built-in chapter feature, which can be quite limiting if you're trying to download a specific section of a longer video—like a lecture or tutorial. Instead, you need to download the entire video and trim off the sections you don't want when it's done.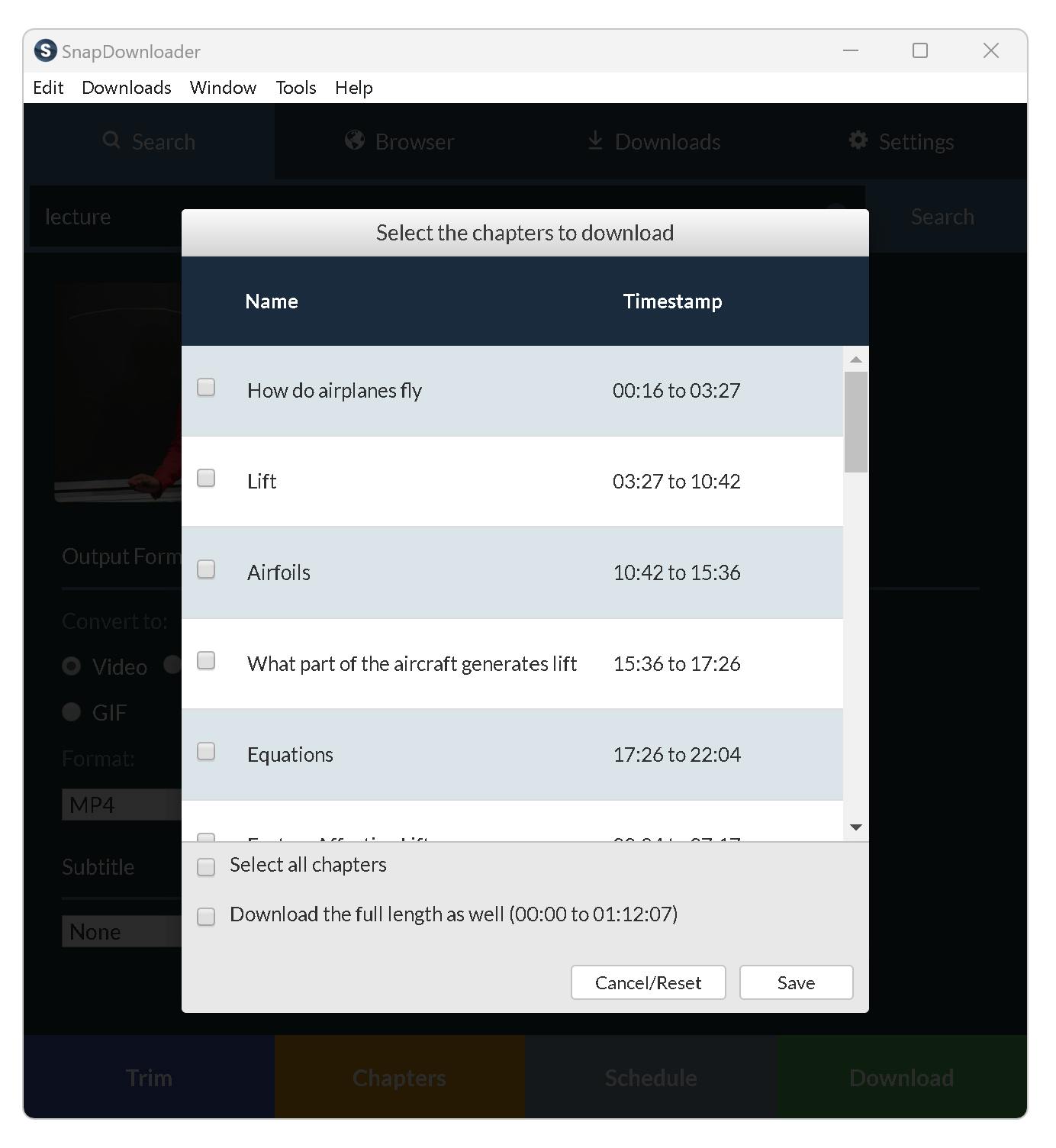 SnapDownloader's chapter feature lets you break up long videos into smaller chunks. That way, you can easily skip around to the parts that you're interested in and download only those sections.
This is a great way to save time and disk space—especially if you're only interested in certain parts of a video.
5. Simultaneous Downloads
aTube Catcher is a bit limited in the sense that it can only download one video at a time.
This isn't really an issue for some users. But if you need to download a bunch of videos—or if you just want the convenience of being able to download multiple videos simultaneously—SnapDownloader is the way to go.
SnapDownloader Pricing
SnapDownloader offers a 48-hour free trial—no payment information required!
After that, you'll need to upgrade to one of our paid plans. We have three subscription options—Monthly Subscription ($7.99), 3-Month Subscription ($16.99), and Annual Subscription ($29.99).
You can also buy a lifetime license to SnapDownloader for $39.99.
aTube Catcher vs. SnapDownloader: Feature Comparison
| | | |
| --- | --- | --- |
| | aTube Catcher | SnapDownloader |
| Video Downloads | ✅ | ✅ |
| Bulk Downloads | ✅ | ✅ |
| Audio Downloads | ✅ | ✅ |
| Restricted Video Downloads | ❌ | ✅ |
| Playlist & Channel Downloads | ❌ | ✅ |
| Simultaneous Downloads | ❌ | ✅ |
| Chapter Downloads | ❌ | ✅ |
| In-App Browser | ❌ | ✅ |
| Screen Recorder | ✅ | ❌ |
| VCD/DVD/Blu-ray Burning | ✅ | ❌ |
| Formats | 18+ | 10+ |
| Resolutions | 144p to 4K | 144p to 8K |