Are you out and about looking for the best Instagram video downloader to fetch entertaining content from the media-based social app? Here's our list of the best online Instagram downloader tools, along with plenty of apps to save Instagram videos on your device.
Whether it was handwritten letters in the past, or the ability to send out a digital message over a dialup connection – we have always been social animals. All thanks to the giant leap in technological advancements, the Internet has become accessible to even the most remote regions of the world, and our ever-growing need to stay connected with loved ones has led to the creation of platforms such as Instagram. What started off as a one of a kind social media platform to share one picture that spoke a thousand words, has now become a video-sharing platform like no other. The popularity of the platform and the demand to download Instagram videos has grown significantly, which is why the IGTV (Instagram TV) platform has been developed in the first place.
However, unlike YouTube, which does offer a limited way to download and watch videos offline using the mobile app, there is no way to download videos from Instagram or save videos. At times, while browsing through your Instagram scrolling, you come across some videos that catch your eye. This is amazing, but when you're looking for downloading those, you're going to need an Instagram downloader that supports it, and that is where this detailed post comes in. For this, we've compiled a list of the best Instagram video downloaders to have in 2021:
SnapDownloader
ClipGrab
Freemake Video Downloader
JDownloader
VideoProc
DownloadGram
SaveFrom
GramSave
InstaSave
InstaDownload
Now let's get on directly to the list of online Instagram downloader tools, and installable Instagram to MP3 video downloader tools out there.
Top 5 Instagram Downloaders for Windows PC and macOS
1. SnapDownloader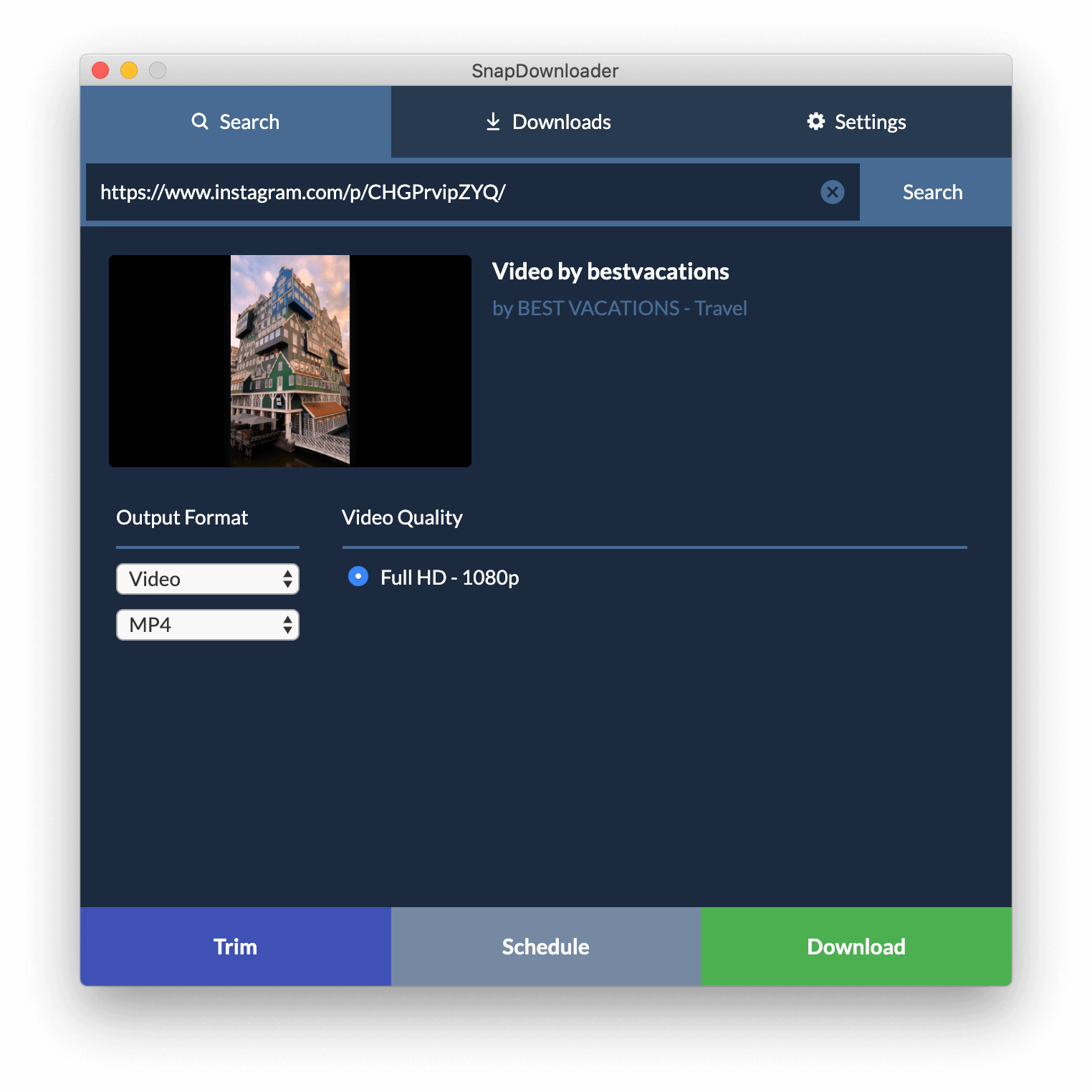 SnapDownloader has been an excellent tool for video downloading, and Instagram hasn't been a problem for it. With easy access and impressive downloading speeds, SnapDownloader provides the best user experience for getting all videos off a range of hundreds of websites. Converting downloaded videos directly to MP3 and different file formats make this a versatile tool for any video downloading experience. Moreover, it can download videos from Dailymotion, TikTok, Facebook, Instagram, Twitter, and 900 other websites.

Get SnapDownloader
Features:
Easy to use and beginner-friendly
Supports all video file formats and conversion to MP3
Download videos in all resolutions with support for 8K, 4K, 2K, 1080p, 720p, and other video resolutions
Comes with an Instagram to MP3 converter built into the app.
Pros:
Latest format support with AR and 3D included.
Provides all video qualities ranging from SD to HD.
Provides a clean user experience without ads.
Apart from Instagram, it can download from 900 other websites such as YouTube, Vimeo, Facebook, TikTok, and Twitter.
Cons:
Not available for Android
2. ClipGrab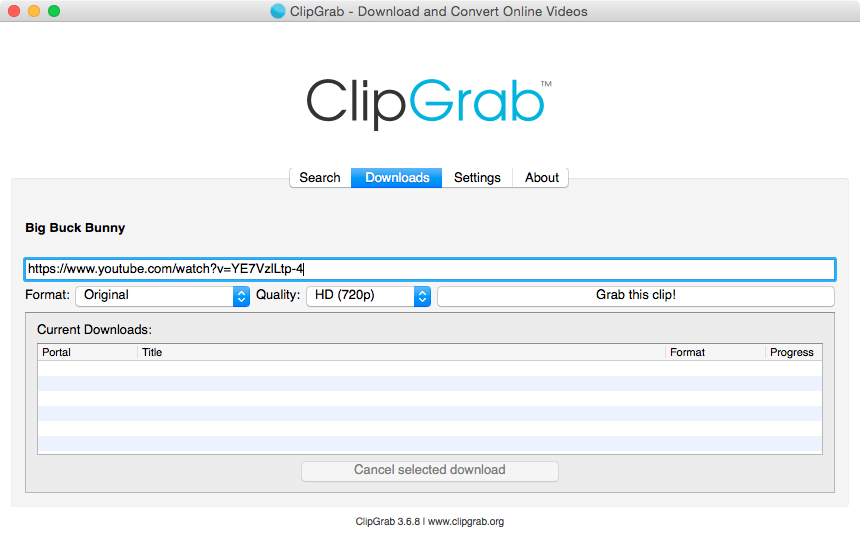 ClipGrab primarily allows you to download Instagram videos or any other videos from sourced websites. This tool supports many different video file formats, with MP4, MP3, FLV, and others, being some of them. It is also used to convert downloaded videos into any file format of your choice. ClipGrab is easily downloadable for all Operating Systems, including Windows, Mac, and Linux.
Features:
All file formats are available for downloading videos off of Instagram
Can convert Instagram videos to MP3 and other formats
Beginner-friendly with an easy to use process
Pros:
Clean and lightweight in storage
Supports all video file formats for video downloading
Cons:
Requires the files for the software to be downloaded for use
Also read: Top 10 Facebook Video Downloaders
3. Freemake Video Downloader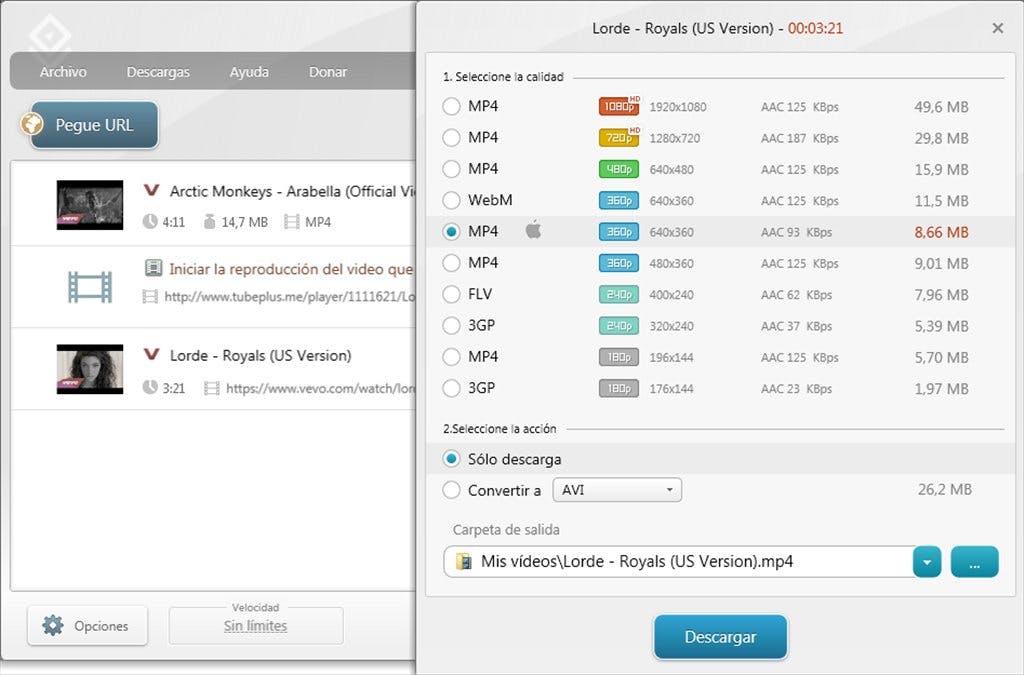 Freemake Video Downloader is an excellent Instagram video downloader and has been for around ten plus years. It is a free Instagram video downloader that you can use to download clips from Instagram and almost 10,000 sites in various video formats. Like other video downloaders, the download starts by pasting the video's link, selecting the preferred quality, and hitting the download button. When you download videos from Instagram, the app offers a fast and truly straightforward approach.
Features:
Stable build for the software
Compatible with more than 10000 websites
Easy to download videos with a simple process
Pros:
Batch downloading support
Automatic shut down for battery saving
Download directly to DropBox or Google Drive
Cons:
Watermark is present on the free version
No macOS support
4. JDownloader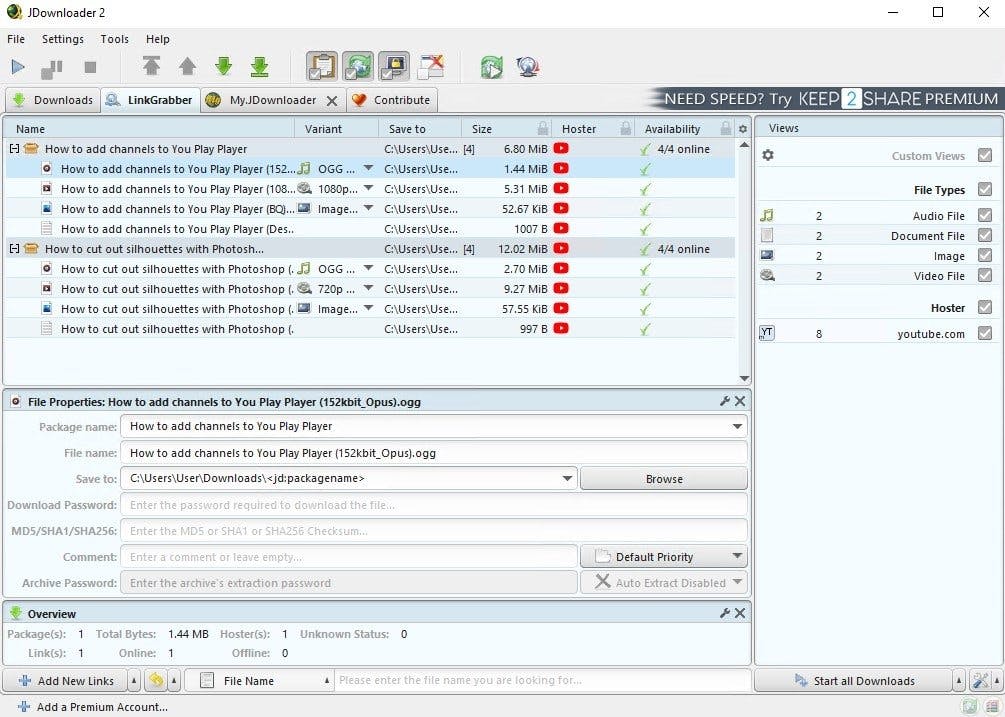 JDownloader is another Instagram Downloader compatible with over 600+ different video hosting and sharing sites or platforms, such as TikTok, YouTube, and Facebook. It has various download options such as adjusting bandwidth limitations, auto-extracting zips or other archives and download automation with precise control. JDownloader is supported and trusted by many developers and testers who continuously add and improve features. However, it can be an intense application to run when downloading many videos.
Features:
Continuous community support
Easy to use application
Supports various video and audio file formats
Pros:
Add-ons help to save videos from multiple platforms
Inclusion of additional features and exceptional file support
Automation options with various other parameters
Cons:
Ads in the software installer
Slow to launch with an intense load
Memory-intensive with high RAM consumption
5. VideoProc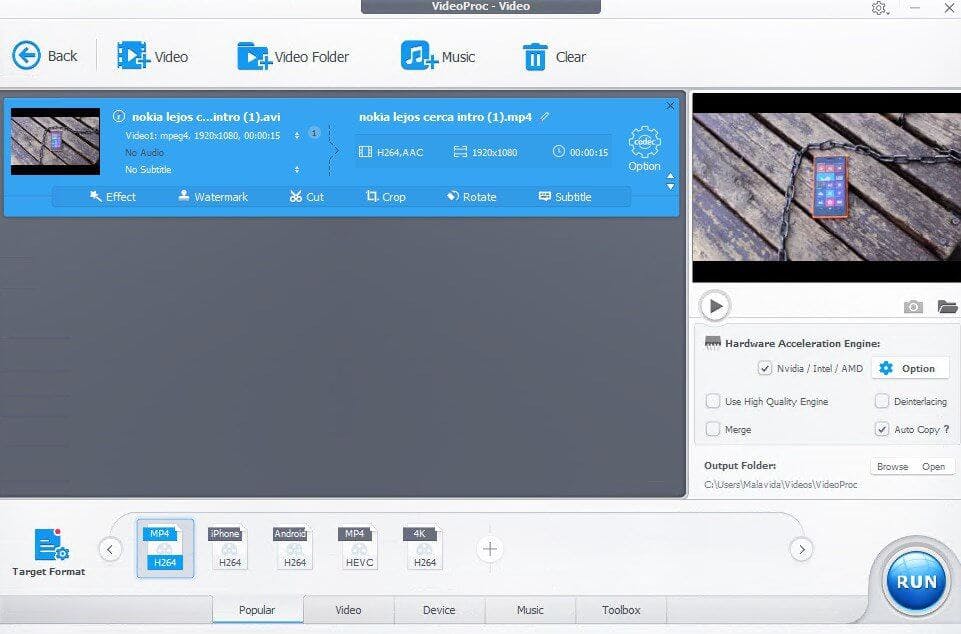 VideoProc supports hundreds of video sharing sites and applications and provides a great deal of functionality built right into it. Apart from being a powerful video downloader, it comes with video editing features such as cropping, transition effects, subtitles, and more. There are various conversion formats to choose from in this Instagram to MP4 converter, and you can even convert videos to be compatible with specific devices. Even a screen recorder tool is baked right into it to create screen recordings of your computer screen and save videos to the system.
Features:
Video Editing features built-in
Screen recorder and other specific capabilities
Supports various file formats
Pros:
Powerful with the inclusion of different features
Compatible with most devices and websites
Great screen recording and editing capabilities
Cons:
It can be a little task intensive
It can be challenging to use with all the features built-in
5 Best Online Instagram Video Downloaders
DownloadGram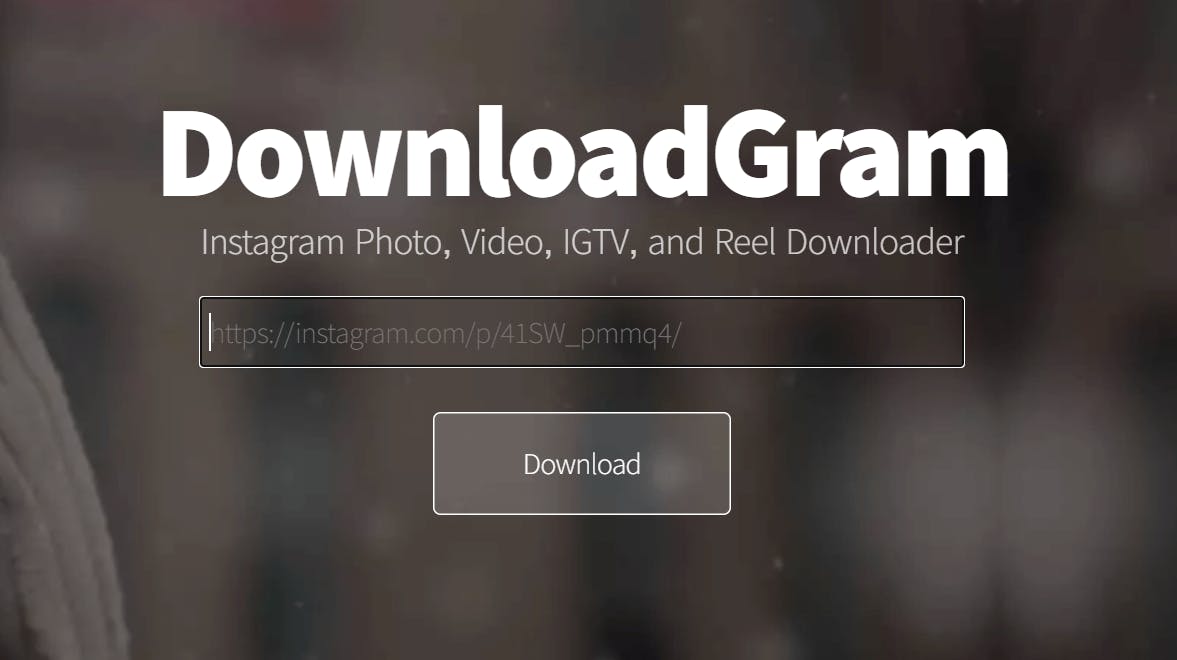 DownloadGram is one of the best online Instagram Downloader tool used for saving Instagram photos and videos. It has a beginner-friendly interface that feels comfortable while downloading or searching. Just copy the link from the copy link option on the video from Instagram and paste it inside the text box available on the DownloadGram site, select the resolution and click on the download button. Within seconds the file will be ready for download and complete downloading concerning the connection speed.
Features:
Easy to use and fast
Supports different websites
Compatible with most video and audio file formats
Pros:
It is user friendly and is also designed explicitly for Instagram
Works fast with a simple process
It can be used to save Instagram videos directly to online drives
Cons:
It Is plagued with server issues and ping stability concerns
It can be a little data-heavy
SaveFrom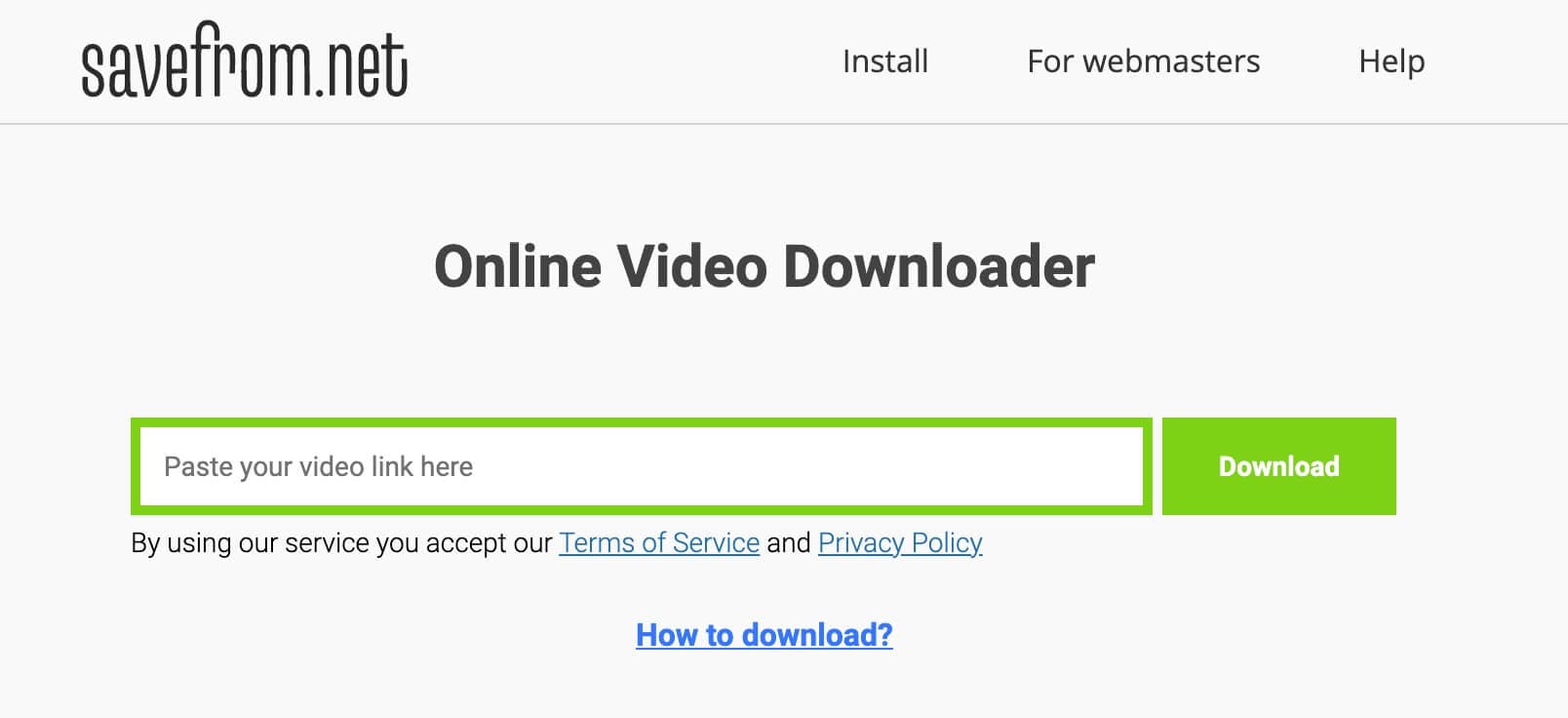 SaveFrom lists many websites that it supports video downloading from. The free and reliable user experience is welcoming and is also free of advertisements of any sort. The process is as simple as it can get, copy the link of the video you want to download, open the site of the SaveFrom tool and paste the link in the text box. While downloading videos in standard definition is easy and fast, you will have to look elsewhere if compromising on video quality is something you're not looking forward to.
Features:
Extension support for different browsers
Easy to use with simple processes
Fast but limited downloads
Pros:
Provides a clean, ad-free, and registration free user experience
Works with almost every video platform
Can work with different browsers as extensions
Cons:
There is a limit on the video resolution.
The interface is dated and clunky, with old graphics
GramSave

GramSave lets users download Instagram photos and videos quickly without any hassle. The process to download Instagram videos is easy and also allows Instagram to MP4 converter features. Just open your Instagram app or website, copy the image or video URL, paste it in the text box present in GramSave and click on the download button. In a few seconds, the videos will be able to save Instagram videos to your device, and these videos can also be converted to any other file format.
Features:
Easy downloads and conversion
Fast and reliable process without logins or registration
Can download at various resolutions
Pros:
Easy and fast to use and understand
Can deliver some great resolution videos
Cons:
Has connectivity issues sometimes and also server ping issues
InstaSave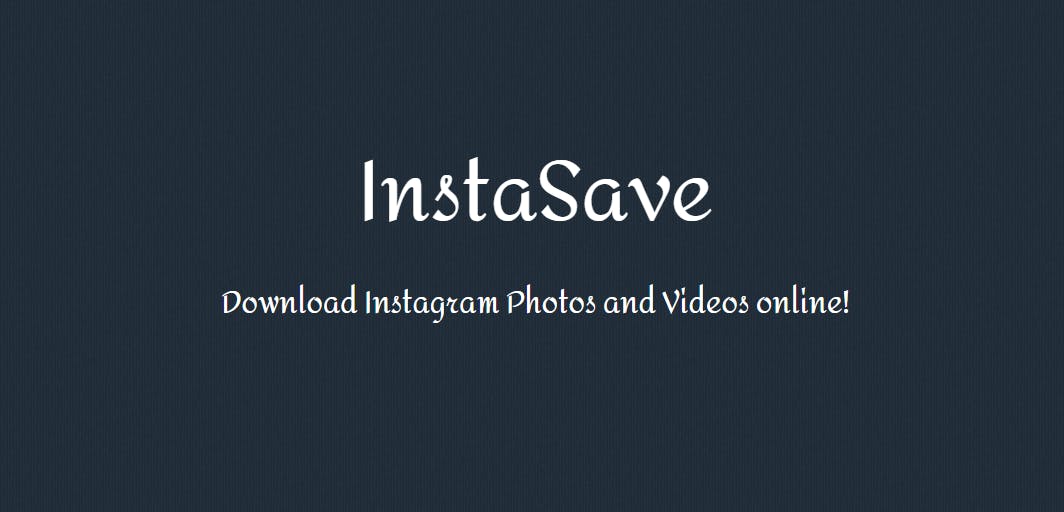 InstaSave is a widely accessed site that is used for downloading Instagram photos and videos online. The portal is easy to access with a simple interface, and the users can easily understand how to download the videos from the site. The process is the same and requires the link for the post to be copied. Then it is to be applied in the textbox for download. Just click on the download button, and the tool allows you to download videos from Instagram, with the file stored on your device.
Features:
Simple process for all people to understand
Fast download speeds
Can convert the Instagram videos to different file formats and MP3
Pros:
The conversion can occur before downloading
Can convert to MP3 and audio formats
Easy, reliable, and secure to use online
Cons:
Can face some connectivity issues
May have downloading limits in place
InstaDownload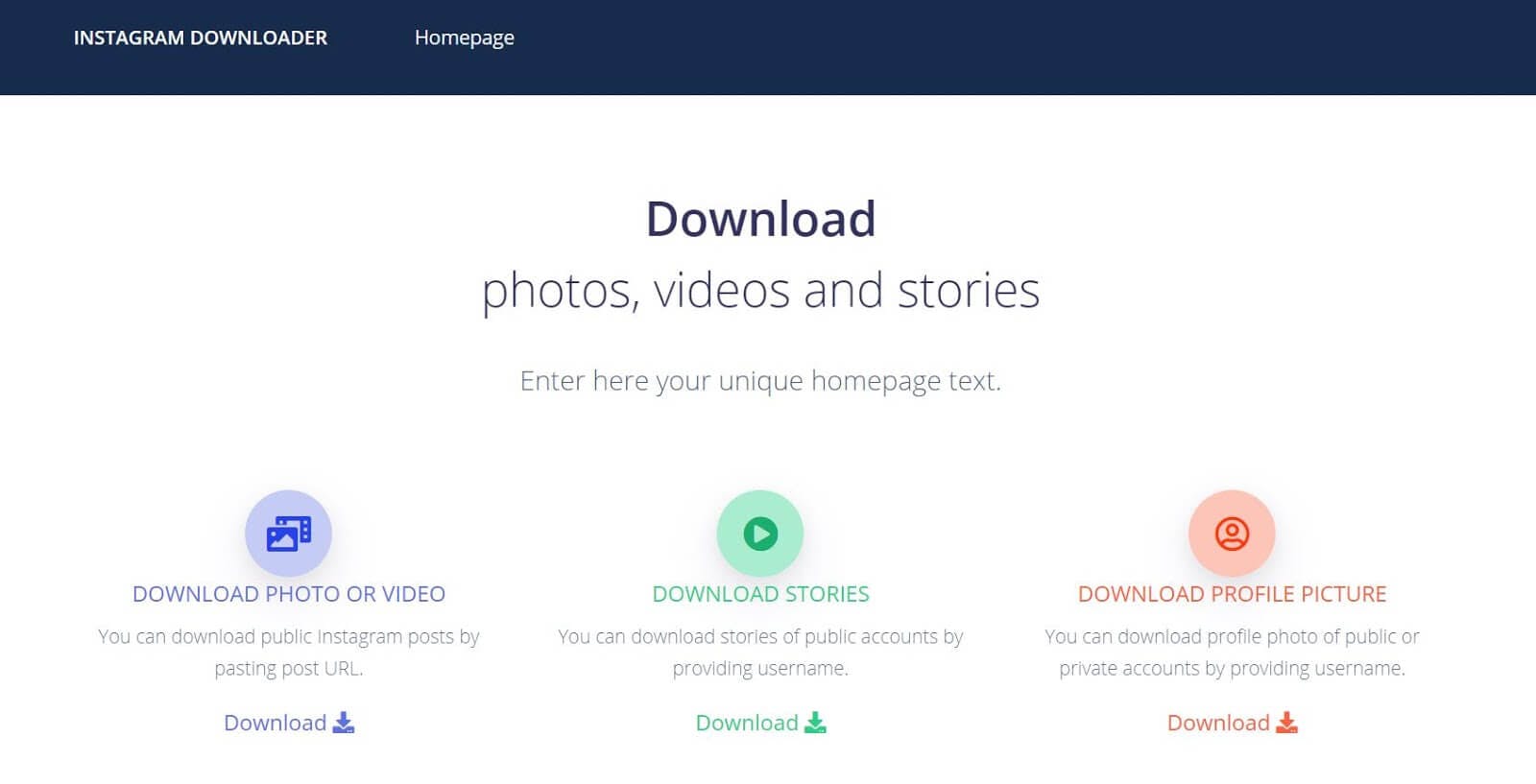 Instadownload helps users to download videos quickly with burst speeds. The procedure remains the same as copying the link from the Instagram post and downloading it. The tool is also ranked excellent and mark as one of the best Instagram downloaders on the Internet. This online Instagram to MP3 converter offers a decent, yet limited experience when it comes to fetching content from IGTV too.
Features:
Fast downloading speeds
Reliable search for the posts
Pros:
Works fast and easy with the website
It has a clean user interface
Cons:
It can be a little clunky with many downloads
Has quality issues and can't deliver on all videos
How to Download Instagram Videos?
Step 1: Download and install the latest version of SnapDownloader on your PC. The software is compatible with Windows and macOS.

Get SnapDownloader
Step 2: If you already have the link to the video that you want to download, you can skip to step #5. Otherwise, open a web browser and go to Instagram.com. Now log into your account.
Step 3: Find the video that you want to download and open it so that the video preview is shown.
Step 4: Click the three-dot menu icon and select the Copy Link option to copy the video link. Alternatively, you can directly copy the URL link from your browser's address bar.
Step 5: Go to the SnapDownloader app, paste the link and click on the Search button. Once the video is found and displayed, select the output format that you want, such as MP4 or MP3, and then select your preferred video quality, such as 1080p. Now click the Download button.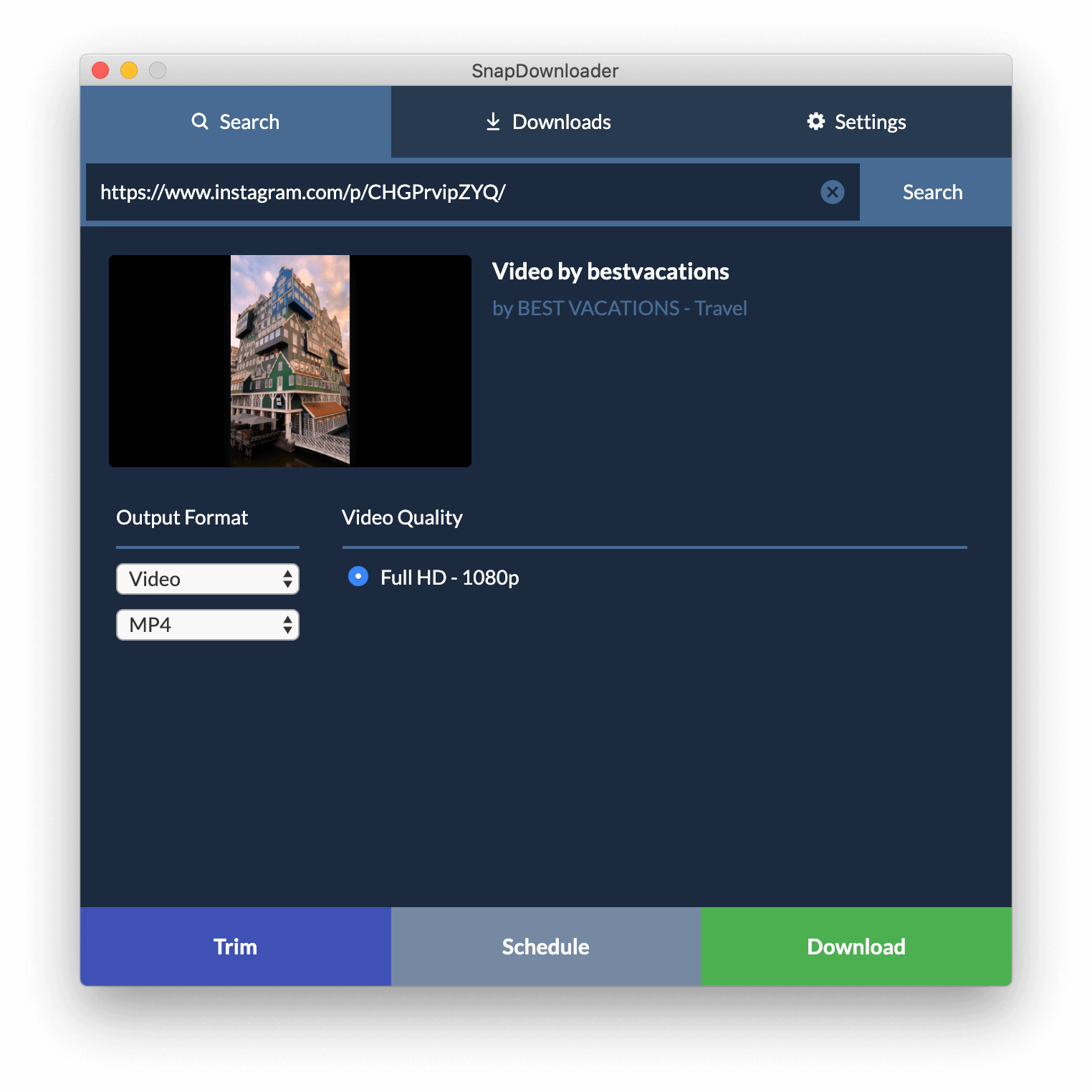 Step 6: Once the download begins, you can view its progress from the Downloads tab. The file will be saved to the download directory that you set in Settings. By default, it will be saved in the Videos folder.
Wrapping Up
The fact that the social media giant Facebook had to buy out Instagram after it became that big of a threat should tell you enough about how popular the social media app is. While the mobile app for Instagram has plenty of detailed features, the web-based version is quite limited, and you might end up looking for an Instagram to MP3 converter to fetch a jingle used in the background music of a video. Moreover, there is plenty of informative and educative content on Instagram too, which would be a breeze to watch with the help of any Instagram downloader out there.
However, there are plenty of limitations involved with the online Instagram downloader tools you find by the bunch, whether it is related to the performance, downloadable video quality, or the user interface. The primary reason you should put your trust and hard-earned money into SnapDownloader is the complete transparency the app offers, with no cutbacks on the features. From being a robust tool to download Instagram videos in MP4 and convert them directly into MP3 audio to fetching multiple videos from IGTV in one sweep with the Bulk Downloads feature, SnapDownloader a powerhouse.