The ability to download videos from Instagram should be a feature built into the app, but it isn't. Here's how SnapDownloader's Instagram video downloader app brings you this added functionality the easy way.
Over a decade ago, when social media networks were still tightening their grips around our lives, Instagram emerged as a picture-first platform that people instantly loved. A picture is worth a thousand words, which is why Instagram soon become famous enough to seem like a threat to Facebook, who eventually bought it off. Over the years, user-shared video content has become all the rage on Instagram, with funny videos, short news clips, and DIY tutorials taking center stage.
On average, Instagram users have been consuming 80% more video content year after year. It has led to the release of Instagram TV as a video-first platform to go head to head with YouTube, and Instagram Reels to counteract the Chinese social media giant TikTok. With millions of videos to watch, but no way to save Instagram videos for offline viewing, how do you download videos off the app?
SnapDownloader's Instagram Downloader is the only solution out there that does not compromise the quality of Instagram Stories and IGTV videos when you download them. Built with a simplified user-experience in mind, there aren't any annoying advertisements that compromise your way of using the Instagram downloader tool for PC and macOS.
How to Download Videos from Instagram
Before you can begin downloading Instagram video content for offline viewing, you need to download the SnapDownloader app.
Step 1: Download and install the latest version of SnapDownloader on your computer.

Get SnapDownloader
Step 2: Open Instagram on your computer's web browser and go to the video you want to download. Click on the three-dot button on the video's window and then press the Copy Link button.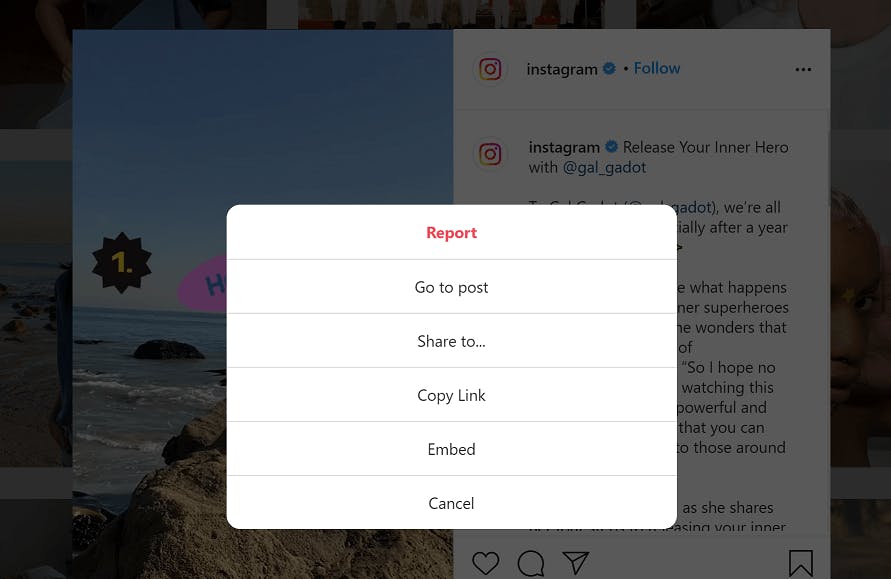 Step 3: Open SnapDownloader and paste the link of the video that you copied from Instagram into the search bar. The app will begin to search for the video right away.
Step 4: Once the video has been searched, you'll get a list of the available output formats and qualities. Select the output format of your choice, such as MP4, MP3, AAC, etc. Next, select the video or audio quality that you want to download.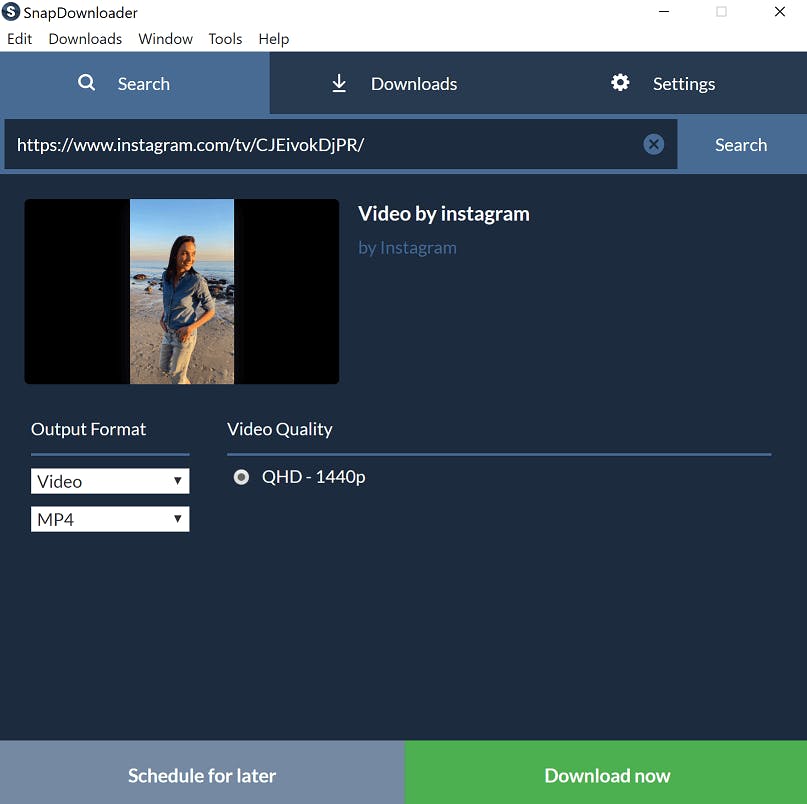 Step 5: Finally, you have the option to press the Download now button to begin downloading the video right away or pick Schedule for later to download the Instagram video later at a specific date and time. This feature is ideally useful if you are on a metered network connection.
Step 6: Once you click the Download button, SnapDownloader will get to work and you can keep track of the download progress from the Downloads tab.
After the download is completed, just click on the downloaded Instagram video or audio to play it offline on your computer. You can also use the Bulk Download option of SnapDownloader to paste up to 100 video links at once and download them.
Features of Our Instagram Video Downloader
The video downloader tool extends support across YouTube, along with other video sharing platforms such as Instagram, IGTV, Reddit, Twitch, Facebook, Twitter, and 900+ in total.
SnapDownloader takes things up a notch with support for 8K video downloading capability, playing seamlessly at 60 frames per second.
The Instagram video downloader easily lets you download complete video in bulk, saving you time and painstaking effort.
It is all equipped with the feature for converting all kinds of video content into MP3 audio format with the click of a button.
A location proxy feature is built into the app for granting you access to region-locked content on YouTube and other video platforms.
SnapDownloader is designed to be a no-nonsense app with a clean and ad-free user interface that doesn't take too long to get used to.
Wrapping Up
A quick look online, and you will notice there isn't a short supply of websites and apps that supposedly allow you to save Instagram videos for offline viewing later on. The reason we recommend steering clear is that most of them are plagued by advertisements and pop-ups which aren't just annoying but can adversely slow down your system. SnapDownloader has been developed as a premium tool for the very reason to avoid dishonest and intrusive monetizing strategies.
Which is the very first influencer profile you're going to open up to download videos from Instagram with some added help of SnapDownloader? Do let us know in the comments down below, and we'd love to know your thoughts.