Are you looking for the best Facebook video downloader that takes the pain away from being able to save Facebook videos and convert Facebook videos to MP3? Here's every top-notch online Facebook video downloader along with Windows PC and macOS tool to get you started.
Back in the early 2000s, when Mark Zuckerberg unveiled the world's very first global social media network, nobody could have imagined how Facebook would become a giant. Facebook started off as an excellent way for users to connect with their family far away, and reach out to old pals from high school they had not seen in decades, but soon evolved into a platform that collected vital user information, and offered a world of entertainment in return. It is hard to pinpoint the exact moment when Facebook became larger than life, and influential enough to become a legitimate source of information for millions of its registered users all over the world. A significant move by Facebook in recent times, has been the Facebook Watch platform, which takes on Google's YouTube with millions of user-generation videos.
Whether you're looking for the latest can of spilled beans on a celebrity, or want to know more about history, Facebook Watch is a hub of everything you could possibly want to watch. Since the content is user-generated, there are chances you will find videos on Facebook that may not be present elsewhere, and sometimes it may become essential to download videos from Facebook. At times, while browsing through your Facebook feed, you come across some videos that impress you and stick with you. This is well and good, but when you're looking to download them, you're going to need a Facebook video downloader, and that is where this detailed guide comes in.
For this, we've compiled a list of the best Facebook video downloaders to use in 2021:
SnapDownloader
ClipGrab
4K Video Downloader
iTube
Social Video Downloader
Fbdownloader
FBDOWN.net
GetfVid
QDownloader
KeepVid
With all that settled, let's jump right in to get you the best Facebook downloader you might need to get the job done.
Top 5 Facebook Downloaders for Windows PC and macOS
1. SnapDownloader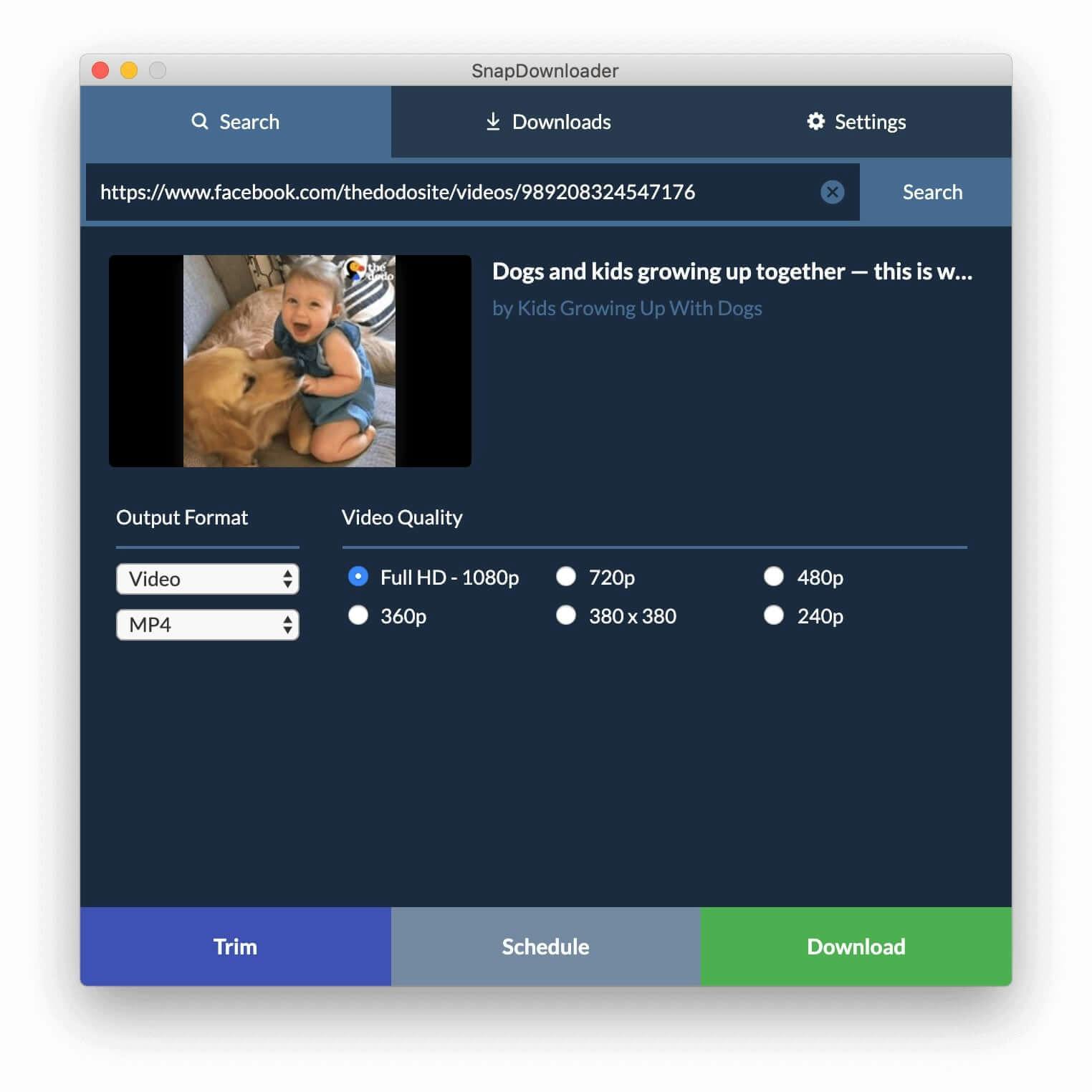 SnapDownloader is one of the best Facebook Video Downloaders on the internet. It is a video downloader for Windows and macOS that enables downloading from more than 900 websites with big names such as YouTube, Facebook, Twitter, Vimeo. It comes packed with all the essential features, such as MP4 file support or MP3 support, downloading YouTube playlists and channels, resolutions up to 8K are supported, YouTube VR videos are also included, and batch downloads, and more upcoming support.

Get SnapDownloader
Features:
Easy to use and beginner friendly.
Supports all the file formats.
It doesn't come packed with ads or other bloatware.
Lets you cut videos.
Pros:
Can save Facebook videos in full quality resolution.
Can easily convert Facebook videos to MP4, MP3, AIFF, AAC, M4A, and other formats.
Apart from Facebook, it supports more than 900 other websites.
Cons:
Not available for mobile platforms.
Recommended: 7 Best Free Video Downloaders of 2021
2. ClipGrab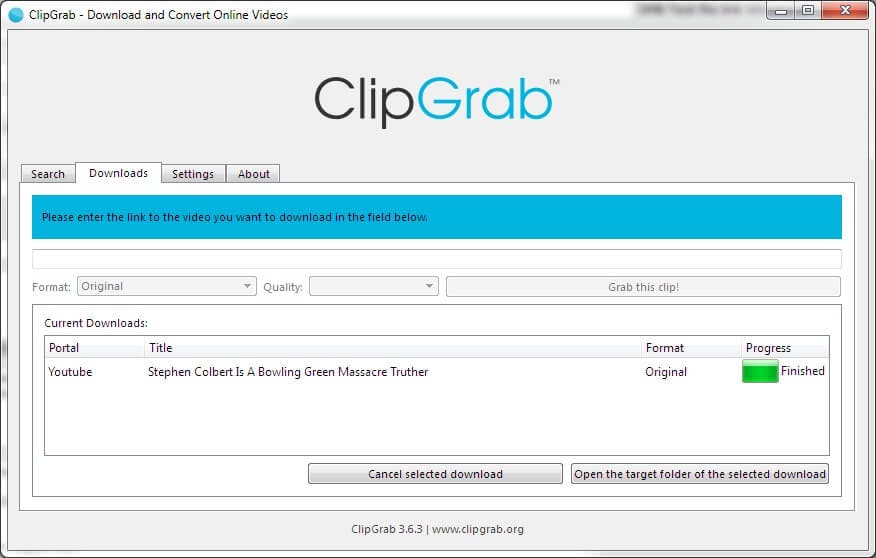 ClipGrab is primarily a YouTube downloader. However, it allows you to download Facebook videos or any other sourced websites. The tool supports many formats, with MP4, MP3, FLV, etc., being some of them. It is also used to convert downloaded videos into any of the file formats of your choice. ClipGrab is available for all Operating Systems, including Windows, Mac, and Linux.
Features:
Includes all file formats for downloading videos from Facebook
Can convert Facebook videos to MP4
Easy to use
Pros:
Clean software without annoying ads
Lightweight size and has a generous community support
Cons:
Requires the software files to be downloaded for any use
Not available for iOS or Android
3. 4K Video Downloader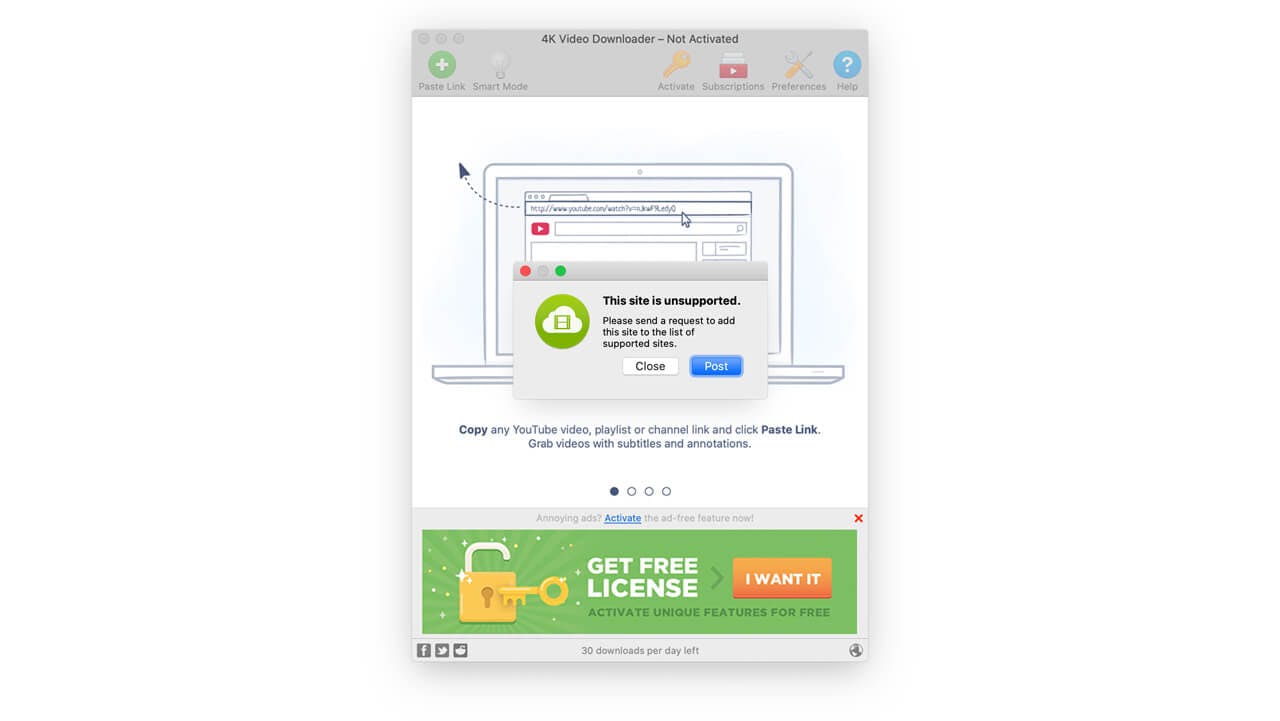 Created by 4K Download, specializing in video grabbing tools, the 4K Video Downloader deserves the spot and allows for excellent quality. This Facebook video downloader is compatible with all operating systems, including Windows, Mac, and Ubuntu. The tool allows downloading videos from Facebook and other webpages. This tool also works as a YouTube video downloader and can even grab Vimeo video files. From standard clips to newer format videos, this tool allows users to download 3D and 360 videos.
Also read: Best Alternatives to 4K Video Downloader
Features:
Allows for conversion in all file formats
It is used to download videos from most websites and also supports Facebook videos downloading
Allows for downloading 360-degree videos
Pros:
Easy to use and newbie-friendly
Allows to download all file formats and at the maximum quality
Cons:
The software files need to be downloaded for any use
It can be a little buggy
4. iTube
iTube Aimersoft, a company specializing in clip grabbing, has a specific Facebook Downloader that allows the user to save Facebook videos and is also a heavy-duty converter. The company claims to support over 10,000 websites for clip grabbing purposes. Apart from downloading Facebook videos, iTube can also record the screen, convert different file formats, and transfer videos to various devices. It also supports both Windows and Mac.
Features:
Supports more than 10000 websites for video downloading
Supports Mac and Windows
Supports all file formats and newer AR and VR video support
Pros:
Has an extensive support
Easy to use and get into
Fast downloading speeds
Cons:
Requires a premium subscription for downloading with different websites
5. VideoProc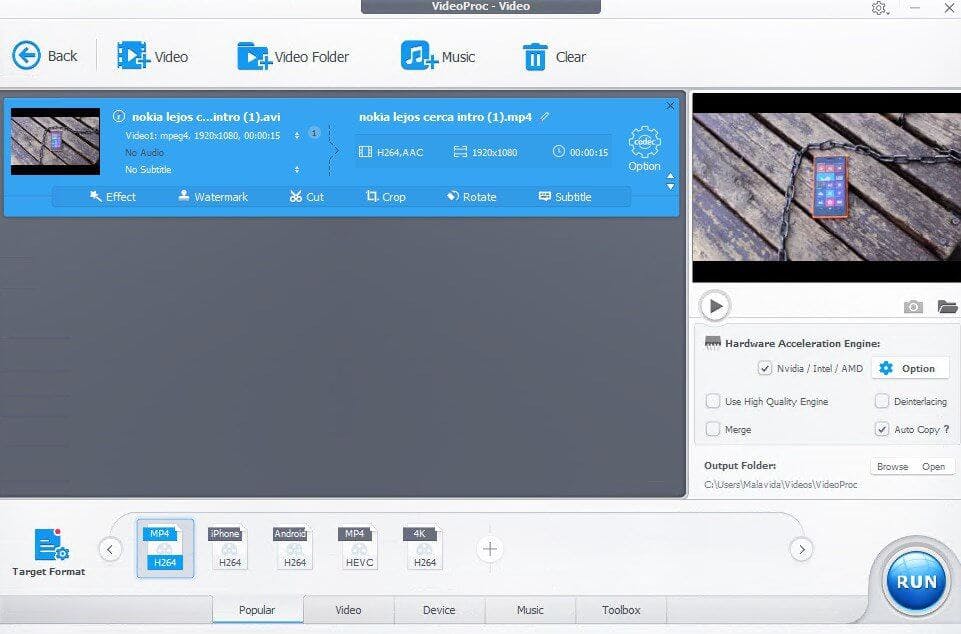 VideoProc is a software that lets you download Facebook videos with ease. It just takes a single click, and you can acquire all the videos in any standard or high-quality file formats. The most cherished aspects of the VideoProc Facebook downloader is the clean user interface, the fact that it is lightweight in size, and doesn't interfere at all with the web browsing experience.
Features:
The easy installation process for the tool.
Supports all file formats such as MP3, MP4, etc.
Pros:
It doesn't take a lot of storage for use
Enables all file formats for download
Cons:
It can be a little buggy with some websites.
5 Best Online Facebook Video Downloaders
1. Fbdownloader

Fbdownloader is one of the most straightforward Facebook Video Downloader tools present on the internet presents a reliable platform for downloading Facebook videos. It merely works by copying and pasting the video URL into the text box field, clicking on the "Go" button, downloading your favorite Facebook videos in the MP4 file format. This tool also enables you to download videos in both standard and HighDefinition qualities. It also allows a feature to download private videos and convert Facebook videos or other clips into MP3 files. All in all, it's a reliable and secure tool that gets the work done in a few simple steps.
Features:
Provides the ability to download videos at the highest quality available
It works like a charm as it is an online Facebook Video Downloader
Pros:
Easy access and downloading just from a webpage
Allows for direct conversion and downloading
Cons:
It can require a little extra time for downloading
Can have server ping issues
Also check out this article: The Best 4K Video Downloaders for Windows and macOS
2. FBDown.net

FBDOWN.net is yet another online Facebook video downloader that doesn't require downloading any additional files for it to work. Similar to Fbdownloader, the video link is all you'll be needing, and you're all set. It is available to use online straight from the webpage or download an extension for Chrome. If you're using the Chrome browser on any Android platform, Windows, or Mac, the overall process should be straightforward. If you're on any other browser, you may have to click on the download button and click on the "save as" button to download the video.
Features:
Easy website access and Chrome extension
Access to all video file formats
Conversion of MP4 files to MP3
Pros:
Works fast with little to no hassle
Provides a clean and easy to understand user interface for all your downloading needs.
Cons:
It can have a few issues with server connectivity as many users simultaneously use it
Downloading can take a few seconds or minutes longer due to ping and connectivity issues
3. GetfVid

GetfVid is yet another tool to download Facebook videos easily. However, this doesn't allow you to download private videos. The rest of the qualities are pretty much the same as the last pick. You can use the tool on any browser and a Chrome extension that makes downloading more convenient and a hassle-free experience.
Features:
Easy access to the site
Features all file formats for downloading videos
Works on a simple drag and drop structure
Pros:
Works with most major websites for all video formats
It can access all file formats and conversions
Cons:
I can have a little issue with the ping and stability from the server
4. QDownloader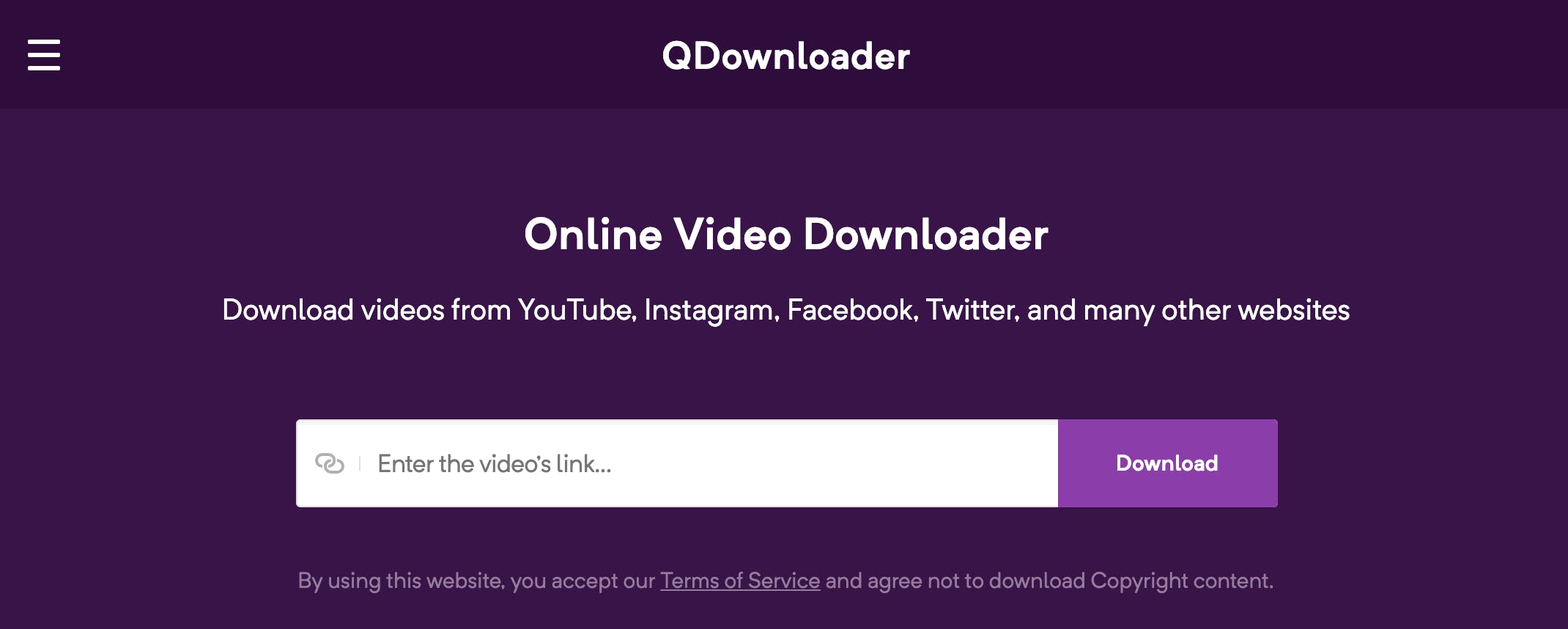 A fast and user-friendly online Facebook video downloader, BitDownloader is another excellent option on the list. Besides Facebook, this tool supports over 800 different websites, including YouTube, Instagram, and Twitter. This downloader provides an intuitive interface and works like most comparable online downloaders.
Features:
Support for most big-name websites
Easy to access and use
Allows for support for most file formats
Pros:
Supports Chrome extensions for fast access times
Conversion is straightforward and direct from the video link
Cons:
Can have some ping issues and connectivity problems
5. Keepvid

KeepVid enables to download most videos in addition to Facebook videos. KeepVid also allows you to download and convert videos off of Instagram, Dailymotion, YouTube, and over 1,000 other comparable websites. The website is SSL secured and provides zero limitations to how many videos you can download.
Features:
Supports all video file formats
Allows to save videos from Facebook directly
Pros:
Easy access to different websites for downloads
No limitations for downloads
Cons:
No browser extension
Requires a premium subscription for use after the trial period ends
How to Download Facebook Videos?
To get started with downloading videos from Facebook, you will first need to get the SnapDownloader app up and running.
Step 1: Download and follow through with installing SnapDownloader on your Windows or macOS computer.

Get SnapDownloader
Step 2: Use a web browser to open the Facebook webpage and log into your account.
Step 3: Search for the video you wish to download, then click on it to enlarge the playing screen.
Step 4: Click the three-dot menu icon and select the option "Copy Link" to copy the video's link or address. Alternatively, you can also directly copy the link from your browser's URL bar up top.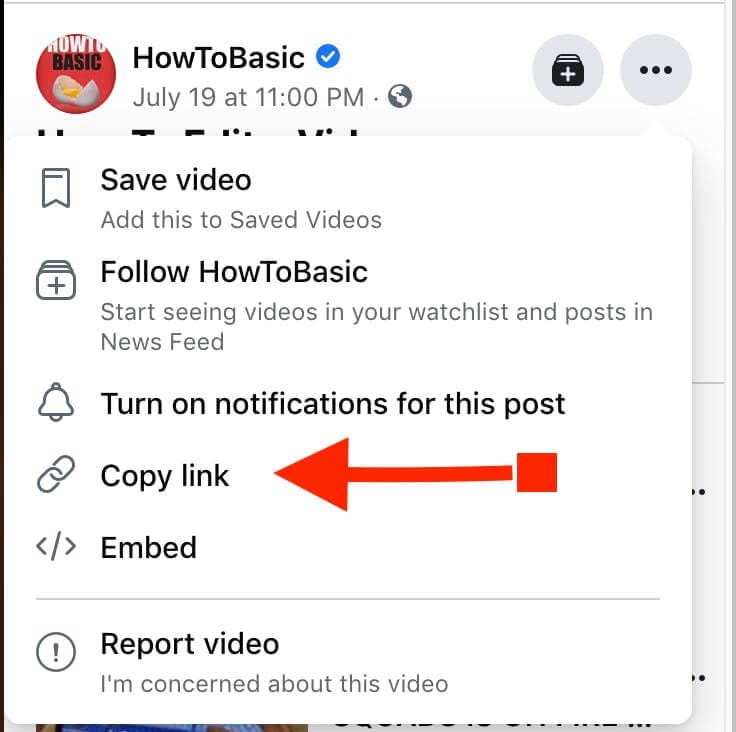 Step 5: Open SnapDownloader and paste the video link. The app will begin to search for the video.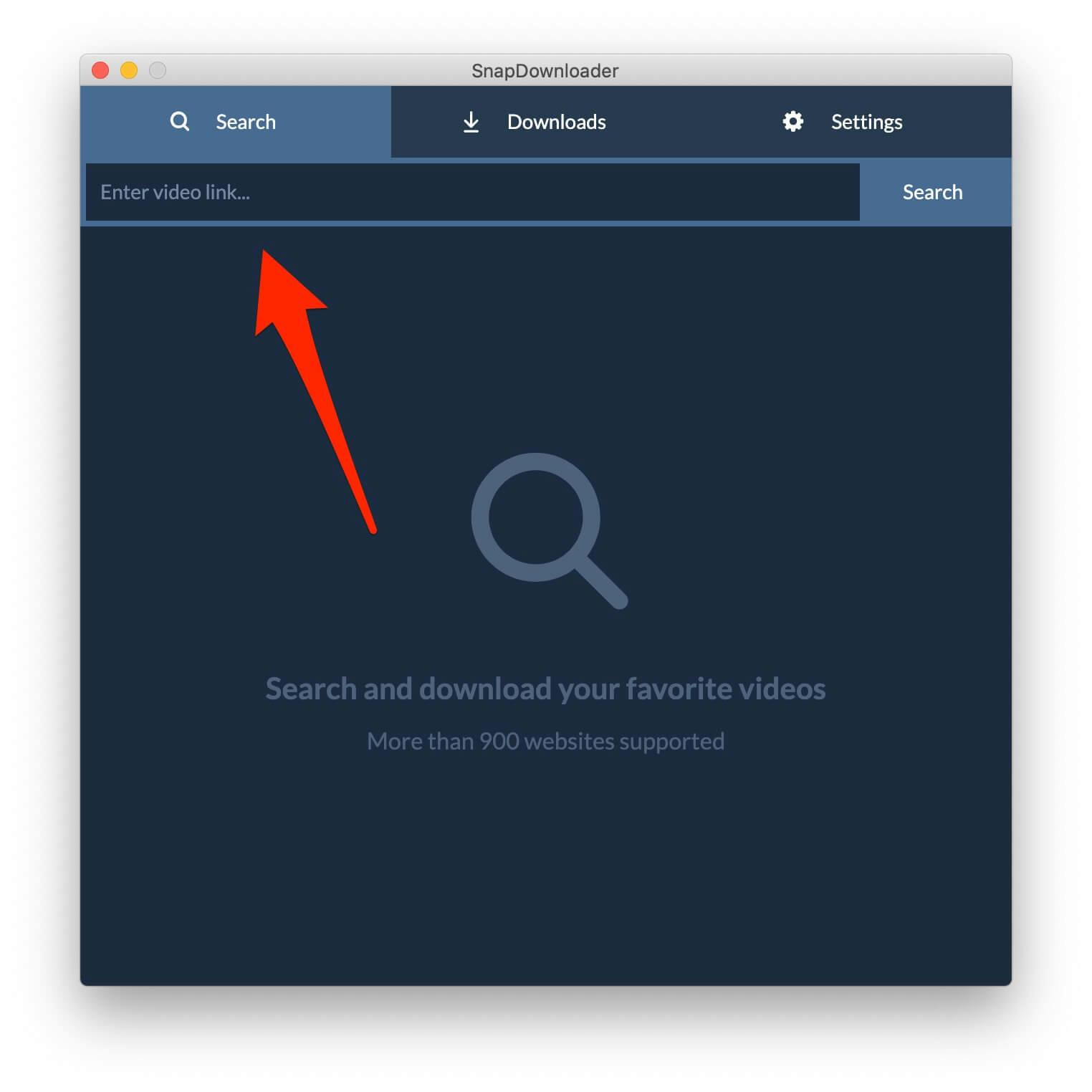 Step 6: Once the video is fetched and displayed, select the output format and click on the Download button. The download will start automatically, and will be saved to the location you have set in Settings. You can view the progress of the download from the Downloads tab.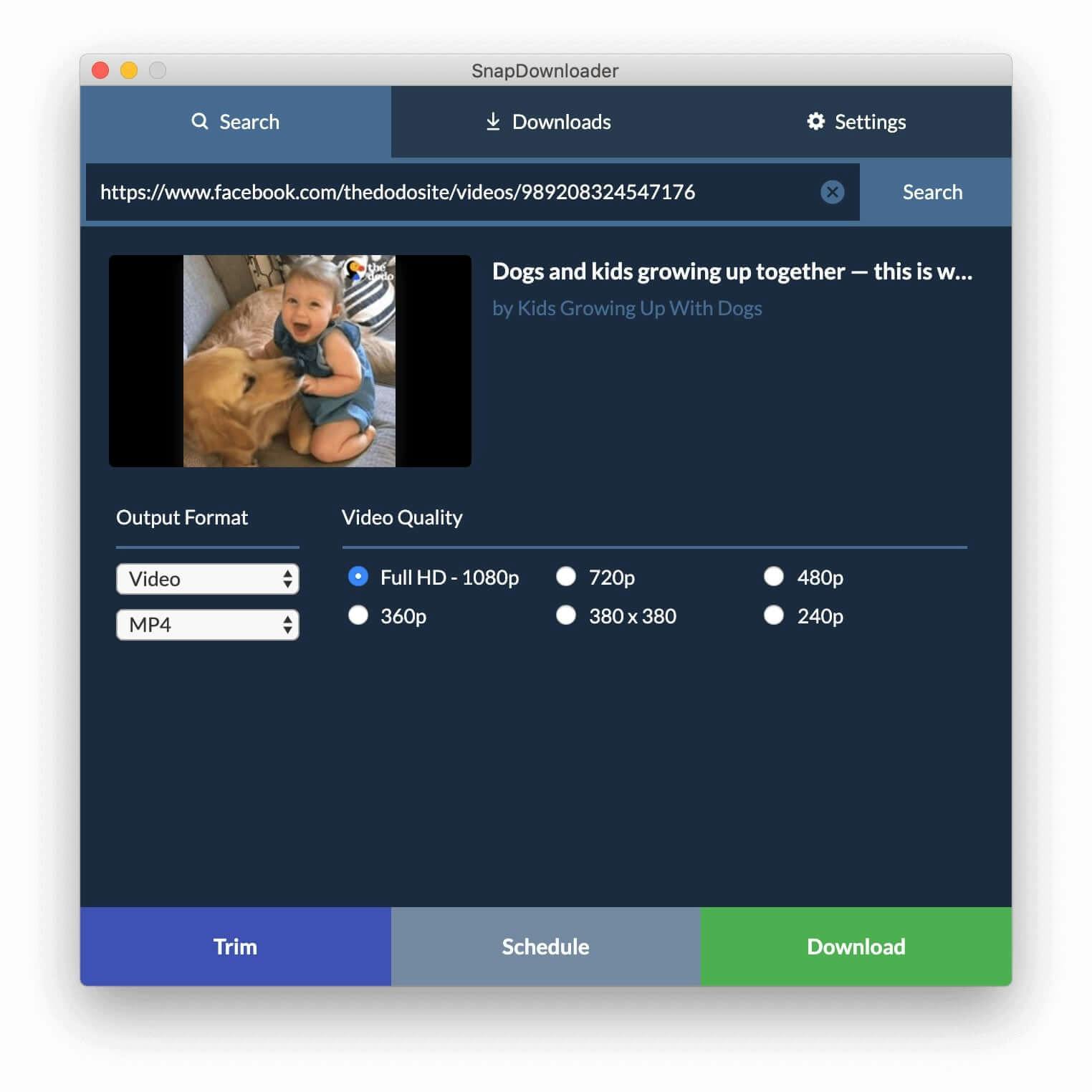 Wrapping Up
The social media giant has become so much more than a service to share pictures and keep a tab on your friends and family. Facebook is now a marketplace, a source of data collection, a massive marketing platform, and a collection of premium quality video content too. Over the years, as YouTube has tightened its grips over video sharing and monetized it with ads to the extent that things become unpleasant, Facebook Watch is also hoping to do the same. To skip past this unpleasant barrage of advertisements while watching videos, there are ways to save Facebook videos using installable and online Facebook video downloader tools.
We recommend SnapDownloader for the very reason that it takes the task to download Facebook videos and convert Facebook vides to MP3 with all seriousness, but offers simplicity at the same time. You get a user interface that is easy to get around and does not take up too many resources of your system to even process and download massive HD videos with just a click. Which Facebook downloader do you prefer when it comes to enjoying the best of Facebook Watch without being tethered to the World Wide Web? Do share your thoughts with us in the comments section down below.