Looking for a guide on how to download Dailymotion videos for times when YouTube isn't enough? Here's everything you need to know about the easiest way to download videos from Dailymotion and why SnapDownloader is the best Dailymotion downloader out there.
We live in a day and age that is entirely cable-free, whether you talk about streaming music through services such as Spotify and Pandora, or listening to music wirelessly using Bluetooth technology. However, the cord-cutting revolution has not stayed limited to the music industry, since most of the entertainment services today rely on the internet to reach the audience of billions all across the world. A large chunk of this streaming entertainment reaches viewers through the medium of YouTube, which is easily the largest platform for user-generated videos in the world.
For those among you that haven't followed the inception and growth of streaming media online at each step of the way, may think that YouTube is where it all started, but it isn't entirely true. Just a few months before YouTube made its debut in the year 2005, another French video streaming website called Dailymotion made it to the World Wide Web.
Dailymotion may not have received the unprecedented success that YouTube has under Google's wing, but it continues to be a leading name, with millions of viewers logging on to it each day. You could be among those viewers, looking for a way to download Dailymotion videos in MP4 and MP3 format. Most methods out there for downloading videos do not offer you the ability to choose the video quality, or even the format of the video, which certainly is a limitation several popular Dailymotion downloaders face too.
How to Download Dailymotion Videos?
Since YouTube has continued to spread its reach across the massive community of viewers online, most video downloader services tend to support it exclusively. For those of you who enjoy Dailymotion just as much, learning how to download Dailymotion videos on PC (Windows and macOS) could be a great way to fetch entertaining content for offline viewing. Out of a sea of service providers out there, no Dailymotion video downloader offers support as extensive as SnapDownloader, and here's how you can put it to good use.
Step 1: Download SnapDownloader and install it on your PC. It is compatible with Windows and macOS.

Get SnapDownloader
Step 2: Go to Dailymotion and open the video that you want to download. Now copy the link from your browser's address bar.

Step 3: Open SnapDownloader and paste the link in the search box to begin searching for the video. Within a few seconds, you'll be displayed with a list of the available video resolutions and output formats.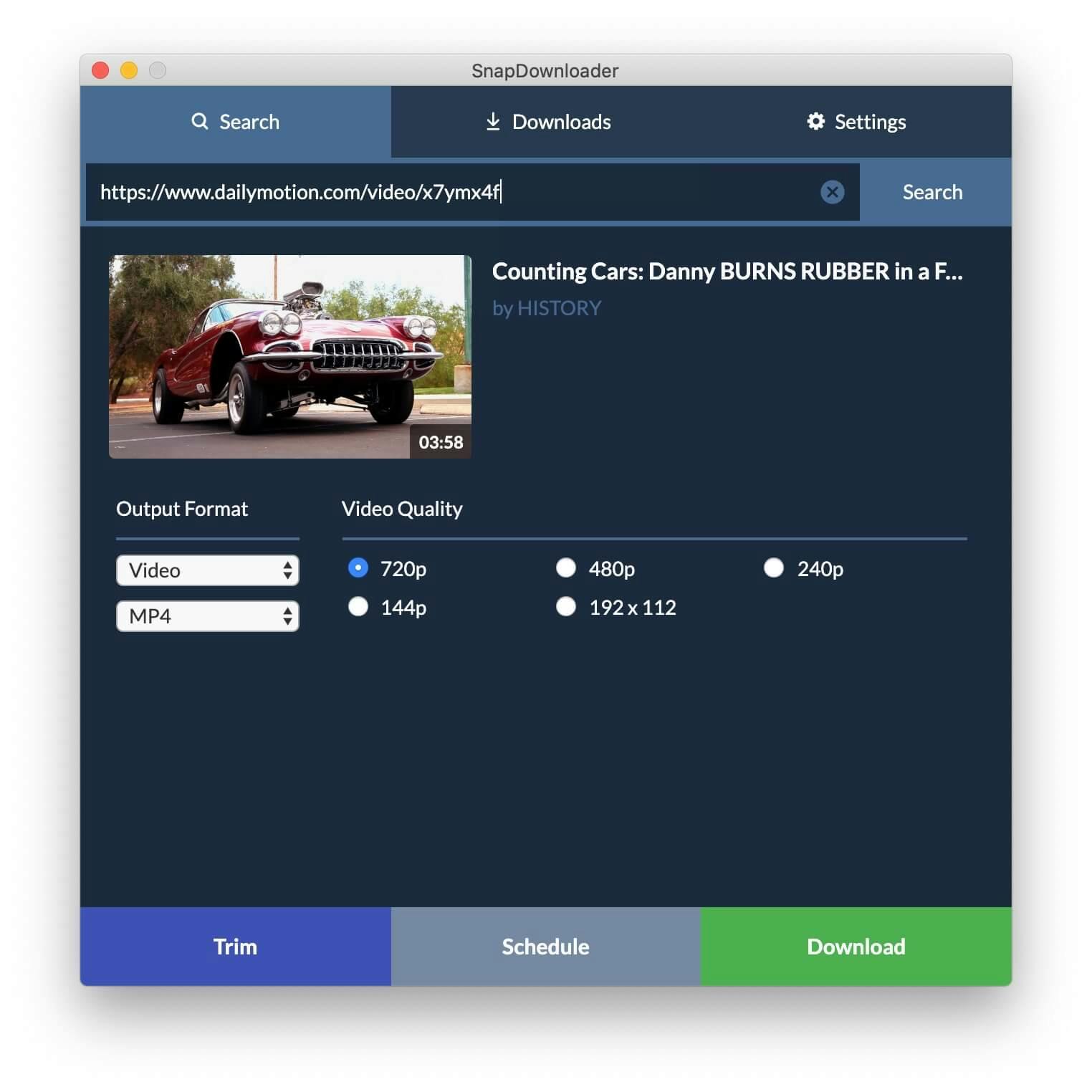 Step 4: Select the video or audio quality that you want to download as well as the output format, then click the Download button.
Step 5: SnapDownloader will now begin to download the Dailymotion video on your PC. You can view the progress of the download in the Downloads tab, such as the time left and the download speed.
Once the download is complete, simply double click on it to begin watching the video. The file will be saved to the folder that you set as your download destination.
Also read: How to Download VR Videos from YouTube
Wrapping Up
Although most users in the United States are hooked on and loyal to YouTube, Dailymotion enjoys a massive audience across the European countries and the African continent. The reason why some users tend to prefer Dailymotion over YouTube is that it does not adhere to the strict and restrictive guidelines put in place by Google, and tends to offer a democratic approach to video ranking, unlike the complex algorithm put in place on YouTube.
Although videos on Dailymotion are restricted to 60 minutes, you do end up seeing fewer ads on the platform in comparison to YouTube, which recently began increasing the number of ads that appear on the video-sharing platform.
Have you begun to download Dailymotion videos on your macOS computer or Windows PC using the SnapDownloader Dailymotion video downloader just yet? Why not use the free 1-day trial to find out about all the things that this software does?

Get SnapDownloader