VR videos, also known as 360-degree videos, allow viewers to rotate their perspective and view the scene from all angles. Youtube started supporting VR videos in 2015, and you can view them by moving your phone around or clicking and dragging the screen. YouTube VR videos make immersive content even more life-like. Some examples of VR videos that you can watch on YouTube right now are rollercoaster ride, skydiving, and Five Nights at Freddy's.
Unfortunately, YouTube does not allow you to get this experience offline on your computer since there is no download option for VR videos or videos of any kind. Even if you were able to download YouTube VR videos, there is a chance that you might get really low resolutions because they are heavily compressed.
Another issue you may face when you download YouTube VR videos is that the format may not be playable in most 360 video players. This is because YouTube uses Equi-Angular Cubemap format, but 360 video players support the standard Equi-Angular format.
YouTube 360 Video Download: The Easiest Solution?
If you want to download 360 videos from YouTube, you will need to search outside of the platform. You might find numerous methods online, but many of them are expensive or provide low-quality results. The easiest and most convenient way is by using a YouTube VR video downloader.
Let's explore what a YouTube VR 360 video is, how to download VR videos, and the best VR videos available on YouTube.
What is 360 Video on YouTube?
Although VR has been around for quite a while now, YouTube only introduced the VR experience back in 2016. This innovative feature allows users to click and drag their screens to experience a complete 360-degree view of a video.
If you have a VR headset, you're able to experience videos in a way that feels as if you're in the room with the characters. Watching a video in VR mode is an experience like no other.
YouTube Video Downloader That Supports VR Videos
SnapDownloader
If you want to download YouTube VR videos at high resolution and in the standard format that you can play easily, you should use SnapDownloader.
SnapDownloader is a video downloader developed to download videos in different formats from over 900 websites. It also gives you the freedom to select your preferred resolution, whether that is 144p, 720p, 1080p (FHD), 1440p (QHD), 4K, or even 8K. With SnapDownloader, you can also:
Extract audio from videos
Download multiple videos at once
Download an entire channel or playlist
Schedule downloads
Download at high speed
Download videos blocked in your country using proxy
Bulk downloads
5 Steps to Download Youtube VR Videos
Snapdownloader makes downloading VR videos from YouTube a breeze. Follow the steps below to view YouTube VR videos offline.
1. Download the best VR video downloader for your PC
Download and Install SnapDownloader for free. You can run it on Windows 7/8/10 and macOS X 10.10 and higher. Launch the app after installing it.

Try SnapDownloader for Free
2. Copy the video's URL
After you've installed SnapDownloader, go to YouTube and copy the link of the 360 VR video that you want to download. As shown in the screenshot below, you can copy the video's link from your browser's URL bar: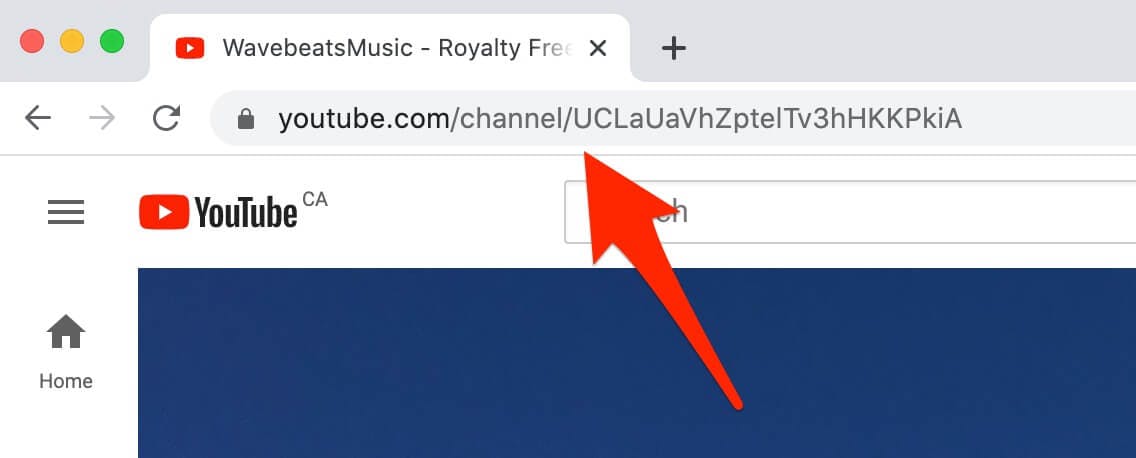 3. Paste the link in SnapDownloader
Now, it is finally time to download your VR video. Open SnapDownloader and paste the copied URL in the search bar. Once you do so, press the Search button.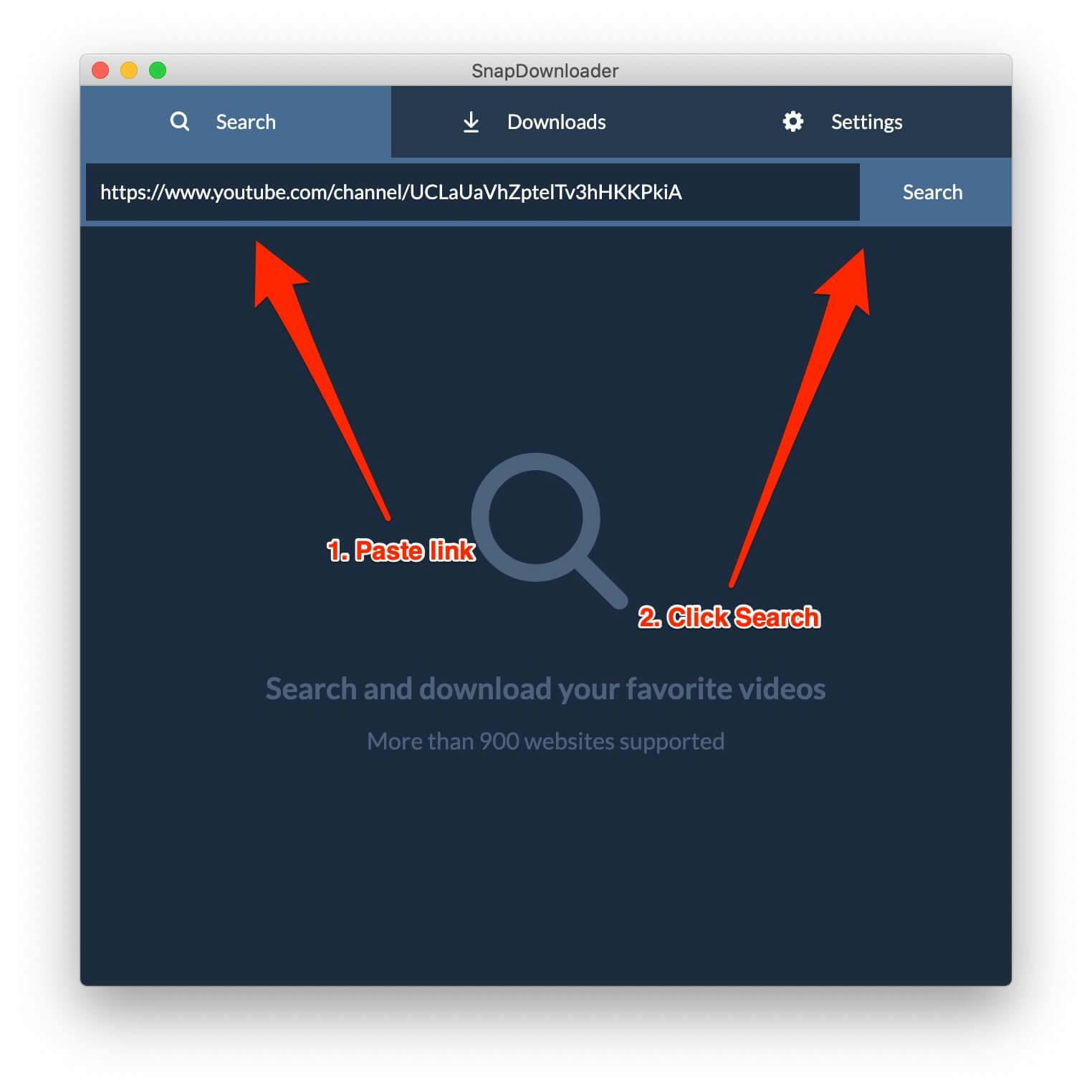 4. Choose output format and quality
SnapDownloader displays a list of all the available video qualities and output format. Simply select your preferred output format and video quality. When making this selection, it is essential that you choose a video format that will run smoothly on your device. Selecting a format that will also play on your smartphone, tablet, or any other gadget will be an added advantage. MP4 is usually a safe bet for most devices.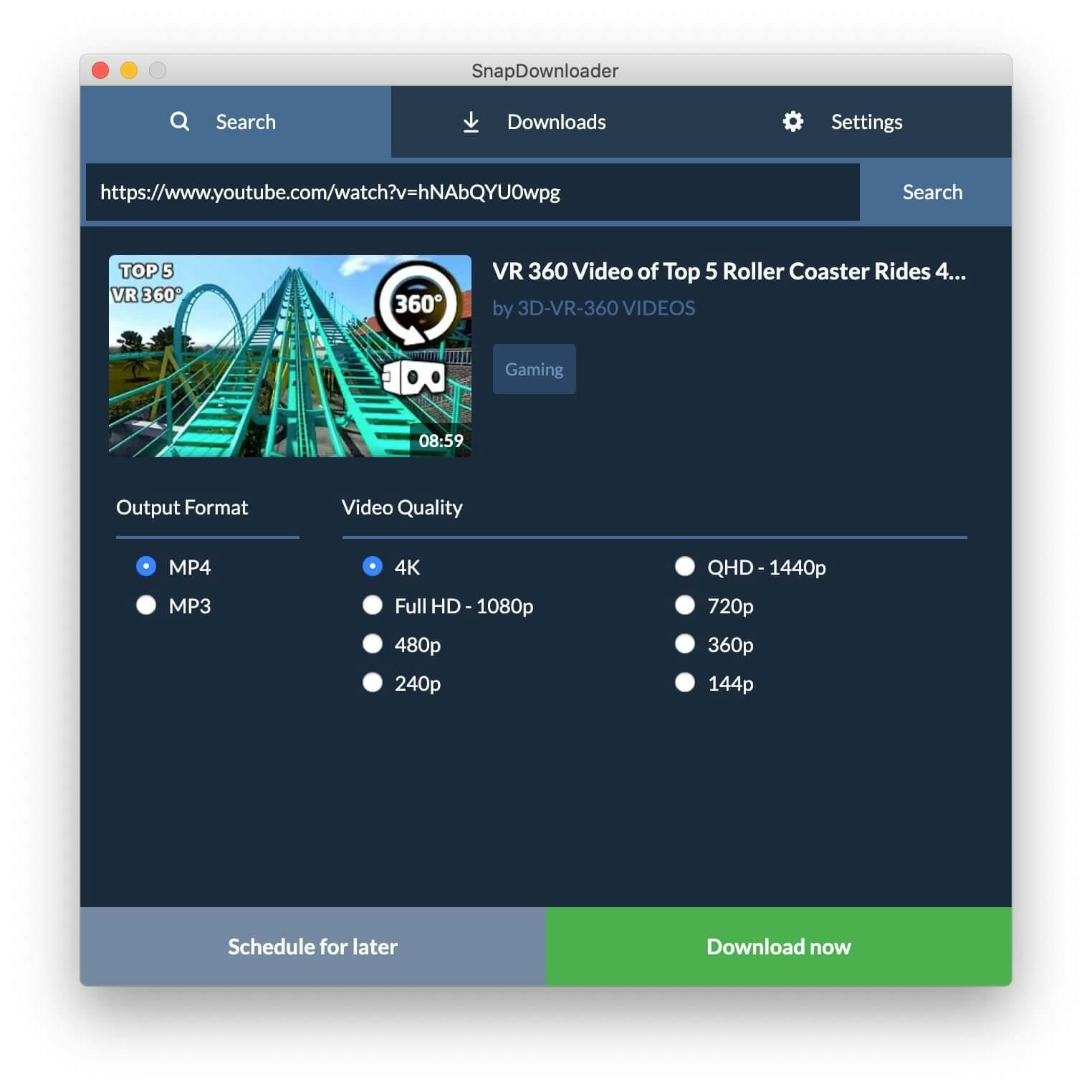 5. Begin download
Click the green Download now button to begin downloading your video. You can view the progress of your download as well as the time remaining for the download to complete. Once downloaded, open the VR video and enjoy watching it on your favorite 360 video player.
Will I Pay to Download VR And 360 Videos?
No, with SnapDownloader, you are not required to pay any amount to download 360 videos from YouTube if you follow the steps we have provided above. Using a YouTube VR downloader is a quick and easy way to download YouTube 360 videos without paying a dime. So, what are you still waiting for? Go download your favorite YouTube VR and 360 videos on your gadget now!
The 5 Best VR Videos on YouTube
YouTube is filled with phenomenal videos that you can watch in VR mode. However, there are a few that stand above the rest in terms of providing a life-like, immersive experience.
Below is a list of some of the best VR videos on YouTube:
1. Superman Roller Coaster
If you're a thrill-seeker, the Superman Roller Coaster video on YouTube should be at the top of your list of videos to watch! Filmed on the real Superman roller coaster at Six Flags, this VR 360 video is sure to take your breath away.
2. Giant Mud Dragon a.k.a Big Daddy!
If you're a fan of the outdoors, you've likely heard of the Brave Wilderness YouTube channel. Fortunately, they have an entire collection of free VR videos! The Giant Mud Dragon a.k.a Big Daddy video features Coyote Peterson getting up close and personal with a giant 50 lb. snapping turtle.
3. Ascend with David Blaine
Back in 2020, popular illusionist/extreme performer David Blaine did a live, record-breaking stunt where he ascended into the sky using 50 helium-filled balloons. Around half an hour and 15,000 feet later, he briefly called his daughter to give her an update on his condition. From there, Blaine rose an additional 9,900 feet before performing a card trick and plummeting to the ground with his parachute.
Fortunately for us, Blaine recorded the entire experience from start to finish – all in 360 video format. Easily one of the most anxiety-inducing VR videos on YouTube, you might want to avoid this one if you have a fear of heights!
4. Solo to the South Pole – The VR Documentary
Although not as viral as some of the other videos on our list, Solo to the South Pole – The VR Documentary is not one to overlook. Matthieu Tordeur, aged 27, set himself a challenge to journey from the coast of the Antarctic all the way to the South Pole. Not only has this never been done before, but Tordeur decided to do this challenge with no assistance. With just a pair of skis, a sled for his food/supplies, and the clothes on his back, Tordeur completed the challenge in just under two months.
5. Around the Planet in 2 minutes: VR 360 video
Around the Planet in 2 minutes: VR 360 Video by AirPano shows 360-degree aerial views from different areas all across the world. It captures an array of cultures, landscapes, and animals in their natural form. It's a captivating video that is sure to leave you in a state of awe.
As soon as you learn how to download VR videos, AirPano should be the first channel you look into. The entire channel is dedicated to videos you can watch in VR mode.
Is VR Bad for My Eyes?
From research and surveys, it is evident that wearing VR headsets, especially for a long time can result in eye discomfort, eye strain, eye fatigue, or can be extreme and cause blurred vision. We recommend that you take occasional breaks during VR time even if you don't feel the need to so as to reduce the chances of experiencing any eye defects.
However, when you use it adequately, VR can be safe to use, and some VR headsets can actually improve vision.
Differences Between VR Mode and 360 Video Format
VR and 360 video both have similar factors and are often used interchangeably. Like a good movie, both completely transport the viewer to someplace different, be it generated by a computer or a real-life remote location. 360 video format allows an in-depth view of the image, and most VR videos are in a 360-degree format.
360 videos are made with a camera system that simultaneously records all the 360-degree angles of the scene. Viewers can conveniently rotate their perspective by moving and dragging the mouse or phone to watch the videos from various angles in a video player. For the full 360-degree effect, you will need a virtual reality headset.
Virtual reality videos are the immersive forms of videos shot from all sides, angles, or in 360 degrees. It makes the viewer feel as though they are physically present in the surroundings or scenes in the video and are physically interacting with the objects or characters.
VR and 360 videos have been around for a long time but are considered the current big thing. The generation of immersive video is here. We no longer have to sit down and watch the experience of others; now, we can experience it ourselves. YouTube is a leading force in this new reality, and it is bringing the experience to our doorsteps.
Wrapping Up: Download 360 Videos from YouTube with SnapDownloader
You can now enjoy all the goodness of YouTube VR videos on your device offline, anywhere, and anytime on any device. With SnapDownloader, you can be rest assured that your YouTube VR videos will be in the right format and at the highest quality.