If you're a social media manager, content creator, online community manager, or simply want to have access to your favorite content offline, having a dependable video downloader at your disposal is crucial. Many individuals use Videoder as it's pretty easy to use. However, it's not without limitations.
In this SnapDownloader article, we'll take a look at reasons why people look for Videoder alternatives and provide a list of the best solutions for each situation.
Whether you're downloading content for personal or professional use, we've got you covered with several Videoder alternatives that suit your specific needs.
Ready to learn more? Let's dive in!
What is Videoder?
Videoder is a well-known tool for downloading non-copyrighted music and videos from popular streaming and social media platforms. It not only downloads content but also allows you to convert file types to specific formats of your choice to fit your mobile device.
Unlike some other applications, Videoder is free and easy to use. The tool also contains a built-in search engine that allows you easily to discover the videos you're looking for.
Why People Look For Videoder Alternatives
While Videoder may have perks, it's not the best option for those requiring more. Recently, many users have reported various issues they've found with the Videoder app while downloading videos from YouTube and other sites.
Let's take a closer look at why Videoder may not be the best solution.
Limited Features: While Videoder is a usable tool, certain users demand more functionality, such as support for multiple video and audio formats or more customizing options.
Slow Download Speed: Some users are disappointed with Videoder's download speed. The tool's slow download speeds are especially noticeable when dealing with huge video files or playlists. Alternative tools to Videoder should have faster download rates, allowing users to get their desired content faster.
Safety Issues: Videoder is an app not available on the Google Play Store and Apple App Store because of some policy violations. This means that if you want to install it, you'd need to download it from the official website or unknown sources that have a high potential of affecting the safety and privacy of your data.
App Reliability and Stability: More users are facing problems with Videoder's performance and stability. So it would be much better to choose alternatives that provide a smoother and more reliable downloading experience.
Factors To Consider When Choosing A Videoder Alternative
Download Speed
A great factor to consider when choosing the right Videoder alternative is the download speed. You don't want to waste valuable time spending hours on end waiting for a single video to download. It's best to ensure the alternative tool offers fast and efficient video downloads.
For example, SnapDownloader is capable of high-speed downloads that enable users to save their favorite videos in minutes. The tool also supports bulk downloads so you can paste up to 100 videos and download them all at once.
Device Compatibility
Check whether the alternative tool works on your device before using it. Some downloaders are only available for specific devices, such as Android or iOS. It is best to choose Videoder alternatives that are more flexible and compatible with any device you're using.
Video Quality
Not all video downloaders support high-quality 4K downloads. So, it's best to ensure that the alternative you choose can download videos with the exact quality you desire.
For instance, tools like SnapDownloader can download videos in resolutions as high as 8K. You'll be able to easily save videos in different resolutions, including 8K, 4K, UHD, 1080p, and 720p.
Security and Safety
Safety and security should be your top priority when choosing a Videoder alternative. Even though a downloader doesn't require registration, it must maintain the security and privacy of your data.
An alternative should also have very few or no popup adverts. Some of these advertisements may include malicious software that might harm your device and potentially jeopardize your personal information.
Easy to Use
Another important factor to consider when looking for a Videoder alternative is its user interface. A decent downloader should make it simple for users to quickly choose their favorite videos from numerous platforms and download them.
Customer Support
It's great to have an easy-to-use interface and clear directions for downloading videos, but having responsive customer assistance when something goes wrong is also crucial.
Make sure that the video downloader you select provides dependable customer service. The tool should have a good market reputation for quickly assisting customers with any questions or problems they may have. It all boils down to getting the assistance you need, right when you need it.
Best Videoder Alternatives We've Tried for Every Use
Here are some of the top Videoder alternatives you can try:
SnapDownloader: Best Video Downloader for 8K Videos in Any Format
AceThinker: Best Video Downloader with Editing Features
InsTube: Best Free Video Downloader
VidMate: Best Secure Video Downloader
DownVid: Best Social Media Video Downloader
Video Grabber: Best Video Downloader with Screen Recording
iTubeGo: Best Video Downloader with a Built-In Browser
Let's find out more about these tools.
1. SnapDownloader: Best Video Downloader for 8K Videos in Any Format
SnapDownloader stands out as an excellent video downloader for both macOS and Windows PC users. Unlike many other downloaders, it supports a vast variety of websites making it an excellent alternative.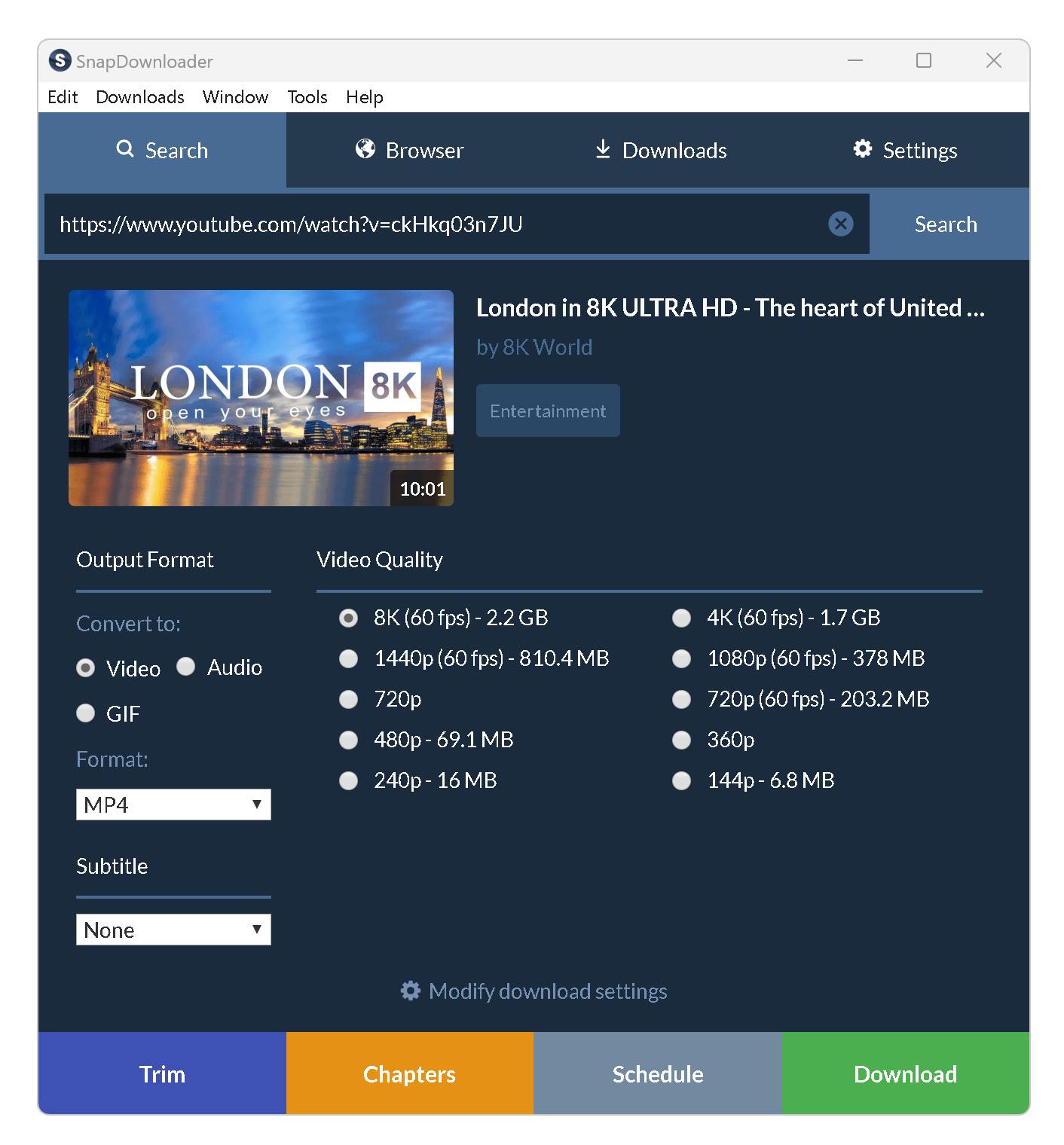 You can instantly download videos and audio from over 900 websites, including popular platforms like YouTube, Instagram, TikTok, LinkedIn, Twitch, and Facebook, making it a convenient solution for all of your media downloading needs.

Try SnapDownloader for Free
Key Features
Up to 8K Resolution: With compatibility for up to 8K resolution, you can watch your videos in the highest quality possible. It's ideal for individuals who seek sharp audio and crystal-clear videos. SnapDownloader ensures that your videos look and sound amazing whether you're downloading from YouTube, Instagram, TikTok, Facebook, and many more.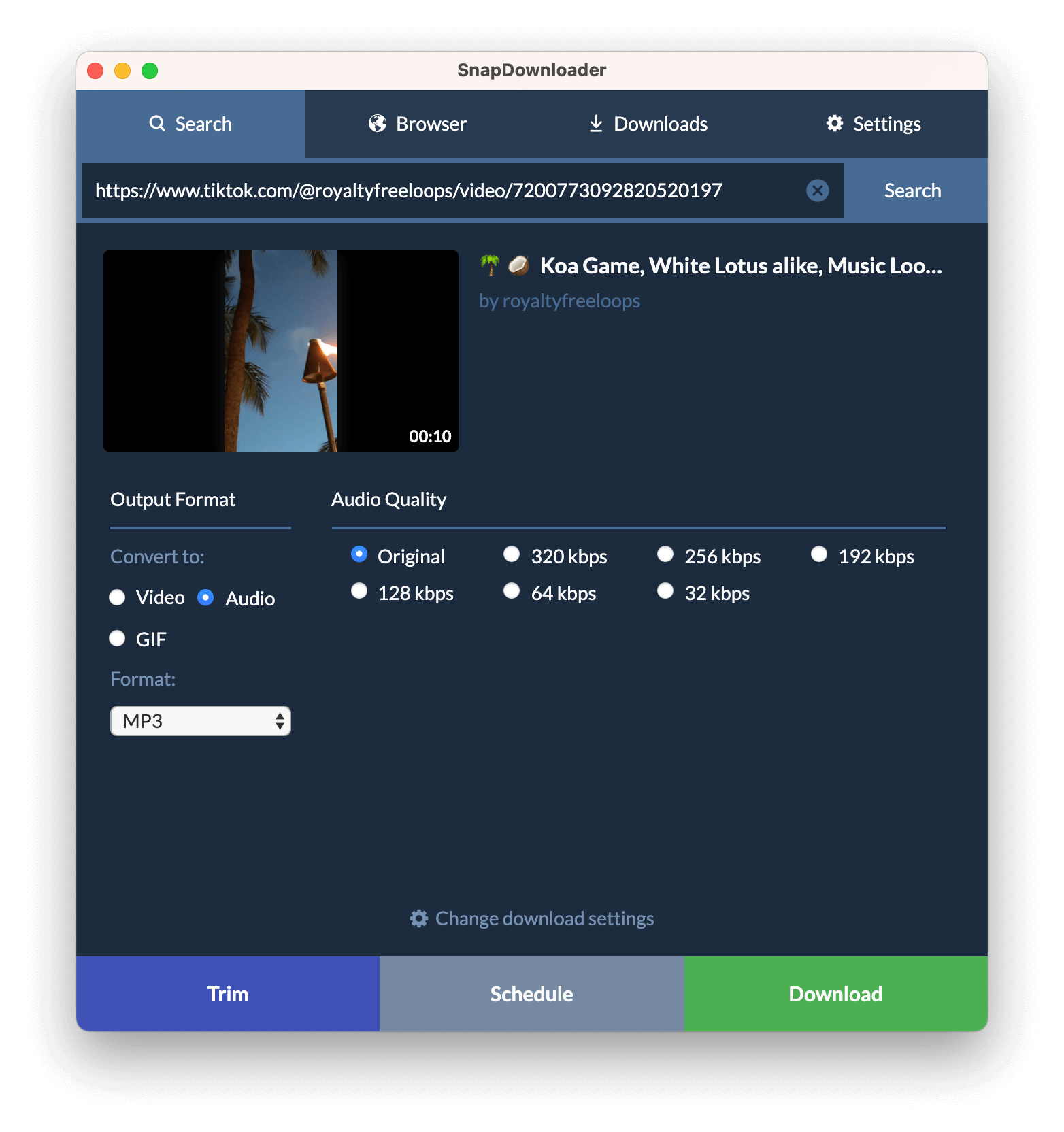 Download from 900+ Platforms: SnapDownloader allows you to save videos from over 900 websites, including prominent platforms such as YouTube, Instagram, Vimeo, Facebook, Twitter, and TikTok.
Convert to other formats: SnapDownloader not only downloads videos but also converts them into any of your preferred formats, including audio and GIFs. It has more than 10 output formats supported, including MP4, MP3, MOV, AVI, AAC, M4A, WAV, AIFF, FLAC, and WMA.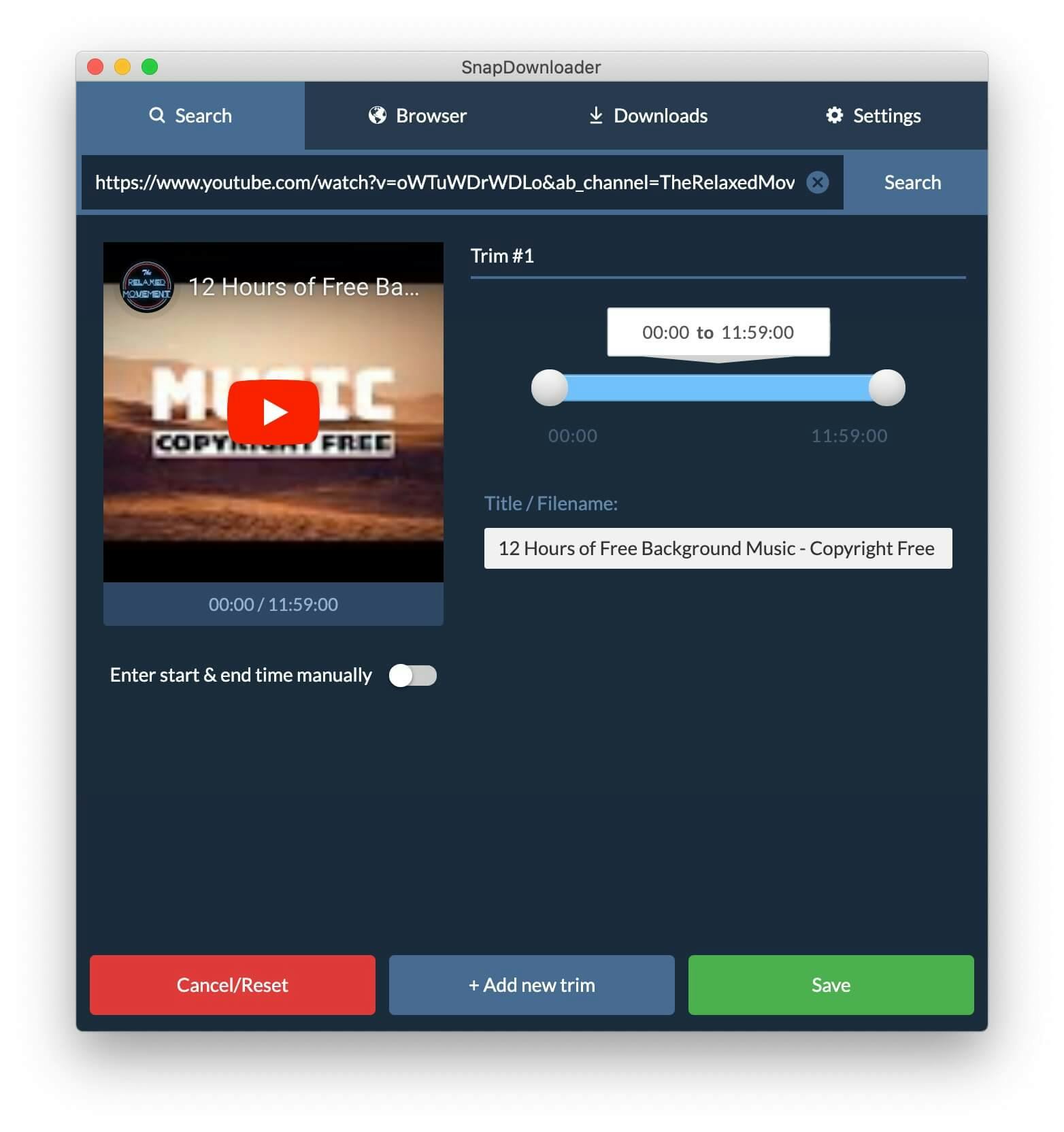 In-built Video Trimmer: SnapDownloader's built-in video trimmer makes video editing easier. You can easily trim web videos and download only the parts you need.
Pricing
SnapDownloader offers five pricing options: a monthly subscription, a 3-month subscription, an annual subscription, a personal license, and a family edition license.
The monthly subscription starts at $7.99 for short-term access to its features. Otherwise, you can purchase a 3-month subscription for $16.99 and an annual subscription priced at $29.99 for extended, unlimited access.
For those looking to commit, the lifetime licenses offer a one-time payment for either a personal plan for one user ($39.99) or a family edition plan for three users ($69.99).
Pros
Bulk downloads
Fast mp3 and mp4 conversion
Reliable, high-speed downloading
Scheduling video download time and date
30-day money-back guarantee
Cons
2-day free trial only
Compatible with Windows and Mac devices only
2. AceThinker: Best Video Downloader with Editing Features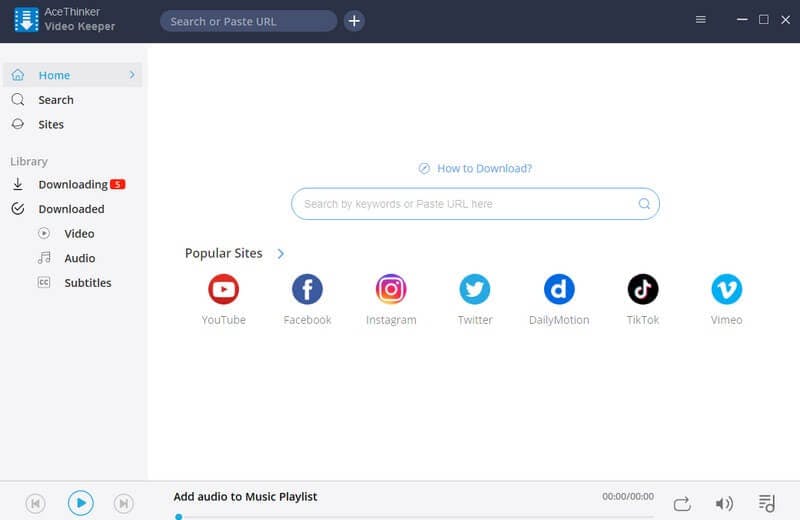 AceThinker simplifies video downloading on Android by directly downloading videos without the need for online websites or PC tools. It offers a user-friendly video editing experience, making it easy to create personalized videos for sharing, teaching, presentations, and more with just a few clicks.
Key Features
4K video downloader
Screen Recorder
Wind Cut video editor
Download and edit audio
Pricing
AceThinker offers various downloading software through its bundle promotions. Get Aqua Clip + VidElement for $80 to download and convert video/audio streams. Or, choose Aqua Tune + Aqua Sound for $70 to download and record music streams from various websites.
Pros
Supports hardware-accelerated conversion
Has a built-in video editor
Easy to use
Cons
Pricing plans can be a bit expensive
Experiences occasional interference with other software which can cause it to crash unexpectedly
3. InsTube: Best Free Video Downloader for Android Users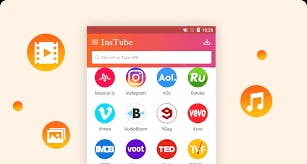 InsTube is a free and user-friendly video downloader app for Android users. You may effortlessly download videos, MP3s, and movies from over 100 supported websites. It's a simple way to get your favorite entertainment directly to your device.
Key Features
Video Downloader from 100+ sites (YouTube, Instagram, Facebook, SoundCloud, WhatsApp, etc.)
Private audio and video lock
4K Video and HD support
Multiple media file format downloads
Pricing
InsTube is a free application that is currently available for download on their website. Alternatively, you may download it through Uptodown, Mi GetApps, or the OPPO App Store.
Pros
Simple UI
Fast downloads
Free
Cons
1280P video downloads have the same quality as 720P
Has too many ads
4. VidMate: Best Secure Video Downloader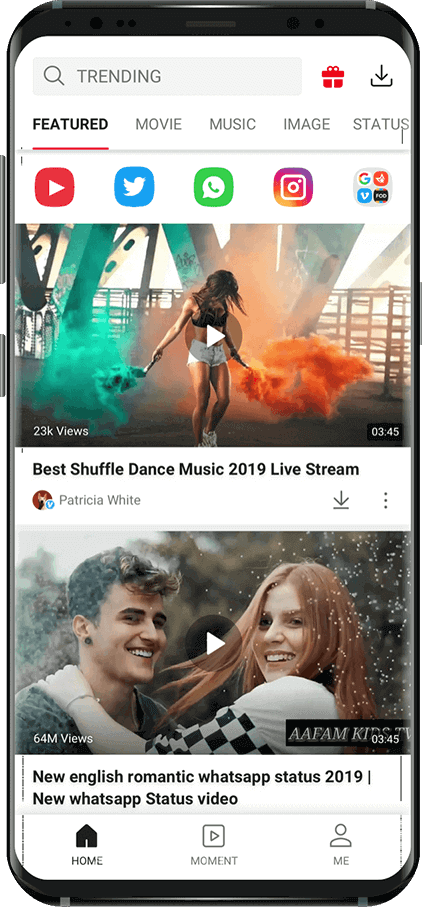 VidMate is a safe and secure option for downloading videos from various sources like YouTube, Vimeo, Facebook, Instagram, etc. It's also dependable for capturing videos from many sources without worrying about malware or viruses.
Key Features
HD video support (up to 1080p)
Streaming 200+ TV Channels (including sport, fashion, news, etc.)
Security verified by CM Security, Lookout, and McAfee
High-quality video and music player
Pricing
VidMate is a free application for Windows that is currently available for download on Softonic.
Pros
Easy to use
Safe downloading
Free of cost
Cons
Has too many ads
Lack of editing features
Not available on the Google Play Store
5. DownVid: Best Social Media Video Downloader
DownVid is your go-to social media video downloader, offering a user-friendly and entirely free tool to save your favorite content from a wide range of sources like Buzzfeed, Dailymotion, and ESPN. Simply paste your video URL and click the download button on their website.
Key Features
Download from multiple websites (9GAG, Akıllı TV, Bandcamp, Bilibili, etc.)
Supports different formats (MP4, M4A, 3GP, etc.)
Download audio files
Pricing
DownVid is a free tool.
Pros
Supports multiple sources
Free tool
Easy to use
Cons
Slow download speeds for HD and 1080P videos
Has no mobile or PC application
6. Video Grabber: Best Video Downloader with Screen Recording
Video Grabber is an online tool that lets you easily download videos from a wide range of websites by pasting the video URL and clicking the download button on their website. You can access many video formats, including MP4, FLV, 3GP, WMV, WEBM, MP3, and others.
Key Features
Convert video and audio files into multiple formats
HD Download
Screen recording
Pricing
Video Grabber is a free tool that lets you download any video simply.
Pros
Easy to use
Capable of saving HD videos
Offers support for 14 websites including YouTube, Facebook, and Adobe TV
Cons
Has too many ads
Has no mobile or PC application
7. iTubeGo: Best Video Downloader with a Built-In Browser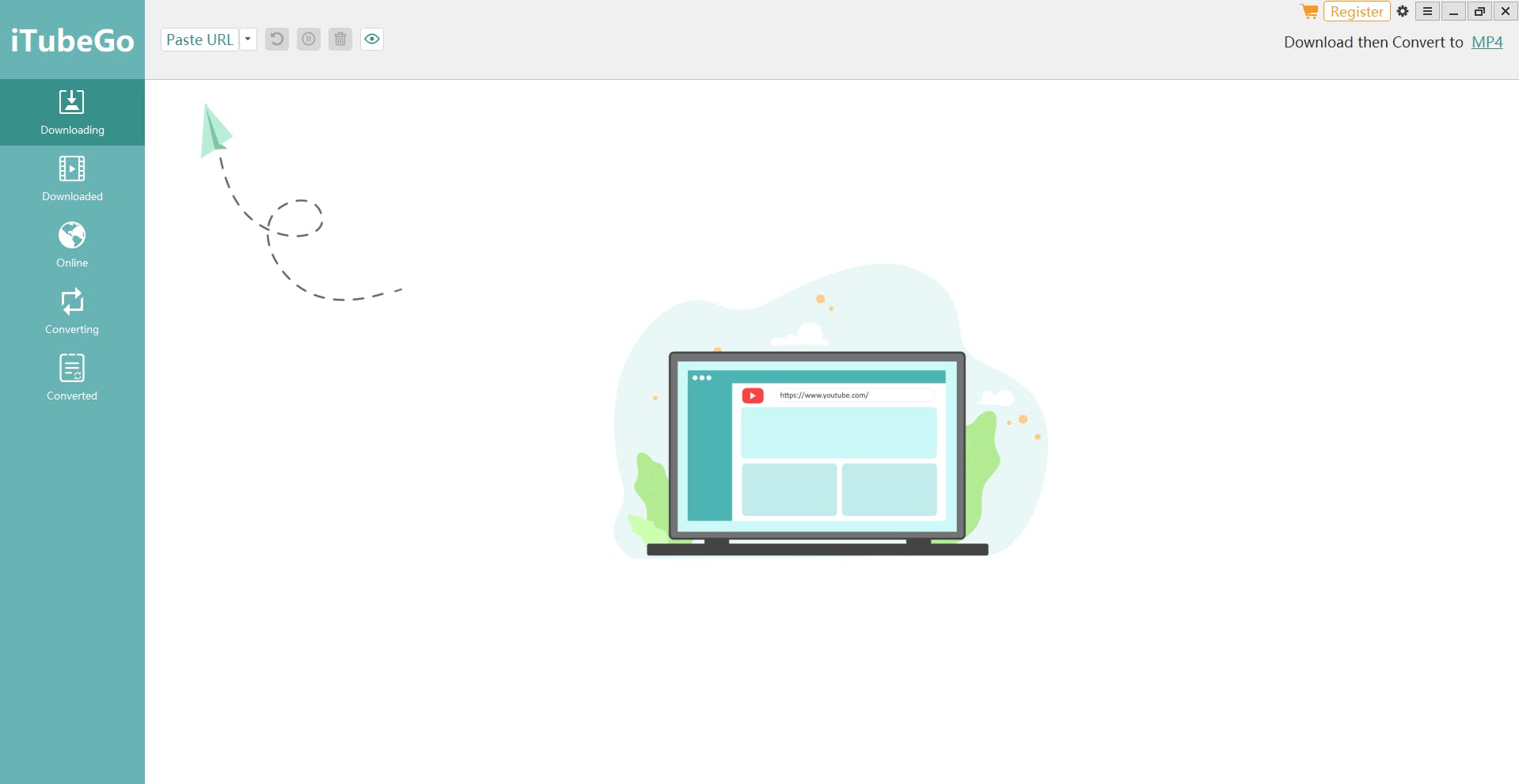 Both Windows and macOS users can download high-quality videos and audio with iTubeGo. The software can download HD videos from websites such as Dailymotion, Facebook, Apple Music, and YouTube. In addition, it includes a built-in browser that supports streaming videos from live-streaming platforms and downloading audio.
Key Features
Built-in browser
Bulk downloads
Converts to various formats
Built-in YouTube cutter
Pricing
iTubeGo (Windows + Android) Bundle is priced at $12.95, which comes with a 30-day money-back guarantee and supports 1 Month/1 PC + 1 Phone.
Alternatively, the iTubeGo (Windows + Mac) Bundle is available for $16.95, backed by a 30-day money-back guarantee, and supports 1 Month/1 PC + 1 Mac. iTubeGo YouTube Downloader also offers an exclusive lifetime license for $29.95.
Pros
30-day money-back guarantee
Supports playlists and bulk downloads
Has the ability to download private videos from Instagram and Facebook
Cons
The free trial doesn't provide much
There's no browser extension
Explore SnapDownloader as the best alternative to Videoder
A dependable video downloading tool is important for anyone looking to watch their favorite content offline. Videoder has been a popular choice, but the alternatives described above appeal to a variety of demands and interests. Whether you value download speed, device compatibility, security, or usability, there is a solution for you. When you're ready to make the transition, look into SnapDownloader.
SnapDownloader stands out for consumers who seek the highest video quality. It supports resolutions up to 8K, allowing you to download videos with exceptional clarity.
Ready for reliability? Try out SnapDownoader today!

Try SnapDownloader for Free