Ever wondered if you could download VidMate for PC and use all the great features of the mobile video downloader on your computer? Here's why it isn't possible to download VidMate for PC and how the SnapDownloader video downloader is the right alternative for it.
When the world's largest video sharing platform, YouTube made its way out in the world in 2005, it wasn't as content-rich or feature-packed as it is today. So much so that YouTube did not even support mobile view up until 2007, when the major players in the world of smartphones, Apple iOS and Google Android OS, finally arrived. However, year after year, the number of YouTube users who tune into the video streaming platform each day has risen by millions, and a large chunk of those users come from the mobile userbase. YouTube states that 70% of its global audience enjoy entertaining content via mobile devices, which is why the YouTube app was fitted with the offline viewer feature.
However, the YouTube video downloader feature of the official app is flawed, and purposefully so, since YouTube wants to maximize the online viewers, which leads to more targeted ads. Since an active internet connection is a luxury for most, apps such as VidMate video downloader were created to bring offline viewing to all users, without the need for a YouTube Premium subscription. However, there can be times when you need to download YouTube videos to your computer and not the mobile phone, so wouldn't it be perfect to use VidMate on Windows or macOS for these instances?
Is VidMate available for PC?
The VidMate app is a byproduct of UCWeb, which makes it a part of the more extensive network of apps that fall under the Alibaba Group. The basic concept behind this video downloader app for Android is to make it super simple for users to download YouTube videos and watch them offline, even without an active internet connection. However, there is not a version of Vidmate for computer developed by UCWeb, even though many websites online claim to provide it.
For certain regions, the VidMate video downloader app is not even available on the Google Play Store, which makes it even more difficult for users to fetch entertaining videos off the internet and watch them on their computer and mobile. While you could always find a workaround to use VidMate for PC by installing an Android OS emulator on your computer, the process is way too tedious and time-consuming for most of you to try out.
The Best Alternative to VidMate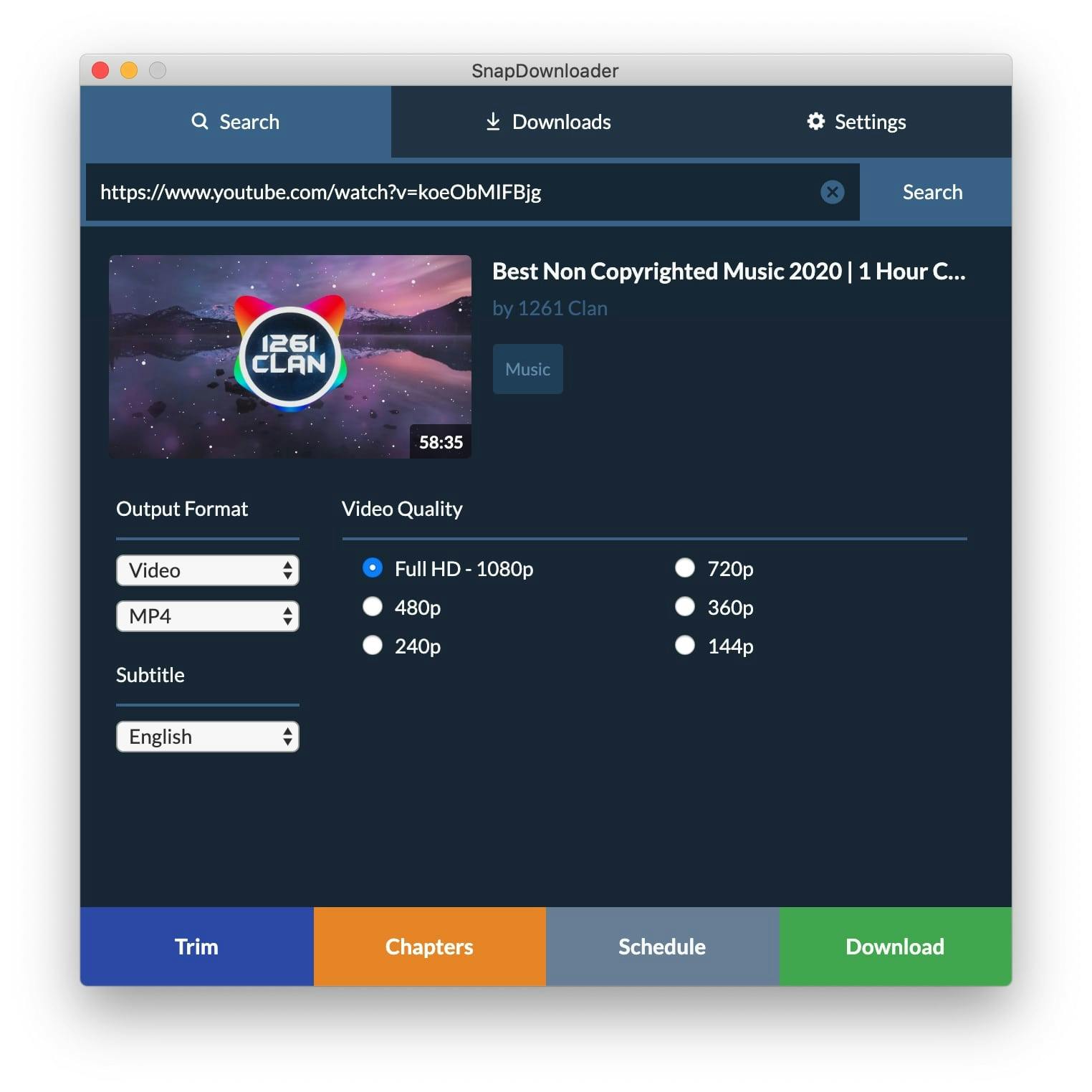 For those of you who enjoyed the ability to download YouTube videos that VidMate app for Android provides, it can become habitual to expect the same on your computer too. While there are plenty of web-based video downloader tools that claim to be just as good, if not better than VidMate, barely any of them come close to the simplified user interface, functionality, and widespread support that VidMate provides to mobile users. However, one formidable VidMate for PC alternatives that have surfaced in recent times is SnapDownloader, which is powered by every premium video downloader feature you could think of.

Try SnapDownloader for Free
Easy to Install – The issue with most YouTube video downloader add-ons and extensions are the added complications they have. From the slow installation process to the constant barrage of advertisements during the usage, it ruins your user experience. SnapDownloader changes all of this by extending an ad-free design, supported by a two-step installation process to simplify things.
Bulk Downloads – If you ever need to grab an entire online music playlist or a playlist series of videos, this app has you covered. SnapDownloader allows you to download YouTube videos and many others altogether, which can save you plenty of time and effort.
Supports 900+ Websites – Aside from allowing multi-platform support to run the video downloader on Windows and macOS, SnapDownloader also offers widespread support to more than 900 multimedia websites, including Vimeo, Twitter, Facebook, Instagram, and more.
Convert to MP3 – The powerful video downloader features in multiple video qualities of SnapDownloader is further bolstered by its ability to convert video files into MP3 audio actively, making it especially useful for creating offline audio playlists and audiobooks. Moreover, it can convert videos to various other formats including M4A, AAC, WMA, AVI, and AIFF.
Download 8K Videos – Ahead of its time in terms of video quality processing, SnapDownloader is among the only YouTube video downloader tools out there with support to download videos in 8K resolution. You even have the option to reduce the video quality down to 4K, 1080p, 720p, and lower.
Proxy to Bypass Geo-Restrictions – YouTube and some of the other multimedia sharing platforms also restrict video content based on region and location. SnapDownloader brings a geo-proxy tool with it, which allows you to instantly download YouTube videos that are usually blocked in your country.
Video trimmer: the software lets you cut YouTube videos to save only the portion that you want.
How to Download Videos on PC with SnapDownloader
Step 1: Download SnapDownloader from the official website and install it on your macOS or Windows computer.

Try SnapDownloader for Free
Step 2: Launch your web browser and head to YouTube to find the video that you want to download. Next, open the video and copy its link from your browser's address bar.

Step 3: Head over to the SnapDownloader and paste the video link you copied from YouTube. Once the video is fetched and displayed, select the video format for download and hit the "Download" button.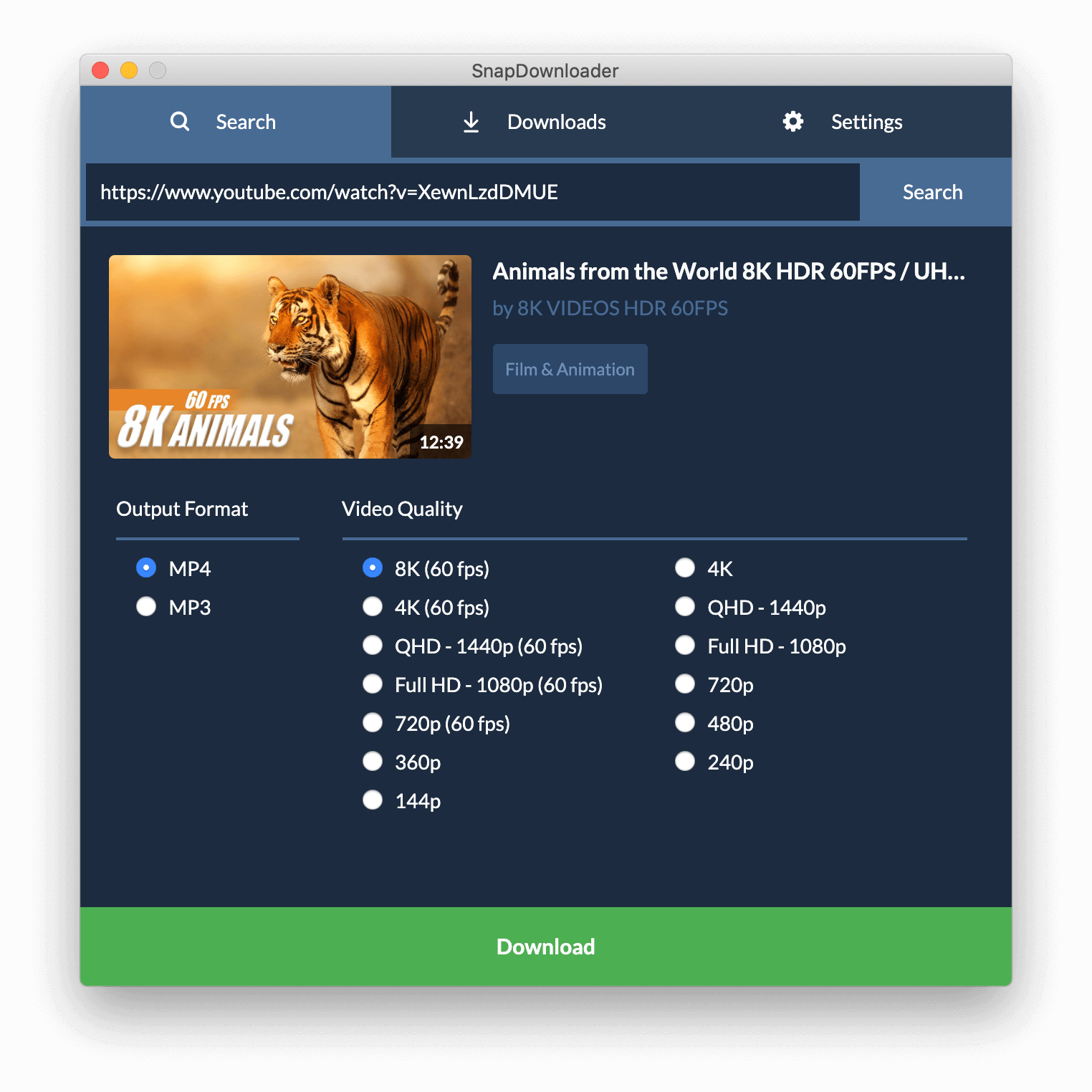 Step 4: SnapDownloader will now begin to download the video and display its progress. The video will be saved to the folder that you set as your download directory.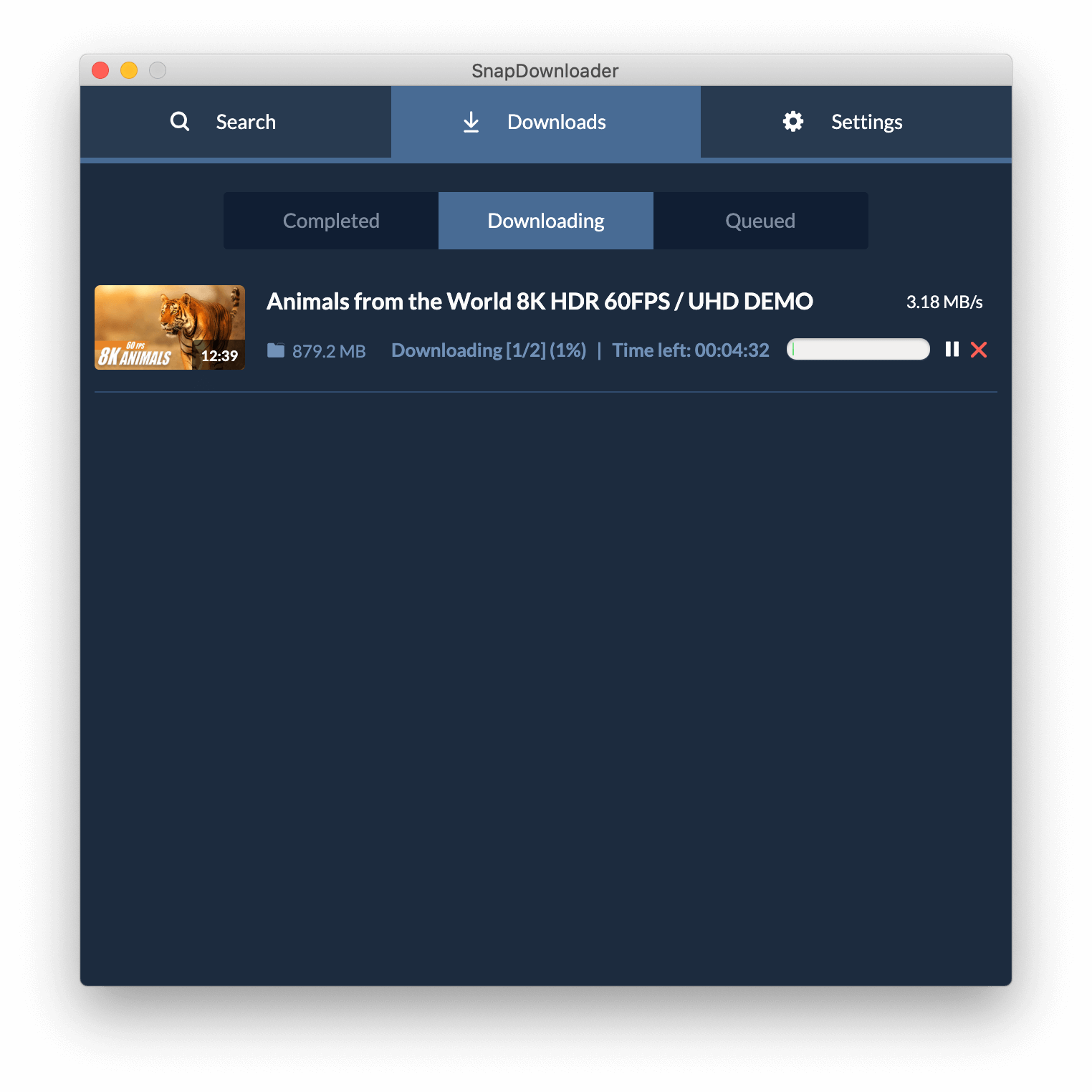 Now all you have to do is to sit back and relax as SnapDownloader automatically downloads and converts the video to the output format of your choice. Once done, you can open the video by double-clicking on it in SnapDownloader or by opening it from the folder where it was saved.
Wrapping Up
Being a byproduct of a reliable name in mobile app development, VidMate has indeed made a reputation for itself among users who want to download YouTube videos on mobile. Since the video downloader service is strictly limited to mobile devices and there is no official support to use VidMate for PC, we recommend that you steer clear from all those who claim to offer VidMate app for Windows or macOS. With SnapDownloader's YouTube downloader by your side, you effectively get every feature of VidMate, and even more, such as proxy support, multi-format downloading, bulk video downloads, and so much more.