There are tons of options on the web when it comes to video downloaders. However, many platforms only cater to Windows operating systems, which is a problem for the 100 million Mac users worldwide. But don't worry; if you're looking for the best video downloaders for Mac, we've got your back!
You're still spoiled for choice, especially if you're looking for a platform optimized for macOS. And that's exactly what we'll discuss in this article. So, read on as we take you through our top picks of Mac video downloaders (including our own SnapDownloader).
Let's get started.
What Is A Video Downloader For Mac?
If you've heard about video downloaders for PC, then you already know what a video downloader for Mac is. The tool or software allows downloading videos from various websites and social media platforms, except it's designed for Mac users.
Video downloaders for Mac may be an installed application or a browser extension that users can use to save their favorite videos on their Macs. With this tool, you can easily download and save videos in different formats and resolutions, including HD and 4K.
Why Are These Tools Important?
Here are some of the reasons why video downloaders for macOS are essential:
Easy to use: Video downloaders are designed for everyone to use, which is why they usually have a design that's easy to understand. Downloading a video using a downloader is straightforward – plus, websites provide instructions that are completely easy to follow.
Source-efficient for E-Learning: Videos are an effective learning tool, and educators can use a video downloader for Mac for educational purposes. Downloading videos is particularly helpful when internet access is limited or unreliable.
Shareable with friends: There are times when you encounter an interesting or funny video, and you would like to share it with your friends and family. With video downloaders, you can easily download your video and enjoy the option of sharing the video on any social media platform.
High-speed streaming: A pre-downloaded video allows you to watch the full content without any interruptions, compared to streaming videos that may be affected by a bad internet connection.
Criteria To Consider When Choosing A Video Downloader for MAC
When choosing a video downloader for Mac, here are some factors that you should consider:
Conversion Features: A video downloader with conversion features allows you to download videos with high-quality audio in smaller files. This can be useful if you're trying to download TikTok audio, as you can save sounds without downloading a full video.
Download Speed: Speed is an important factor in determining a good video downloader. You should choose a downloader for Mac that can quickly download high-quality videos without compromising the quality of the video. Bonus points if the downloader comes with bulk download and playlist downloading functions, like SnapDownloader, which has the ability to download private YouTube videos, playlists, and channels in their entirety.
Customer Support: Difficulties can happen when using video downloading software, so a dedicated customer support service for Mac users is a must. This can also be useful for users who need some onboarding so they can make the most out of a platform.
Best Video Downloader For Mac 2023
To give you an idea, here are our top picks for the best video downloaders for Mac this 2023:
SnapDownloader
MacX Youtube Downloader
Total Video Downloader
GetTube
4K Video Downloader for Mac
Cisdem Video Converer for Mac
1. SnapDownloader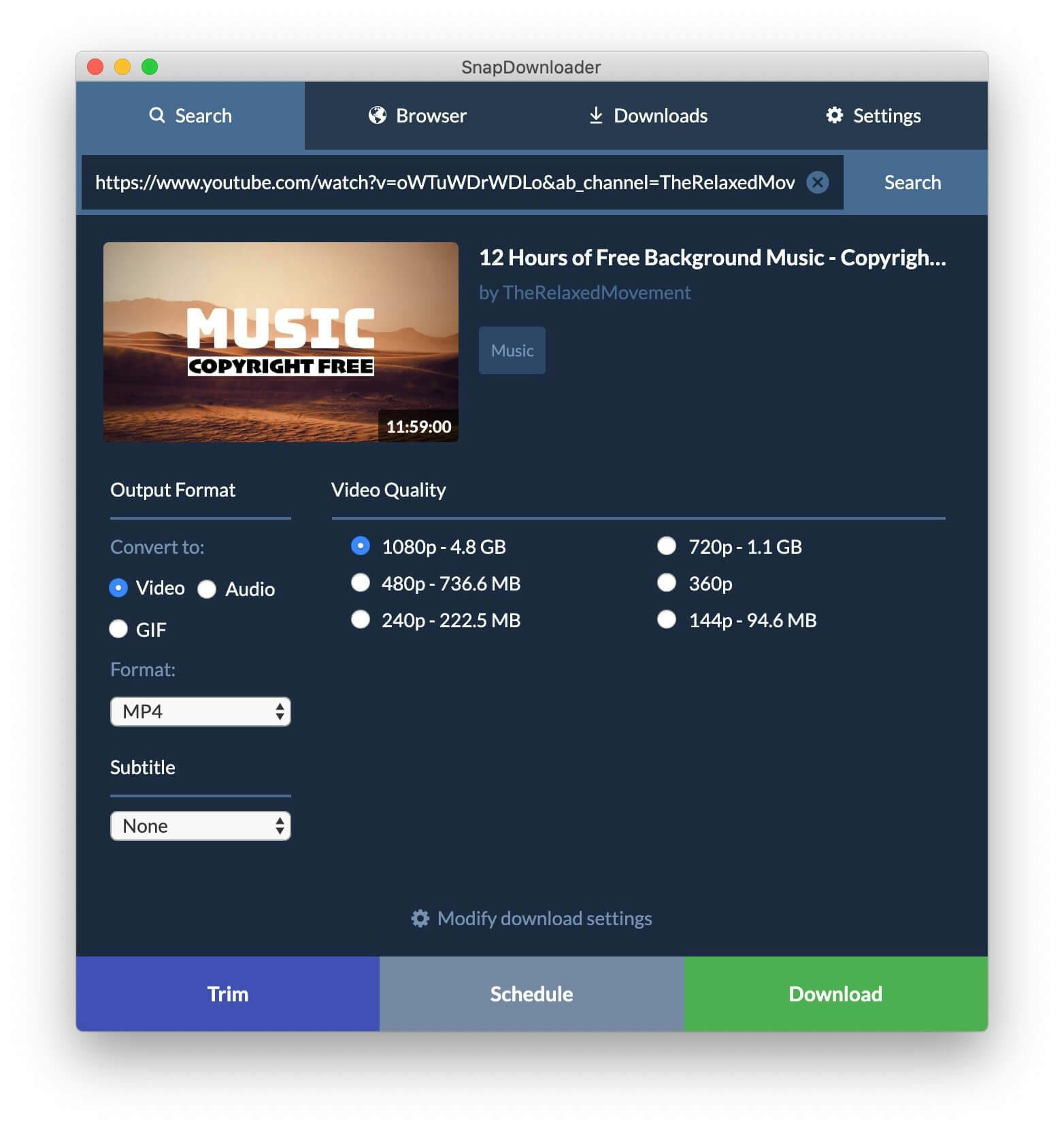 SnapDownloader is a software tool designed to help you download high-quality videos from various sources online without any hassle. Thanks to its user-friendly interface and wide range of features, SnapDownloader is popular among users who want to download videos from Youtube and other social media platforms, like TikTok and Instagram.
Key Features
Supports download from 900+ websites: SnapDownloader allows users to download their favorite videos from popular social media platforms and 900+ websites.
Up to 8K Ultra HD Resolution: With SnapDownloader, you can enjoy downloading videos on your Mac in up to 8K Ultra HD Resolutions. For smaller downloads, you can choose anything from 1080p to 144p, giving you complete control over storage requirements.
Built-in Trimmer: SnapDownloader allows you to trim and download only certain parts of a video. You can clip and trim however you like, as SnapDownloader gives you the ability to add multiple trims to a video.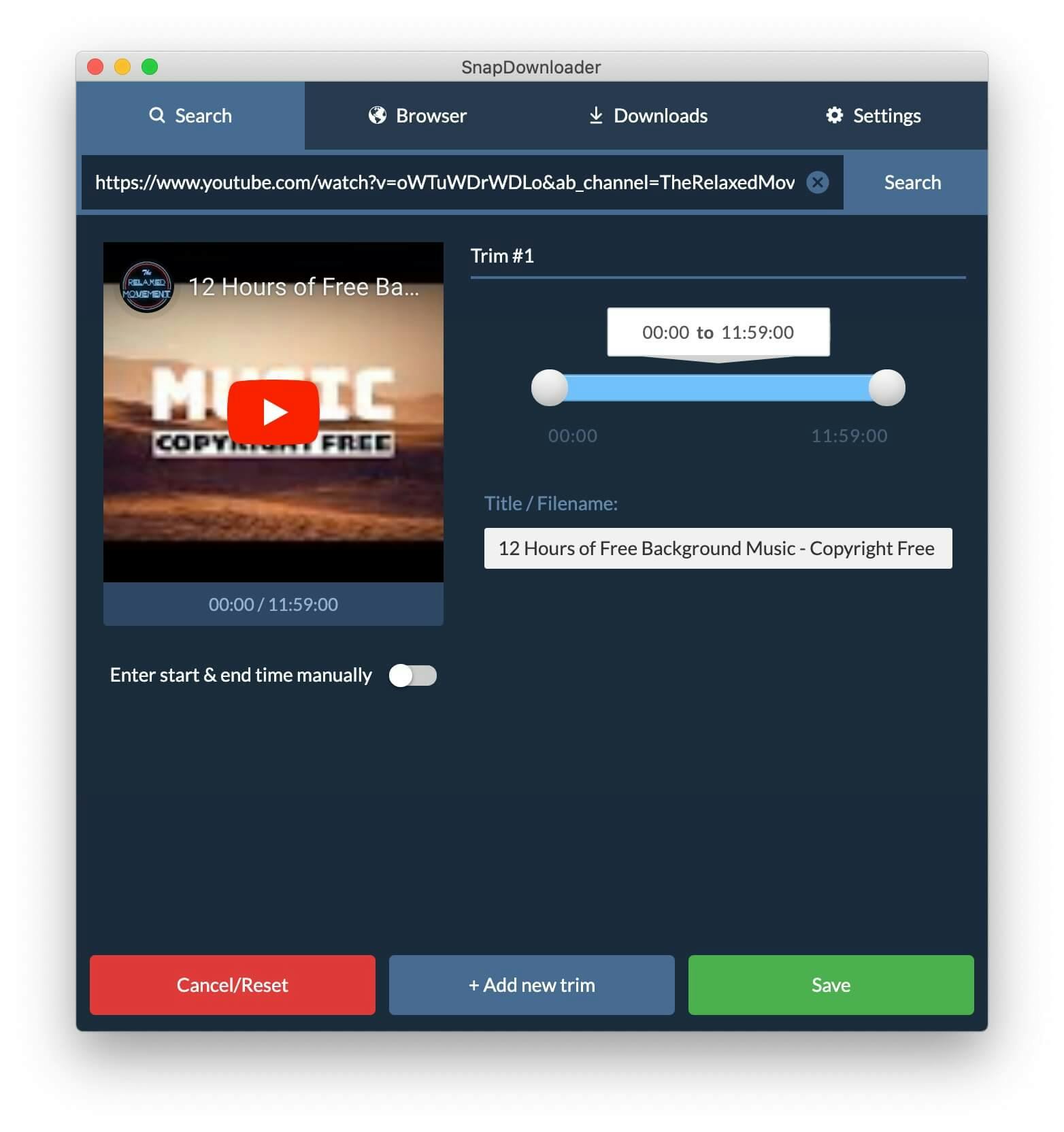 Scheduled Downloads: Set a specific time to download your favorite videos using SnapDownloader. This feature is useful if you want to save time and automate the downloading process.
Pricing
SnapDownloader offers three main pricing plans to cater to every user's needs and budget.
Monthly Subscription: With just $7.99, you can enjoy the software and unlock all its features for a month.
3-Month Subscription: If you need to use a video downloader for up to 2-3 months, then SnapDownloader's 3-month subscription is a good bargain. At $16.99, you can download and watch videos for up to 3 months.
Annual Subscription: Lastly, if you require video downloaders for work or educational purposes and you need to use one for a longer time, SnapDownloader offers an affordable rate of $29.99, which already lasts for up to a year.
Pros
Allows bulk download option
Can download from 900+ websites
Reliable, fast download speeds
Scheduling video download time and date
Cons
The trial only lasts for 48 hours
2. MacX Youtube Downloader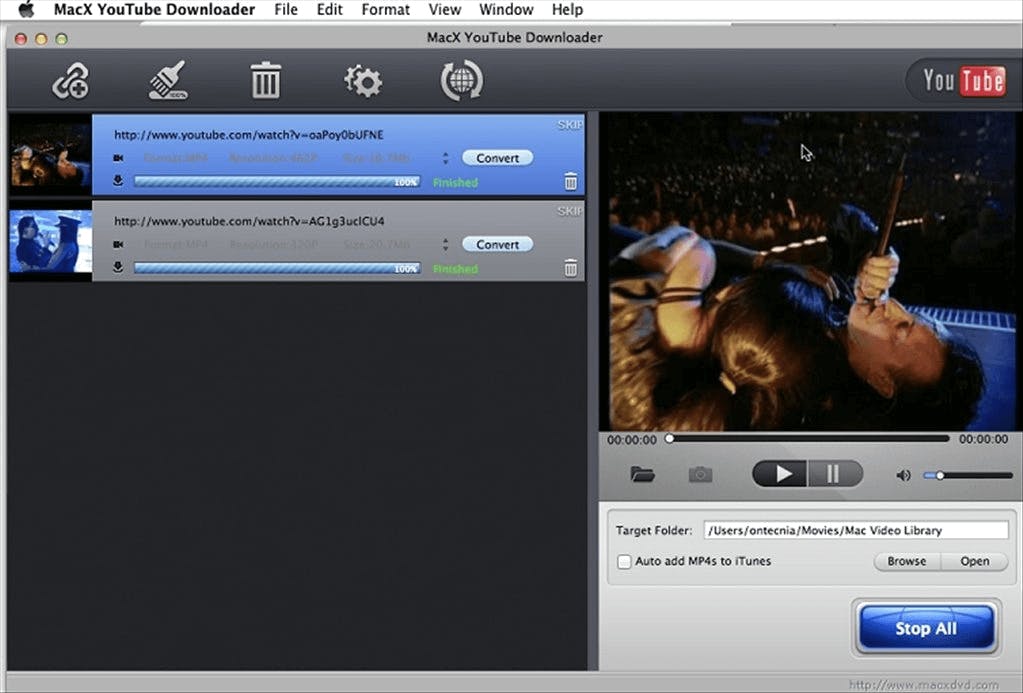 From the name itself, MacX Youtube Downloader is a software program that's designed for Mac users to download videos and music from various streaming sites. It allows users to download videos in different formats and resolutions and is ideal for Mac users who browse and stream videos from various online platforms. With MacX Youtube Downloader, you can also extract audio from a video online.
Key Features
Download any youtube content
Can download videos from 1000+ video sites
Up to 8K quality resolution
Pricing
MacX Youtube Downloader is a free online video/audio downloader for Mac OS. With its free plan, MaxX is perfect for occasional users or those with basic downloading requirements, though you'll need the full version to get the most out of MacX.
Pros
Download any Youtube content
Various output choices
Extract audio tracks from videos
Cons
No conversion feature
Built-in video player is only for downloaded video preview
3. Total Video Downloader
If you're looking for a platform that works well with all the top social media platforms, including Youtube, Dailymotion, Vimeo, and many more, Total Video Downloader is the software for you. This video downloader for Mac can download videos at ultra-fast speed in different resolutions.
Key Features
Downloads available for multiple resolution options
Ability to download audio
Batch downloading (though these functions are somewhat limited for audio)
Pricing
Total Video Downloader is completely free for users to utilize. However, if you want to enjoy the full experience and enjoy its various features, you can purchase a license: a single-user personal license for $29.00, a multi-user family license for $59.99 which can accommodate up to 2-5 Mac units, or a bundle which comes with video converter, player, and a bunch of features for $49.99.
Pros
Can download files from multiple online websites
Simple search function
Fast download speed
Cons
May not support all video codecs
Requires update from time-to-time
4. GetTube
Planning to save your favorite Youtube videos to your device without any problem? GetTube got your back! Watch your favorite videos on your Mac whenever you want up to 4K quality video resolution. This tool is a standalone app that works well with Safari and Firefox and lets you download a Youtube video in your preferred format.
Key Features
Basic web browsing functions
Download audio/video from any Youtube URL
Access Youtube without using a full-featured web browser
Pricing
Unlike other video downloaders, GetTube is completely free and does not require a premium version. Users can access and utilize its features without having to pay a certain cost or a subscription fee.
Pros
Free
Download videos from Youtube, Vimeo, and Dailymotion with ease
Easy to use
Download in various formats and resolutions
Cons
Mac users must download GetTube from third-party websites as it's not available on the App stores
Users report crashes during downloads
Batch downloading is not allowed
5. 4K Video Downloader for Mac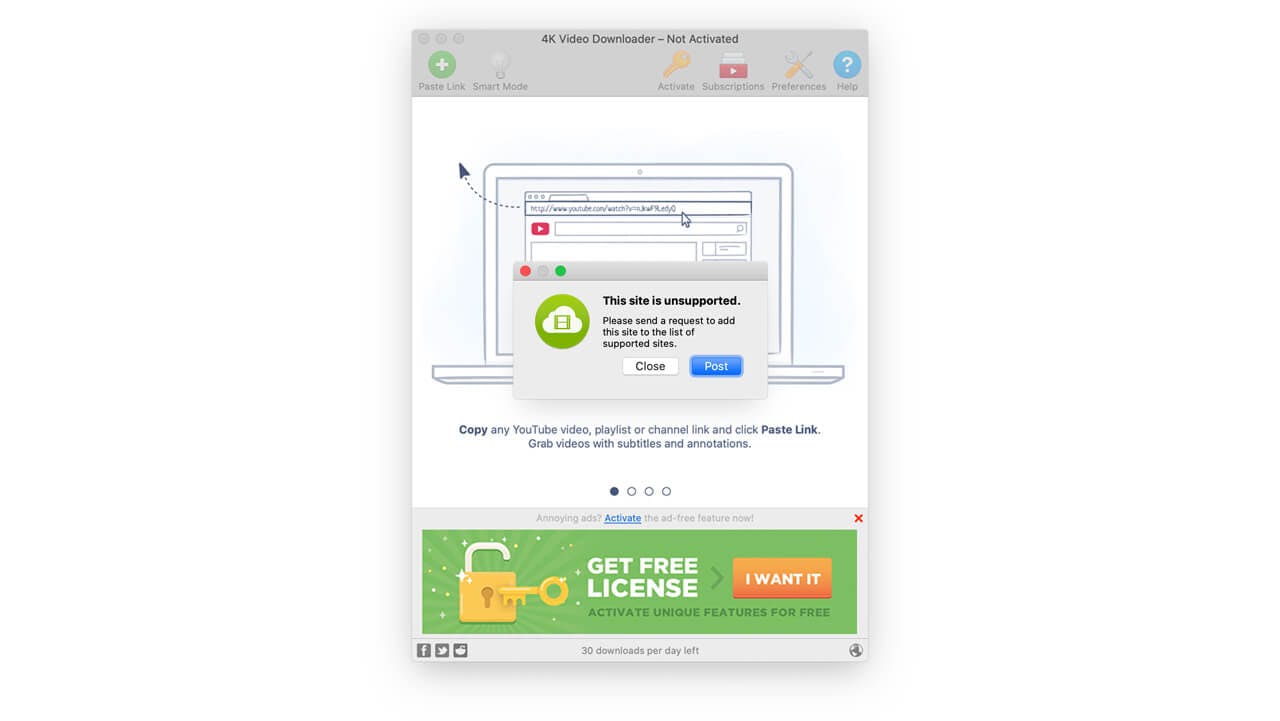 4K Video Downloader for Mac is a powerful video downloader that allows you to download and save videos from the web easily. It supports downloading videos in various formats, such as MP4, MOV, AVI, MKV, and more. Its easy-to-use interface and fast download speeds make it the perfect tool for quickly downloading Youtube subtitles from your favorite videos.
Key Features
Download the Youtube playlist and channels
Extract Youtube subtitles
Get videos in 4K quality
Allows private youtube content download
3D Video Download
360 degrees video download
Pricing
While you can still use and enjoy this tool with its free version, 4K Video Downloader for Mac offers premium versions: Lite, Personal, Pro, and Bundle.
The Lite feature allows you to access its main features for a year at an affordable rate of $10; Its Personal version allows users to access some of its main features that are mainly designed for personal use. On the other hand, the Pro and Bundle versions cost $45 and $65 respectively, which allows users to unlock all the tool's features.
Pros
Download videos in high-quality 4K resolution
Simple and user-friendly interface
Extract audio from videos
Batch download features
Cons
The free version has restricted features
Download speed can be slow
Some users report compatibility issues
6. Cisdem video converter for Mac
Cisdem Video Converter for Mac is a powerful and user-friendly tool that has advanced editing features that ensure an ideal output video; such as trim, crop, merge, rotate, adjust brightness/contrast/saturation/hue, add subtitles/watermarks, etc. It also allows you to download videos and music from 1000+ sites safely to play offline.
Key Features
Convert videos/audio files
Advanced editing features
Download videos and music from 1000+ sites safely
Pricing
You can enjoy Cisdem's free version if you only need basic features, but if you want the whole Cisdem experience, check out its pricing plan: one-year subscription, one-time purchase, and business license.
Pros
Easy to use
Supports batch conversion
Download video and music from 1000+ sites
Advanced editing features
Cons
Limited customer support options
Users report slow conversion of large files
After a thorough evaluation, SnapDownloader is the most favorable option for Mac users. With its user-friendly interface, fast download speeds, and ability to download videos from over 900 websites, it's the best option for those looking for a dependable video downloader for Mac.
Download The Best Video Downloader for Mac Today!
A video downloader for Mac is an essential tool for anyone who wants to save videos from the internet to their Mac devices for offline viewing. With various options available, you can choose from simple browser extensions to more advanced software with additional features. Download SnapDownloader now!