From elaborate dances to comedy sketches, TikTok is the place to be if you want to be entertained. With more than 3.5 billion downloads, the TikTok app is the most popular social media platform in the world, so it's no surprise that downloading these clips is a top priority for many users. From video to audio, there's no limit to your creativity with the right tools.
At SnapDownloader, we're the experts in video and audio downloads from popular social media platforms. We've researched everything you need to know about the best tools for TikTok to MP3 conversion and collected it all in one handy place for you. Read on to learn all about it:
What is TikTok?
TikTok started as Musical.ly, an online social media platform for capturing short videos where users shared lip-syncing content. Since the early days, TikTok has evolved beyond its foundations, with millions of people swiping through content every hour of the day. If you want dog grooming content, the latest online drama, or ASMR live streams, TikTok is the best place to be.
It's no surprise that TikTok has quickly overtaken all other social media platforms, with thousands of people making the move to the app. With more videos come more download opportunities. So, it's no surprise that people previously using Twitter or Facebook video downloaders are on the lookout for something just as good for their new favorite platform. So, if you've got a whole load of TikTok sounds saved for download, and you're struggling to decide on the right service, why not check out our recommendations for the best tools below?
MP3 vs MP4: Which is better?
MP4 may be the most modern of the two mediums, with AAC-encoded MP4 audio files often the top choice, but what works for one situation won't for the next. If you're looking for something that works with old-school tech, MP3 is your safer bet. Not to mention, at a 320 kbps download, MP4 and MP3 sound roughly the same. So really, it's all down to your personal preference.
Why convert TikToks to MP3?
Why convert any social media to MP3? As with Bilibili MP3 video downloads, TikTok has way more to offer than just its visuals. Here are a few reasons why you might want to snatch up the audio from your favorite TikTik videos:
Extracting sound effects
Whether you're planning on an exciting short movie or making something to show off on YouTube, TikTok can be an excellent source for sound effects. From busy city scenes to idyllic countryside noises, the audio content you extract from TikTok has thousands of uses. ASMR, action effects, animal noises, and more - the list never ends.
Making your own TikTok content
Want to make your own TikToks? The best place to start is with great sound. There's content of all kinds on TikTok, meaning there are also plenty of sound effects to discover and use. Extracting audio from existing TikToks allows you to take that sound and make it your own, whether you're creating a funny skit, dancing to a top song or making something unique and artsy to attract your audience.
Creating remixes
Some of the most popular sounds on TikTok are remixes and recreations of top songs. Think sped-up music, higher-pitched audio and different sounds mixed in to create something completely unique. Even if you're not the greatest videographer, the right sound remix can have you going viral for all the right reasons. Trends have to start somewhere, after all.
Best TikTok to MP3 Converters
1. SnapDownloader: Best Video Downloader for Windows and macOS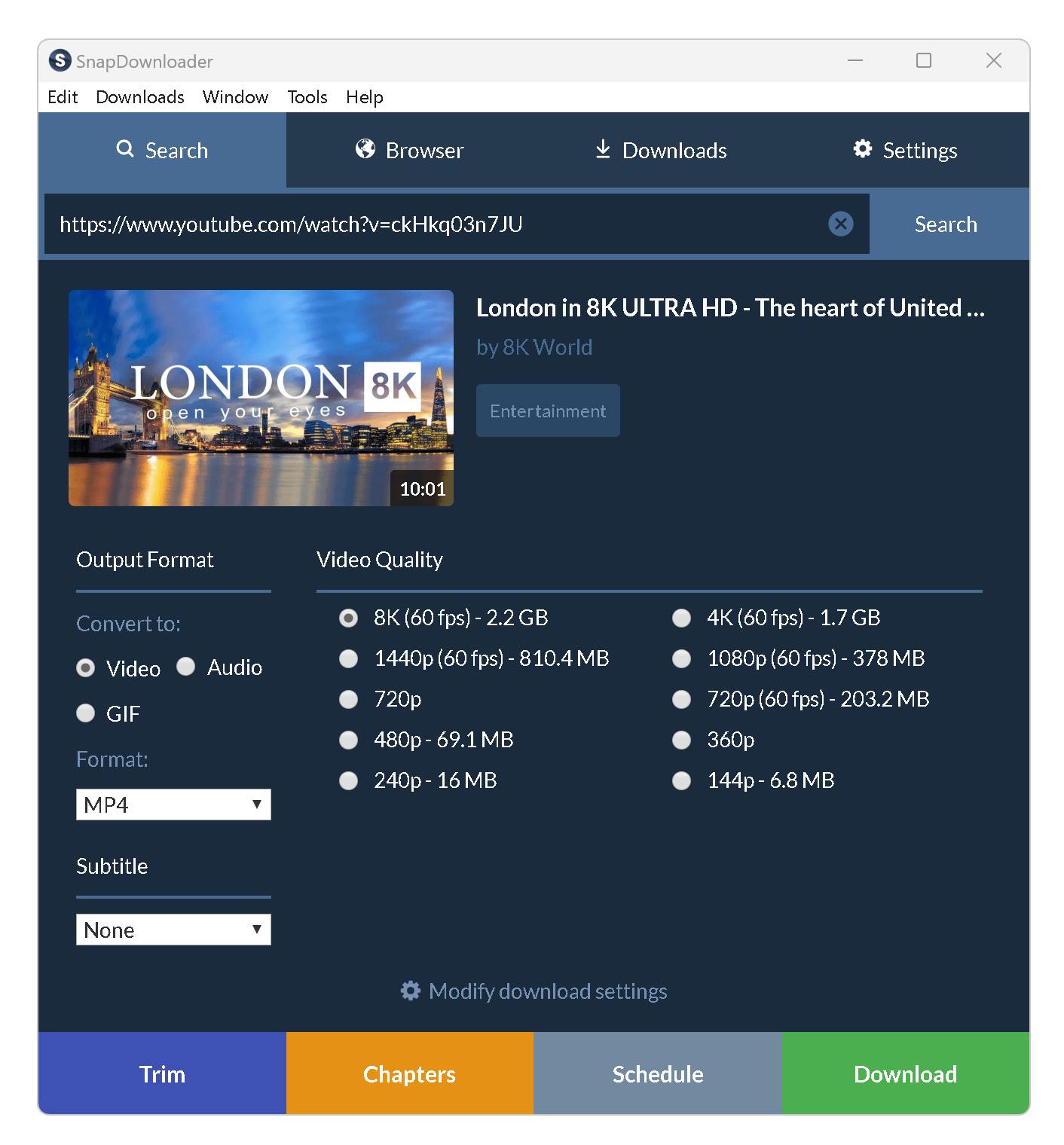 If you need a simple yet effective tool for downloading videos from hundreds of different platforms and services, SnapDownloader is an excellent choice. With a total of ten different output formats, including MP3 plus the option to convert videos to GIFs, it's easy to download TikTok videos without watermarks, ready to transform into any format you like. If you're looking for the whole package, SnapDownloader goes beyond most of the free browser-based options to deliver a great user experience and functionality.

Try SnapDownloader for Free
Features
Time-saving One-Click Mode for downloads
Simultaneous downloads for multiple files
User-friendly with a super simple design
Conversion to ten different formats
Pros
Fast video processing with no limits
No ads to spoil the user experience
Cross-platform support for Windows and Mac
Access to 24/7 customer support
Multiple option subscription model for license
Cons
SnapDownloader license is needed to access all the features
Pricing
The trial version of SnapDownloader is available for free, while a paid subscription with monthly, tri-monthly, and annual tiers provides access to the full features of our tool ranging from $7.99 per month to $29.99 per year. You can also choose to purchase a lifetime license for yourself or your family, ranging from $39.99 to $69.99.
2. TokClips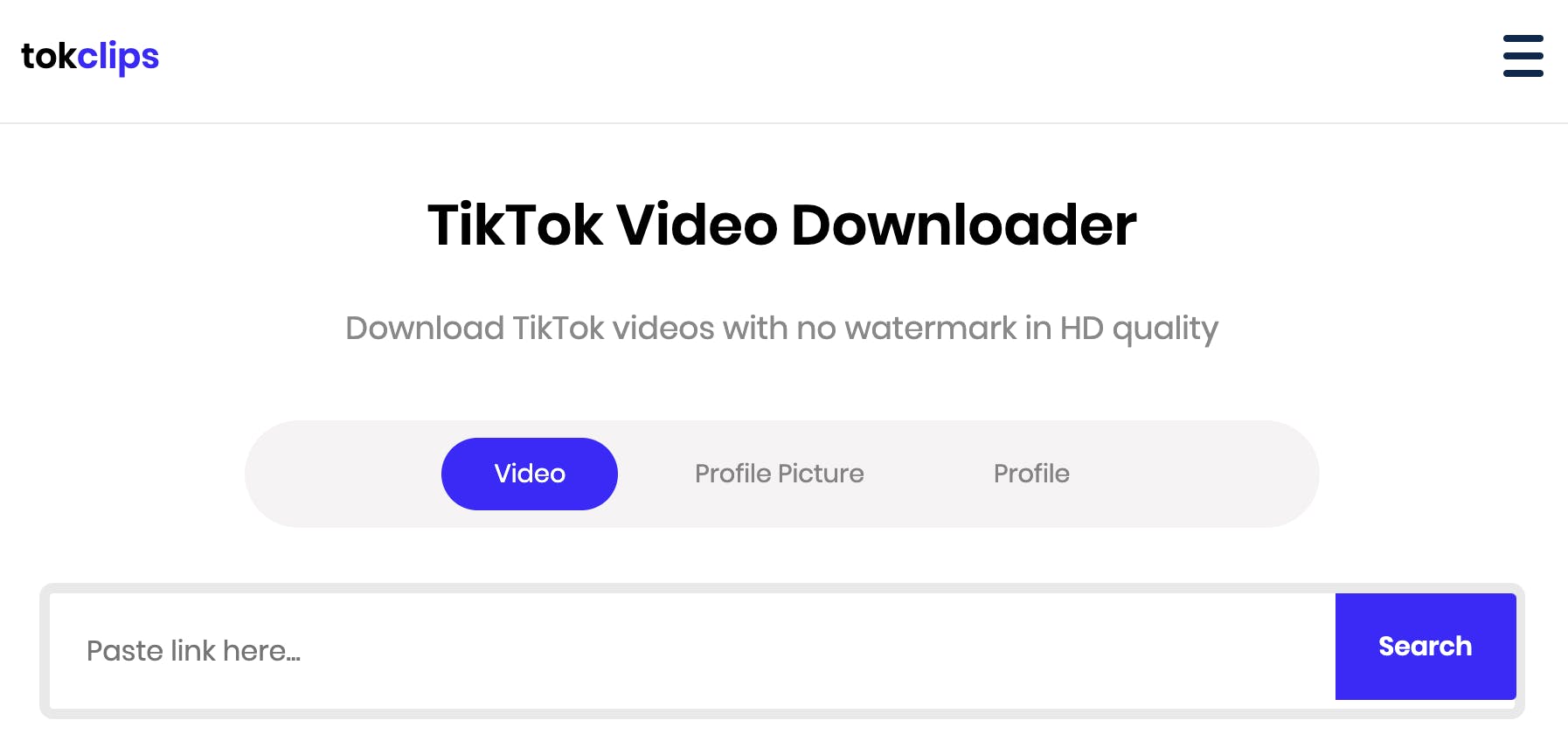 TokClips is a free online TikTok download platform. This browser-based tool can be accessed directly through your browser on a computer or smartphone, making it easy to paste in TikToks and download a converted format of your choosing. If you're looking for something simple and quick for a single download, TokClips might be the right option for you, though it is less robust than other choices on the market.
Features
Browser-based platform accessible on computers and smartphones
Conversion to both video and audio formats, including MP3
Specifically designed for TikTok video downloads
Pros
No watermarks on downloaded videos
A simple, easy-to-use interface with no extra features
Free access with no subscription
Cons
No fast option for downloading and converting multiple videos
Multiple ads throughout the platform
Limited options for downloads, with no other platforms supported
Pricing
TokClips is a free in-browser tool.
3. SSSTIK

SSSTIK provides a purpose-built tool for TikTok that allows you to download your favourite videos in a range of formats with no watermarks. This platform is primarily designed for smartphones, with Apple Store and Google Play versions. That being said, you can still use a desktop version if you'd prefer. As a free platform, SSSTIK might be a good choice if you only want to convert one or two videos to MP3.
Features
Accessible through a smartphone app or through a browser web application
Conversion to multiple formats, including MP3 and MP4
Simple tool specifically for TikTok downloads
Pros
Simple, no-frills platform
Free to use via the smartphone app or website
A range of different formats
No watermarks on TikTok downloaded content
Cons
Possible security issues due to a non-stable downloader apk
Low-quality video output
Large numbers of ads in-browser and within the app
Isn't as versatile as some of the other tools on this list
Pricing
SSSTIK is a free tool on-browser and when downloaded as a smartphone app.
4. QLoad
Qload is a lightweight, simple TikTok downloading platform that lets you download any TikTok video you like directly from your browser. If you're looking for something that does two things and nothing else, this browser-based option offers unlimited downloads in its specific niche. If you're keen to download high-quality TikTok videos or audio in a single MP4 format, Qload provides an alternative to the more complex options available to you.
Features
Accessible directly from your browser or on Google Play
Paste in a link to immediately download TikTok video or audio
Designed for use specifically with TikTok content
Pros
No watermarks on any videos you download
Unlimited downloads for free
Browser-based platform works on all devices
Google Play application for ease of use
Cons
Does not offer MP3 downloads, only MP4
No options for different download formats
Doesn't support other platforms without visiting other sites
Pricing
Qload is a free tool accessible via browser or on the Google Play app store.
5. TiktoktoMp3
TikToktoMP3 is an online tool specifically developed to convert TikToks to MP3 files ready for download. As a specific audio downloader, this tool is tailored for a single purpose, making it well-suited if you only want to access MP3 audio files. TikToktoMP3 offers three different file quality options as a web application, with conversion into 128 kbps, 256 kbps, and 320 kbps.
Features
Web application accessed through the browser on your computer or smartphone
Different file quality options for MP3 conversion
Paste links directly into the browser to create MP3 files
Pros
No registration or sign-ups for use
Free, unlimited downloads
User-friendly with a straightforward design
Cons
Limited functionality for MP3 conversion only
No option for multiple downloads
Information on kbps of audio file quality options in the tool
Pricing
TikToktoMP3 is a free tool that can be used from a computer or smartphone browser.
Why use SnapDownloader?
Our goal with SnapDownloader is to combine effortless downloads with practical backups. Unlike web browser options, we store a backup of your audio files and videos, so you never lose your content again. If you're a creator, a remixer, a videographer or a student, our tool makes it effortless to access the sounds you want in the format you need. With support for ten file types, including MP3, across a wide range of platforms, you get everything you need in one handy location.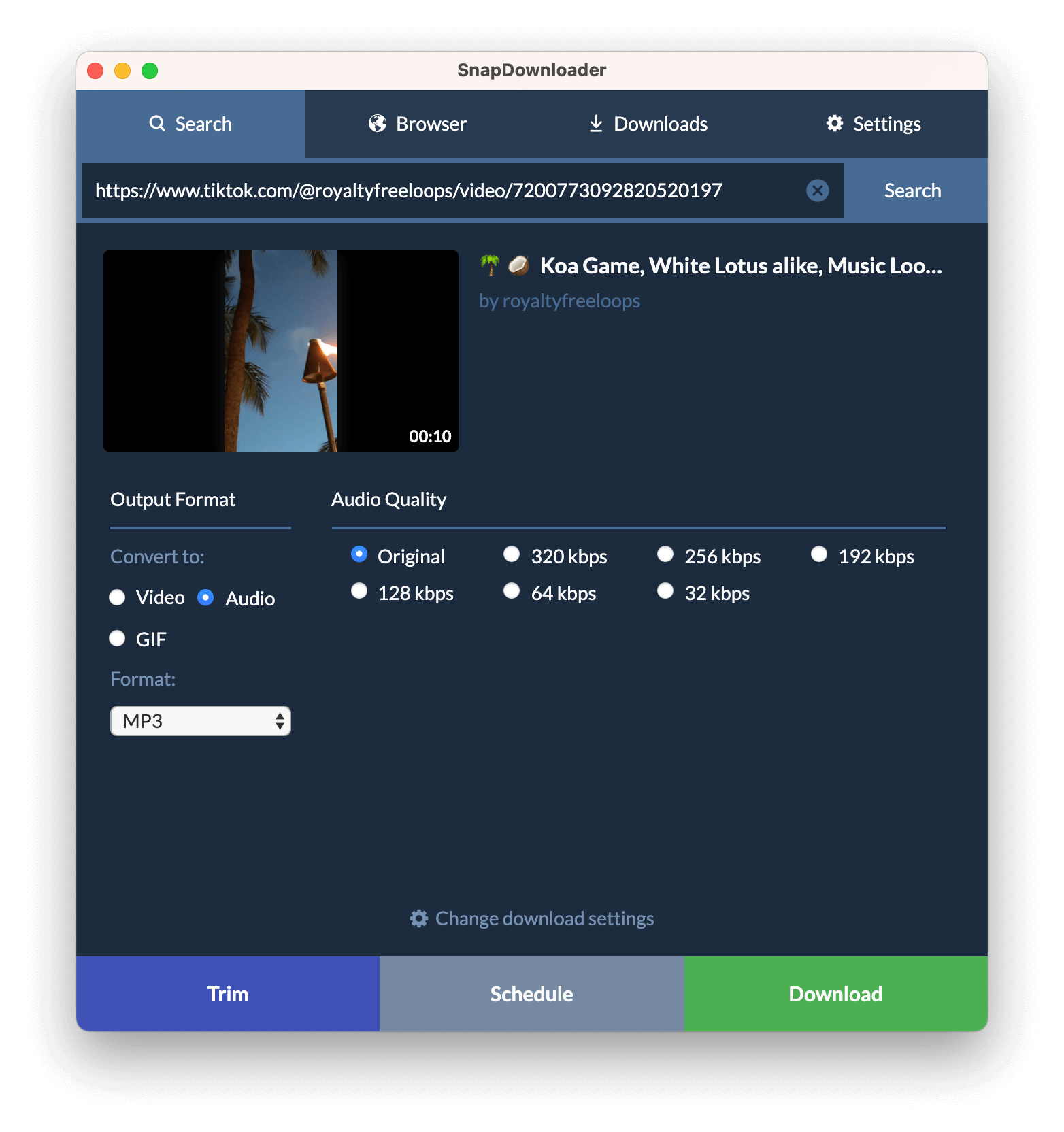 Downloading MP3 files from TikTok is a great way to be creative and design something exciting and new. Whether you want to remix something or create your own content with great sound effects, SnapDownloader makes extracting audio effortless.

Try SnapDownloader for Free
Conclusion
Finding the right platform for downloading TikToks is the first step to getting great-quality audio. Whether you're creating your own content or using sound effects for other purposes, picking the right service for MP3 downloads makes all the difference. SnapDownloader provides a robust, reliable, and professional alternative to other options out there. If you're serious about great MP3 sound, we help you to hit all the right notes. Download and try SnapDownloader for free to discover how to convert TikTok MP3 files today.