JDownloader is a widely popular, open-source video download manager that allows you to easily download and manage video content. But is JDownloader the best option for you? If you're looking for a JDownloader alternative, you are probably looking for a tool that allows you to:
Download videos in high resolution
Download from your favorite platforms
Convert to your preferred format
Trim and edit videos
Although JDownloader does fulfill some of these criteria, it has some drawbacks.
It isn't the most user-friendly platform for first-time users, the installation files may contain adware, there are some popular sites it doesn't download from, and the community help forums aren't very useful in navigating these issues.
If JDownloader isn't for you, we offer the perfect alternative. SnapDownloader is a modern, all-in-one video downloader, with some welcome additions like downloading in 8K and their built-in video trimmer.
Let's examine both tools in more detail, so you can decide which would be the best for you. Without further ado, let's examine both tools in closer detail.
JDownloader vs. SnapDownloader: Key differences
JDownloader is an open-source software created in Java and SnapDownloader is closed-source, or proprietary software. Open-source software is helpful for computer experts or coders but is difficult and less user-friendly for those who don't have a background in software
JDownloader offers a free version, but beyond a free trial, SnapDownloader requires either a monthly subscription fee or the purchase of lifetime access. The quality of the user experience is reflected in SnapDownloader's cost. Although JDownloader has a help forum, customer support is limited, while SnapDownloader offers 24/7 customer support.
SnapDownloader and JDownloader don't offer the same website compatibility. While JDownloader can download from many websites, there are several notable examples, including Instagram and Vimeo, that it doesn't support. SnapDownloader, on the other hand, supports both websites, alongside many more.
Since JDownloader was made with Java in mind, their UI reflects that. This can make it feel outdated and less intuitive than SnapDownloader's sleek design. SnapDownloader presents all of its features in a way that's easy to understand, even for newcomers.
It's easy to accidentally infect your computer with adware when installing JDownloader. The software is available for free because it comes bundled with some unwelcome additions. If you know what to look for, it's possible to stop the adware from being included during the installation process, but it's also easy to miss. Because SnapDownloader is a paid service, it offers a guaranteed adware and malware-free user experience that's safe for your computer.
What is JDownloader?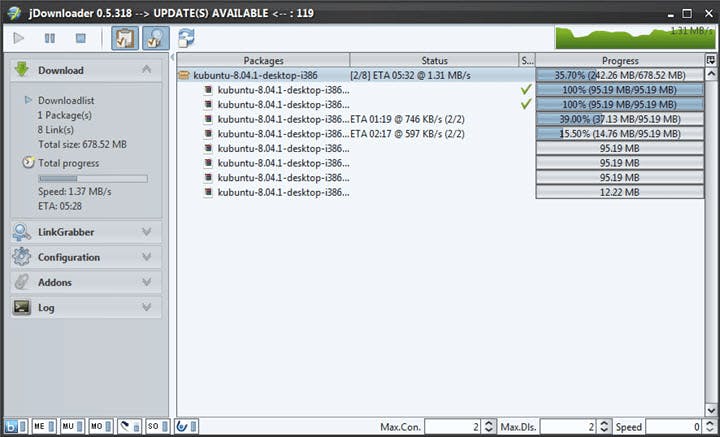 JDownloader is open-source software designed to make downloading files from the internet easy and manageable. It was developed by Appwork GmbH, a German software company, and is widely used by the online community.
JDownloader allows you to download multiple files at the same time and control the downloading process with start, stop and pause options. Plus, it can extract archives automatically. The most recent stable release (JDownloader2) was released in 2016.
Key Features
Manage file downloads: JDownloader allows you to start, stop, and pause downloads as they're happening. This is a helpful feature for managing downloads while balancing other activities taking place on your computer at the same time.
Auto-extract archives: JDownloader has an auto-extracting feature called JD Unrar that makes it easy to extract files from the archives and re-merge them after download, including the encrypted ones. You simply provide a list of possible passwords and JDownloader takes care of the rest. You can also configure the auto-extraction settings. These include selecting the extraction paths and specifying how the tool should handle the files after extraction.
Adjust bandwidth limitations: Bandwidth controls how quickly your computer can download your files. Higher bandwidth makes it possible to download faster, but also makes it difficult to do other things on your computer at the same time. JDownloader has the capability to control the bandwidth your computer is using when downloading.
Stream downloads: JDownloader makes it easy to download streaming videos. Simply paste the URL of the page you want to download from and it'll take care of everything else, including file compression and CAPTCHA recognition.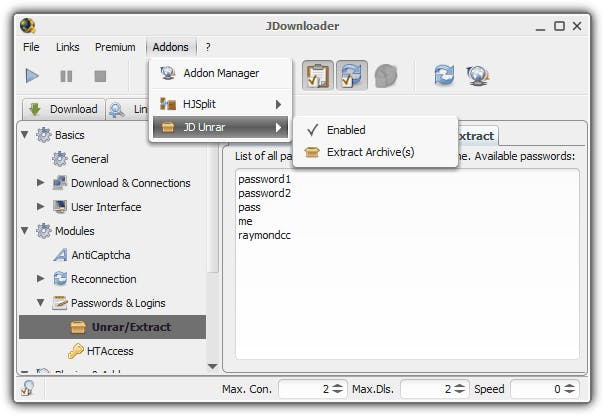 Pricing
JDownloader is open-source software with both free and premium options. While the free option meets most users' needs, it does have some disadvantages. Some examples of these include
Download limit: Users can only download a specific amount of data in a given period of time. If they reach this limit, there's a required waiting period before they can continue downloading.
Pre-download wait time: Users may experience a waiting period before the download starts. This is not always the case, but something that users should be aware of.
Limited download speed: The free version of JDownloader may limit download speed. While this may not always be a problem, sometimes download times can be very slow.
The premium version of JDownloader doesn't have these drawbacks. It can be purchased for a budget-friendly monthly fee.
Pros
Automatic updates
Free version available
Well-established and widely used
Cons
UI is dated, difficult to navigate, and not user friendly
Installation files may be bundled with malware
Limited sites it can download from (i.e. Instagram or Vimeo)
JDownloader alternative: SnapDownloader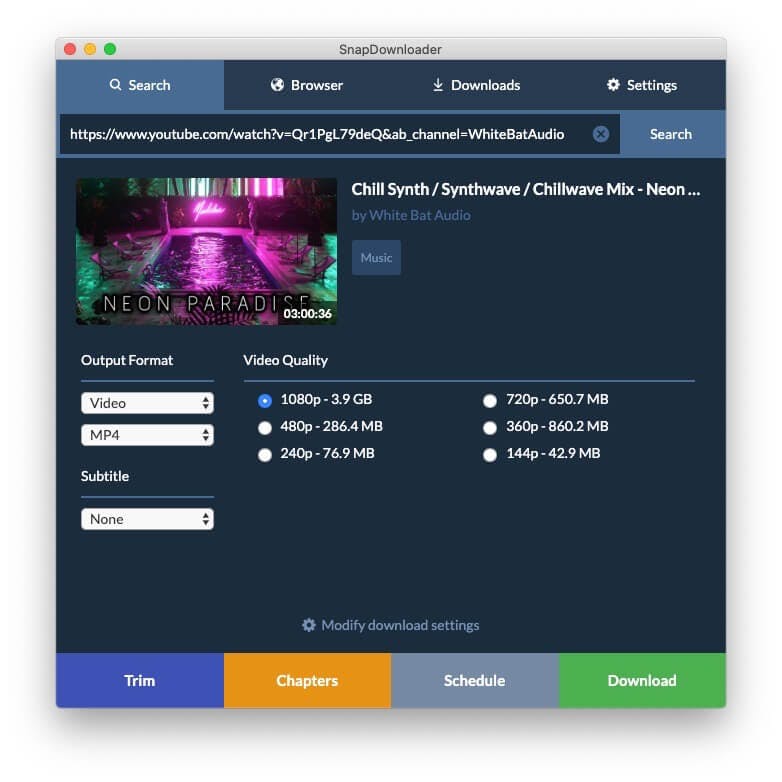 Now let's take a look at SnapDownloader, an alternative to JDownloader. First released to users for testing in July 2020, SnapDownloader is a relatively new but popular software.
SnapDownloader was developed by a group of software professionals dedicated to making the file-downloading process simple and hassle-free. It offers many of the same features that JDownloader does, but with a smoother, more user-friendly platform, better customer support, and more website compatibility.
SnapDownloader doesn't offer a free version, the plans are very affordable, especially with the number of features that come pre-packaged.
Key Features
Download from 900 websites: SnapDownloader supports 900 websites, including several popular sites that JDownloader doesn't, such as Instagram and Vimeo.
8K resolution: SnapDownloader offers 8K resolution for high-quality downloads
Safe and ad-free: SnapDownloader's software is safe for your computer and ad-free. Although malware is a concern with JDownloader, you don't have to worry about malware infecting your computer during SnapDownloader's installation process.
High-speed download: Unlike JDownloader, SnapDownloader doesn't have capped downloading speeds. You can download it as quickly as your internet connection will allow.
User-friendly experience: With 24/7 customer support and an easy-to-navigate website, SnapDownloader offers a better user experience. As one customer explains, SnapDownloader offers a "great interface with intuitive features."
Dark mode: SnapDownloader has a dark mode version, which is better for your eyes.
Built-in video trimmer: SnapDownloader allows you to trim your videos from within the platform.
Built-in browser: You can access the websites you want to download from without ever leaving the platform. No need to jump back and forth between tabs, or sort through various video downloader Google extensions–you can do it all on SnapDownloader.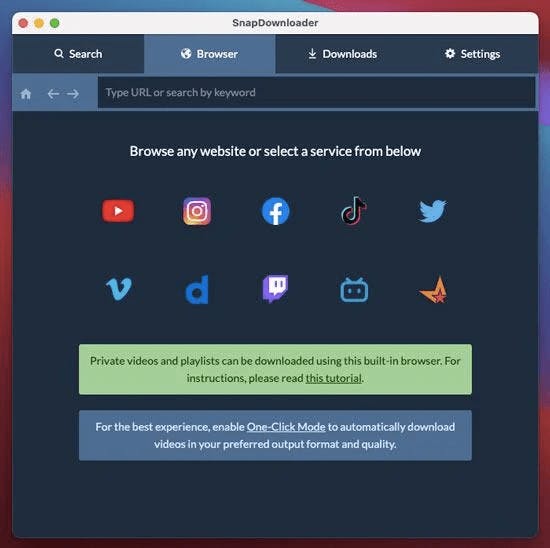 Pricing
SnapDownloader offers two pricing models: monthly subscription plans or a one-time purchase lifetime option. Both models offer budget-friendly prices.
The monthly subscription offer is inexpensive. However, you can save more money if you opt for the 3-month or annual subscriptions.
There are two options when purchasing a lifetime license: the personal or family edition. The personal option provides functionality for one computer, while the family plan includes three. These are the best value plans and the most popular choice for users.
Pros
Compatible with 900 websites
Excellent customer support
User-friendly UI and easy to navigate
High download speeds
8K resolution capability
No ads and safe to install
Cons
No long-term free version (free trial only)
Relatively new software
JDownloader vs. SnapDownloader: Feature Comparison
Feature

JDownloader

SnapDownloader

Safe and malware free

✅

8K resolution

✅

Instagram and Vimeo supported

✅

One-click download

✅

✅

Auto-extract archives

✅

User-friendly UI

✅

Bulk downloads

✅

✅

Open source

✅

Video trimming

✅

Pricing

Free version or

Subscription version: Costs between $4.99 and $10.99 per month

Lifetime version or

Subscription version: Costs $7.99 per month
Try SnapDownloader today
JDownloader is a well-known download manager with a large community of users, but that doesn't mean it's the best fit for everyone. While JDownloader is a good tool for experts who don't depend as heavily on the UI or have more experience handling software, it's not a user-friendly tool that's easy to navigate or understand.
SnapDownloader, however, is an intuitive, easy-to-navigate download manager. It offers up to 8K resolution, is compatible with 900 websites, and makes downloading files easy, quick and hassle-free. Try SnapDownloader's free trial version and experience this world-class download manager for yourself.