Gone are the days of being glued to the good old TV screen in your living room, hoping that the mighty cable company will bring you some quality content. Even if you ended up being lucky to catch a good show on time, the bombardment of advertisements was never a pretty sight. It was not until the 2000s when services such as YouTube, in combination with the rapidly spreading internet, took over the media world, bringing online streaming to users in all parts of the world.
Times are changing, and so are the methods of downloading videos from online platforms available by the dozen. Users don't need to spend a hefty amount on buying special software to fetch videos from YouTube, Facebook TV, and other sources. Video downloader chrome extensions have proven to be a blessing for users who are looking for alternatives to download videos with the click of a button. These tools can download videos from multiple websites, and we have tested the following extensions so that you don't have to:
AddonCrop Video Downloader
QDownloader
SaveFrom Browser Extension
FastestTube
DownloadYouTubeChrome
Best Video Downloader Extensions for Google Chrome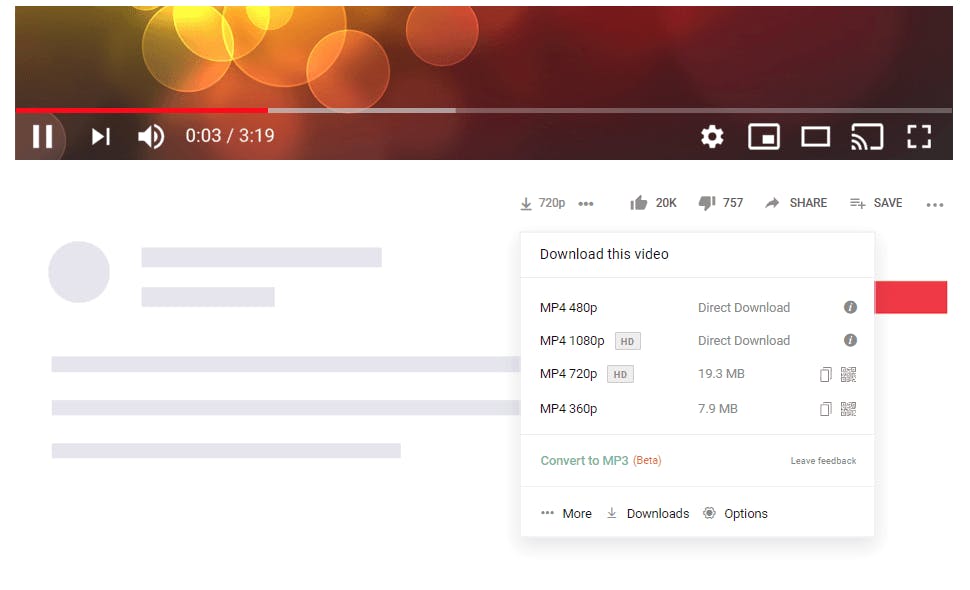 This extension gives the quickest solution to download videos from YouTube and other websites. Its one-click installation makes it effortless to install and simple to use. This video downloader for Chrome allows downloading high-resolution videos and supports downloading videos in multiple formats like MP4, MP3, FLV, and WebM.
Supported Websites
YouTube
Facebook
VK
Daily Motion
Soundcloud

QDownloader is an online video downloader that can download a lot of videos. The website also offers a browser extension that works with Google Chrome, Firefox, Safari, Microsoft Edge, and many more. With this extension, a download button will be added to YouTube videos and by clicking on it while watching a particular video, you will be able to download it.
Supported websites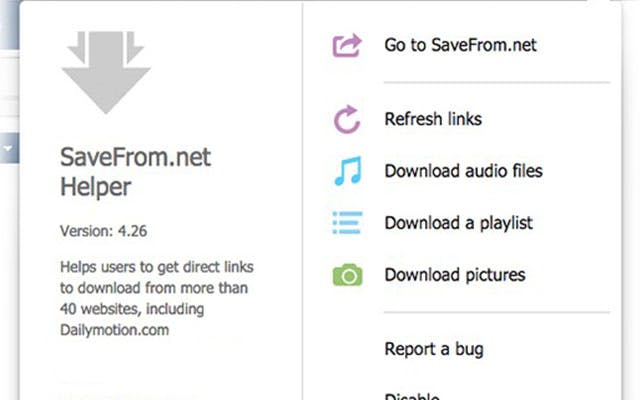 This is another Google Chrome extension, which allows downloading videos from Facebook, TikTok, and other popular streaming sites. This easy to install extension is officially available in Google Chrome extensions. This extension appears on the top-right corner of the browser enabling users to simply click on the button to download videos on any website. Since the extension is available on the Chrome Web Store, it doesn't support YouTube video downloads.
Supported Websites
Vimeo
YouTube
Facebook
TikTok
Dailymotion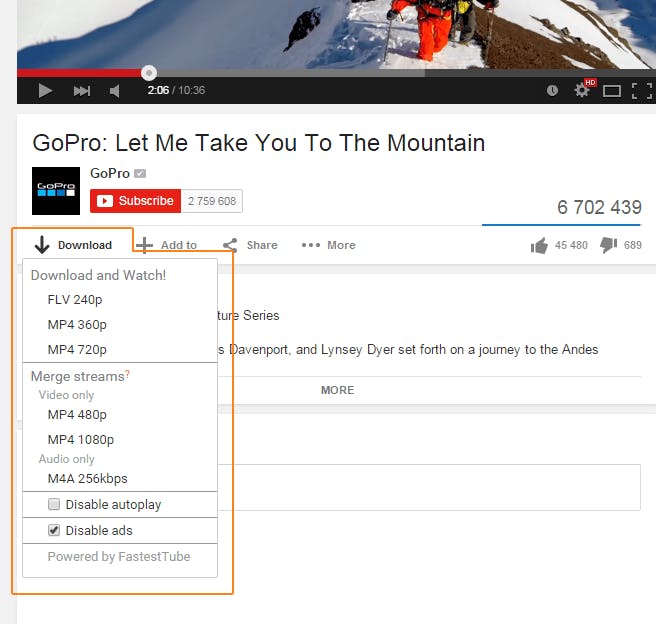 FastestTube is the latest cross-platform YouTube Downloader that works on both Mac and Windows, letting users download videos from multiple websites with just a click. FastestTube downloader facilitates downloading videos with its browser extension. The YouTube video downloader chrome extension is free to use and supports multiple browsers allowing hassle-free downloads to users. The simple downloader allows users to choose the preferred format and quality of the video before downloading. Besides, it offers plenty of features that improve the user experience.
Supported Websites
YouTube
TikTok
Dailymotion
Facebook
Twitter
If you're looking for a chrome extension that allows downloading most of the videos from popular video platforms including YouTube and Chrome, then we recommend this extension to users. This ultimate Facebook video downloader chrome extension can be downloaded directly using its Google Chrome extension. Since this extension is not available in the Chrome Web Store, you have to download it from the website directly and install it in Chrome extensions using the instructions outlined on the website.
Supported Websites
All popular websites including Facebook, YouTube, TikTok, and Dailymotion
How to Download YouTube Videos with AddonCrop Extension?
YouTube is the most popular video streaming service online and hosts a variety of video content allowing users and content creators to utilize the platform for downloading videos.
1. To download videos with the Addoncrop, you first need to install the extension on Google Chrome. You can watch this video for installation instructions.
2. Once installed, open a YouTube video in your browser and click the download button that would appear under the video player.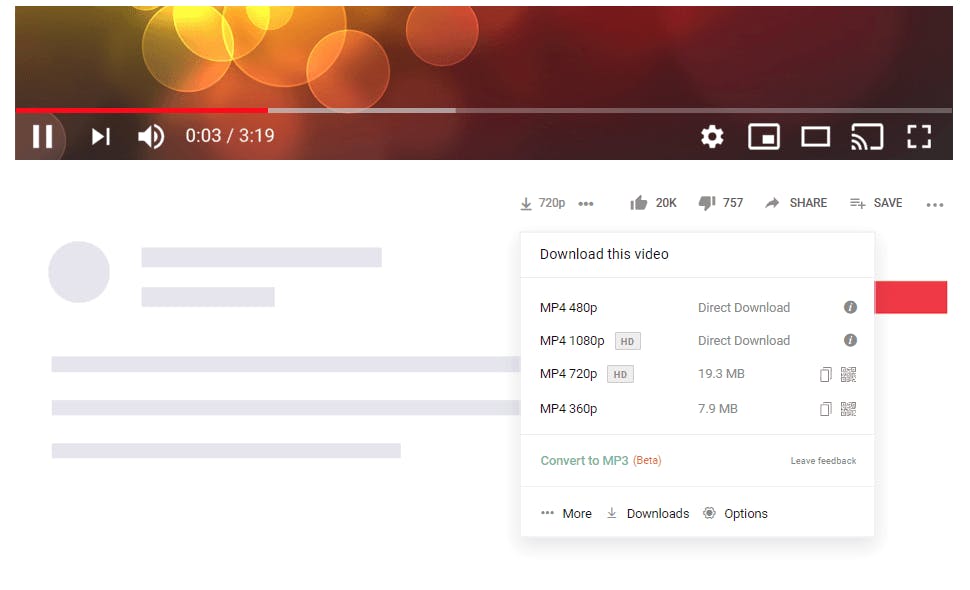 3. Click the download button and a pop-up window will appear asking for the output format and quality that you wish to download. Select your preferred output quality to begin downloading the video to your computer.
With AddonCrop, users can download videos in different resolutions and formats. Moreover, there are plenty of options available for users to change the size and format of videos.
Features of AddonCrop video downloader extension for Chrome:
No registration required
Free to use
Different video qualities
Multiple video formats
Audio and video downloads
Helps to make screenshots
Top 5 Video Downloaders for PC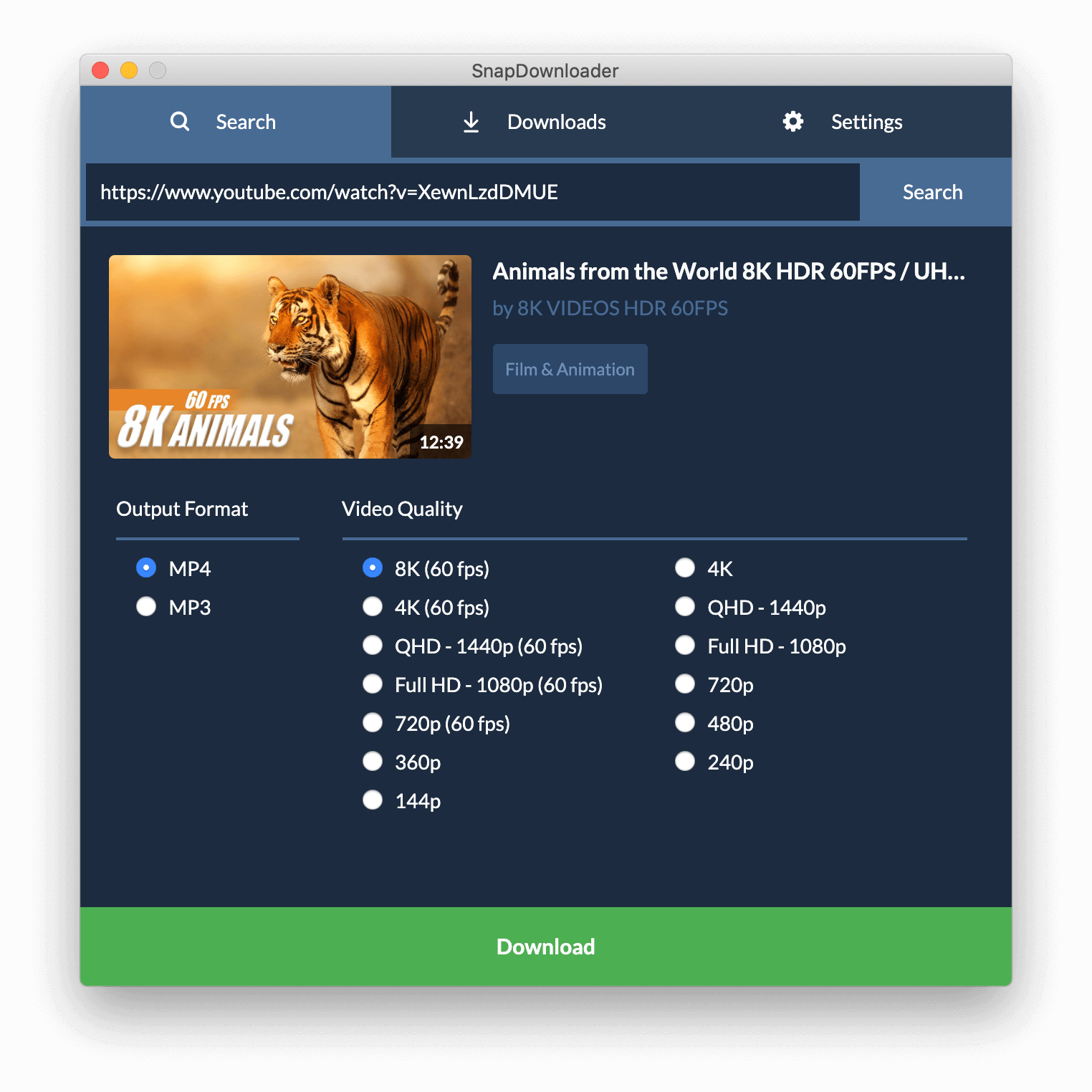 Most video downloaders don't support high-resolution videos and if you have been looking for a high-resolution video downloader, then SnapDownloader is the right service for you. It lets users download videos at the best quality instantly and easily. The video downloader works on Windows and macOS and can download from more than 900 websites. Whether you need to download videos on PC or macOS, this is the perfect tool to use.
It is the most versatile video downloader that comes packed with a lot of useful and interesting features that make it very easy to download any online video.
2. iTube HD Video Downloader
iTube allows you to download videos from more than 1,000 websites in the quickest time. This video downloader carries plenty of features like conversion of videos to audio, allowing users to download videos into multiple formats and sizes. Users can download the software on their Windows, macOS, or even on mobile.
3. YTD Video Downloader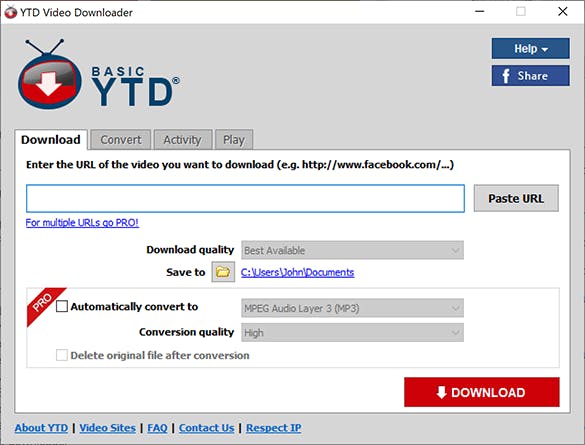 YTD video downloader for chrome allows you to search videos using this efficient downloader. It allows users either to search the software to download videos or put the video link in the software to download videos instantly. This free video downloader extension allows downloading in MP3, MP4 and FLV formats. You can use this Facebook video downloader chrome extension to transfer videos on different devices including smartphones, iPad, Kindle, and other applications.
4. 4K Video Downloader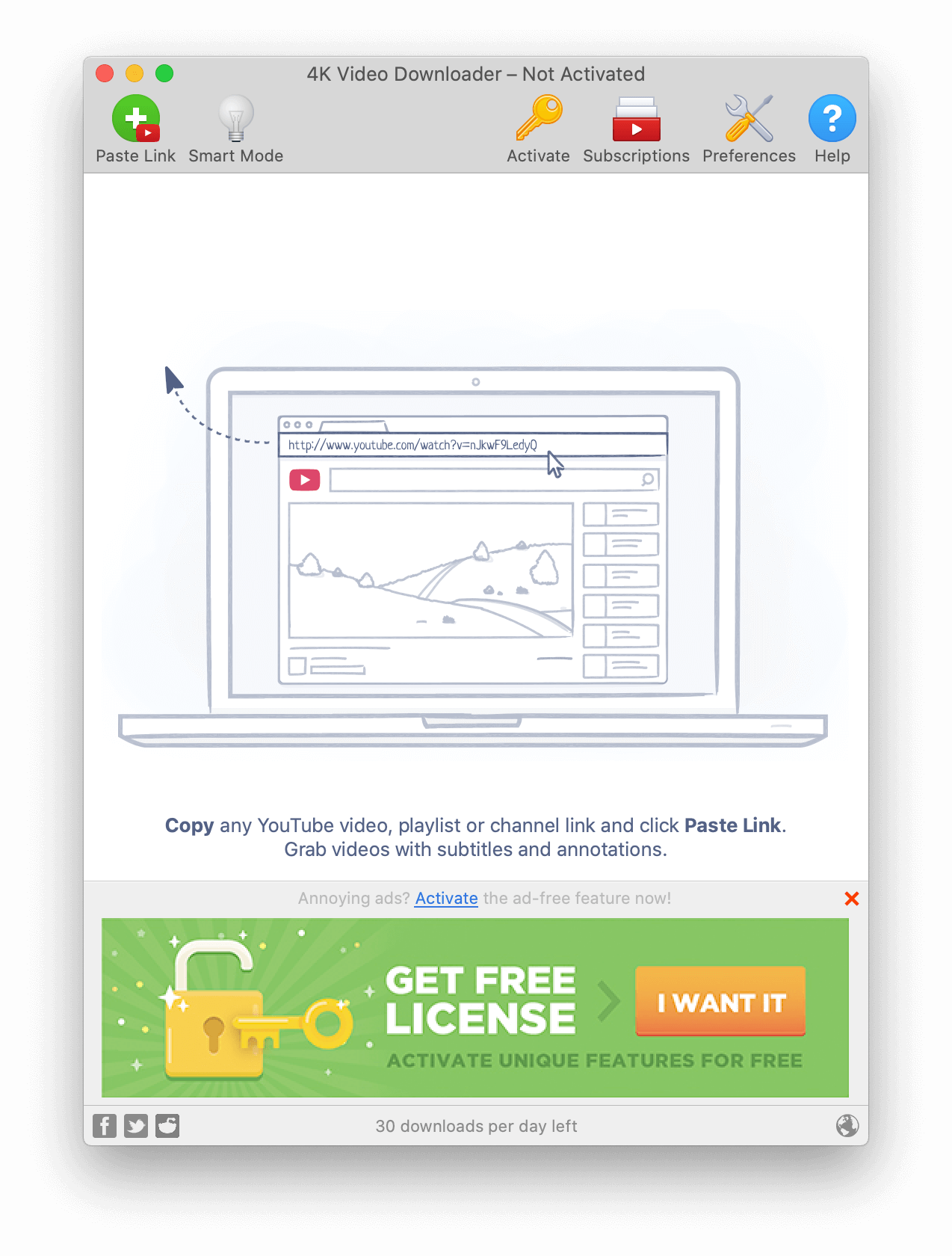 This application gives you access to all videos available just with a click. This downloader facilitates users in downloading videos in multiple formats and in high quality to enjoy them offline. You can download videos in 8K, 4K, 1080p, and other resolutions with ease. The free version lets you download up to 30 videos per day.
5. YouTube ByClick
This is one of the best video downloaders that get you all YouTube and Facebook videos offline. It helps in downloading videos virtually from all websites including Vimeo, Facebook, Dailymotion etc. It doesn't only supports downloading videos but also converts videos into different formats. It can download the full playlist of YouTube channels with just a click.
How to Download Videos with SnapDownloader?
A majority of users spend most of their time surfing video platforms as well as social media sites such as Facebook to communicate with family and friends. These platforms are filled with a lot of interesting and useful videos that you might want to download to your PC such as educational content, DIY clips, funny videos, and so on.
Here's how to download online videos with SnapDownloader:
Download the latest version of SnapDownloader and install it on your PC. The software works with both Windows and macOS.
Once installed, open an online video that you wish to download, then copy its links from your browser's address bar.
Open SnapDownloader and paste the video's link begin searching for it.
You'll now get a list of available output formats and resolutions that you can download in. Select what you want and then click the Download button.
SnapDownloader will now begin downloading the video to your computer. Once downloaded, you can open and view the video.
Wrapping Up
Both the browser extensions as well as the apps allow downloading videos from YouTube, Facebook, and various other platforms a hassle-free experience. Your downloads are just a click away, and the ones we have selected above, tend to offer a simplified UI that makes it a cakewalk to use. Get your favorite video downloader Chrome extension from the list above and enjoy downloading online videos on the go.