Mozilla Firefox's customizability, speed, and privacy make it a favorite browser among web users around the globe. In fact, around 250 million users worldwide enjoy its numerous features and user-friendly interface.
Due to its colossal following, people often wonder: what are the best video downloaders for Firefox? At SnapDownloader, we understand the importance of downloading videos. Having this ability is handy when your internet connection is slow – or you simply want to download a video for easy access later on.
Unfortunately, many apps claim to be the "best video downloader for Firefox" but actually intend to steal your data or place spyware on your computer. That's why, today, we're going to discuss 6 of the best video downloaders for Firefox!
Why Use Video Downloaders for Firefox?
Firefox offers millions of videos through web platforms such as YouTube, Facebook, Vimeo, Twitter, Dailymotion, Flickr, and more. The two things you need to access these videos are a device and a secure internet connection.
Being able to download and watch videos anytime offers an array of benefits, including:
Easily share videos with friends and family.
Save tutorials or educational videos to reference anytime, without having to search for them all over again.
No longer worry about poor internet connection. You won't have to deal with lag, buffering, or poor-quality videos.
Have the freedom to access videos in areas where there is no internet.
What Types of Firefox Video Downloaders Are There?
There are two types of downloaders for Firefox: High-quality video downloaders and Firefox video downloader extensions (also referred to as "add-ons.") Let's explore the differences that tell these video downloaders apart.
Firefox Video Downloader Extension
A Firefox extension is a type of software that extends the capabilities of your Firefox browser. Extensions are comparable to apps on your phone, except they're for your web browser. Once you download a Firefox extension, it'll appear at the top of your browser, near the address bar.
Extensions may be used to enhance your browsing privacy, customize your interface, organize your tabs, and more. In this case, we are going to discuss extensions that allow you to download videos through Firefox.
High-quality Video Downloaders
Unlike Firefox extensions, video downloaders are not directly associated with your Firefox browser. Instead, they're a separate software and can typically be used with any web browser (i.e., Chrome, Firefox, Internet Explorer).
They still require downloading, but the application will be located on your computer rather than within your browser's interface. High-quality video downloaders offer significantly more capabilities and features than Firefox browser extensions, including being able to download videos in higher resolutions and the ability to switch file formats.
Selection Criteria for Firefox Video Downloaders
When it comes to choosing the best video downloader for Firefox, it's critical to consider certain factors, such as:
Video quality. In what resolution can you download the videos? Depending on the Firefox video downloading the software you use, video resolutions range from 8K to 140p.
Video file formats you can download in. Popular formats include MP4, MP3, AVI, and MOV.
Ease of use. In other words, how intuitive is the software to use for downloading Firefox videos?
Conversion capabilities. For example, can the Firefox video downloader convert between various file formats, from MP4 to MP3?
Batch downloading. This is when you can download multiple videos at once, which is very useful when you want to speed up the process.
Schedule downloading. Can you schedule the download once you're in a place with a more stable internet connection?
Supported websites. Which websites can you download the videos from?
Misc. features. These are various other features that come along with the video downloader.
Best Video Downloaders for Firefox
1. SnapDownloader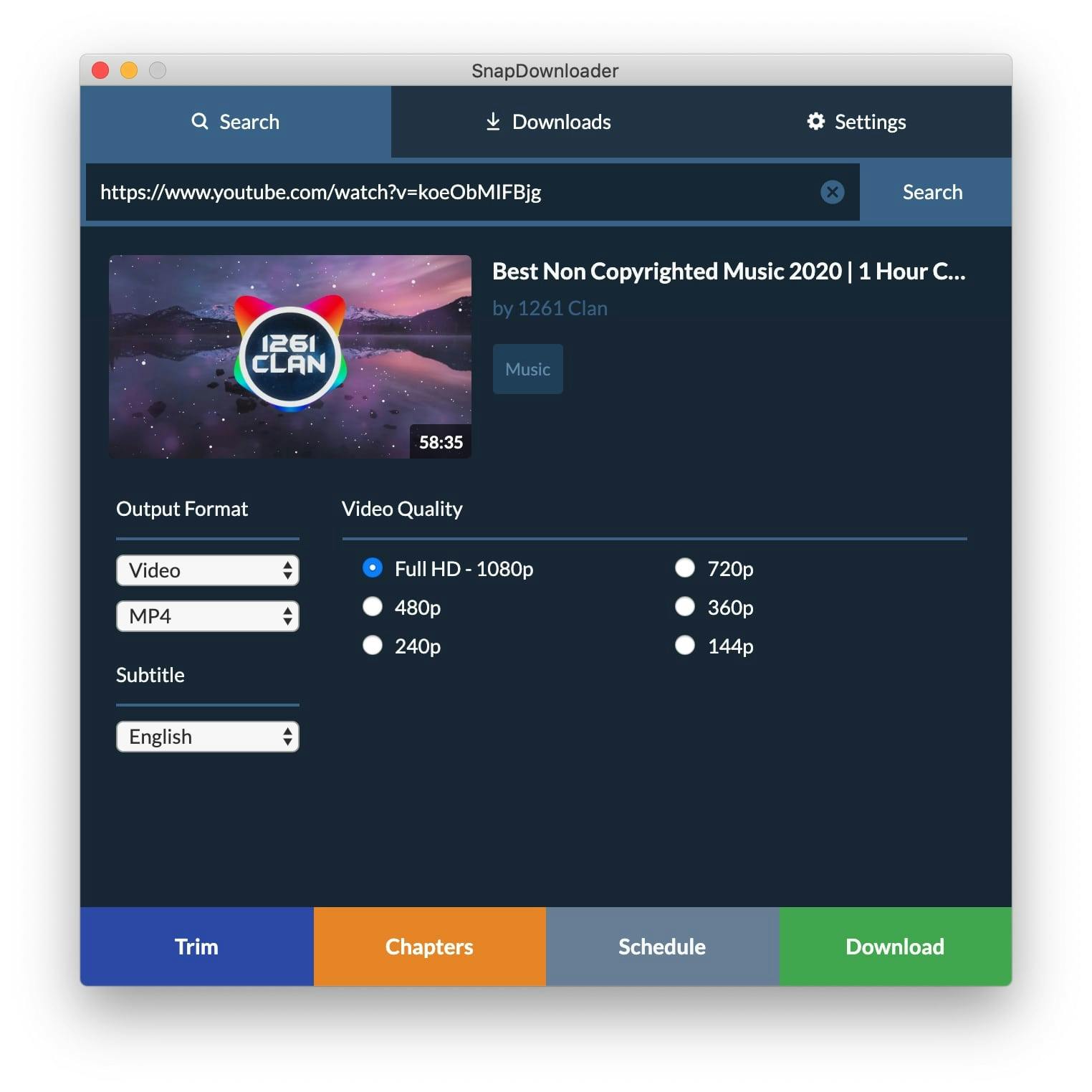 Supporting over 900 video platforms and having the ability to download videos at resolutions of up to 8k, SnapDownloader is easily one of the best video downloaders for Firefox.
Within minutes, you can download videos from your favorite video platforms, including YouTube, Twitter, Facebook, Reddit, TikTok, DailyMotion, etc. Simply copy and paste the link to the video you'd like to download, and SnapDownloader will download it within minutes.
Features:
It supports both Windows 7/8/10/11 and macOS 10.10 and higher.
Convert videos to MP4, MP3, AVI, WMA, AAC, and many other output formats.
Download virtual reality (VR) videos for a 360-degree viewing experience.
Download YouTube videos in 8k, 4k, QHD, 1080p, 720p, and more.
Download entire playlists and YouTube channels.
Queue multiple video downloads at once.
Schedule downloads at a specified time & date.
Extract audio and music from videos.
Easy proxy setup to bypass regional restrictions.
High-speed downloads.
24/7 customer support.
Pricing:
1 month subscription: $7.99 / month
3 month subscription: $14.99 / month
Annual subscription: $19.99 / year
Lifetime license: $29.99
Pros:
48-hour free trial.
Wide range of features.
Reasonable pricing.
Fast download speeds.
Simple functionality.
High resolutions.
It supports over 900 video platforms.
Convert to other formats.
Built-in video trimmer.
Easily the best YouTube downloader for Firefox.
Cons:
Doesn't support screen recording.
2. AceThinker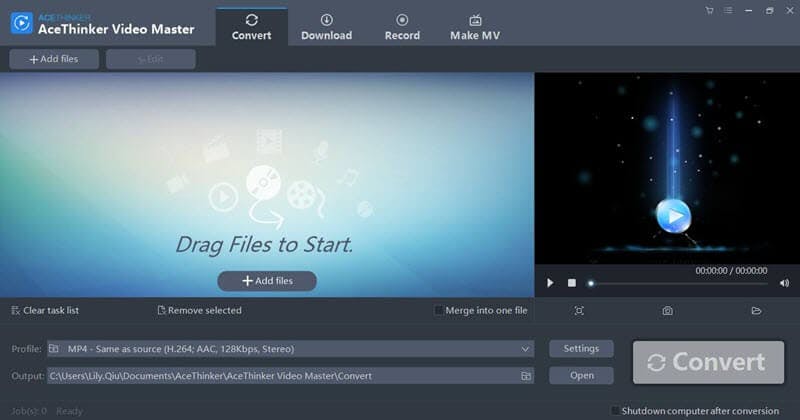 Another of the best video downloaders for Firefox, AceThinker, allows users to record their computer screen and audio simultaneously. Its intuitive interface will enable you to screen record in multiple modes. For instance, users can capture a specific area of their screen or choose only to record the audio of a video.
Because it's a screen recorder, you can download more than just preexisting videos. You can record everything from podcasts, live streams, webinars, video chats, gameplay, and more. Fortunately, AceThinker comes with a guide that walks you through the configuration process.
Features:
Take and edit screenshots.
Annotate and edit recordings in real-time.
Easily import recorded videos to a video editor.
Schedule screen recordings.
Personalize hotkeys (custom start/stop keys and pause/resume keys).
Change the format, quality, frame rate, and bit rate.
Add a webcam overlay so your face is included in the screen recording.
Instantly share screen recordings to YouTube.
Pricing:
1 month subscription: $9.95 / month
Annual subscription: $29.95 / year
Lifetime license: $39.95
Pros:
Flexible settings.
Fair pricing.
Ability to screen record anything you please.
More comprehensive than simply downloading videos from video platforms.
Real-time annotating and editing.
Different recording modes.
Various output formats such as AVI, MPEG, GIF, WMV, MP4, and more.
Cons:
It requires a slight learning curve to understand all the features and settings.
More complex than simply downloading a video (i.e., you must start/stop video recordings).
3. 4K Video Downloader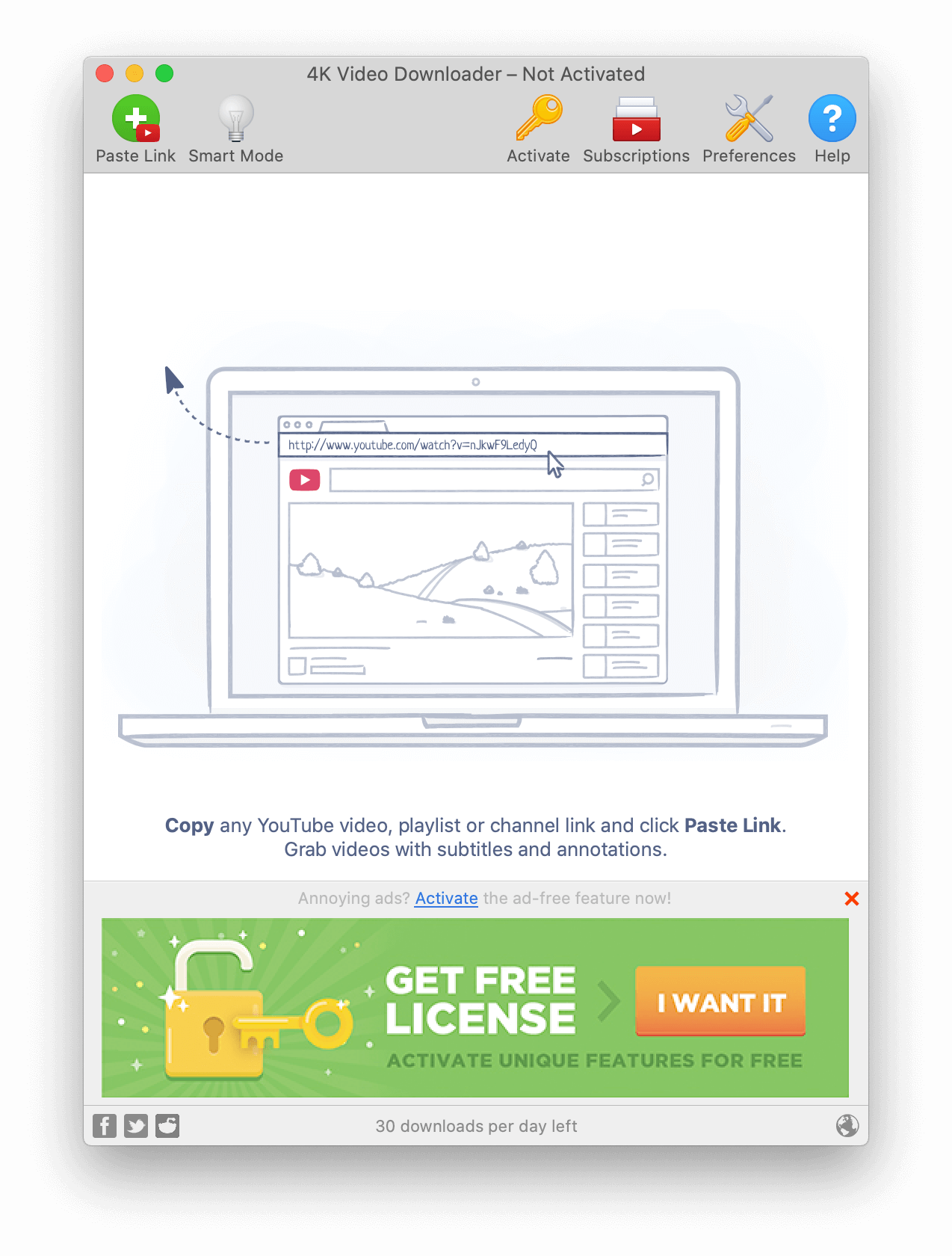 Easily one of the most well-known Firefox video downloaders on our list, 4K Video Downloader is easy to use, offers up to 7 simultaneous downloads, and provides unlimited downloads. It also offers video downloads from your favorite streaming platforms, including YouTube, Facebook, Tumblr, Soundcloud, Vimeo, and plenty of others.
4K Video Downloader's simple interface is easy to navigate and fairly self-explanatory. It offers several advanced features, including something called "Smart Mode." This allows users to adjust specific settings to apply them to all future downloads.
Features:
It runs on macOS, Windows, and Linux.
Guaranteed to be free of spyware, viruses, and other malicious code.
Download annotations and subtitles in SRT format in over 50 different languages.
Download private online videos so you can watch them later without having to sign in.
Download 3D YouTube videos and 360-degree VR videos.
It supports 4K and 8K resolution, HD 720p and 1080p.
Pricing:
Personal use (limited features): $15.00 / license
Pro (all features): $45.00 / license
Bundle (includes all packages: 4K Video Downloader Pro license, 4K Stogram Pro license, 4K YouTube to MP3 Pro license, 4K Tokkit Pro license): $65.00 / license
Pros:
It supports numerous file formats.
Download entire channels and playlists from YouTube.
Generate MP3 URL files for playlists.
Watch on devices such as HDTV, iPhone, iPad, iPod, and other iOS devices.
High-quality resolution downloads.
Smart mode feature.
Download any video Firefox has to offer.
Safe & virus free.
It operates on macOS, Windows, and Linux.
Cons:
No FTP settings.
Slow downloading speeds compared to other downloaders.
Outdated interface.
Best Firefox Video Downloader Extensions
1. Video DownloadHelper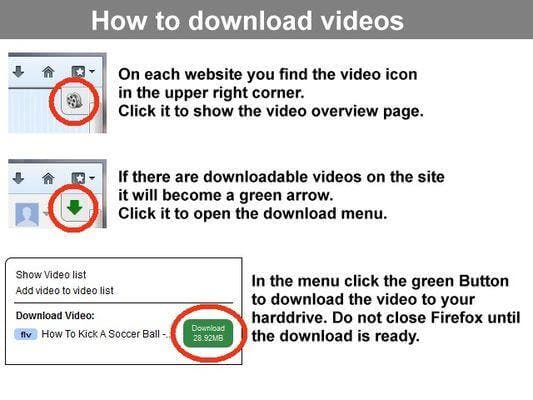 This easy-to-use extension lives up to its name; it's a Firefox videos download helper. In fact, Video DownloadHelper has been the second most popular Firefox extension since 2007.
Simply download the extension on your Firefox browser, and whenever a video is detected, the Video DownloadHelper icon will appear on your browser's toolbar. Click it, and select the video you wish to download.
2. Video Downloader Professional

For those looking for a Firefox video downloader extension that offers more than one-click video downloads, the Video Downloader Professional may be an option worth considering. You're able to select different video resolutions, send them to your Chromecast player, and watch them on your TV or Google Home.
In addition, you can create lists of videos rather than having to download them. You can then easily access the videos whenever you'd like, without having to go back to the original web page.
3. Easy YouTube Video Downloader Express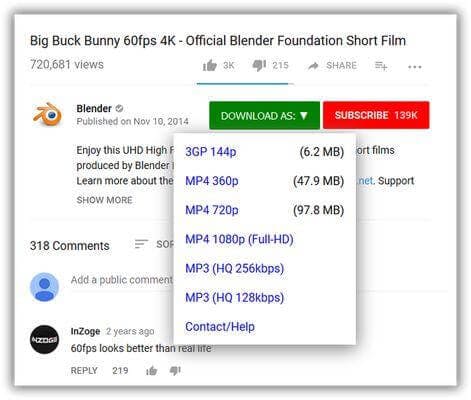 The Easy YouTube Video Downloader Express is perfect for those looking for one-click, 256kbps MP3 YouTube video downloads. Unlike many other add-ons, Easy YouTube Video Downloader offers 1080p downloads as they've adapted to the recent design update by YouTube.
When browsing through add-ons, keep in mind that this is one of the best YouTube downloaders for Firefox, as it's designed explicitly for YouTube videos.
Find the Best Video Downloader for Firefox
With the various video downloaders for Firefox, finding one that suits your needs may feel like a headache.
Consider whether you want to download a video downloader or a Firefox extension. A Firefox extension is easy to use but has limited capabilities. In contrast, a high-quality video downloader offers a wide range of features, more efficient downloading, and higher resolutions.
We recommend SnapDownloader, as it has a simple-to-navigate interface, offers simultaneous downloads, provides video resolutions up to 8K, and allows unlimited downloads from 900+ video streaming platforms. Click here to learn more about SnapDownloader and the various other features it has to offer!