If you've run into this article, chances are good you're looking for a video converter. With the many types of devices and file types that exist today, video converters are extremely useful tools for handling the video conversion process quickly and easily.
Freemake Video Converter is a popular tool used to accomplish this, but it comes with some drawbacks. It has limited functionality, it's not guaranteed to be safe for your computer, and it isn't the most user-friendly tool. This is where SnapDownloader, a versatile, high-performance video converter, and editing software, comes in.
Let's take a closer look at Freemake Video Converter and SnapDownloader, their unique features, and how they compare so you can decide which software works best for you.
Freemake Video Converter vs. SnapDownloader: Key differences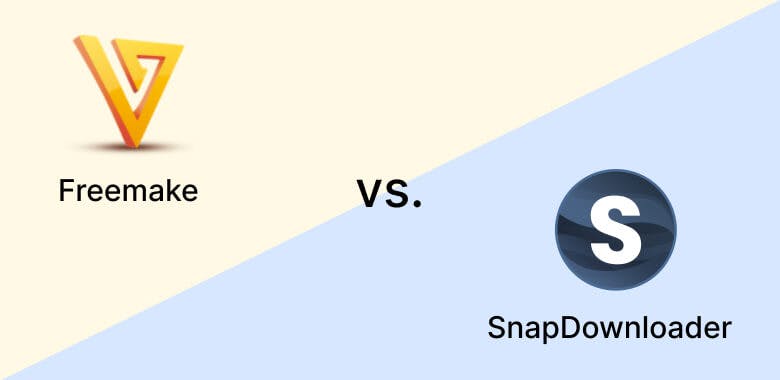 Freemake Video Converter is not guaranteed to be ad and malware-free, while SnapDownloader is. Freemake Video Converter has a tricky installation process that can result in unwanted software being added to your computer if you don't know how to avoid it.
Although both Freemake Video Converter and Snapdownloader offer some form of user support, SnapDownloader offers superior customer service. With company representatives available for 24/7 customer support, Snapdownloader offers a better user experience.
Freemake Video Converter's main functionality is centered around video and audio conversion, while Snapdownloader offers many more capabilities, including video download management, a built-in browser, audio extractions, and high-speed downloading.
SnapDownloader is a paid service, while Freemake Video Converter is technically freeware. However, with Freemake Video Converter you have to deal with ads and some services on the platform require a premium price.
What is Freemake Video Converter?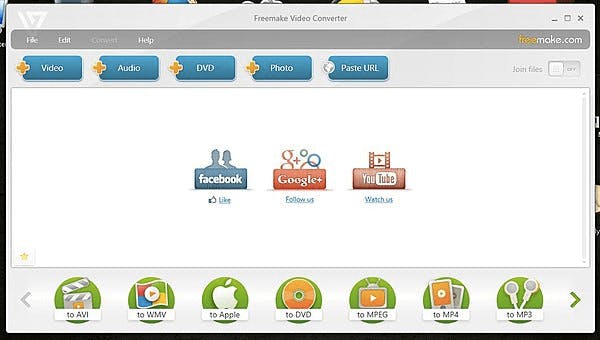 Freemake Video Converter is a tool designed to make the video and audio conversion process simple and user-friendly. Freemake Video Converter was created by a software company called Ellora Assets Corporation, and was first released in 2010. Due to its easy-to-use software and over 200 supported video formats, Freemake Video Converter quickly became popular.
Today, Freemake Video Converter is Ellora Assets Corporation's most successful software, with over 180 million users worldwide in the last decade. The last release of Freemake Video Converter was in early 2022.
Key Features
Supports over 200 video formats: Freemake Video Downloader supports over 200 input formats, including MP4, MOV, DV, MPG, 3GP, 3G2, and many more.
Can burn Blu-ray video and DVDs: One of the features Freemake Video Downloader is most known for is burning Blu-ray video. Users can create blu-ray discs from many types of input, even including audio files, video, and URLs.
Offers a free version: Although it has limited functionality, Freemake Video Converter does offer a free version for users with most of the video converting capability.
Edit clips: You can edit with features such as clipping, rotating, and joining video clips.
Convert high-definition movies: Freemake Video Converter allows you to convert high-definition movies to other formats, such as MPG or AVI, including subtitles.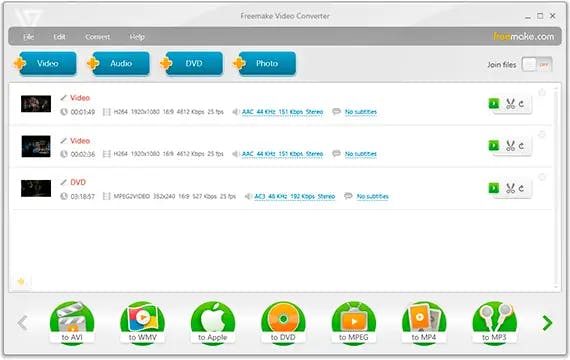 Pricing
Although Freemake Video Converter has long been known as freeware, it has some drawbacks, including the risk of malware, frequent ads, and limited functionality (not all features are available in the free version). Luckily, there is also a premium version available, which doesn't have these drawbacks and can be purchased for either a monthly fee or a one-time lifetime license cost.
Here is the pricing breakdown:
Subscription:
$39.95 USD per month
Lifetime license:
$59.95 USD for lifetime usage
Pros
Output format support: The huge list of supported formats is one of Freemake Video Converter's best-selling points
Popular and widely used, which makes it easy to find help and support in online forums.
The user interface isn't difficult to use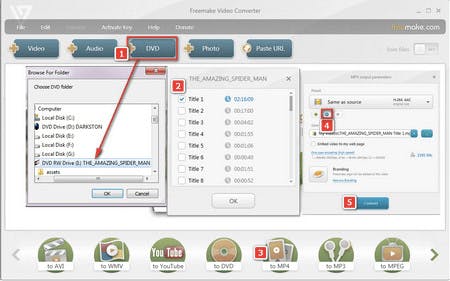 Cons
Risk of malware/ads
Not really free anymore, even though it's known as freeware
Has limited scope; used mainly for video and audio conversion and DVD burning
Slow conversion process; known for being slow
DVDs and Blu-ray are becoming irrelevant, which makes one of Freemake Video Converter's top features useless for many people
A monthly subscription is pricier than alternatives like Snapdownloader
Freemake Video Converter Alternative: SnapDownloader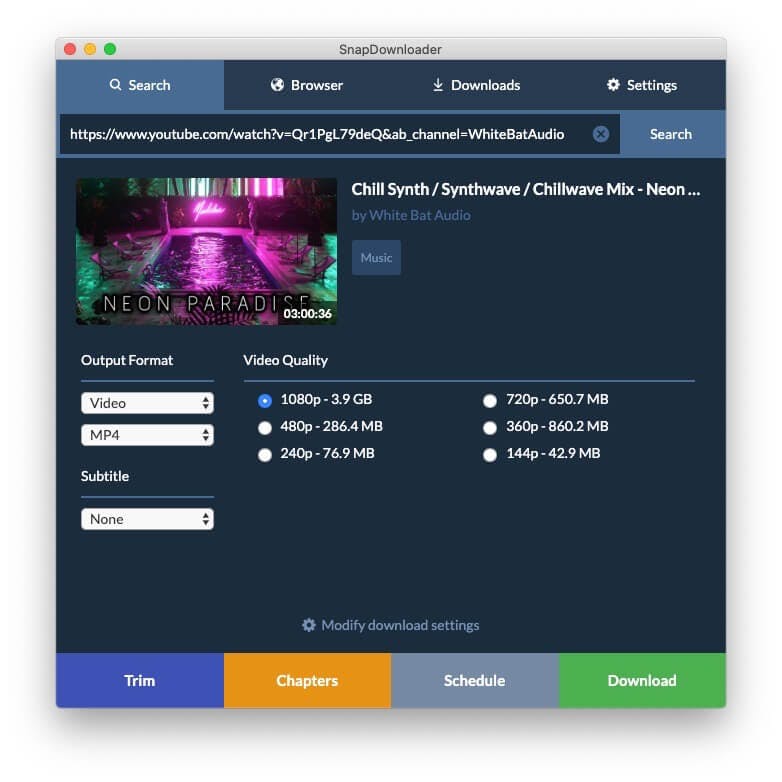 SnapDownloader is a popular alternative to Freemake Video Converter. Although it was first released to users for testing as recently as 2020, SnapDownloader has quickly become a popular software among its users.
SnapDownloader was created by a group of developers dedicated to creating easy-to-use, high-functionality software. Although Snapdownloader supports video conversion, it also offers many other features and is a highly versatile tool.
Although SnapDownloader doesn't offer a free version, the available purchase options are very affordable, especially when you consider the number of features on offer.
Key Features
Safe and ad-free: One of SnapDownloader's best advantages is that its software is guaranteed to be safe for your computer and ad-free. Although malware and spyware are a concern with Freemake Video Converter, this isn't an issue with SnapDownloader.
Supports up to 10 popular output formats: SnapDownloader supports the most popular output formats today, including MP4, MP3, MOV, AVI, AAC, M4A, WAV, AAIF, WMA, and FLAC.
User-friendly experience: SnapDownloader offers 24/7 customer support to its users, has an easy to navigate website, and an intuitive user interface that even the least tech-savvy users can easily understand.
8K resolution downloading: SnapDownloader can download videos in up to 8K resolution for high quality playback.
Built-in video trimmer: SnapDownloader has a built-in video trimmer to make editing possible without leaving the app.
Built-in browser: No need to jump between windows. You can search for the videos you want within SnapDownloader's search window.
Batch downloading: Download up to 100 videos at once using SnapDownloader's batch downloading functionality.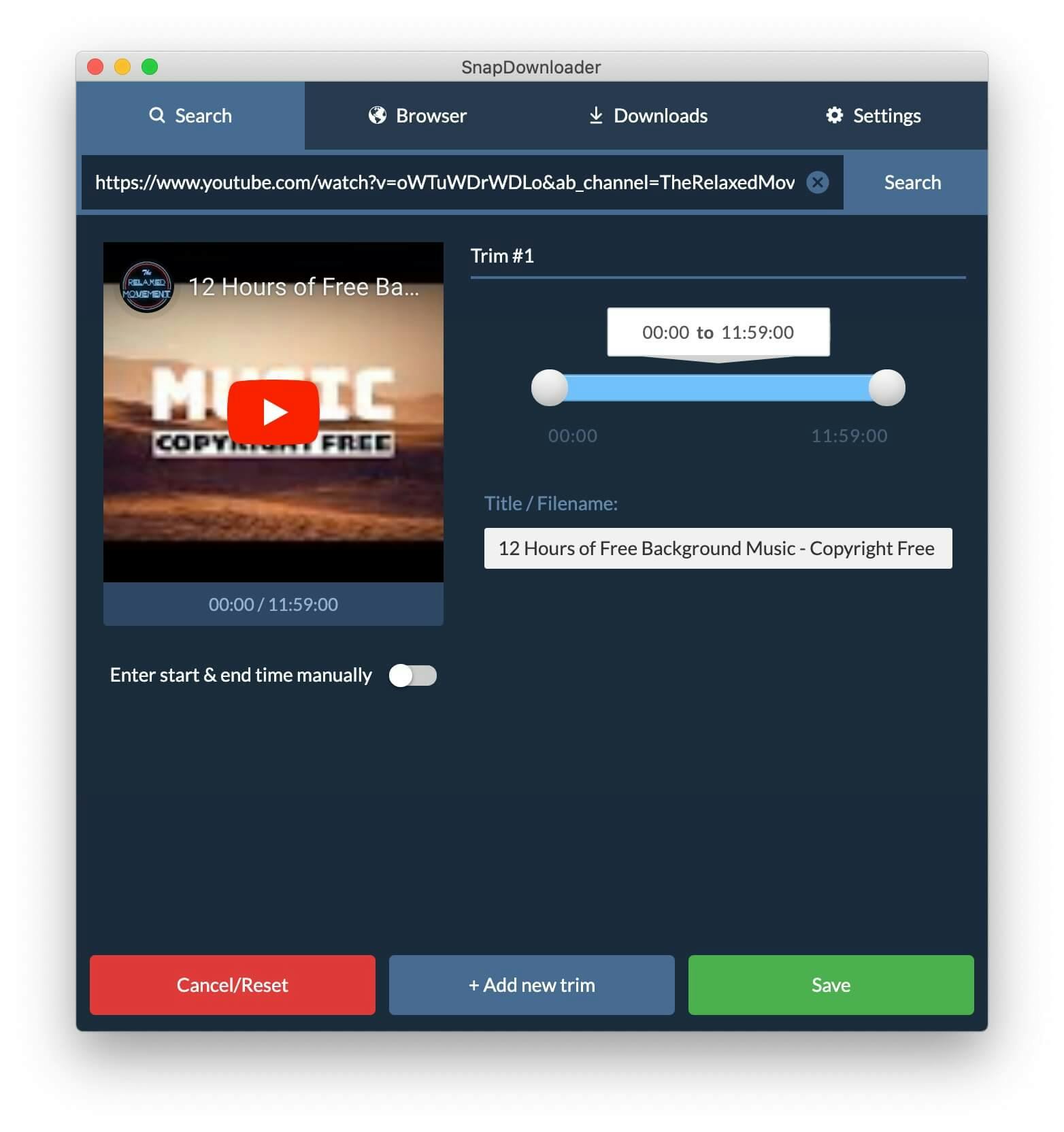 Pricing
When purchasing SnapDownloader, you can choose between two pricing models, including a monthly subscription plan or a one-time purchase lifetime option. Both models are available for affordable prices.
The shortest subscription period offered is monthly, which is offered at an inexpensive price. However, the longer period you subscribe for, the more money you'll save.
You can also choose to purchase a lifetime license. The two options for a lifetime license include the personal or family edition. With the personal license, you can install SnapDownloader on only one computer, while the family license allows installation on up to three computers. Purchasing a lifetime license is the most affordable option in the long run.
Pros
Has useful functionality beyond video and audio conversion
Offers 24/7 customer support
User friendly UI and easy to navigate
No malware, spyware, or ads. Guaranteed to be safe for your computer.
Cons
No long-term free version (free trial only)
Freemake Video Converter vs. SnapDownloader: Feature Comparison
Feature

Freemake Video Converter

SnapDownloader

Safe and malware free

✅

Supports over 200 input formats

✅

Download manager

✅

Auto-extract archives

✅

User-friendly UI

✅

Bulk video downloads

✅

Free version

✅

48-hour free trial

24/7 Customer support

✅

Pricing

Free version, lifetime version, or

Subscription version: Costs $39.95 per month

Lifetime version or

Subscription version: Costs $7.99 per month
Try SnapDownloader today
While Freemake Video Converter is a useful and versatile video converter tool, it has some significant drawbacks. Between the risk of installing malware, some of its major selling points becoming irrelevant, and limited other features, chances are you won't be as satisfied as you could be with a different software.
SnapDownloader, on the other hand, is an intuitive, easy to use tool and is guaranteed to be safe for your computer. Beyond video conversion, SnapDownloader offers a plethora of other useful features, including a high performance download manager and user-friendly interface that anyone can navigate successfully. Try SnapDownloader's free trial version today to experience this multi-functional video converter for yourself.