Are you out and about, looking for video downloader alternatives to Freemake? We've compiled an entire list of the best desktop-based and web-based video downloading tools you must try out right now.
For decades at a stretch, our dependency on entertainment was restricted, and primarily controlled by the cable companies. The type of channels we are able to watch, the movies and TV shows we can subscribe to, as well as the bombardment of advertisement amid the entertaining content – everything was managed by the network cable giants. However, at some point, we collectivity decided to cut the cord and move over online to share and watch video content, all thanks to platforms such as YouTube and Dailymotion.
These user-based video sharing platforms are home to a lot more than funny videos and music tracks, as there is an entire community of talented content creators that keep them populated with millions of videos each month. In an attempt to allow offline viewing of such video content available online, or even convert video content into audio files, tools such as Freemake have been making rounds all over the internet. While being an old-timer in the video downloader space, there certainly are newer, better alternatives to Freemake that are worth trying out.
In an attempt to find a video downloader tool that offers maximum coverage in terms of the website, and does not hold back on functionality, here's our list of the best ones:
SnapDownloader
4K Video Downloader
Any Video Converter
QDownloader
YT1s
5 Best Alternatives to Freemake
1. SnapDownloader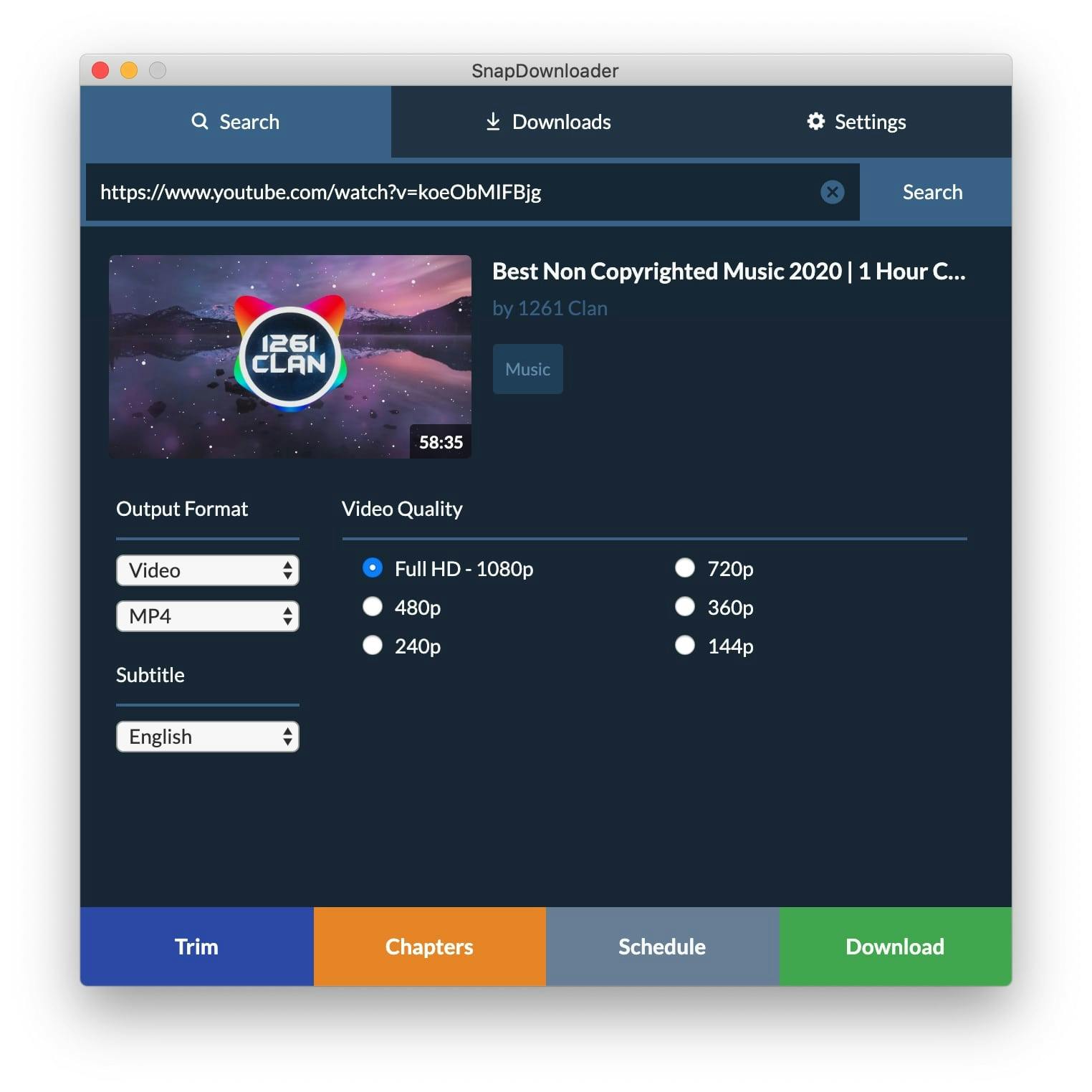 Although it is among the latest software in the world of video downloader tools for Windows and macOS, SnapDownloader has managed to make a name for itself. At the very first glance, you will find this particular YouTube and social media downloader to be a simple tool that comes with a no-nonsense user interface. Spanning a support frame across 900+ websites, you will hardly ever come across a video on the internet that this downloader can't fetch for you.

Get SnapDownloader
Whether it is the robust feature to download videos in bulk or schedule downloads on a metered connection, there's a lot more SnapDownloader offers apart from far-fetched website support. The installation process is direct, and the conversion time required to download videos in 8K, 4K, 2K, 1080p, and lower resolutions is blazing fast, which adds to a superior user experience. Moreover, you also have a video to MP3 audio converter built into SnapDownloader, which saves you the pain of installing additional software.
Pros:
Easy to install the app with support for both, Windows and macOS.
High-speed downloads with fast conversion rate, even for HD videos.
Supports downloading videos from more than 900 websites.
Comes with a built-in video trimmer.
Convert YouTube playlist to MP3 and MP4.
Bulk download feature which can fetch videos from up to 100 links at once.
The built-in proxy allows downloading videos that may not be available in your region.
Convert videos from YouTube, Facebook, and others to a number of other formats such as MP4, MP3, AAC, M4A, AVI, etc.
Cons:
SnapDownloader is not available for Android yet.
2. 4K Video Downloader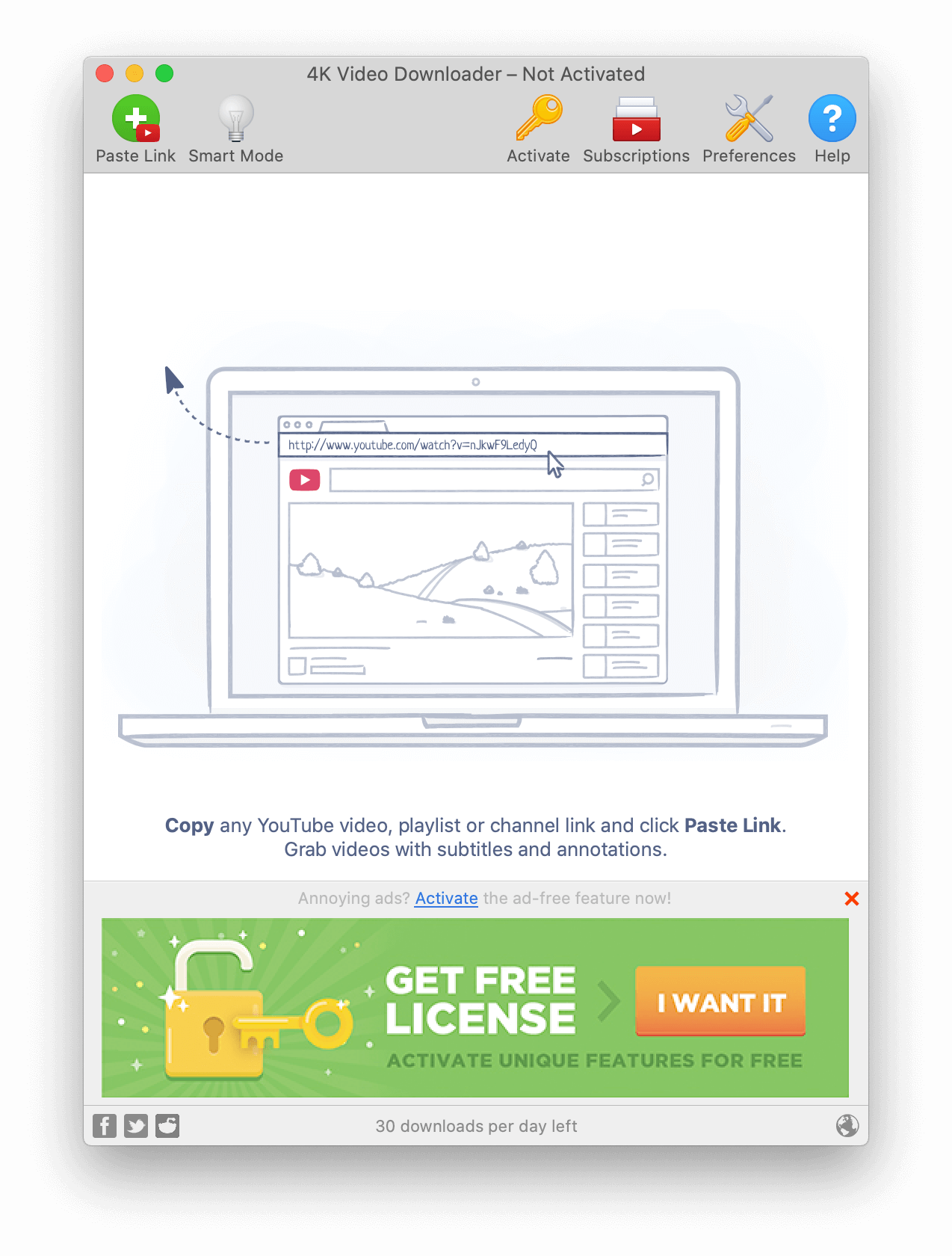 Like SnapDownloader and its ability to rise above the others based on the quality of experience it offers, 4K Video Downloader is a premium tool that does not disappoint. Offering the ability to download entire playlists from YouTube along with subtitles and clipart, the video downloader software stays true to its name by extending support for up to 4K quality video content as well as 360-degree VR videos. It can even download YouTube videos in 8K.
The built-in video converter allows you to download videos from a number of websites at the click of a button in multiple video formats (MP4, 3GP, FLV, and MKV). There is even support to convert video files into audio with a single click (OGG, MP3, M4A), which makes it easy to use music tracks and audiobooks while being offline.
Pros:
The app supports video quality of up to 8K resolution.
Built-in video to audio converter with support for multiple audio file formats.
Premium version offers a proxy to fetch videos that are region restricted.
Slick user interface with fast download speeds.
Cons:
Only available for desktop use.
Supports a small number of websites.
Plenty of ads baked into the free version of the app.
Limitations when attempting to download the entire playlist of videos.
3. Any Video Converter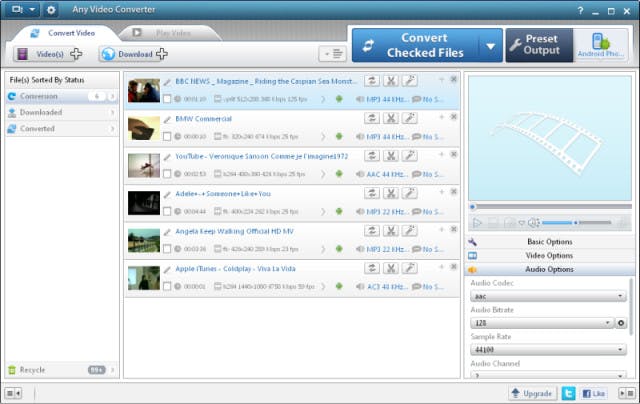 Out of all the Freemake alternatives we have tried out, Any Video Converter might just be the king of video and audio formats that surpass others. The lightweight program allows input formats ranging all across the spectrum (M4V, MKV, MP4, 3GP, MPG, WEBM, AVI, etc.), as well as a wide range of audio formats (AAC, FLV, M4A, MOV, MP3, OGG, etc.)
In our testing, we noticed that Any Video Converter was able to effortlessly download videos from YouTube, Facebook, Flickr, and several others, and a premier editing feature even allows you to stitch several videos together. From the slew of video editing tools built right into the app to the DVD burner that lets you access ISO files from the system, Any Video Converter does it all.
Pros:
It supports every major video and audio format that you could think of.
Allows in-house editing such as cropping, rotating, clipping, and adjusting effects on videos.
Support for both macOS and Windows users.
Allows merging multiple videos into a single file.
Cons:
The user interface may seem a bit barebone to some users.
Since the video downloader has advanced features, it consumes extra space and memory.
Doesn't support many websites.
4. QDownloader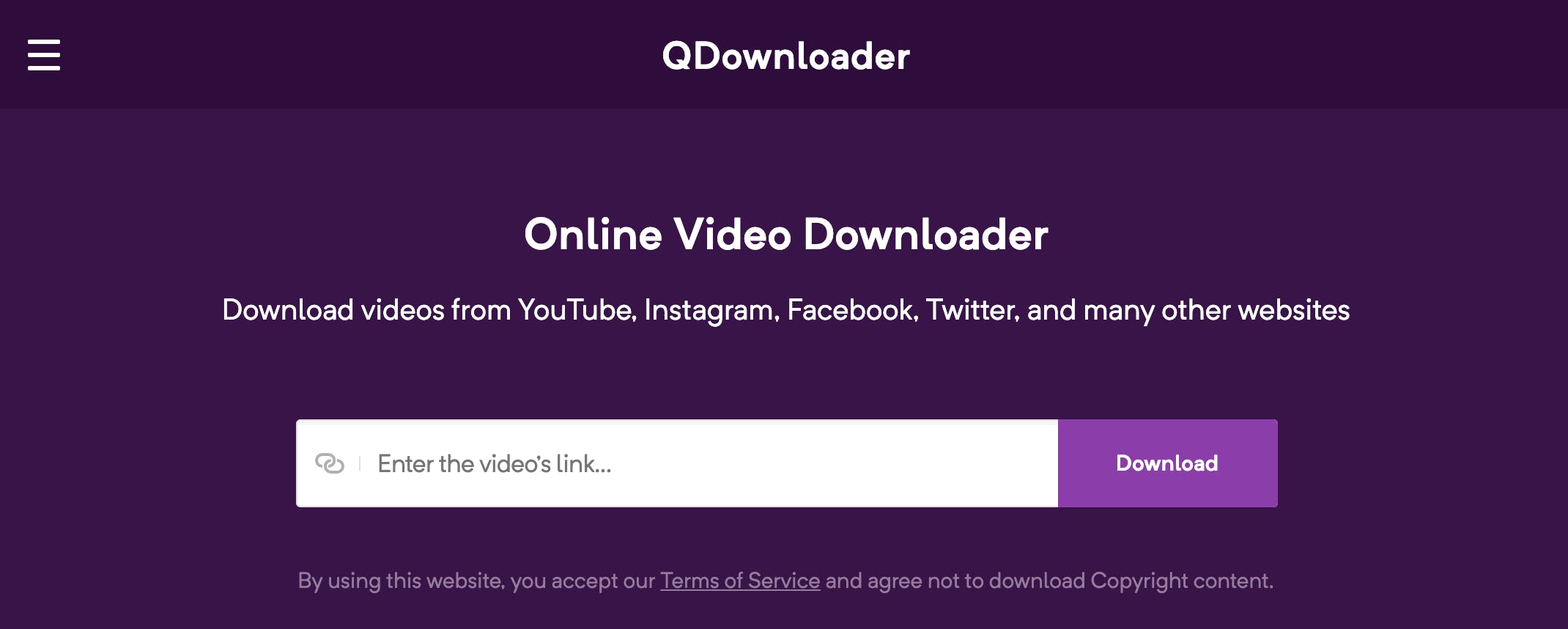 If you ever needed a one-off solution to download videos from YouTube, TikTok, Vimeo, Facebook, and other platforms, look no further than QDownloader. This online video downloader makes it extremely simple to fetch videos from hundreds of websites while supporting multiple resolutions for video quality.
Since the tool is web-based, it is not restricted to a single operating system, which makes it effectively useful even on mobile devices. Speaking of the user interface, you get a clean look with minimal advertisements to ruin the experience, while everything being completely free to use.
Pros:
Web-based video downloader works across multiple operating systems and platforms.
Support for hundreds of popular video sharing websites.
Little to no pop-up advertisements on the download screen.
Fast download speeds for multiple video formats.
Cons:
The download resolution is limited to 720p HD and lower.
No support to convert video download files into MP3 audio on the fly.
5. YT1s
If you are looking for a Freemake alternative that does not support hundreds of websites, and only need one that can help you fetch your favorite videos from YouTube and Facebook, YT1s is the web-based option to pick. The absence of any form of pop-up ads is an inviting appeal, to begin with, but it is the ability to download a video in 1080p Full-HD that sets it apart from the other web-based options out there.
Apart from offering the ability to download YouTube videos in HD with a single click, there is also the option to convert YouTube videos to MP3 audio as well as an MP4 video. Additionally, a newer feature of the YT1s web video downloader allows you to fetch videos from Facebook and download them right away.
Pros:
A web-based video downloader that allows you to fetch videos directly online.
Support for video and audio downloader directly from YouTube and Facebook.
Multi-language support with no advertisements involved.
Cons:
The video download support is limited only to YouTube and Facebook.
No support to download 2K or 4K Ultra-HD videos.
Wrapping Up
The reason Freemake video converter and downloader took off back in the 2010s is due to the quality of user experience it offered, coupled with widespread conversion support. However, the video downloader and conversion tool have not managed to update the design style, nor the performance with the passing of time, which is the primary reason you want to look for an alternative. In comparison, the modern-day video downloader tools above such as SnapDownloader, pack a pretty hefty punch in terms of performance, manage to stay entirely ad-free, and support a number of websites ranging from YouTube to Vimeo, Reddit, and any other website that you can think of.